I always thought Lisbon might be a cool place to go but I never ranked it super high on my must do list. Then for some reason, it was EVERYWHERE last year. I swear every second travel blogger I met was moving to Lisbon, and it was on all the lists of the best places to visit in Europe.
Although Lisbon is at the complete opposite side of the Iberian Peninsula to where I live, I knew I wanted to try and go while I was here. At the end of 2016, I finally had the chance to visit Lisbon and find out for myself why it's a top European destination. I've been told Portugal is great for solo travel, and spending a weekend in Lisbon with family or friends is a must. I learned a thing or two while I was there, so I've compiled this list of what you need to know before you go!
Lisbon is the second oldest capital city in Europe
After Athens, Lisbon is the capital city that has been around for the longest. It was first ruled by the Romans, Germans, and Arabs before 1147 when Portuguese crusaders finally conquered it. However, it's been an economic, political and cultural centre for so long that it never really got officially confirmed as Portugal's capital city. It's by default and convention that it's become so!
Portuguese is the official language
Portugal may be next to Spain but it does have it's own language, and although you might find that Spanish is a common second language that doesn't mean people want to speak it all the time. In fact, you'll find that a lot of people, and especially young people, speak English more than Spanish. So when you're in Lisbon don't just assume Spanish is the default second language!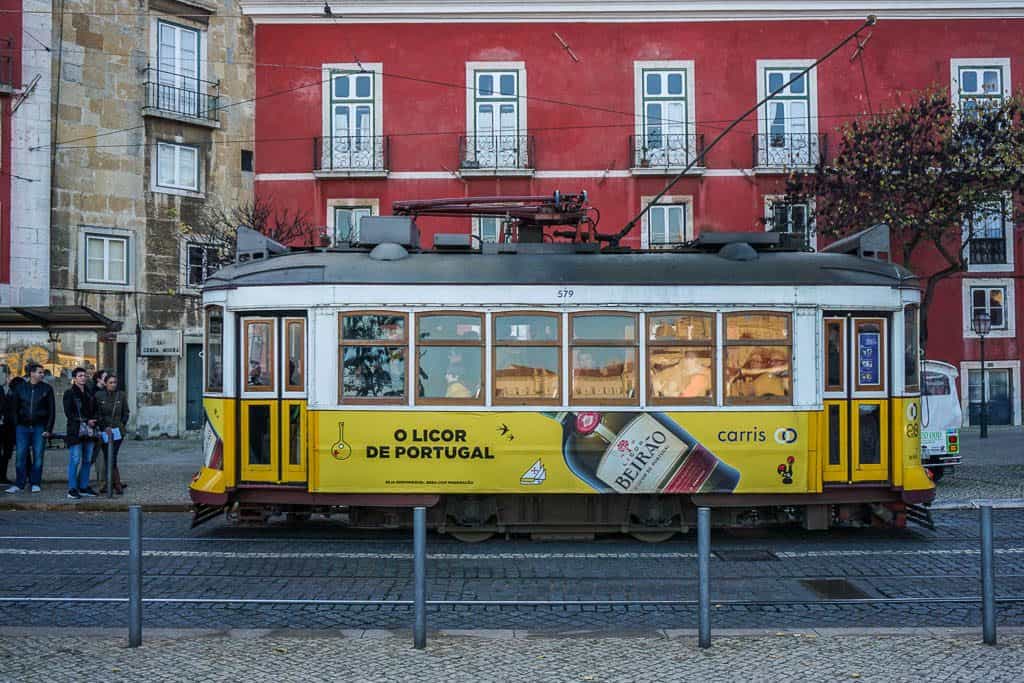 Fado is the traditional style of music
"Fado" means destiny, or fate in Portuguese. It's a traditional form of music that is known for it's soulful and often melancholy tone, and it often has a connection to the sea. Instruments like guitars and mandolins form the basis of the art, with one singer performing the poetic lyrics. Fado has been in Lisbon since around the early 19th century in the port districts. Alfama is one of those districts, and on a walk through here in the evening Fado music is inescapable. There are many places offering meal and performance deals, but the best are those were you don't need to pay for an expensive meal to see the show.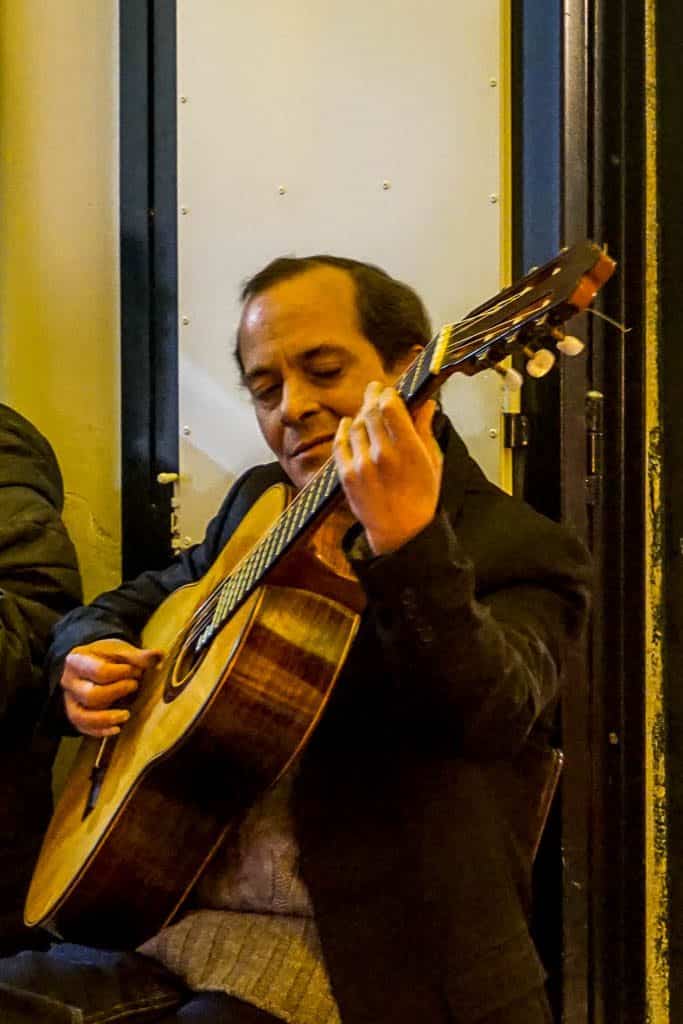 Lisbon is one of the best budget cities in Europe
Lisbon provides excellent quality food, great accommodation and nightlife for a fraction of the cost of some of Europe's other capital cities. It makes a great European budget holiday destination, especially because beer is as cheap as €2 in many places! But you can also enjoy more luxury drinks and meals at a lower cost, making this a place for budget and luxury travellers.
There are a lot of hills in Lisbon
Lisbon is built on seven hills. That means a lot of work for your calf muscles, but also some beautiful views to make up for it! Living in Wellington, New Zealand for most of my early adult life means I'm no stranger to hills, but Lisbon surprised even me. In downtown Lisbon along the Avenida da Liberdade it's all flat, but venture slightly in any direction and you're met with steeply sloping hills. Luckily the number 28 tram or a tuk tuk will help with those!
Take a ride on the 28 line tram
Lisbon is famous for it's number 28 yellow tram. There's actually a number of them that run all over the city. It costs just about €2.85 per person and services run from around 6am until 9pm. You can purchase a ticket from the driver or a machine onboard. The tram goes between Alfama in the east and Praça do Martim Moniz in the west. The classic 1930s trams are still in use today because the tight curves and steep hills are unsuitable for modern trams.  We rode from Alfama all the way to end in Estrela, which actually wasn't the best idea because it stopped and we had to get off and wait to get on again to go back. I would recommend stopping in the Bairro Alto if you're heading west!
Lisbon is full of tuk tuks
Lisbon is also full of tuk tuks ready to take you up those seven hills! They have only made an appearance in big numbers in the last few years, but tuk tuks are now a popular way for tourists to navigate the narrow streets and not have to walk up the hills. These vehicles were originally made in Italy post WWII as a cheap way to increase transportation, but caught on much more in crowded cities in Asia and Africa. Now they're back on the streets of Europe, and although taxi drivers and locals may not be so happy about them, they do seem to suit the geography of Lisbon and look like they've been a part of the city for as long as the trams have.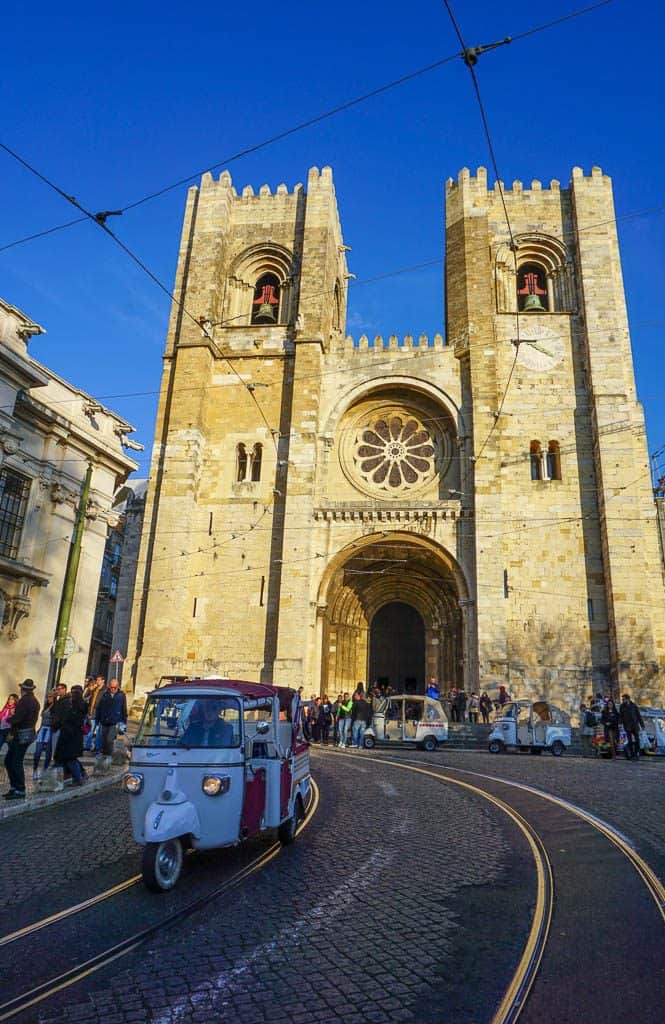 The age of discovery began in Portugal
Dozens of exploratory voyages around the world began from Lisbon, so it feels right that travellers the world over should want to visit here and see where it all began. A monument to the explorers of the world, many of them Portuguese, has been built on the bank of the Tagus river.
The buildings are something else
And by something else I mean all painted all sorts of colours or covered in unique tiles. While tiles in art are common the world over, in Lisbon they became part of the architecture of the buildings themselves. They first became popular in the 1500s, before their popularity waned but was revived again in the 1950s. On a stroll around Lisbon today it's impossible the miss he beautifully tiled buildings, and the huge amount of street art that's all over the city.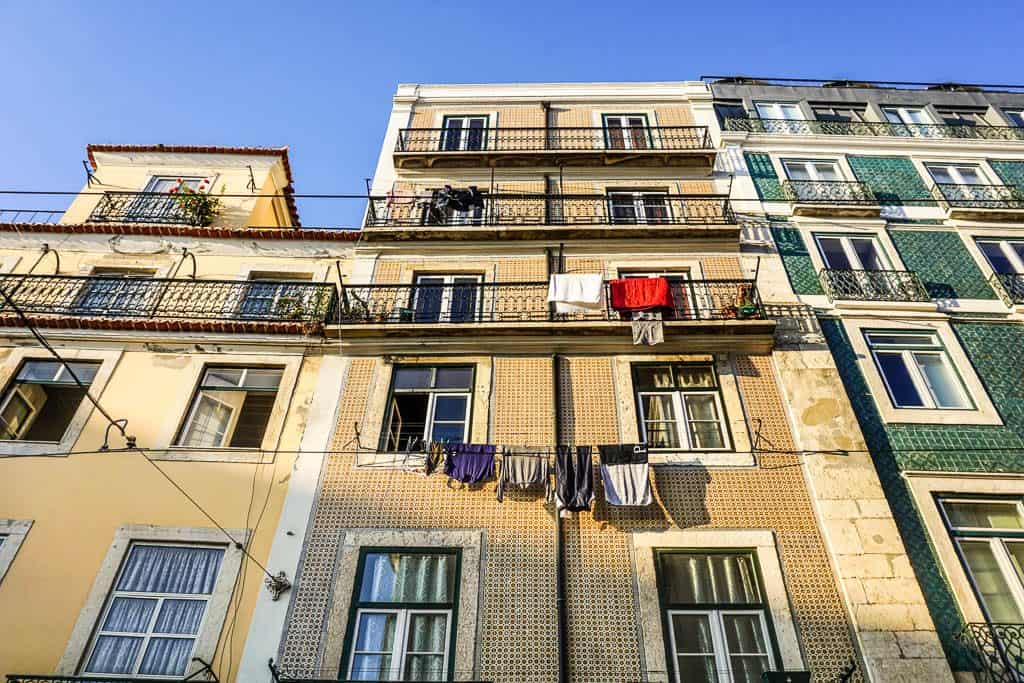 Codfish cakes are everywhere
Actually, cod is everywhere, in almost every form. I was reminded of Forest Gump when I saw some of the menus in Lisbon; fried cod, grilled cod, salted cod, cod fish cakes… you get the idea! Codfish cakes are particularly popular though. On the main street in central Lisbon we went to Casa Portuguesa do Pastel de Bacalhau where the traditional cod fish cake is stuffed with delicious cheese and served with a side of white port wine. You can watch them making the cakes in the traditional way through a glass window. And the verdict? I love fish cakes, so I thought they were awesome!
So are custard tarts
Pasteis de nata are famous the world over for being from Portugal. When I first tried them in Macau, a former Portuguese colony, I wasn't really sold on them. A visit to Portugal meant I needed to give them another go, and I made an about face on them this time! Some are more like custard and some are more eggy, for lack of a better description. Everyone has their preference so try more than one!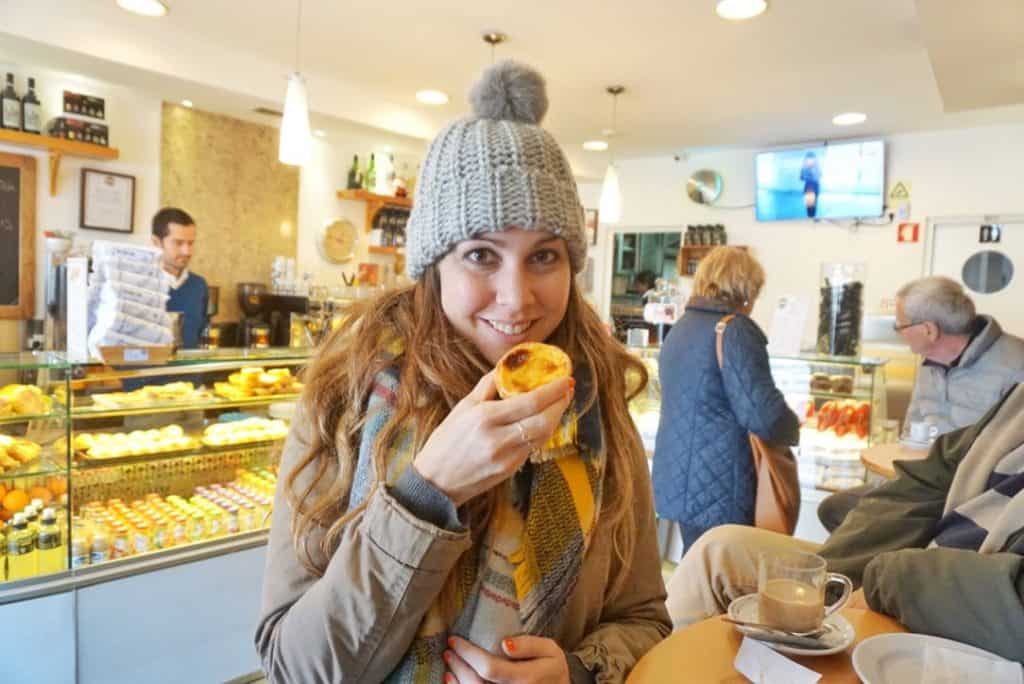 In fact, the bakeries all over Lisbon are amazing
Depending on where you looked you could find some great deals for food in Lisbon, but I did think in some ways it was more expensive than Spain. Or maybe I'm just too used to my free Spanish tapas in Almería! Thankfully, Lisbon has awesome bakeries where you can purchase both savoury and sweet food at a fraction of the restaurant cost.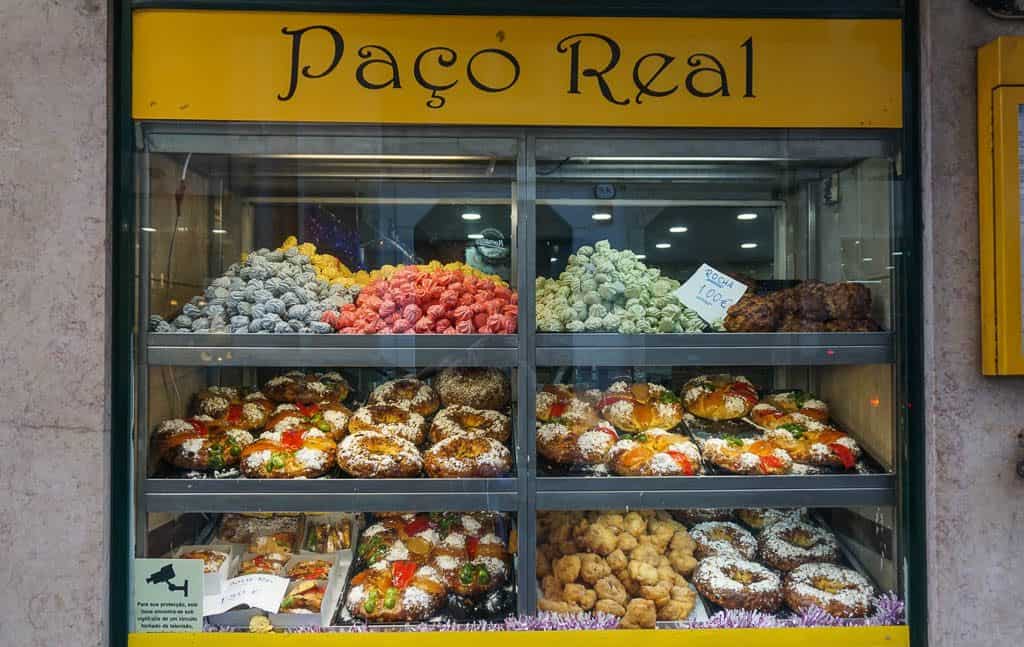 You can get fire cooked chorizo at your table
While we're on the topic of food, I have to take a moment to mention the delicious sausages they light on fire. Chorizo is the most common type, but I've also seen black pudding type sausages done in this way. They have special dishes made just to put cooking alcohol in the bottom and light it on fire at your table.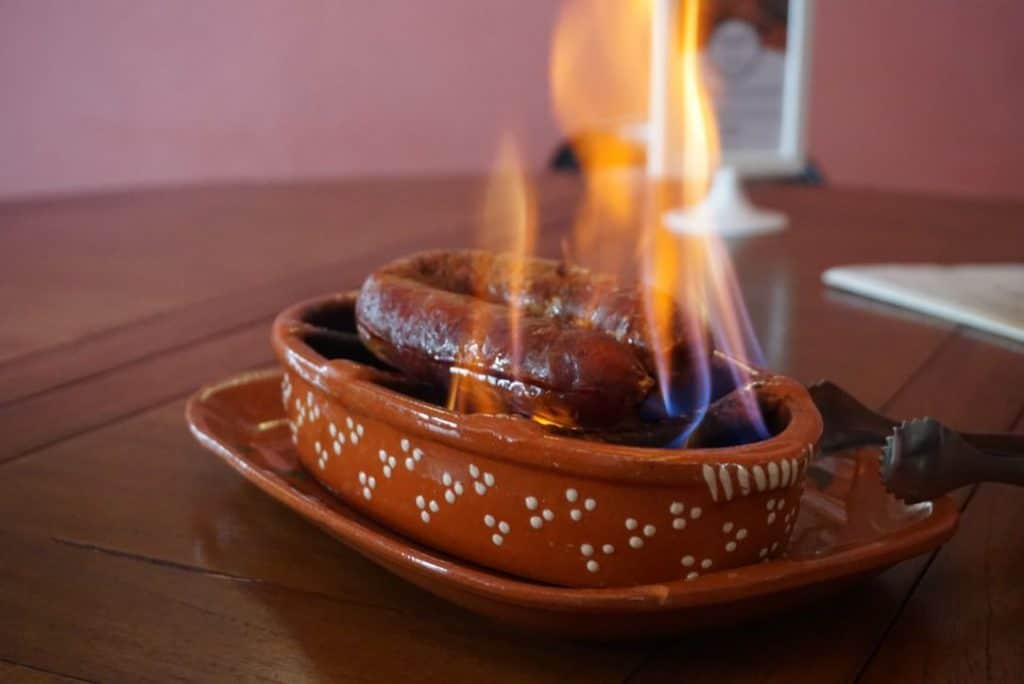 The Bairro Alto is the place to go out
The quiet cobblestones streets look deceiving by day, but at nighttime they come alive. It's the place to go out for a drink and a dance, with many bars spilling into the streets.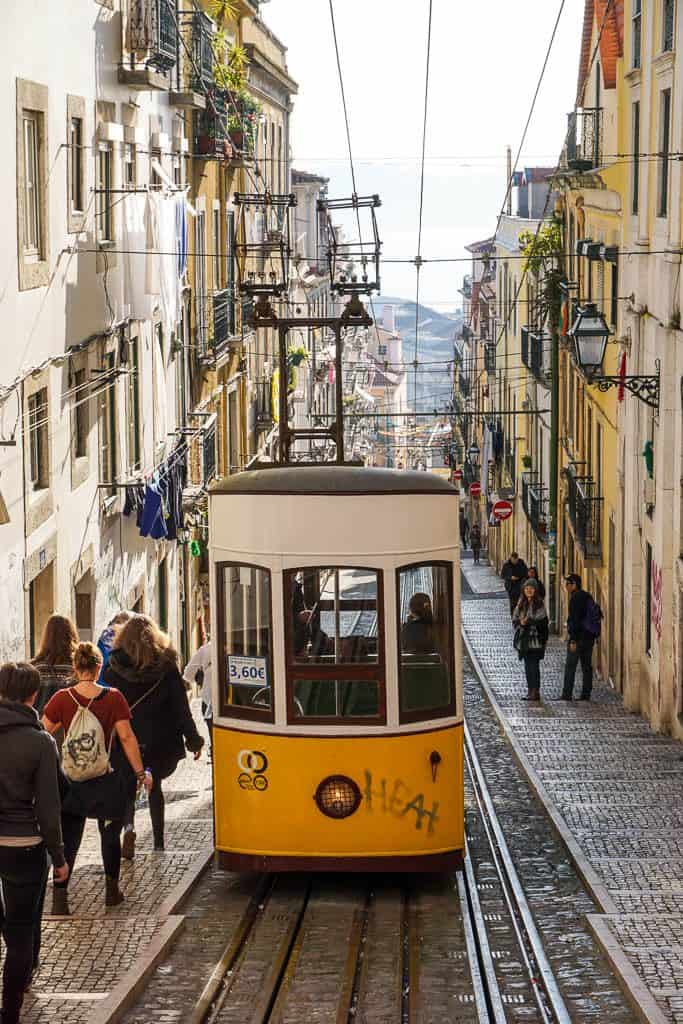 Lisbon has a LOT of sunshine
Around 3000 hours a year to be exact, and it's the sunniest capital in Europe, getting more than even Madrid, Rome and Athens. We visited in winter and it was sunny and not as cold as you would think for a city on the Atlantic Ocean. Although temperatures reach over 30 in the summer, the proximity of the Atlantic means cooler breezes make it more bearable.
Porto may be famous for Port, but the drink of choice in Lisbon is ginjinha
Ginginja, a red cherry liquer, is all over Lisbon and surrounding places like Sintra. Look for hole in the wall bars and kiosks that sell shots, sometimes in chocolate cups!
Eat dinner late in Lisbon
Of course you can eat at any time you like, but the usual time to eat is Lisbon is later. Bars and restaurants won't be too busy until 9 or even 10pm. The food in Lisbon is a delight, ranging from Michelin star restaurants to local eateries.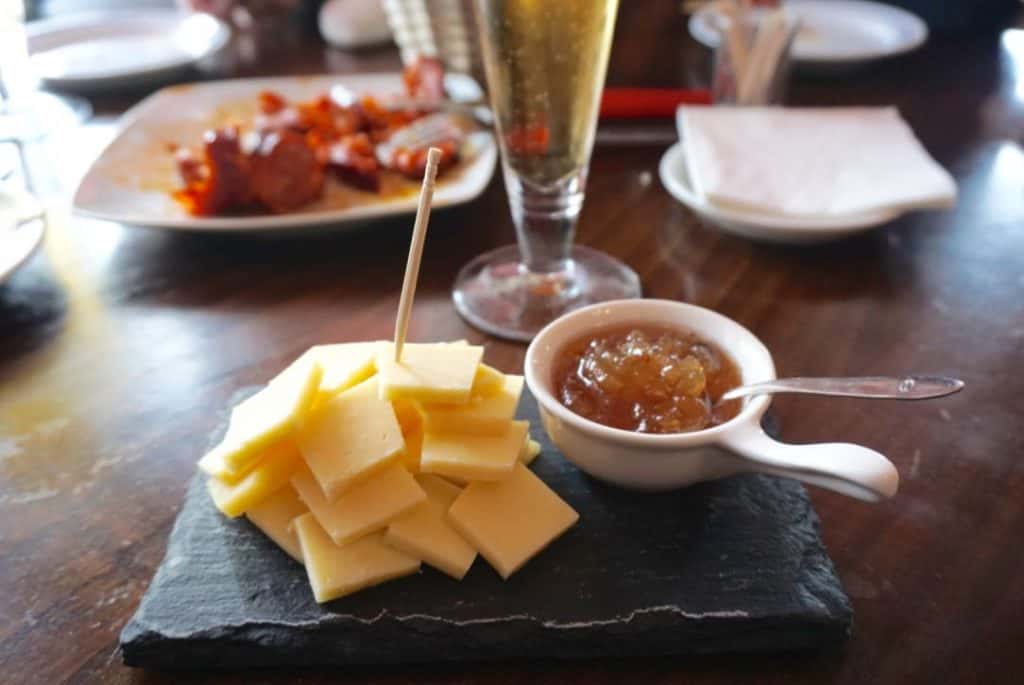 Take a day trip to Sintra
Easily reached by public transport or car, Sintra has plenty to keep you occupied on a day trip. It'll take you 40 minutes on the train and almost the same to drive to this magical town in the hills, but you'll feel like you've come much further. Throughout the woods there are many mansions and palaces where Lisbon's elite would come to escape the heat in the summer. The crowning glory above them all is Palacio de Pena, built by a German prince who married into the Portuguese royal family. It's extensive gardens and colourful architecture make it a must visit place in Sintra. Just don't go on one of the two days a year it's closed, Christmas Day and New Years Day, like I did…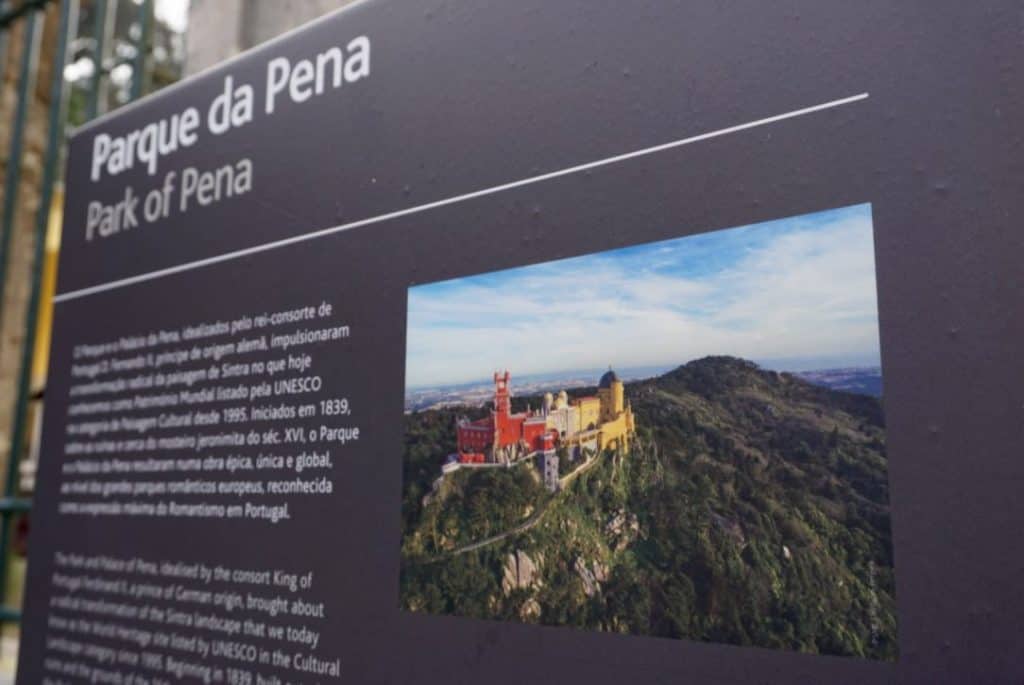 The Tower of Belém looks like a fairytale castle on the sea
It's a UNESCO World Heritage site, along with the nearby Jerónimos Monestry. It as originally built on an outcropping of rocks but has as the shoreline next to it has changed over time it is now very close to the riverbank and at low tide it looks completely connected. Once involved in defending the city against foreign ships, it's now one of the most popular things to see in Lisbon.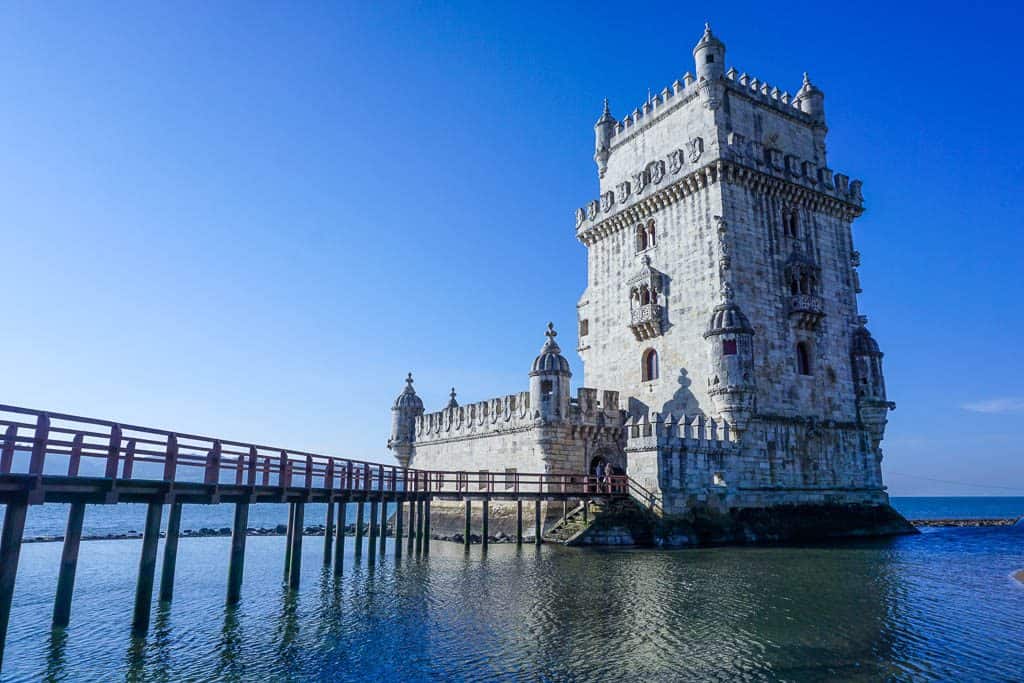 Cork products are everywhere
Portugal produces 50% of the worlds cork, so you'll see it everywhere. I was so confused at first, until I found this out! There are postcards, bags, shoes, basically everything you can think of made with cork, so if you ever dreamed of a cork handbag, now's the time to get it.
There's a whole shop that just sells tinned fish
Lisbon hasn't been overtaken by large department stores, and is still home to a number of speciality and unique shops. Conserveira de Lisboa sells only tinned fish. The cash register is the same one that was used in the 1930s and there are around 70 varieties of tinned fish in the store at any time, depending on the season. The shop works with a biologist to maintain sustainable fishing practices, so that Portugal's love affair with tinned fish, and their shop, can continue to prosper.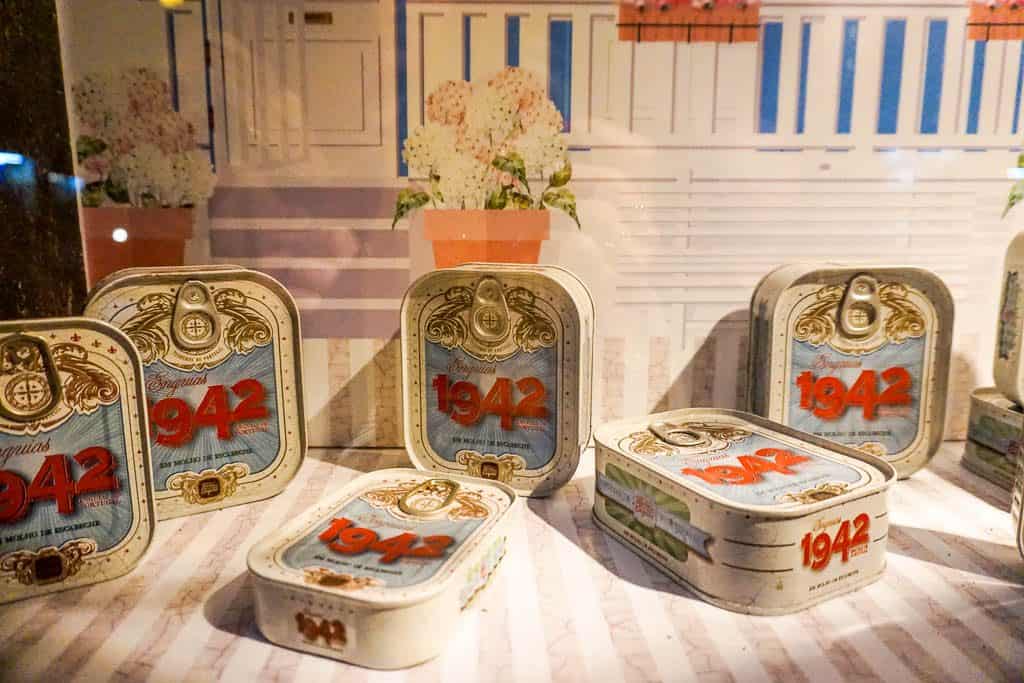 And there you have it, 21 things about Lisbon that you should know before you visit, to help you with planning your Lisbon itinerary. Things to do and see, things to eat and enjoy, and what to expect from Portugal's capital city. Is it enough for you to want to visit?
Sonja x
If you liked it, pin it!