Visiting the Outer Hebrides is like stepping back in time, to when things were simpler, community was king, and the landscape remained largely untouched but for a scattering of houses and farms. There's something magical about escaping from it all, and with this in mind I've wanted to visit the Outer Hebrides for years.
Watching the beaches consistently feature on lists of the top beaches in the world bumped the Outer Hebrides up my bucket list, as well as taking the chance to visit these islands that aren't (yet) as popular with tourists as the nearby Isle of Skye, despite having just as many amazing things to do and see.
The Isles of Lewis and Harris are the northernmost island in the chain of islands called the Outer Hebrides or the Western Isles, that string alongside the northwest coast of Scotland. Although Harris and Lewis are often referred to as separate isles they're actually one island, split by historical convention and their differing landscapes.
I was far from disappointed when I finally made the journey by ferry from Ullapool to Stornoway and spent a week exploring Scotland's largest island. Lewis and Harris are a dream come true!
Here are 11 reasons why they should be on your list of places to see in Scotland.
1. Beautiful beaches
White sand kissed by clear turquoise waters stretching for miles are hard to ignore. I'm not exaggerating when I say the beaches on Lewis and Harris are some of the best I've ever seen (and I've seen a few). The beaches of South Harris regularly appear on best beaches around the world lists, and it's not hard to see why they should be added to your UK bucket list! Not to be outdone, there are some hidden gems on the Isle of Lewis, like Bosta Beach on Great Bernera.
2. Stunning landscape
When it comes to landscape the Outer Hebrides has it all. The Isles of Lewis and Harris alone have such diversity in their scenery that you'll want your camera on hand at all times. I've spent hours editing photos and still feel like I didn't take enough!
The changing light across the moonscape of Lewis was a constant source of wonder, turning the moorlands of peat from brown to purple and the rocky terrain from stone cold grey to brown or green. The barren mountains further south in Harris wouldn't look out of place in somewhere like Iceland or Norway. There are miles of sandy beaches, jagged coastline and croft lands, not to mention the historical monuments that now look like a natural part of the landscape.
3. Friendly people
All the people we met on the island were so friendly and welcoming, and I know that can be said for a lot of places, but when you're on a small island it really makes a difference! We didn't feel excluded despite the strong sense of community the islanders have, and everyone went out of their way to make our mini-moon on the island special. We had some great chats about life in the Hebrides, and I truly wish I could have stayed and spoken to more people about it.
4. Extensive history
The history of the Isles of Lewis and Harris really deserves it's own post because there is SO MUCH there. This is one of the most archaeological landscapes I've ever seen (ranked with one of my other favourite places, Shetland) with standing stones and historical houses that give a glimpse of life gone by.
I knew about the Callanish standing stones before I visited the Isles, but I didn't know they're older than Stonehenge and far more impressive. Stonehenge may be bigger, but visiting the Callanish Stones is what I imagine it used to be like to visit there when you could walk amongst the stones and really feel the atmosphere. If you do visit PLEASE don't touch the stones, I saw a few people doing so despite the warning signs. Let's not ruin it for the future!
5. Creative ventures
It's not surprising given the inspirational landscape that many talented and artistic people have made the Isles of Lewis and Harris their home. You'll find painters, photographers, candy and candlemakers, potters, knitters and all sorts of creative endeavours taking place across the islands, with lots of open studios to explore. I could happily move to the islands to be creative full time, if I had an artistic bone in my body!
But the one endeavour that fascinated me the most was Harris Tweed. This luxury fabric has to be made by weavers in homes in the Outer Hebrides to classify as Harris Tweed and it's even protected by the government. We met a man making Harris Tweed in the Gearrannan Blackhouse Village who has been weaving since he was 12 years old!
6. The feeling
I can't accurately describe the feeling I had being on Lewis and Harris, but I miss it! The sense of tranquility and escape was palatable, and not easy to find today. The roads were quiet and everywhere you looked there was space. Most of the time we could count the people on the most beautiful beaches on less than one hand, including us. Coming back to Edinburgh was a shock to the senses!
7. Food and drink
Seasonal and local produce aren't new ideas for the islanders. There's mouthwatering cold smoked salmon from Uig, Stornoway black pudding, scallops, hand reared beef and cheese all made locally, plus even more we didn't come across.
Gin is having a renaissance, and the Outer Hebrides aren't missing out with Harris Gin produced near Tarbert. You'll also find some of the best single malt whisky there is from Abhainn Dearg Distillery.
(I was too busy eating the food to take a photo, so here's another of the million I took of the beaches.)
8. Adventures
Don't let the tranquil nature of the Outer Hebrides fool you into thinking there are no adventurous things to be done. Hill-walking, kayaking, fishing, boating, surfing, sailing, cycling; that's just a few of the adventure activities on Lewis and Harris!
9. Wildlife
Sheep, rabbits, and geese were just a few of the obstacles we avoided as we drove around Lewis and Harris. There are Highland Coos, eagles, and deer, plus dolphins, whales, and otters on the coast. All we had to do was step out our front door and we felt like we were in the wilderness.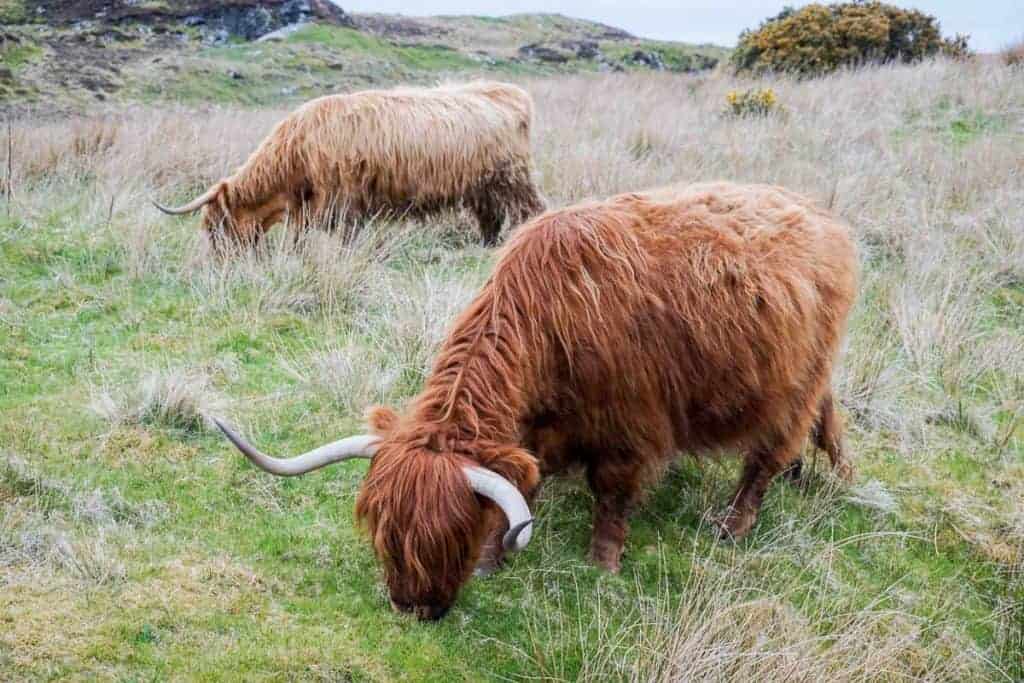 10. Culture
The Outer Hebrides are the stronghold of the Gaelic Language (that's Scottish Gaelic, not Irish), with most of the 1.1% of the population who speak the language living there, and just over half of all those on the island being able to speak the language. The signs in rural areas are only in Gaelic and it wasn't uncommon to hear people speaking a mix of Gaelic and English, particularly when we were in Stornoway. I love languages, and I really hope this element of the culture continues to be retained at the very least.
11. Literature in real life
I love reading books about the places I'm visiting, including novels set there. While I was staying on the Isle of Lewis I read the Lewis Trilogy by Peter May. An internationally best-selling series set in the islands, full of mystery and taking advantage of the landscape and isolation to hold you in suspense. And I mean I read all three! It gave me ideas for more places to visit in Lewis and Harris and mentioned cultural and historical events I wouldn't have otherwise known about.
You might also have heard of the Outlander Series by Diana Gabaldon, which isn't set on the Outer Hebrides but involves a stone circle, not unlike the Callanish Stones.
I thought I'd finally be able to tick the Isles of Lewis and Harris off my bucket list after finally visiting, but instead, I just want to explore the rest of the Outer Hebrides and return there!
Practical info
Getting to the Isles of Lewis and Harris
We took the Calmac Ferry from Ullapool to Stornoway, but you can also go from Uig on the Isle of Skye to Tarbert. Both are car and passenger ferries. If you want to continue exploring other islands in the Outer Hebrides then you can go between Tarbert and North Uist as well.
There is an airport in Stornoway with flights from Glasgow, Edinburgh, Aberdeen, Inverness, and Benbecula.
Getting around
Getting around the Isles of Lewis and Harris is best done by driving. Rent a car on the mainland and take the ferry over, or get one on the islands if you fly in.
Most of the roads are single lane roads with passing places, although they're not too busy. It's hard in such beautiful scenery but keep your eyes on the road ahead!
You can also use the local bus service between main centres. If you don't drive, consider taking a tour to help you see the best of the islands.
Where to stay
We love making a home wherever we travel, so Airbnb was the best option for us (sign up here to get travel credit from your first trip). Of course, there are plenty of hotels or hostels all over the isles. If you don't want to drive too much, you could stay half your time in Lewis and half in Harris.
Consider accommodation outside the main areas, since you'll want to be travelling around the islands anyway. We stayed on Great Bernera and loved it!
Have you ever been somewhere you can't wait to return to? (And did you think Scottish beaches could look like the Caribbean?) 
Sonja x
If you liked it, pin it!