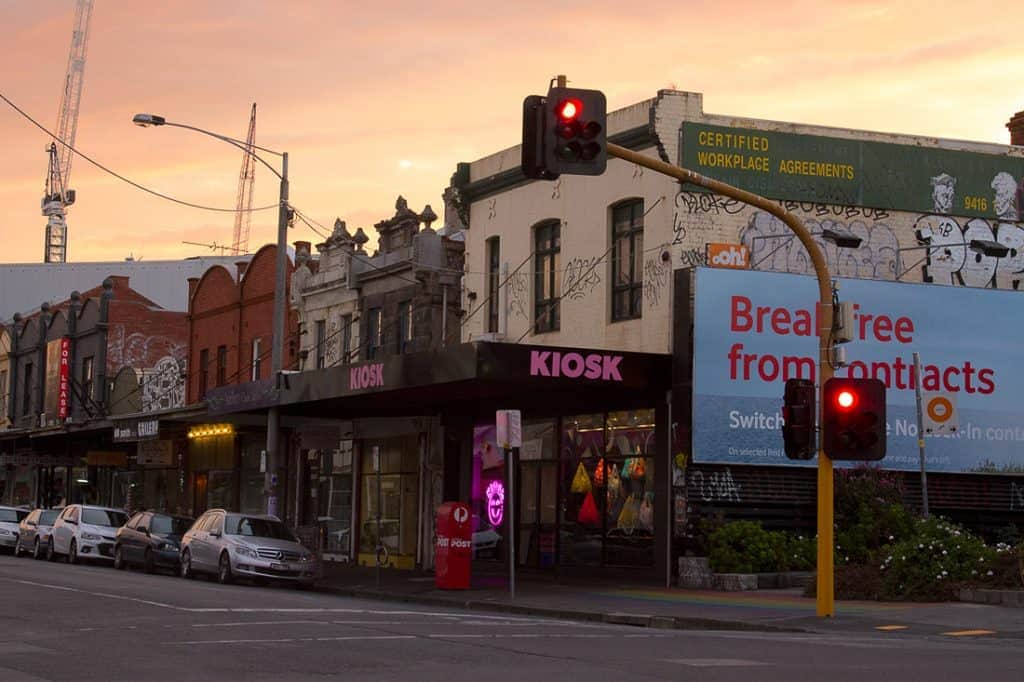 The following 2 days in Melbourne Itinerary is a guest post by LC, an ex-expat who is currently re-exploring her home country of Australia and writing about her travels on her blog, Birdgehls. Her life's aspiration is to one day live in Tasmania with a Shetland pony, miniature pig, and several pygmy goats.
It would be a shame to journey to the Land Down Under and not spend at least a little bit of your trip in one of Australia's biggest and best cities.
Two days in Melbourne is just enough time to scratch the city's surface. It's a place rife with culture, art (urban and otherwise), a pumping nightlife and some of the best restaurants and cafes in Australia.
Melbourne Itinerary: What to do in 2 Days in Melbourne
Melbourne in 2 days is a proper challenge, but you can, at the very least, cover most of the best things to do in the city centre, and just a little beyond. You'll want at least two full days and three nights, if possible, and could easily stretch this into 3 days in Melbourne if you want to have a bit more time to wander around. If you have around five days to a week in your Melbourne trip plan then you can do all of this plus go exploring beyond the city centre.
However, if two days in Melbourne is all you have to spare in your itinerary, then this is what you should prioritise!
Day One Melbourne Itinerary
Check out Federation Square and Flinders St
Flinders Street Station is the beating heart of Melbourne's city centre and the building housing it is considered one of the most beautiful and historic within the city.
It's a regular meeting place amongst locals – instructing one another to "meet under the clocks" above the station's main entrance.
From Flinders Street, you can stroll across to nearby Federation Square, which is home to some lively bars and eating areas, outdoor entertainment screens and ACMI – the Australian Centre for the Moving Image.
There are regular exhibitions held at ACMI concerning art, culture, and film. You can check out their website to see if there is anything of interest on during your own visit.
Tour the MCG (for sports enthusiasts)
Melbourne is considered to be the sports capital of Australia and the home of much of the fanfare is the Melbourne Cricket Grounds, also known as The MCG, or simply The "G".
The MCG is the largest stadium in Australia and the tenth-largest in the world. It's big. If you're into sports then you'll want to add this to your Melbourne itinerary!
It's here that cricket and Aussie Rules football fanatics journey to watch their teams play off against one another. Or in the case of cricket, drink beer in the sun whilst the teams on the grounds do seemingly not very much at all.
It's worth trying to nab a ticket to an AFL game because the atmosphere in The G is incredible. If no games are playing and you're still keen to check it out, you can tour the MCG and learn all about Australia's great and passionate sporting history.
Visit the National Gallery of Victoria
One place I thoroughly recommend for anyone planning a trip to Melbourne is heading to the NGV.
Located a short stroll south from Flinders Street, it regularly holds some of the best art exhibitions in the country.
Some cost a coin to get into, but others are free. Just make sure you get there early to avoid the crowds.
Poke around the laneways
After the above two option that are a bit further out, you can head back into the city and start exploring!
Melbourne's laneways are world famous, playing host to some fabulous urban art, cute cafés and restaurants serving the most delicious food. You can eat very well in this Australian city, and for a range of prices too.
For art, I recommend checking out the ever-changing Hosier Lane, or AC/DC Lane, which bears tribute to the famous Australian rock band.
For food, explore Tattersalls Lane (there are excellent dumplings to be found along here) and Meyers Place. I enjoy simply walking down Flinders Lane as well, to see what's on offer in terms of art, drinks and eats.
Your entire Melbourne trip could revolve around wandering around and finding amazing new places that take your fancy, so make sure you give yourself some time within your Melbourne itinerary to do at least a little bit of that!
Visit the Shrine of Remembrance for stellar views of the city
This tribute to Australia's fallen soldiers is free to enter and well worth a walk around to learn about the country's history and involvement in the world's wars over the last century.
A climb to the top will provide you with an excellent, and more importantly, free view of Melbourne's cityscape, looking back from the south.
Day Two Melbourne Itinerary
Go Shopping on Chapel St
If you asked any Australian why they'd make a trip to Melbourne that wasn't event-specific, they'd probably answer "to shop". The city is packed full of boutique shops selling interesting and varied clothes, homewares, art and other knick-knacks.
Chapel Street in the city's southeast, stretches through the suburbs of South Yarra, Prahran, and Windsor. It's a popular destination for good food, entertainment and a spot of shopping.
You can swing by Prahran Market to grab a bite or ogle at gourmet delicacies. It's open every day except for Monday and Wednesday so your two days in Melbourne carefully if you really want to go!
Visit the Brighton Beach Boxes
Despite being located outside the city, the Brighton Beach boxes are one of the most iconic and photographed images of Melbourne. They comprise of 82 colourful boxes lining the sand of one of Melbourne's most affluent suburbs.
Considered a status symbol, owning one comes with a price – a box that went up for sale was sold for over $326,000 in 2017.
The easiest way to get there via public transport is to catch the train on the Sandringham line to Middle Brighton. From there, it's just over a kilometres walk down to the beach.
Stroll along St Kilda Beach
One thing Melbourne is admittedly lacking in is a decent beach. There are many beautiful stretches of coastline and sand from about a half hour drive out of the city in either direction, but the metro beaches leave a lot to be desired.
It is worth heading south to St Kilda beach, if only to explore the historic pier.
If you're in the mood for a bit of fun and it's the weekend, you can take a stroll around Luna Park. Opened in 1912, it's the oldest continuously running theme park in the country. Its most famous ride is the Scenic Railway, a rollercoaster that runs around the park's perimeter. And the giant face that serves as the entrance to the park is both terrifying and worth a gander at.
Go bar hopping
After your day exploring Melbourne's southeast, chill out with a bit of revelry in the city itself. As far as cities in Australia go, Melbourne arguably has the best nightlife!
I'd start at either Berlin Bar on Corrs Lane or Madame Brussels on Bourke Street. From there, just head to wherever takes your fancy – there are interesting and varied bars right across the city, including a handful of rooftop bars which make lovely spots to round off your 2 day Melbourne trip.
How to Get to Melbourne
In an act of minor insanity and a major inconvenience, Melbourne doesn't have a train line that cuts straight out to Tullamarine International Airport from the city.
What it does have is a rather expensive coach known as the SkyBus. These buses arrive at the airport at regular intervals (ten minutes or so), taking travellers back and forth from Southern Cross Station in the city.
You can transfer to a smaller coach at the station, which will drop you off at your hotel. Tickets are cheaper to book online – $18 for a one-way adult and $36 for a round trip.
Uber and other ride-share apps, as well as taxis, are also an option. But if you're heading to the city, the SkyBus is probably the best and "cheapest" way to get there.
Where to Stay in Melbourne
If you're wondering where to stay in Melbourne, the surrounding suburbs can offer a glimpse into a local's life within the city. Melbourne is comprised of many interesting suburbs, with their own varied activities and individual vibes.
If you only have 2 days in Melbourne however, I'd recommend staying in the city.
There are a range of hotels and hostels sprinkled around the CBD (Central Business District) that will suit any budget, whilst keeping in mind that Australia is quite an expensive country to travel through.
If Airbnb is more your style, there are plenty of studio apartments on offer around Docklands, which is a stone throw away from Southern Cross Station (and so conveniently, the Skybus).
Day Trips from Melbourne
Australia is a big country. Like, sixth largest in the world big. There's only so much ground you can cover in a short space of time, particularly when our public transport system leaves a lot to be desired.
It would be a real shame to journey all the way to Melbourne and skip driving the Great Ocean Road. It's one of the most scenic drives in the country, taking you through small coastal towns and past beautiful beaches. It's also easily doable as a day trip from Melbourne.
The standout attraction of this route is the Twelve Apostles, a collection of limestone stacks off the shore of the Port Campbell National Park. They're a three-hour straight drive from the city.
It takes around two hours longer if you travel along the coast. I would recommend doing the scenic route on the way there and then travelling home via the highway on the drive back to Melbourne.
If you're travelling by train and want to check out what regional Victoria has to offer, take a trip out to the smaller cities of Ballarat and Bendigo. Both are relics of the state's gold rush era and there are a plethora of activities to do in each.
It's impossible to see and do everything with only 2 days in Melbourne, but this list will help you scratch the surface of what this fantastic Australian city has to offer. And perhaps encourage you to return for a longer trip, one day!
Planning your trip to Australia? Check out these posts:
If you liked it, pin it!