The following is a guest post by Claire Martin, a British travel blogger and freelance writer. She blogs about eco-travel and overland adventures on her blog Claire's Footsteps; she drove around the entirety of Australia and is currently planning an overland trip from Bali to London.
People always seem surprised that one of my favourite cities is the world's most isolated capital, that can only be reached by a 4+ hour flight or a minimum 1 week drive across some of the most barren landscape known to man. But I'll say it time and time again; I love Perth.
The breathable-ness of the city is just one appeal, but then you've got the beautiful parks, the amazing food, the unique history, historic Fremantle (which should be a city in its own right), delectable wine and the most spectacular surrounding nature – I could name hundreds of reasons to visit the capital of Western Australia.
Most often visited by those road-tripping Australia, many people forget about Perth just because it is so isolated – but for me, that's part of its appeal.
It's true that it is quite expensive (although so is Australia in general) but those backpacking in Australia need not be alarmed – there are plenty of ways to save some dollars, ranging from staying in cheap hostels to visiting pay-as-you-feel restaurants.
This Perth itinerary will cater for those budget travellers, as well as feature family-friendly things to do in Perth and more luxurious activities in Perth.
3 days in Perth is a good amount of time to spend getting to grips with the city – many travellers do so before going on a west coast road trip towards Broome. This itinerary will cover what to do in Perth in 3 days and give you some ideas for where to go next.
So let me share my favourite Australian city with you!
Perth Itinerary Day One – the CBD & Cottesloe
Mend Street Jetty
Begin your 3 day Perth itinerary in its city centre. First up, if you're staying east of the river, should be the inner-city beach by Mend Street Jetty, where you can enjoy views of the urban skyline while sitting on sandy riverbanks. There's even some parasols and deckchairs set up – so you can have a sunbathe if the mood takes you!
Elizabeth Quay
Then, take a ferry across to Elizabeth Quay. This is the unofficial centre of Perth, which has had a massive redevelopment in recent years. It's now very pleasant to stroll around, with a bell tower and water displays.
Walking away from the water, you'll stumble across a few buildings that tell the story of Perth CBD and how it was created. These include the skyscrapers of St Georges Terrace and the intriguing Barracks Arch. There are also a few sculptures to check out; every tourist to Perth has to get a photo with the hopping kangaroos!
If you want to go back in time, check out London Court. It's decorated in Elizabethan style, but of course, it doesn't actually date from then. Even though it's fake-historic, it's pretty enjoyable to stroll down.
Take a tour
If you'd rather someone show you around Perth and hear some local stories, why not opt for a guided walking tour of Perth? Generally, these take 2 hours (often from 10 am until 12 noon) and detail the history of the city and the Indigenous stories of the area.
King's Park
Once you've seen the best of Perth city centre, take the free CAT bus to King's Park. This is the largest urban park in the Southern Hemisphere and is well worth a few hours of your 3 days in Perth. Highlights include:
An Aboriginal bush tour of the area and its Indigenous significance
The 750-year-old boab tree
The state war memorial
The spectacular city views
Walking over the suspended bridge to the treetop canopy
Cottesloe
Once you've finished in the park, it's time to see what the Perth seaside is all about – and I don't just mean the inner city beach this time! Take a bus back to Perth station and hop on a train there to Cottesloe. Probably Perth's most famous beach, Cottesloe is located in a charming beachside suburb. It features 19th-century architecture which gives it a real 'old fashioned' seaside feel, ice cream shops, fish and chip eateries and of course, a beautiful beach.
In the summer, Cottesloe beach gets extremely hot – but the 'Fremantle Doctor', as the locals call it, blows in during the afternoon and cools the place down. Still, you might fancy going for a dip – the waters here are generally safe for swimming, although do be aware that there is the occasional shark sighting.
If you don't fancy swimming, just hang around for sunset – you won't be disappointed. Cottesloe has some of the best sunsets in Australia. While watching the sun dip over the Indian Ocean, you'll feel pretty content about your first day in Perth City.
Northbridge
If you fancy doing something else later, check out the vibrant Northbridge area. There's lots of nightlife to enjoy as well as restaurants with Australian and world cuisine.
Perth Itinerary Day Two – Fremantle
Fremantle is kind of part of Perth, kind of not part of Perth – many consider it a city in its own right. However, it's my favourite part of the city and I promise this will be a very fun day on your Perth itinerary!
How to get there
To reach Fremantle from Perth, you'll just need to hop on a train at Perth Central Station (this takes about half an hour) or drive if you have a vehicle/ take a taxi, which takes about the same time.
You could also consider staying in Fremantle and travelling into Perth CBD on day one of the Perth itinerary. I lived in Fremantle when I was in Perth, so I can vouch for this option!
Fremantle Round House
Whatever way you get there, I'd recommend firstly heading to the Fremantle Round House. Looking out over Bathers Beach, this house tells the tale of Fremantle's convict past and even gives visitors the chance to experience the stocks (minus the rotten fruit and the length of imprisonment, of course!). The roundhouse is entry by donation.
Cappuccino Strip
After the Round House, head to Cappuccino Strip for that's right… a cappuccino. There are lots of cafes to choose from here – it's something that Fremantle does best- but my favourite is actually a little off the main street. It's called Moore and Moore and serves delicious drinks, cakes, and bites to eat and is located in a lovely courtyard setting.
Fremantle Markets
Are you visiting Fremantle on Friday, Saturday or Sunday? If so, head to the Fremantle Markets afterward. They're open on weekends and serve a variety of hot and cold food, souvenirs, artwork and more. There's often live music and they always have a great atmosphere. There's also some pretty awesome street art to check out in the area!
Fremantle Prison
Once you're fully refreshed, it's time to go back to prison – I said I had a fun day in store for you! Fremantle Prison offers tours, telling all the eerie tales of the gaol's past. The prison is thought to be one of the best cultural attractions in the city, and it is Western Australia's only world-heritage listed building – making it without a doubt one of the best things to do in Fremantle.
Museums & Galleries
If you have time once you're out, there are another couple of decent museums and galleries to visit in Fremantle. The WA Maritime Museum tells the story of Fremantle's port – which is the essence of its being, and the Fremantle Arts Centre captures the creative vibe that is omnipresent within the city today.
If you're not a museum fan or once you have finished, take a stroll along the idyllic waterfront, with its quaint fishing boats and beautiful blue waters.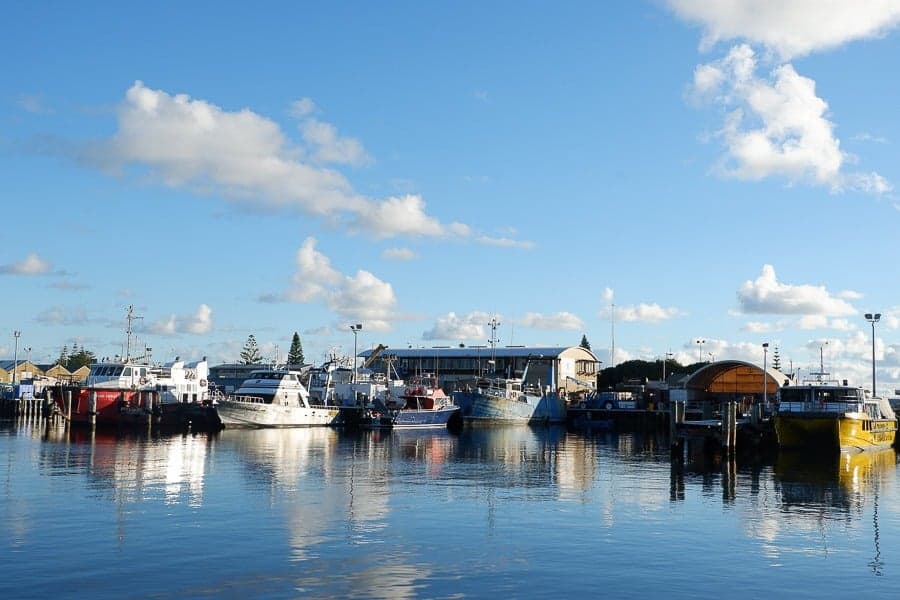 Food & Drink
Once you've done all of that, you'll no doubt be a bit tired and the sun will probably be beginning to set. Take a weight off your feet by tucking into lunch by the water. Fremantle is world-famous for its seafood. I'm vegan so didn't taste any, but locals and tourists alike love Cicerellos.
Once night falls, there's only one place to go in Fremantle – Little Creatures Brewery. This beer ships all around Australia and beyond, so you can rest assured that it's top quality stuff! They also serve food, so if you didn't fancy fish and chips you'll likely be able to find something to eat here.
Perth Itinerary Day Three – Rottnest Island
The reason why it might not be a bad idea to base yourself in Fremantle on this Perth itinerary is that day three again takes you out of the CBD, to an island that is easily reachable from both Fremantle Harbour and Perth City.
I'm talking about Rottnest – Western Australia's favourite island.
How to get there
Take the Rottnest Express over, and spend an idyllic day exploring. There's world-class beaches, amazing wildlife both in and out of the water, hiking trails and a general chilled out island vibe. Visiting Rottnest Island is one of the best things to do in Perth for sure!
The Rottnest Express is pricey at $67.50 per person, but it is half price on Tuesdays. Note that these tickets sell out very quickly, so reserve your tickets early if you know that you'll be travelling to the island then! You can also pre-book a bicycle with your ferry ticket, which is the best way to get around the island.
Once you reach the island, grab your bicycle and you're good to go! If you don't want to cycle, you can also use the hop on hop off buses to get around Rottnest.
Trails & Quokkas
Once you arrive, I'd recommend tackling one of the trails first, before the midday heat. The walk to Wadjemup Lighthouse goes past some spectacular viewpoints. Half hour tours that detail the history of the area – including Indigenous history which is very important to learn about – leave at 11 am and 2:30 pm and cost $9.
You might spot some quokkas en-route – Rottnest island's friendly native, they're absolutely adorable marsupials and love posing for selfies! But do remember that they are wild animals, and are endangered, so don't touch or feed them. They're generally very sociable but if any look stressed don't approach them.
Beaches
Once you get back to the beach area, grab your bike or hop on a bus and explore the island! It's generally recommended that you travel clockwise around the island. There are countless bays to visit in Rottnest, including:
Salmon Bay – great for snorkelling, with a marine sanctuary zone
Marjorie Bay – one of the less visited beaches on the island
Strickland Bay – a popular surf beach
The Basin – one of the best places on the island for snorkelling
Little Parakeet Bay – a relaxed beach, popular with swimmers
Boats leave back to Rottnest throughout the afternoon, with the last departing at 6:30 pm and arriving at B-Shed Fremantle and Northport. See exact times here.
Unique places to eat in Perth
You might want a fancy dinner for your last night in Perth. Head to Clarke's of North Beach for fine dining by a multi-award winning chef, or take part in a luxury Swan River by Night Cruise to enjoy a meal on the water.
Or, are you tightening the purse strings? Visit Annalakshmi, an Indian vegetarian restaurant that operates on a pay as you feel basis. Do make sure you donate what you can though; restaurants like this thrive on people donating!
Where to stay in Perth
Perth has every type of accommodation, from budget hostels to 5* hotels. I'll include recommendations for both Perth and Fremantle because, as already mentioned, you might choose to stay in Fremantle.
Hostels:
Fremantle
The Old Fire Station – this is without a doubt the best hostel in Fremantle – if not the best hostel in Australia. It has a fantastic atmosphere; it's just the right size to be a great place to meet people but also small enough to have a family atmosphere. As well as a courtyard where people party, it has a chill-out area upstairs with sofas, Netflix, a kitchen that's always clean and a girls-only area. I lived here for a month while I was in Perth, and I can guarantee you'll love it.
Perth
Billabong Backpackers is a large, social hostel offering free breakfast, events, large rooms and a pool – great for those hot summer days!
Hotels:
Fremantle
The Mini Hub has compact private rooms with boutique features, within walking distance to all the main attractions of the area. Each room enjoys a flat-screen TV, free WiFi, and a private bathroom.
Perth
Tribe Perth is a fresh, modern hotel with beautifully clean rooms and flawless features. Each soundproofed room has an iron, refrigerator, a flat-screen TV and attached bathroom with all the necessary amenities, and there is a bar on-site and free WiFi throughout the property.
Where to go after Perth
So, Perth is all fair and good, but where else is there in Western Australia? Don't worry, I wasn't about to send you 4000 kilometres to the other side of the country without more advice about where to go from Perth!
I spent three months road tripping Western Australia and it was one of the best experiences of my life.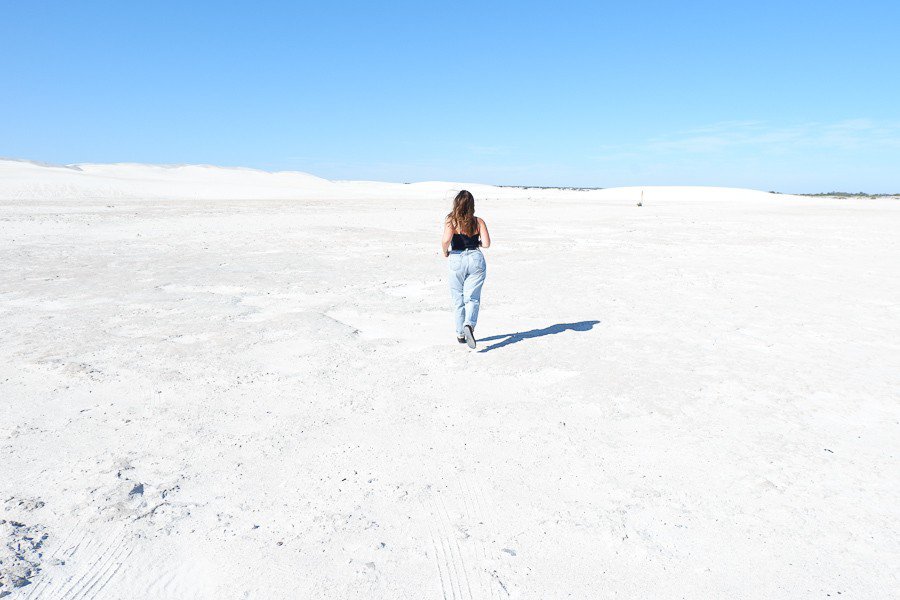 Road trip ideas
From Perth, you can travel south to Margaret River and then across to Esperance. From there you can drive up to Kalgoorlie, an outback mining town, and either back to Perth or along the Nullarbor eastwards.
Or you can take the highway north and see the west coast of Australia. While it gets a lot less visitors than the east coast, it is well-deserving – the epic-ness of the scenery is something that you just won't get anywhere else.
Some of the best road trip spots in Western Australia include Kalbarri National Park with its Jurrasic-park-esque gorges, the Ningaloo Reef where at the right time of year you can swim with whale sharks, magical Karijini National Park which constantly looks like it's populated with fairies, and the chilled out town of Broome – where the sunsets are the best in the whole of Australia.
You can even venture even further north to the Gibb River Road, a 660 kilometre stretch of 4WD track lined by waterfalls and gorges and then into the Northern Territory and Darwin. You'll be a very long way from Perth by this point, but it's a popular route for many travellers.
Wherever you decide to go, you'll have a blast in Western Australia. There's nowhere else in the world quite like it!