"We don't hire cars for that company anymore, they're in liquidation."
And that's how my Isle of Skye birthday weekend started.
I'd left work in Edinburgh early to get to the airport in time to meet a friend coming from London for my birthday weekend trip to the Isle of Skye. We planned to sort out the car paperwork together and begin our epic Scotland road trip. First up was  Loch Ness for a night, then the Isle of Skye, our ultimate Scotland destination and one that from all accounts promised to be a highlight of our working holiday in the UK.
Heading North of Edinburgh
After living in Scotland for nine months without crossing the Forth Road Bridge to venture north I was more than ready to be on the road. The Isle of Skye is one of Scotland's ultimate destinations and avoiding planning my own birthday celebrations is one of my life goals, so when Jess suggested we go to the Isle of Skye the introvert and the traveller in me both screamed YES.
The Isle of Skye is an island to the west of Scotland, forming part of the Inner Hebrides. Its stunning and dramatic scenery earns it a place in the top destinations in Scotland and 4th best island in the National Geographic Traveller Magazine ranking.  Sometimes people forget to mention the regular rainfall and "atmospheric" mist means the landscape of Skye can be more than a little elusive…
After our car rental hiccup was solved thanks to a time stamped email showing we hired the car a mere hour before the company folded, our rental was honoured and we were on our way to world-famous Loch Ness to stay for a night to break up the journey. A little late, but better than never! The Isle of Skye is definitely reachable in one day from Edinburgh, but if you want to take a more scenic route then stopping in Loch Ness or Fort William are both good choices.
Loch Ness
Do I really need to tell you what Loch Ness is famous for? The giant Loch Ness monster statue outside the visitor centre probably gives it away. Urquhart Castle sits on the edge of the lake and taking a boat tour is a great way to see it from the best angle. We took a tour with Nessieland and George Edwards was a great skipper. He narrated the tour completely from memory and taught us far more about this lake than I never knew before. Loch Ness is actually interesting aside from the tale of the Loch Ness monster, who knew?! It contains more fresh water than all the lakes in England and Wales combined, and it's super deep and hard to map, part of the reason the myth has continued all this time.
 Drive to the Isle of Skye
After cruising Loch Ness it was time to head to the highlight of the Scotland road trip, the Isle of Skye. My favourite drive in Scotland is from the bottom of Loch Ness to the Isle of Skye. The road curves over mountains and through huge valleys, and also bypasses Eilean Donan Castle, one of the most picturesque castles in Scotland. Worth the picture stop at the very least and a tour if you have time.
Portree
There is a wealth of accommodation on the Isle of Skye from hotels and hostels to B&B's and even campsites, but these can get really busy in the summer period and I would recommend booking in advance if you're particular. We chose the Portree Independent Hostel, once the Main Post Office for the island and located in the capital, and an ideal base location for exploring the Isle of Skye.
Portree is an easily walkable little town with waterfront restaurants and narrow streets. Since it was my birthday, we had to sample the local nightlife which included quite the number of pubs for the size of the town. The local lads chatted with us and surprisingly a fair few had been to New Zealand or Australia on a working holiday. I suppose in the same way that I feel like New Zealand is so far and I needed to get out and travel the young people of the Isle of Skye feel the same! Skye is actually further from Edinburgh or Glasgow than a flight from one of those locations to Europe. If you're going to leave, you might as well go far away!
Old Man of Storr
A quick trip up the road from Portree is the Old Man of Storr. It's basically an epic rock you can walk up to. It's enough to get close enough to see it, but if the weather's good then I'd go all the way there to be right amongst it. We went in fading daylight and near gale force winds and managed to get close enough for a good view just before low cloud cover obscured him from our view. I can now count managing not to be blown off a hill in my list of achievements.
Uig
To experience a different town on our Isle of Skye weekend we headed up to Uig, which is a pathway to the Outer Hebrides. There was a grand total of two restaurants in Uig to choose from, so we took our chances with the Pier Restaurant and ended up having the most delicious fish and chips of my entire stay in the UK to date.
Neist Point
The beautifully located but ghostly former lighthouse and B&B of Neist Point make an interesting place to explore. They're on the opposite side of the island from Portree and kind of out of the way but if you have the time it's a lovely drive. The lighthouse used to be a B&B and kind of looked like an old school camp. It was being renovated and we weren't sure if people were there or not but kept hearing creepy sounds. It really brought home being so far in the middle of nothing!
Milovaig
Close to Neist Point is a small place called Milovaig, divided into an upper and lower town and a relic of the old croft lifestyle. Driving through Milovaig felt like we had stepped back in time as we tried to negotiate the narrow lanes, avoiding the sheep that run free in the area.
Dunvegan Castle
Jess has family history on the Isle of Skye, so we just had to stop in to Dunvegan Castle, the home of the MacLeods for 800 years (history in Europe blows my mind!). There are beautiful gardens and the Castle itself features in the Jacobite uprisings.
The Fairy Pools
One of the things I was most looking forward to on the Isle of Skye was seeing the Fairy Pools. I can't remember when I first heard about them but I at some point I pinned a million pins on Pinterest so it was at the top of the Isle of Skye to do list.
By the time we got to the Fairy Pools the aforementioned rain and mist had set in so we couldn't see the famous Cuillin mountain range. I am a firm believer in making the most of any weather when you're travelling, and the 15 minute walk from the car park was worth still worth it. One look at the glowing colour of the water pooling between waterfalls is all it takes to understand why these are called the Fairy Pools.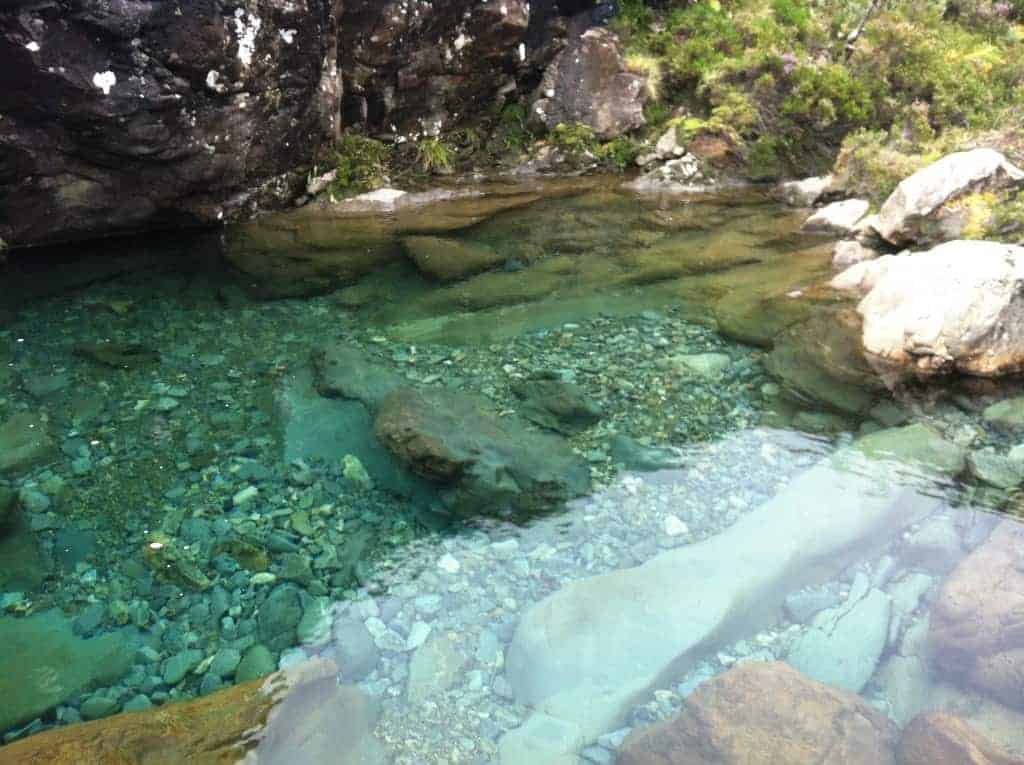 Fort William and Glencoe
To complete the circle back to Edinburgh we drove back from our Isle of Skye weekend through Fort William and Glencoe, arguably the most beautiful glen (valley to us non-Scottish folk) in Scotland. Glencoe could be a destination all by itself, especially if you like hill walking or as a base for exploring the Highlands. It is some of the most stunning scenery I've ever seen.
After the weekend almost didn't get off the ground due to my disastrous luck with car rentals (this is not the first time or the last…), the Isle of Skye more than lived up to the expectations of a top destination in the United Kingdom and in particular Scotland. While you can see a lot of Skye in two days I would recommend sparing more if possible because of the changeable weather and the chance to relax and take in more of the island. Many backpackers choose to hitchhike around the island and that choice means it could take longer to get to the destinations you really want to see.
If we had more time we would have ventured to the Quiring – a valley of smashed boulders, Kilt Rock – a sea cliffe that looks like a kilt, and Elgol – another picturesque seaside village. We went to the top spots that we could reach within a day and a half but more time would mean finding more stunning areas hidden away. An Isle of Skye weekend should be on the top of every Scotland visitors list, and I couldn't argue with its rating as one of the best islands in the world.
Moving to the Isle of Skye
Obviously the Isle of Skye is absolutely stunning, but would you want to move there? This more isolated life on a weather battered island off the west of Scotland would not be for everyone. That's not to say it wouldn't be an amazing experience. A visa or the ability to live in the UK would be essential, plus a consideration of what industry you're in if you're looking to work. A number of people we met were operating small businesses, or working on rebuilding old homes – I think the entire pub was comprised of joiners! I wouldn't recommend this as a place to move to for nearby travel experiences, due to the location, or if you need work immediately, but if you did your research and planned it right it could be a seriously epic lifestyle change.
Sonja x
If you liked it, pin it!