I live in Spain.
The words still sound strange to my own ears, like what I'm saying doesn't quite fit even though I've lived in Spain for over a year. At times I feel like I've been here much longer. At others like I've only just arrived. Sometimes I'm afraid when I leave it will feel like one long dream. A good one.
I fell in love with Spain on a holiday in the countryside over two years ago and at the time I would never have imagined I'd be living here.
If you've read some of my older posts you'll know that when my UK working holiday visa ended in 2015 I moved to Australia to sort out my life. With memories of sunshine, cheap wine and brilliant blue sea in my head I ended up applying for the Auxiliar de Conversacion program to be an English Language Assistant in Spain.
And then it snowballed from there.
A year of living in Spain and I'm sitting on the balcony on my apartment, trying to put into words what this time has meant and my memories of Spain now.
How do you compress a whole country and a year of learning and adventure into a single post?
You can't choose where you live on the Auxiliar program, other than choosing a vague region.
By chance, I ended up in Almería, one of the least well known of all the Andalusian cities, and consequently, the least frequented by tourists. I couldn't have asked for anything better.
It's a southern Spanish city, where it's so uncommon to hear English that people stare at you and children follow you in the street when you're speaking.
It's a city bathed in sunshine for the majority of the year, where a day of rain is so rare it warrants amazed chatter about it for days, and multiple days of rain surely signal some kind of impending apocalypse.
It's an area that's been populated for thousands of years, with the remains of copper age villages, roman ruins, and a Moorish fortress, and has now been transformed into a combination of colourful connected houses in small alleys and ugly 1970s apartment buildings.
A place that despite its extensive history as a spaghetti western film location, and it's continuing presence as the backdrop for TV Series like Game of Thrones, has managed to fly under the radar and avoid the hype of a filming hotspot.
Almería is what I like to call "my Spain". In such a diverse country this is the Spain I know and what I'll remember when I think of this chapter in my expat life.
And there's a lot to remember.
Can we just talk about the tapas for a second? Those delicious little morsels of food that I'm now going to miss for the rest of my life.
Those small plates that are synonymous with Spain, a phenomenon that has stretched out of the borders of this country, and yet I swear nowhere in Spain does tapas as good as Almería. For one, the tapas come free with a drink, unlike other places where they can cost you, and their quality is amazing.
Sure you might get free tapas in Granada, but often they'll be a piece of meat with some potato chips or soggy fries, or a toasted sandwich with cheap ham and tasteless cheese. If you even get a choice of what you want.
There are hidden treasures of course, but in Almería I guarantee you every bar will have better tapas than Granada, and most will far surpass them. There's so many tapas choose from that it becomes hard to decide, and hard to try new bars when you've found ones that are so good.
In Spain, they have what I like to call the "Old Man Bars". Decorated with hanging legs of cured ham and coloured tiles on the walls. With napkins that push any spilt water around the table and refuse to soak it up.
Sometimes with a TV playing football on the wall, as men sit on bar stools chatting to the waiter, or at tables alone. Sometimes they're in small groups, but whichever one, they all look so at home they could be in their own living room.
I love the sound of these bars, the loud cacophony that permeates into the street.
Shouts of unintelligible Spanish, voices raised at the football, quiet words with each other, loud greetings to friends passing by, intertwined with the clanging of plates in the kitchen and clunking onto the table as tapas are served.
The glug of red wine poured into a glass or the dull thud of a glass of beer hitting the table. Followed by the waiter asking me if I know what I want yet in Spanish in so many different ways that I only understand half of them.
But I know the routine now.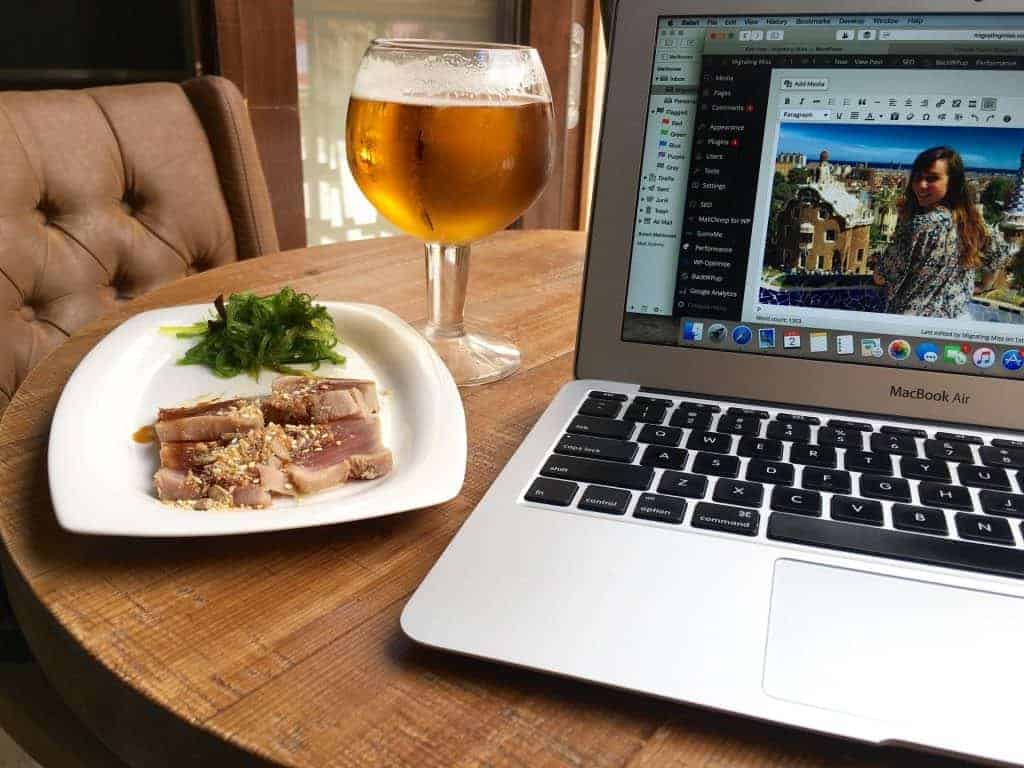 I love that I've lived in Spain long enough to get the know the bar staff of my favourite places. Trendy bars that wouldn't be out of place in the biggest cities in the world. I frequent them enough for the staff to say hello when they see me in the street. Or for me to feel guilty if I walk past their bar to try another. I know I'll never feature as prominently in their memories as they do on mine.
Over the year I've grown in confidence with my Spanish, from barely being able to order what I want, or even know what I'm ordering from the Spanish-only menu to having the confidence to have small conversations and ask for recommendations.
And actually understand the response.
I love how the bars spill out onto the street, and some are so small their biggest area is outside.
At any time of year, you can sit in the open. They infuse the air with the constant hum of Spanish, and with children laughing and playing while their parents socialise.
Kids aren't kept at home in Spain. Instead, they're brought along for the night and left to amuse themselves. It's not uncommon to see a family with a fairly new baby out having something to eat or drink, which I love. Why should they be confined to the house?
Family takes the limelight here, and I love watching grandparents looking after their grandchildren in the afternoons, while their parents are at work.
I learned a lot this year in Spain.
I learned that Sangria is for tourists and tinto de verano, a mixture of red wine and different forms of lemonade is the local's version.
I learned how to speak Spanish properly from a Spanish teacher, and from friends I learned how to drop all the "s" sounds to speak like a local.
I learned how to eat pipas, sunflower seeds still in their husk, and to drop the remains on the floor of the bar or wherever I happen to be standing on the street.
I learned that Spain is colder than we think, but that a city of sun forgets it still gets cold in winter and builds houses and apartments to keep the heat out and not in.
I learned about the traditional Spain, of the meal times that seem odd to me, how bullfighting actually works and the silence of the streets during siesta time.
I've grown to love eating a simple breakfast of toast with tomato and olive oil in the middle of the morning, followed by a bigger lunch and filling myself with tapas for dinner.
I'm used to the shops being closed in the middle of the day and on Sundays, it doesn't bother me because it just is.
Sometimes I wander the streets during the siesta or on Sundays, enjoying the solace and trying to mentally place myself and my life in Spain.
I learned Spain loves sugar. I'm not used to the way it's always served with hot drinks, even when it's a coffee with condensed milk, or a thick chocolate like you have with churros. They're not used to me refusing it either, although after a year of ordering breakfast at my school they've finally given up putting it on my saucer.
I learned I have a favourite olive oil and I bought 5.5 litres of it to take away with me…
I wasn't always in love with Spain, at times it made me want to tear my hair out.
Most of those times were when I was dealing with Spanish bureaucracy, sorting out my residency card or anything that required paperwork. In the first few weeks, I wondered if I had made a mistake in moving to Spain. Living somewhere is very different to taking a holiday after all.
It was my first time living in a country where English wasn't the primary language, and although I've lived abroad before it's easy to forget the hard times and remember everything with a rose coloured tint.
Adding another language compounded the difficulties of moving abroad, but it's also made it more worthwhile. A year in Spain and I'm miles ahead of where I was with learning Spanish, and although moving abroad isn't the ultimate answer to learning a language it's certainly helped.
As much as I speak about Almería city as a place that everyone should go to, I secretly want it to remain largely undiscovered, as my Spanish home and not a tourist destination.
The funny thing is that this little corner of Spain has so much going for it and after all the things that have happened here you'd think it would have grown to at least the same popularity as Malaga along the coast. It's problem, or blessing, lies in that it's out of the way, hidden in the corner of the country and without the best roads to travel on until more recently.
John Lennon stayed here for a month once. He came like many others, to film a movie.
As a 26-year-old he moved into a mansion that reminded him of childhood days spent at a Salvation Army children's home in Liverpool. In the bathroom there he recorded the first version of Strawberry Fields Forever.
The days in October are still filled with hazy heat, and the extensive gardens at what is now been transformed into a museum in tribute to film in Almería would have been a welcome refuge.
I won't hear this song without thinking of this and Spain now.
But Spain isn't just Almería, and I'm lucky to have travelled over much of the south and to the two main cities of Barcelona and Madrid.
I fell in love with Gaudí's Barcelona.
Madrid was like a series of neighbourhoods that all grew together, and wandering their streets reminded me why I love to travel.
Seville was beautiful, but I did miss the ocean.
I saw Ronda, the place that poets and writers raved about, fell in love with Granada all over again and wandered through streets of old mountain villages that have been there for centuries.
There is so much diversity in Spain that as an outsider I could never say I know it all. But I do know that when I leave here I'll be leaving yet another piece of me behind in a foreign country that has become a home.
Sonja x
P.S. I know this is not actually an ode, because I can't write poems, but it sounds better than "some random thing I wrote about living in Spain for a year"…
If you liked it, pin it!