"Have you been to the Cabo de Gata beaches?"
This.
This was the question I heard most often after I arrived in Almería to teach English. If you're travelling in the south of Spain, and you're looking for off the beaten path locations in Andalucía, then Almería is where you need to go, and specifically, the city and then the Cabo de Gata beaches.
There's plenty of things to do in Almería, a city in the south-east corner of Spain, but it's the nearby Cabo de Gata-Níjar Natural Park that soaks up all the attention. It might not be too well known outside of Spain (apart from all those films we've seen it in and not realised) but in Almería province, Cabo de Gata is where it's at.
Where is Cabo de Gata?
The beaches of Cabo de Gata are located literally on the south-east corner of Spain. The national park is 2 hours 15 minutes from Granada and around 3 hours from Malaga and Alicante. From the popular resort towns of Vera and Mojacar, it's around an hour and a half depending on where you go. From Almería to Cabo de Gata is only about 45 minutes by car.
Almería is the closest airport to Cabo de Gata and you can hire a car there. Don't skip straight out of town though, as there are great things to see in Almería city itself, plus awesome tapas and food to try. Some of the above beaches also have accommodation, so check out flights and any package deals as well if that's your thing.
How to get to Cabo de Gata
There's nothing like a good road trip, and the best way to see Cabo de Gata is by car. Although there are some buses these don't really take you to some of the best Cabo de Gata beaches, only the nearby towns, and they're not frequent enough for you to do a lot of exploring in one day.
So finally, after managing to spend 3 months living in Almería without going to Cabo de Gata, I made the journey! I had no clue where to start with planning, and I'm sure a lot of other people who come to Cabo de Gata don't either, so now I've made the trip I decided to lay out the best beaches to visit in this beautiful area.
Why is Cabo de Gata so special?
As one of the best places to see in Andalucía, and one of the largest protected coastal areas in Spain, Cabo de Gata-Níjar Natural Park is a truly stunning area. Rugged, dry hills that lead to hidden bays of clear turquoise water, cliffs of multiple hues and coral reefs home to stunning marine life.
Unlike much of the coast of Spain this area has remained fairly untouched. Only a small amount of people live within the boundaries of Cabo de Gata-Níjar Natural Park and although there is tourism infrastructure, it's not on the scale of other top spots in Andalucía. This hasn't stopped the area, like a lot of places around Almería, being used in a huge amount of films, television series and music videos over the years. The beauty of it is, not many people outside of those living here know that, so it's not as crowded as you might think.
Like a lot of things in this corner of Spain, English information can be a little more scarce. So if you're thinking about visiting Cabo de Gata (and you should be) here's your guide to the most popular beaches. I think this list is the essential beaches to visit in Cabo de Gata, and it's possible to see them all in one day. Don't blame me if you end up wanting to stay though!
These are the top places to see in Cabo de Gata by car, although there are countless beaches and bays along the coast, some that can only be reached by foot.
The best beaches in Cabo de Gata
Playa de San Miguel and the lighthouse
The first stop east of Almería is Playa de San Miguel, a long stretch of beach starting next to the small town of Cabo de Gata and leading to the lighthouse. Across from the beach, on the other side of the road in the salt flats, you can see Flamingos! It's a popular cycle route from Almería or Cabo de Gata to the lighthouse. From the Cabo de Gata lighthouse you can view the beginning of this rugged coastline, and Las Sirenas, jagged rock formations reaching out of the sea. If you have the time, take a walk along the top of the cliffs for more stunning views.
San José
The next stop, with a little backtracking to the main road to the rest of Cabo de Gata, is San Jose. This little beach town increases in population in summer, as travellers flock there as a base for visiting the nearby uninhabited beaches of Monsul and Los Geneveses, plus lesser-known coves along the coast. The beach itself in San Jose is not as beautiful, but the town is cute and has some great options for accommodation and food.
Playa Monsul
Playa Monsul has featured in many films, including Indiana Jones and the Last Crusade, and when you arrive it's not hard to see why. With steep rocks rising on both sides, and one to climb on the beach itself, it's a beautiful spot. There are no buildings or any infrastructure in sight it makes a beautiful natural spot to enjoy the sun in one of the sunniest places in the whole of Spain.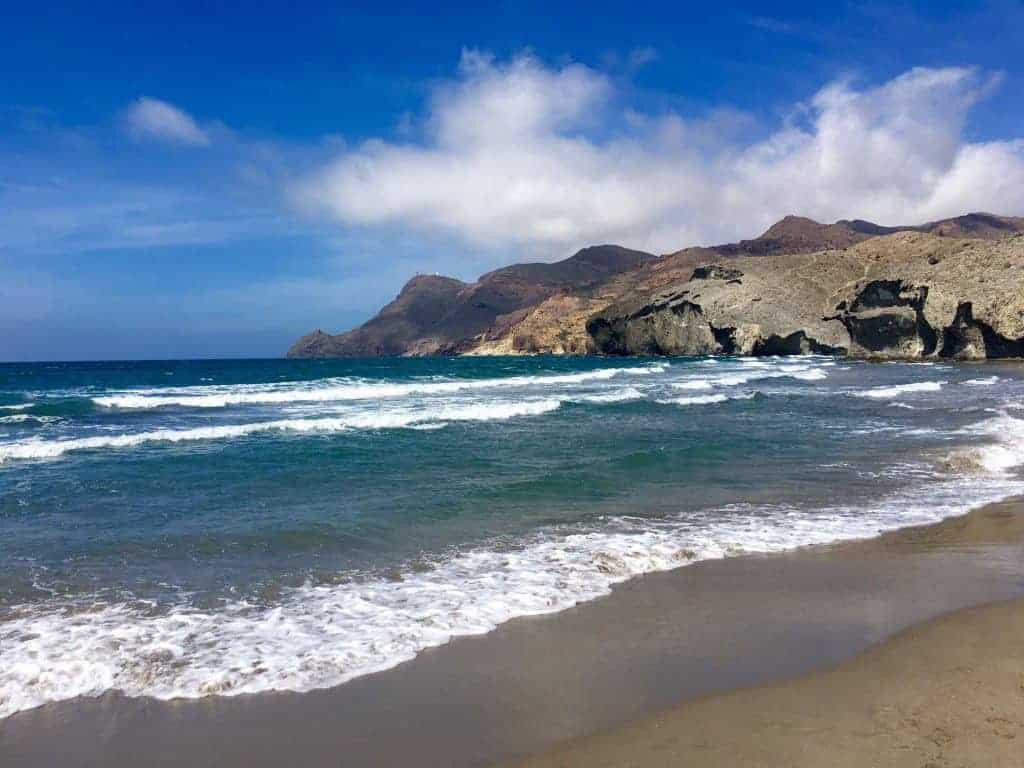 Playa de Los Genoveses
The first beach on the gravel road from San Jose is Los Genoveses, which is much bigger than neighbouring Monsul but no less beautiful. The ocean is fairly calm and it makes a beautiful swimming spot. There's plenty of golden sand to wander along, and views of the nearby rugged hills make this a great spot to spend the day. It's named after a fleet of Genovese sailors who landed here in order to hide and attack Almería when it was held by the Muslim kingdom of Granada.
Isleta del Moro
Next stop up the coastline is the small seaside pueblo (town) of Isleta del Moro. There's a tiny island linked off the coast here that you can walk onto (if you look closely you can see people in the photo on it) and some great looking little cafes and restaurants with views just like this. The water is so clear you see the bottom from the shore. A great spot for snorkelling and diving, since the water is SO clear.
Las Negras
The beach at Las Negras is made up of small stones rather than sand, but it's a lovely swimming spot. The real draw here though is the great array of restaurants dotted along the waterfront. We had the best mussels I've ever had in Europe on tiny stools right next to the sea. There's more accommodation in this small town so it's an ideal spot to break your journey if you're staying overnight.
Playa de Los Muertos
The beach of the dead. Sounds kind of gloomy right? But this was one of the most beautiful beaches we visited on our trip. From the hills above you can view the entire beach, and then meander down a small dirt path to get there. So-called because of the number of pirates who perished in the seas and washed up here, you have to be careful when swimming, but the clear blue Mediterranean sea is just so inviting. Down the end of the beach, there are also some stunning rock formations and it's a lovely spot to walk along too.
Carboneras
We spent the night in Carboneras, before continuing our journey the next day. The town is much bigger than any other before it along the coast so there was really affordable accommodation right next to the sea. There's a full supermarket and various shops in Carboneras so it has less of the wild and isolated feel of the other beaches before it.
Cabo de Gata is a beautiful hidden gem in Andalucia. It may be a little off the beaten track but it's definitely worth visiting if you want to see some the best beaches in Andalucia. You can continue up the coast to Mojacar, to see the beautiful white Andalusian village on a hill, or return to Almería from the way you came or via the Tabernas desert. If you want more, head inland of the beaches and check out some of the old mining areas around Rodalquilar and Níjar, often named one of the most picturesque towns in Spain. There really is so much to see in this little corner of Spain!
Sonja x
If you liked it, pin it!