This post may contain affiliate links that I earn a small commission from at no cost to you. Please see my disclosure page for information. Please check for current circumstances before travelling.
It's no surprise that there are so many stunningly beautiful places in Portugal! With mountainous landscape in the north and rolling plains ending at rugged sea cliffs in the south, there are plenty of jaw-dropping sights to put on your must-visit in Portugal list.
I asked my fellow travel bloggers to give me their thoughts on the prettiest places in Portugal and where they recommend you visit, and we can up with the epic list below.
So here goes, the best places to visit in Portugal! Would you add anywhere else?
Tomar
By Or from My Path In The World
Located in the center of the country, Tomar is one of the most incredible places to visit in Portugal. It can be a great day trip from Lisbon or an easy stop on a road trip from Lisbon to Porto (or vice versa).
The city's highlight is, without a doubt, the Convent of Christ. Dating back to the 12th century, this impressive building was the seat of the Templar Knights and the Knights of the Order of Christ. While visiting the different rooms and courtyards, you'll feel like you've stepped back in time. The architectural details are so well-preserved and the historical atmosphere in this place is like no other, it's no wonder the convent was declared a UNESCO World Heritage Site. In the convent's complex, you can also find the Templar castle of Tomar and its walls, from which you can enjoy the most magnificent views of the city.
After exploring this iconic landmark, the city itself is an amazing place to relax. It does offer a few sites to visit like Tomar's old synagogue (that dates back to the 15th century) and the Church of São João Baptista, but it's Tomar's streets and overall cozy vibe that will win you over.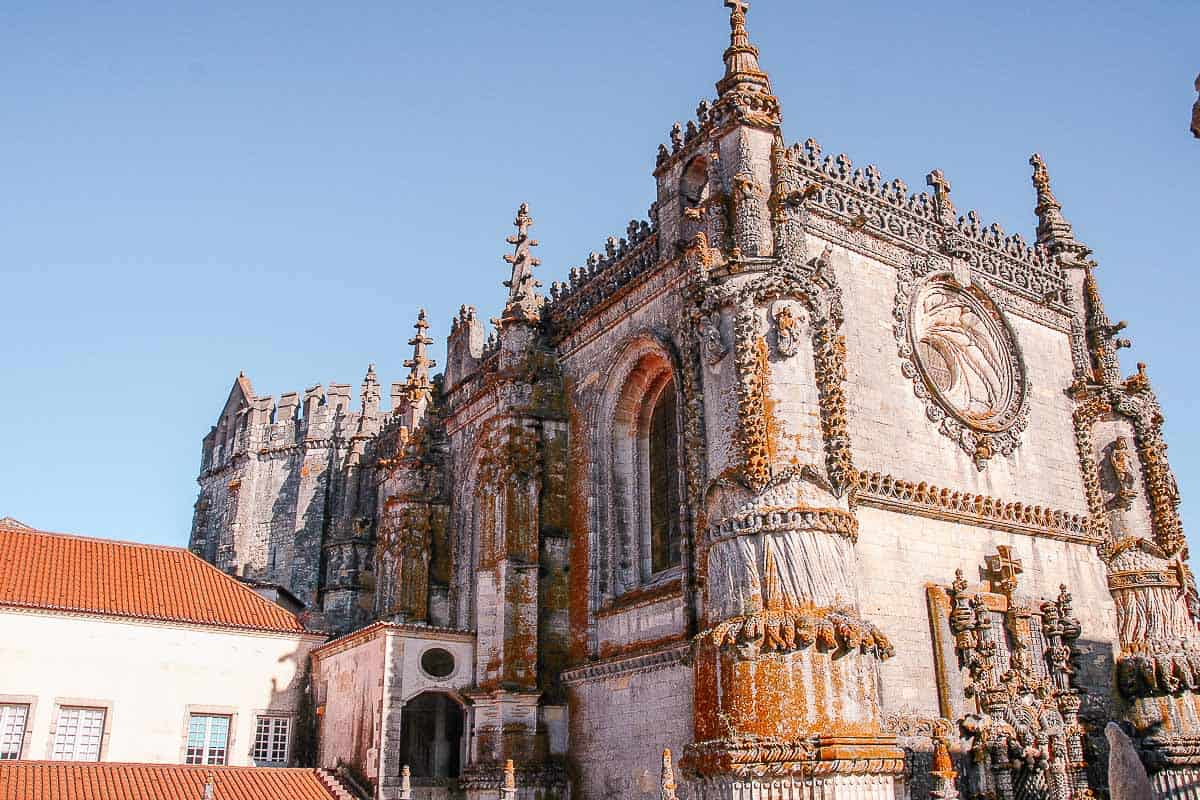 The Algarve
The Algarve may have less than 500,000 inhabitants but it welcomes over 4 million tourists every year. And it's no surprise with an untold number of sandy coves surrounded by soaring cliffs and whitewashed villages! Taking a roadtrip on the Algarve is a fantastic way to see many of the top spots, and discover a few lesser-known ones in between.
Some of the top spots on the Algarve and best places to visit in Portugal include:
Faro: Capital of the region and home to a picturesque old town.
Albufeira: Beautiful sandy beaches, clifftop homes, and vibrant nightlife.
Carvoeiro: Stunning horseshoe-shaped bay surrounded by cliffs covered in whitewashed buildings.
Portimão: A larger port city with an old town, close to lots of beautiful beaches.
Lagos: With a characteristic walled old town with a castle, ornate churches, and in close proximity to beautiful Ponta da Piedade.
Sagres: The most westerly part of the Algarve. Remote, rugged, and a fantastic place to visit in Portugal.
Read more: Best Stops on a Road Trip on the Algarve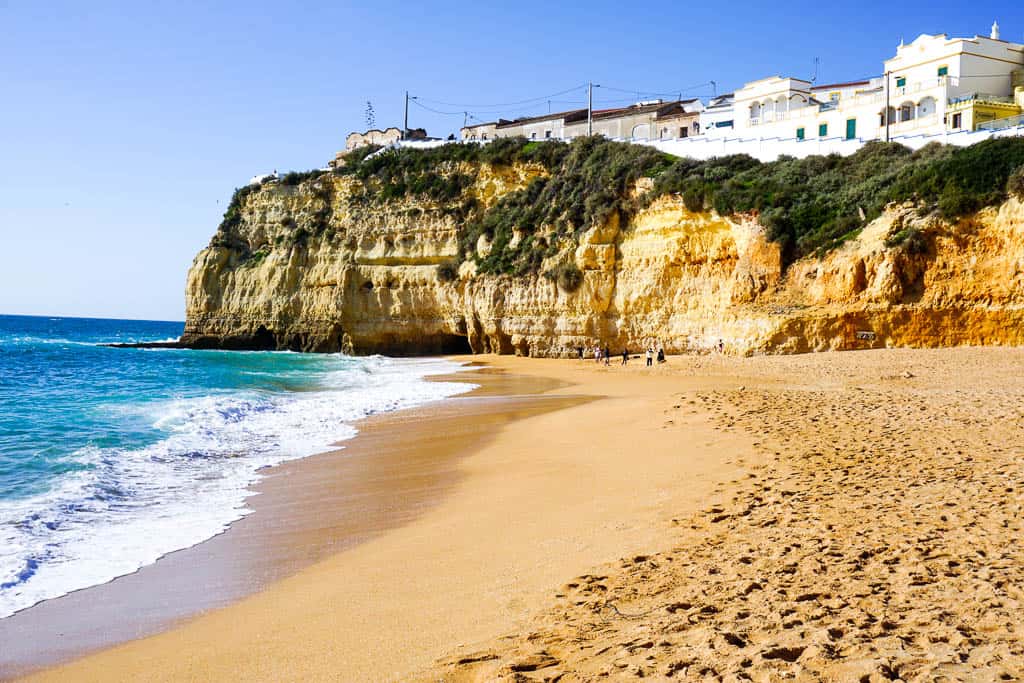 Parque Natural do Sudoeste Alentejano e Costa Vicentina
By Campbell & Alya from Stingy Nomads
The Vicentina Coast in Alentejo is one of the most spectacular areas in Portugal. The scenery here is truly breathtaking; rugged coastline, dramatic cliffs, unspoiled beaches, clear blue water on one side and endless fields of wildflowers on the other.
The Coast is a dream destination for outdoor and adventure lovers because here you can do; hiking, surfing, cycling, kayaking, diving, kitesurfing, paragliding and more. Hiking is probably the most popular activity here, the reason for this is the Rota Vicentina, one of the most scenic hiking routes in Europe.
The Rota Vicentina is a network of hiking routes that includes two multi-day treks and several shorter routes. Most of the time the route follows the coast which gives hikers a perfect opportunity to explore some off the beaten path parts of the Vicentina Coast.
The great thing about hiking here is that it can be done any time of the year even in winter, although spring is probably the best season to come here to see spring flowers and nesting storks.
Surfing is another popular activity on the coast with several surfing schools offering lessons and board rentals. Praia do Odeceixe and Arrifana are some of the best places to stay for surfers in the area.
As for beach towns, Vila Nova de Milfontes and Zambujera do Mar are perfect holiday destinations with nice sandy beaches, clean water, many hotels, and restaurants where you can try local seafood dishes and wines.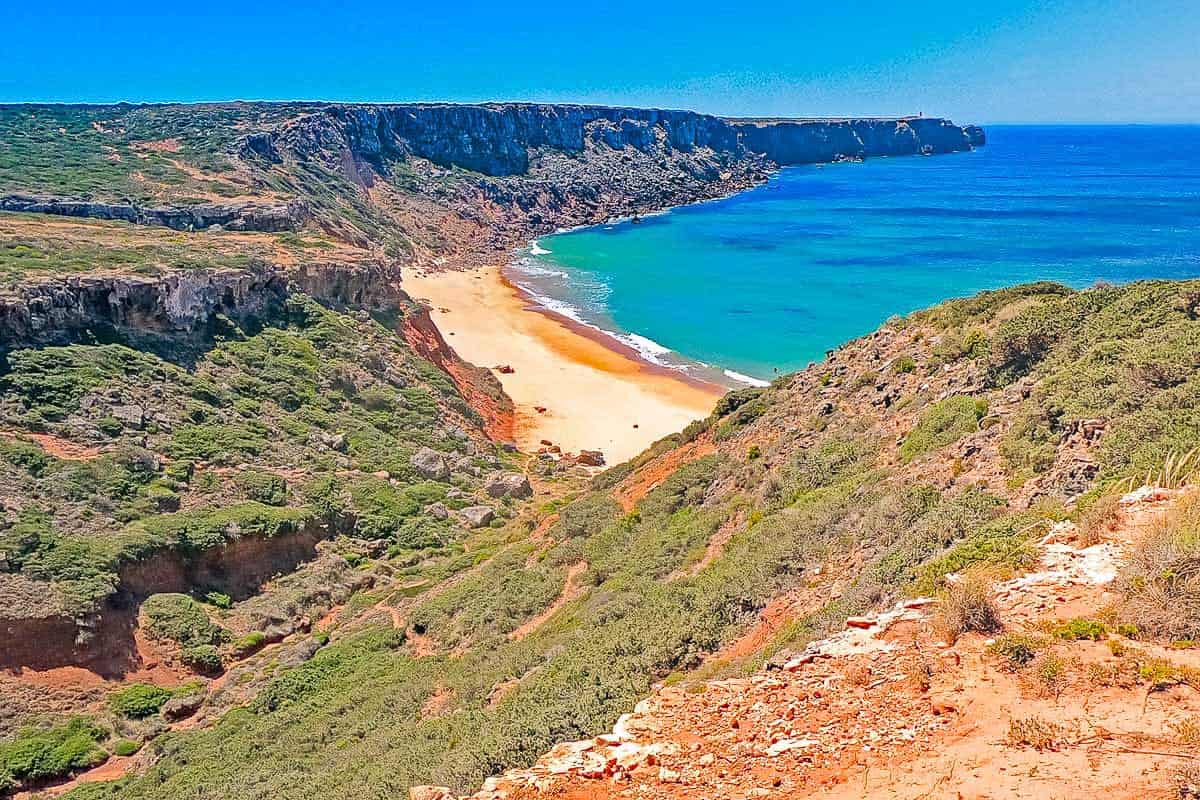 Montanhas Magicas
By Inma from A World To Travel
Deep valleys that tell stories of other times and attract the lovers of geography, mountains that – as the name of this area indicates – are magical by nature and call people who need to breathe outdoors and regain perspective, villages with traditions that go back hundreds of years, where it is possible to approach the Portuguese culture of the interior and eat as if there was no tomorrow with the highest quality products there are; waterfalls to cool off in summer and admire in winter from a distance, rivers full of life, nature in the purest state; almost untouched.
So are the Portuguese Montanhas Magicas. Between the regions of Porto and North and Center, this almost unknown area of the country attracts more and more travelers in search of the authentic.
If you're thinking about it, check out our Montanhas Magicas guide; where among other things we tell you everything that this area offers and the multitude of things that can be done there. From eating in Gralheira at fair day to walking the water and stone route on foot or admire the wonder that is the Passadiços do Paiva; you will not regret visiting them, believe me!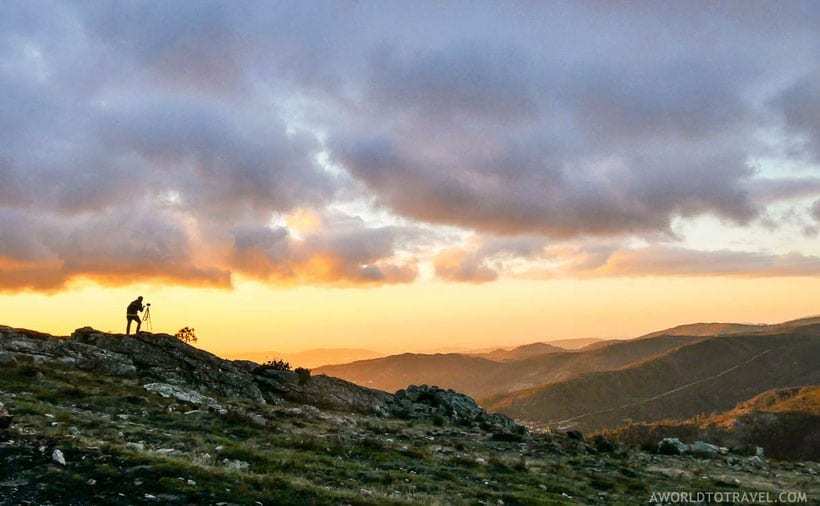 Madeira
By Roshni from The Wanderlust Within
Known as the 'Pearl of the Atlantic', this tiny volcanic island was discovered only 600 years ago. It is located off the coast of Portugal but is situated closer to Africa than Europe, which might explain its subtropical atmosphere. The island is surprisingly lush but also blessed with jagged cliffs, spectacular coastlines and lofty mountains that are perfect for outdoor activities. Everything from mountain biking, canyoning, snorkelling, and whale watching are all available in abundance.
However, the terrain of Madeira is really made for hiking. Back in the 16th century, the island was transformed by a network of complex man-made water channels used to irrigate the mountain slopes. These unique channels allowed water to be carried long distances to the islands banana groves, vineyards, and tropical gardens, and to this day these "levadas" as they are called, are still in use.
Nowadays the paths running along the levadas are used as hiking trails, to reach even the most remote areas of Madeira. There are Levada walks for everyone ranging from easy to difficult, and are the best way to explore the nature side of Madeira.
As the island is so small, it's likely you will stay in or at least visit the charming capital of Funchal. It is famous for its world-renowned gardens, which are filled with floral diversity due to the fertile volcanic soil that is present throughout the island. If you are a plant lover I highly recommend visiting during April or May when the annual 'Madeira Flower Festival' takes place. For 3 weeks the streets of the capital are adorned with floral displays, fragrant parades, and even a blossom carpet.
Terceira, The Azores
By Sylvia from Wapiti Travel
The Azores Islands are 9 lush green Portuguese paradises in the middle of the Atlantic. The pristine islands are still today largely untouched and unknown among tourists.
We explored 5 of these islands so far and it was love at first sight with each and every one of them. Nature lovers as we are, we were blown away by the purity of this place. It's hard to pick one island as the best, but if we really need to, it would be Terceira.
Terceira is the third-largest island of the archipelago and has surprisingly many impressive sights. Algor do Carvão was without any doubt our favorite. It's a deep underground lava cave with a reflective lake on the bottom.Other beautiful sights are Furnas do Enxofre and Gruto do Natal.
We also did some strenuous but fantastic hikes. The hike along mistérios negros is one we would absolutely recommend. After a tiresome hike, we headed to Biscoitos, a large and popular natural swimming pool and a great place to tan and relax in summer.
There are daily flights to the Azores from Lisbon and Porto. Most flights head to Ponta Delgada on São Miguel but Terceira is served directly as well. Since the Azores are gaining popularity there's also an increase in the number of direct flights from other countries. There are direct flights from Boston and New York in the USA, from Toronto in Canada and several other locations in the UK and continental Europe.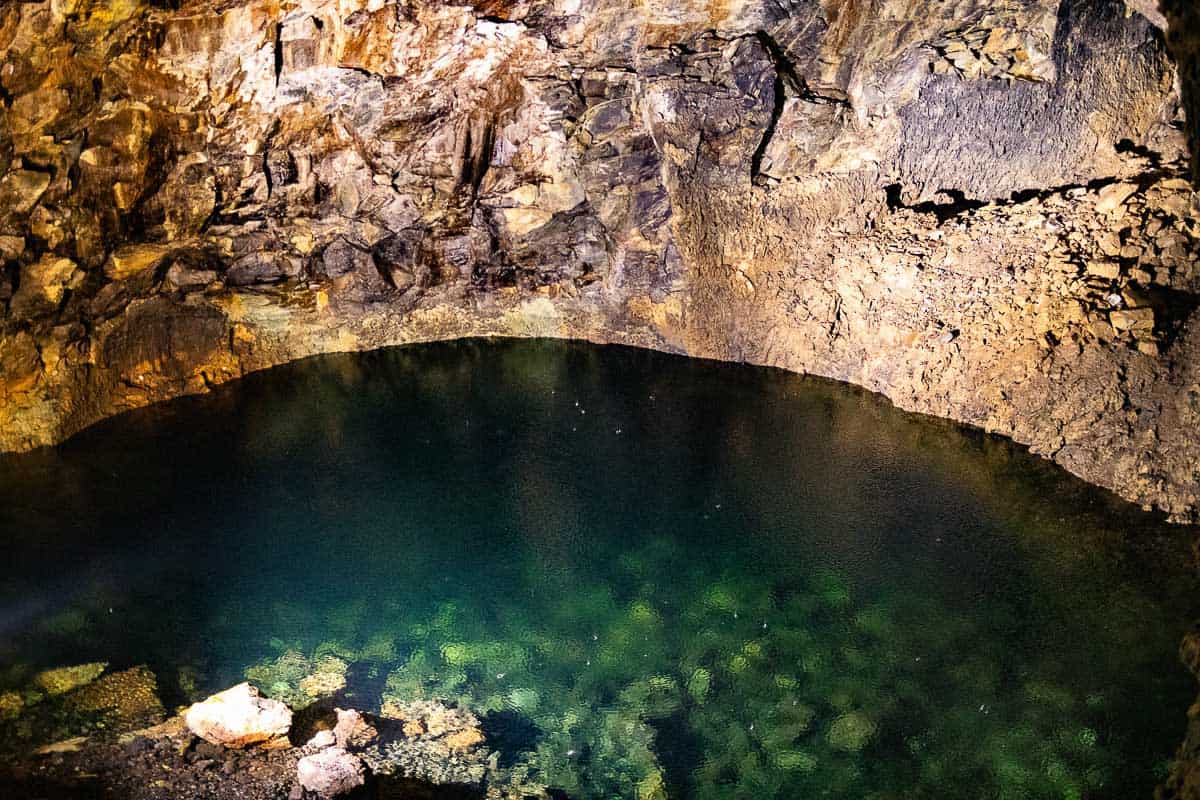 Amarante
By Chrysoula from Travel Passionate
The town of Amarante is a true gem, nestled in the countryside in the North of Portugal. Unlike the bustling cities of Porto or Lisbon or the resorts of the Algarve, Amarante has a peaceful, local vibe about it that will make you want to stay for weeks on end.
Amarante is known for its Romanesque architecture, its stunning location between the Serra do Marão and the Tâmega Valley, and its collection of artists and writers that make it one of Portugal's cultural hubs. It therefore offers a great range of activities and sights to explore.
One of your first ports of call will be the Ponte de São Gonçalo, an arched bridge crossing the Tâmega River. This spot gives you a great vantage point for seeing the city along the water, and leads onto the church of the same name, Igreja de São Gonçalo.
As Amarante is known for its Romanesque architecture, it would be amiss not to visit the Mosteiro do Salvador in Travanca, the Igreja de Santo André in Telões and the Mosteiro do Salvador in Freixo de Baixo.
When you're not exploring the Romanesque Route you can enjoy the Museu Municipal Amadeo de Souza-Cardoso, the surrounding vineyards offering delicious Vinho Verde and the Parque Florestal de Amarante. If you have kids you might want to visit the Parque Aquático de Amarante or take part in some fun activities on the river.
If you can plan your trip to coincide with the Festas de São Gonçalo (first weekend in June) you'll be in for a treat as the whole town celebrates São Gonçalo in style!
Peneda-Geres National Park
By Jorge & Cláudia from Travel Drafts
Peneda-Geres National Park is Portugal's only National Park and it's truly a natural wonderland. Located in the North of Portugal, it is just 1 hour far from Porto. This luscious green park has it all – mountains, lakes, waterfalls, cute villages, castles, Roman ruins and plenty of activities to do. It is an ideal spot for hiking, and one of our favorite spots in Portugal.
We recommend staying one full day if not more, as there is so much to do. The top attractions you won't want to miss is the Pedra Bela lookout, which is one of Portugal's most beautiful viewpoints. The Albergaria Forest is a fascinating forest covered in green with secular oaks. To preserve this forest you can only cross it without parking the car. Crossing Albergaria Forest you will find the Geira, a Roman road that used to go from Braga to Astorga (Spain).
Throughout the park, there are several waterfalls that you can swim the best ones are the Tahiti waterfall and the Portela do Homem waterfall. In both waterfalls, you will need to walk to get there but it is well worth it as you can swim in their freezing blue lagoons.
If you have time you should definitely do a hike. For a short hike, the Roman Geira trail is probably the best, for a logger, full-day trail, you have the Minas dos Carris trail.
You should also try to visit one of the cute small villages in the park or even overnight there, normally they have homemade bread and fantastic meat. The most famous are Pitões de Júnias, Castro Laboreiro, and Lindoso.
To fully enjoy Peneda Geres National Park you should go during the Summer, but it's beautiful in all seasons.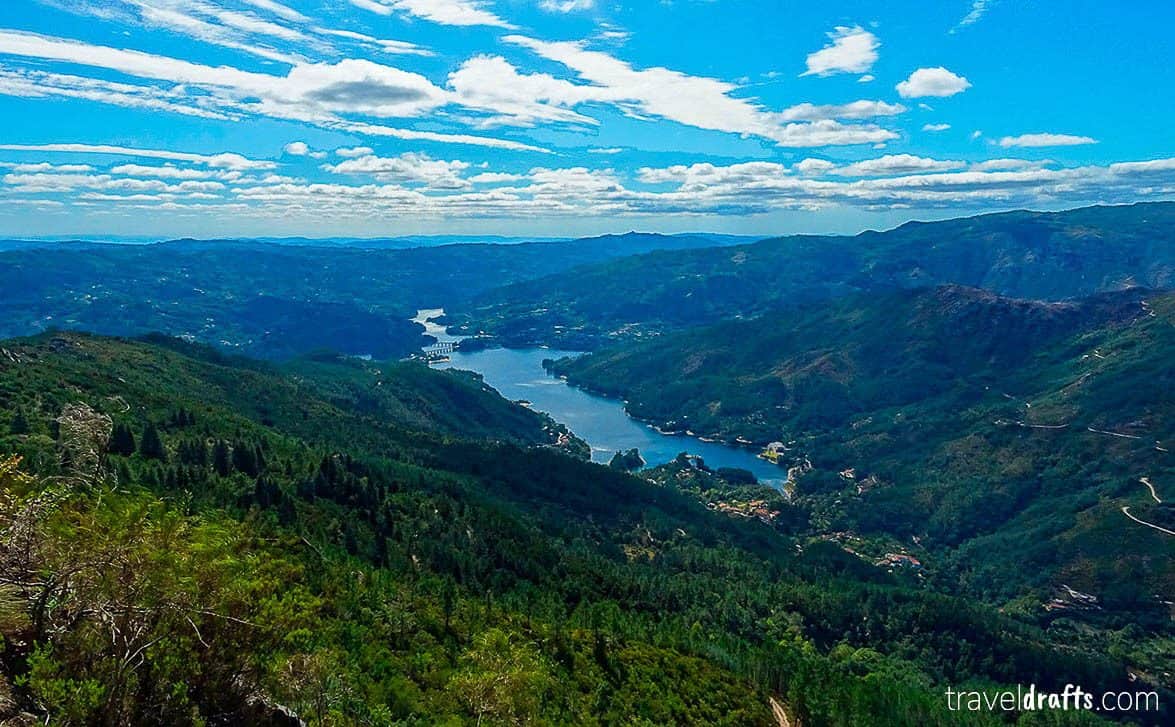 Lisbon
No list of the top places to visit in Portugal would be complete without mentioning Lisbon. With plenty of beautiful monuments attesting to Lisbon's past and views aplenty from the many viewpoints around the city, there's no doubt it's one of the most beautiful places in Portugal.
Unfortunately, in recent years Lisbon has become yet another example of over-tourism in Europe, as Airbnb's overtake local neighbourhoods and the city seems to reach a level of overwhelm in peak season.
However, visiting Lisbon in the off-season or supporting local businesses is definitely possible, and makes for a great trip to this beautiful city. Add spots like Belem and Alfama to your itinerary, but also head to Ajuda for botanic gardens in one of Lisbon's oldest neighbourhoods, and Benfica for the Fronteira Palace.
Read more: 21 Things to Know Before You Visit Lisbon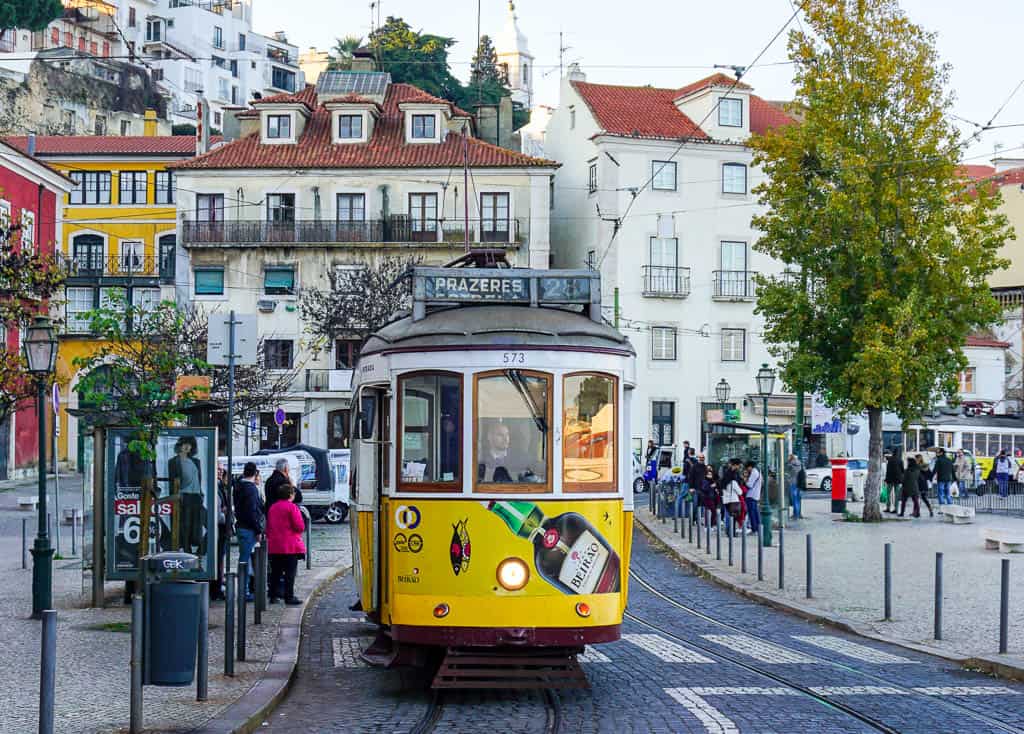 Cascais
By Sarah from CosmopoliClan
Picturesque Cascais is located along the Estoril coast, just half an hour north of Lisbon. This seaside gem used to be the summer retreat for the Portuguese royals and that grandeur is still very much present in the historic heart of town.
Elegant palaces, pastel-colored mansions, and converted fishermen's houses dot the palm-fringed lanes. Patterned Praça 5 de Outubro, stately Palacio Seixas, and lively Largo Luís de Camões Square are some of the highlights of the old town.
But Cascais is also a cultural hub thanks to the refined Cidadela Art District within the walls of the citadel, the Museum District with its iconic Santa Marta Lighthouse adjacent to the marina and the striking Casa das Histórias Paula Rego museum celebrating this renowned local artist. No better place for a break than romantic Parque Marechal Carmona with its colorful flower beds and charming lake.
Cascais' microclimate also makes it an attractive destination for active travelers. One of the most popular things to do in Cascais is cycling along the coastal biking trail. It winds from the city's marina all the way to Guincho beach (part of the Parque Natural de Sintra – Cascais) and is popular with locals and visitors alike. One of the stops along this route is the Boca do Inferno (Hell's Moth), an eroded rock formation where crashing waves create a spectacle.
This gorgeous natural setting, combined with its wide cultural offer and enchanting architecture, makes Cascais one of the most beautiful places to visit in Portugal.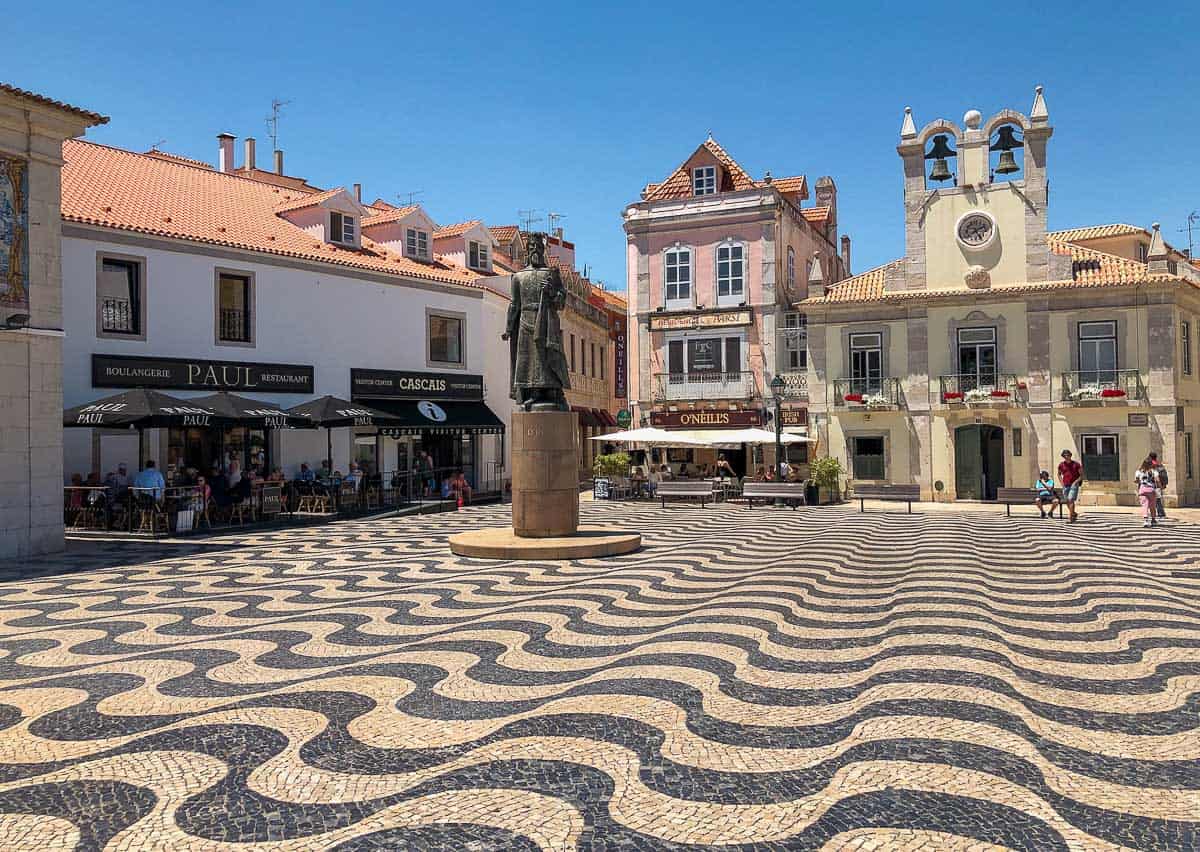 Évora
By Jon from Everybody Hates A Tourist
The medieval town of Évora is a UNESCO World Heritage site that is located less than two hours away from Lisbon. As such, Évora is a nice day trip from Lisbon that's an alternative to some of the more crowded options like Sintra.
Central Évora is encircled by a city wall. Once you're inside the gates, you'll feel like you've been taken out of modern Portugal to travel back in time. Go on a sunny day to see the town's white & yellow buildings with red-tiled rooftops in their bright glory. It's easy to spend hours wandering the quiet narrow alleys of Évora.
The most unique site to visit in the town is easily the Capela dos Ossos (Chapel of Bones) in Igreja de São Francisco (Church of St. Francis). The church is a macabre, but interesting building. It is a 16th century chapel with walls covered with human bones, meant to inspire visitors to think about their own mortality.
Near the cathedral, which dominates the highest point, there is a plaza with gardens featuring Roman Temple ruins that date back to the 1st century. For more gardens & ruins, visit the Palacio of Dom Manuel.
Between the architecture, the winding streets, and the pretty gardens, Évora combines all of the best of Portugal into one small town
Guimarães in Minho
By Amber from With Husband In Tow
Just a short drive north of Porto is the city of Guimarães and beyond that is the wine region of Minho. Guimarães is a small city located in northern Portugal and UNESCO World Heritage site. One hour north from Porto, the city was designated in 2001 by UNESCO for being a well-preserved and authentic example of a medieval town.
Founded in the 9th Century, Guimarães is rumored to be the birthplace of Portugal's first king, King Afonso Henriques. For food and wine travelers, Guimarães is the place to go. It is famous for confectionery and "meat cakes." Best of all, Guimarães is one of the jumping off points for the Portuguese wine region of Minho.
Minho is the home to arguably one of the most famous wines from Portugal, Vinho Verde or "Green Wines" Produced from the Alvarinho variety of grapes, Vinho Verde gets its name from the greenish hue it presents in the glass. Several wineries producing Vinho Verde are within a short drive of Guimarães. These wineries offer tours and tasting of Vinho Verde alongside other Portuguese varieties.
Throughout the year, Guimarães plays hosts to several religious festivals that pay homage to important Catholic saints. The festivals include traditional music, dance and of course food and drink. After a visit to the much more famous Porto, a trip out to Guimarães is well worth it.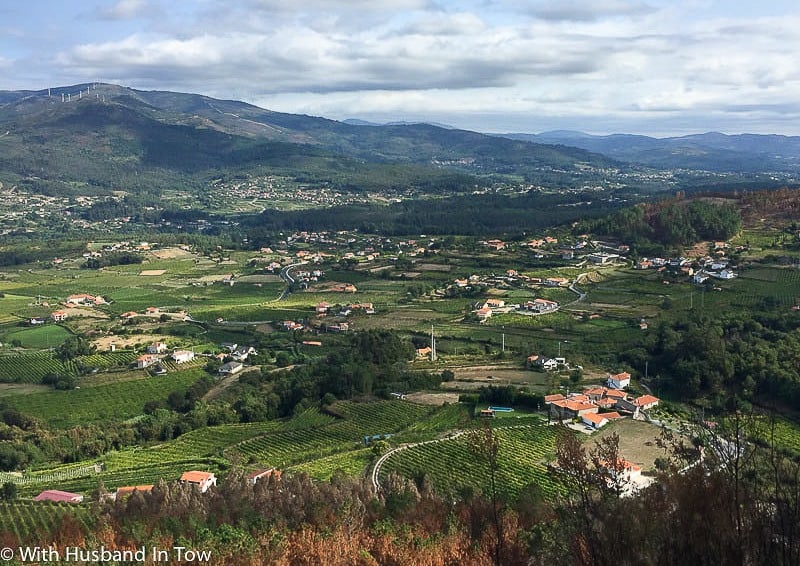 Sintra
Located within an easy day-tripping distance from Lisbon, Sintra is one of the most popular places to visit in Portugal. It's no wonder with beautiful palaces, historic castles and lush firest scenery!
If you have the time to stay then you can enjoy it without the day crowds, but it's also easy to take the train, a bus, or tour from Lisbon and see the highlights. There's Pena Palace, the Castle of the Moors, Monserrate Palace, and Parque de Pena, just to name a few. In town, you'll find winding alleyways with hidden restaurants serving Portuguese specialties, delicious ice cream sellers, and of course, plenty of souvenir shops!
Spend time just wondering around and discovering hidden viewpoints, before heading further up into the hills to see the palace and castle.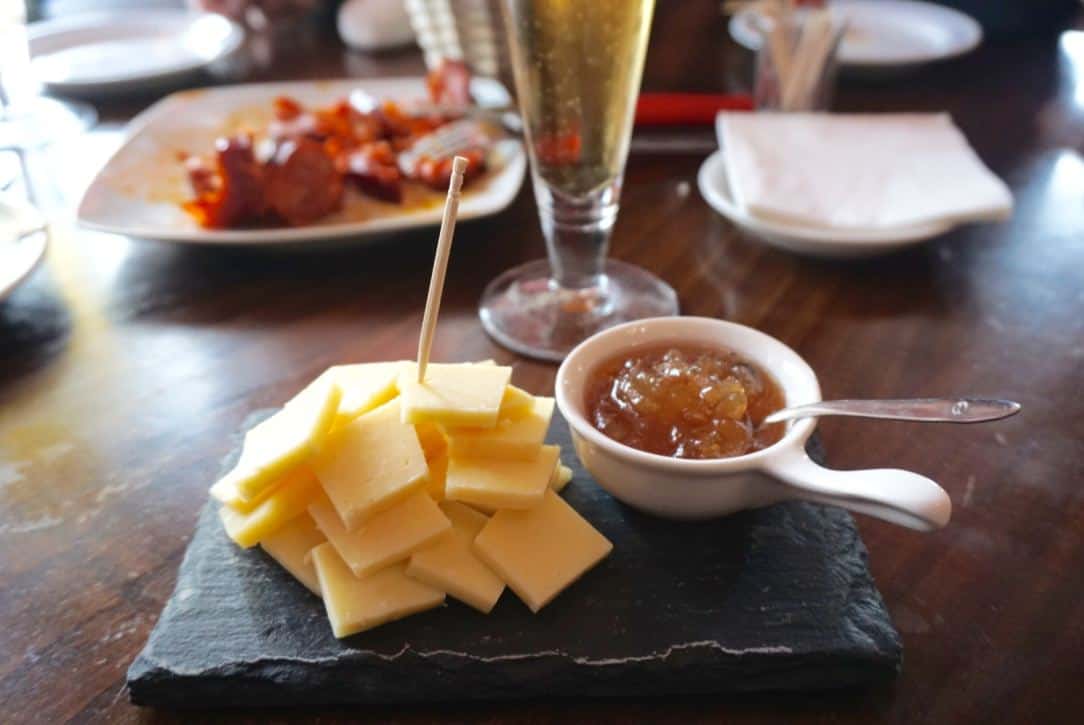 Monsaraz in Alentejo
By Eric from Food And Drink Destinations
Much of the most famous food in Lisbon is accompanied by wine from Alentejo. The Alentejo wine region is only about two hours east of Lisbon in the direction of Spain. It's a land filled with historic castles, rolling hills, cattle, and of course wineries. It's possible to book wine tours and tastings at many wineries. There is also one village, though, which is a must-visit during any wine-tasting tour of Alentejo.
Monsaraz is a preserved medieval hill-top town on the eastern edge of Portugal, in the Alentejo region. The village is located so far east that from one side of the town, you can see Spain in the distance. Monsaraz has played an important role in the history of the Alentejo and Portugal for centuries. The Romans, Muslims, and Portuguese have all left their mark on the village.
With walls encircling the village, Monsaraz offers travelers the opportunity to wander its narrow streets and alleys. Quaint cafes and restaurants are dotted around the town serving up traditional Alentejo dishes and wines. At sunset, Monsaraz provides the perfect viewing point to watch the sun dip below the horizon.
Despite being located inland, Monsaraz is a great destination to visit for water sports. From history to traditional food and wine, sunsets and water sports, Monsaraz has something for every traveler.
Porto
It may be known as the home of Port wine, but this hilly city on the banks of the meandering Douro River has plenty of other sites to entice you for a visit. Explore the streets of Ribeira, the old town, with its colourful tiled buildings and wrought-iron balconies.
Stop at one of the many bakeries or ornate old school cafes for a coffee. Or if you're a meat-eater after something more substantial then there's the Francesinha, Porto's take on a croque-monsieur. It's made with layers of bread, various meats, and cheese, all swimming in a tomato and beer sauce.
Later in the evening wander across the Dom Luís I Bridge for the breathtaking views across the city, and then take a tour of the Port Wine Cellars and enjoy some delicious Port tastings. I recommend finishing up at the rooftop bar at Porto Cruz.
Read more: A 2-day Porto Itinerary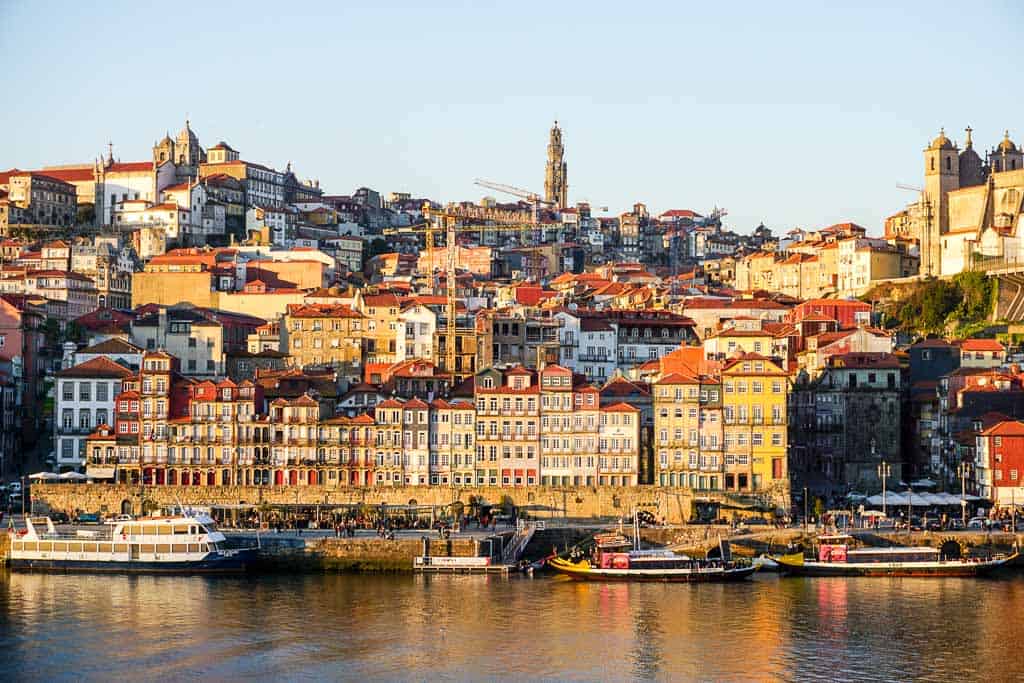 Nazaré
By Lexie from Lexieanimetravel
Nazaré is known as one of the most popular destinations of surfers, tourists, and seaside lovers. The town consists of three areas Praia situated along the beach, Sitio, on the other hand, is on top of a cliff, and Pederneira, nested on a hilltop. Nazare has a very famous funicular in its town, this funicular connects two neighborhoods which are Praia and Sitio.
According to the history, the origin of the name Nazaré comes from the Portuguese translation of the biblical city name of Nazareth in Holy Land. The reason why Naraze became a very popular surfing destination is because of its very high breaking waves that form due to the behavior of the underwater Nazaré Canyon. A breaking record of 35 m (115 ft) high wave was set by a Portuguese surfer Hugo Vau on last January 2018.
Our visit to Nazaré was very special, it was early in the afternoon after our quick tour in Obidos. The first thing that attracted us the most was the spectacular view of the beach, and its rocky cliff view which reminds me of Cascais. The white houses of Nazare look very pleasing to the eyes. We had a romantic stroll at the seaside while being enchanted at how beautiful the surroundings of this town. We also saw some surfers in the area, and for me, it was my very first time to see surfers surfing. I was so amazed!
Naraze offers not only its sensational surfing waves but also the beautiful landscape of the hills with a wonderful view of the beach. You should visit the Church of Nossa Senhora da Nazaré, the lighthouse where you can watch the Atlantic Ocean waves that crash against the cliffs. You can also See a bullfight in the Praca do Touros (O Sitio), and don't forget to visit the market. You can get a good price for fresh fruits and vegetables.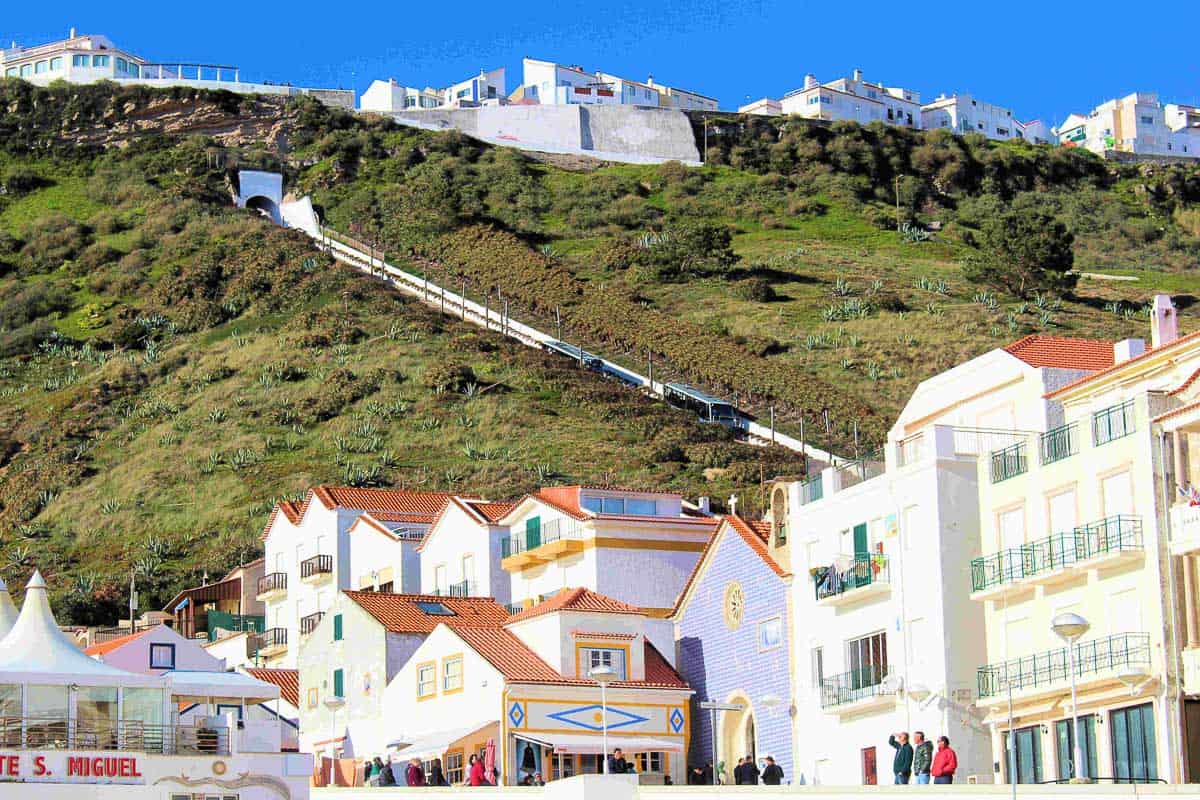 Douro Valley
By Ann from The Road is Life
After driving through the Douro Valley in Northern Portugal, this majestic wine region quickly stole our hearts. It stands out as being the most beautiful area we passed through on our road trip from Porto to Lisbon. Terraced vineyards cling to the slopes of rolling green hills leading down to the flowing Douro River below. It happens to be the oldest wine region in the entire world and is listed as a UNESCO heritage site.
The Douro Valley can be easily accessed by taking a day trip from Porto or is perfect as an addition to your Portugal road trip itinerary. A quick 1.5-hour scenic drive inland from Porto will take you there. If you'd prefer not to drive you can catch the train that leaves daily from the Sao Bento Train station in Porto. It's a slow and rickety journey but the route runs along the Douro River meaning spectacular views can be seen from the train.
If relaxing on a boat cruise surrounded by incredible landscapes while sipping a glass of wine or two sounds good to you, you're in luck. Douro River boat cruises leave daily from Porto and make an excellent day-tripping option if you're short on time.
Besides the stunning landscapes, the Douro Valley is well known for its delicious wine and Port. One of the top things to do while visiting is touring one of the many historic vineyards in the area. Take a guided winery tour and learn all about the history and production of Port while sampling it. If you're a wine lover or if you enjoy breathtaking scenery, the Douro Valley is an absolute must on your Portugal itinerary!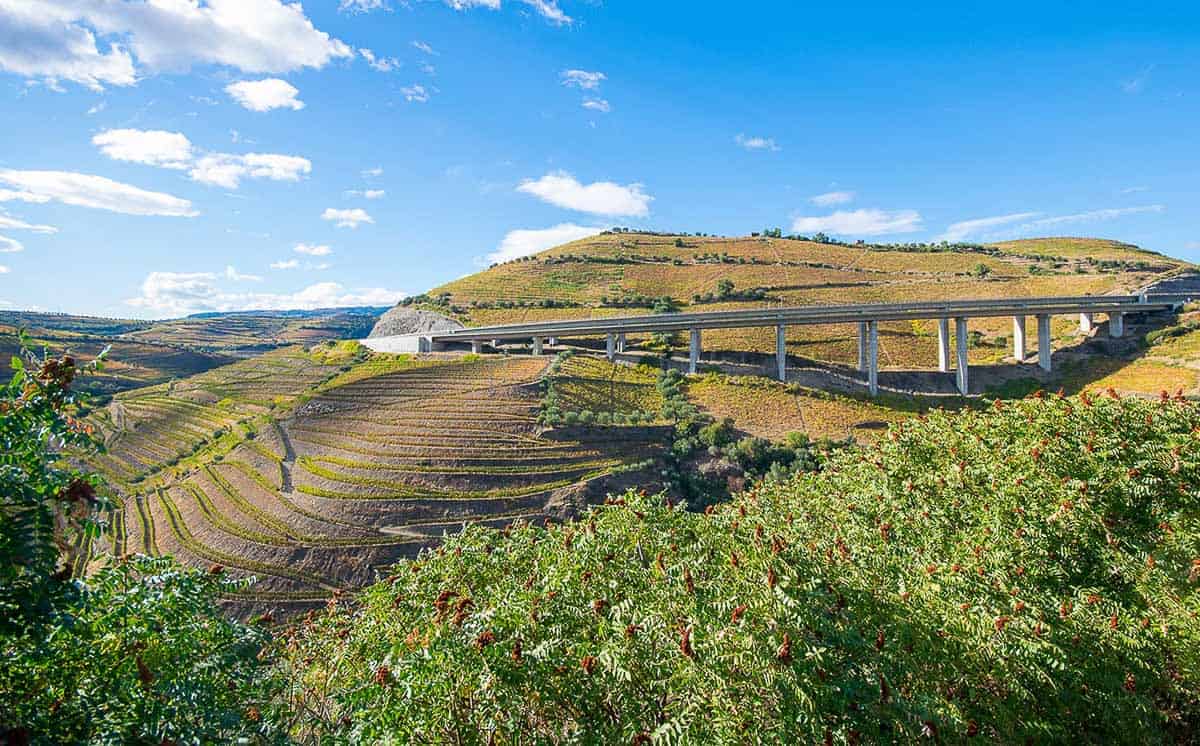 Obidos
By Anisa from Two Traveling Texans
Obidos is a small well-preserved medieval town that makes for an easy day trip from Lisbon. You will feel like you have gone back in time. While you could just walk around and admire the scenery, there are a few things you shouldn't miss.
First, be sure to do the city wall walk. It takes about an hour and the views of the city and the countryside are spectacular. Also, you must try the local cherry-flavored liquor, Ginja, served in a small chocolate cup. You will find many shops selling Ginja along with other gifts along the town's main road. If you are a history buff, peek inside the Santa Maria Church where King Afonso V married his cousin Isabel in 1444.
In the summer, don't miss the Medieval Festival. You can bring your own medieval costume or rent one there. There will be knights, minstrels, jugglers, noblemen, beggars, dancers, and stalls selling just about everything close to the castle.
Whether the Medieval Festival is going on or not, you should make time for an excursion to Obidos when you are visiting Lisbon. Since Obidos is only served by regional trains, your best options to get there are to take a bus or drive. It's worth the hour drive. You will love this hidden gem!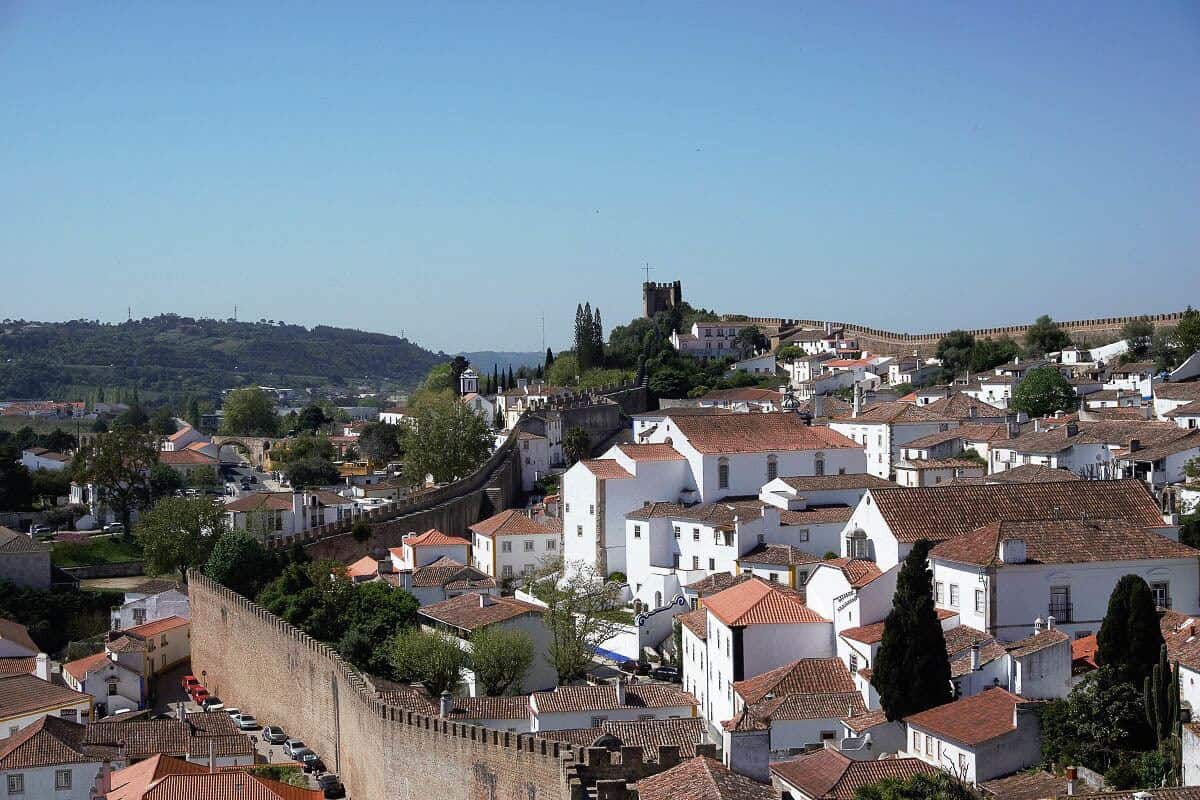 Coimbra
By Cindy from Travel Bliss Now
Coimbra will surprise you. Sometimes overlooked by tourists, this city is one of the most historic, and lively places in Portugal. And, it's only about 1.5 hours north of Lisbon by car or train.
Make sure you have comfortable walking shoes when you visit. Coimbra rises steeply from the banks of the Mondego River. As Portugal's first capital, it's chock full of gorgeous heritage buildings. The highlight is one of the world's oldest universities, a UNESCO World Heritage site. Here, you'll find students walking the medieval courtyard in Harry Potter-style robes, a bell tower that provides stunning views of the city, and a lovely chapel. But the showpiece is the University's baroque library with its elaborate ceiling frescos and gilded bookshelves.
The city's historic centre has Moorish-style cobbled lanes and a monumental cathedral, the Romanesque Sé Velha. The most interesting church to visit is the Santa Cruz Monastery. It's the final resting place of Portuguese kings and its walls are covered with colourful tiles. Be sure to go next door to the Café Santa Cruz for cake in a former chapel with high vaulted ceilings and stained glass windows.
Other must-sees include the National Museum Machado de Castro, an art museum in a 12th-century Bishop's Palace and the botanical gardens, the oldest in Portugal. The city's student population adds to the lively nightlife. Don't miss a fado show at Fado ao Centro. Coimbra has its own special brand of the melancholy music, sung only by men. It's all part of the mystique of ancient Coimbra.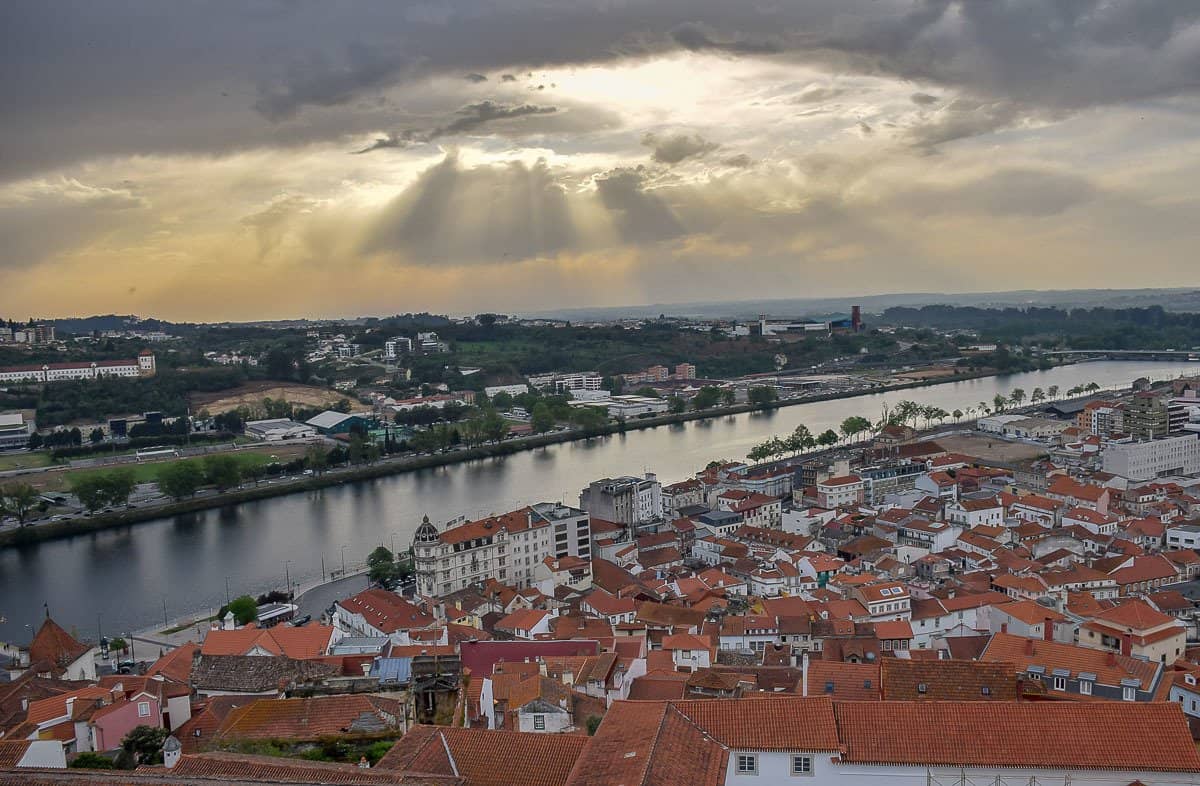 Penela
Chris from More Life In Your Days
Penela is a small traditional town, around 30 minutes' drive south from Coimbra, and it makes a
great place to visit if you are in the area. The highlight of the town is the small castle which is well
preserved with intact fortified walls and towers. There is a boardwalk that runs all around the
exterior wall so you can be up amongst the battlements to try out your best archer pose!
The location on a steep hill gave the castle an impressive defensive position, while the modern
visitor can enjoy fabulous views over the vineyards and fields that surround the town. The castle has no entrance fee and you can park there for free. There is a tourist information office that can help you to explore the town and surroundings. From here you can explore the rest of the town by walking down the hill. There are a number of traditional buildings and a couple of restaurants and cafes that are aimed at local customers (not
much English is spoken).
On market days you will see villagers from the surrounding areas that have come into Penela to
sell their wares. Primarily this is fruit and vegetables but you will also find local honey. At the bottom of the hill, you will find Parque das Aguas Romanas where there is a good play area and café.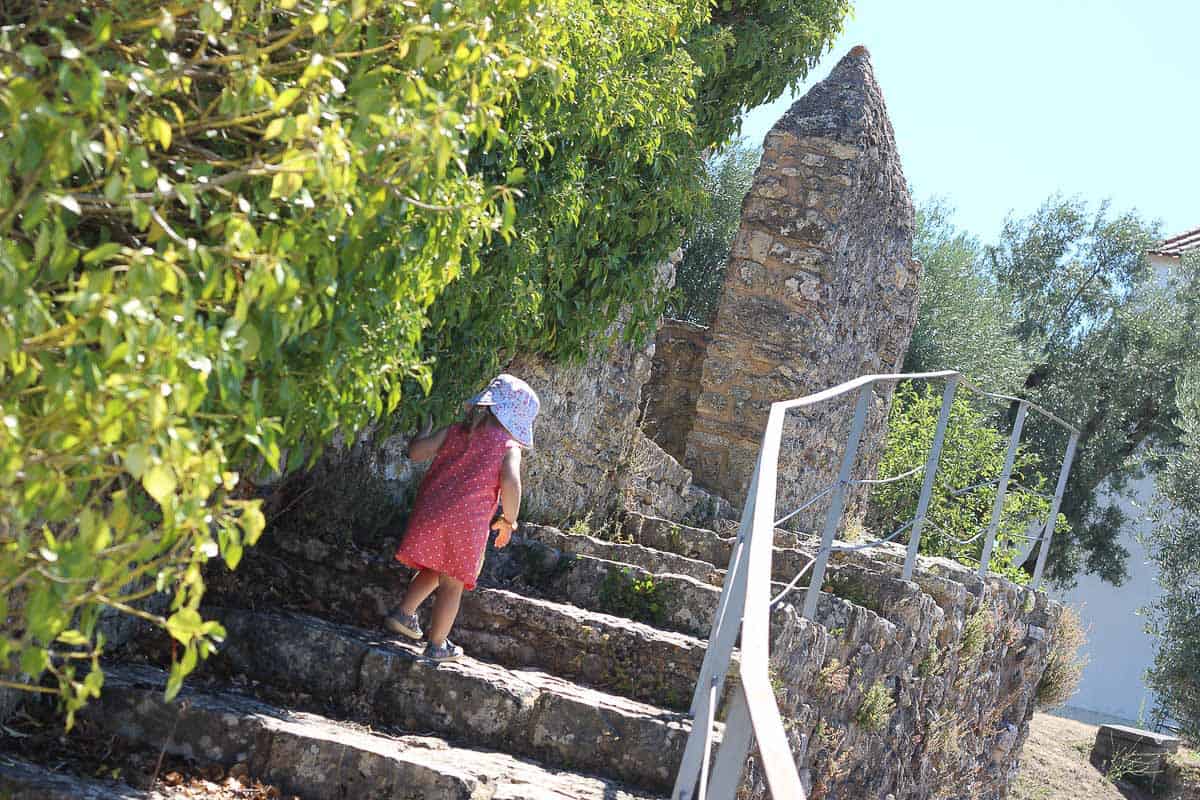 Sintra-Cascais Natural Park
By Kenny from Knycx Journeying
Located between Sintra and Cascais, the Sintra-Cascais Natural Park is somewhere in between the two historic towns that are closed to Portugal's capital – Lisbon. Apart from Sintra's magical Pena National Palace, the Castle of the Moors, and many other UNESCO listed World Heritage sites, what the nature park can offer are beautiful forest, parks, ancient ruins, and dramatic coastlines.
As some may know, Portugal was a maritime giant with a rich colonial past; and if you look at Europe's map, the Iberia peninsula is like the head of a man glazing toward the Atlantic Ocean: Spain is the hair that was blown backward by the wind, and Portugal is the face. Look even more closely, you will find a tip on the peninsula called Cabo da Roca – also known as the westernmost point of Europe's mainland.
Start your day walking leisurely on one of the hiking trails in the Nature Park and explore the deep valleys, intimate farms, and unique flora and fauna; then have a refreshment or afternoon tea in one of the famous resorts in the South Coast. Finally, head to Cabo da Roca in the evening for the sunset.
To me, this is the best place to view the sunset in Europe. The cape has not much but a lighthouse and a monument that says "Aqui, onde a terra se acaba e o mar começa…" (Where the land ends and the sea begins); yet its unique location and poetic inscriptions hold dear to my heart.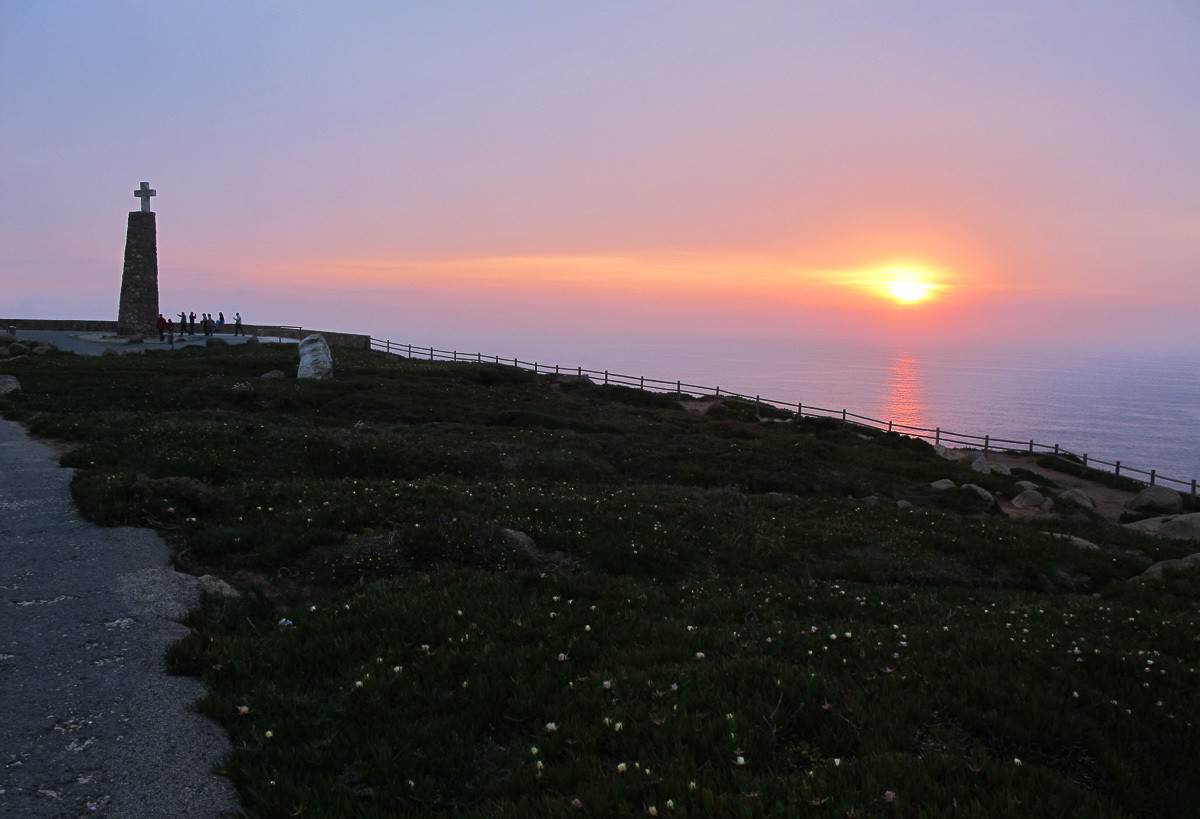 Quinta da Aveleda
By Sophie from Solo Sophie
Breathtaking and beautiful, the Quinta da Aveleda gardens and winery should not be missed on any visit to Portugal and can be found to the north of the country. Easy to visit as a day trip from Porto (considering that it's just a half-hour drive away) as well as being well worth a trip in its own right, this hidden gem is truly one of the most beautiful places to visit in the country.
After all, surrounded by swathes of the vineyard and complete with historical buildings which are covered in trailing ivy and look like something straight out a storybook, the history of the estate dates back centuries, with the main house (privately owned though it can be admired via the exterior) being constructed during the 17th-century.
Visit the Estate today and you'll soon discover that there are several activities worth partaking in while on the property. Asides from the wine tasting, hands down one of the best things to do is to explore the beautiful botanical gardens. Home to impressive hydrangeas, a goat tower/ palace (yes, you read that correctly!), and a thatched gatekeepers cottage, just be sure to bring your camera along!
You should know before you go that, unfortunately, tours of the garden are via guided tour only (though they're still totally worth it!) Otherwise, sit back, relax and sample the local cheese and wine that's produced both on-site or very close by!"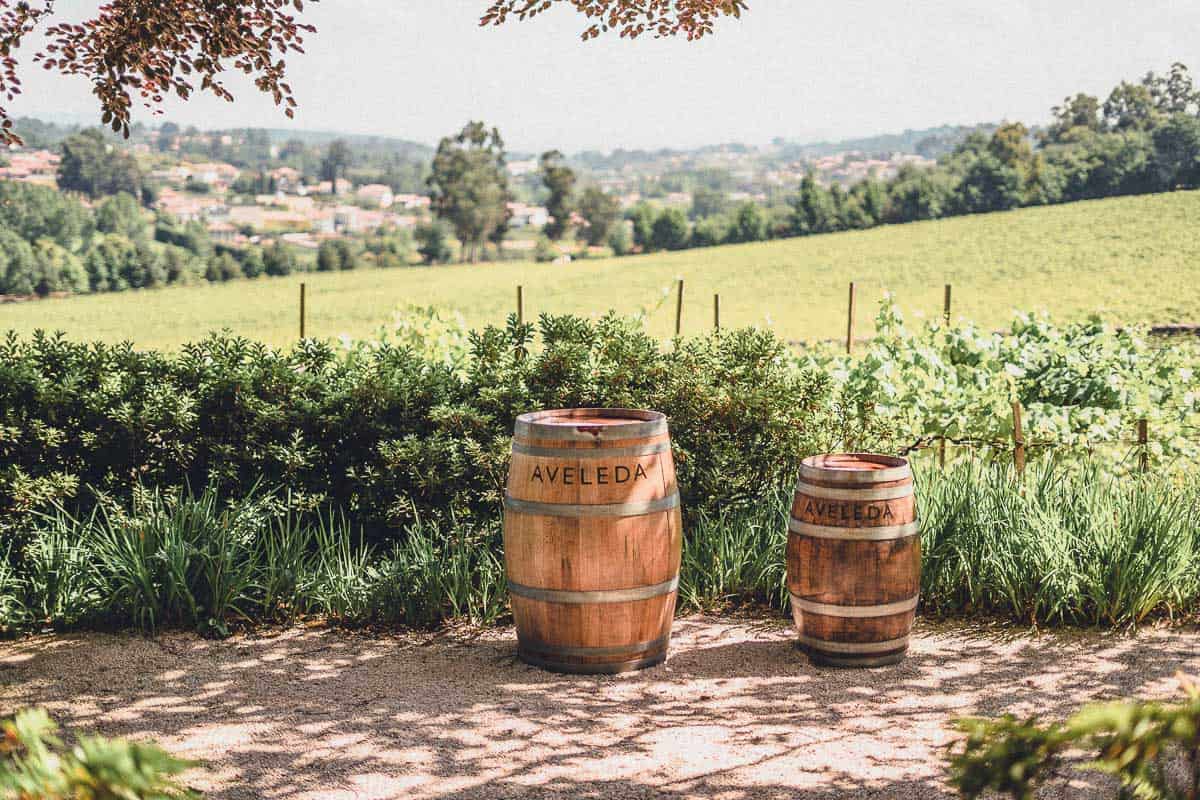 Aveiro
By Julie from Julie Dawn Fox in Portugal
Despite the misleading marketing campaign that dubbed Aveiro the 'Venice of Portugal', this small city, just a few kilometres south of Porto, is definitely worth a visit. You can, of course, take a boat trip along the canals but you could just as easily spend your time wandering the patterned, cobbled streets of the old town spotting Art Nouveau architecture and gorgeous ceramics.
Before the influx of tourists, Aveiro's painted boats and simple canal system were used to transport salt, seaweed, fish and produce from the surrounding lagoons and wetlands. You can still see, and even visit, working salt pans where the highly prized flor de sal (pure salt crystals) are harvested. Or why not go for a mud bath and a float in one of these mineral-rich pools?
The best museum in the city centre is, without doubt, the Aveiro Museum, which houses the wonderful inlaid marble tomb of Saint Princess Joana and a gilt chapel, among other treasures. A few kilometres south of the city, in the Ílhavo docklands, you'll find the fascinating Vista Alegre Porcelain Museum and village as well as the Maritime Museum, dedicated to boats and the cod fishing industry that was once so important to this area.
Just a little further south, you'll find the picturesque fishing village of Costa Nova with its famous colourfully striped cottages and seafood restaurants. The village lies between the lagoon (Ria de Aveiro) and the ocean beach so you can choose between calm waters or waves.
Braga
By Paulina from Paulina On The Road
Braga is one of Portugal's oldest cities and it's definitely one of the best places to visit in Portugal. From the historical city center, the delicious food and religious monuments, Braga is a must on any Portugal itinerary.
Even though the cathedral is the main religious monument and one of the most visited buildings in Braga, it's the spectacular Monte Bom Jesus which is the highlight of the city.
The lovely Baroque stairway takes you up to the Monte Bom Jesus church. The views over Braga as simply breathtaking. If you don't want to walk all the steps you can also opt for the funicular.
You cannot leave Braga without having enjoyed some typical Portuguese food. The best place to do this is at the Praca da Republica which boasts countless terraces.
Even though Braga is a bit off-the-beaten-track, it's one of the top things to do in Northern Portugal.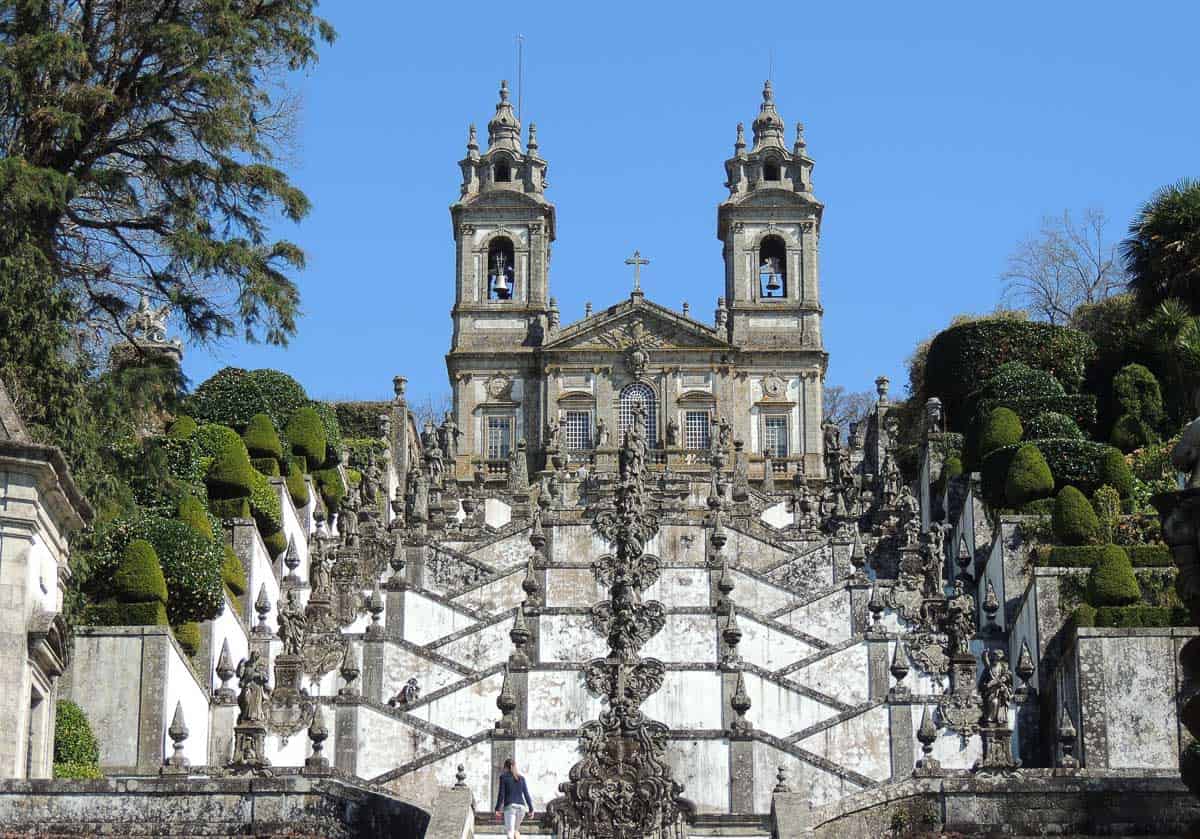 So there you have it, more than 23 beautiful places in Portugal to visit! Which ones have you added to your list?
Sonja x
If you liked it, pin it!