The best day trips from Madrid will give you a taste of Spain, showing you its beauty, history, and charm. 
As the capital city of Spain, Madrid definitely isn't lacking in sights to see and things to do. From the museums to the extensive shopping on Gran Via to the alternative neighbourhoods full of independent restaurants and cafes, there's something for everyone.
But if you have the time to step outside of this metropolis, you could spend many more days exploring the satellite towns surrounding it.
On my first visit, I knew I couldn't leave without taking at least one day trip from Madrid. I researched the absolute best Madrid day trips, asking my local friends and Google.
In the end, I did several day trips, each with their own unique history and things to see!
Since there are even more than I could do, I asked my fellow bloggers for their best day trips from Madrid too.
So here are our recommendations for 11 great day trips from Madrid!
Day trip to Toledo from Madrid
Toledo has been a UNESCO World Heritage Site since 1986, and it's now one of the most visited places in Spain.
If you want to take the best day trip from Madrid, then Toledo rates at the top of all of the must-see lists.
Toledo's history stretches back to the Roman occupation, and traces of Roman and Muslim history can be found throughout the town.
Toledo was the capital of Spain after the reconquest in 1085CE until the mid-1500s when it changed to Madrid.
Toledo has a number of historical religious buildings, and you can purchase a Toledo Pass to visit the religious buildings and take a tour. But in my opinion, your one day in Toledo is best spent wandering the medieval streets.
It is claimed that Marzipan (the almond sweets made into shapes and baked in the oven, not the soft Marzipan put on cakes) was invented in Toledo by nuns around 1150.
It's available in stores around Toledo, but you can also buy Marzipan directly from Convents, where it is still made by the nuns who live there. You just have to know which doorbells to ring!
I went to Monasterio de San Clemente and Monasterio de Mochas Comemdadoras de Santiago and bought something from both, and I have to say the treats are delicious!
How to get to Toledo from Madrid
The train from Madrid Atocha station to Toledo takes half an hour and costs approximately €26 euros return.
From the Toledo train station, you need to take the bus from just outside the station gates to the right (number 5, 61, or 62) until the last stop. The bus costs around €2.
The bus from Madrid to Toledo is much cheaper at around €10 from the Plaza Eliptica Station. You will also need to take another bus to get into town.
Check our organised tours here.
Day trip to Ávila from Madrid
A day trip to Ávila from Madrid is a step back in time.
Ávila is known for its city walls, and although the original foundations of the walls date back to the Roman time, the current construction above ground is from the Middle Ages. However, many of the same materials used originally were used in rebuilding the walls.
The walls span 2.5km and have 9 entrances and defensive gates, with 88 different watchtowers.
Ávila was first a military outpost, which then turned into a city. At one time, it was bustling and densely populated, but an epidemic of cholera in the 1700s reduced the population, filled by the industrial revolution.
Tourism is now the principal industry of Ávila, like many of the villages surrounding Madrid, and it is a UNESCO World Heritage Site.
The Cathedral in Ávila is built into the city wall. It was built across a wide space of time, reflected in the Romanic style up to the windows and the Gothic style further above. The two towers that were planned never materialised, and only one can be seen.
Ávila was the birthplace of Santa Teresa in 1515. She was a prominent author and theologist during the counter-reformation.
You can visit the place of her birth and baptism, see where she played as a child, and if you really want to (I didn't) see a relic of her finger!
Also, like Toledo, Ávila is famous for a particular kind of food, this time "Yemas", which are a small, round sweet made from egg yolks, lemon juice, and cinnamon.
Although they can be found across Spain, Yemas de Santa Teresa, or Yemas de Ávila, are the number one souvenir from here and something you should definitely pick up on a day trip to Avila.
How to get to Avila from Madrid
The train from Madrid Atocha station to Ávila is a similar price to Toledo, at approximately €23 euros return. It's an easy day trip by train from Madrid! The bus from Madrid to Ávila is around €16 euros return.  
Check out organised tours to Avila.
Day trip to Segovia from Madrid
Segovia is another UNESCO World Heritage Site (do you sense a theme?) that has several unique landmarks and makes a fantastic day trip from Madrid.
The most impressive landmark is the Roman Viaduct. It was built by the Romans around 1 Century AD (yes, that old), and although it hasn't been used fully since 1908, it still works today! The aqueduct is built entirely from stone, with no concrete or anything holding it together.
During the Middle Ages, Segovia was known for its wool and tapestry production, with wool made here being sent all over Europe.
The city was one of the King's favourites, and he used to live in the castle called the Alcazar. This is now another of the main attractions in Segovia, with its unique architecture actually being the base for the castle at Disneyland in LA.
As far as food goes, Segovia is especially famous for its roasted suckling pig. There is even a statue of a pig in the Cathedral!
Be sure to visit one of the restaurants in Segovia offering this special kind of pork that is so tender it can be sliced with a plate.
How to get to Segovia from Madrid
You can take an AVE high-speed train from Madrid to Segovia in half an hour, and it costs around €20 return, making it one of the cheaper options for a day trip from Madrid.
Although there is a bus from Madrid to Segovia, it's not much cheaper, and it'll take much longer than the train. I first visited Avila and Segovia as part of a combined tour from Madrid.
Day trip to Salamanca from Madrid
By James from This Travel Guide 
Salamanca is one of the most picturesque cities in Spain, and definitely worth a day trip if you're staying in nearby Madrid.
It has several beautiful attractions that are worth seeing, and the lively Spanish and international population mean that life here is continually vibrant and colourful.
The main places to visit in Salamanca are the Plaza Major, the Old Cathedral of Salamanca, Convento de San Esteban, Salamanca University, and the Casa de las Conchas.
If you're lucky enough to stay here until the later hours of the evening, it's also a fantastic place to go for tapas and to experience Spanish nightlife.
You'll find places to eat and drink throughout the city centre, but the best spots are a ten-minute walk from the city centre on Calle Van Dyck. This is an entire street of bars and restaurants, and it's one of the most popular places for locals to go out.
You'll find everyone from students and language exchange internationals to families and older generations, all eating here and soaking in the late evening Spanish atmosphere.
How to get to Salamanca from Madrid
The easiest way to get to Salamanca from Madrid is by car, and the journey takes just a little over an hour and a half.
However, it's also possible to travel by train, and the journey can be as fast as one hour and forty minutes from Madrid Chamartín Station about €35.
Check our organised tours to Salamanca.
Day trip to San Lorenzo de El Escorial from Madrid
By Elaine & David from The Whole World is a Playground 
Located just northwest of Madrid, the town of San Lorenzo de El Escorial sprung up in the 16th Century around the stunning Monastery of El Escorial.
Visitors flock to San Lorenzo de El Escorial to explore the UNESCO World Heritage-listed Monastery of El Escorial, and it is one of the most popular day trips from Madrid.
The monastery is an incredible sight both inside and out. Its exterior features an astonishing 2,600 windows and 1,200 doors, while the interior houses an incredible art collection and stunning frescoes.
The library, housing over 40,000 books and a fresco-covered ceiling, is an incredible sight.
The Royal Parthenon is also breathtaking and contains 26 gold and marble tombs which are the resting place of every monarch since the 16th century.
The quaint little town of San Lorenzo de El Escorial is full of quirky shops and traditional restaurants.
If you have time, the hike to the Silla de Felipe in the hills surrounding San Lorenzo de El Escorial is a beautiful walk. Also known as Philip's Seat, it is said to be where he sat as he watched the construction of the monastery below and now offers great views of the monastery.
The controversial Valley of the Fallen Civil War monument is also close to the town.
How to get to San Lorenzo de El Escorial from Madrid
There are frequent buses from the Inetercambiador de Moncloa Metro station, with bus 664 dropping passengers close to the monastery.
On weekends a vintage Philip II sightseeing train, the Tren de Felipe II, departs from the Principe Pio train station in Madrid.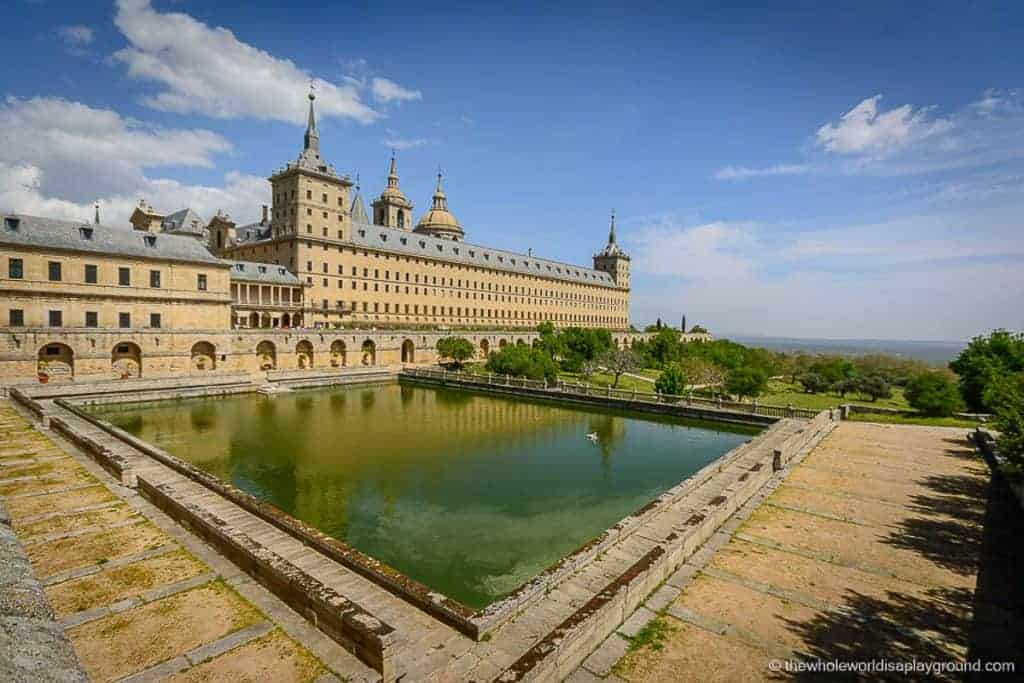 Day trip to Aranjuez from Madrid
By Elaine and Dave from Show Them the Globe
Located just south of Madrid, Aranjuez is a popular tourist town which is home to one of Spain's most beautiful palaces, the Royal Palace of Aranjuez.
The palace has hosted Spanish Queens and Kings every spring for centuries, and Aranjuez is a designated UNESCO World Heritage Site as a result of its stunning gardens and architectural design.
Most visitors to Aranjuez are drawn by the 18th Century Royal Palace, and it is possible to explore the palace interior by oneself or by joining a guided tour.
The highlights are the main staircase and chandelier, the Porcelain Room with its marble floor and Chinese-style ceramics and the Arabic room with its gold beehive ceiling and stalactite arches.
The palace is surrounded by beautiful gardens which are modelled on Versailles and are a real treat to visit. Jardin del Principe is the largest and includes Chinese and Botanical Gardens, while Casa del Labrador is one of the most impressive buildings from the Bourbon Dynasty and requires a palace ticket to visit.
Across the River Tajo, the formal Jardin de la Isla is renowned for its box hedges and Greek mythology fountains.
As well as visiting the spectacular palace, we loved wandering around the Old Quarter of Aranjuez, which is also worth a visit. It features beautiful houses with spectacular courtyards, balconies, squares, and domes.
How to get to Aranjuez from Madrid
The regular commuter C3 train from Madrid Atocha Cercanias to Aranjuez takes 44 min and runs frequently. The palace is a pleasant 10-minute walk from the train station.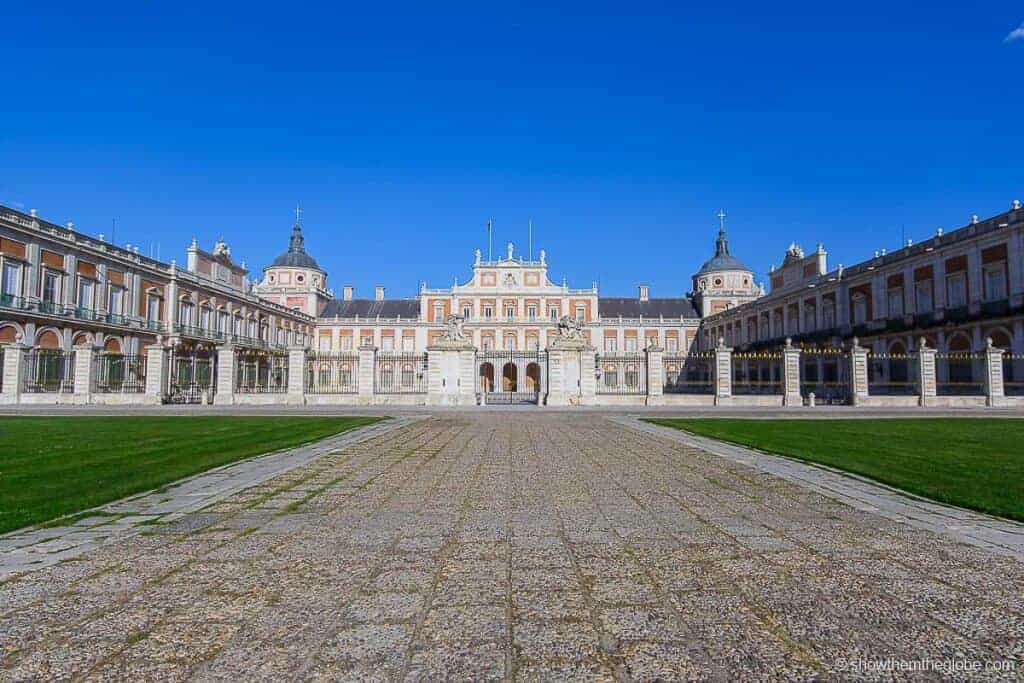 Day trip to Alcalá de Henares from Madrid
By Tom from Travel Past 50 
If you, like I do, think that Don Quixote is one of the greatest books ever written, then you have to visit the hometown of its author Miguel de Cervantes, Alcalá de Henares.
Alcalá de Henares is the center of all things Cervantes. His alma mater, the University of Alcalá, awards the annual Cervantes Prize for the best Spanish language literature.
The entire old part of Alcalá, which surrounds the university campus, is the Unesco World Heritage Site.
You can admire the medieval columns which line a walk in front of the old buildings. You can visit numerous churches, the archbishop's palace, the cathedral, Cervantes' birthplace, and more.
Of particular interest is the ceiling of the University's "Room of the Nymphs," which is a small auditorium where students take their final oral exams and where the Cervantes Prize is awarded.
Another bit of history worth noting is that the University of Alcalá was the first meeting place of Christopher Columbus and King Ferdinand and Queen Isabel where they discussed his plans for his voyage of discovery.
Finally, another distinguishing characteristic of Alcalá is that, because of the nearby abundance of food and nesting material, the towers of the city have been adopted by about 90 pairs of white storks. These storks are perhaps the city's most known tourist attraction.
How to get to Acalá from Madrid
Alcalá is located about 35 kilometres northwest of Madrid and is easily reached in about 40 minutes on Madrid's Cercanias train lines at a cost of €8 return.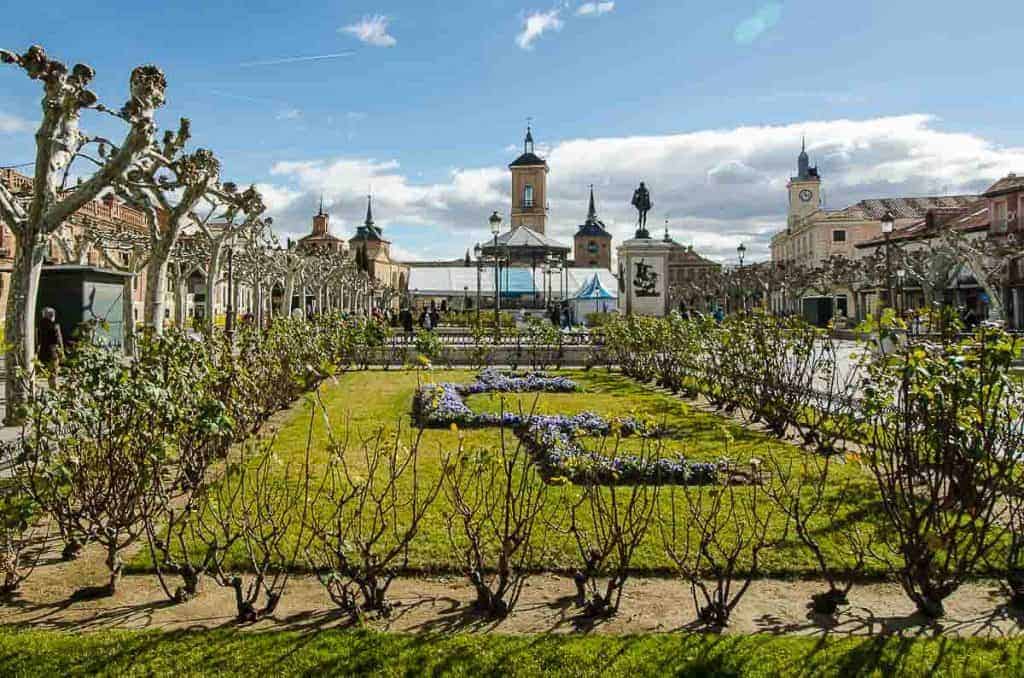 Day trip to Valle de los Caidos from Madrid
By David from Delve into Europe
El Valle de los Caidos – the Valley of the Fallen – is an essential stop for anyone with an interest in recent Spanish history, especially the Spanish Civil War and the Franco dictatorship which followed.
El Valle is ostensibly a memorial to those who lost their lives on both sides during the Spanish Civil War.
It's a vast underground church that is the burial place of General Franco himself and Primo de Rivera, founder of the Falange party which Franco led. It is one of the most divisive places to visit in Spain, somewhere that still generates controversy over 40 years after Franco died.
It's a bizarre site to visit. You can see the gigantic hilltop stone cross marking the site of the church from miles away in a valley in the Sierra de Guadarrama mountains north of Madrid.
The church is cut into the rock below the cross, an austere underground tunnel with giant stone angels staring at each other from either side. At the far end are the graves of Franco and de Rivera, watched over constantly by security guards.
Spain is still dealing with the consequences of the actions of the Franco regime over 40 years later, which include the removal of children from the families of Republicans and those deemed opponents of Franco.
My own feeling, despite all the show of it being a holy Catholic church, is that it is really all about Franco rather than any god or fallen soldier from the other side.
How to get to Valle de los Caidos from Madrid
You can visit El Valle on a day trip from Madrid. You need to get a train to San Lorenzo de El Escorial, from where there is one bus (marked 'El Valle') each day, leaving at 3.15 pm and returning to San Lorenzo at 5.30 pm. Admission to the site is €9.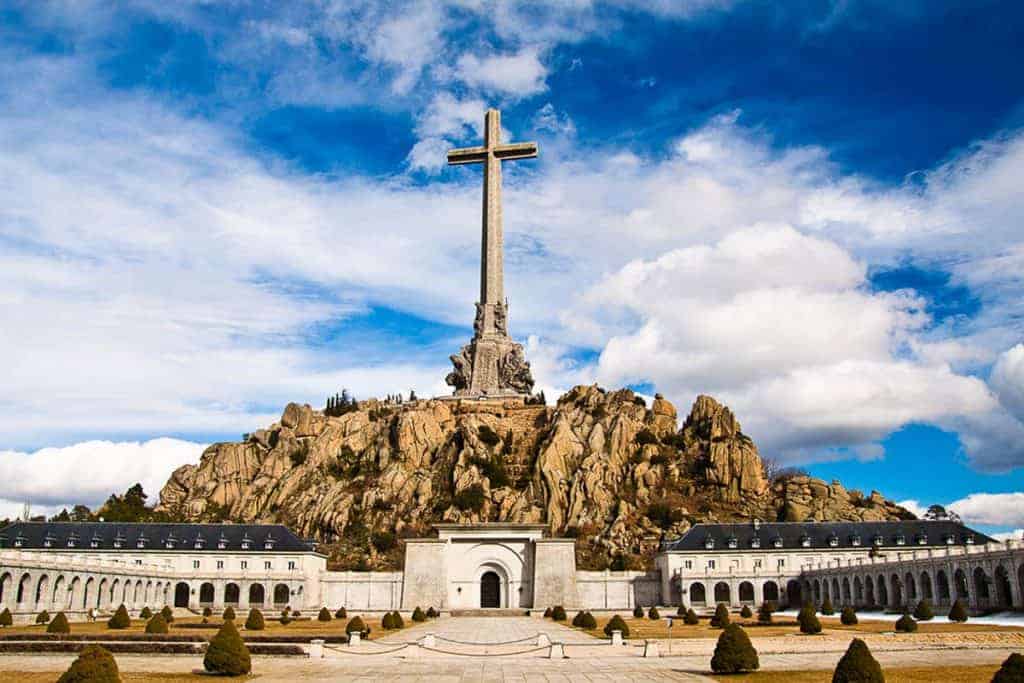 Day trip to Cuenca from Madrid
Cuenca is a city that truly defies gravity, at least in the old town area.
Its steep cobbled streets and houses perched high above the Huécar gorge make it a unique day trip from Madrid. And it's not surprising it's a World Heritage Listed!
The city was built to be in a defensive position, with walls and a medieval castle, and many of the houses in a precarious position along the edge of the gorge cliff and have been beautifully preserved.
Although I'm not sure I'd like to stand on one of the protruding wooden balconies!
Other than crossing the Puente de San Pablo across the gorge to wander the streets of the historic town, you can also visit the New Cathedral with its blue-tiled domes that are visible around the city, the older Cathedral, which is the first Gothic Cathedral in Spain, or one of the many museums.
The tunnels of Alfonso are passages underneath the Old Town, but it's only possible to visit them on a Monday or by pre-arrangement if you have a group of 20 or more.
Cuenca is really one of those places where you just have to wander around, without any aim in particular, making it perfect for a one-day trip.
Note, however, that many places may be closed for siesta between 2 pm and 4 pm, so it's worth planning your day around this.
How to get to Cuenca from Madrid
Trains from Cuenca to Madrid take around 2 hours and 50 minutes from Atocha Station. You can buy tickets in advance or on the day for around €40.
From the station in Cuenca, you can take a taxi for around €12 euros to the historic area or a bus for €1.25. It does make for quite a long day trip from Madrid, so you could also consider staying overnight.
Day trip to Consuegra from Madrid
Conseguía has been known for its windmills since the 16th century. If you've read Don Quixote, then you might know that the windmills in La Mancha played a part in the 17th-century novel.
There were originally 13 windmills here, 12 of which have now been restored, and you can take a tour through.
In October, the fields around Conseugra turn purple thanks to the saffron flowers that the city is also known for.
It's possible to visit both Toledo and Consuegra on a day trip from Madrid or stay in Toledo and continue to Consuegra the next day.
How to get to Conseugra from Madrid
A day trip to Conseugra from Madrid is only possible by bus or car as there are no train services.
The most regular bus route is run by the Samar company from Madrid's Mendez Alvaro bus station. The journey takes about 2.5 hours and is about €11.
From Toledo, you can also take Samar buses, with a journey time of about 1.5 hours.
If you have a car, it will only take about 1.5 hours to reach Consuegra from Madrid.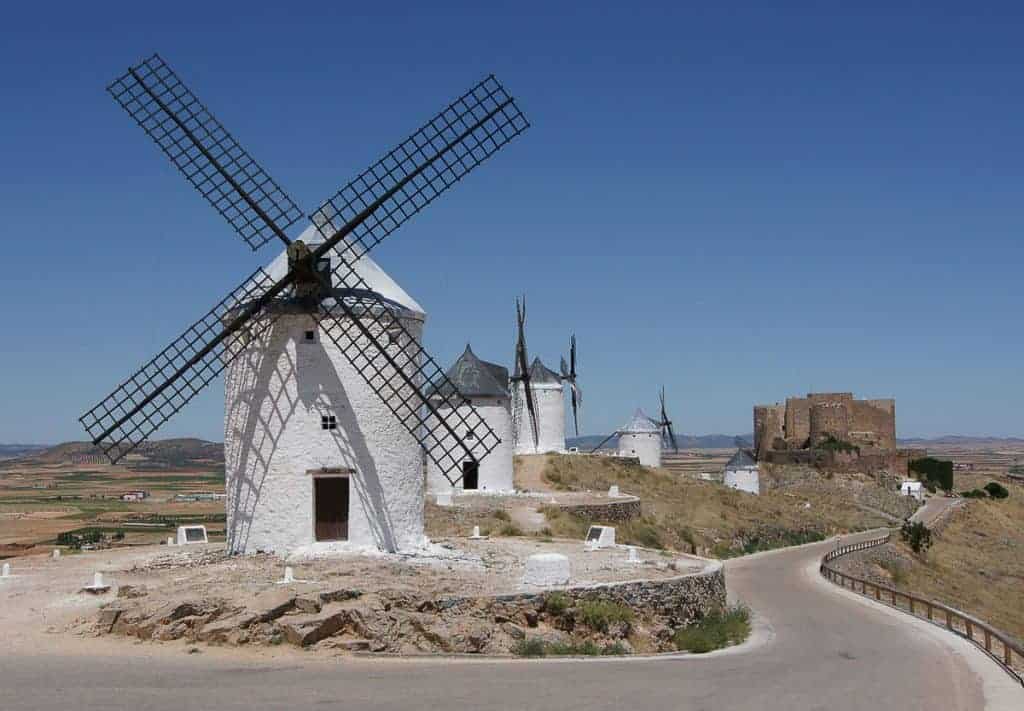 Day trip to Chinchón from Madrid
Chinchón is mostly known for its central plaza, Plaza Mayor, a garlic festival in the autumn, and an anise-flavoured liquor festival in spring. It's a beautiful place to enjoy traditional food and wander the streets.
Start your day in Plaza Mayor, which is actually round in shape and framed by lovely historical white and green buildings with balconies, before wandering down one of the many streets off it. Keep an eye out for the different medallions of Jesus on the doors.
If you go as far as the clock tower a short distance away, you'll be rewarded with a view back over the city centre and the plaza from above.
Look out for shops selling local garlic and anise liquor, as well as the local sweet speciality of fresh homemade donuts filled with cream.
How to get to Chinchón from Madrid
The bus from Madrid leaves every hour or half hour during the week (a little less frequently on the weekends) and only takes around 45 minutes. You'll be dropped off in the centre of Chinchón, just a short walk from Plaza Mayor.
Should you take a tour for a day trip near Madrid, or go on your own?
It won't take you long to realise there are plenty of tours from Madrid offering to take you on day trips to Toledo, Avila, and Segovia, among others.
For day trips from Madrid to most destinations, I like to go on my own.
Train tickets to popular destinations can sell out, so it's worth planning in advance. Going on your own allows you to explore the place at your own pace and see what you'd like to. Plus, if you want to capture something like the sunset at Toledo, then you have the freedom to do so!
However, you can also consider a tour because this can take the stress out of planning on your own and give you the opportunity to see more than one place in one day. That's not something that's easy to achieve on your own!
There are plenty of things to see in Madrid, but if you have time to spare, then taking a day trip from Madrid will allow you to see some smaller Spanish towns that have their own unique culture and stunning landmarks.
Have you taken any great day trips from Madrid or been to these places before?
Sonja x
If you liked it, pin it!