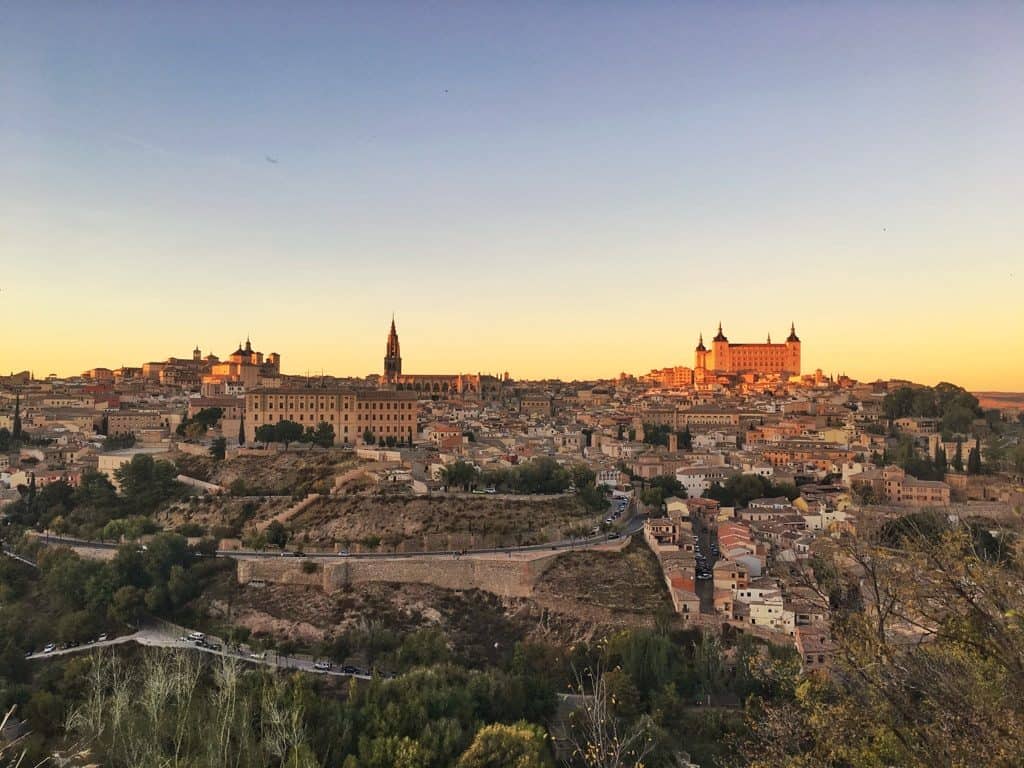 The best day trips from Madrid will give you a taste of Spain, showing you it's beauty, history, and charm. As the capital city of Spain, Madrid definitely isn't lacking in sights to see and things to do. From the museums, to the extensive shopping on Gran Via, to the alternative neighbourhoods full of independent restaurants and cafes, there's something for everyone. But if you have the time to step outside of this metropolis, you could spend many more days exploring the satellite towns surrounding it.
On my first visit, I knew I couldn't leave without taking at least one day trip from Madrid. I researched the absolute best Madrid day trips, asking my local friends and Google. In the end, I discovered the three best places to visit near Madrid, each with their own unique history and things to see.
So here are my recommendations for three great day trips from Madrid!
Day trip to Toledo from Madrid
Toledo has been a UNESCO World Heritage Site since 1986, and it's now one of the most visited places in Spain. If you want to take the best day trip from Madrid then Toledo rates at the top of all of the must-see lists. Toledo's history stretches back to the Roman occupation, and traces of Roman and Muslim history can be found throughout the town. Toledo was the capital of Spain after the reconquest, in 1085CE until the mid-1500s when it changed to Madrid.
Toledo has a number of historical religious buildings, and you can purchase a bracelet for €8 to visit six of the religious buildings in Toledo, excluding the Cathedral. But in my opinion, your day in Toledo is best spent wandering the medieval streets.
It is claimed that Marzipan (the almond sweets made into shapes and baked in the oven, not the soft Marzipan put on cakes) was invented in Toledo by nuns around 1150. It's available in stores around Toledo, but you can also buy Marzipan directly from Convents, where it is still made by the nuns who live there. You just have to know which doorbells to ring! I went to Monasterio de San Clemente and Monasterio de Mochas Comemdadoras de Santiago and bought something from both, and I have to say the treats are delicious!
How to get to Toledo from Madrid
The train from Madrid Atocha station to Toledo takes half an hour and costs approximately €22 euros return. From the Toledo train station, you need to take the bus from just outside the station gates to the right (number 5, 61, or 62) until the last stop. The bus costs €1.40. The bus from Madrid to Toledo is much cheaper at around €10 from the Plaza Eliptica Station. You will also need to take another bus to get into town.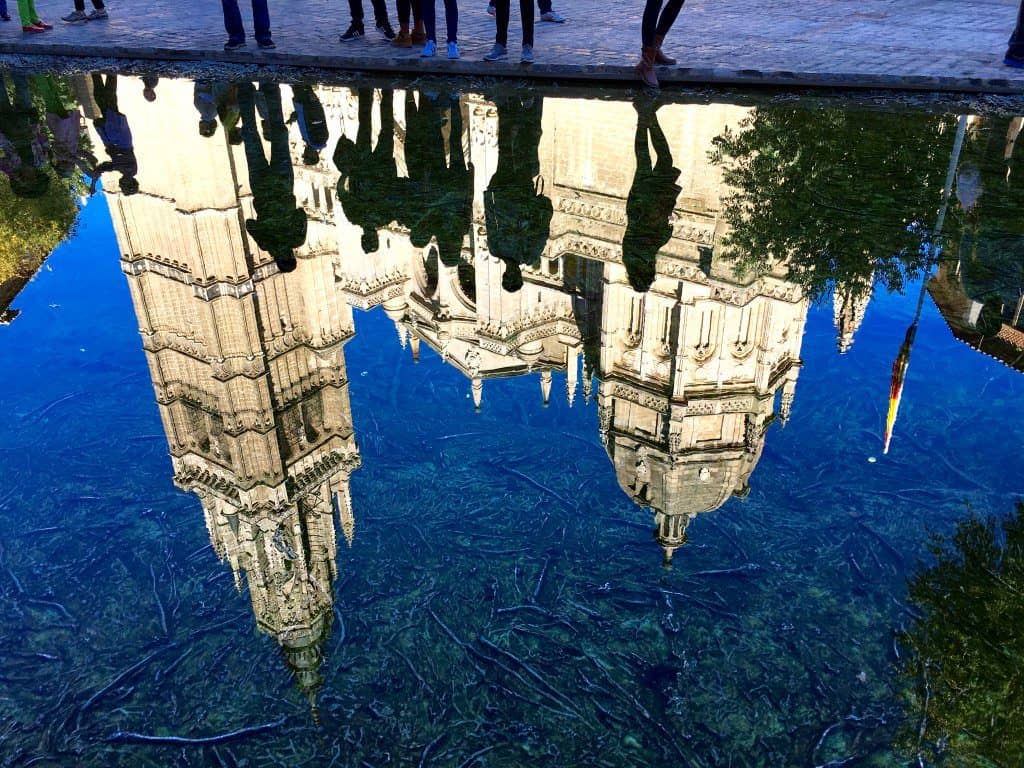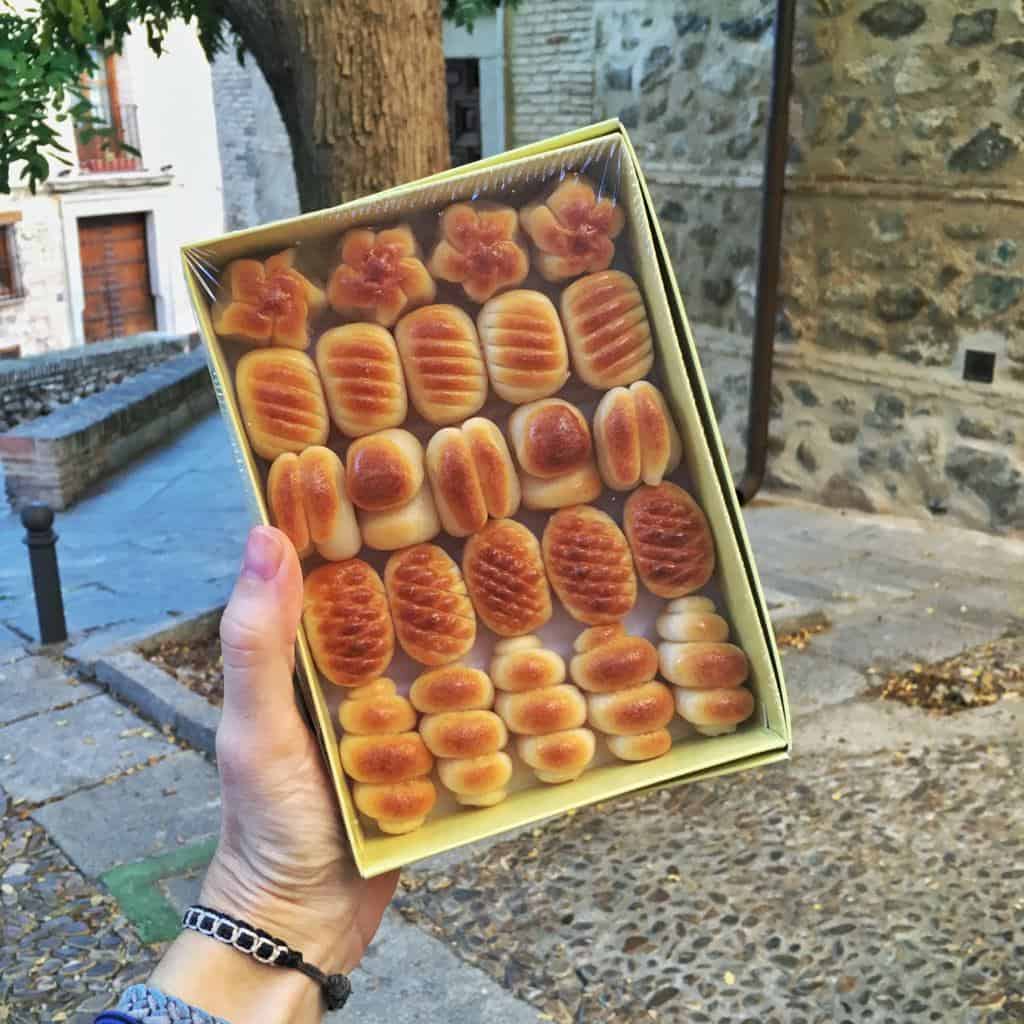 Day trip to Ávila from Madrid
A day trip to Ávila from Madrid is a step back in time. Ávila is known for its city walls, and although the original foundations of the walls date back to the Roman time, the current construction above ground is from the Middle Ages. However, many of the same materials used originally were used in rebuilding the walls. The walls span 2.5km and have 9 entrances and defensive gates, with 88 different watchtowers.
Ávila was first a military outpost, which then turned into a city. At one time it was bustling and densely populated, but an epidemic of cholera in the 1700s reduced the population, filled by the industrial revolution. Tourism is now the principal industry of Ávila, like many of the villages surrounding Madrid, and it is a UNESCO World Heritage Site.
The Cathedral in Ávila is built into the city wall. It was built across a wide space of time, reflected in the Romanic style up to the windows, and the Gothic style further above. The two towers that were planned never materialised, and only one can be seen.
Ávila was the birthplace of Santa Teresa in 1515. She was a prominent author and theologist during the counter-reformation. You can visit the place of her birth and baptism, see where she played as a child, and if you really want to (I didn't) see a relic of her finger!
Also like Toledo, Ávila is famous for a particular kind of food, this time "Yemas" which are a small, round sweet made from egg yolks, lemon juice, and cinnamon. Although they can be found across Spain, Yemas de Santa Teresa, or Yemas de Ávila, are the number one souvenir from here and something you should definitely pick up on a day trip to Avila.
How to get to Avila from Madrid
The train from Madrid Atocha station to Ávila is a similar price to Toledo, at approximately €23 euros return. It's an easy day trip by train from Madrid! The bus from Madrid to Ávila is around €16 euros return.
Day trip to Segovia from Madrid
Segovia is another UNESCO World Heritage Site (do you sense a theme?) that has several unique landmarks and makes a fantastic day trip from Madrid. The most impressive landmark is the Roman Viaduct. It was built by the Romans around 1 Century AD (yes, that old) and although it hasn't been used fully since 1908 it still works today! The aqueduct is built entirely from stone, with no concrete or anything holding it together.
During the Middle Ages Segovia was known for its wool and tapestry production, with wool made here being sent all over Europe. The city was one of the King's favourites, and he used to live in the castle called the Alcazar. This is now another of the main attractions in Segovia, with its unique architecture actually being the base for the castle at Disneyland in LA.
As far as food goes, Segovia is especially famous for it's roasted suckling pig. There is even a statue of a pig in the Cathedral! Be sure to visit one of the restaurants in Segovia offering this special kind of pork that is so tender it can be sliced with a plate.
How to get to Segovia from Madrid
You can take an AVE high-speed train from Madrid to Segovia in half an hour and it costs around €20 return, making it one of the cheaper options for a day trip from Madrid. Although there is a bus from Madrid to Segovia, it's not much cheaper and it'll take much longer than the train.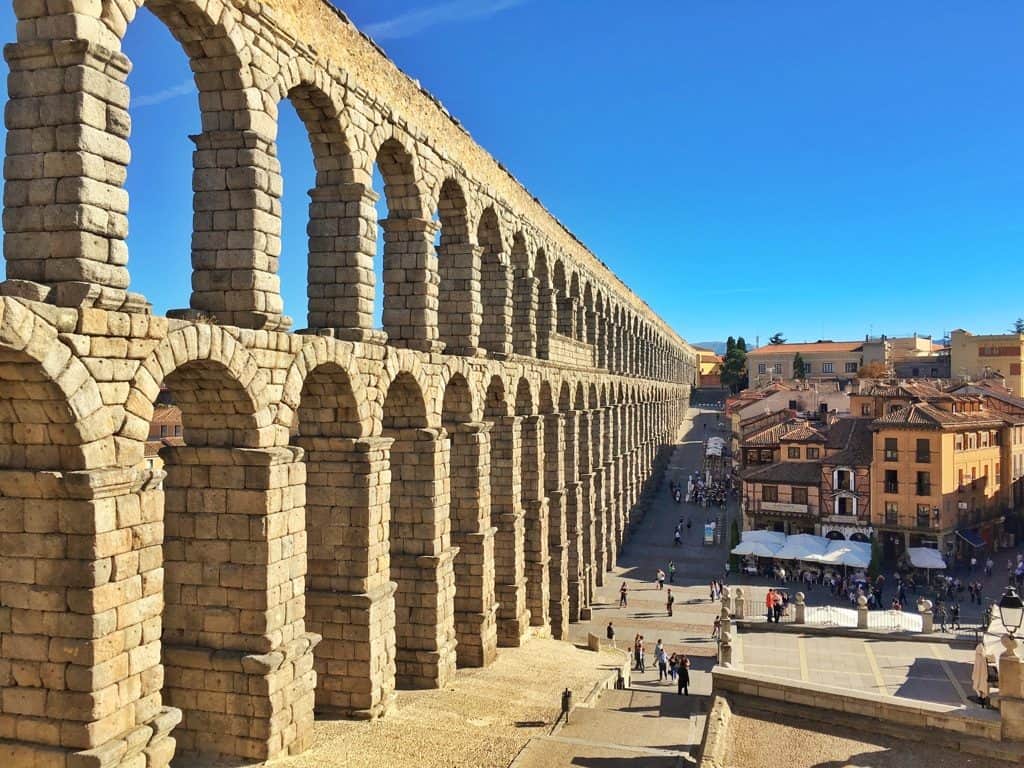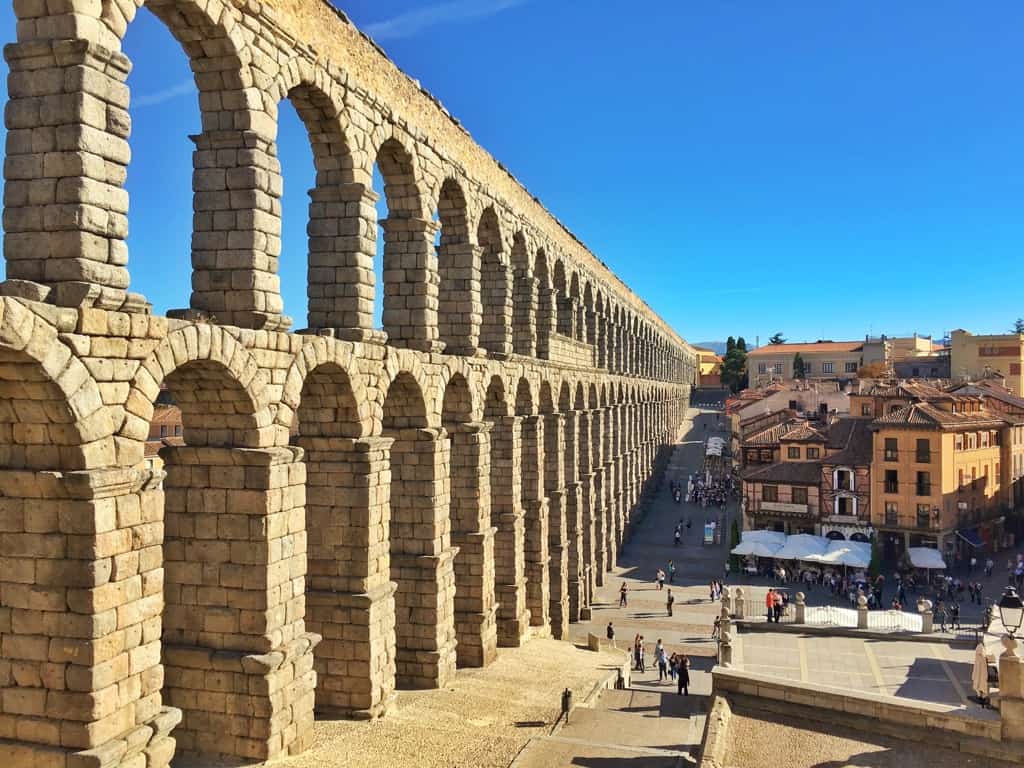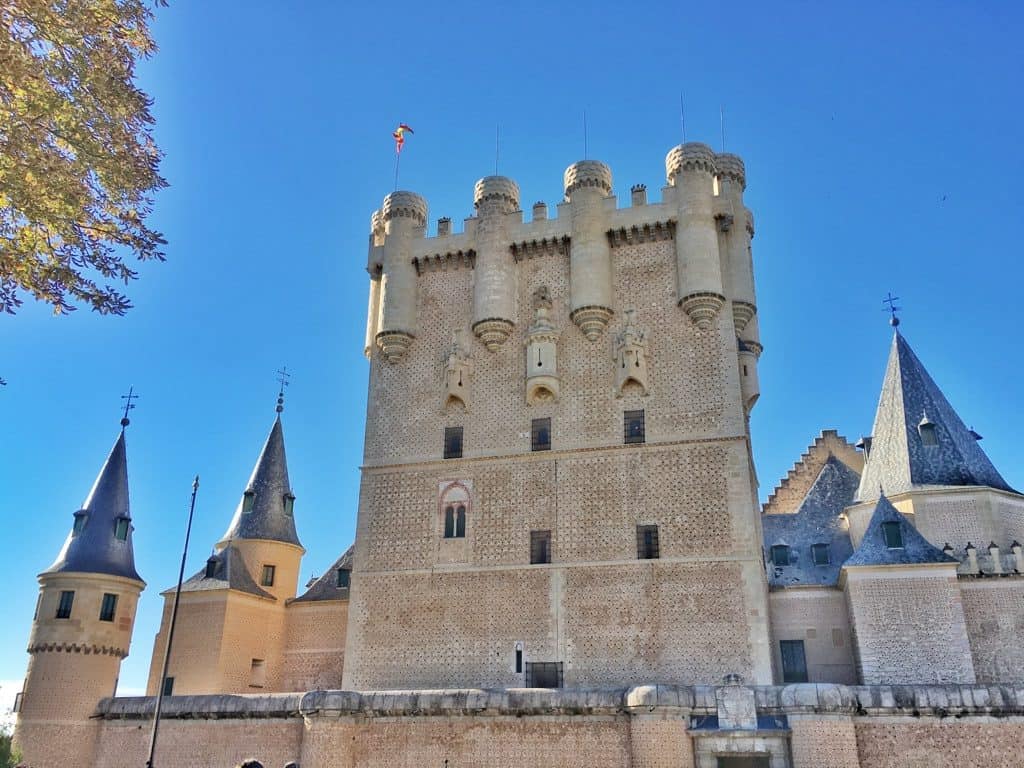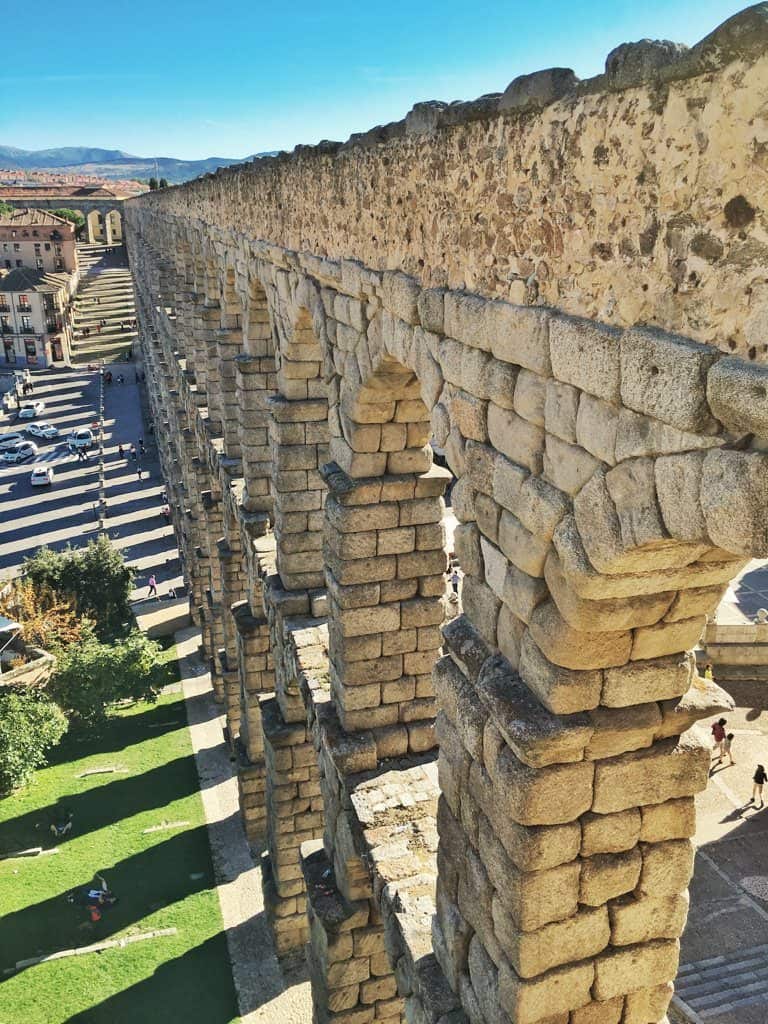 Should you take a tour for a day trip near Madrid, or go on your own?
It won't take you long to realise there are plenty of tours from Madrid offering to take you on day trips Toledo, Avila, and Segovia, among others.
I visited Toledo on my own by taking the train from Madrid, and Avila and Segovia as part of a tour with City Discovery, where you can search for tours and unique experiences all over the world.
For day trips from Madrid to Toledo, I would recommend a visit on your own. There is so much to see in Toledo and it really depends on what your preference is. Going on your own allows you to explore the city at your own pace and see what you'd like to. Plus if you want to capture the sunset then you have the freedom to do so!
For day trips from Madrid to Segovia, on your own would also be possible, but I really enjoyed the Segovia and Ávila tour I took as we were able to visit Avila on the way and see two places in one day. That's not something that's easy to achieve on your own! We spent the majority of our time in Segovia and had plenty of time to taste the local delicacy of pork for lunch and explore the rest of the town. If I had to choose, I would go to Segovia over Ávila, because I thought there was much more to see and do, but having the chance to see both on one day trip was the best option overall.
There's plenty of things to see in Madrid, but if you have time to spare then taking a day trip from Madrid will allow you to see some smaller Spanish towns that have their own unique culture and stunning landmarks.
Have you taken any great day trips from Madrid, or been to these places before?
Sonja x
If you liked it, pin it!