Welcome to the Expat Interview Series! I've reached out to expats in different countries to hear why people might choose to move abroad, and how they do it. If you want to know more about moving to a particular country this is the place. Check out the archive of Expat Interviews for more!
I moved to Spain to teach English through the Auxiliar de Conversacion program, but that's not the only way to do it! Helen took the brave step of investigating teaching English in Valencia on her own and applying directly to a school herself. Learn more about how to find teaching English jobs in Valencia, and get some inspiration in following your dreams and making them happen!
Tell us about yourself
My name is Helen and I have recently moved to Spain from Essex with my other half. We decided to move to a new country after we spent the summer trekking through Thailand. I enjoyed the trip, and it opened my eyes to the potential work opportunities abroad. I have a passion for education and teaching. I absolutely love inspiring others. I enjoy working with children and adults. I have been stuck pondering over potential business ideas for 2 months; I wanted a business that would incorporate my passions for curriculum education; lifestyle coaching and English language. I wanted to build up my experience working with professionals in the industry.
I felt working abroad would inspire me; I get to meet new people; gain new ideas whilst building on my experience. I am currently teaching English as a foreign language in a small language school near Valencia. I am creating a new aspect to my career whilst building confidence and courage. At the same time my other half got a basketball contract in Spain so we combined our two passions to make it work and so far it has been very enjoyable.
Tell me about the cost of living in Valencia
Food
We pay roughly around 40 euros to eat for the week. We have a kitchen in our apartment and we enjoy cooking. Our favourite meal to cook has to be steak with mushroom sauce. We have eaten out a couple of times and a meal out is around 25 euros for two.
Transport
This is the main cost. We use the trains all the time. To get to work every day, it costs me 80 euros a month but I am lucky work have agreed to pay my travel expenses too. To get to the city it costs 4 euros return and we live 30 mins away from the city of Valencia. We hire a car for our day trips and this costs around 35 euros including petrol and insurance.
Social
To go out and do things is a lot cheaper than London. On our days off we like to explore. A typical night filled with drinks is about 60 euros. This is nothing compared to London. There are lots of things to do and we budget around 200 euros per month to spend on social activities. We hope to be involved in Spanish meet ups and exchange programmes so we can meet ore Spanish people and learn more of the language.
Accommodation
This is included in the deal my other half got so fortunately for us all our bills and our living costs are paid for. I know a 3 bedroom apartment in Valencia is only 400 euros for the month though.
How did you find work in Valencia as an expat?
Well after applying for jobs using Spanish websites, (yes I applied for a job only using Spanish… well and google translator) I finally got two interviews in the same week. I went to both and got both jobs. I choose my favourite.
I currently teach English in a language school in a town just outside the city of Valencia. I teach 4 days a week with a fun creative class on a Saturday. I have found it a challenge as I can't speak much Spanish so I have to use lots of actions to explain what I need the children to do, but with lots of planning and preparation, I am sure I will get there in the end. By the time I settle it will be time to come home. I teach from 3-year-olds- 16-year-olds preparing for exams. This is quite a challenge and I am asked many questions. (Sometimes I don't know the answer!).
How did you find the job seeking process in Spain?
I think sometimes it can really be a scary idea moving somewhere without an income or it's just unrealistic. I think if there are no jobs then create one – that was the best advice I have read. Really mix with the correct people. I was job hunting through local Spanish sites and emailing back and forth constantly within the first week. I was meeting with directors and socially talking about how I am looking to develop in my career by teaching abroad. I got emails telling me to come for an interview. My interview lasted 1 hour and a half and then I got offered a job. It was frustrating because settling in can be quite a challenge.
What's the best thing about living in Valencia?
Everyone seems really chilled. It's a nice vibe, I like the fact that everyone is really enjoying life. There is a demand for teaching English as everyone is so eager to learn. It is really cool. I also love learning a new language. I can hold a mini conversation now which is brilliant. The weather is also sunny which brightens up my mood and makes me really motivated.
I enjoy living with my other half and it's nice just to have time to be us and that's really great. We are really loving it. We've both had time to prepare business ventures and its giving us both real inspirations for our future possibilities. Sometimes you need to jump out of your comfort zone to really see what you're capable of!
What's the hardest thing about living in Spain?
I really miss my family and my girlfriends. I feel that there have been lots of baby and engagement announcements and I really want to be involved but I am so far away. I am really not a negative person so I can't really pinpoint what is the worst. I guess having only a tank of hot water is annoying and only living with real basics. We don't think we should get a sofa or a TV as were not inside enough.
What's your home in Valencia like?
We live in an apartment in a small town close to Valencia. It's got 4 bedrooms, a kitchen, a bathroom and a living space. Our town is cute, we spend Sundays in local coffee shops, working on our business ideas or taking a stroll in the town centre. It is currently unfurnished but we don't feel we need to furnish our apartment as we are not inside enough. So for now it is perfect for us. I won't lie though it is not luxurious, but who knows what future business opportunities or working opportunities are coming… We might just have a luxury apartment if we work hard enough along the way!
If we had just one day in Valencia what should we not miss?
We love Valencia. I would say you really need longer than one day because it's amazing. I have been lots of times and I am still finding different things to do. I would start in the old town. There are many cathedrals, picturesque streets, shops, cafes, fountains and it's a really cool place to wander or relax. There are some amazing restaurants. Try paella for lunch its delicious.
Make sure you walk the Turia. Its filled with locals cycling, strolling, running and couples. It's a great place to eat a picnic and have a romantic stroll. Once you reach the end you will be at the city of the arts. WOW this part of Valencia is breath taking. I couldn't believe it. I would also recommend the beaches and harbours too. If you have longer there are surrounding neighbourhoods that really have so much to offer. There really is lots to do and see!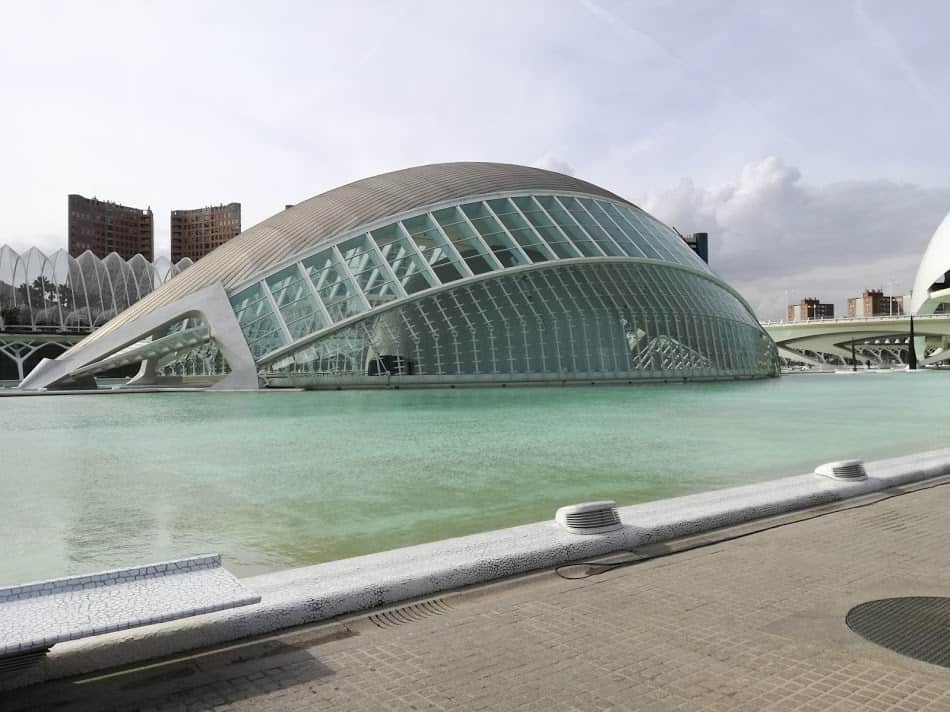 You can find out more about Helen's life in Spain, and teaching English in Valencia through her Instagram. 
Have you ever tried to apply for jobs in a foreign language, or moved somewhere without a job offer yet? 
Sonja x