Glasgow is an amazing city with lots of things to do for families.
However, we all need an escape from the city sometimes!
Planning a day trip with kids can be stressful, which is why we like to make sure we know exactly where we're going and what we'll be doing.
Looking to go somewhere near Glasgow with the kids but don't want to travel too far?
Luckily, there are plenty of amazing day trips from Glasgow for families. Pack up the car or catch the train to discover a day full of fun for everyone!
Here are five of our top picks for day trips from Glasgow with kids. 
1. Falkirk
Falkirk is a prime choice if you have your own car.
Firstly there are the Kelpies, which are huge horse head sculptures set in The Helix community park. The Kelpies are two 100 ft high tributes to the heavy horses that were a huge part of Scottish industry and they're also named after the mythical horses that were said to be shape-shifting water creatures. 
While the myth and folklore of the Kelpies might be a little frightening for little ones, the statues themselves are wonderfully intriguing even for small children and a great photo opportunity.
Stopping to see them is free though you can pay a fee for a tour inside of them. 
There's also the Falkirk Wheel, which is a huge rotating boat lift, and the only one of its kind anywhere in the world.
Watching a canal boat be lifted high into the air will definitely be a memorable experience for kids! It's free to watch, but even better, you can pay to do a boat tour that uses the wheel. 
Do you have little ones that would rather stay on dry land? Visit the French-style chateau from the 14th century known as Callendar House, which is free to enter.
The Antonine Wall remnants from the Roman Empire, marked as a UNESCO World Heritage Site, also reside here.
This stunning step back in time also serves an excellent afternoon cream tea! It was also used as a filming location for the Outlander TV series, so it's definitely become a more popular day trip from Glasgow of late.
The best part about Callander House for kids, however, is the playpark in the grounds. It includes Crazy Golf, a Bouncy Castle, Inflatable Slide, Go Carts, and a play area for the little ones not old enough for the rest. Nearby is a snack bar as well.
You can also take a wander along the Nature Play Trail as a family. Note that these are all open seasonally, from April to September.
Falkirk is an easy drive from Glasgow, about 30 to 45 minutes. Having a car will also make it easier to get around, though you can take the train to Falkirk in just 20 minutes too. Buses and taxis can help you get around from the station. 
2. Dino Park
You and your little ones can explore what the world was like 150 million years ago when dinosaurs ruled the world at Dino Park in Carrutherstown, Dumfries. This is an educational yet exciting day trip for younger children, particularly those that are going through their dinosaur phase! 
Don't miss the Dino Mine or the Tree House. There's a place to dig for fossils or kids can bounce on a dinosaur. For little ones, there's a soft-play area too, at an extra cost. 
Getting to Dumfries from Glasgow takes just an hour and 28 minutes by car using the M74 and A74. Your best deal for entry is the family ticket which includes admission for 2 adults and 2 children for £19, though the soft play area has an additional fee of £5 for kids ages 1 and 2, and £7.50 for children 3 and up.
You'll find it open daily starting from the end of March through to the beginning of November. 
3. Loch Lomond and the Trossachs National Park
Loch Ness is often a popular destination for international visitors to Scotland, but it's a long day trip from Glasgow for families and local will be quick to tell you that you should head to Loch Lomond instead!
Loch Lomond and the Trossachs National Park are just 40 minutes away from Glasgow by car and are a perfect Scottish day trip for families. 
Water activities, adventure parks, and the surrounding villages all make it a splendid place to head for the day. You can hike, bike, sail, or do something a little more adventurous with GoApe or TreeZone, ideal for older children. 
What's great about this day trip from Glasgow is that you can choose your own adventure based on the age of your kids. It's also close enough to Glasgow that if the children tire, you can get back quickly. 
The best way to go is by car since it's just 25 miles out of Glasgow. Public transportation does require more thought, but you can get a train to Balloch and then take the cruise on the Loch or jump in a taxi to get to Luss.
Alternatively, you can join a tour which will take care of everything, leaving you to just enjoy the day with your family. Check for any age restrictions first.
4. Blair Drummond Safari and Adventure Park
Blair Drummond Safari and Adventure Park in Stirling has been delighting families since 1970!
This one is easy to enjoy with little ones since you can drive through the reserves in your own car, though there is a Safari Bus you can take at no extra fee if you arrive via public transport.
Take a ride on a boat too, let the kids play in the children's areas, and get up close and personal with lovable animals at the petting zoo.
With a mini-roller coaster, trampolines, and even a World of Dinosaurs, this is one family adventure that will burn all of the kid's excess energy away in no time!  
The drive-through safari is home to giraffes, lions, elephants, meerkats, penguins, and plenty more fascinating species that both you and your kids will love. 
It's just 40 minutes on the M80 from Glasgow, or you can take the train to Stirling station. A bus runs from Stirling to Callander and stops at the Safari Park on the A84, leaving just a short walk to the entrance.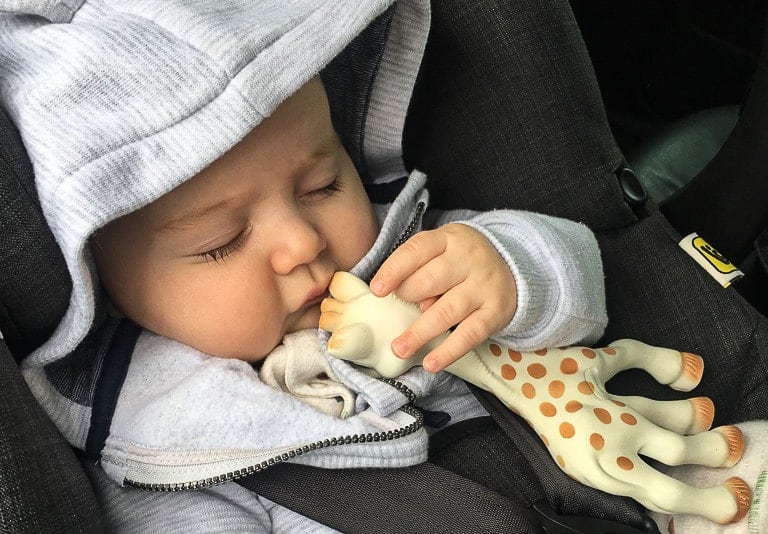 5. Crawick Multiverse
At Dumfries & Galloway, you'll find the Crawick Multiverse. This land art project turns an old opencast coal mine into nine different land art installations over 55 acres.
Take a walk, learn about the history, fly kites, climb the spiralling paths and peek inside the cave of the Omphalos. This mystical place is perfect for a relaxed outdoor outing, and absolutely lovely for a family picnic too if the weather is on your side.
It's just over an hour's drive from Glasgow on the M74 and B740. 
This is much more of an outdoor adventure than some of the others, as you won't find a playpark in site, but there are plenty of other things to keep the kids entertained. 
Glasgow itself is full of things to do for the whole family but if you want to escape the city these ideas are a great place to start. 
Finding something that's not too much of a journey and that will please the whole family can be a challenge, but we think these five day trips from Glasgow are a great starting point for families looking to venture out. 
We hope the family will love a good change of scenery and the chance for new adventures together!
Sonja x
Want more Scotland for families content? Check out these posts: