Looking for family-friendly accommodation in Scotland?
When you're considering where to stay in Scotland with kids, it can be a little overwhelming.
There are actually lots of family-friendly hotels, family lodges, and other unique places to stay in Scotland with kids too!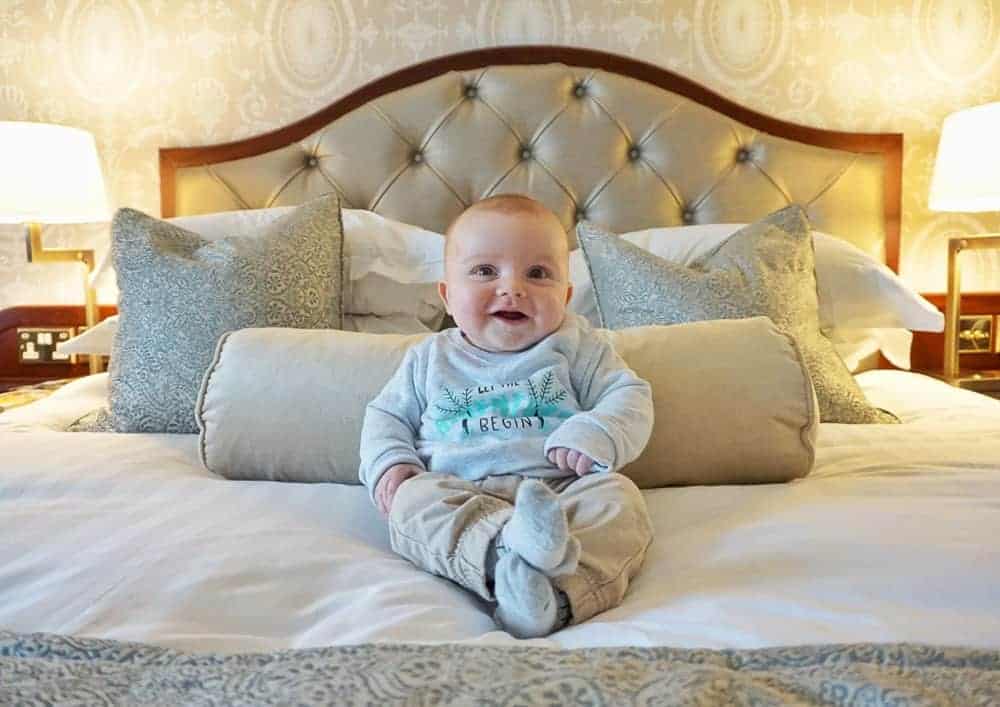 We have listed some of our favourites from our own experiences, plus friends with kids as well.
Whatever budget you have and wherever you want to plan a family holiday in Scotland, there are sure to be some great family accommodation options nearby.
Cairngorm Lodges, Aboyne
Located just outside of the Cairngorms National Park, Cairngorm Lodges offer up unique nature cabins in an idyllic setting.
Known for their eco-friendly and unique lodging, these one-off cabins in the woods are the perfect place for a family escape.
Nearby activities include fishing, nature walks, horse riding, biking, geocaching, and more.
The towns of Aboyne, Banchory, and Ballater are all within easy reach and have wonderful lineups of events and farmers' markets to visit; plus if you visit at the right time of year, you might catch some of the Highland Games too.
Check prices and availability here
Crieff Hydro, Perthshire
The Crieff Hydro Hotel is really geared towards accommodation for families in Scotland.
They offer up family-friendly getaway packages and often have deals where free childcare is included with your stay. They also offer a variety of kids-only programmes such as horse riding and soft play.
Relax at the spa or eat at the restaurant while your kids play away! Enjoy an array of fun-filled, free activities for kids or embark on an adventure with 4-wheeling, archery, and an adventure ropes course.
Plenty of fun for the whole family and an opportunity for you to relax too!
Check prices and availability here
Taymouth Marina, Loch Tay
We love staying in self-catering accommodation with kids in Scotland because it gives us the opportunity to be able to make our own meals if we like.
This can make a big difference if we're slow to start in the morning or if we plan to put the toddler to bed and have a night in.
Taymouth Marina has lovely waterfront apartments that give you beautiful views of Loch Tay, and the best part is they have their own hot tubs too. That means after the wee ones are in bed, you can have a bit of a soak and relax!
They do have a full onsite spa as well, complete with a sauna, hot tub, and slide into the lake for a cold dip after all that heat.
The onsite cafe and bar are also handy, and you're not far from many of the great things to do in Perthshire with kids.
Check prices and availability here
Moness Resort, Perthshire
The picturesque grounds of Moness Resort in Perthshire bring the perfect backdrop to your family vacation.
On the grounds, you'll find plenty of activities from duck feeding to enjoying a walk in the garden.
Nearby you'll find all sorts of adventures from mountain biking to white water rafting and even bungee jumping.
The town of Perth and the surrounding area has an array of family-friendly activities to choose from too.
This is the ideal place to stay with older children who want a bit more adventure out of their holiday.
Check prices and availability here
Pine Bank Chalets, Aviemore
The Pine Bank Chalets in Aviemore offer a self-catered holiday, with plenty to do in the area with kids!
The chalets come complete with a kitchen and everything you need for an enjoyable family-friendly lodge in Scotland.
Bring your bike (or hire one) and enjoy the many trails nearby. There's a children's play park, badminton, gym, board games and DVDs to hire, table tennis, and even sledges to borrow in winter.
Check prices and availability here
Peebles Hydro, Scottish Borders
The Peebles Hydro is a beautiful property with endless entertainment suitable for the whole family. Enjoy the large indoor pool, hedge maze, and fitness centre, as well as the spa, with a large and comfortable family room to go back to at the end of the day.
They have a kid's centre, outdoor play area, and even an opportunity to meet farm animals, while nearby mountain biking, shooting, and other adventure sports bring older kids plenty of entertainment.
Check prices and availability here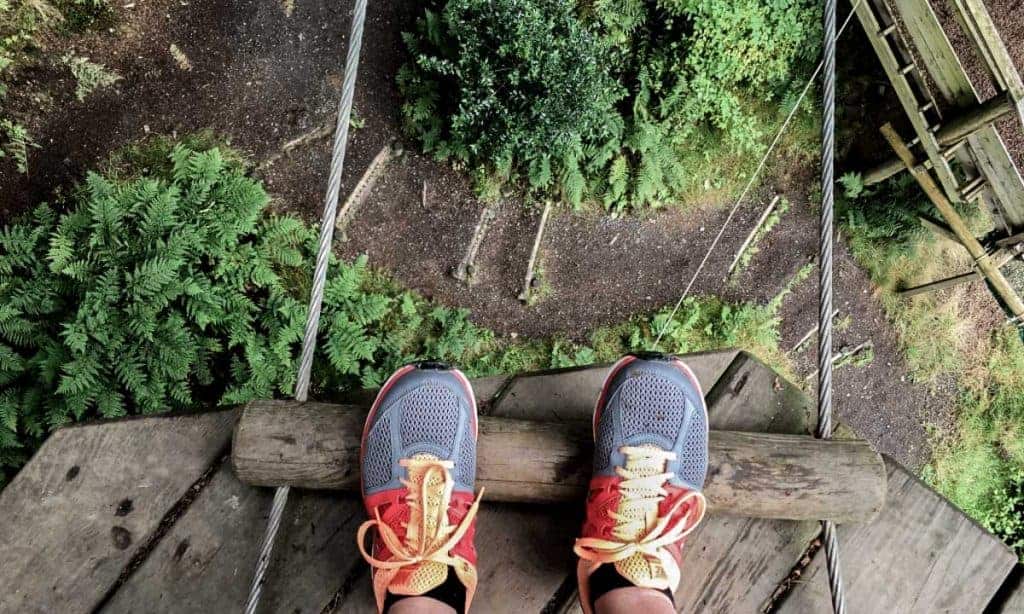 Comrie Croft, Crieff
From Nordic glamping "katas" to camping, there is all sorts of family accommodation at Comrie Croft.
Pitch a tent or opt to stay in the self-contained hostels in private rooms too.
This budget-friendly destination is not only beautiful but friendly on the wallet too.
There are plenty of walking paths and even the chance to climb one of the 3 Munros (mountains over 3,000 feet) nearby (if you're with older kids!). There are mountain biking trails nearby too.
Comrie Croft is suited for families who love to immerse themselves in nature.
Check prices and availability here
Craigduckie Shepherd's Huts, Fife
The Craigduckie Sheperd's Huts let you experience tiny home living on your holiday. Two small cabins fit up to 2 adults and 2 children each, and take glamping a step further with your own shower room and kitchen area too. They make the ideal place to base your next family getaway in Scotland.
Unplug and enjoy the beautiful countryside or visit the nearby town of Dunfermline or the East Neuk.
With great walks, history, and a pastoral farm setting, the Craigduckie Shepherd's Huts are the perfect place to relax with your young family.
Check prices and availability here
Gleneagles, Perthshire
As a 5-star luxury resort, Gleneagles is a one-stop-shop for a fantastic holiday of luxury.
They offer large family-friendly rooms and interconnecting rooms to give you all the space you need, or even one or two-bedroom suites.
Activities range include horse riding, walking, cycling, golfing, off-road driving and more. You can even meet hunting dogs and learn about the sport of falconry.
Plenty of activities and a friendly concierge will take care of your every need.
A babysitter is available for children aged 0-6; there's a creche for ages 2-9 and a hangout space for ages 6-15.
Check prices and availability here
Cameron House, Loch Lomond
Located on the famous Loch Lomond, Cameron House brings luxury family-friendly accommodation straight to the heart of nature.
The nearby activities by Loch Lomond bring you everything from boat trips to nature walks and castle visits.
Cameron House also offers mountain bike hire, archery, and even a segway safari tour for families.
Check prices and availability here
The Airds Hotel, Port Appin
The quaint Airds Hotel in Port Appin has a variety of lodging options, from luxury cottages to hotel rooms. Extra beds can be added to many rooms, and they offer early High Tea in their dining room for younger children; plus they can arrange babysitting or baby listening services.
There are plenty of nearby activities, from sightseeing in Port Appin to whale watching, rock climbing classes, SCUBA diving, and more.
Located by the sea, there are also water sports to engage in during the warm summer months.
Check prices and availability here
St Andrews Forest Lodges, Fife
Enjoy the self-serving luxury forest lodges at St Andrews. An ideal getaway locale, this retreat is perfect for reconnecting as a family.
St Andrews is home to some beautiful sites, including the St Andrews Cathedral, scenic biking and walking trails, and world-class golfing.
This must-see Scottish town is a great escape for the whole family, especially if you love golf!
Check prices and availability here
Macdonald Forest Hills Resort, Aberfoyle
This four-star hotel is located near Aberfoyle in the Loch Lomond and Trossachs National Park and has views looking across Loch Ard to Ben Lomond. As well as family rooms, they have self-catering lodges for families.
At just 20 minutes from Stirling and 40 minutes from Glasgow, there's plenty to see in the area and nearby.
Relax at the spa or get the adrenalin going at the nearby Go Ape treetop course. It's up to you!
Check prices and availability here
Isle of Eriska Hotel, Eriska
This beautiful estate has been transformed into a tranquil hotel. The Isle of Eriska Hotel is located near Oban and has plenty of luxury and family-friendly amenities.
Children can stay in most of the rooms, or there is also self-catering accommodation available.
The restaurant offers a fine-dining experience which may not be suitable for all families, so instead, the hotel offers an earlier serving of High Tea or full in-room service too.
Babysitting is also available in the evening if arranged in advance.
The surrounding area of Eriska is famous for its wildlife and pristine beauty.
An on-site leisure centre and sports facility have plenty of activities for the whole family. Archery, shooting, axe throwing, fishing, and horse riding are just a few of the activities on offer.
Alternatively, you can go sea kayaking or take a boat trip to explore the surrounding area.
Check prices and availability here
Loch Lomond Holiday Park, Loch Lomond
Positioned on the shores of Loch Lomond, the Loch Lomond Holiday Park offers up the chance to stay in a self-serviced cabin right on the water's edge.
Take a dip in the pool and hot tub, learn to perfect your archery skills, or take the kids to the onsite play park.
With plenty of exciting and unique kid's activities, the Loch Lomond Holiday Park has something for everyone. Fishing, river adventures, and boating are just a handful of the activities right at your fingertips.
Check prices and availability here
Landal Piperdam, Dundee
Stay the week at your own self-serviced lodge in the beautiful Angus countryside. Enjoy life at the cabin and soak in the many kid-friendly amenities.
Activities range from a jacuzzi to go-karts, golf, soft play, and more.
Suitable for families with children of all ages, there's an activity for everyone at the Landal Piperdam, including crazy golf and a fairy trail too.
Check prices and availability here
Tummel Valley Holiday Park, Perthshire
Holiday parks are a great budget-friendly way to escape into nature and are a great family-friendly accommodation in Scotland.
The Tummel Valley Holiday Park is no exception! There are riverside lodges, a family-friendly restaurant, and an adventure playground.
Located in a beautiful woodland location, this holiday park offers several different cabins that are even pet-friendly.
There's lots to do in surrounding Perthshire with kids, and the holiday park even has an indoor swimming pool too!
Check prices and availability here
Auchrannie Resort, Isle of Arran
There is a range of accommodation on offer at Aurchrannie Resort. Family-friendly rooms let you have enough space to stretch but still bond as a family.
The Isle of Arran is one of the easiest to access from Edinburgh and Glasgow, and it's known as Scotland in miniature thanks to its highlands and lowlands.
As well as lots of things to see and do on the island itself, kids will love the resort for the Play Barn, Segway adventures, archery, gorge walking, a kid-friendly pool, game centre and more.
Nearby adventure playgrounds, disc golf, beach, and hill walks bring the outdoors to life.
Check prices and availability here
Macdonald Aviemore Resort, Aviemore
Enjoy the charm and luxury of the Macdonald Resort in Aviemore. Families can stay in one of the family hotel rooms or suites or one of the woodland lodges set amongst the pines.
They come complete with your own kitchen, a private deck, and a wood-burning stove, and you can even order a takeaway pizza from the onsite Italian restaurant.
Get outside and enjoy the activity centre with a pool, cinema, and multiple activity rooms for kids aged from babies up to teens.
Unwind and relax while your kids play at the award-winning spa or enjoy a family meal together.
You can find other things to do in Aviemore here.
Check prices and availability here
Coylumbridge Aviemore Hotel, Aviemore
Located just a few minutes' drive from Aviemore, the Coylumbrige Aviemore Hotel features amazing outdoor adventures and plenty of facilities.
This family resort has a host of activities for kids of all ages, including indoor soft play, swimming pools, and an outdoor adventure park with a climbing wall.
Stays range from three, four, or seven nights in a self-catering lodge or choose a family guest room or suite in the main hotel. There are multiple dining options onsite too.
Check prices and availability here
Seton Sands Holiday Park, East Lothian
For a family-friendly holiday in Scotland by the sea, head to the Seton Sands Holiday Park near Prestonpans, just 30 minutes from Edinburgh.
Enjoy a crazy golf adventure, bungee trampoline, aerial adventures, pottery classes, and a heated indoor pool, plus you're just a stone's throw from the beach.
Seton Sands focuses on Scotland family holidays, so book your next family stay here.
Check prices and availability here
Nairn Lochloy Holiday Park, Nairn
Another excellent choice for a family-friendly seaside holiday, Nairn Lochloy Holiday Park has an array of lodges to book and is just 30 minutes from Inverness and all its things to do for families.
Accommodation includes lodges and large caravans too.
With kid-friendly golf, an indoor pool and plenty of outdoor adventures with the beach nearby, you won't have to worry about filling your day at the Nairn Lochloy Holiday Park.
Check prices and availability here
Macdonald Cardrona Hotel, Peebles
An hour south of Edinburgh near Peebles, the Macdonald Cardona Hotel has 4-star luxury that's perfect for your whole family, with deluxe rooms available for families.
Their kid's club lets you get away and have a break while your children are at play.
Perfect for families with younger children, with the chance to let your kids play while you relax at the spa is a win-win for everyone.
Nearby you'll find the Glentrees mountain biking trails and the Go Ape Tree Top course, plus plenty of other towns and sites to see in the Scottish Borders.
Check prices and availability here
Auchenlarie Holiday Park, Dumfries and Galloway
Various accommodations, from tented sites to lodges, await you at the Auchenlarie Holiday Park in Dumfries and Galloway.
Plenty of local attractions plus a scenic backdrop and direct access to the beach make this an ideal choice for a relaxing holiday.
There's an indoor heated pool, sauna, children's play areas and an onsite bistro and takeaway.
The Drumlanrig Castle is a must-see nearby attraction, while scenic walks and sailing adventures await you just outside the park.
Check prices and availability here
Choosing where to stay in Scotland with kids doesn't have to be stressful, with so many great options for families available. Whatever your budget or interest, there'll be something for you!
Sonja and Phil x
Looking for more tips about Scotland for families?