Scotland is a country with a rich history and diverse natural beauty, dotted with a range of stunning landmarks that tell stories of its past and present.
Scotland's landmarks are famous worldwide, including natural and man-made places and buildings.
The country offers something to discover and explore, from ancient ruins to magnificent castles, towering mountains, and picturesque islands.
It was challenging to narrow the landmarks of Scotland down, so I've split them into a few different categories to help you find exactly what you're looking for. There's some crossover between them, so I've had to make some tough decisions on categorising them. I'm sure that not everyone will agree!
But the point is, there are so many notable Scottish landmarks that it's tough to narrow it down! So you'd do well to tick even a few of these off your list if you're planning a trip to Scotland or seeking to see more of the country.
Let's take a closer look at some of Scotland's most famous and iconic landmarks, from the historic streets of Edinburgh to the rugged terrain of the Isle of Skye.
Whether you're a history buff, nature lover, or simply looking for inspiration for your next trip, these famous Scotland landmarks will leave a lasting impression!
Natural Landmarks in Scotland
This was a tough one to narrow down. But here are the 10 natural landmarks in Scotland that I thought would be the best to mention!
Loch Ness
Ok, I know. There are far more picturesque lochs in Scotland. But Loch Ness must surely be one of Scotland's most famous landmarks! I knew the story of Nessie and Loch Ness before I knew much more about Scotland.
Plus, I will champion that Loch Ness is still an exciting place to visit. Loch Ness monster or not.
It's a large, deep, freshwater loch in the Scottish Highlands that contains so much water it never freezes. It is actually the largest loch/lake by volume in Great Britain. It goes down so steeply at the sides and runs flat along the bottom that you can sail a boat very close to the edge and still not even see the bottom.
Although that's also made difficult because Loch Ness is a dark, almost black colour, thanks to the peat washing down from the surrounding hills.
Take a cruise on the loch to learn more and really appreciate it! There's also Urquhart Castle on the banks of the loch that you can explore.
Read More: 20+ Things to Do in Fort Augustus, The Gateway to Loch Ness
Eas a' Chual Aluinn
Eas a' Chual Aluinn is a stunning waterfall located in the Scottish Highlands, near the village of Inverpolly in Sutherland. It is one of the highest waterfalls in the United Kingdom, with a total height of around 658 feet (200 meters).
"Eas a' Chual Aluinn" is Scottish Gaelic for "waterfall of the beautiful tresses". Legend has it that the name comes from a story of a maiden who jumped from the top of the waterfall after being betrayed in love.
The waterfall is located in a remote, rugged part of Scotland, surrounded by beautiful mountains and wilderness. You can reach the falls by hiking along a challenging, steep path that offers stunning views of the surrounding landscape.
Due to its remote location and challenging hiking trail, Eas a' Chual Aluinn is less well-known than other Scottish landmarks. However, for those who make the trek, it is an unforgettable experience, offering a glimpse of Scotland's wild and beautiful natural landscape.
Glencoe
Glencoe is a stunning valley located in the Scottish Highlands, renowned for its dramatic scenery and rich history. The valley is flanked by steep mountains on both sides, with the River Coe running through the middle. You can hike through the rugged landscape, go mountain biking or skiing, and enjoy breathtaking views of the valley's stunning natural beauty.
In addition to its natural attractions, Glencoe is also steeped in history. The valley was the site of the infamous Glencoe Massacre in 1692 when members of the Clan MacDonald were slaughtered by soldiers under the orders of the British government.
You can learn about this dark chapter in Scottish history at the Glencoe Visitor Centre, which offers exhibits and displays about the massacre and the valley's history.
I love going through Glencoe, and if you can do more than pass through, then even better.
Read More: Scotland Roadtrip: Edinburgh to Glencoe by Car
The Cairngorms National Park
The UK's largest national park, covering over 4,500 square kilometres of stunning mountains, forests, and rivers. It is a popular destination for outdoor enthusiasts, offering a range of activities such as hiking, skiing, cycling, fishing, and wildlife watching.
There are plenty of unique places to stay in the Cairngorms, and we'd recommend that to make the most of this beautiful area of Scotland.
Ben Nevis
The highest mountain in the British Isles, located near Fort William in the Scottish Highlands. If you want to tackle it, summer is the best time, thanks to the available daylight hours and better weather. It takes around 7-8 hours up and back.
However, there are plenty of things to do around Ben Nevis, even if you want to avoid climbing the mountain for yourself. Try the Nevis Range Scenic Mountain Gondola, or walk to Steall Falls near Glen Nevis for something less challenging than the mountain.
Read More: 15 Best Things to Do in Fort William and Nearby
The Firth of Forth
Many people pass over this natural Scottish landmark when crossing from Edinburgh to Fife to head north and do not know its significance.
The estuary stretches 47km from the North Sea to Stirling, with the River Forth running through it. It's possible to spot seals, dolphins, and a variety of seabirds, including puffins and gannets, around the Firth.
In addition to its natural attractions, the Firth of Forth is also home to the three bridges that could also be Scottish landmarks, notably the Forth Rail Bridge, which we'll come to.
The Old Man of Hoy
Located on the edge of Hoy, an island in Orkney, the Old Man of Hoy is just one of Scotland's most famous landmarks compared to an old man. We'll get to another soon!
The Old Man of Hoy is a sea stack located off the north coast of Scotland, in the Orkney Islands. It's one of the UK's most famous and impressive rock formations, rising up to 137 meters (449 feet) from the sea.
The Old Man of Hoy was formed millions of years ago through erosion and weathering, resulting in the striking pillar we see today. The Old Man of Hoy is also known for its challenging climbing routes, attracting experienced climbers worldwide.
It can be viewed when taking the ferry from the Mainland to Stromness, on a boat tour, or walking. You can read more about walking to the Old Man of Hoy here.
Read More: How to Visit the Old Man of Hoy + Other Hoy Attractions, Orkney
The Fairy Glen on the Isle of Skye
The Fairy Glen is a mystical and enchanting landscape located in the island's northern part, near the town of Uig.
It features a series of cone-shaped hills, lush green meadows, and a small loch, all surrounded by towering cliffs and stunning views of the surrounding countryside.
The area is steeped in folklore and legend. You can explore the many walking trails, take in the panoramic views, and try to spot the elusive fairies said to inhabit the glen.
The Fairy Glen is a unique and unforgettable natural landmark showcasing Scotland's landscapes' magic and beauty.
Arthur's Seat and Salisbury Crags
Arthur's Seat and Salisbury Crags are two famous natural landmarks in Holyrood Park, Edinburgh.
Arthur's Seat is an extinct volcano that stands at 251 meters (823 ft) tall and offers panoramic city views. It's a popular destination for hiking, running, and nature walks, and is known for its rugged, rocky terrain.
The Salisbury Crags, located adjacent to Arthur's Seat, are a series of cliffs that run along the park's eastern edge. They're the remains of an extinct volcano, and their distinctive features have been shaped by millions of years of erosion by ice and water.
Read More: 50+ Fun Things to Do in Edinburgh
Isle of Staffa
The Isle of Staffa is a small, uninhabited island in the Inner Hebrides. It's known for its unique geological features, particularly Fingal's Cave, a natural wonder formed by hexagonal basalt columns. If you've seen Giant's Causeway in Northern Ireland, this is like that, but a whole island!
You can take a boat tour to the island to explore the cave and see some of the local inhabitants, including puffins, razorbills, and guillemots.
The Old Man of Storr
I know I already had one from the Isle of Skye, but it's such a stunning area home to many of Scotland's famous landmarks.
The Old Man of Storr is a large, rocky pinnacle that stands 50 meters tall (160 feet) and is surrounded by stunning views of the Isle of Skye's rugged landscape. The area is a popular destination for hiking and nature photography. It's definitely an iconic image of Scotland!
Historic Landmarks in Scotland
It was REALLY hard not to make this list of historic Scottish landmarks all castles. But I've tried to stick to the absolute most famous castles and name some different historic landmarks to help broaden the idea of historic landmarks in Scotland.
Edinburgh Castle
Edinburgh Castle is an iconic fortress in the heart of Scotland's capital city.
Edinburgh Castle has a long and storied history dating back to the 12th century and has been the site of many significant events in Scottish history, including battles and royal ceremonies.
While I think it looks more impressive from the outside than inside the walls, where it is more like a little village of different buildings, it's worth visiting.
Read More: Edinburgh in Winter: Things to Do + Reasons to Visit
The Palace of Holyroodhouse
Holyroodhouse is the official residence of the monarch in Scotland, located at the end of Edinburgh's Royal Mile. You can view it from the outside, but I enjoyed taking an audio tour and learning more about the history of it and Scotland's monarchs, especially Mary Queens of Scots.
Read More: Edinburgh Itinerary: 2 Days in Scotland's Capital
Culloden Battlefield
The site of the Jacobite Rising of 1745's final battle was a pivotable moment in Scottish history. It is where the Jacobite army led by Bonnie Prince Charlie was defeated by the British government forces. As a result, it is a poignant and somber place to visit, with a visitor center and exhibits detailing the battle's events.
Read More: Heritage Travel in Scotland – Travelling Through Your Family History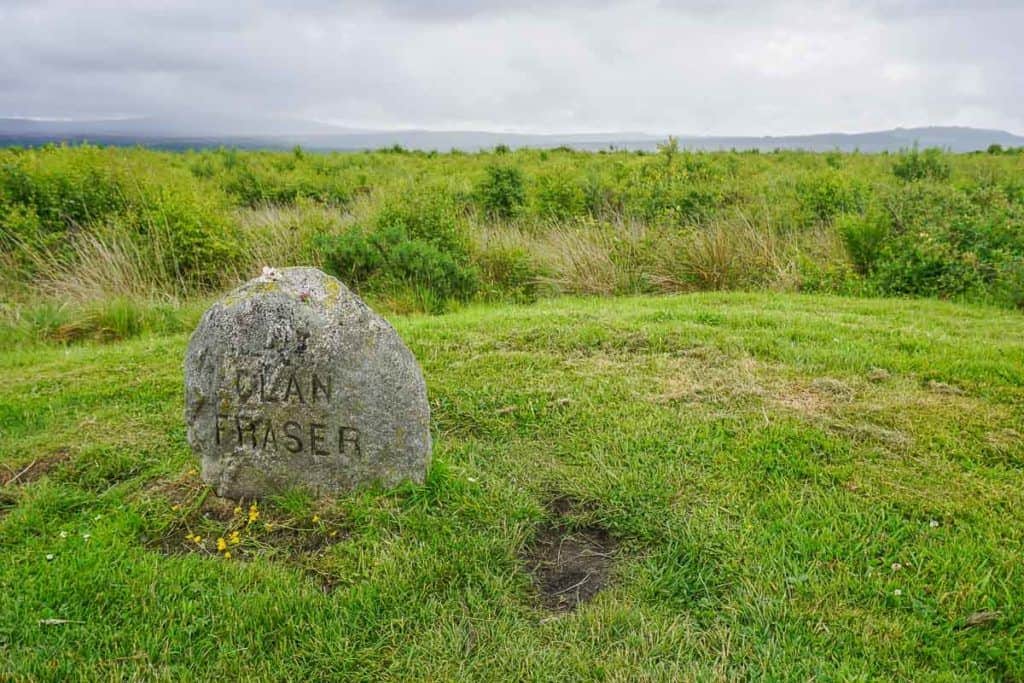 The Antonine Wall
A historic wall that once marked the northernmost frontier of the Roman Empire, running from the Firth of Forth to the Firth of Clyde.
Although much of it has been lost to time, some sections can still be seen today and offer a glimpse into the Roman occupation of Scotland.
Skara Brae
Skara Brae is ancient Neolithic village on the main island of Orkney and is believed to have been inhabited from around 3180 BCE to 2500 BCE. It is considered one of the most well-preserved Neolithic settlements in Europe. It provides a fascinating glimpse into life in prehistoric Scotland.
Read More: 27 Amazing Things to Do in Orkney + Know Before You Go
Bannockburn
A visitor centre dedicated to the Battle of Bannockburn, one of the most significant battles in Scottish history, located near Stirling.
I suppose the landmark is really Bannockburn, where the battle was. Still, the visitor centre will provide you with the immersive experience of discovering what happened, why, and how.
Jarlshof
This is one of my favourite places in Scotland. It totally blew me away the first time I visited!
Jarlshof is an archaeological site on the southern tip of Shetland, with a history of over 4,000 years. It includes the remains of a Bronze Age settlement, an Iron Age broch, Viking longhouses, and medieval farmsteads.
It's incredible to see how this small space of land was home to so many different people over the centuries.
Read More: Jarlshof: The Most Amazing Historical Site I've Ever Seen
The Callanish Stones
A collection of standing stones located on the Isle of Lewis in the Outer Hebrides. They are believed to have been erected around 3,000 BCE. They have been the subject of much speculation and mystery over the years. Some suggest they were used for astronomical observations or religious rituals.
We visited the Isle of Lewis after we got married, and it's still one of our favourite ever trips. The Callanish Stones were a definite highlight!
Read More: 11 Reasons to Visit the Isles of Lewis and Harris, Scotland
The Commando Memorial
This landmark is a little different in that it's a statue, but it's only an ongoing memorial.
The Commando Memorial is in a scenic location near Spean Bridge, surrounded by stunning views of the Scottish Highlands. It is dedicated to the British Commandos who trained in the region during World War II.
The memorial stands at an impressive height of 17 feet and depicts three Commandos in full battle gear, looking out towards Ben Nevis, the highest mountain in Scotland.
The site is open to the public year-round, and you can pay you respects to the Commandos who gave their lives for their country, including more recently, and take a moment to reflect on the history and significance of the memorial.
Stirling Castle
A historic fortress in Stirling, played a crucial role in many significant events in Scottish history, including the Wars of Scottish Independence and the Jacobite uprisings. It is well-preserved and offers stunning views of the surrounding countryside.
Kilmartin Glen
Kilmartin Glen is beautiful enough to be on the list of natural landmarks in Scotland, but I've put it on the historic links because of its numerous ancient standing stones, burial cairns, and rock art.
It provides a fascinating insight into the ancient past of Scotland.
Eilean Donan Castle
I wasn't going to include another castle but I realised I couldn't leave this one out!
Eilean Donan Castle is a picturesque castle on a small tidal island in Loch Duich, in the western Highlands of Scotland. It is one of Scotland's most iconic and recognised castles, known for its scenic location and stunning views. It's often featured on shortbread tins!
The castle's history dates back to the 13th century when it was built as a defensive stronghold against Viking invaders. Over the centuries, it has been the scene of numerous battles and sieges, and it has been rebuilt and restored many times.
Today, Eilean Donan Castle is one of Scotland's most popular tourist attractions and is open year-round. You can explore the castle's many rooms, towers, and passages and enjoy the breathtaking views of the surrounding mountains and lochs.
Architectural Landmarks in Scotland
Again, some of these could definitely fall into the historic landmark category, but I've tried to highlight places known for their architecture specifically, as well as their historic value.
The Wallace Monument
The Wallace Monument is a tower in Stirling, Scotland, built to commemorate William Wallace, a Scottish hero who fought against English rule in the 13th century. You can climb to the top of the tower for stunning views of the surrounding countryside and learn about Wallace's life and legacy at the on-site exhibition.
The Forth Bridge
The Forth Rail Bridge is a UNESCO World Heritage Site and an iconic Scottish landmark. Completed in 1890, it spans the Firth of Forth and connects Edinburgh with Fife. The bridge's distinctive red colour and intricate steelwork make it a popular spot for photographers and sightseers.
Glasgow School of Art
The Glasgow School of Art is a renowned art school in Glasgow, Scotland. The famous Scottish architect Charles Rennie Mackintosh designed the school's buildings.
The original building, completed in 1899, is considered one of Mackintosh's most significant works and a masterpiece of Art Nouveau architecture. The building features Mackintosh's signature style, including asymmetrical lines, decorative motifs, and intricate ironwork. The interior of the building is equally stunning, with its distinctive use of natural light and carefully crafted spaces designed to inspire creativity.
Sadly, the original building suffered severe damage in two fires in 2014 and 2018. Despite this, the Glasgow School of Art remains a vital institution in the world of art and design, and efforts are underway to restore the building to its former glory.
In 2019, a competition was launched to design a new building incorporating the remains of Mackintosh's masterpiece. The winning design aims to preserve as much of the original structure as possible while also creating a modern, functional space that meets the needs of today's students and faculty.
Read More: Mackintosh Tour: Art, Design + Architecture in Glasgow
Glasgow Cathedral
A stunning medieval cathedral that has stood in the heart of Glasgow for over 800 years. Glasgow Cathedral dates back to the 12th century and is the oldest building in the city.
Read More: 21 Free Things to Do in Glasgow, Scotland
The Glenfinnan Viaduct
A historic railway viaduct located in the Scottish Highlands, known for its stunning scenery and connection to the Harry Potter film series.
It spans 380 meters (1,250 feet) and stands at 30 meters (100 feet) tall. The viaduct was constructed between 1897 and 1901, as part of the West Highland Extension Railway project to connect Fort William and Mallaig.
Read More: 15 Best Things to Do in Fort William and Nearby
Scott Monument
The Scott Monument is a Victorian Gothic tower located in the heart of Edinburgh. It was built in honor of Sir Walter Scott, a famous Scottish author and poet. You can climb the tower's narrow spiral staircase for panoramic city views, learn about Scott's life, and work at the on-site museum.
The Kelpies and The Falkirk Wheel
I'm kind of cheating by putting these two together since they're two very different things, they just happen to be in the same location.
The Kelpies is a pair of 30-metre-high horse-head sculptures near Falkirk represent the heavy horses that were once used in industry and agriculture in Scotland.
The Falkirk Wheel is a unique engineering feat located in Falkirk, featuring a rotating boat lift that connects two canals at different levels.
Rosslyn Chapel
Rosslyn Chapel is a 15th-century church located near Edinburgh. It is best known for its intricate stonework and mysterious symbolism, making it the subject of many myths and legends.
The Da Vinci Code novel and movie starring Tom Hanks made it even more famous.
Read More: 10 Best Family Things to do in Midlothian & the Scottish Borders
Kelvingrove Art Gallery and Museum
A stunning Victorian-era building in Glasgow that features a wide range of exhibits, including works by famous artists such as Salvador Dali and Vincent Van Gogh, as well as artefacts from ancient civilisations and interactive displays on Scottish history and culture.
Read More: Two Days in Glasgow: Itinerary + Best Things to Do
Melrose Abbey
I really could have chosen any of Scotland's famous Border Abbeys, like Jedburgh, Kelso, Drybrough, or even others like Dunfermline and Iona. I chose Melrose because it is the final resting place of the heart of Robert the Bruce, an important figure in Scottish history.
Read More: Best Things to Do in the Scottish Borders + How to Plan Your Adventure
Calton Hill Monuments
Calton Hill in Edinburgh is a great place to go for views of the city, especially at sunset.
One of the most prominent is the National Monument, inspired by the Parthenon in Athens, which was intended to be a memorial for the Scottish servicemen who died in the Napoleonic Wars, but it was left unfinished in 1829 due to lack of funds.
The Nelson Monument similarly was a tribute to Admiral Nelson, who died at the Battle of Trafalgar in 1805. A time ball was added in 1852 so ships in the Firth of Forth could set their time-pieces. You can still see the time ball drop 6 days a week.
The Dugald Stewart Monument is a favourite to capture in pictures with the city behind.
I could go on and on about Scotland's landmarks, especially in Edinburgh! There's St Giles Cathedral and the Balmoral Hotel, and so many others, but I've stuck to the top Scottish Landmarks to keep things simple. Maybe we need a separate Edinburgh post?!
There are so many amazing places to see in Scotland and so many of them are famous worldwide. Hopefully this list gives you some inspiration when you're looking for somewhere new to visit in Scotland.
Sonja x
If you liked it, pin it!