This post may contain affiliate links that I earn a small commission from at no cost to you. Please see my disclosure page for information. Please check for current circumstances before travelling.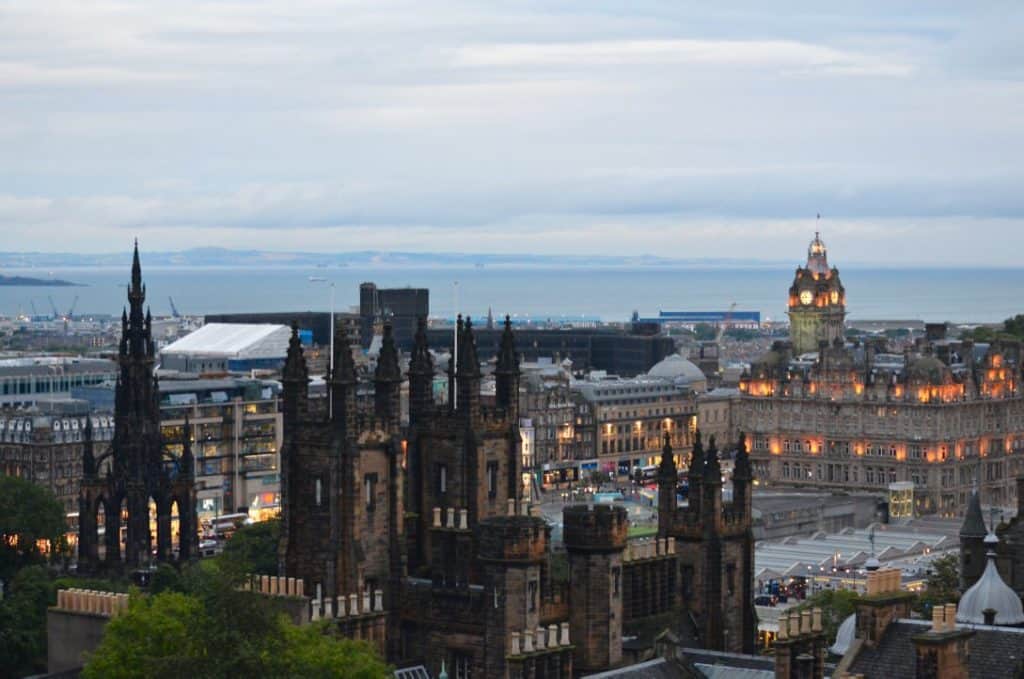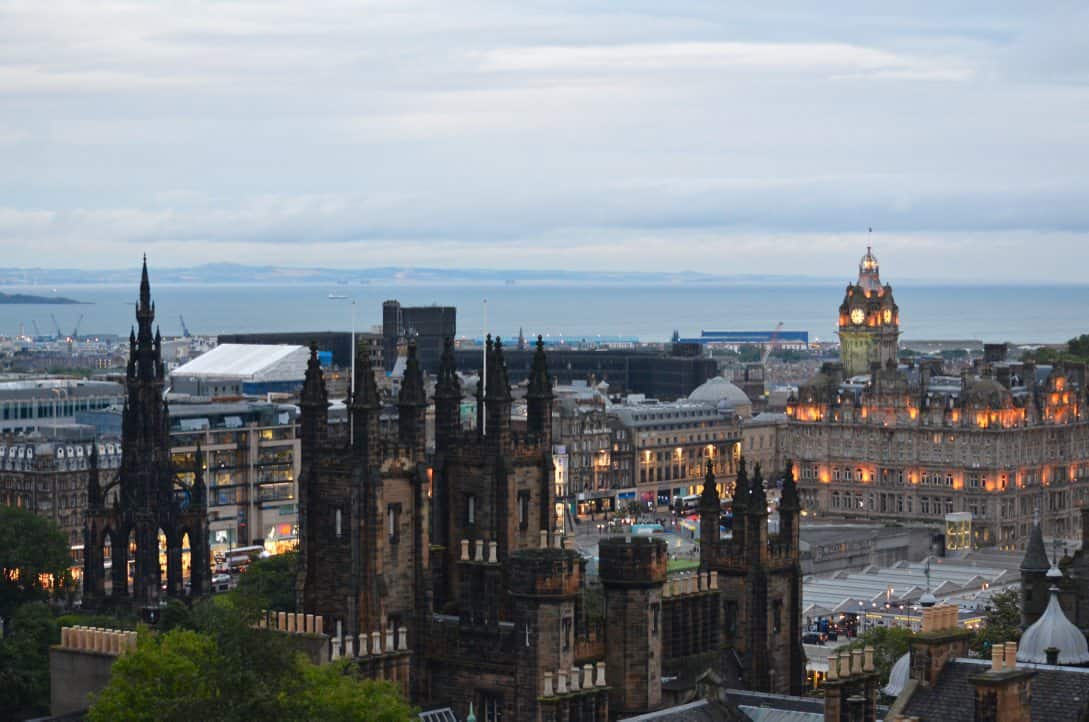 Looking for 50+ fun things to do in Edinburgh this weekend? Well maybe you won't be able to fit that many in… but you can certainly try a few! There are tons of things to do in Edinburgh, and even after living here on and off since 2013 I'm still discovering more. I could have just called this things to do in Edinburgh, but Edinburgh is a pretty fun place to spend some time in… so expecially when it has more than 50 fun things to do!
Visit Scotland's Capital City at any time of year and you'll be able to experience some of the best of what Scotland has to offer. Edinburgh is a city that's bursting at the seams with things to do. A beautiful cityscape of winding cobbled streets and antique buildings, cosy pubs and bars, wonderful scenery within the city itself, and a huge range of top-notch Edinburgh attractions. It's one of my favourite places in the whole world.
There are essentials that you MUST see when you visit Edinburgh, but there's also a whole host of interesting and unique things to do that'll make your experience all the better. I've divided the below into the free things to do in Edinburgh, followed by some of Edinburgh's best attractions that you'll need to pay for.
Free things to do in Edinburgh
The Royal Mile and the Old Town
It wouldn't be a visit to Edinburgh without a stroll down the Royal Mile. It may have become a magnet for souvenir shops selling everything Scottish from Whisky to shortbread and tablet to tartan, but the building facades that have been there for centuries haven't lost their charm.
From Edinburgh Castle to Holyrood Palace you can duck into the closes, or old streets of Edinburgh. The closes were named for a memorable occupant or a trade, like Fleshmarket close (meat), to Advocates Close (lawyers). Today they hold hidden gems of restaurants and pubs, or boutique accommodation.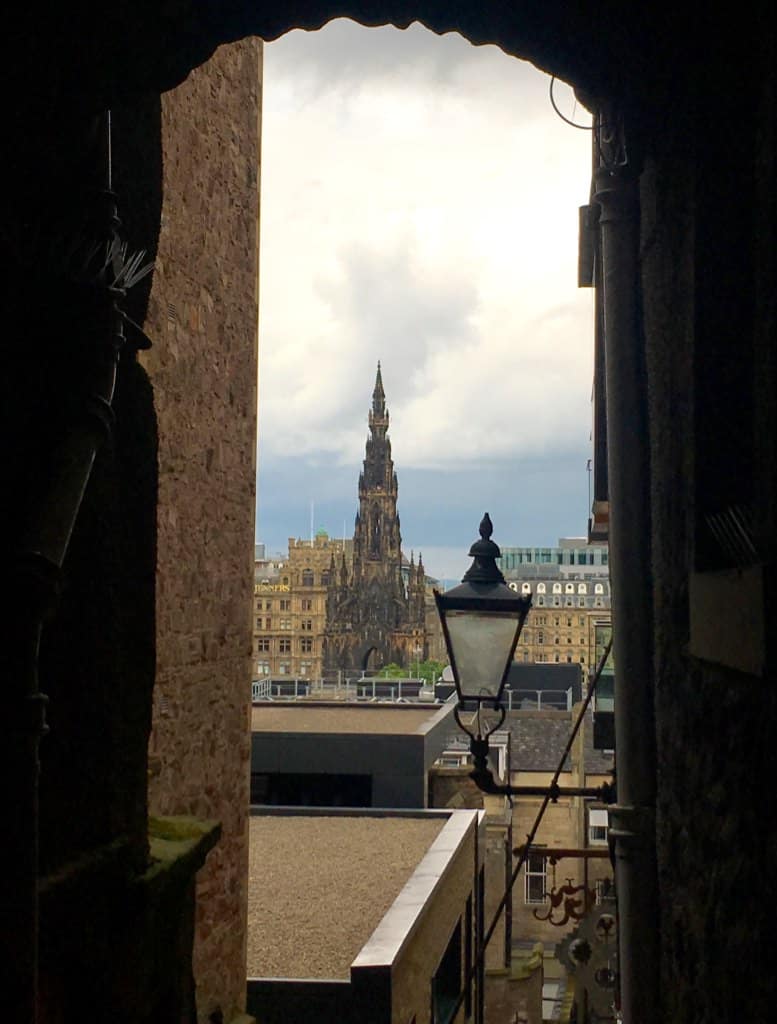 Don't miss one of the most picturesque streets in Edinburgh, West Bow, just off the Royal Mile and leading down to the Grassmarket.

The Grassmarket
The Grassmarket sits in a hollow beneath Edinburgh Castle, and was one of Edinburgh's main markets from 1477, as well as a place of lodgings, taverns and even public executions. Now you can still find a market there on Saturdays, and any time of the week is a perfect time to step into some of Edinburgh's oldest pubs.
You can find the Wee Pub, touted as the smallest in Scotland, as well as a pub named after Maggie Dickson, who notoriously survived a hanging and was therefore allowed to go free, as well as the Beehive Inn with its extensive beer garden.
On the opposite side of the Grassmarket to all the older pubs is the Apex Hotel which is home to Tony Singh's restaurant, an Indian chef from Edinburgh, that offers delicious fusion tapa style food. The haggis pakora and the soft shell crab are some of my favourites!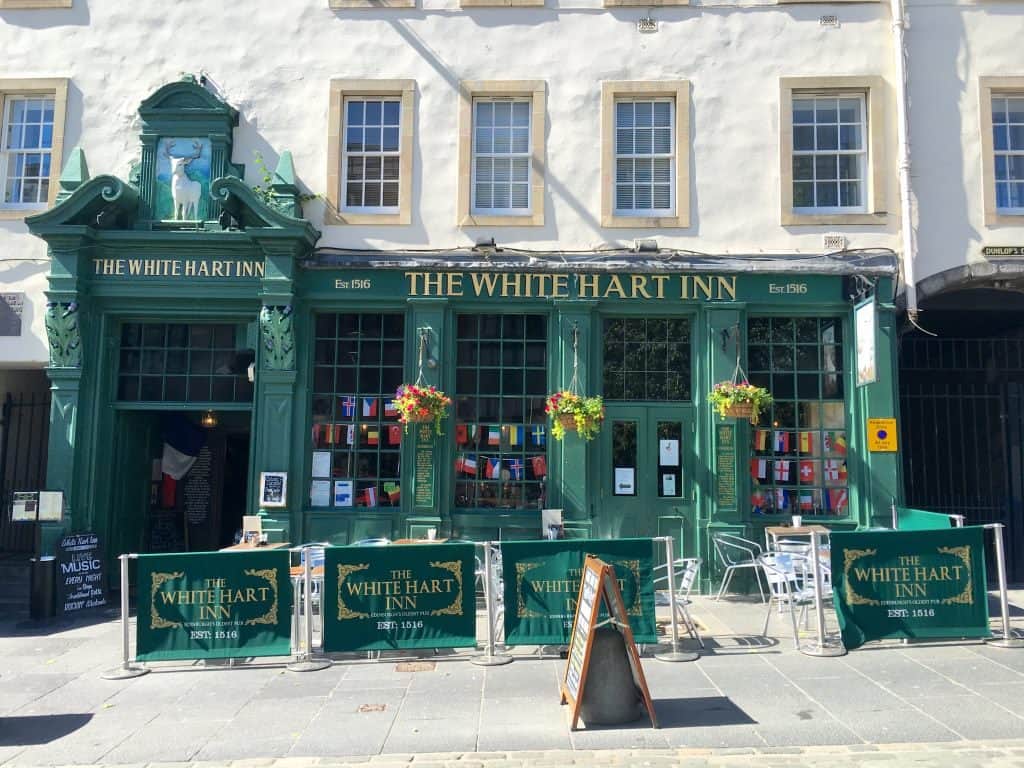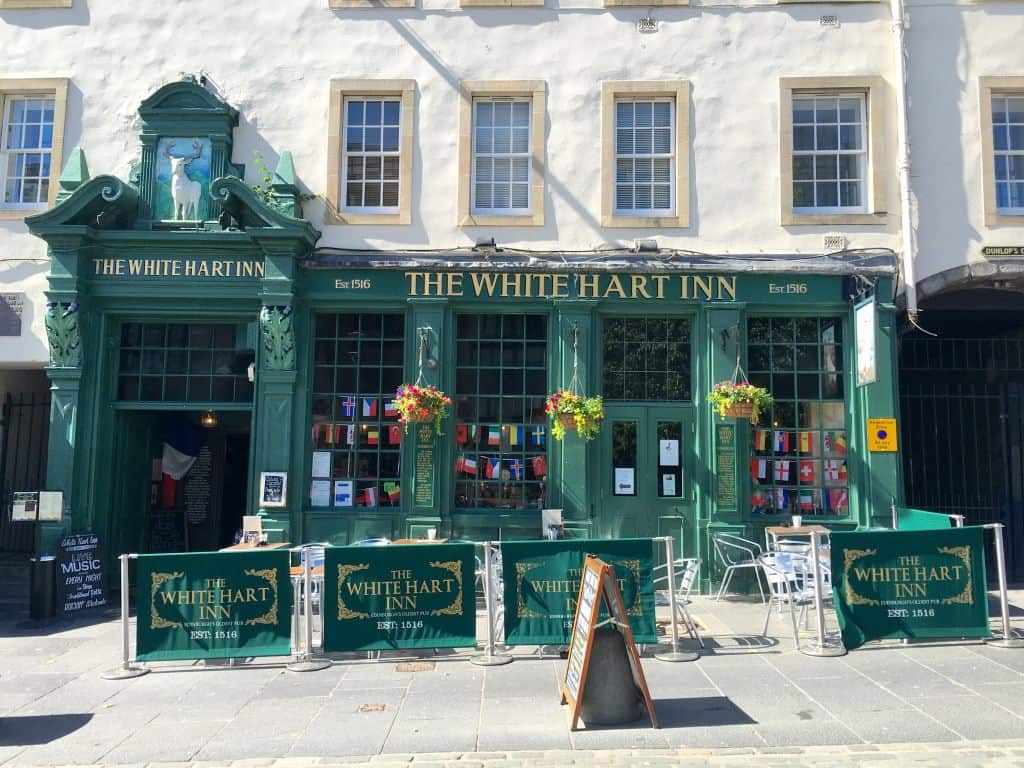 St Giles Cathedral
St Giles Cathedral is hard to miss as you walk down the Royal Mile. Technically, it's not a Cathedral but it has retained the name, mostly owing to it's prominence as one of the most well known churches in Edinburgh. It's spire is a standout part of the skyline of Edinburgh, and the beautiful stained glass windows inside are worth a look.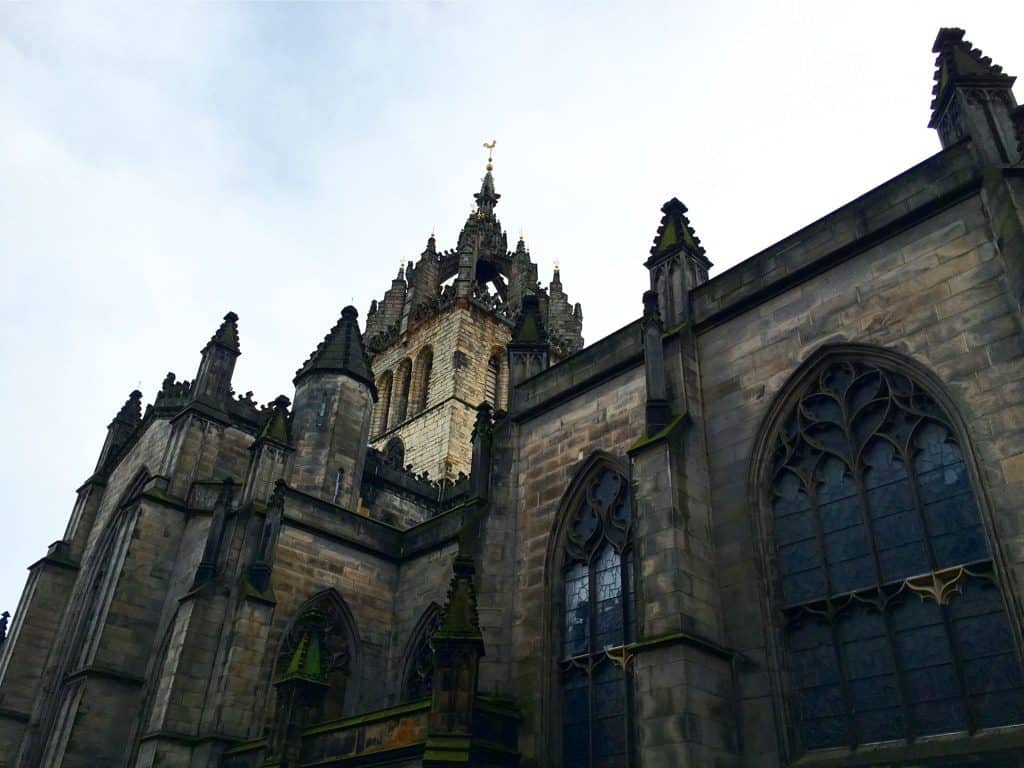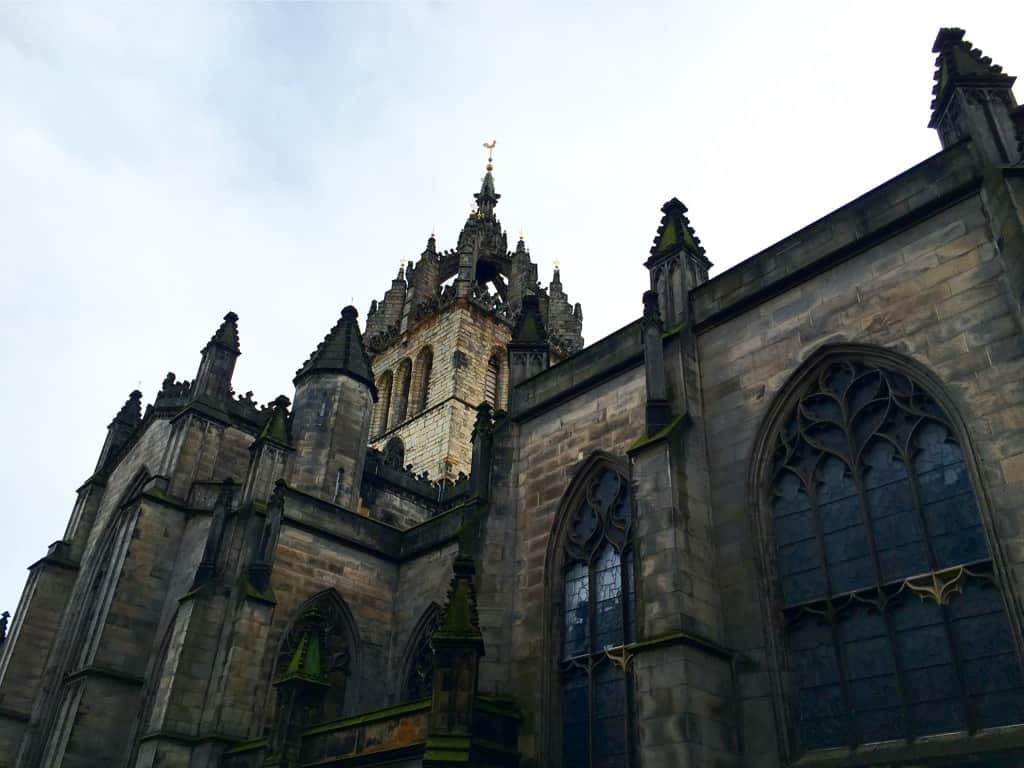 New Town
Old Town Edinburgh was once a crowded and dank place, and the people had become sick, literally, of living in such squalid conditions. For a fresh start, the Princes Street loch was drained and new buildings sprung up on the northern side of it, which they named the very original "New Town". You can view the inside of No 7 Charlotte Square to see a house as it would have been in Georgian times (but this no longer makes it free at £7).
In New Town Edinburgh the streets are wide and the buildings are less high. The Edinburgh elite flaunted the space they had. Behind Princes Street in the grid roads of the New Town you can find some of Edinburgh's greatest restaurants and bars, as well as shopping.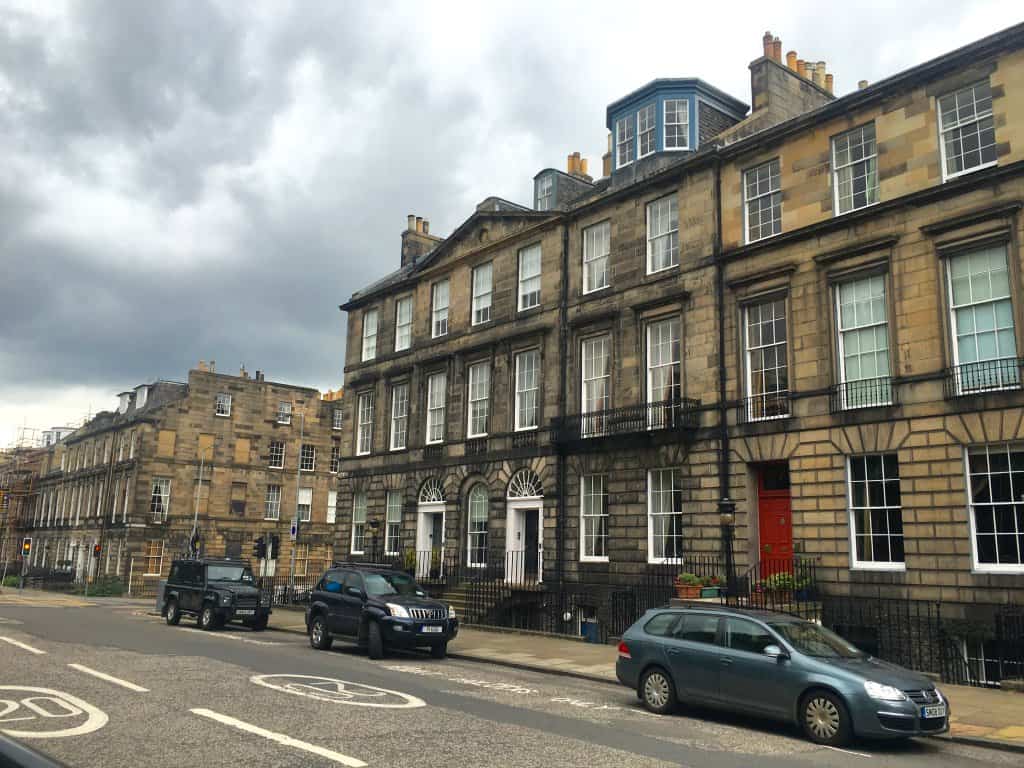 Dunbars Close Garden
One of the best closes to visit off the Royal Mile, Dunbars close is home to Edinburgh's Secret Garden. This 17th century garden is a welcome escape from the bustle of the Royal Mile. Try to duck in without anyone seeing you so we can keep the secret!
Museums
Like many museums in the UK, Edinburgh's biggest museums are mostly free to enter.
The National Museum of Scotland has a huge range of exhibitions. Despite visiting several times I've never managed to see them all. One side contains historical information and artefacts stretching back to the picts, the other side of the museum is science based, and a favourite with children.
There's another reason to visit the National Museum of Scotland though, and that's to go up on the roof. It's an open secret that the views of Edinburgh from the roof of the National Museum are some of the best.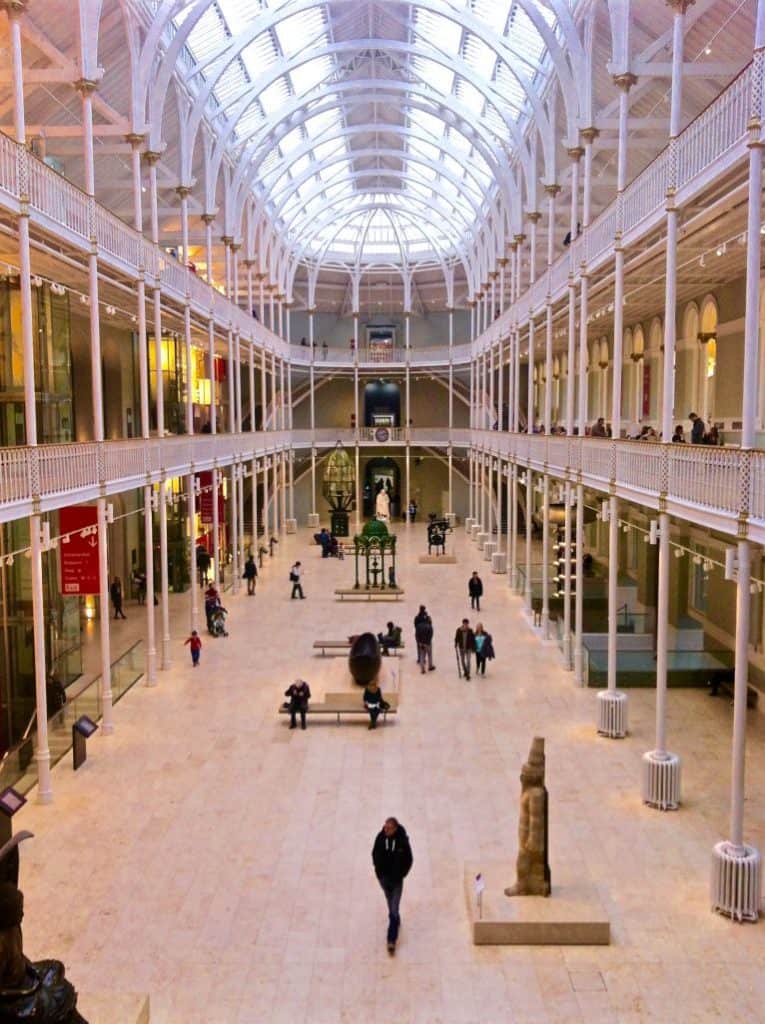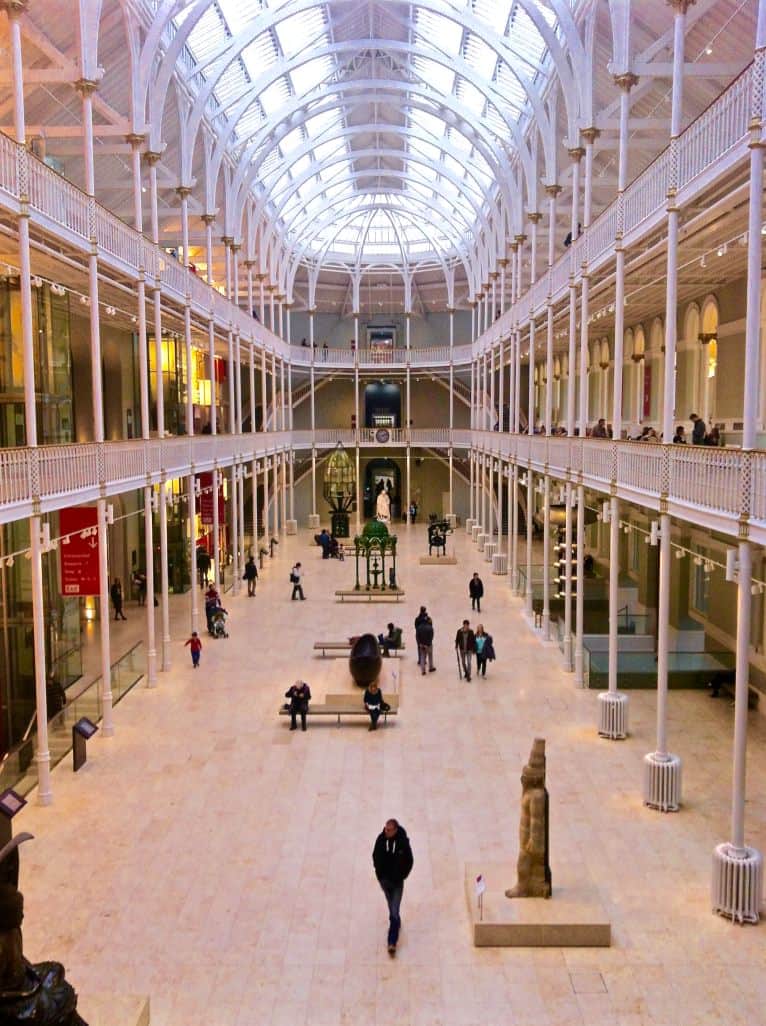 National Galleries of Scotland
In the heart of the city, between the Old and New Towns is the Scottish National Gallery. It contains art from the beginning of the Renaissance until the 20th century, and the building itself is impressive.
The Scottish National Gallery of Modern Art is a must see if you like contemporary and Modern Art, and the Portrait Gallery brings you face to face with Scotland's finest, past and present.
There is a free bus so you can travel between galleries.
Museum of Childhood
This small museum located on the Royal Mile is now the home of toys from days gone past. It is the first of this kind of museum, dedicated to childhood, to be opened in the world. A place to reminisce, or to show children how things used to be.
Greyfriars Bobby & Greyfriars Kirkyard
It's hard to miss the little dog statue across the road from the National Museum, despite it's size. There's usually a small crowd waiting to snap a picture of Greyfriars Bobby, or pat him on the nose. The story of Greyfriars Bobby was immortalised in film by Disney in 1961, but if you haven't heard the story before it goes something this:
Greyfriars Bobby was a Skye Terrier dog who became known for his dedication to his owner, who was buried in Greyfriars Kirkyard. Bobby spent 14 years guarding his grave, through sunshine and rain, until he passed away too. He was buried just inside the gates, a huge honour given animals were not supposed to be buried there. Just outside the Kirkyard is a statue representation of Bobby, and it's rumoured that rubbing his nose will bring you luck.
However, Greyfriars Kirkyard is a well known spot in Edinburgh for another reason. Word has it that when J K Rowling was writing Harry Potter she would wander through here while she had a break. For this reason, some of the characters in Harry Potter are named for some headstones in the Kirkyard, including Professor McGonagell. There's also a grave with the name Tom Riddle, and although J K Rowling has said she didn't purposely name the protagonist of Harry Potter after this, the grave is now one of the top spots for Harry Potter fans coming to Edinburgh.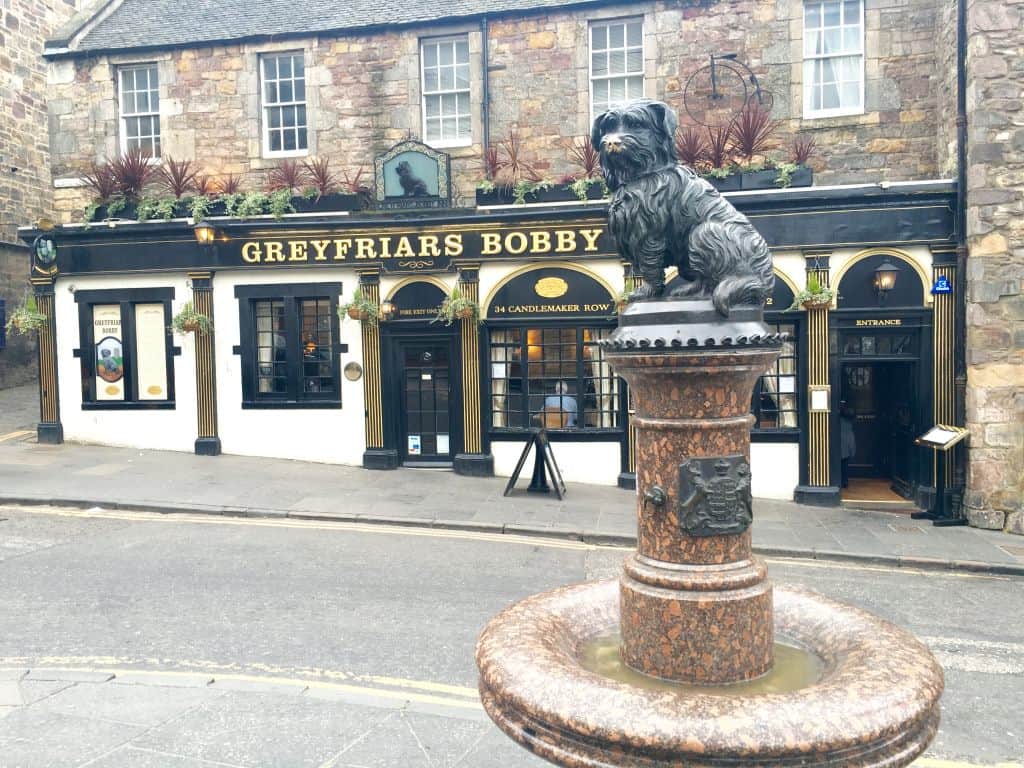 The Writers' Museum
Celebrating the lives of three of Edinburgh's prominent authors, Robert Burns, Sir Walter Scott and Robert Louis Stevenson. There are portraits, personal objects and books. Even if you don't know much about the authors or you're not a bookworm it's worth a look at no cost!
Gardens and Green Spaces
I love the way in which nature has been preserved in the city of Edinburgh. As far as organised gardens go, Princes Street Gardens and the Botanic Gardens in the north of the city are some of the loveliest. Locals use Princes Street Gardens as a lunch time break spot, and travellers are often found waiting there with suitcases and bags since the train and bus stations are nearby. On a good day in Edinburgh Princes Street Gardens is a prime spot in the centre of the city to relax in the sun.
Near the university you can find The Meadows, where a fine day will see smoke rising from disposable barbeques and plenty of chatter from friends and families in the air. In springtime the pink blossoms on the trees that line the paths of the Meadows are a sight to see.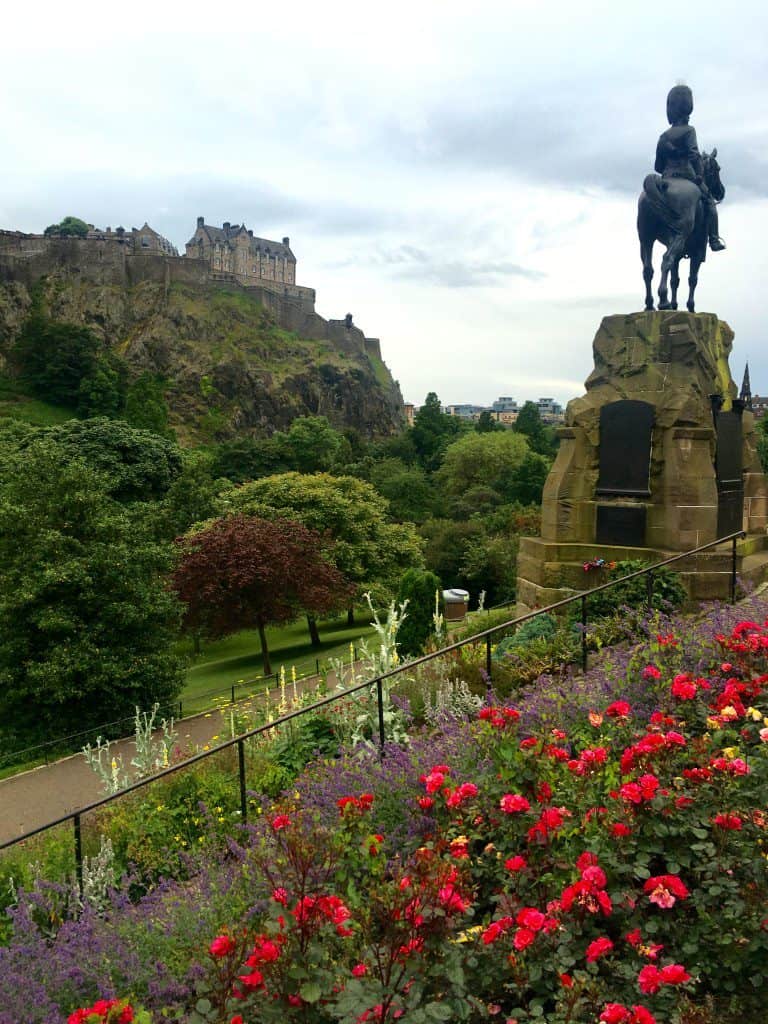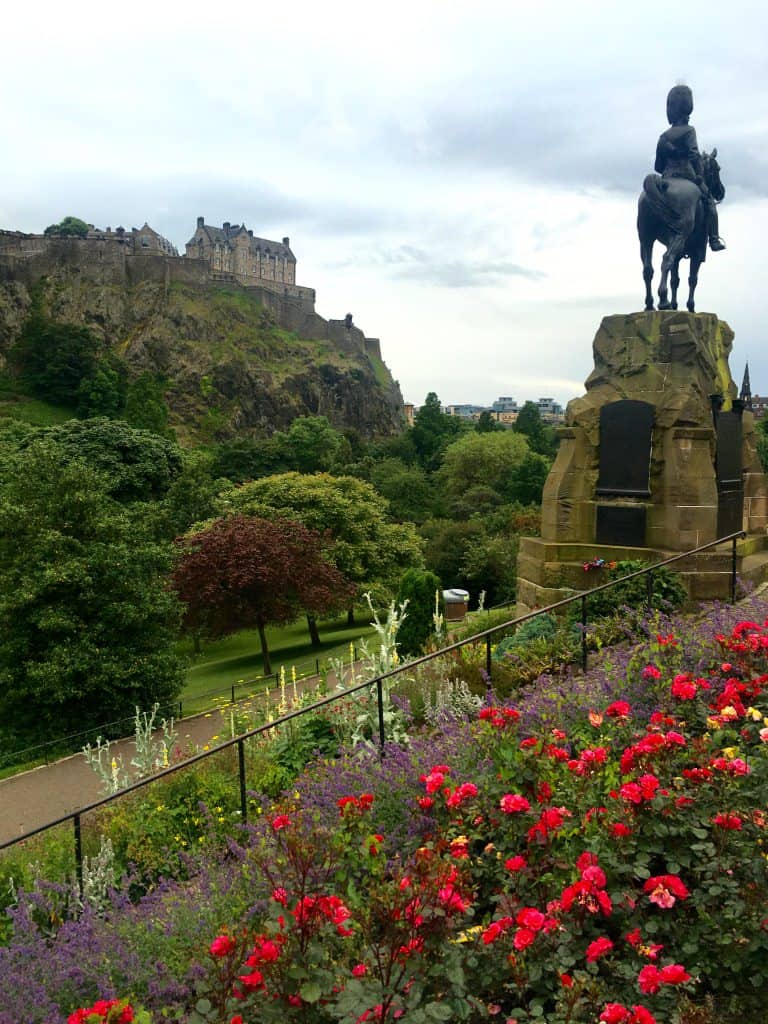 The People's Story Museum
Another small and free museum located in the Canongate Tollbooth on the Royal Mile. This museum showcases the lives of the ordinary people of Edinburgh through displays such as a wartime kitchen, and a former jail cell. The building itself has been there since 1591 and was where taxes were collected and people were jailed.
Arthur's Seat
Contrary to what you may think when you first hear the name, Arthurs Seat is not a seat. It's an ancient volcano located near Holyrood Palace. You can't really miss it from most vantage points in Edinburgh! The easiest way to climb Arthurs Seat is from near Holyrood Palace, and in return you'll receive 360 degree views of Edinburgh and it's surrounds. Just beware it can get windy up there!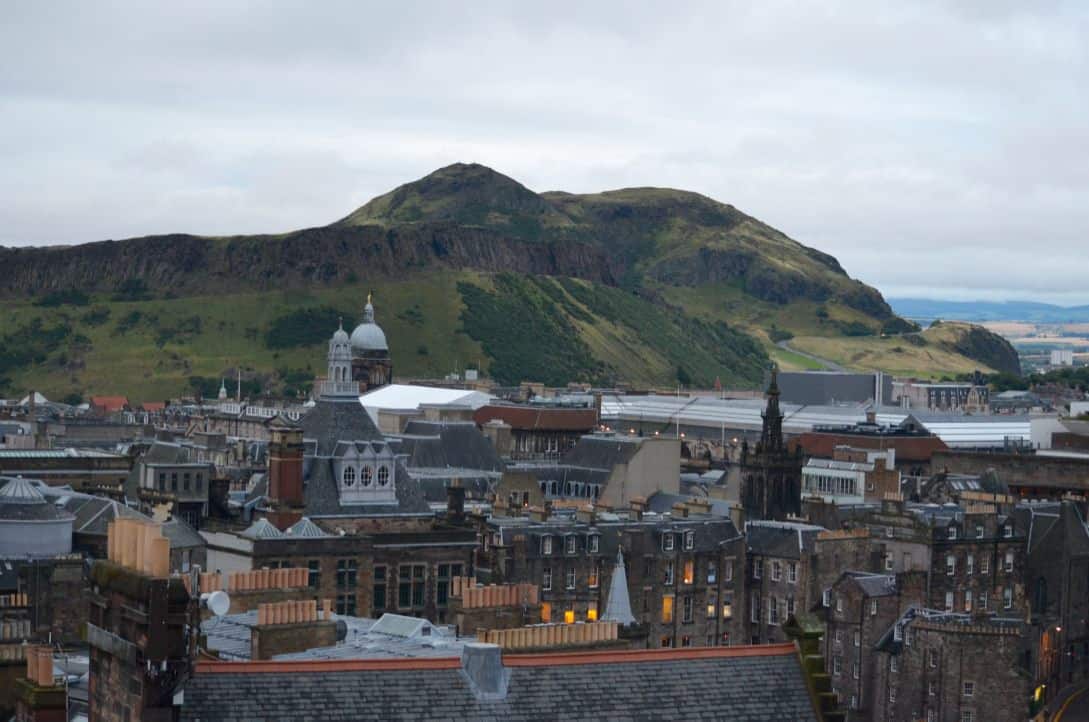 Holyrood Park & the Salisbury Crags
Arthur's Seat is actually part of Holyrood Park, which is full of other hills, lochs and glens. My favourite part, other than Arthur's Seat, is the Salisbury Crags. These cliffs provide stunning views over Edinburgh from all different angles, and walking along the top of them is one of my favourite things to do in Edinburgh. There is also a small part where rock climbing is allowed, with a permit from the nearby education centre.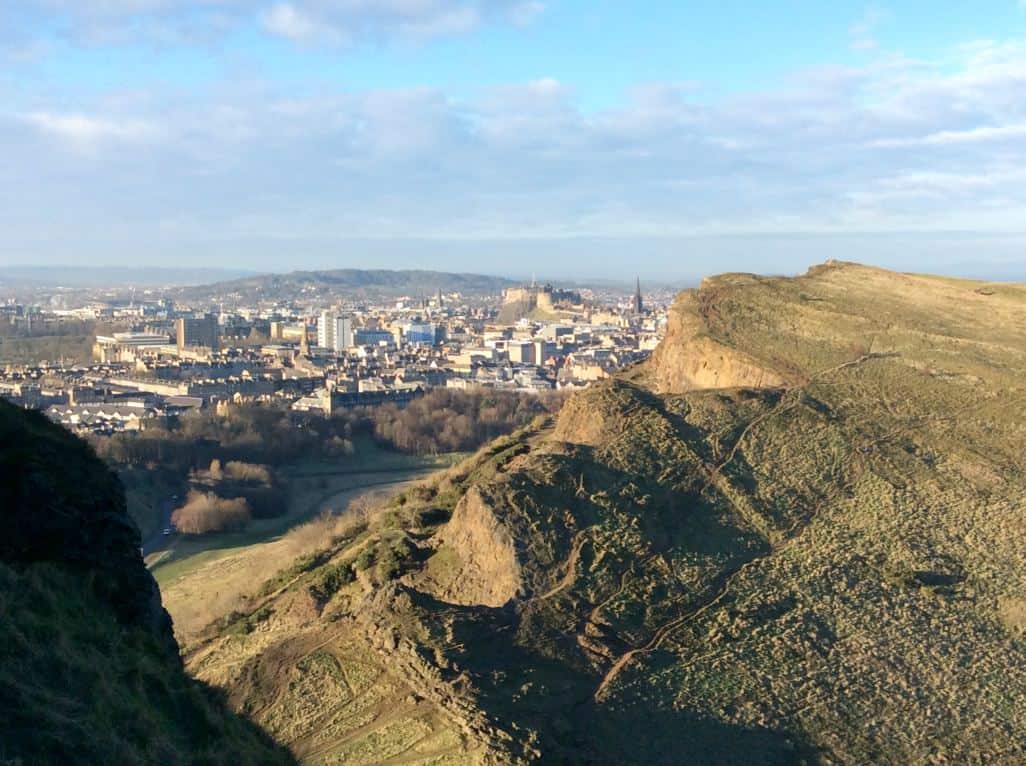 Water of Leith Walkway
This public foot and cycle path stretches from Balerno to Leith, and is a welcome reprieve from the flurry of the city. Most of it runs along the Water of Leith away from roadways. Locals use it as a place to run, cycle and walk with their dogs, but it makes for a pleasant stroll along at least part of it as a tourist too.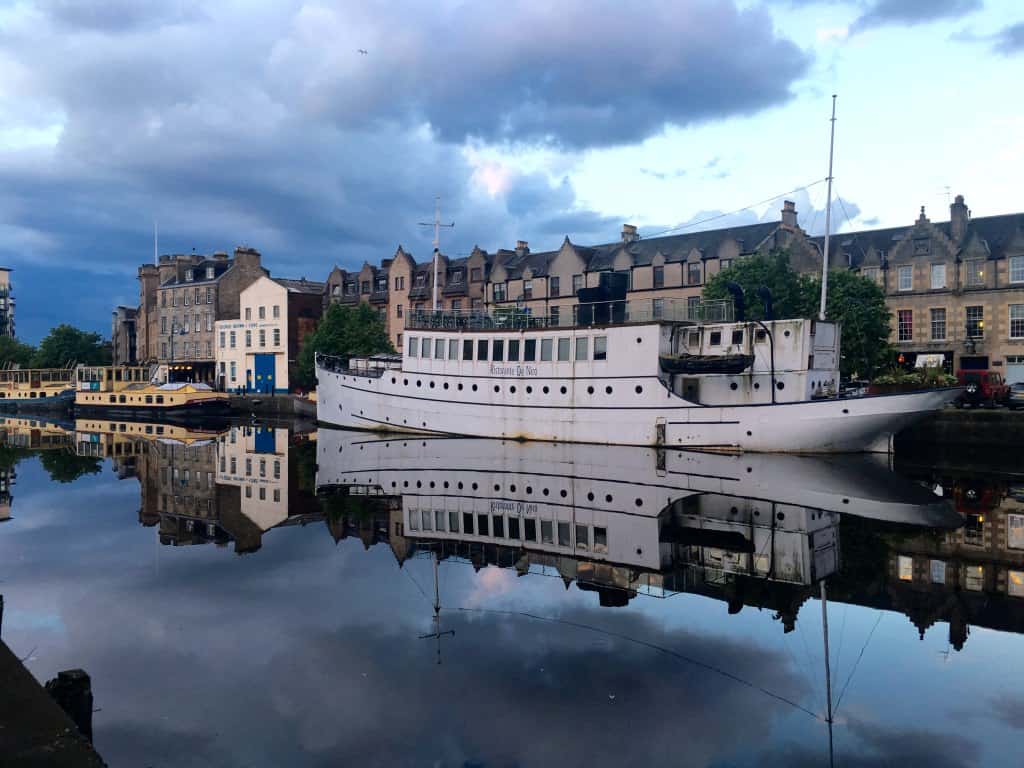 Dean Village
Dean Village is a hidden gem just ten minutes walk from the end of Princes Street. Formerly known as the 'Water of Leith Village', it was a working village with up to 11 grain mills, driven by the currents of the river. Now it's a peaceful oasis, with the former workers cottages and warehouses making this one of the most picturesque parts of Edinburgh.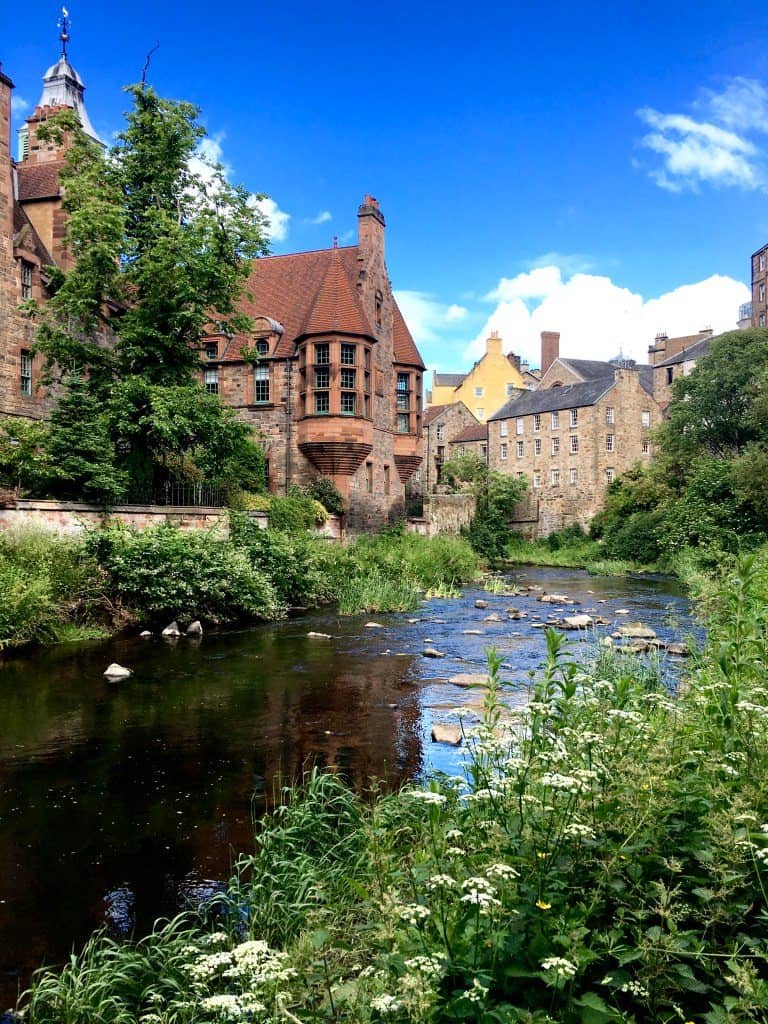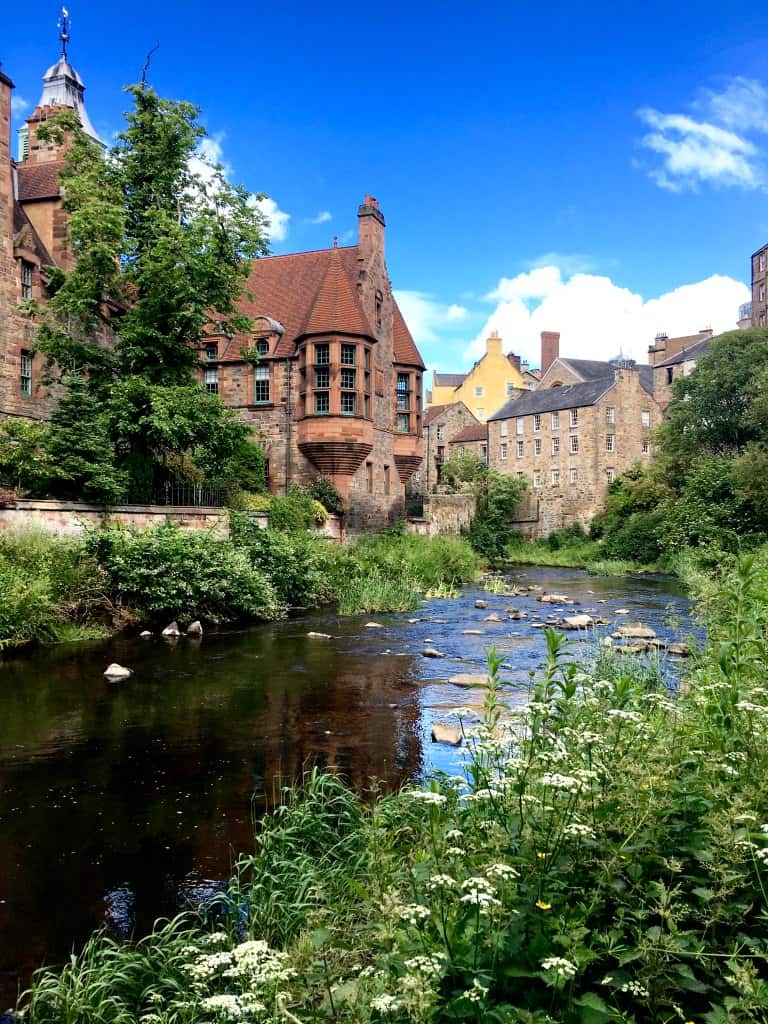 Calton Hill
If you walk to the eastern end of Princes Street you'll see the entrance to Calton Hill. It's a rather unique place, given the smattering of monuments that grace the hill. It's a fantastic spot for viewing the skyline of Edinburgh, from Arthurs Seat to the spire of St Giles Cathedral, Edinburgh Castle and the buildings of Princes Street like the Balmoral and the Scott Monument. On the other side you can look towards the Port of Leith.
Of the most interest though, are the various monuments at the top of the hill. Yes, that is a Parthenon in Scotland. It has never technically been finished and for a long time was touted as "Scotland's Disgrace". Now it's more accepted for what it is, an iconic monument of Edinburgh! One of my favourite views of Edinburgh includes the Dugald Stewart Monument with the cityscape behind it.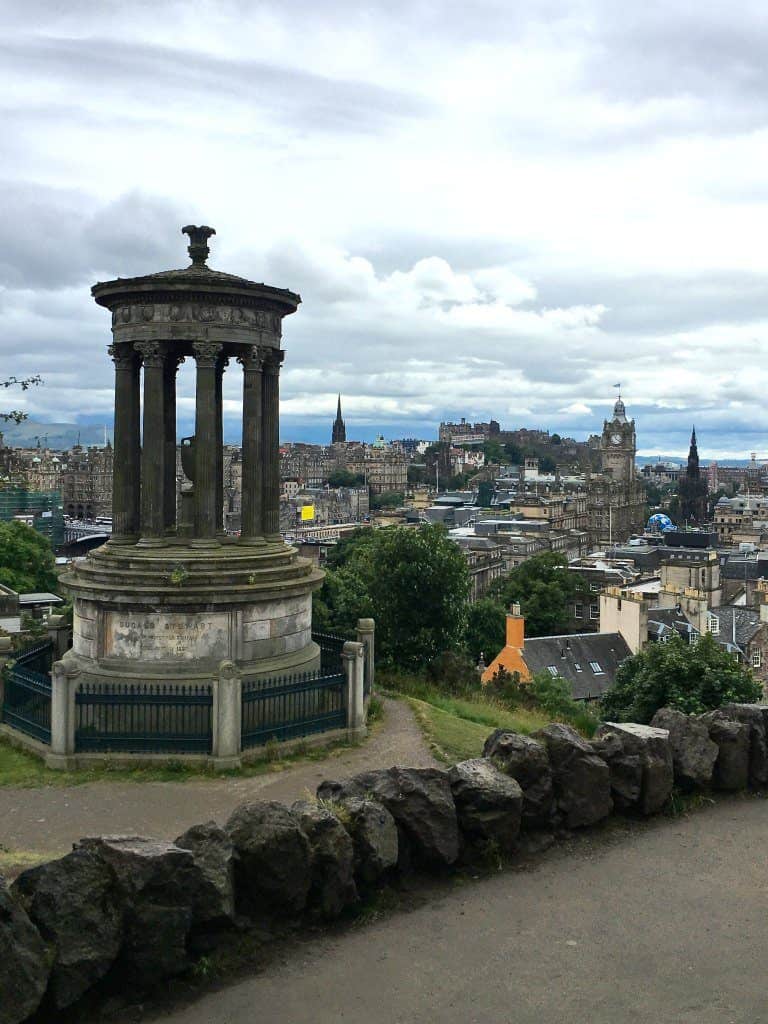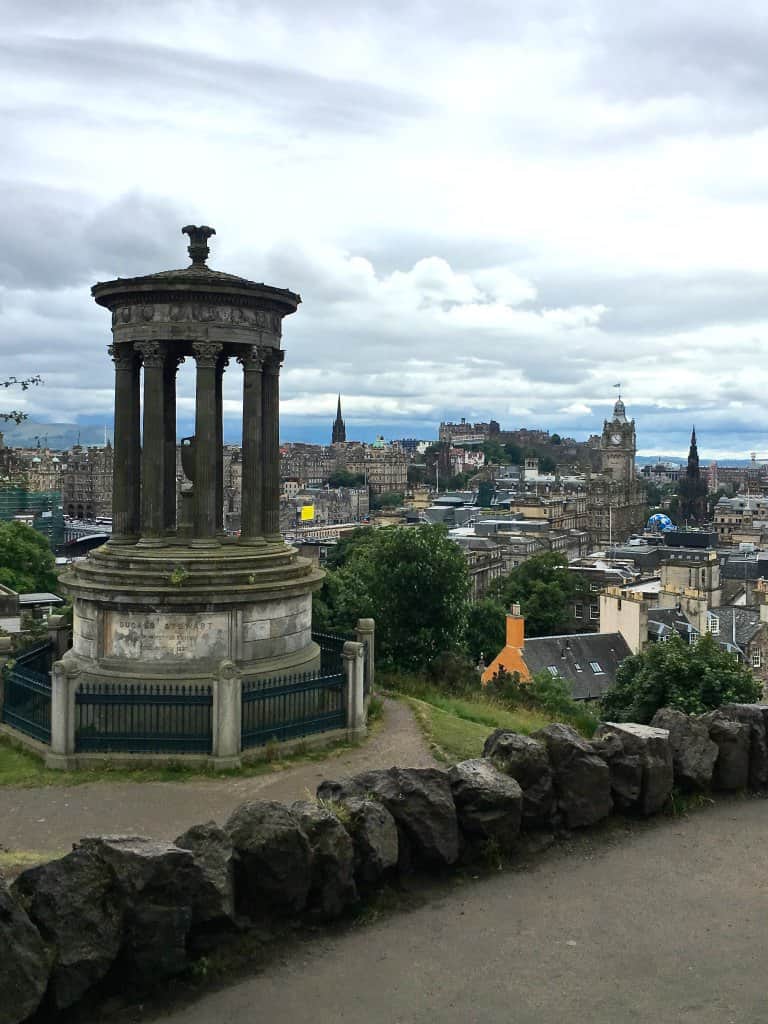 Museum on the Mound
A free museum about money! The Museum on the Mound is all about the art, design and technology of money as well as how it's used in crime, trade and security. Interesting for kids and adults alike!
Spit on the Heart of Midlothian
Um, what?! Yes you read that correctly. On the Royal Mile just near St Giles Cathedral there's a heart shape in the concrete. It's usually walked over without much notice, but if you watch for long enough you might see someone spit on it. Ew. The Heart of Midlothian is on the spot of the Old Tolbooth, where citizens would go to pay taxes, but it was also one of the worst prisons in the country. The story goes that as prisoners left (if they left, it was also a place of executions) they would spit at the door, and people would spit at it when passing as a form of solidarity. Now people say it's for luck, but for whatever reason, the tradition continues!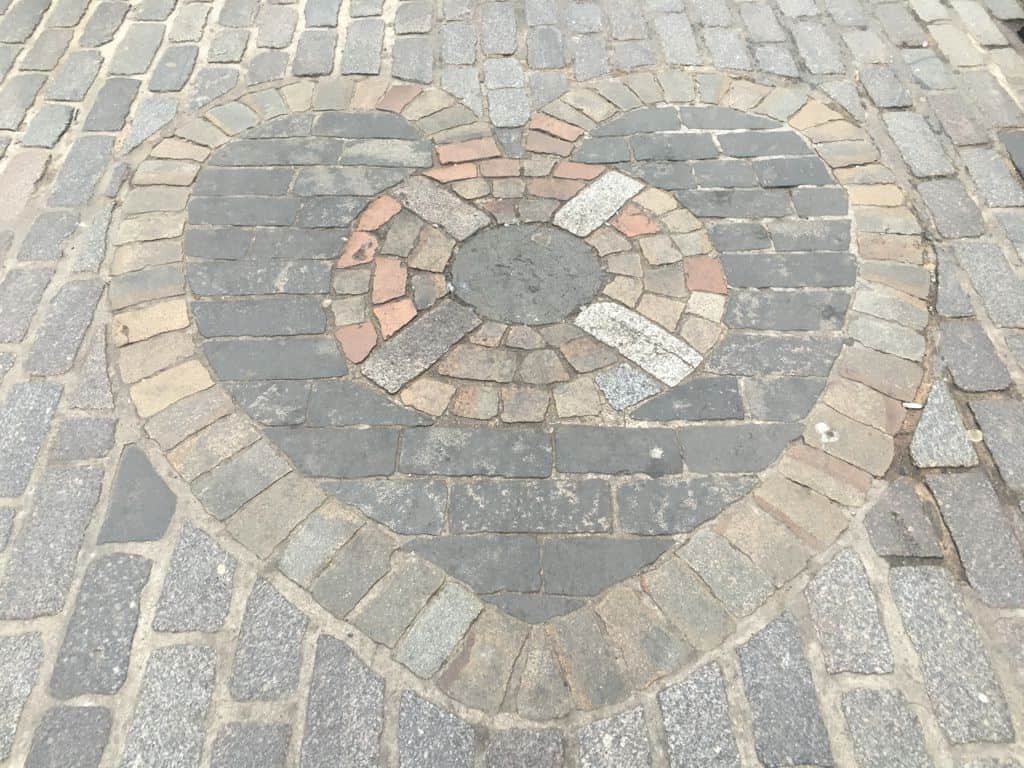 Cramond Island
Cramond is a suburb in the northwest of Edinburgh, and just off the shore in the Firth of Forth is Cramond Island. It's a tidal island that you can reach along a concrete path when the tide is out. Although no one lives there it does house signs of being used by the Romans, as well as housing the remains of a farmstead and World War I defensive buildings. Although it seems close, take note of the tides because visitors have been caught out before!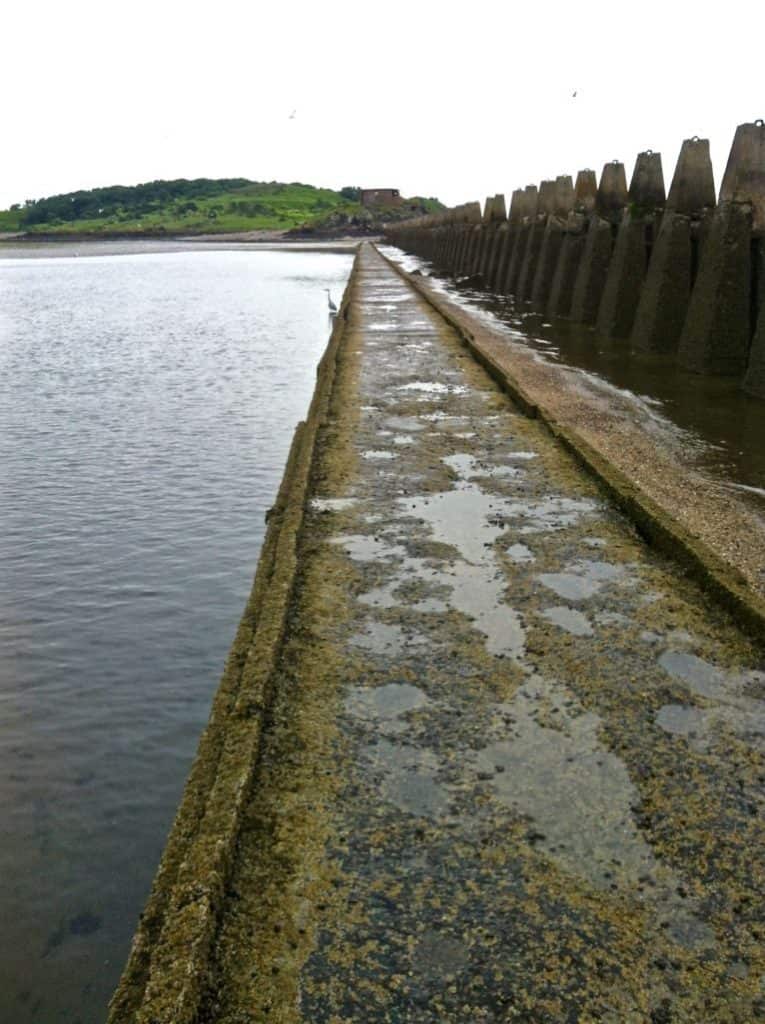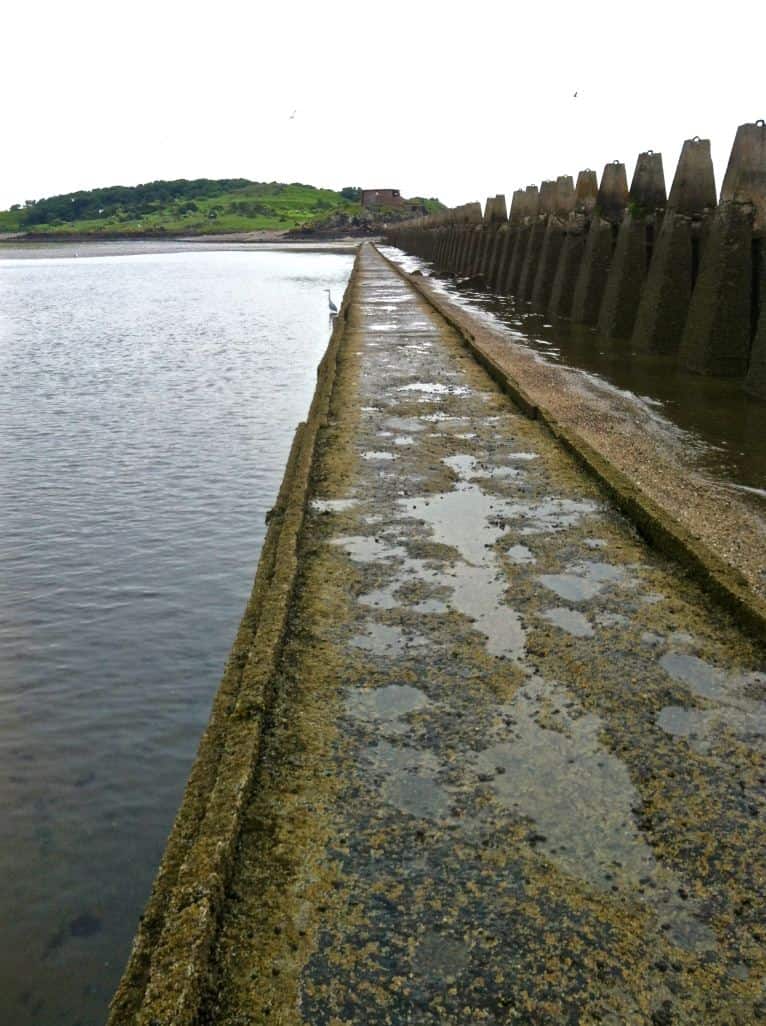 Portobello Beach
Edinburgh is a coastal city and to the west of the city centre is Portobello Beach. It boasts a pretty promenade, a plentiful array of eateries and classic penny arcades that probably shouldn't feature on the free list, unless you're lucky enough to find a machine that spits out more than you put in!
Scottish Parliament
Maybe not everyone's cup of tea, but the Scottish Parliament offers a range of free tours from the self-guided through to one about the award winning architecture of the building itself.
Gorgie City Farm
Exactly what it says it is, this farm just west of the city centre is a community led charity that houses animals and provides education opportunities for all it's visitors. They house everything from livestock like cows to pets like chinchillas.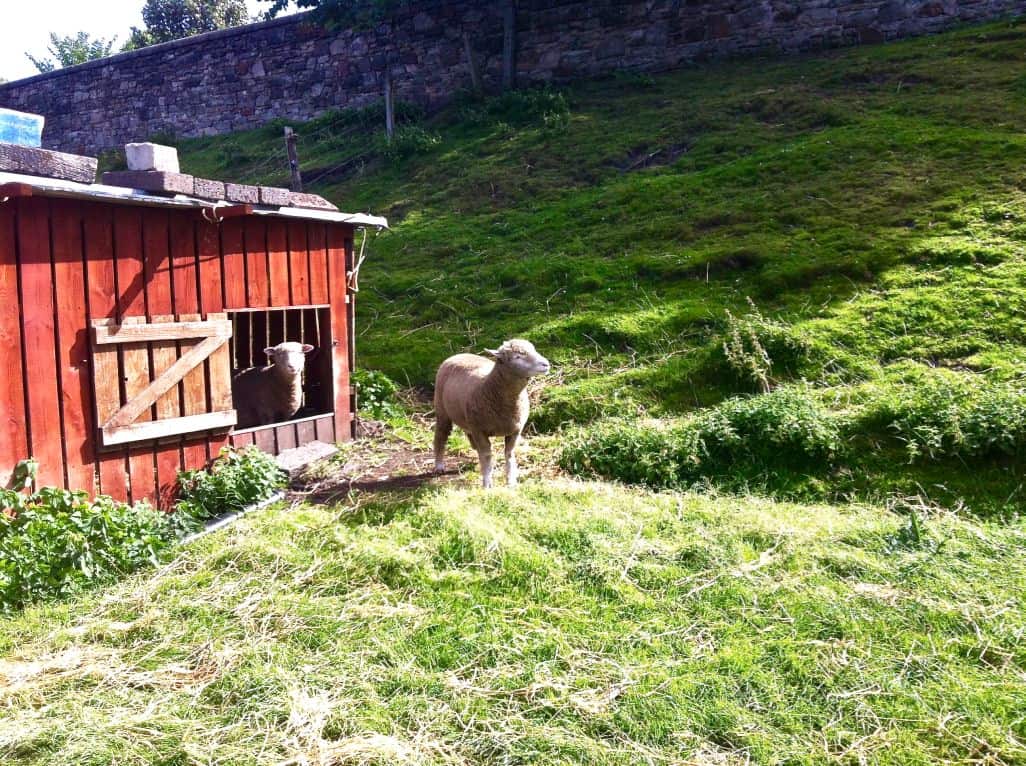 Not so free (aka paid) things to do in Edinburgh
Edinburgh Castle
You absolutely can't miss Edinburgh Castle on a visit to Edinburgh. It dominates the skyline from most directions. I like to view it from the west end of Princes Street Garden and the Grassmarket specifically. However, if you want a closer look at the inside you'll need to pay. Edinburgh Castle is one of the most unique castles I've visited in the UK, in that it's more of a fortification with numerous buildings sheltered inside. It also contains the National War Museum of Scotland. The best parts for me were seeing the Crown Jewels and the stone of destiny (with it's intriguing story about how it was stolen back from England by university students!).
Cost: Adult £16.50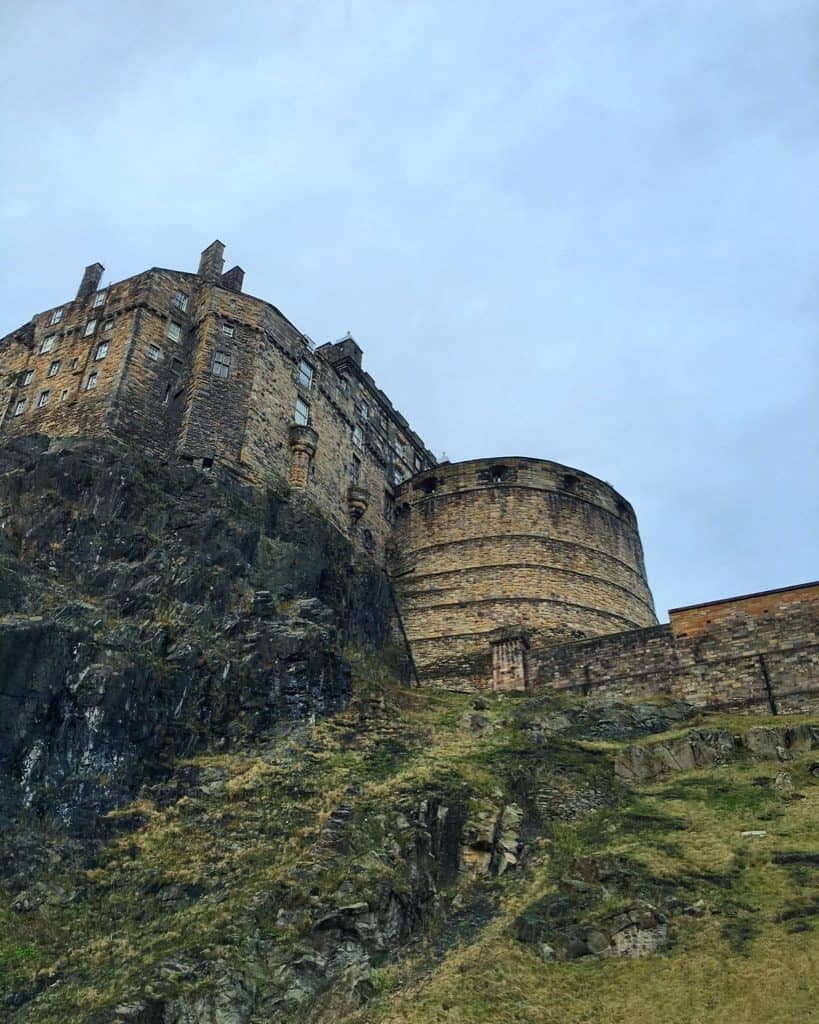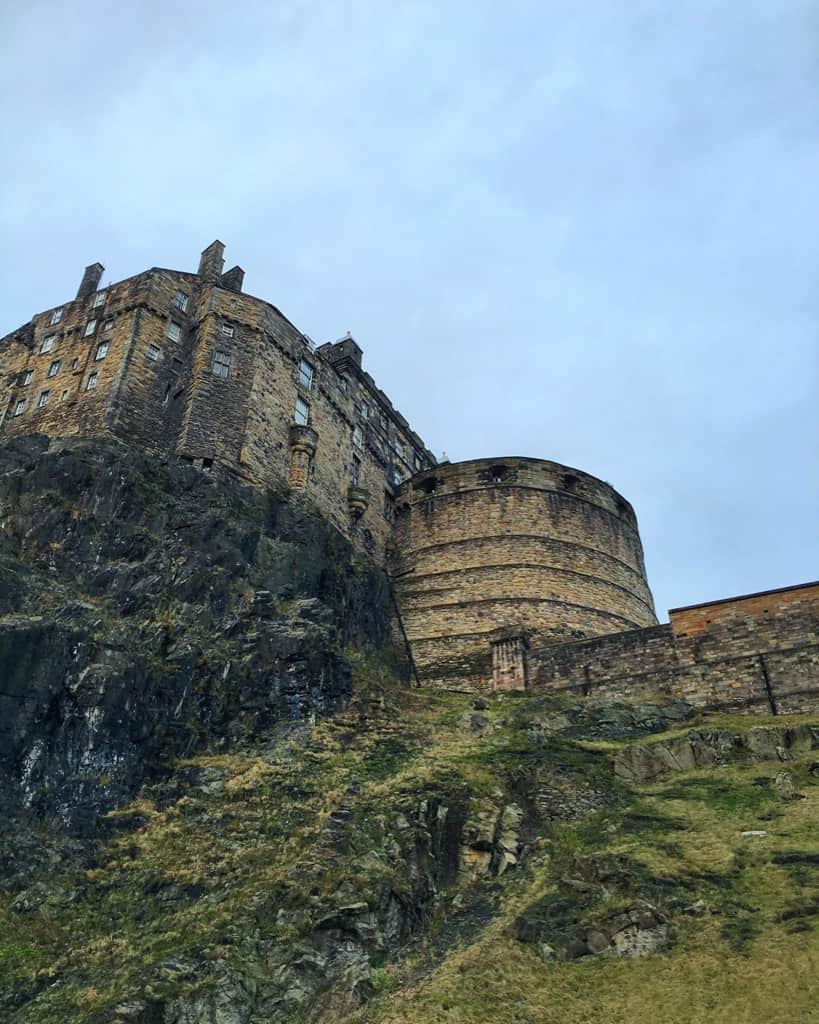 The Real Mary Kings Close
If you enjoy visiting the closes off the Royal Mile for free, but want to know what these narrow Edinburgh streets were really like to live on in times past, then a visit to Mary Kings Close will satisfy your curiosity. At one time, Mary King's Close was the second largest street in Edinburgh, after the Royal Mile. Hard to imagine when it's hardly very wide and the length of one half would have been covered in market stalls! Mary Kings Close began to be destroyed or covered over in 1753 and the last resident left in 1902. Luckily, many of the houses and rooms have been preserved below the ground.
Mary Kings Close is a step back in time, to when the streets of Edinburgh were covered in a filthy muck, and the name of Auld Reekie rang true. You can enter several of the houses on the street, including one that still has traces of paint prints on the wall that were the way of decoration at the time, and is said to be haunted by a little girl who died from the plague. Part of the tour allows you to walk the steepness of Mary King's Close itself, and wonder how any light penetrated this narrow path.
Cost: Adults £14.50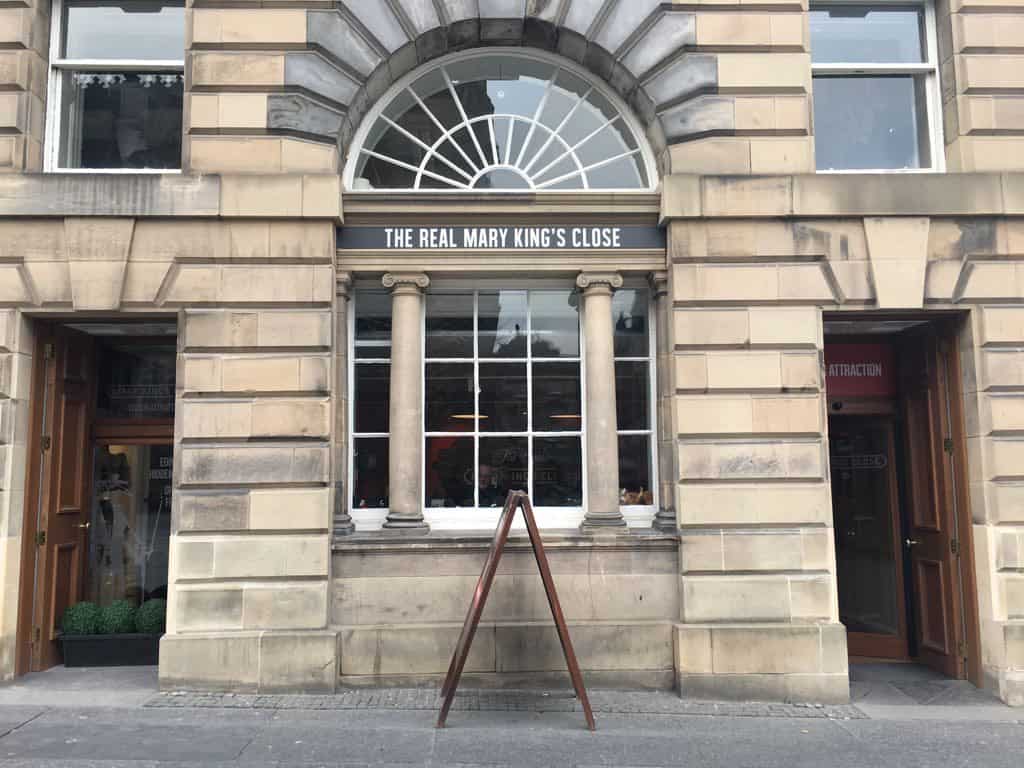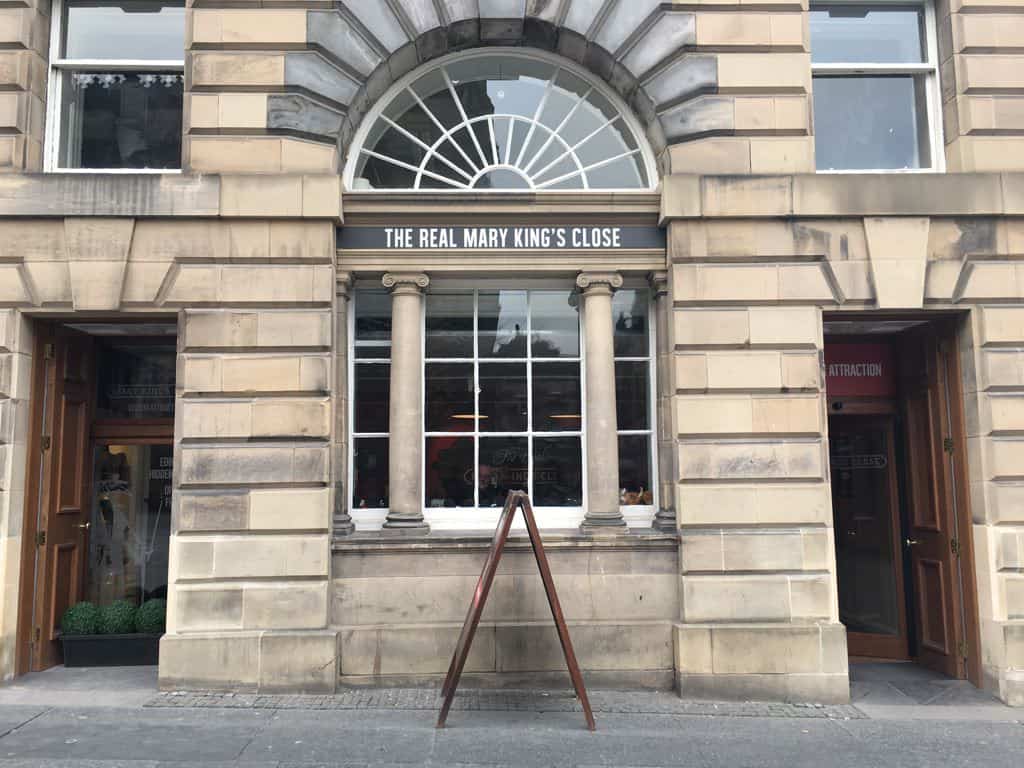 Scotch Whisky Experience
What's a visit to Scotland without a dram of whisky? Not a full experience I would say! Luckily, near the top of the Royal Mile is the Scotch Whisky Experience, where you can learn more about how whisky is made in Scotland, see the worlds largest whisky collection (it's huge!) and find a whisky that tempts your tastebuds. The owner of the collection is now 83 years old, and he never opened a single bottle of whisky in the collection!
I highly recommend the Morning Masterclass, which gives you a chance to understand much more about the subtle flavours of whisky and find one that you know you like. As they say, you can't not like whisky, you just need to find the right one for you!
Cost: Silver tour starts at £14.50 and includes a taste of two whisky. The Morning Masterclass is £40.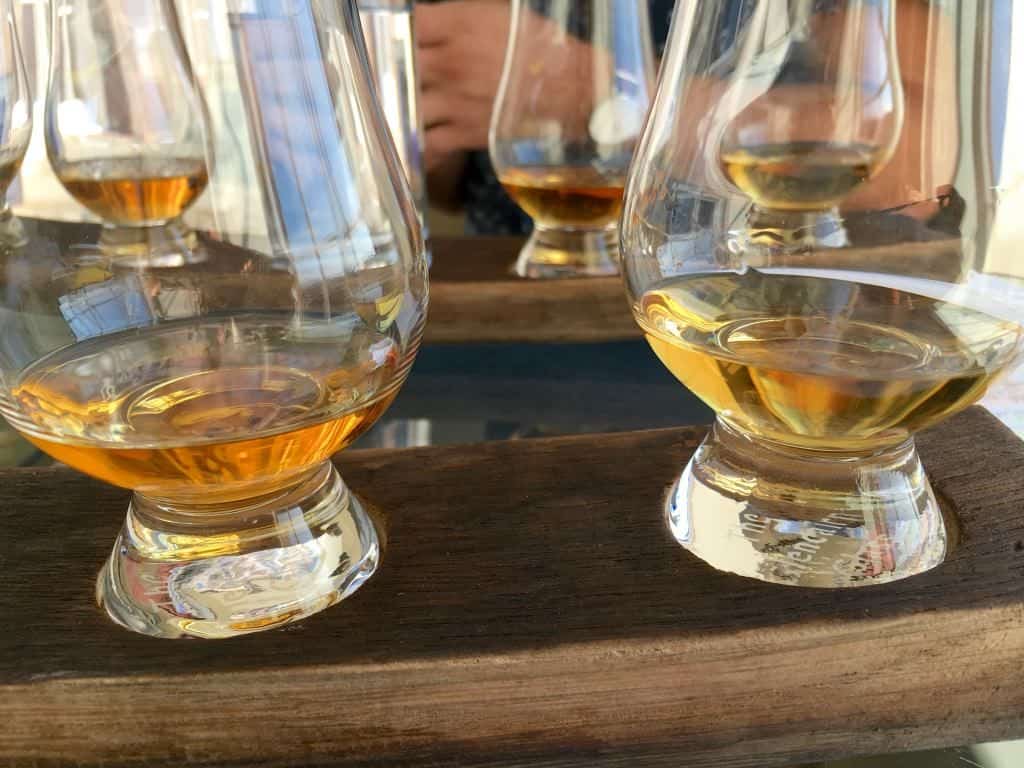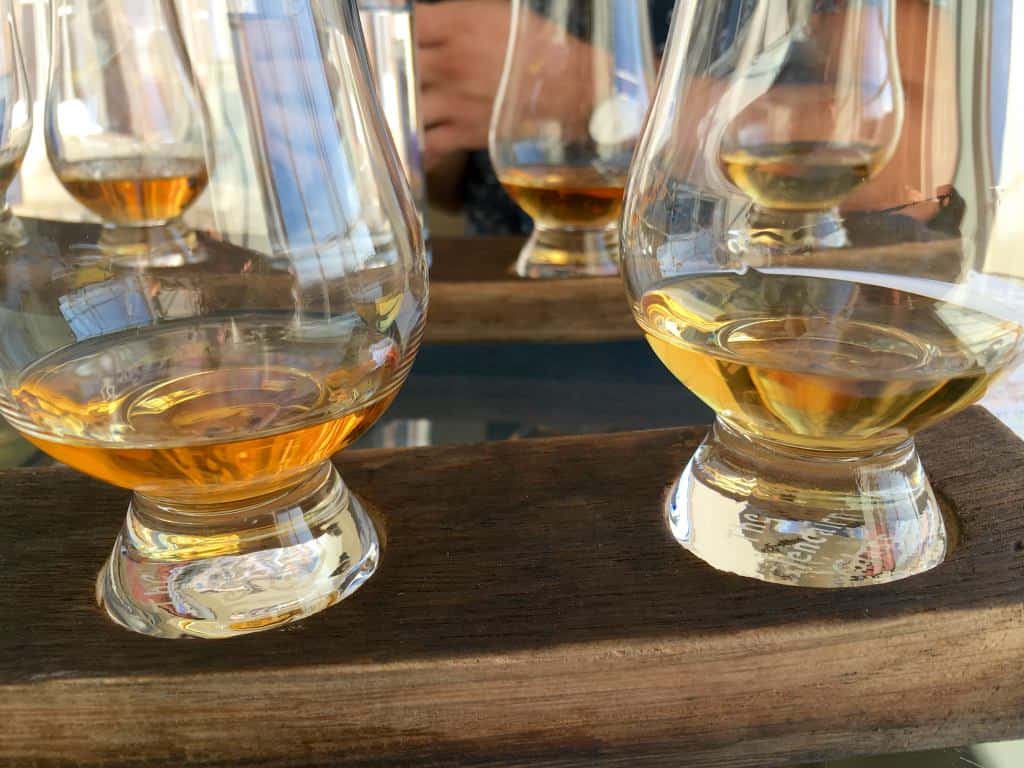 Camera Obscura
There are six floors of interactive exhibitions in the Camera Obscura Tower, and it's the oldest purpose built attraction in Edinburgh. There are puzzles, optical illusions, a vortex tunnel and a mirror maze. The camera obscure itself is in the top of the tower, and live images of Edinburgh are projected onto a table as they have been for over 150 years!
Cost: Adult £14.50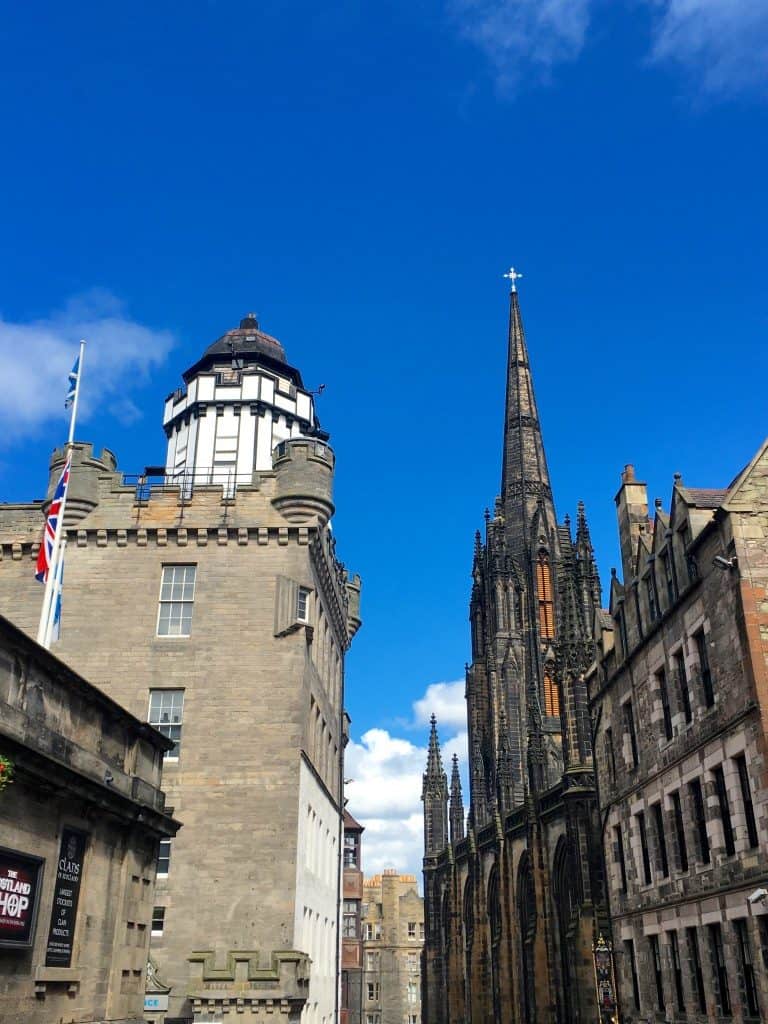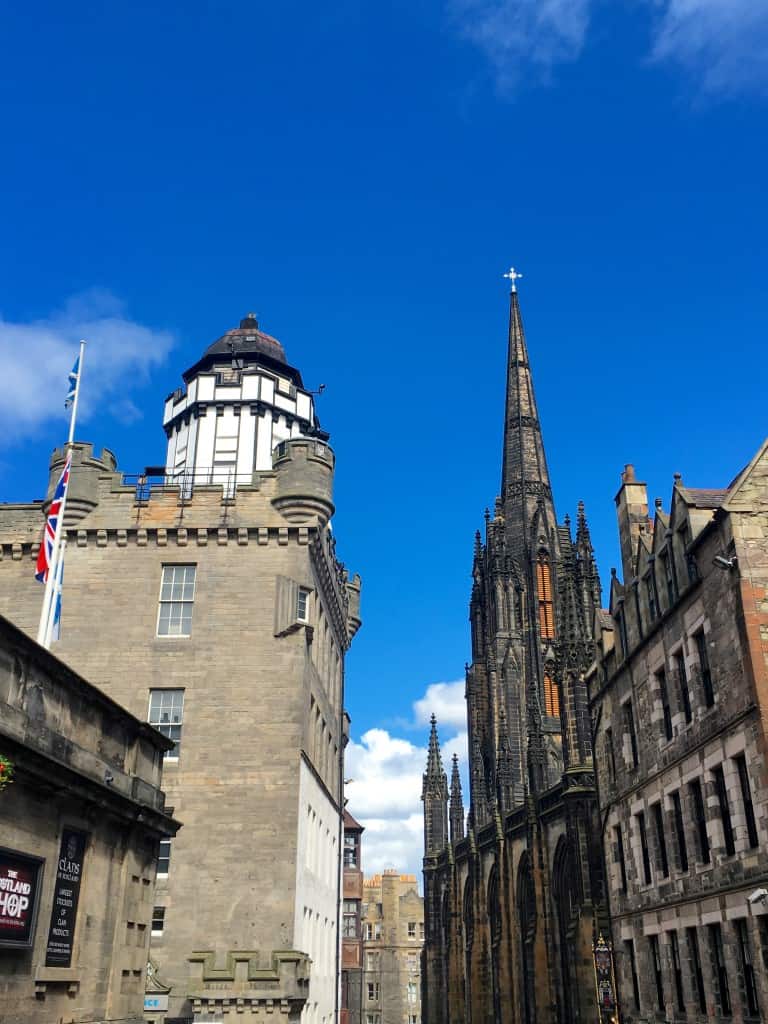 Pickerings Gin Distillery
If you really decide whisky isn't your thing (after a try of course!) then maybe the Pickerings Gin Distillery could be for you. There are guided tours and tastings everyday except Tuesdays. You get to see everything from the botanicals room to how a small batch of gin is made, try all 3 of their gins and try gin and tonic from a tap!
Cost: £10
Palace of Holyrood House
In contrast to Edinburgh Castle, Holyrood Palace is still used by the Royal family when they visit Edinburgh. However, when they're not in you're welcome to take a look around! An audioguide leads you through the Palace and the history of Scotland, and particularly that of Mary Queen of Scots.
Cost: Adult £12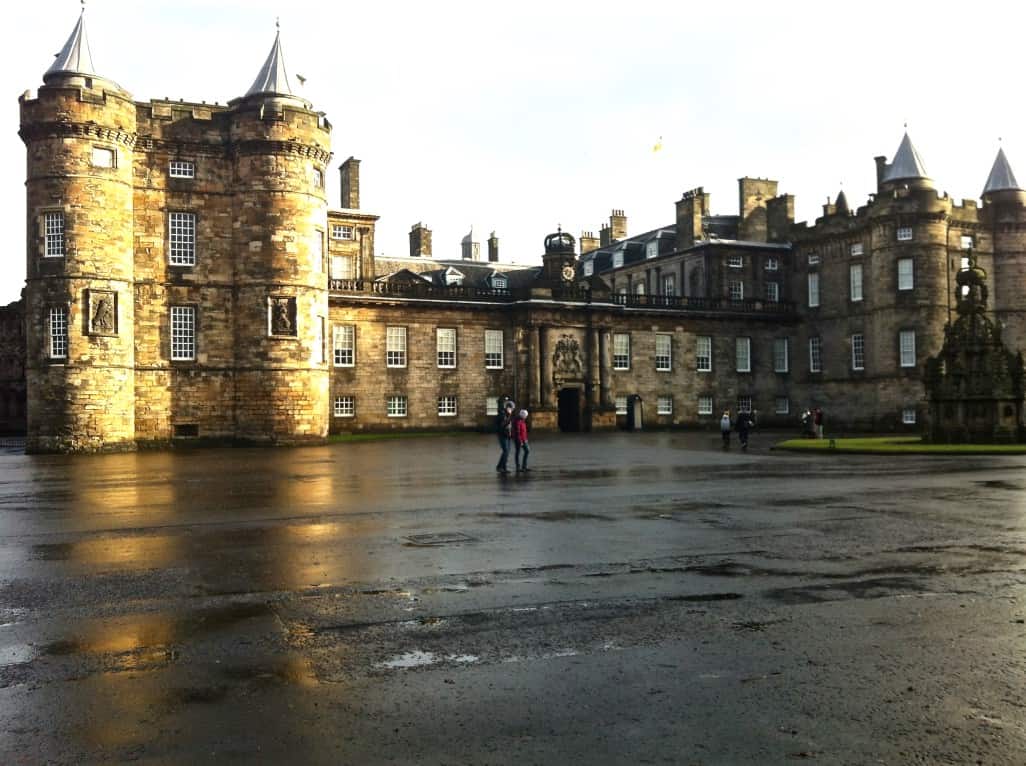 Dynamic Earth
Journey through the story of planet Earth through a series of interactive exhibitions. My favourite part was the huge iceberg in the middle of a room! There's also a 360 degree dome theatre playing different films throughout the year.
Cost: Adults £13.50
Gilmerton Cove
Gilmerton Cove is an ongoing mystery in the midst of Edinburgh. It's a collection of underground tunnels and caves, located beneath the streets of Gilmerton. And that's about all anyone really knows about it! I'd been wanting to visit since I first moved to Edinburgh 3 years ago, and I finally went this year, and it was worth the wait!
Cost: Adults £7.50. Tours by appointment only.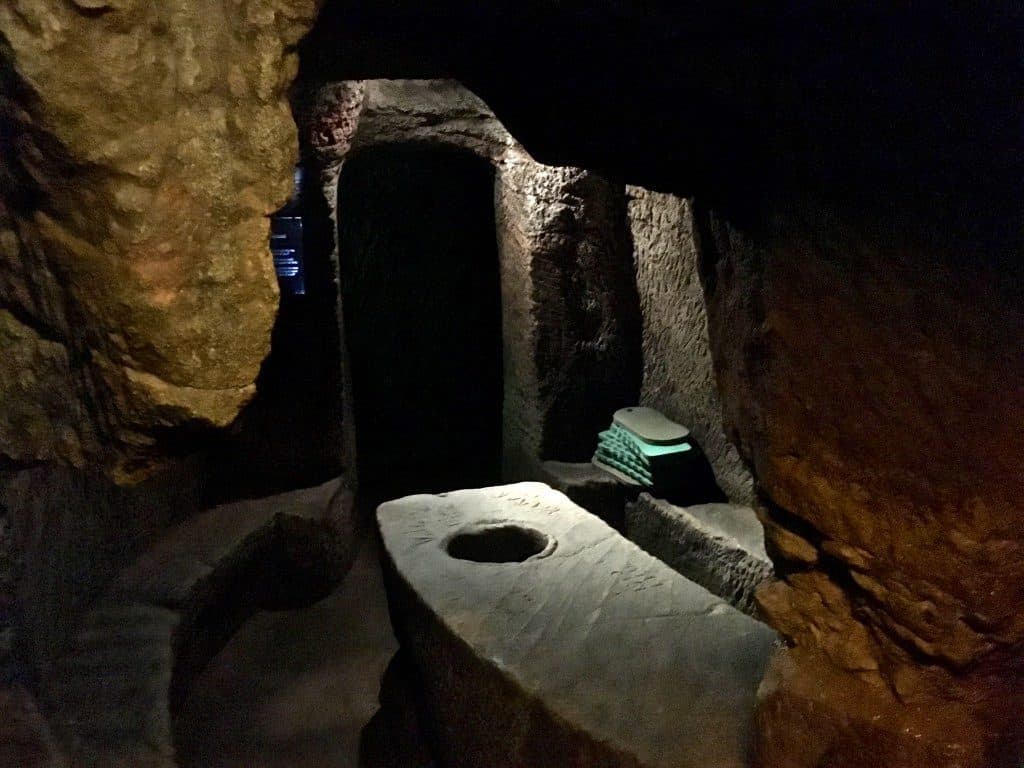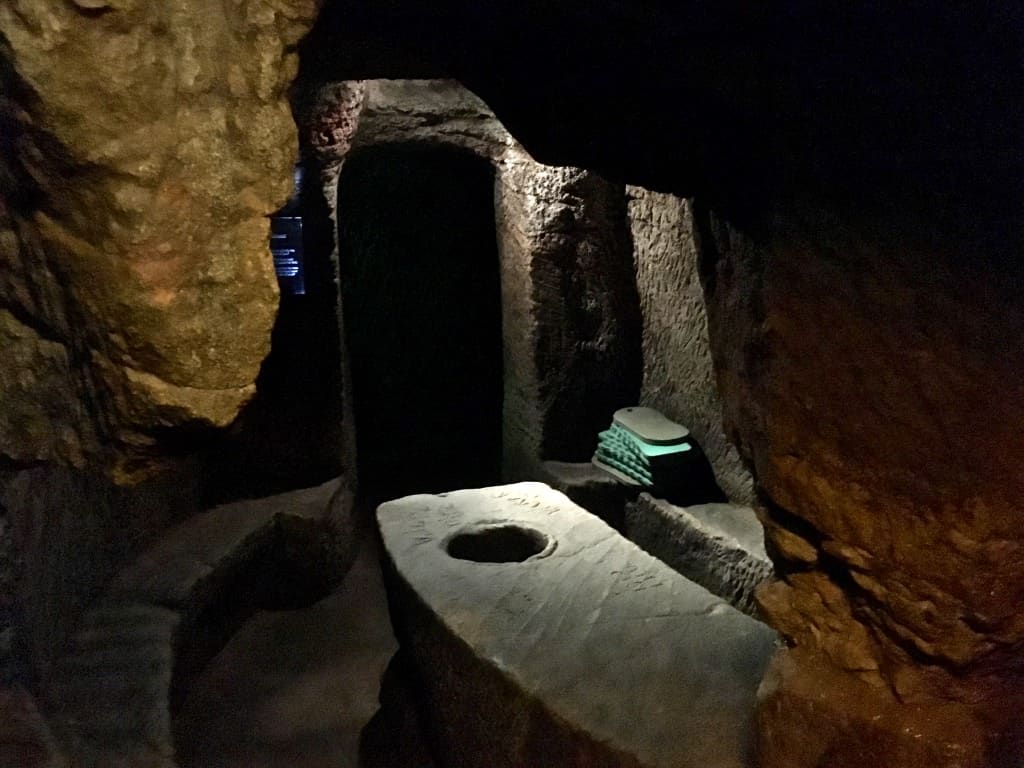 Edinburgh Zoo
Pandas. Need I say more?! Well maybe I could also mention the Penguin Parade, which is where they let the penguins out of the enclosure to walk around with their keepers, and you can stand at the parade route to watch them go right past! They don't entice the penguins with food, it's entirely up to them if they want to take a walk.
Cost: Adults £17
Scott Monument
If you're wondering what that rocket shaped thing emerging out of Princes Street Gardens is, it's the Scott Monument, opened since 1844. It's the largest monument to commemorate an author in the world, dedicated to Sir Walter Scott. At the base is a statute of Walter Scott himself. You can climb the 287 steps to the top for unique views from the very centre of Edinburgh.
Cost: £5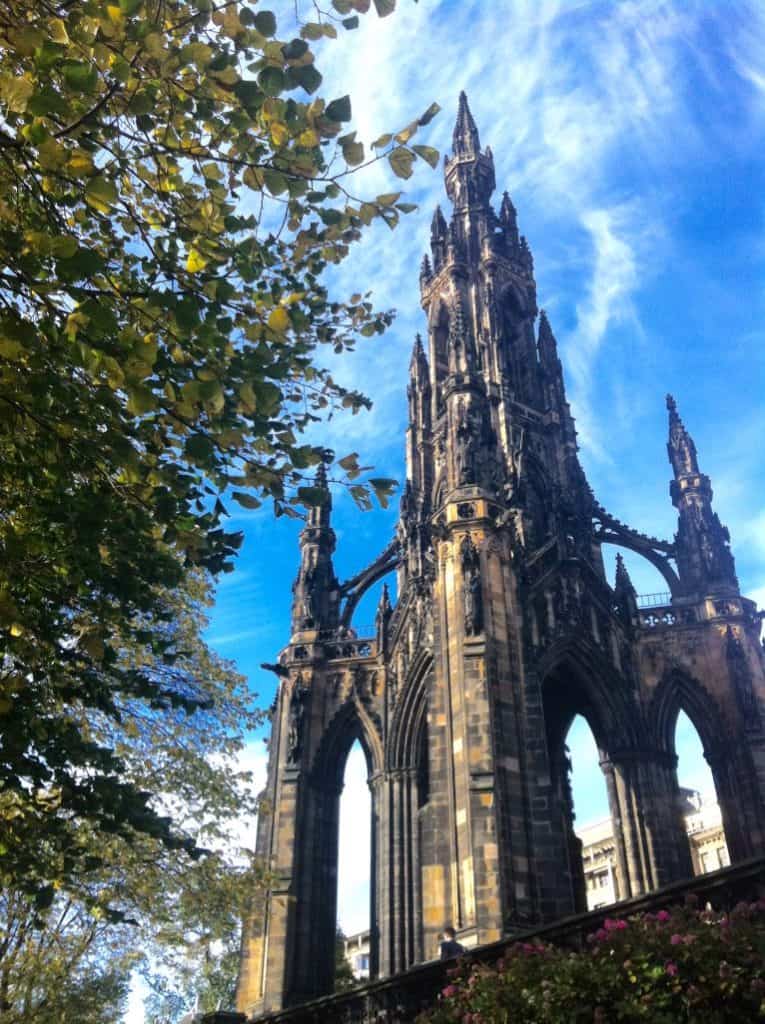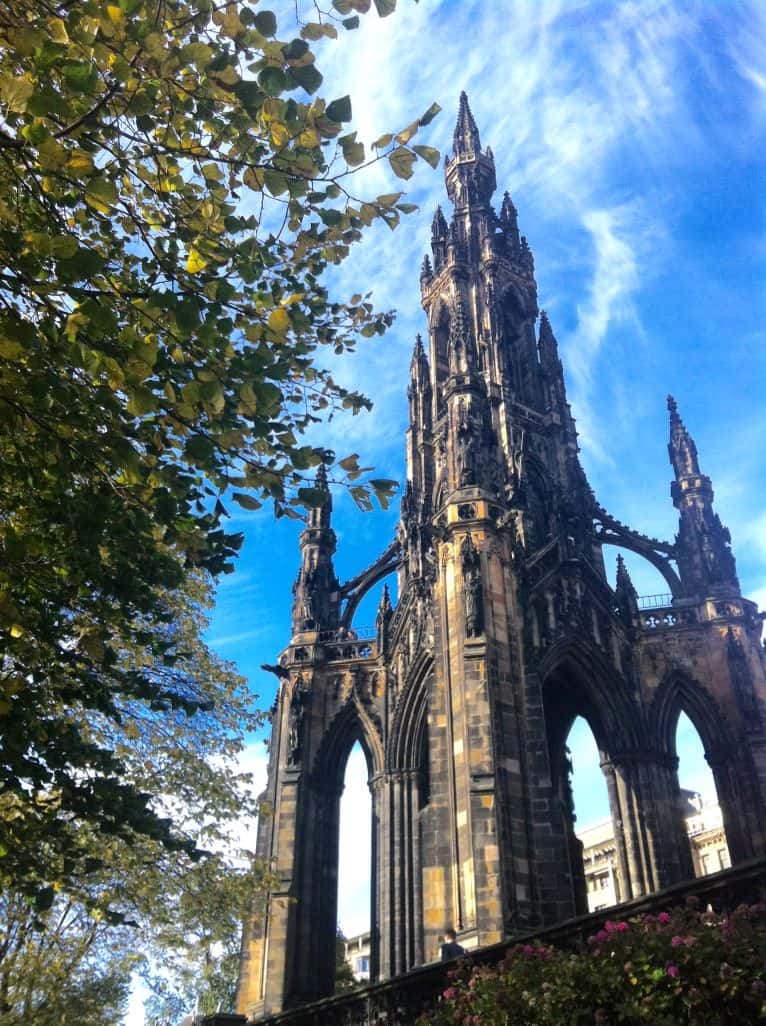 Royal Yacht Britannia
This yacht was formerly used by the Queen from1954 until 1997. It travelled more than a million miles around the world before being moored at Ocean Terminal in the Leith part of Edinburgh. Now you can discover what life was like in this royal residence, and partake of a little afternoon tea on it as well.
Cost: Adult £15
Afternoon Tea at the Balmoral
With all of this wandering and exploring, you should definitely treat yourself! For something extra special, try the award winning Afternoon Tea at the Balmoral. Held in Palm Court with it's glass dome and palm trees, you'll be able to indulge in a mouth watering array of savouries and sweets all while listening to the melodic sound of the harp. Afternoon tea really doesn't get much better than this.
Cost: £35 per person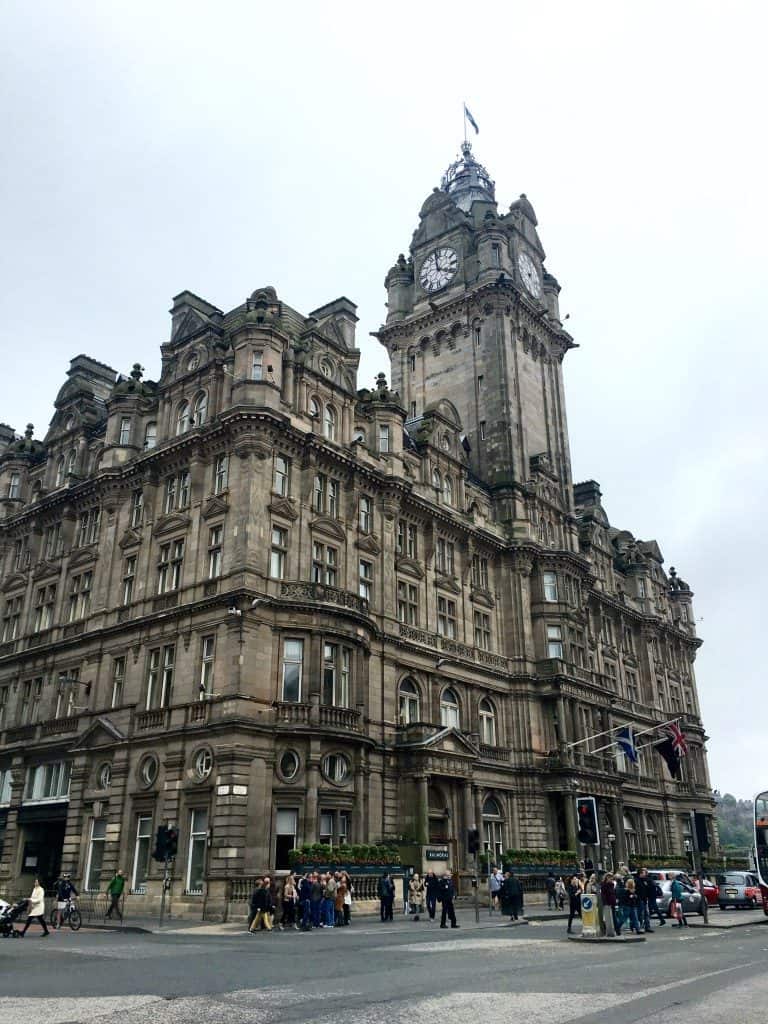 Lauriston Castle
This 16th century tower house overlooks the Firth of Forth in the northwest of Edinburgh and has been left as it was last inhabited in 1926. It has one of the most stunning Edwardian interiors in Scotland.
Cost: £5 for a guided tour of the castle, gardens are free.
Rabbie's City Tour
If you want an overview of the city when you arrive in Edinburgh, then I can recommend the Rabbie's City Tour. I loved staying on a smaller bus to navigate the narrow and winding streets and hear about all of the main things to see in Edinburgh, the history and stories of the city before embarking on my own further exploration later. The buses also have a retractable glass roof giving you panoramic views of Edinburgh no matter what the weather.
Cost: £20 but keep an eye out for offers, or book in conjunction with a tour that takes you further afield.
The Edinburgh Dungeon
A tour of the Edinburgh Dungeon takes you through some of the darkest parts of Scotland's history. There are rides, special effects and theatrical actors to enhance your historical learning experience, or give you a scare! Basically, it's history like you've never seen it before.
Cost: £11.75. Check online and the back of Edinburgh bus tickets for discounts.
Craigmillar Castle
This ruined castle is another location associated with Mary Queen of Scots. If you're coming to Scotland I highly suggest you learn at least her part in history! Although it is technically in ruins it is one of the most well preserved medieval castles in Scotland.
Cost: £5.50
Surgeons Hall Museum
The Royal College of Surgeons of Edinburgh was founded way back in 1505. Their collection has grown impressively, especially since the early 1700s. Originally it was a place of teaching for students but was opened to the public in 1832. Now you can interact with different exhibitions and discover the amazing advances in medicine and surgery within it's walls.
Cost: £6
Golf at Bruntsfield Links
Sometimes called mini golf, sometimes pitch & putt and sometimes short hole golf, but whatever you want to call it, it's fun. In summer you can do a 9 hole course and in winter 36. While it is free if you take your own clubs and balls, I've put it under paid since I don't know that many people who have them! If you visit the Gold Tavern on the edge of the green you can hire them from behind the bar for a small cost!
Cost: £3.50 to hire clubs and balls. £6 for a pitch and pint.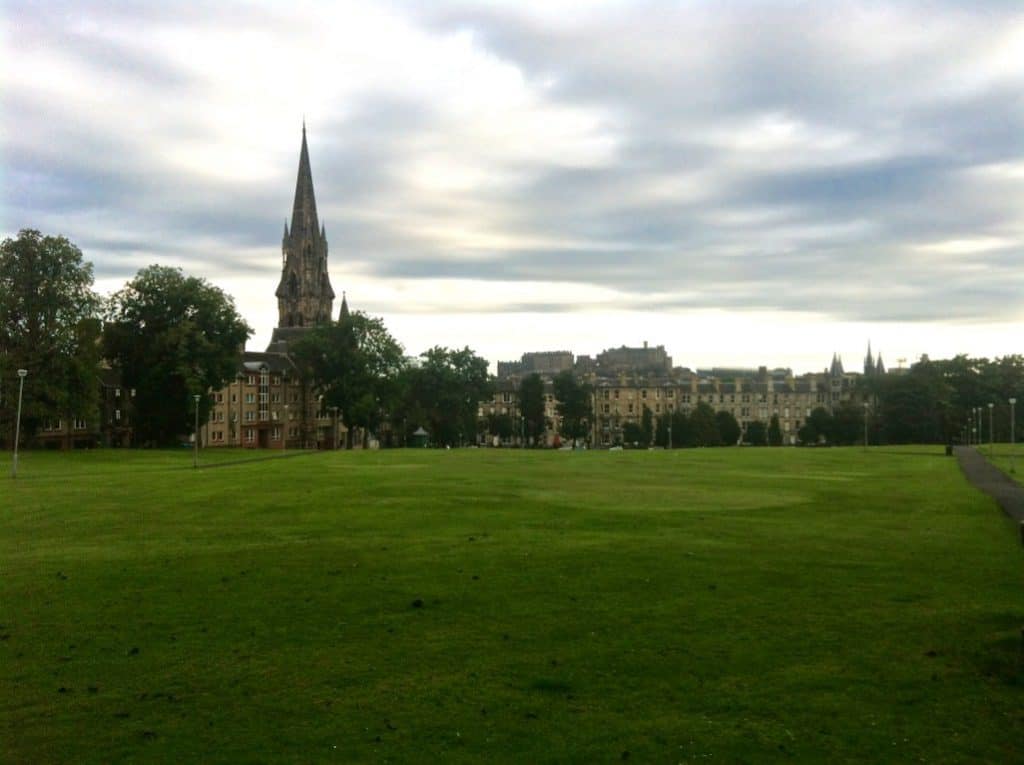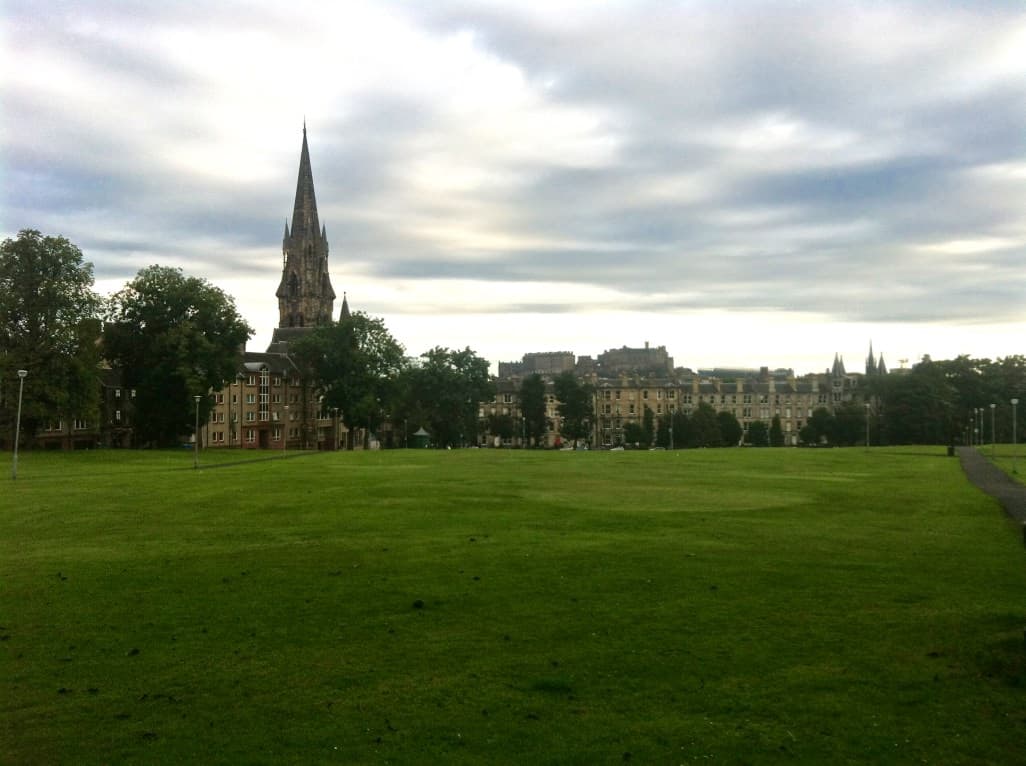 Both Free & Not So Free Things to Do in Edinburgh
Edinburgh's Festivals
Edinburgh is festival city, with 12 festivals taking place throughout the year. These involve a huge amount of free and not so free events, so they cater for everyone's budget.
Five of the Edinburgh festivals take place in August, including the well known Edinburgh Festival Fringe, where basically anything goes. It's a fantastic time to experience Edinburgh at it's finest, with so much to see and do. There are comedy shows, book readings, art installations, walking tours, musical shows, theatre, the Edinburgh Military Tattoo, and the list goes on!
At New Year Edinburgh is packed once again for the legendary Hogmanay celebrations, which encompass New Years Eve and the surrounding days. From the torchlight procession with hundreds of people forming a river of fire through the city to the New Years Eve Street Party and Concert in Princes Street, to taking a dip in the freezing ocean at the Loony Dook on New Years Day, it's just another opportunity to experience this awesome city.
If you need more convincing, check out why Edinburgh's Festivals have to be on your bucket list and a guide to Edinburgh's festivals in August.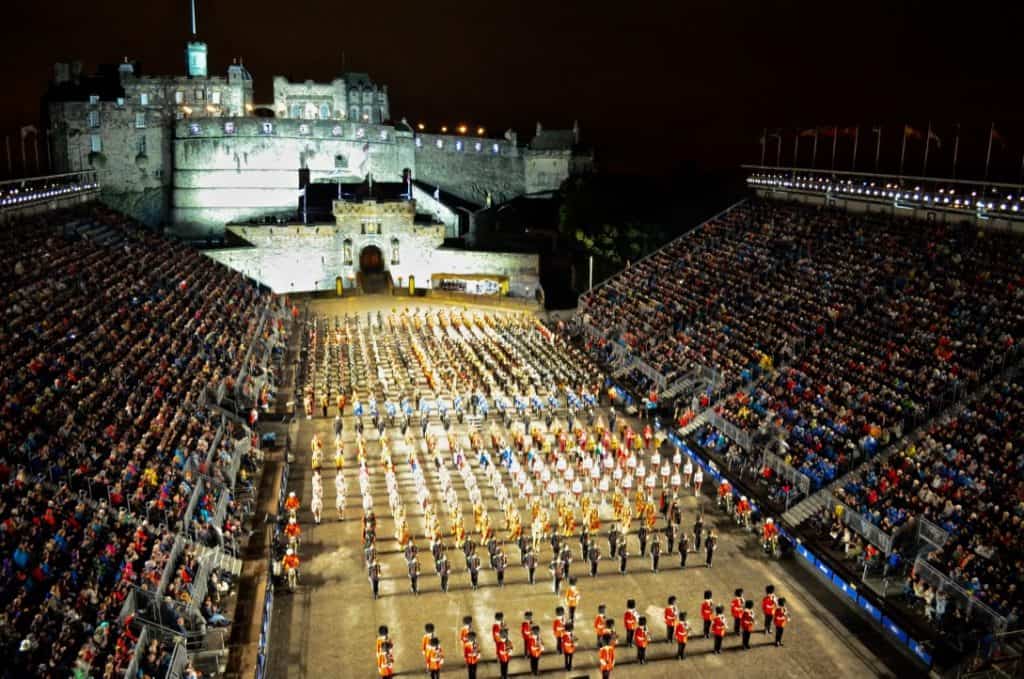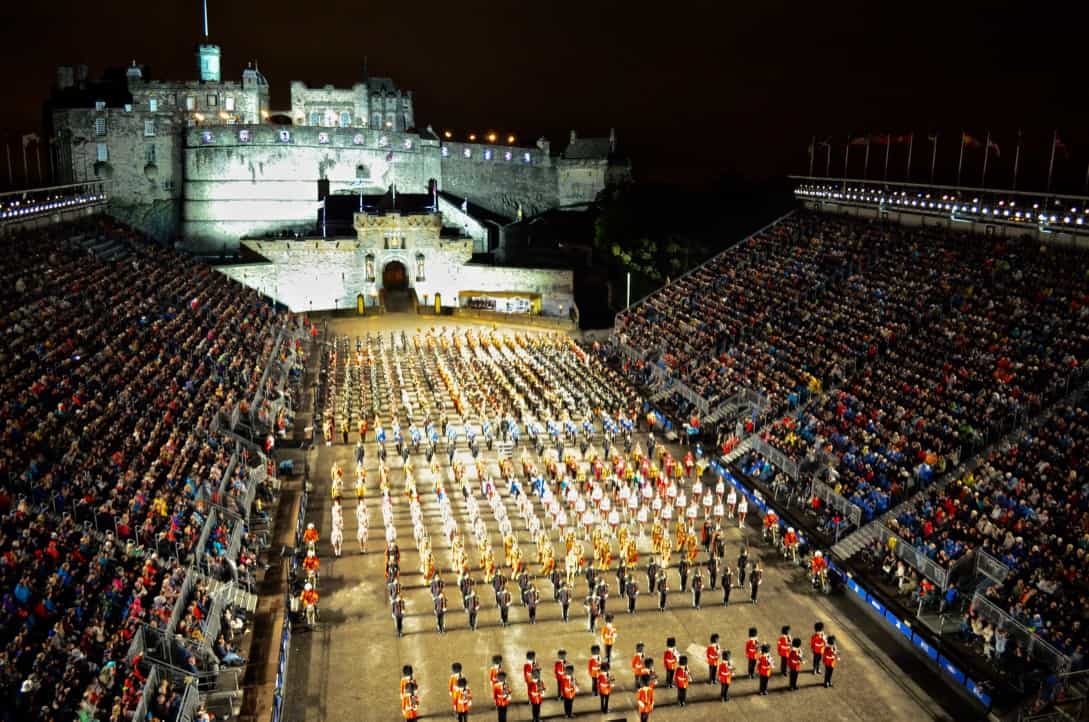 Edinburgh's Christmas
Growing up in the southern hemisphere means I'm used to Christmas in the summertime. Now, I'm a total winter Christmas convert, thanks in part to Edinburgh's Christmas! Six weeks of Christmas markets, ice skating, mulled wine and delicious food, what more do you need? There are free events like the Santa Run, and Light Night, an event that includes a concert and the switching on of The Christmas Tree on the Mound. Of course, if you want to partake of the mulled wine, mulled cider or hot chocolate with a shot of whisky then you'll need to pay!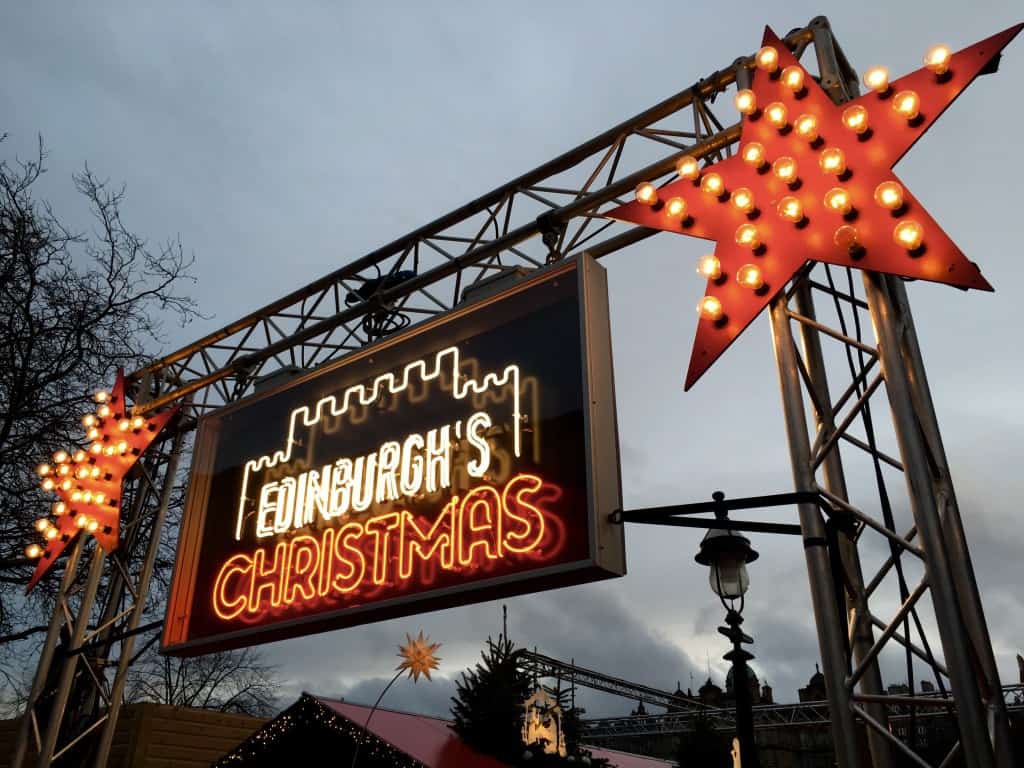 Get out of Edinburgh
Scotland is full of amazing places to visit. If you have the time then a road trip to the highlands is a must, including the drive through beautiful Glen Coe. To some peoples surprise, Scotland has many islands, and the furthermost afield you can go (halfway to Norway!) are the Shetland Isles. Here's some more options for closer to Edinburgh.
Linlithgow Palace
A 20-minute train ride west of Edinburgh will see you in the small town of Linlithgow named for the home to the birthplace of Mary Queen of Scots, Linlithgow Palace. While it's mostly a shell of a palace now, having lost much of it's floor and ceiling, it is still a sight to behold. In the central courtyard is an ornate fountain that was said to flow with wine when Bonnie Prince Charlie visited in 1745.
Cost: Adults £5.50
North Berwick
Take a train in the opposite direction, through Edinburgh's east, and you'll end up at North Berwick on the East Lothian coast. North Berwick is one of my favourite seaside towns, and it makes the perfect day trip from Edinburgh! It has a golden sand beach, bordered by Victorian houses and a golf course, and plenty of cafes, restaurants, and cute little shops to keep you interested on a day trip from Edinburgh.
Behind the centre of the town is North Berwick Law, a hill that is well worth the climb for the 360 degree views over the sea and surrounding farmland. On a clear day you can see all the way to Edinburgh and spot Arthurs Seat.
Read More: 15 Beaches to Visit near Edinburgh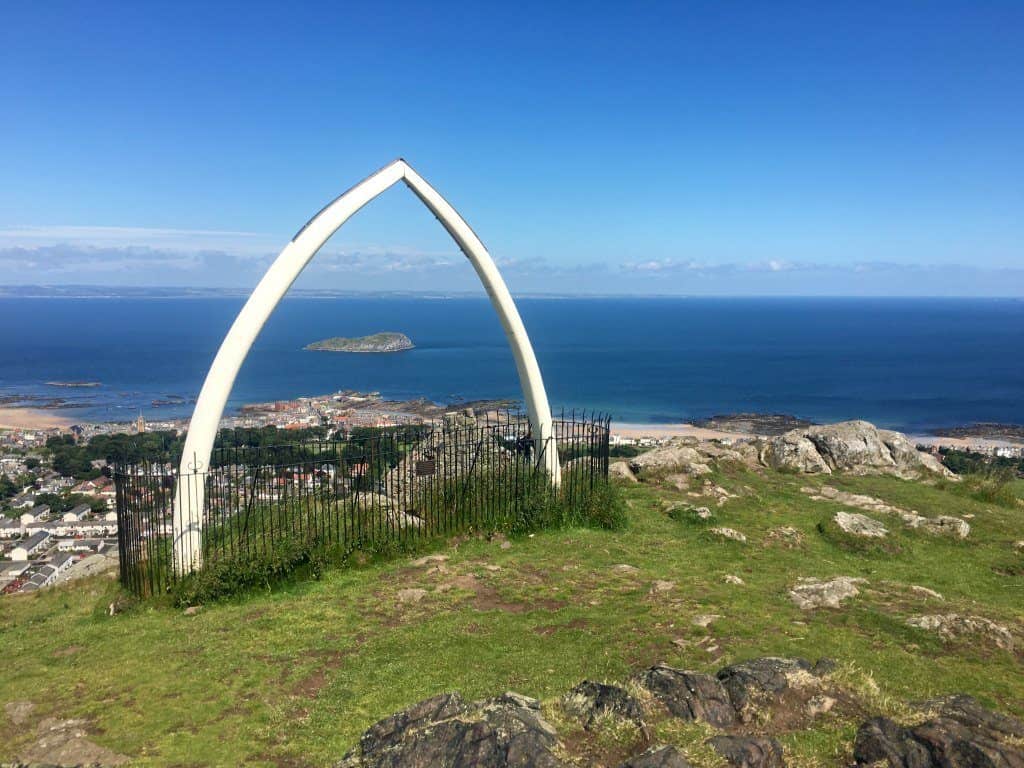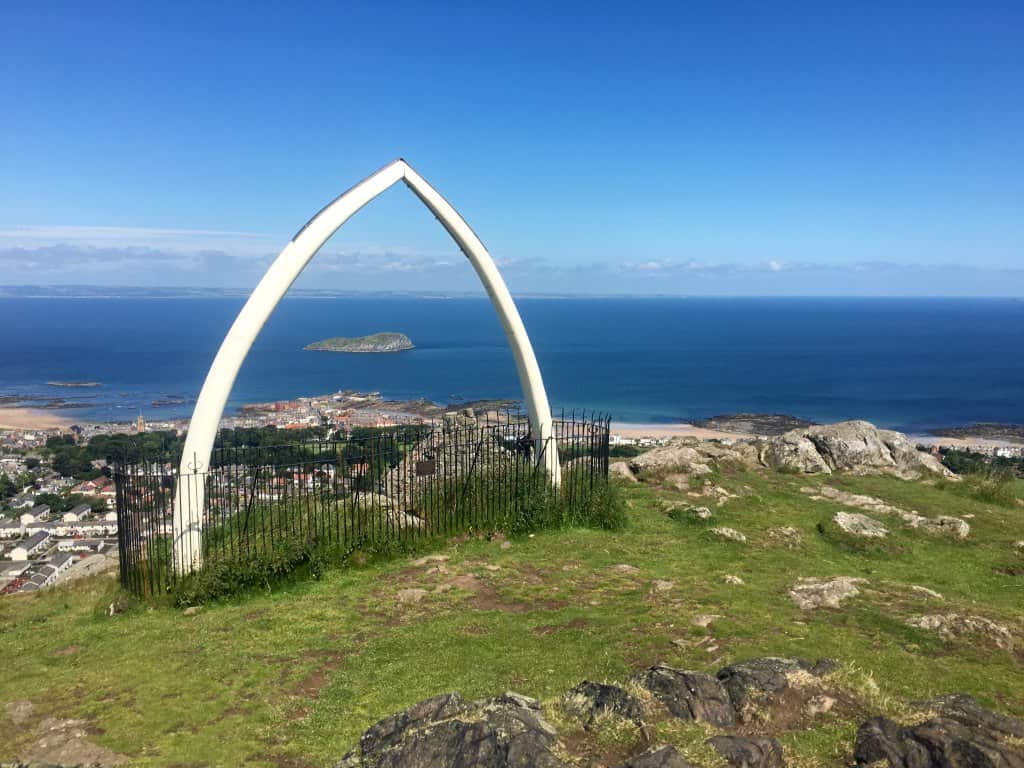 Rosslyn Chapel
This 15th century Chapel in the village of Roslin, just south of Edinburgh, has been a source of speculation regarding the Knights Templar and the Freemasons, and featured centrally in Dan Brown's The Da Vinci Code.
After falling into disrepair, the Chapel was ordered to be restored by Queen Victoria. Today you can visit and explore the chapel for yourself, view the stunning stained glass windows and imagine what may have happened there during it's extensive history.
Cost: Adults £9
Pentland Hills
If you look to the south of Edinburgh from any vantage point, you might have spotted some hills not so far away. These are the Pentland Hills, and you can reach them by car or bus easily from Edinburgh. There are all levels of walking tracks if you want to have a ramble, with beautiful views back to Edinburgh. Plus, with a few pubs in the vicinity, you'll be able to have a drink or a pub meal before heading back to the city.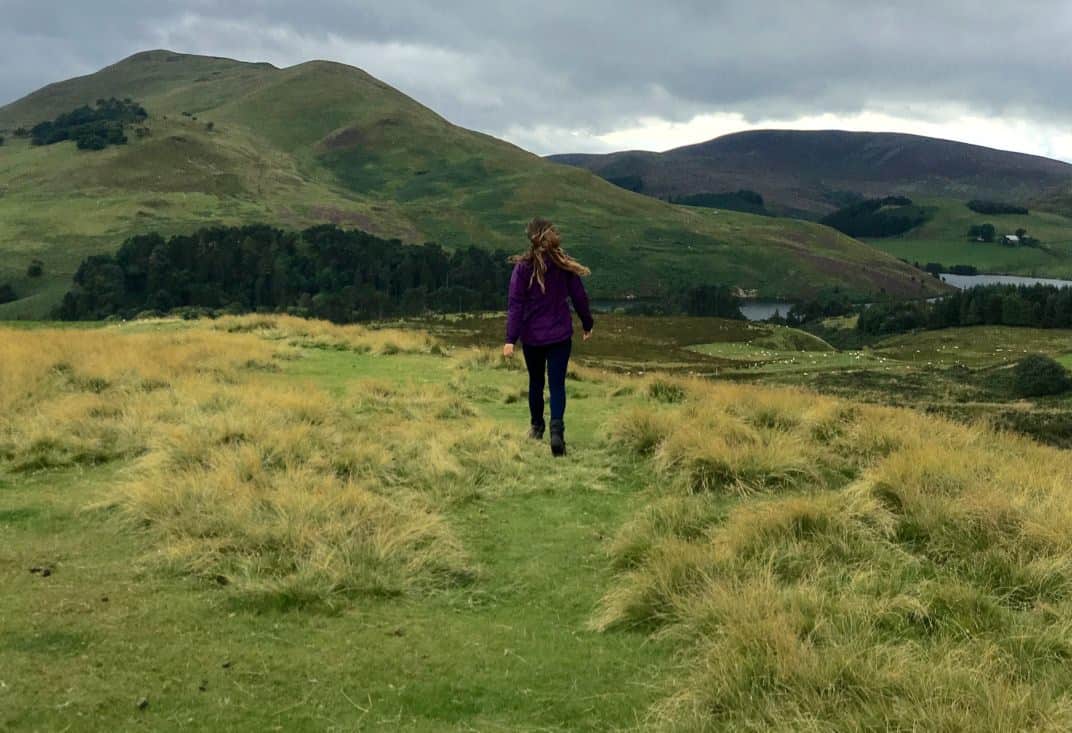 South Queensferry
Just west of Edinburgh on the shore of the Firth of Forth is the small town called South Queensferry. It's an easy train to bus ride from Edinburgh. From the shore you can view the Forth Bridge (the railway one), a feat of engineering finished in 1890. Pedestrians can walk across the Forth Road Bridge and there is a 3rd bridge currently being built to cope with the amount of traffic that comes in and out of Edinburgh every day.
You can also take boat cruises from South Queensferry out onto the Forth to see seals or stop off at an island to view Inchcolm Abbey.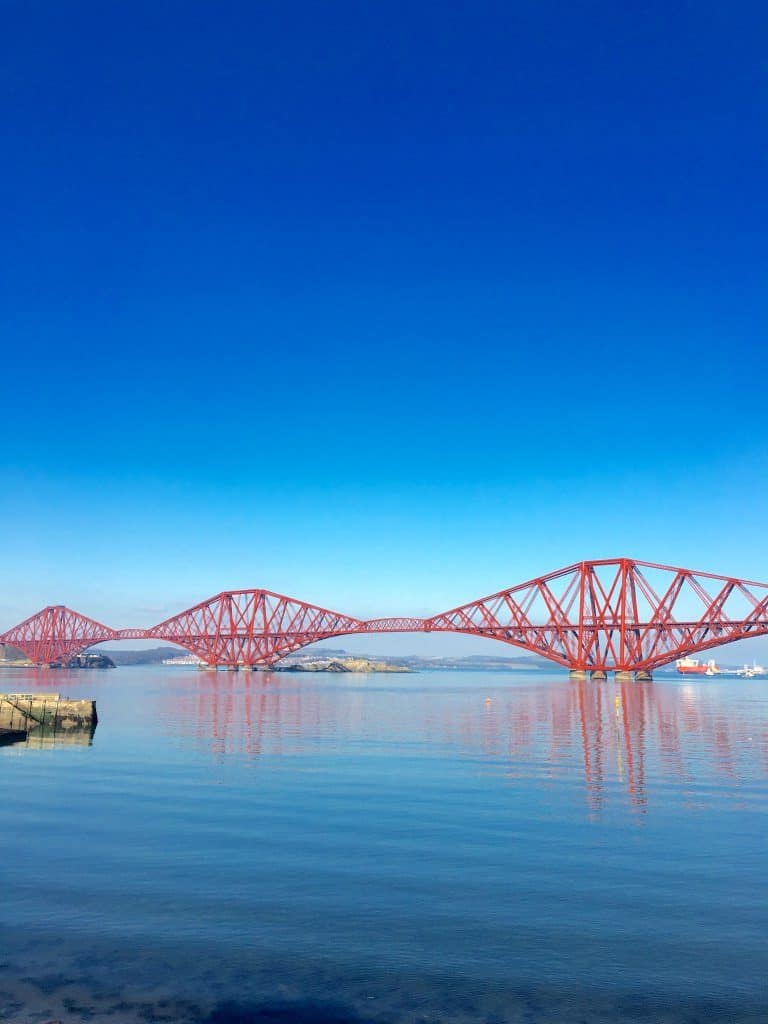 How to save some money on the not so free attractions in Edinburgh
If you're on a budget (and let's face it, who isn't?) there are a few different ways you can save money on entrance fees to Edinburgh attractions.
The Explorer Pass
The Explorer Pass gives you entry to 77 Historic Scotland attractions. It's £30 for a 3 day pass to be used over 5 days or £40 for a 7 day pass to use over 14 days, and you can enter multiple sites in one day. Unfortunately it doesn't include too many Edinburgh attractions, but if you want to visit Edinburgh Castle and Craigmillar Castle in one day it could work, or if you're heading further afield to Stirling Castle or Urquhart on the shores on Loch Ness on your Scotland trip.
Online Discounts
A few of the attractions, like the Edinburgh Dungeons, have discounts if you book ahead on their website. So make sure you check them out before you go!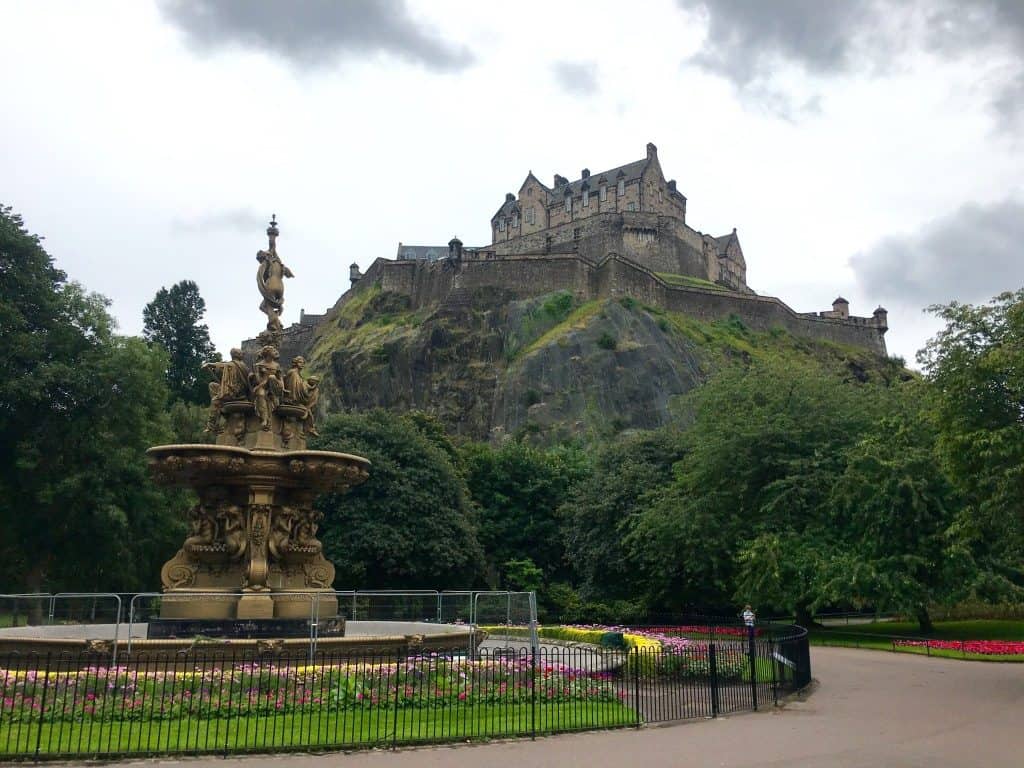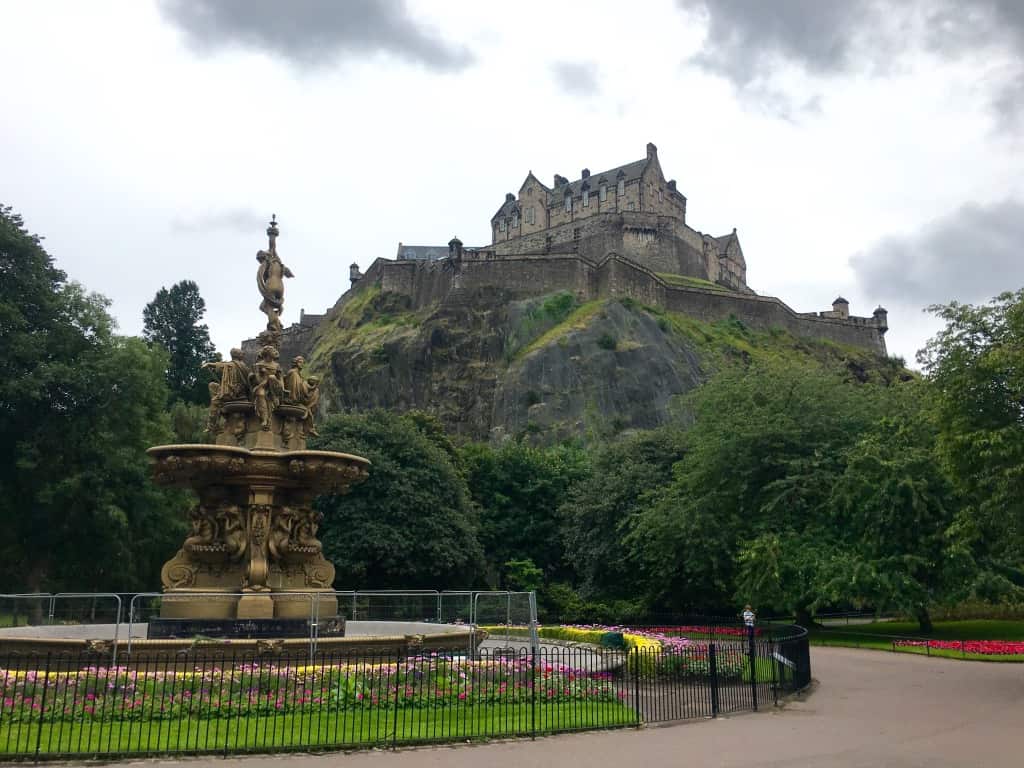 Have you visited any of these places, or are you planning a trip to Scotland?
Sonja x
If you liked it, pin it!
Thanks to Visit Scotland and Edinburgh Festivals for providing me with a pass and organising visits to Edinburgh Castle, Linlithgow Palace, Gilmerton Cove, The Real Mary King's Close, the Scotch Whisky Experience and Camera Obscura, and Rabbie's Tours for the City Tour. As always, all opinions are my own, don't expect anything less!