Looking for a Game of Thrones tour of Iceland, or want to create your own with a Game of Thrones locations in Iceland map? You've come to the right place!
Of all the places I've been that have featured in the series, Iceland might have to be my favourite. And I've been to a lot, by chance!
Dubrovnik in Croatia featured as Kings Landing, Giants Causeway and Dark Hedges in Northern Ireland, the medieval city of Girona in Spain and the Moorish Alcazaba further south in Almería – but Iceland is a whole other world.
I think it's because almost every corner you turn around, road you take, or stunning piece of scenery you come across in Iceland feels like it could have featured in Game of Thrones.
Travelling around the country is amazing anyway (although it can also be a little difficult in winter!) but if you're a Game of Thrones fan then you may want to know which particular beautiful parts of the country were used in the series.
I asked some other travel bloggers who have also travelled to Iceland to share their favourite Game of Thrones filming location so that you can tick them off your list as you drive around, or check out which ones you'll see on an Iceland Game of Thrones tour.
There's also a Game of Thrones Iceland map at the end of the post to help you out!
Dimmuborgir
By Jessica from Independent Travel Cats
Dimmuborgir, which roughly translates into English as "dark castles", is a large area in Northern Iceland of lava fields that have a lot of unusual geological formations.
Many of the dramatic rock pillars, crags, and collapsed lave tubes resemble castles, towers, and cathedrals.
Dimmuborgir is located near Lake Myvatn and is an easy place to visit by car or via a tour and you can access it just off the road. To really explore it though, you need to get out and explore on foot, and there are a number of walking and hiking paths (short and long) within this area.
It is a popular tourist attraction and is free to visit, making it great for those traveling to Iceland on a budget!
The Game of Thrones connection is that Dimmuborgir was featured in episodes during Season 3 as it was where Mance Rayder set up his army camp.
Many of the lava rock formations and arches are shown as part of the backdrop in these scenes. The scenes were shot during winter so the area is covered in snow so if you want the full effect from the film, you might want to visit in the winter months.
However, we'd recommend coming in summer for warmer weather and to better enjoy the area.
Grjótagjá
By Catherine D'Cruz from We Go With Kids
Grjótagjá is a small lava cave located in North Iceland near Lake Myvatn. We visited this filming location for an iconic (but not kid-friendly) scene with Jon Snow and Ygritte while exploring Lake Myvatn with our three kids in June 2017.
Grjótagjá is often considered a hidden or secret thermal spring but was labelled on the map we received from the Tourist Information Center.
There are two portals into the small lava cave that each have a thermal spring filled with blue water, and one was commonly used for swimming.
The cave is located on private property, but there was a nearby parking area and no charge to enter.
While all of the visitors were respectful during our visit, the caves were closed in July 2018 due to the inappropriate behavior of visitors who used the caves as bathrooms, washed shoes and dishes in the thermal springs and left trash.
This sad closure is a reminder to be careful to leave no trace when visiting any landmark, especially a sight graciously opened to the public by private landowners.
Thingvellir National Park
By Laurence from Finding the Universe
Thingvellir, or Þingvellir, is a must-visit in Iceland, even if you're not a Game of Thrones fan. Although fans will be rewarded with a wonderful location from the series as a bonus.
Thingvellir is a national park in Iceland, found on the famous Golden Circle driving route which takes in other highlights including Gulfoss waterfall and the Geysir geothermal park. It's a UNESCO listed site and is important for cultural and geological reasons.
From a cultural standpoint, Thingvellir was where the first Icelandic parliament meetings were held – from the 10th to 18th centuries!
From a geological point of view, the park straddles two major tectonic plates, North American and Eurasian tectonic plates, and you can actually see where these two plates are separating at various locations throughout the park.
One of these, Almannagjá gorge near Öxaráfoss waterfall featured as the Gates of the Moon – the path to the Eyrie and appeared in Season 1 and Season 4 of the show. Nearby, the famous scene where the Hound fights Brienne of Tarth can also be found.
In addition, when Arya left Westeros for Braavos, she sailed from lake Þingvellirvatn, also found in the park. Getting to Þingvellir is easy.
You can do it as a day trip from Reykjavik, either self-guided or on a tour. It's also included in many of Iceland's tours, and every Golden Circle tour will include it.
For tour ideas, take a look at our favourite guided group tours of Iceland.
Þórsmörk & Stakkholtsgjá
Þórsmörk is the landscape that Jon Snow and the Suicide Squad march across when they are going to try and catch a wight in Season 7.
The near silent canyon of Stakkholtsgjá near Þórsmörk features as the place where a group of wights are ambushed.
Svínafellsjökull Glacier
By Inma from A World to Travel
This iconic glacier tongue, the largest ice cap in the European continent, was first seen in Game of Thrones Season 2 as Beyond the Wall's snowy landscapes.
If you take the famous Ring Road for the ultimate Iceland road trip, you'll come across Svinafells glacier (jökull means ice cap) as this huge ice tongue is seen from it.
I was there at the beginning of June but it is possible to get there all year round. Just mind the weather beforehand, as you might know by now, it changes really fast in Iceland.
Whether you take a guided walk to recreate the footsteps of The Dark Crusaders – beginners welcome from May to September – on the surface of this outlet glacier part of the Skaftafell Nature Reserve that comes from Vatnajokull, or simply want to admire it close enough to feel its awesomeness without getting wet or stepping into ice; a visit is highly recommended.
Svínafellsjökull isn't the only glacier to be used in Game of Thrones of course, with Vatnajökull Glacier featuring as a behind the wall in season 2.
Black Sand Beach at Vik
By Constance from The Adventures of Panda Bear
Eastwatch-by-the-Sea is mentioned throughout the Game of Thrones series but doesn't actually make an appearance until Season 7, Episode 5.
Eastwatch was close to where the Night King was last seen. It is also where Jon Snow and his team of Wight Hunters dock their boat to begin their trek to find a wight walker and bring it back to King's Landing.
The black sand beach (Reynisfjara Beach) in Vik is the filming location for the beach near Eastwatch-by-the-Sea. This beautiful black sand beach is located on the southern coast of Iceland.
It is known for its geometric basalt columns and the Reynisdraga rock pillars seemingly coming out from the middle of the Atlantic Ocean. The beach is full of smooth dark gravel and is beautiful no matter the season.
During the winter it's even covered with snow and in the summer, seabirds nest on the stacks. Between May and August, you can spot cute puffins, guillemots, and fulmars.
Reynisfjara Beach is approximately 112 miles from Reykjavik and the drive takes roughly two and a half hours on the Ring Road.
You can easily visit just the beach in half a day or spend an entire day taking in and seeing all the must-see sights along the Ring Road.
Mytvan
By Karen from Wanderlustingk
If you're a fan of Game of Thrones, you should try to visit Myvatn.
This stunning lake-side town is home to beautiful hot springs, perfect for a dip, and a few Game of Thrones attractions.
The area around Lake Myvatn was used for the filming location where the Night's Watchmen are attacked by white walkers.
Honestly, in winter, it's tougher to find the right spot as the whole landscape feels straight out of Game of Thrones.
The snow-covered landscape with the black rock jutting out will transport you straight to North of the Wall.
Notably so, the cave where Jon Snow and Ygrette supposedly had their first romantic encounter is also near here, however, the owners recently closed Grjótagjá cave off to the public after it was routinely abused. The actors did not actually film here as the water is too hot to enter.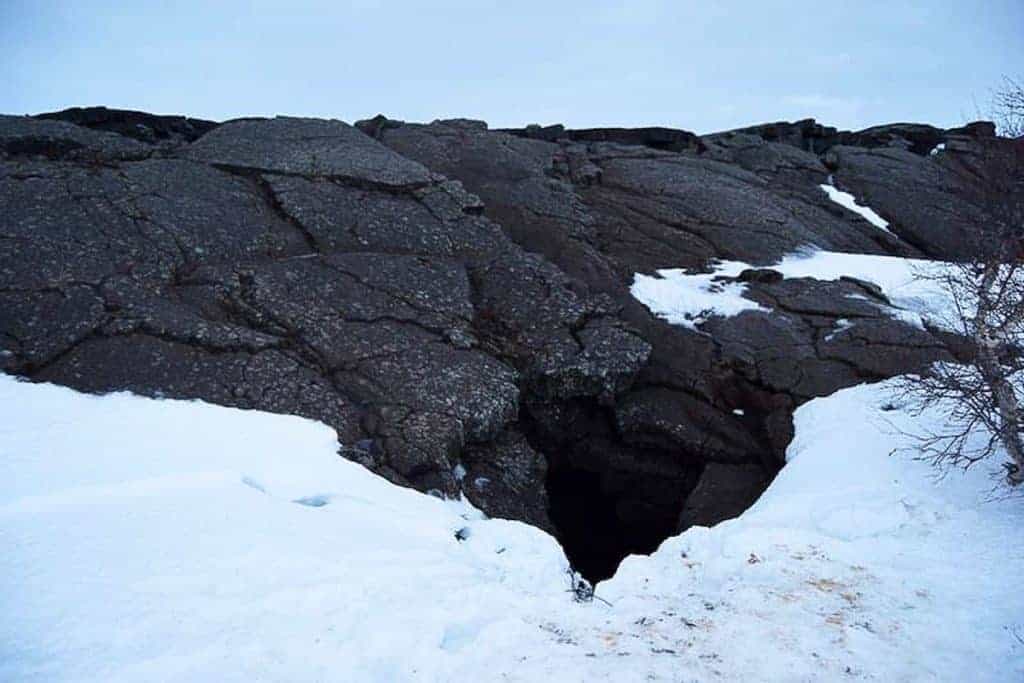 Hverir
Hverir is another Game of Thrones location close to Myvtan. The geothermal mud flats are east of Lake Myvtan and the numerous steam vents were used to give the appearance of a thick blizzard that Sam wanders through in Season 3.
You can (carefully!) walk through the landscape yourself and see how it looks like you're standing in a snowstorm. But be warned there is a strong smell of sulfur! Which if you don't know, is a bit like rotten eggs…
Fjaðrárgljúfur
By Victoria from Follow Me Away
Fjaðrárgljúfur Canyon is one of the Game of Thrones filming location in Iceland that is easy and accessible to visit on your own! Located about an hour from Vik on the south coast, Fjaðrárgljúfur Canyon is less than 15 min from the Ring Road.
The canyon was a prominent part of Season 6 as beyond the wall and where Jon Snow fought the night king and his army.
You can walk along the bottom of the canyon or climb up the side and walk around the canyon for some of the best views!
It is easy to drive to and you don't need a 4×4 vehicle. It is a lesser known and wonderful location to visit during a trip to Iceland.
Mýrdalsjökull Glacier
Iceland first featured as a Game of Thrones filming location in Season 2, as the snowy and harsh landscape beyond the wall. Mýrdalsjökull Glacier features earlier on in Game of Thrones in Season 2 as the Fist of the First Men.
Guided ice cave tours are a popular winter tour in Iceland and it's now possible to do them at the glacier.
Kirkjufell
By Alex from Swedish Nomad
Kirkjufell is one of the most photographed places in all of Iceland, and it has a certain mystical and dreamy vibe. So, no wonder that it was chosen as one of the Game of Thrones Filming locations.
It's easy to get to Kirkjufell on the Snæfellsnes Peninsula by rental car or a guided tour from Reykjavik. However, it's complicated to go there by public transport since it's a bit remote.
There are many beautiful places nearby Kirkjufell as well so a car or tour that includes them would be best.
It's the actual mountain that's called Kirkjufell but most people visit the Kirkjufell waterfall where you can get the iconic view of the mountain. I think the best view is from the falls anyway, and there's not really any fantastic view if you go closer.
Iceland is a vital part of Game of Thrones, and Kirkjufell was featured as a location in Season 7 of Game of Thrones.
The mountain is showcased from the scenes 'North beyond the Wall' when Jon Snow, The Hound and Jorah Mormont, amongst others, brave the wilderness in hopes of catching an undead wight.
Þórufoss
There are many stunning waterfalls in Iceland but if you want to spot one from Game of Thrones then you need to see Þórufoss.
Although Gullfoss was used as a scouting location for the series and filming has taken place there it has never been seen on the screen.
The area around Þórufoss is the countryside just outside of Meereen, and the waterfall is where Drogon eats the goat in Season 4.
Game of Thrones Iceland Map
From this, you can see that the Game of Thrones filming locations around Iceland are really spread apart!
That means if you want to see them all for yourself you'll need to do a self-guided Game of Thrones tour. But it's Iceland and road tripping is basically the best way to see the country!
If you don't have the time or don't want to drive then there are Guided Game of Thrones tours available. You won't be able to see everything of course but you can get a feel for the landscape and how it was used in the series.
I haven't included Grjótagjá as it is on private land and no longer open to the public. Also, note that Mýrdalsjökull Glacier looks like it's in the middle of nowhere because you'll need to take a guided tour!
Please note you shouldn't access Stakkholtsgjá in a rental vehicle, even a 4×4 as the road is difficult and there are river crossings. Take a bus tour instead that still allows you to hike the canyon or the bus to the Volcanic Huts and arrange with the driver to be picked up on the way back.
The best thing about travelling around Iceland as a Game of Thrones fan is that you're likely to stumble across a filming location without even trying, and even if you don't the landscape is so stunning and otherworldly that it'll feel like you have!
Have you ever travelled to see film or TV series locations? Sonja x
Planning your Iceland trip? Check out these posts:
If you liked it, pin it!