Iceland is an outdoor adventure paradise, and not just for hikers.
Much of the stunning scenery can be viewed simply by driving around the island, but if you want to get out amongst in it then finding the best hikes in Iceland is essential.
Luckily, there are so many opportunities for hiking that you'll be able to find everything from easier day hikes in Iceland to more difficult and challenging multi-day hikes.
With the help of some fellow travel bloggers, I've listed 21 epic hikes that you should consider for your next Iceland trip!
I last visited Iceland in November, which meant I had less chance of taking advantage of many of these awesome trails.
Although it's possible to hike in Iceland in winter, there are limits to the trails available, plus you need to have a lot more experience and take a LOT more caution.
The best time for hikers to visit Iceland is in the summer! Read on to find out about some of Iceland's best hiking trails, how to find them, how long they take, and when you should go.
Glymur Waterfall
By Laurence from Finding the Universe
Location: One hour's drive from Reykjavik in Hvalfjordur fjord in West Iceland
Length of hike: 7.5km round trip
Approximate time: 3-3.5 hours
Difficulty: Moderate
Season: All year to see the waterfall, although river crossing not recommended/possible in winter when log bridge is removed.
Glymur is one of my favourite hikes in Iceland. It's a fairly challenging hike that will take at least three hours, but the payoff is worth the effort.
Glymur is one of Iceland's highest waterfalls. Until 2011, it was thought to be Iceland's highest waterfall, but a retreating glacier revealed a higher waterfall. Still, it's pretty hard to get to the other waterfall, so Glymur remains as the highest waterfall you can get to.
The hike starts around an hours drive from Reykjavik, or a short distance off Iceland's ring road, where there's a large parking lot, and a trail map with signs and instructions.
Depending on when you visit, the trail will vary slightly, as the track goes along two sides of a river, and in winter the bridge to cross the river is removed.
Whilst you can do the hike in both summer and winter (I have done both), the best time of year is summer, as you really need to cross the river so you can get a good view of the waterfall.
Crossing the river involves wading through fairly fast-moving water, as well as navigating a lot, all whilst holding onto a wire for balance. It's fun, but not for the faint-hearted.
From the log bridge, the trail then rises steeply to the viewing point and includes sections where you have to use chains to pull yourself up.
As I said, this is a fairly challenging hike, but the views of Iceland's second highest waterfall make it worth it!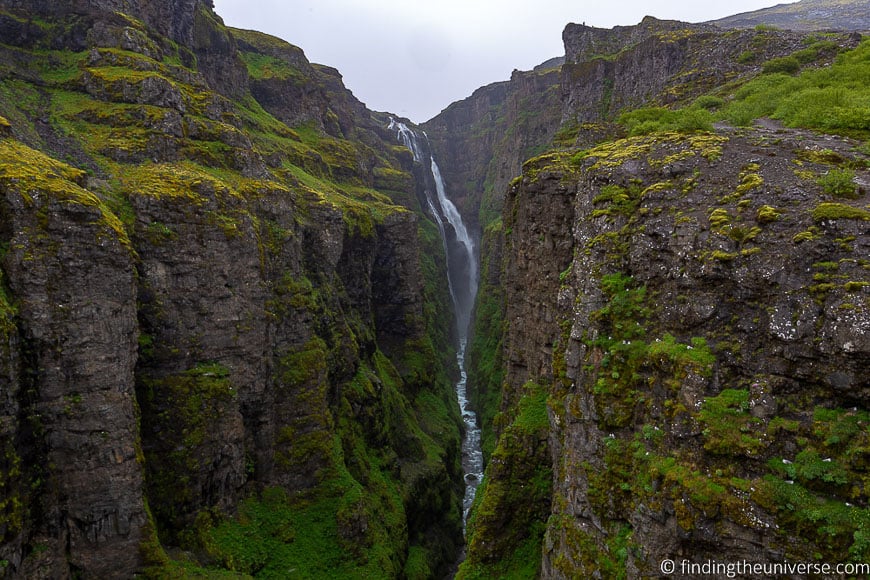 Svartifoss Waterfall/Sjónarnípa Trail
By Jurga from Full Suitcase
Location: Skaftafell National Park
Length of hike: 7.4km
Approximate time: 2.5 – 3 hours
Difficulty: Moderate
Season: In summer, although possible in winter depending on trail conditions and weather.
One of my all-time favourite hikes in Iceland is the hike Svartifoss waterfall and Sjonarnipa in Skaftafell National Park.
Svartifoss, aka 'Black Waterfall', is a well-known landmark and despite a rather steep climb, is really popular with tourists. However, this part of the hike isn't all that special and the only real highlight is the spectacular waterfall itself.
I strongly recommend to hike further and do the whole Svartifoss – Sjonarnipa trail.
Sjonarnipa means 'The Viewpoint' and what a view it is! But this hike is so much more than just the famous viewpoint at the end.
The scenery that you experience here is some of the best you can find in Iceland. Snow-capped mountains, views over the glacier on one side and the ocean on the other side. The phenomenal landscapes that you see here are well worth the hike.
We visited in November. Seeing half-frozen waterfalls and the beautiful landscape lit by the golden rays of the winter sun made it an even more special experience and worth adding to an Iceland itinerary at this time of year.
Eldfell Volcano
By Vanessa from Wanderlust Crew 
Location: Westman Islands
Length of hike: Around 3km round trip
Approximate time: 1.5 – 2 hours
Difficulty: Easy to Moderate, steep in parts
Season: Recommended in summer due to slippery paths and weather
Several miles off the south coast of Iceland lies the Westman Islands, or Vestmannaeyjar in Icelandic.
The most inhabited island, Heimaey is home to the now dormant Eldfell Volcano, which famously erupted in 1973, causing all of the inhabitants to quickly evacuate the island and resulted in the loss of many homes and the expansion of the island as well as a downsizing of the harbor, which was the lifeblood of the fishing community.
One of the best hikes in Iceland is to the top of Eldfell Volcano, the center of the eruption in 1973.
The island can easily be accessed on foot or car by a ferry which leaves twice a day during good weather.
After entering the harbor, take a stroll through the colorful town and into the base of the volcano where you can begin your hike. This is an easy to moderate climb, about 6 kilometers round trip.
The hike can be quite slippery at times so be sure to wear decent hiking shoes. Most of the terrain is composed of igneous rock, or dried lava and is like walking on loose gravel.
Once you reach the crest of the volcano the winds can pick up, so dress appropriately and be prepared to be blown away by the views and hopefully not the wind!
Be sure to visit the Eldheimar Museum on your way down to learn more about the eruption and its lasting effects on the community.
The museum is literally built around an excavated house that was buried by the eruption where you can see artifacts from everyday life preserved just as they were left in 1973.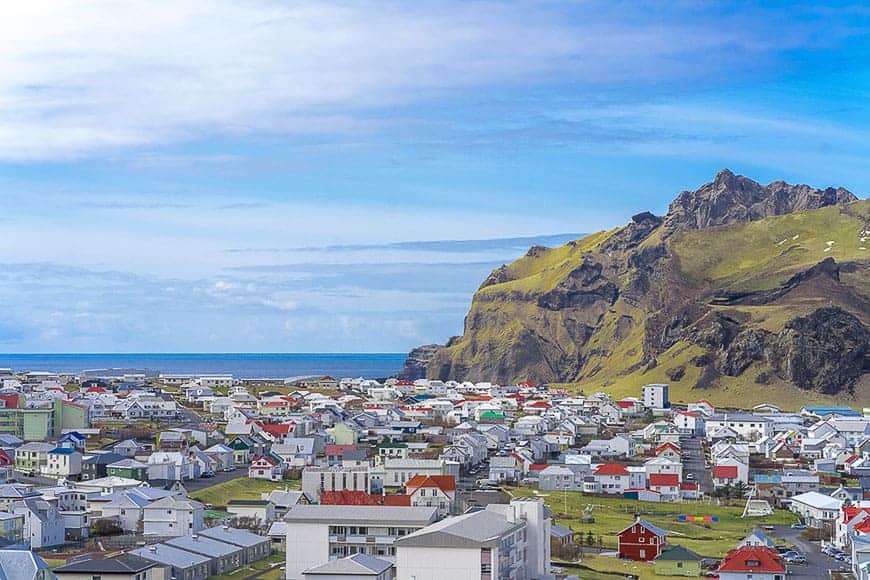 Djupavik Circle Route
By Inma from A World To Travel
Location: West Fjords
Length of hike: 5km
Approximate time: 2 hours (plus extra for photos!)
Difficulty: Easy, with some uphill sections
Season: Recommended in summer June until September
Just as some Icelandic destinations are swamped with tourists, some areas of the country still get rid of the invasion triggered by Instagram.
This is the case of Djupavik, a very small town (in fact 6 years ago only lived there a couple and their dog, Freja, who ran the only hotel in the place) with a lot of charm and perfect to discover on foot, alone, in company or with the ever-present elven community of the island.
To start, I recommend you take a look at the Djupavik circle route, not too difficult (although at first, you have to climb a little) but highly recommended for all lovers of Iceland adventures and landscapes.
Start the route behind the old herring factory to the top of the hills from where the magnificent Djúpavíkurfoss descends. Once up, the view is impressive and you can see the entire fjord, the abandoned factory, the stranded boat, and the neighboring peaks.
After enjoying it as long as you want (we were up there until 2 am, it was summer and there was visibility without the need for flashlights), the road continues down again towards the east; completing this circular route and ending in Djupavik again. Enjoy!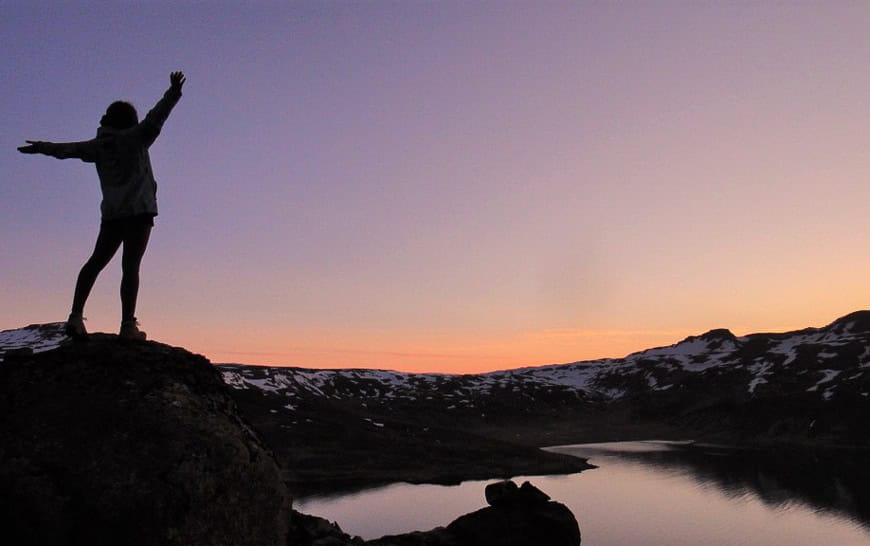 Brúarfoss
By Priya Vin from Outside Suburbia
Location: On the Golden Circle between Laugarvatn village and Geysir geothermal area. Please note the trail used to cross private property and it is now closed to the public. There is a new official parking lot and trail with a longer walk.
Length of hike: 7-8km return
Approximate time: 2-4 hours
Difficulty: Easy
Season: Recommended in summer only as it can be muddy and slippery
Most waterfalls in Iceland is off the ring road and are well marked but Bruarfoss is off the beaten path and a little difficult to get too. Brúarfoss translates to 'Bridge Falls' and is a relatively small waterfall compared to many of other Icelandic waterfalls.
Labelled as 'Iceland's Bluest Waterfall', it is one of Iceland's hidden gems. We spent an afternoon following up a stream, hiking through meadows and running into shaggy-haired Icelandic horses till we made it to waterfalls with a help of a couple of locals.
Brúarfoss is roughly one hour and twenty minutes east of Reykjavik. If you are doing Golden Circle, between Geysir and Þingvellir Park, take route 37.
Most directions to Bruarfoss point you through a neighborhood of summer homes, which is actually private property and you would be trespassing.
Instead of going into the summer house area, stop right before the 355 road, immediately after crossing the bridge. From here you will hike for about 3.5 km to get to Bruarfoss.
The hike took us about 4 hours in the summer with a lot of pauses for photos.
If you are going waterfall chasing in Iceland to find this secret water, just be mindful and respectful of the surroundings and the landowners nearby, and enjoy this hike and the beautiful Bruarfoss.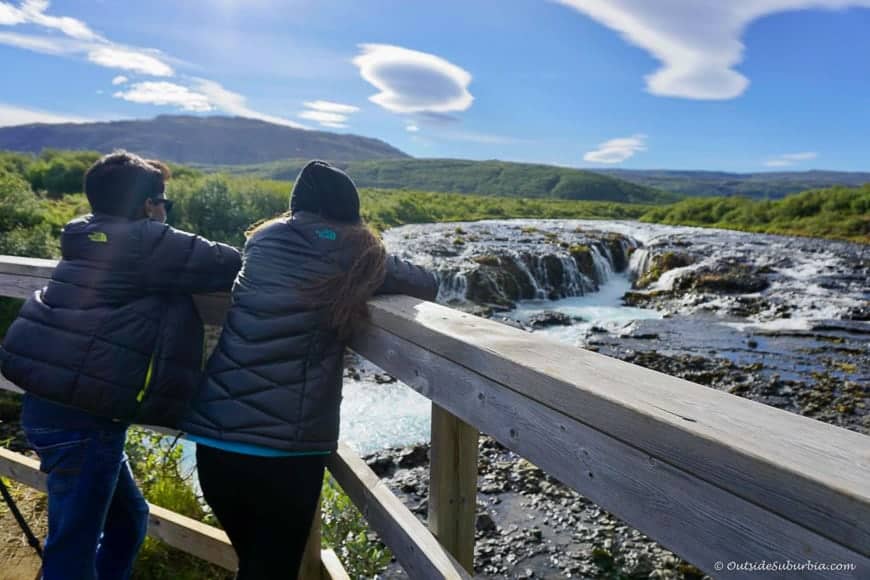 Sólheimasandur (DC Plane Crash)
By Kris from Nomad by Trade
Location: Southern Ring Road
Length of hike: 8km return
Approximate time: 2 hours return
Difficulty: Easy
Season: All year
In 1973, a US Navy DC-3 crash-landed on a remote black sand beach in Iceland. Fortunately, the crew survived otherwise this would feel a bit macabre.
After anything salvageable was removed from the plane's fuselage, it was left there amid a seemingly endless sea of black volcanic sand for tourists to visit.
You used to be able to drive almost to the wreckage, but after it spiked in popularity, the road was closed and visitors now must park in a lot just off the Ring Road in Southern Iceland and hike for around an hour. Be careful when crossing the Ring Road!
The good news is that the path there is easy to navigate. It's a smooth surface and marked off well so it would be very hard to accidentally lose your way.
Though there isn't any particularly notable scenery along the way, looking out at the rolling dunes of black sand in every direction is mesmerizing and makes you feel like you're on an alien planet.
Once you make it to the plane wreckage, you can climb on the wings, inside it, and even on top if you're feeling adventurous.
We visited on a grey, cloudy day that made our photos look like they were desaturated to black and white even though they were shot in full color, adding to the dramatic sight of the plane wreckage.
The parking lot for the trailhead is located along the Ring Road between Skogafoss and Vik. The round trip is 8 km and takes about two hours.
I'd plan on spending around half an hour at the wreckage depending on how crowded it is and how long you need to wait to take the pictures that you want. There is no cost to park or visit.
Öxarárfoss
By Samah from God and Wanderlust
Location: Þingvellir National Park
Length of hike: Less than 1 km
Approximate time: 10 minutes
Difficulty: Easy/Moderate. Easiest from the parking area on Road 36, coming from Reykjavik.
Season: Best between April and October
The drive to Þingvellir National Park is a straight narrow road ridden with sheep, surrounded by vastly barren, mountainous land. It's scenic, especially during sunset.
Google Maps points you to a dirt parking lot, off-road. From there it's a walk to a gate, which can easily be opened. The land is flat – you can see for miles on a clear day.
After the gate is a short hike down a steep rocky trail. Luckily the rocks are huge, so it's easy to find your footing.
After the steep climb down, the rocky trail continues – I went as it was getting dark and after it rained so it was very muddy and slippery – I recommend wearing good hiking boots.
The rocky trail comes to a halt as the boardwalk begins, where it's a short scenic walk to the Öxarárfoss – a large waterfall cascading down the black rocks.
The sight is well worth the 40-minute drive from Reykjavik and 10-minute hike to Öxarárfoss.
Depending on road conditions, the drive to Þingvellir National Park can be done during winter, however, the hike may be dangerous to do in the snow as there is a steep, rocky incline at the beginning. If you have good winter hiking gear, it may be possible.
Seljavallalaug Pool
By Paige from For the Love of Wanderlust
Location: Off the Ring Road on road 242 marked Raufarfell.
Length of hike: 3km return
Approximate time: 15-20 minutes each way
Difficulty: Easy with a small stream crossing
Season: All year but the pool is not very warm and care should be taken in winter with the right gear
One of my favorite hikes in Iceland is the hike to Seljavallalaug Pool. It's a natural geothermal-fed pool tucked into the foothills of the famous Eyjafjallajökull volcano.
It's located in the southern part of the island, very close to Skogafoss waterfall. You'll find the road to Seljavallalaug pool just off the Ring Road.
It's a small gravel road and you'll see small homemade signs that simply say Seljavallalaug. From the parking area, it's a quick 1 mile hike each way.
This trail leads you to the oldest manmade pool in all of Iceland. I love a hike with a big reward at the end. Usually, a view is a big enough reward for me, but getting to take a nice little soak in a geothermal pool while looking at a fantastic landscape is an even greater reward!
The hike to Seljavallalaug is pretty flat, so it would definitely be doable in any season. We did it in the summer, but I've heard that the water can be a bit chilly in the winter, and even if it doesn't freeze, it's not as hot as other geothermal pools and springs around the island. It's a definite must-hike for any trip to Iceland, even if you don't swim.
Note from Sonja: Seljavallalaug Pool is maintained by a group of volunteers. Please be respectful of the pool and the surroundings to preserve it for future use. Don't consume alcohol and keep the area clean. There can also be algae in the pool.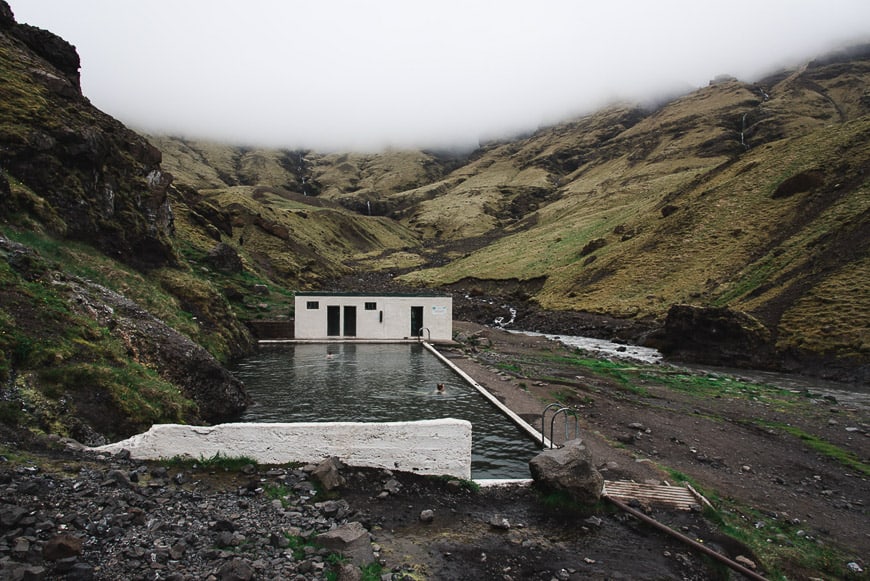 Dynjandi Waterfall
By Patrick from Adventographer
Location: West Fjords
Length of hike: 1km
Approximate time: 15 minutes
Difficulty: Easy but uphill
Season: All year
Iceland's West Fjords are home to more than just isolated villages and rugged coastlines.
Dynjandi, considered by many to be the most impressive waterfall in Iceland (and the biggest in the West Fjords) is one destination that needs to be on every tourist's list!
The short but strenuous hike to the base of the falls provides an impressive look into the powerful forces of nature at work in Iceland and leaves you with a sense of bewilderment.
Assessable year round this short 1km trail begins at the Dynjandi parking lot just off of route 60 and with recently completed trail work is now quite well maintained.
While the view is decent from the parking lot, the effort expended to reach the top really does pay off… Besides, when you're done you can check out one of Iceland's hotsprings to soak your achy muscles!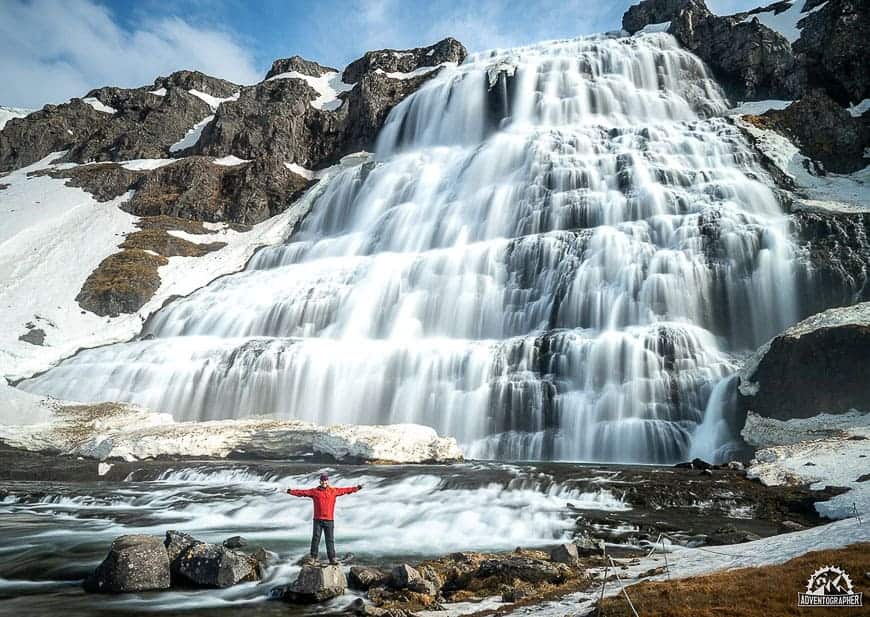 Svinafellsjökull Glacier Hike
By Christine from Christine Abroad
Location: Southeast Iceland
Approximate time: 3-4 hours dependent on season, with 2-3 hours on the ice.
Difficulty: Easy/Moderate but you need a guide
Season: All year weather dependent
Svinafellsjökull is one of the best places in Iceland for Glacier Walking. If you're going to Jokulsarlon this is a great stop before as it's just 50 minutes from the famous Glacier Lagoon.
I recommend to join one of the guided tours that are offered by various companies. Most of them have a starting point at Skaftafell Visitor Center where you get geared up and have some safety information before you jump into a car and drive a few minutes away to the starting point to Svinafellsjökull.
It's a fairly easy walk if you're in good health and you don't need any specific skills as long as you're accompanied by a professional guide.
I went with Mountainguides.is and I can heartily recommend them. However, it's good to know that it can be potentially dangerous if you walk on your own.
At the glacier, you could walk into holes covered by snow with falls of several meters down into the glacier. But don't worry, the guides are experienced and always walk first, so just follow their steps and you will be fine and have an amazing Glacier Walking experience.
The highlight when we went in March was when we roped our way down into an ice crevasse where I was able to touch a huge ice block.
We also went down into some canyons and walked on top of the Glacier of Svinafellsjökull.
At this particular Glacier, you will recognize the mountain top which has been featured in the popular movie Interstellar and the TV series Game of Thrones.
You can go Glacier walking both during summer, spring, autumn, and winter, but I really recommend spring as you will be able to walk down into ice crevasses before the ice starts to melt too much, and the weather will also be a lot nicer.
If you come here during summer, it's also spectacular and worth the visit. Also, don't worry about bringing gear if you join a guided tour. They have everything, and if you need hiking boots, you can rent this as well if you give them notice beforehand.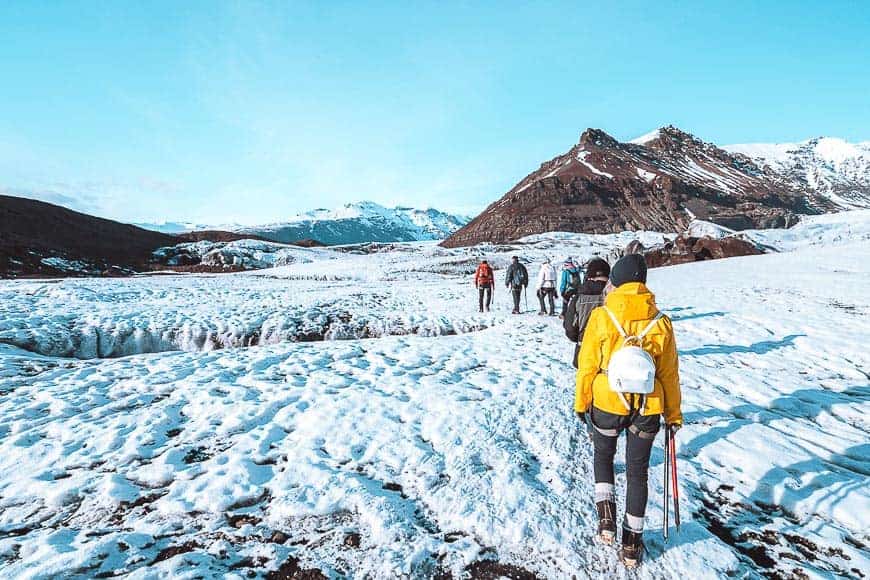 Skógar to Þórsmörk (Fimmvörðuháls Trail)
By Kaila from Nylon Pink
Location: Southern Iceland, off the Ring Road
Length of hike: 25km
Approximate time: 8-12 hours
Difficulty: Moderate/Challenging depending on weather and whether you split into two days
Season: Mid-June to mid-September, only when the buses run.
This gorgeous trail is located in the south of Iceland and is an absolute must for any hiking enthusiast. Also known as Fimmvörðuháls, the trail takes you between two huge glaciers and also past volcanoes and waterfalls.
Due to its location between the glaciers, the trail is only accessible during the summer months (June-September).
It goes on for 25 kilometers (15.5 miles) and can either be done in one stretch (8-12 hours), or hikers can spend the night in the Fimmvörðuháls cottage and split the trip in two. The price for using the cottage is 6,500 ISK per person, which is roughly €50 or $60.
Alternatively, if you have your own camping gear, putting up a tent just outside on the mountaintop is definitely an option as well.
As well as the two amazing glaciers, you'll see the newly formed volcanic mountains Magni and Móði, which came to be during Eyjafjallajokull's eruption in 2010.
To stand on these lands, which few have stood on before, and still feel the heat of the lava under the earth is a truly unique experience that should be on every hiker's bucket list.
Remember to dress in layers, as the weather can change quickly!
Laugavegur Trek
Location: Can start at Landmannalaugar, Skógar, or Þórsmörk
Length of hike: 55km
Approximate time: 3-5 days
Difficulty: Moderate. Suitable for most hikers with some demanding areas.
Season: Mid-June to mid-September, only when the buses run.
The above Skógar to Þórsmörk hike can also be extended into an approximately 3-5 day hike known as the Laugavegur Trail. It is the most well-known multi-day hike in Iceland and rated by National Geographic as one of the best hikes in the world.
You can actually start the trek in Landmannalaugar and end at Þórsmörk, with the hike to Skogar added on the end if you like!
There are huts along the hike that book out quickly, so you can also camp. Some people hike in and spend more than one night at a hut in order to explore the area surrounding it more thoroughly, and especially at Landmannalaugar where there is the only hot spring along the route.
The roads to the hike are open from around mid-late June until sometime in September, depending on the snow. The track crosses the orange mountains of Landmannalaugar, black sand, rivers, and snowfields.
Mount Esja
Location: 10km north of Reykjavik
Length of hike: 7km
Approximate time: 2-4 hours
Difficulty: Easy to Moderate
Season: Warmer months only. It is possible to reach the Steinn in winter with the right weather, equipment, and experience.
Mount Esja, also called Esjan, is a great option if you're looking for an easy hike in Iceland. It can be done within a half day trip from Reykjavik.
When you're in the city and look across the water it's the mountain you can see! There are two options – an easier, less steep trail or steeper trail!
The goal is to reach the Steinn, a large stone, but you can continue on to the top as well.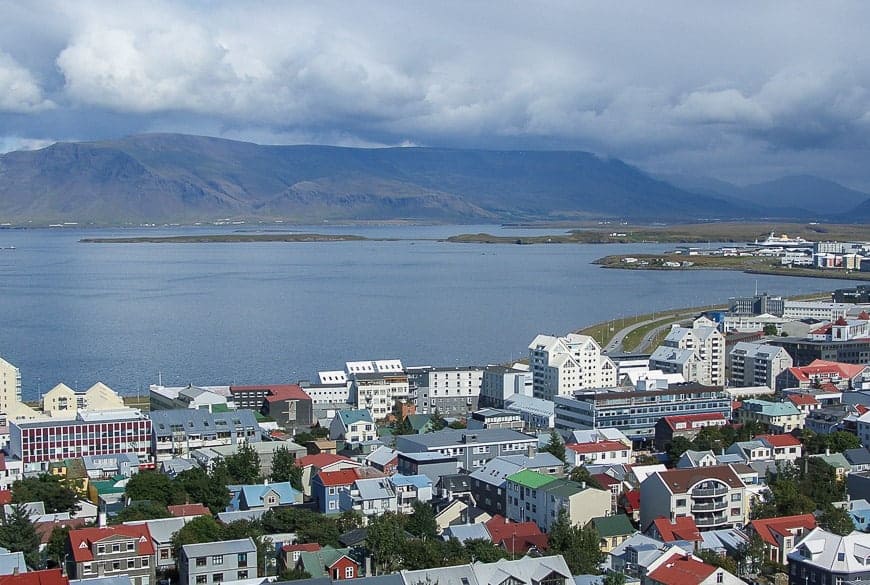 Fjaðrárgljúfur Canyon
By Emily from Kids and Compass
Location: Southern Ring Road
Length of hike: 2km
Approximate time: 1 hour
Difficulty: Easy
Season: Possible to access in winter although the road is not always cleared
Fjaðrárgljúfur is a small canyon found along the south coast of Iceland, not far from the town of Kirkjubæjarklaustur. It's easy to find as it lies just off the ring road and can be reached with a 2WD.
The canyon was carved from the bedrock by glaciers and water flowing over it, and a small stream still runs through the canyon today. It's quite shallow and so you can easily wade quite far up the canyon, although it gets deeper the further in you walk and there's a waterfall at the far end.
Fjaðrárgljúfur is a slash in a grassy field from the top. The hike alongside it is an easy walk; the canyon is about a mile long and the paths are well worn. You don't need any equipment for this hike, just a pair of walking shoes.
The views from the path are fantastic though, and when you reach the far end there's a viewing platform which lets you peer all the way through to the canyon's mouth. You also get a great close-up look at the waterfall.
As with many places in the south of Iceland, Fjaðrárgljúfur is becoming more and more popular. When we visited the edge of the canyon was roped off in parts to protect the environment, although it wasn't very crowded.
However it was still one of our favourite sights in Iceland, and a great stop along the ring road to stretch our legs!
Hornstrandir Nature Reserve
Location: Only reachable by boat from Ísafjörður
Length of hike: Various
Approximate time: Various
Difficulty: Challenging due to location, trails, and needing to carry a lot of gear. GPS recommended and experience with maps and a compass.
Season: June/July
Located in the northernmost part of the West Fjords, the Hornstrandir Nature Reserve is full of beautiful natural scenery. There are several hiking options, although it is only really accessible from mid June to the end of July.
You can choose to take guided hiking tours that range from one day to 8 days, or go it on your own from 4 to 6 days.
There is no reception in the reserve and boats can sometimes be delayed so it's always advisable to carry extra provisions.
For ferry schedules check West Tours and Borea Adventures.
Reykjadalur Valley
By Elisa from World in Paris
Location: Hveragerði
Length of hike: 7km return
Approximate time: 1.5-2 hours return (plus time for bathing)
Difficulty: Easy/Moderate
Season: Not recommended in winter due to the trail and the water temperature
Reykjadalur Valley is a nice area to explore in Southwest Iceland. It is a highly active geothermal area with lava fields and natural steaming vents.
In Reykjadalur there is a hot river where you can bath in and which is reached through an easy, 3 km hike.
I am used to walking long distances but in a country which sees all the seasons in one single day, I don't mind being not far from the car park when it starts raining hard!
The hike up to the river starts from the parking lot just in front of a restaurant called Dalakaffi. You will walk through the Reykjadalur hot steam valley and it will take about 45 minutes, more if you stop every 5 minutes (like I did) to take pictures.
On the first part of the trail, there are several hot springs and mud pools to the left. There are warning panels everywhere to stick to marked paths if you don't want to grill your feet so it is funny to see all the goats wandering around fearless.
The hike finishes at the hot river, a popular spot amongst locals and tourists so you won't be alone.
However, the river is long so there is space for everybody. I don't think this trail is closed during the low season but if you want to have a bath, you want to do the hike during the summer when the temperatures are nice.
You don't need special gear to do the hike, just bring your swimsuit and a light towel for the bath.
Arnarstapi to Hellnar
Location: Snaefellsnes Peninsula
Length of hike: Approx 2.5km or 5km round trip.
Approximate time: 30 minutes one way or 1 hour return
Difficulty: Easy (flat)
Season: Recommended in summer due to the trail
While it is possible the visit the Snaefellsnes Peninsula in a long day from Reykjavik, spending more time there gives you the opportunity to explore more of the sites and the hiking trails.
One of these is the walk between the villages of Arnarstapi and Hellnar. It follows the coastline, crosses a natural rock bridge called Gatklettur arch, and also a lava field.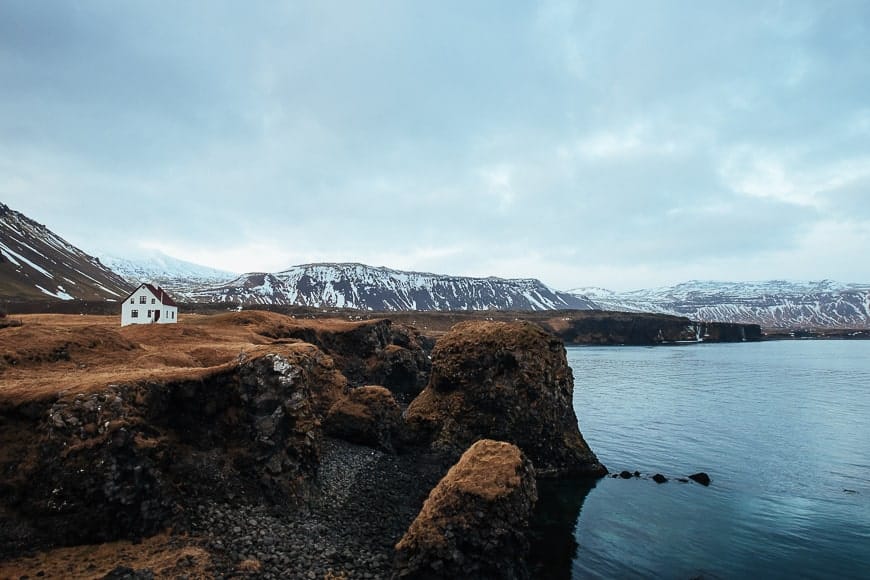 The Seljalandsfoss Trail
Location: Seljalandfoss off the southern Ring Road
Length of hike: Less than 1km
Difficulty: Easy
Season: All year
This is more of a walk than a hike, but it makes it more accessible and one of the walks on the Ring Road in Iceland that everyone can have a go at, weather dependent.
Once you reach the waterfall just a short distance from the parking lot, the track splits into two. One takes you up behind Seljalandsfoss, and it's amazing to see the waterfall from behind! Note this will be closed in the winter due to ice, and although we saw a lot of people attempting it anyway I certainly wouldn't want to slip and fall in!
The second part of the trail goes across the river (joining up with the behind the waterfall trail) and continues along until you reach another small river/stream, where you can hear the thundering of a waterfall behind the rocks.
Take a peak through the gap and you'll see Gljúfurárfoss! It is possible to go through the split in the rocks to see the waterfall close up if you are wearing waterproof boots and the water level isn't too high.
Hverfjall Crater Rim Trail
Location: On the road south of Lake Myvatn there is a turn off. Drive 5 minutes long a gravel road to a parking lot.
Length of hike: 1.3km
Approximate time: 1.30-2 hours
Difficulty: Easy/Moderate
Season: Approximately June to September, due to issues reaching the parking lot
The Hverfjall Crater is thought to be about 2800-2900 years old. It was formed by a volcanic explosion and is almost a perfect circle, measuring 1 kilometre in diameter and 140 metres deep.
It is a steep climb of about 15 minutes from the parking lot to the top of the crater rim. If you want to walk around the entire outside it will take approximately 1 hour 30 minutes, and then back down to the parking lot again.
Alternatively, you can just walk part way around to the highest part for the views of the crater and the surrounding colourful landscape.
Námafjall Mountain Hike
Location: Mývatn
Length of hike: 2.4km
Approximate time: 1-2 hours
Difficulty: Challenging due to the trail
Season: June to September
On the east side of Lake Mývatn is the Námafjall Geothermal Area, also known as Hverir. It contains smoking holes and boiling mud pools, and was used as a Game of Thrones filming location.
There is also a hiking trail up Námafjall mountain, one on the left and one on the right closest to the road, which it's recommended to take because it's less steep.
The trail can also be very lose due to the dirt and rocks. Walking up Námafjall Mountain is a bit like being on Mars!
Hvannadalshnúkur Trek
Location: Vatnajökull National Park
Length of hike: 24km
Approximate time: 12 – 14 hours
Difficulty: Challenging
Season: April to August
If you have experience and are looking for a really challenging hike in Iceland, then consider the Hvannadalshnúkur Trek, climbing the highest peak in Iceland at 2110 metres (6923 ft).
The panoramic views from Iceland's highest mountain are like no other, but you will need to trek over difficult terrain to get there, including across ice bridges and up very steep terrain.
You need a guide due to the fact you'll be hiking over a glacier and there are crevasses and parts to avoid.
Hengifoss Hike
Location: East Iceland
Length of hike: 5.4km return
Approximate time: 1.5 – 2 hours
Difficulty: Moderate
Season: Possible all year but extreme caution should be taken in winter due to falling ice from the surrounding cliffs.
Hengifoss is one of the tallest waterfalls in Iceland, at 128 metres high. It is striking because of the surrounding red and black cliffs.
The first part of the trail leads to Lítanesfoss, another beautiful waterfall worth stopping to see before you continue on uphill to Hengifoss.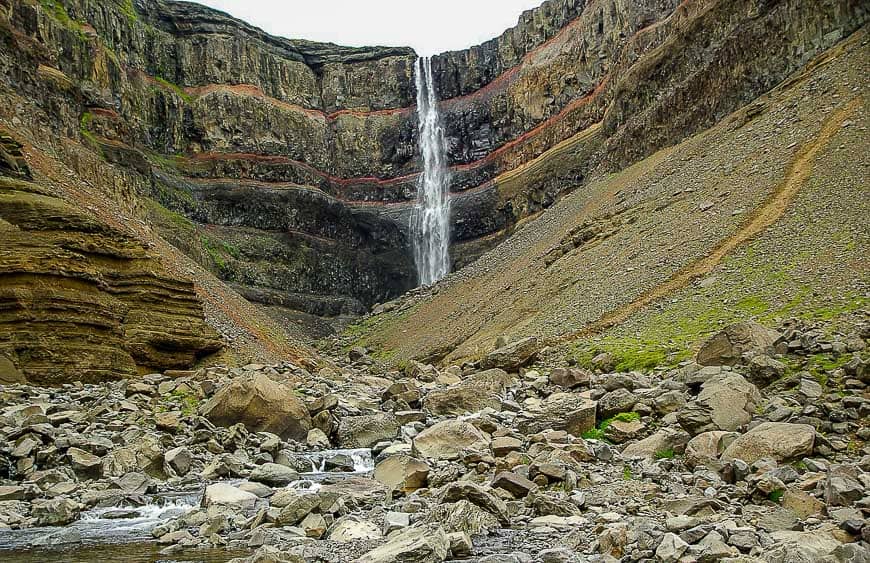 Tips for hiking in Iceland
You'll notice that most of these hikes are best done during the summer/warmer months, so if you're planning a hiking trip in Iceland then it would be best to visit between June and September.
However, some of them are available to walk during winter, if you have the right gear and take the right precautions!
You should always check the weather forecast, particularly for a longer hike, and you can also stop into information centres to ask the conditions of the trail.
Coming from New Zealand I have seen many instances where unprepared hikers have ended up needing rescuing, or worse. It's a similar situation in Iceland the elements can't be underestimated!
Weather
The weather in Iceland is unpredictable at the best of times, especially during the winter but even during the summer!
This means that you need to be prepared for all conditions and to keep a close eye on the forecast. If in doubt, it's better not to set out.
Guided hikes
Consider a guided hike if you're not very experienced or for peace of mind.
While it's possible to do many of the above without a guide, you can also learn a lot from a local and enhance your experience. Not to mention your safety.
Public transport
It is possible to take public transport to many of the track starts, especially the Laugavegur Trek. Check out timetables and how to meet the bus when you finish BEFORE you set out.
Camping and huts
Iceland has several huts along longer trails where you can pay to stay, or to camp and use the facilities.
These are owned by different companies so look into what is available on your chosen trail to see what works best for you. Here a couple of the companies:
Always let people know where you will be
This is a worldwide rule of hiking, and Iceland is no different. You should always let someone know where you will be and when to expect to hear from you next, so they can raise the alarm at the earliest possible time if you don't make contact.
Obviously, on many of the shorter, popular Iceland hiking trails, this isn't strictly necessary, but for any long treks and multi-day excursions, you should.
Snacks and water bottle
Take snacks and a water bottle with you on all hikes.
Iceland isn't short of water and you'll often have the opportunity to refill your water bottle too, but check if you're doing a longer hike how much you'll need.
Proper gear for hiking in Iceland
Even in the summer months, you should make sure you have the proper gear with you for any hikes. This includes waterproofs!
Comfortable, broken-in hiking boots
A comfortable, well-fitting backpack
Waterproof pack cover
Trekking poles (preference)
Crampons (preference/condition dependent)
Waterproof jacket and pants
Woollen socks
Gloves
Hat
Water bottle or Camelbak
Sleeping bag and headlamp for overnight
Hiking in Iceland can be an epic adventure, with some of the most amazing scenery in the world. So pick the right trail for you, take the right gear, and prepare for the trip of a lifetime!
Planning your Iceland trip? Check out these posts:
Sonja x
If you liked it, pin it!