"Down in the channel is the Devil's Pulpit… a long flight of stairs leads to the channel, and when you are there you feel remote from the world. Only the moon is required to produce the most weird and awesome effect."

– The Campsies and the Land of Lennox, Iain C Lees, 1933.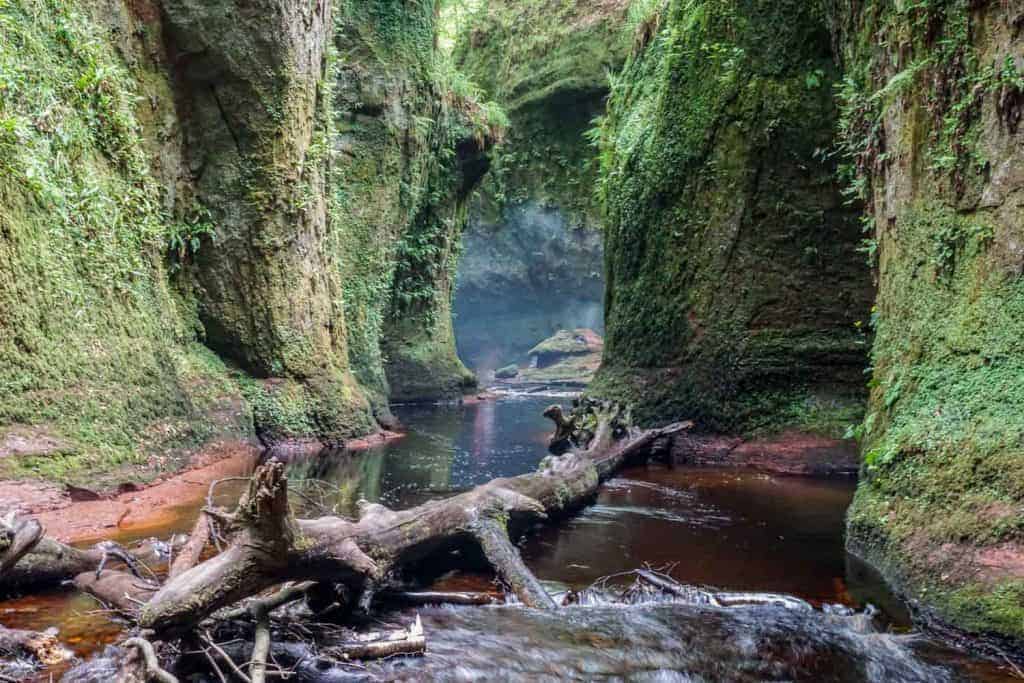 Visiting Scotland and looking for some hidden gems or secret places? Well, I have an awesome one for you!
Thanks to the Devil's Pulpit and Finnich Glen being an Outlander filming location, it may not be as hidden as it once was, but it's still a great place to visit on any Scotland trip, and it's still a bit of a mission if you want to know how to find the Devil's Pulpit…
But what exactly am I talking about?
What are the Devil's Pulpit and Finnich Glen?
Finnich Glen is a steep glen near Drymen, north of Glasgow, and the Devil's Pulpit is a particular stone or rock within the glen, although sometimes you'll see the whole thing called the Devil's Pulpit. Confused yet?
I'm going to call it by both names interchangeably since people seem to use either since they're trying to find both at the same time, and even call it Glen Finnich!
Whatever it's called, Finnich Glen and the Devils Pulpit is a stunning place to explore in Scotland. You'll need to have a car to get there and it's a bit of a mission to find, and get down to, but well worth it.
With no signposts or public paths and a perilously steep stone step entrance, the Devil's Pulpit is one of Scotland's best not-so-secret secrets.
Finding the location of Finnich Glen without any of the usual methods makes you feel like an adventurer of old or a kid in the Famous Five at least. Although it's on Google Maps these days, you still need to know exactly where to park safely and then how to find the path to get to the stairs at the top of Finnich Glen.
Can you see yet why this beautiful natural spot is considered by some to be a hidden gem of Scotland?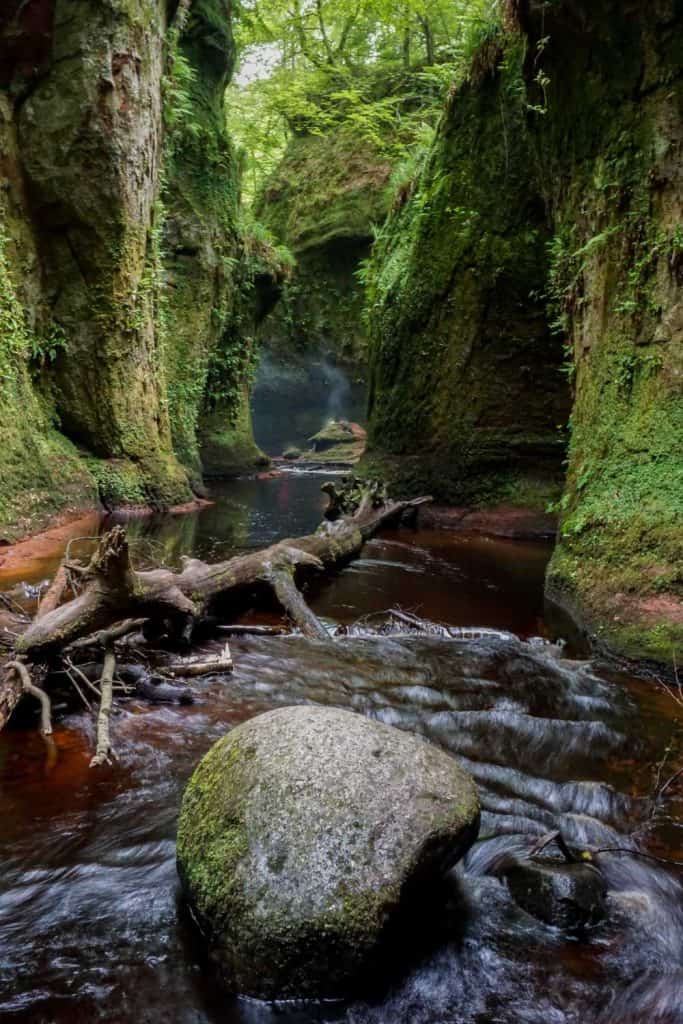 Why would you want to visit Finnich Glen?
Finnich Glen has long evoked awe and more than a little wariness.
The steep moss-covered 100 ft walls on their side and water the colour of rust made the locals of old think of the Devil, hence the Devil's Pulpit.
Legend has it that at one time, druids met here, and Satan himself may have even preached here. Hmmm…
In any case, it's a beautiful location, and it feels like a real adventure to reach it. Both are things many people want to have on their travels around Scotland!
Some of the reasons for the increased popularity of the Devil's Pulpit walk is that it was used as a film location in the Outlander TV Series.
In episode 6 of season 1, the glen is used as the location of the truth-forcing spring, where Claire drinks the water. I have to say I'm not sure I would, given its colour! The colour is due to the water running through peat as it flows down to the glen, not because it's dirty, but it's a little off-putting.
It's also been a filming location for Outlaw King, and I'm sure it'll be used again in future, making it even more popular.
As more people have visited, thanks to it being featured in film and on television, more pictures have spread across social media, making it a much more popular destination.
Devil's Pulpit definitely isn't the "secret" it used to be! It's likely you'll meet other adventurous souls on your journey there unless you visit on a weekday when the weather isn't so good.
The trouble is when things get really busy, and there are no car parks left… but I'll get to that.
How to get to the Devil's Pulpit and Finnich Glen, Scotland
Finnich Glen, Scotland Map Coordinates: 56°02'01.6"N 4°25'51.4"W
PLEASE NOTE: Finnich Glen has been closed at times due to the number of people parking dangerously nearby. There is only a very small area to park and you need to walk along the side of the road to reach the entrance to the glen. In order to keep Finnich Glen open and a free and wonderful place for everyone, please plan carefully.
Be aware you might need to skip your visit if the car park is full
Don't plan to go after heavy rain
Wear appropriate footwear for the slippery stairs
Take out what you take in with you. Rubbish has also recently been found in the glen, which isn't nice for anyone.
Be aware there are no facilities nearby.
You won't normally find a Finnich Glen map or postcode, so using the above coordinates is best if you have a GPS. You can see it on Google Maps now but this is the most accurate way to get to the location.
The Devil's Pulpit is just 30 minutes from Glasgow or 1 hour 35 from Edinburgh by car.
If you're lucky, you may be able to park by the bridge nearest the coordinates on the A809, but only about 2-3 cars can fit there. It can be muddy or possibly full.
There are no signs or anything; you just have to know where to find it, although Finnich Glen is much more popular now after being used as an Outlander location, so there are generally some cars about which may guide you.
You can also park at the intersection between Croftamie and Craighat in the small space next to the intersection.
This is the main road, so please park responsibly and carefully, and watch for cars when you're walking.
You need to follow the main road on foot from the intersection along to the bridge. There is a well-worn path just off the road, so be aware of cars travelling fast alongside you.
Please don't mill around the intersection or along the road! Finding Finnich Glen is an adventure, but you need to stay safe!
The Best Time to Visit The Devil's Pulpit and Finnich Glen
The best time to visit Finnich Glen is in the sunshine since it's already a wet and damp place, and the cliffs surrounding you can make it rather dark.
But knowing Scotland, it's likely it'll be cloudy when you go! The best option is for it to be dry, as it can be dangerous to access the stairs when it's raining.
It can be a very slippery descent into Finnich Glen, so either avoid it after heavy rain or wear hiking boots and be VERY careful. Be prepared to turn back if it's too muddy or slippery and it looks like rain.
Tips for planning:
Visit early in the morning or later in the afternoon/evening when there are likely to be fewer other visitors.
Plan for the fact you may not be able to get a park and have to come back to visit another time. Consider driving on to Loch Lomond instead.
Take food and water with you but also take any rubbish out.
A change of clothes wouldn't go amiss, just in case it's muddy and you slip! Also, make sure you wear shoes with good grip and bring a change for those as well because they will get muddy.
From Glasgow
Follow the A809 road out past Queens View until you reach the intersection with B834 (on the right).
From Edinburgh
Follow A90 and Maybury Rd/A902 to Glasgow Rd/A8 then get on the M9. Take A811 to A81 in Stirling and continue to the B834 intersection.
Finding the entrance to Finnich Glen and the Devil's Pulpit
The path to the Devil's Pulpit starts with a locked gate, so if you see that, you know you're on the right track to finding it. If you walk across, continuing in the direction away from the intersection where you likely parked, there is a gap in the stone wall at the end of the bridge.
You can also climb the fence just before the bridge and jump down. It's easy to miss the gap but check the video below to see what it looks like!
Several paths lead from the gap in the fence to the entrance to Finnich Glen. We wandered closer to the edge of the glen itself, following the sound of the water, but you can also make your way more directly there along the widest path.
If you venture closer to the glen, watch you're still following a worn path. There are overhangs, and it's possible to accidentally get too close and possibly fall.
You can see the entrance from the road below and the possible parking spaces I mentioned across the road. The intersection where we parked is behind me in this photos.
The entrance to Finnich Glen and the Devil's Pulpit itself is easy to miss if you're not looking, so keep an eye out for stone steps on your right. It's right across from a fence that overlooks a field on your right. You can spot it in the bottom left of the photos below.
The 150-year-old steps down are called Jacobs Ladder, and I hate to think what they would have been like before helpful people (thank you, local climbers!) left ropes tied to trees to hold onto on the way down.
The ropes will likely be muddy from sitting on the ground so expect to get a little dirty if you plan on finding and exploring Finnich Glen!
I HIGHLY recommend you wear proper hiking boots when visiting Finnich Glen to give you more grip on the slippery steps or the mud alongside them. You can even see in the photo above where people have slipped in the mud.
At the bottom of the stairs to the Devil's Pulpit, there's a small railed balcony which grants you a beautiful first view of the glen.
Because we went on a fairly fine Saturday in June, there were quite a few people there, some swimming, and even some people who were having a BBQ (personally not recommended, the smoke travelled down the glen rather than up, made it really smokey. It also caused hazy photos, making for a grumpy photographer).
Part of the charm of figuring out how to get to Finnich Glen is finding your way without much help, but hopefully, with this little guide, you can enjoy the awe-inspiring Devil's Pulpit and Finnich Glen for yourself!
What to pack for the Devil's Pulpit walk
Hiking boots or shoes with good grip
Swimming gear (if you're brave)
Picnic!
Watch our video of Finding Finnich Glen and the Devil's Pulpit to give you more of an idea of what you're looking for!
Sonja x
If you liked it, pin it!