This post may contain affiliate links that I earn a small commission from at no cost to you. Please see my disclosure page for information. Please check for current circumstances before travelling.
So apparently I have A LOT to say about Istanbul…
Istanbul assaults the senses. The city teeters on the brink of Europe, before plunging into Asia. It is the true definition of where East meets West, of cultural diversity, against a city background somehow both historic and modern. Istanbul is the crossroads of everything.
Arriving in Istanbul
There's something both familiar and mysterious about arriving in a new country late at night. Airports blend together after passing through so many and the trek from bag claim to taxi to driving through the darkened streets is routine. The road markings are often the same and there seems to be some worldwide agreement on using green signs. And yet, I still glue myself to the window, straining to see something different, something unique that confirms I've changed location on the map.
In Istanbul it was the Walls of Constantinople, lit up next the road as we drove into the city, and I couldn't stop the smile on my face as I realised the historic reality of the city I was in and the three days I had ahead of me to explore.
I was still smiling as I waived goodbye to my friends when the taxi dropped us outside their hostel in Beyoglu.
Still smiling as I chatted to and got directions from an Australian passing by (there is no escape from Aussies and Kiwis overseas) about where my hostel was nearby.
Still smiling as I wandered down alleys crowded with tables decorated with hookah pipes, the warmer air pulsing with the sound of guitarists singing in a mix of Turkish and English and the smell of spices.
Still smiling when I clearly had no idea where my hostel was, no internet to check, and the main street I had ended up on was fast turning into more of an alleyway with hardly any people.
Lost alone in Istanbul at night with a pack on my back screaming tourist. Whoops.
Turning around to head back someone was smiling down on me 50 metres later when I glanced left and spied the name of the Chillout Hostel & Cafe in the dim light of a lamp halfway down an alley. Whew.
Visiting Turkey in April
Istanbul in late April has a Kiwi and Aussie influx because of the Anzac commemorations on the nearby Gallipoli peninsula and many of us are on a working holiday in the UK so take the chance to go over. It was no surprise that the first person I spoke to in my hostel room was a Kiwi!
My primary reason for going to Turkey was to experience Anzac Day at Gallipoli. This is easiest done through a tour, and I'd booked 8 days around Turkey with Travel Talk Tours leaving in three days. I had very little plans for Istanbul and I was excited about the freedom of exploring the city before my organised tour. As opposed to Edinburgh where I had come from, the weather was warm and I could feel summer on it's way.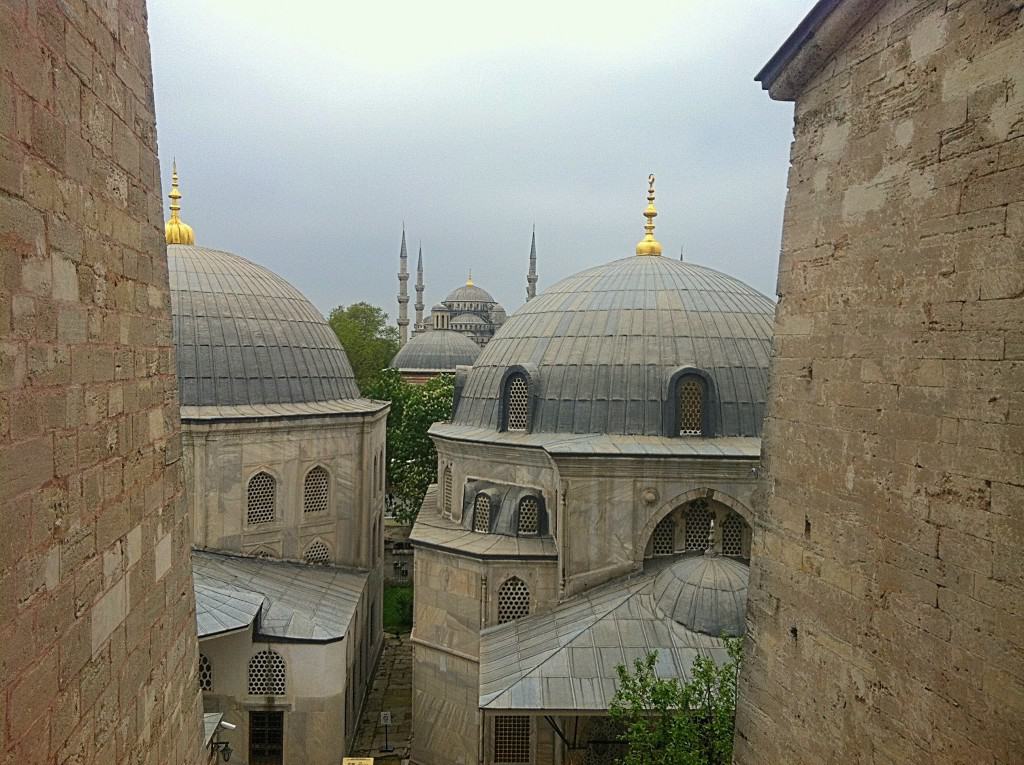 Breakfast in Istanbul
My first chance to see Istanbul in daylight was through a haze of heavy rain. £3 Primark shoes aren't made to withstand such abuse and mine promptly fell apart after one soaking. We door hopped before coming across a little bakery where I had my first taste of the layered cheese pastry (borek) and Turkish tea and coffee. It's a cheap and delicious start to the day, and one I missed later on my tour when I had traditional buffet breakfasts in hotels.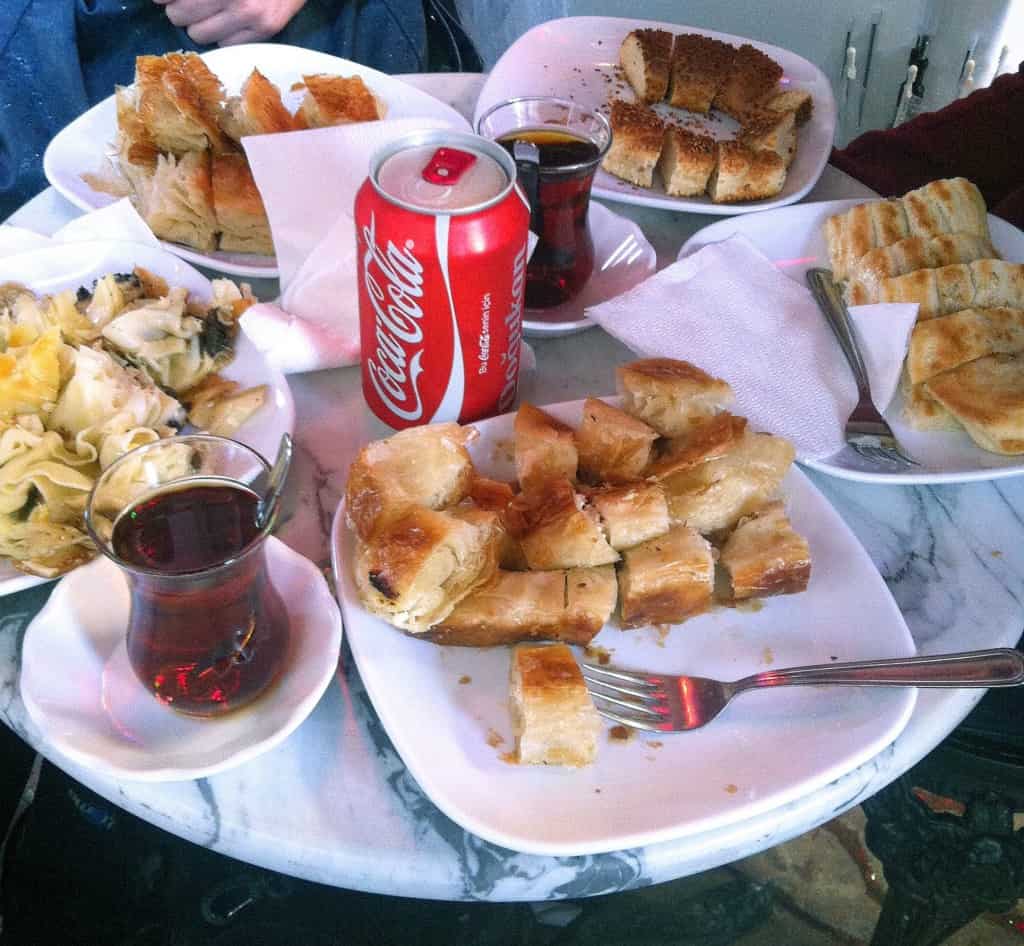 Things to do in Istanbul – Sultanahmet
The Grand Bazaar is across the river to the south from Beyoglu and a top destination in Istanbul. The building itself is beautiful and holds endless stalls of Turkish goods like rugs, lamps and jewellery that spill on to the surrounding streets.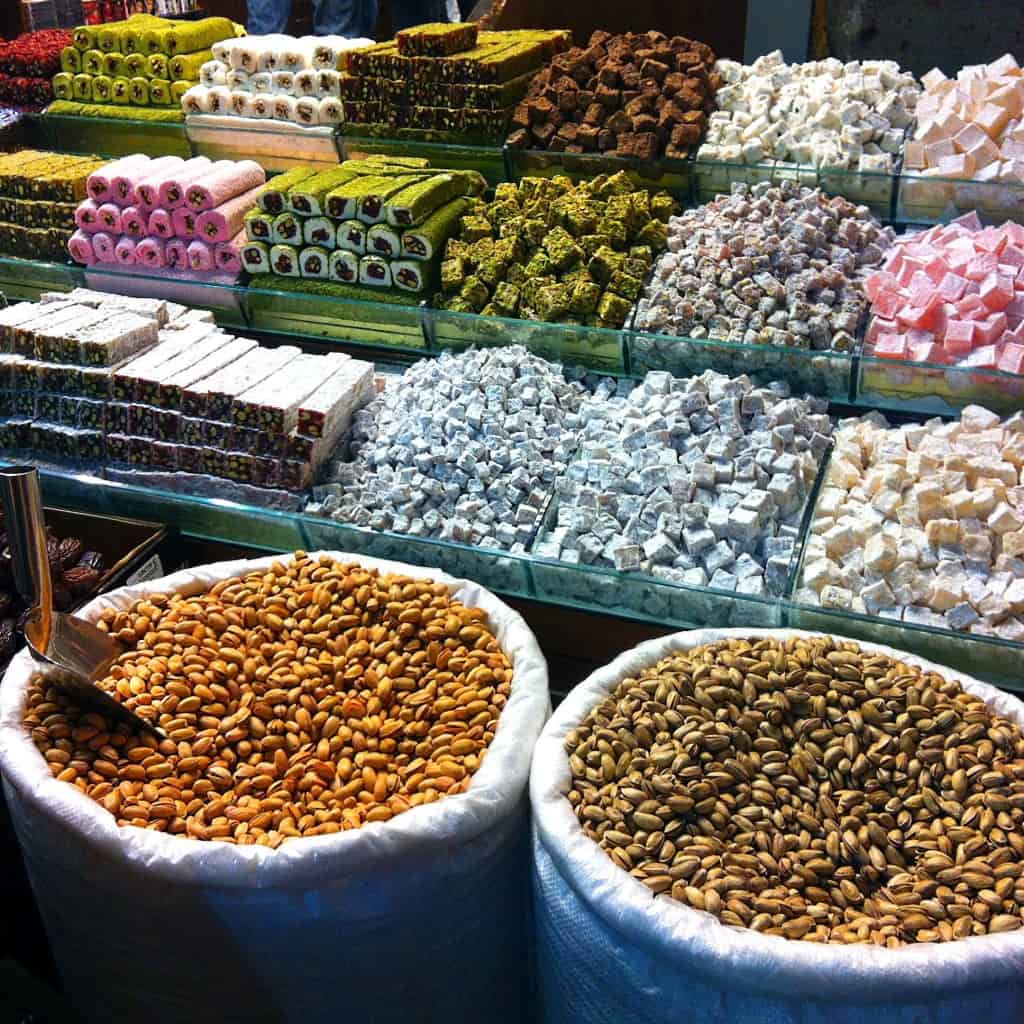 Nearby is the more local Spice Bazaar, my preferred market. The aroma of spices and sweet turkish delight assaults you upon entry and the men on the stalls call out cheeky comments to gain attention. Flower and grocery stalls dot the courtyard outside, where we ventured to hear the call to prayer from the New Mosque next door. Turkey is technically a secular country, but Islam is the main religion and the call to prayer regularly echoes from the numerous mosques.
Sultanahmet is also the home of the Blue Mosque, built from 1609 to 1616. The thousands of blue tiles inside were specially made so that the dust slides off. Can my house be made of those?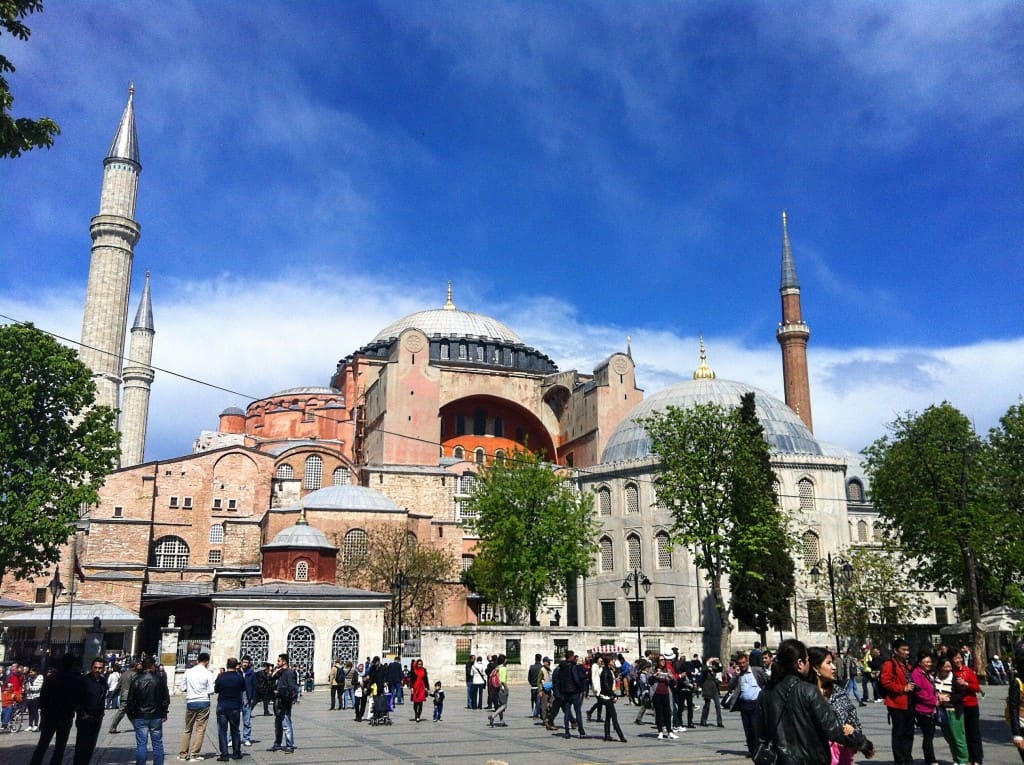 Just over from the Blue Mosque is the Hagia Sophia. I found this place amazing. The site began it's life in 537 as a church and stayed that way until 1453 when the Ottomans took over Constantinople and changed the Hagia Sophia to a mosque. At first glance it's hard to see how this could have been anything other than a mosque, but the design was actually the influence for many of the other mosques in the area.
In 1931 the first President of Turkey, Mustafa Kemal Ataturk (Ataturk meaning Father of the Turks), turned the Hagia Sophia into a museum. Now we get to enjoy the unique combination of Christian and Muslim history and art, within a building that by itself could draw attention because of the innovative ahead of it's time design.
Lines can be long for the attractions in Sultanahmet. There are some tickets online but I can't vouch for the process since I went with a guide. Usually there is a combined ticket for the Hagia Sophia and Topkapi Palace next door, where the Ottoman Sultans lived for over 400 years. Next to the Palace was a garden full of tulips in full bloom. My Turkish guide told us tulips were introduced to the Dutch by the Turks!
We did get up earlier than my holiday clock wanted to for the Basilica Cistern, and it was worth it because the line was long well before it opened. The Basilica Cistern was built underground in the sixth century to store water for the city. Some of the pillars are held up by Medusa heads carved from stone, recycled from elsewhere in the empire, although no one knows where.
I loved the whole Sultanahmet area, and even if you're not that interested in history, you can't help but notice the structures dotted across this area and nearby that hark back to an ancient time.
Food in Istanbul
Istanbul is coming into it's own as a top foodie destination. The diversity of the food on offer, traditional cuisine and new flavours, desserts filled with pistachios and other nuts, not to mention the traditional turkish delight and coffee so strong it really should require a prescription. Make sure you leave a bit left in the coffee cup, the grounds sink to the bottom and drinking them is not exactly pleasant. Speaking from experience.
I already mentioned the amazing breakfast option above, but there are also great foreign and Turkish food options all over the city, including the Asian side! One of my favourite mornings was enjoying coffee and a tomato and cheese toastie for breakfast, for the equivalent of less than £3.
Around the Blue Mosque and Hagia Sophia the restaurants are more expensive and seem to cater for tourists, so a step away from this area might lead to some hidden gems.
Istanbul nightlife
On my first stay in Istanbul we stuck to the streets off Istiklal for the night, where I had walked through on my arrival. I loved the crowded alleyways and the live music. After dinner on fold-out tables on the street and beer and a shisha pipe in loud alleyway I'm not sure how we found it but we were in a rooftop salsa bar, dancing out on the balcony under the stars that were somehow visible in the centre of a city of 14 million.
My Travel talk Tour over a week later led me to a night out near the backpacker hostels in Sultanahmet. There's plenty of places to choose from around there although most of them seem to be set up for tourists. Not that there is anything wrong with sitting on rugs and cushions on the floor to drink and try the shisha pipe if you would like to!
Galata Bridge and Tower
Sultanahmet is separated from Beyoglu where I was staying by the Galata Bridge, housing restaurants underneath and fishermen trying their luck along its length. I adored exploring the small alleyways around the Galata Tower, and perching on small stools while drinking Turkish coffee.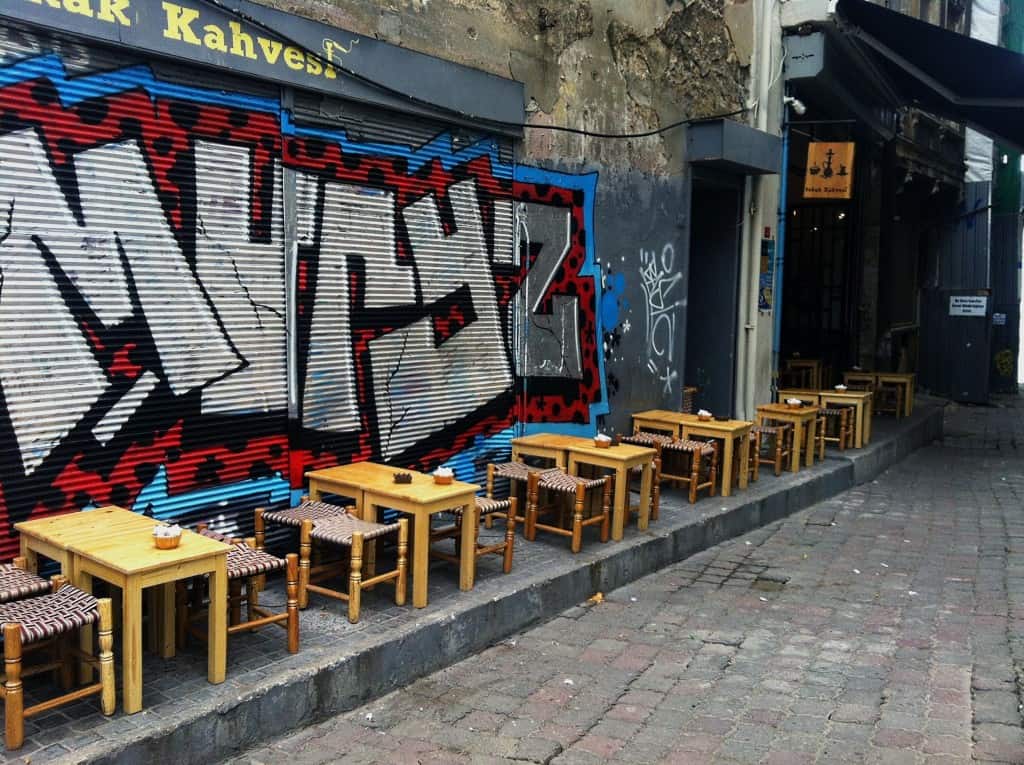 Venturing to the Asian side of Istanbul
Istanbul is the only city to stretch across two continents, and yet the theme seems to be visitors sticking to the European side. I took the ferry from near Sultanahmet to Kadikoy, which presented even more eclectic and delicious food options, great alternative shops and a relaxed atmosphere. It's where a lot of students live, and the kind of place I could actually see myself living if I moved to Istanbul. It feels like less of a tourist hub than the European side and more like real life in Turkey's largest city.
I was thrown in the deep end in Istanbul, as the most foreign feeling place I had been since moving to Edinburgh. I love a city like this though – that makes you feel alive with all the things to see and take in and all the new experiences you can have. I think you could keep exploring and finding new treasures here forever.
Istanbul as a solo female traveller
Some of my time is Istanbul was alone and some with friends. At the times I was alone I never felt unsafe, although I avoided venturing out on my own at night (well…except for that first night getting lost). I did stay mostly covered up wearing jeans and higher cut shirts while in Istanbul. Outside of Istanbul travelling in a bigger tour group might have made a difference and I relaxed and wore normal summer clothes like shorts and shorter dresses and never felt uncomfortable or noticed extra attention.
However, I did experience quite a few advances from men in Istanbul when I was on my own during the day, nothing I couldn't shrug off politely though. Unfortunately I did have one rather uh, touchy experience, as I walked down the street, actually with a male friend at my side. I was popping down the street to show him where the tram was, wearing my denim shorts and a singlet top. I realised my mistake from the number of stares I received.
I wouldn't be put off travelling in Turkey as a solo female traveller but I would be aware of my surroundings and clothes.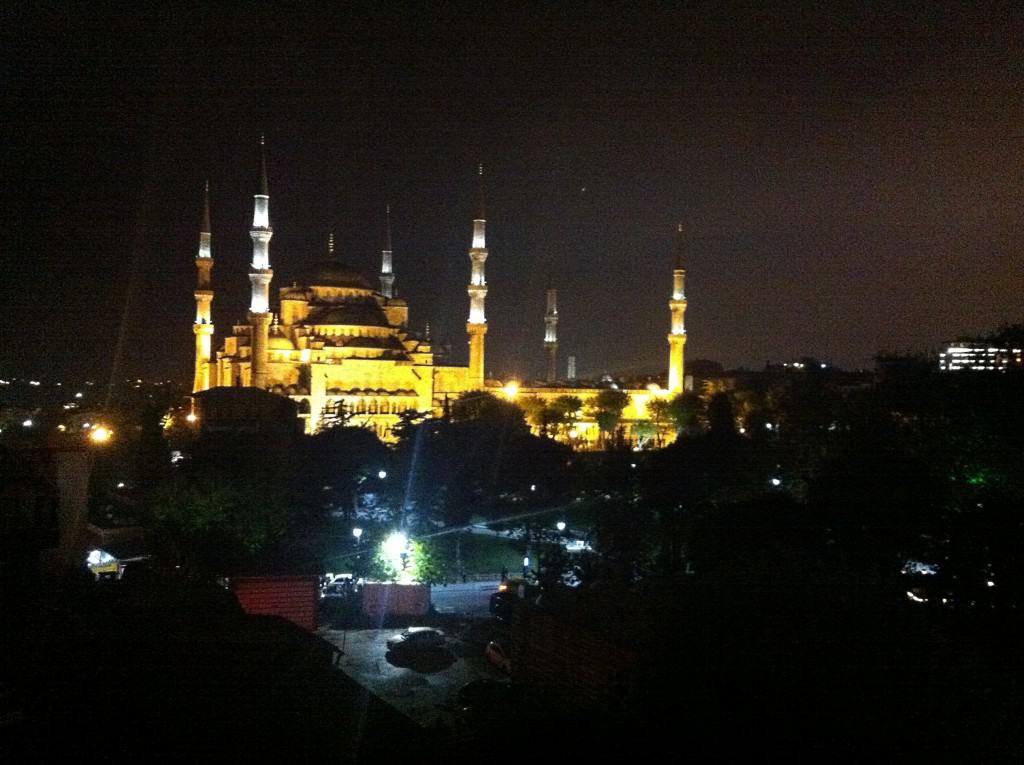 Moving to Istanbul
On moving to Istanbul you can expect to be part of a multicultural city. In a city like this you could never be bored. Living costs for most things are cheaper than Western Europe, but labeled items and petrol may be more expensive. Teaching English is an option for work, as well looking into some international companies. I don't have too much information on working visas, but I'm working on it (ha) so check back for more info or please let me know if you have experience of living in Turkey, I'd love to hear from you!
Sonja x