So what do you see on your first trip to London? It can be daunting planning a London itinerary when there are so many things to see and do! I spent four days in London on my first visit and it was the perfect amount of time to see all of the main sites and a few extras too.
So I've decided to take you through my London itinerary for four days to give you the best idea of what to see and do when you visit the amazing city for the first time. You can mix up the days of course, and I've given some alternative ideas and extras to see as well, with the help of Phil who was a London local for a long time!
Getting around London
So much time can be wasted trying to find your way in London when a little pre-planning would save a lot of trouble, so start by working out how you'll get around. Each of the places of interest on your four day London itinerary has the closest tube station listed to help.
Once you know where you'll be staying (I've included some ideas at the end of the post) you can plan your routes in advance.
Like all cities, people spend a lot of time commuting but as a tourist, you can pick and choose when you travel so avoiding rush hour is strongly advised! Try to avoid travel between 7:00 – 9:00 am and 5 – 7 pm if you can.
The Tube
You can't go to London and not take the Tube. It's the capitals number one transport option and your first task should be to procure an Oyster Card and a tube map.
An Oyster Card works on numerous different forms of transport across the city and every Londoner has had one. You can learn all about these transport payment cards here. Depending on how long you're there and how often you actually take the tube (I did a lot of walking too!) then it's worth checking out the various daily passes.
You can also use contactless payment cards such as your debit card issued from your bank, but this may not be as ideal if you're travelling from abroad. Find out about contactless payment here.
Negotiating the tube can be a challenge in itself. It's best to start with the basics – look at where you want to go and, from where you are, look at which station is at the end of that line, that stations name will be the tube you need to get on.
For example, if you're staying in Kentish Town and want to travel to Leicester Square you would have to take the Northern Line and the Tube to take would be the one travelling to Mordon, the last station on the line in the direction you need to travel.
Easy, right…the tube staff are there to ask questions so don't be afraid to double-check your route. Also, when you board the tube there are maps above every seat that you can check to make sure you're heading in the right direction if you're not, simply jump off and head back the other way!
Check out this info from Visit London to help you in planning how to get around the city. Or for more specific information visit the TFL website (Transport for London) here. This site allows you to type in your starting point and destination and will tell you exactly how to get there. Invaluable for tourists and locals alike!
The Tube doesn't run 24 hrs a day and lines all have their own first and last times which you can find information on here, it's horrible missing the last Tube home!
Other transport options
Other London transport options are going by bus, which, as mentioned, you can also do using an Oyster card or contactless payments, taking a Clipper on the Thames (more of a tourist attraction), riding the Docklands Light Railway (DLR) and by far the cheapest, walking!
I spent a lot of time walking because I was doing London on a budget, but you can easily find other forms of transport, or even catch a London black cab by sticking your hand out when you see one with its light on.
Don't let Tube and bus maps fool you when walking though, the distances on these transport maps are often much greater than shown, this can make for a much longer walk than expected!
Bus
Bus routes are a fantastic way to get around. With many more stops than there are Tube stations and a cheaper ticket price, buses are an excellent way to explore London on a budget.
The downside is that your journey can take a little longer and the routes and number system can be a little confusing for a first time visitor. They also stop or change routes as it gets later in the day/evening so make sure you can still get your bus home if you stay out late!
For a little help with specific routes and destinations visit the TFL website as mentioned.
The Clipper
The Clipper along the River Thames isn't as cost-effective but is an excellent way to see a lot of London in a short space of time, all from the luxury of the river.
You can start from Westminster and travel across London to Greenwich, seeing many of the most famous sights along the way. This can be an excellent way to spend a day and worth considering as an addition to your London itinerary anyway.
It all sounds very complicated I know but that's why you're reading this 4 day London itinerary for first-timers! Once you get the hang of it all you'll be travelling like a local.
Railcards
If you're travelling around the rest of the UK discovering some of the amazing places to visit here, are under 25, and you have a UK address I'd recommend getting a 16-25 Rail Card.
It's cheaper to get a daily pass than to pay for every single trip on a Tube with an Oyster Card. It's £30 but saves you a 1/3 on all train fares. You can also link it to your Oyster card, find more information about the 16-25 Railcard here.
London Itinerary – 4 Days: Places to See
This is a pretty extensive list of all the places to visit based on staying for four days in London. Of course, there's far more to see than this, or you can see less and take more time to just BE in London and soak in the atmosphere too. It all depends on your personal preference and if this your only chance to visit or if you might be back.
The beauty is that many of the most popular things to see in London are actually within walking distance of each other, even if it doesn't seem like it when you look at the tube maps.
Even if you don't choose to visit everywhere on this itinerary it should cover most of the places that are on your London bucket list!
London Itinerary – 4 Days: Day 1
This is a big day covering many iconic sites. If you plan to do tours at any of the stops or visit the museums mentioned then you may want to split this over two days (see day three for where you could make some changes).
Buckingham Palace and the Changing of the Guard
You can't visit London for the first time without paying a visit to the Queen, or at least to one of her many abodes. It's a great place to start your day!
The changing of the guard at Buckingham Palace takes place at 11.30 am every day from April to July and every other day otherwise. Get there with plenty of time to score a front-row "seat". No guards fainted on my watch (it has happened!).
Nearest Tube Station – Victoria – Victoria line, Green Park – Victoria and Piccadilly line and Hyde Park Corner – Piccadilly line.
There is at least a 5-10 minute walk from each of these to the Palace.
St James Park – Parks in London
You wouldn't think in a city of 8.5 million that there would be so much peaceful green space, but it's one of the best things about London. From Buckingham Palace, for example, you're able to explore St James Park while walking towards the next stops on the itinerary.
Nearest Tube Station – St James Park – District and Circle lines
Other parks to visit if you have the time are Hyde Park, home of Speakers Corner, Kensington Gardens, the birthplace of Queen Victoria, and Hampstead Heath, for views of Westminster and the Houses of Parliament.
Big Ben, the Palace of Westminster & Westminster Abbey
A visit to London without seeing the iconic Big Ben would be incomplete! The most photographed spot is from Westminster Bridge, where you can attempt to include one of the famous red double-decker buses too.
Big Ben is actually the name of the bell in the clock tower of Westminster, but generally, it's used to refer to the entirety of this over 150-year-old clock tower.
It's worth bearing in mind that the bell has been silenced since major refurbishment that began in 2017 and the tower has had a large amount of scaffolding surrounding it. The work is due to be completed in 2021.
The Palace of Westminster is the meeting place for the House of Lords and House of Commons, the two houses of parliament that make up the UK government.
Next door is beautiful Westminster Abbey, you will have seen this in images of many of the Royal weddings! Both can be toured if you want to take the time to do so, although there are restrictions for access to the Palace.
Nearest Tube Station – Westminster – Circle, District and Jubilee lines
10 Downing Street
Walking from Big Ben up Parliament Street you come across 10 Downing Street.
Any dreams of visiting the home of the British Prime Minister and having a cup of tea, or at the least having a photo of the door will be sadly dashed by the understandable heavy security of gates and guards at the end of the street.
You are not able to see too much so I wouldn't recommend visiting for long, although there is a guard on horseback outside, always a plus for a really touristy photo op!
Nearest Tube Station – Westminster – Circle, District and Jubilee lines
Trafalgar Square
From Downing Street walking along Whitehall, you'll discover Trafalgar Square. It was once called Charing Cross and is now the point at which distances to and from London are measured.
It's home to both the National Gallery and the Portrait Gallery as well as Nelson's Column, the famous memorial to Admiral Nelson who died at the Battle of Trafalgar. Surrounded by four huge lions, it's a famous landmark that is well worth a visit as are the museums too.
Nearest Tube Station – Charing Cross – Bakerloo and Northern lines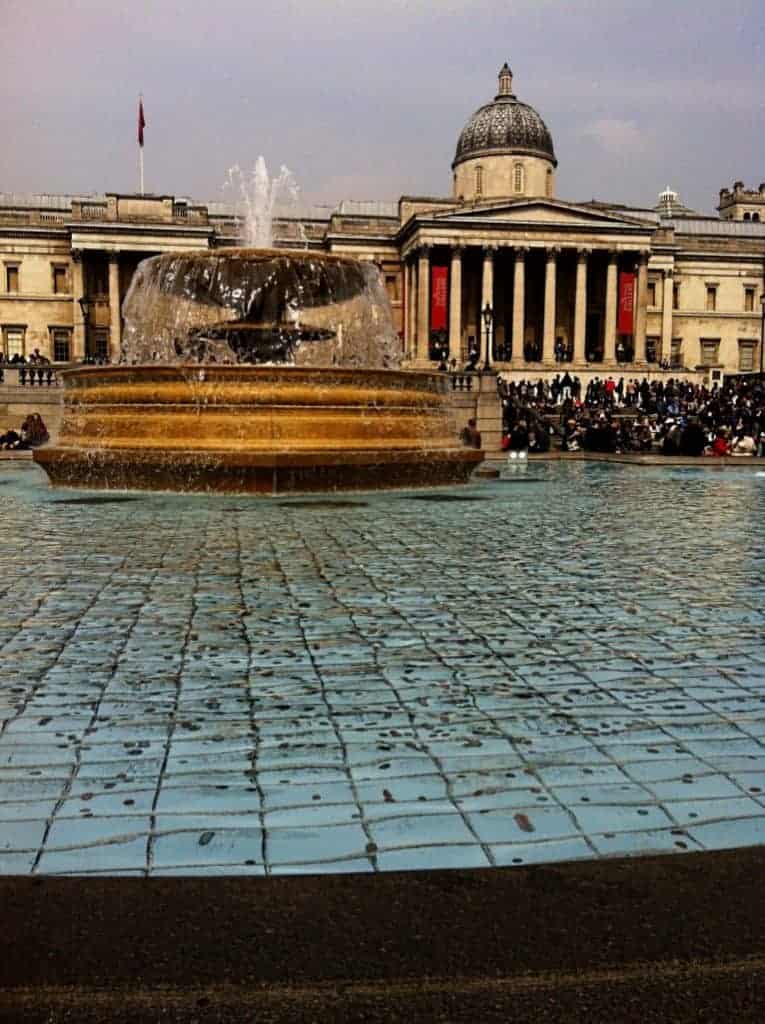 Piccadilly Circus
From Trafalgar Square, it's an easy meander down Pall Mall and Regent Street towards Piccadilly Circus.
In classic tourist fashion, I marvelled at the fact I was constantly walking through areas I had bought and sold as part of a board game since I was a child!
Now I'm not entirely sure what I thought the "Circus" part of Piccadilly Circus was, but I had no idea it referred to a roundabout that used to be there. Not a clown in sight.
There is, however, plenty of huge advertising boards not unlike Times Square, and the famous fountain which features an equally famous sculpture of Eros!
Nearest Tube Station – Piccadilly Circus – Bakerloo and Piccadilly lines
New Zealand War Memorial at Hyde Park Corner
From Piccadilly I wandered down to Hyde Park, stopping to take in the New Zealand War Memorial, a set of black columns in Hyde Park Corner that were erected in remembrance of the New Zealanders who fought alongside the British in WWI and WWII. This may not be on everyone's lists but for Kiwis, it's very poignant.
Nearest Tube Station – Hyde Park Corner – Piccadilly Line
Cycling around Hyde Park
Cycling around Hyde Park had been a dream of mine for some time having heard stories of this beautiful place. Rotten Row, the Serpentine and Kensington Palace are all places I'd read about in a number of books.
It was surreal to imagine Hyde Park as the social centre it used to be, with the "ton", the high society of the time, coming to exercise their horses here and be seen.
You can hire one of the many bikes that have pre-pay stations nearby. Locals call these "Boris Bikes" after Boris Johnson who was the Mayor of London that introduced them.
Nearest Tube Station – Hyde Park Corner – Piccadilly Line, Lancaster Gate – Central Line, Marble Arch – Central Line or Knightsbridge – Piccadilly Line
Shopping at Harrods
After a little exercise in Hyde Park you'll be well prepared to visit the food hall of nearby Harrods. I browsed the store itself first, but even touching a scarf worth £300 made me nervous so I indulged in some much more affordable salted caramel fudge and mini cupcakes on offer in the food hall instead.
Though this may not be the best idea if you're exploring London on a budget but it does mean you're able to claim you shopped at Harrods!
From here you can catch the Tube at nearby South Kensington – Circle, District or Piccadilly Lines or Hyde Park Corner – Piccadilly Line to have a well-earned rest after day one!
Alternatively, head back towards Piccadilly Circus, you'll find Londons West End for a real night to remember.
Nearest Tube Station – Knightsbridge – Piccadilly Line
London Itinerary – 4 Days: Day 2
The British Museum
Day two of the great walk of London begins at the British Museum, a place so large and in-depth I could have spent my entire day there but I gave myself a deadline of just a couple of hours since there was so much more to fit into my London trip.
Luckily for the budget-conscious, most of London's major museums, including the British Museum, the Natural History Museum, the Science Museum, are all free to enter.
On my short museum trip, I limited myself to just the British Museum and engaged in a game of "speed-museuming", which basically means hitting the top things to see as quickly as possible.
The British Museum is super helpful with this as they provide a "top things to see" guide, and within an hour I had managed to see them all. This may not be for everyone and I certainly plan to revisit when I have more time to spare.
Nearest Tube Station – Tottenham Court Road – Central Line
Temple Church
Back to exploring the real-life Monopoly Board and a walk down Fleet Street and the Strand took me past the Temple Church, built by the Knights Templar in a distinct round shape.
Nearest Tube Station – Temple – Circle and District lines
St Paul's Cathedral
Having spent so much of my time in London on a budget it is well worth splashing out on the entry fee to see the inside of St Paul's. It's proudly stood through some of London's most historic moments and the atmosphere there really lets you step back in time.
The view from St Paul's is fantastic and allows you to the mix of ancient and modern that makes up the city of London. St Pauls has been a part of the London skyline since it was built in 1675 and the climb to the top includes 528 steps.
Nearest Tube Station – St Paul's Underground Station – Central Line
Globe Theatre and the Tate Modern
Across the Millennium Bridge, which may be better known as the "Harry Potter Bridge", is a remake of Shakespeare's Globe Theatre and the famous Tate Modern.
There are shows in the Globe Theatre or you can take a tour, but keeping to my London on a budget ethos I opted for the free Tate Modern, an institution that houses a wide range of art from 1900 to the present day.
Whether you're a lover of modern art or not the view back across the Thames from the museum is fantastic.
Nearest Tube Station – Blackfriars – District and Circle Lines
South Bank
Both the Globe Theatre and the Tate Modern can be found in the Southbank area of London. Southbank is a colourful and vibrant place that runs along the River Thames, playing host to restaurants, pubs, the Shard, HMS Belfast, fantastic views, and some of Londons most famous bridges!
It's very easy to spend hours walking from Westminster and the London Eye along the river to Tower Bridge which is exactly what I did, just taking it all in, it's amazing for people watching and for feeling like a Londoner.
And I would never have thought during that first visit to London that a couple of years later I'd be walking along Southbank and getting engaged by Tower Bridge!
Nearest Tube Station – Westminster – Circle, District and Jubilee lines or London Bridge – Northern and Jubilee lines
London Itinerary – 4 Days: Day 3
Camden
Day 3 of my 4 days London itinerary was spent catching up with friends on a pub crawl around Camden and Kentish Town which I can strongly recommend if you have the time to spare!
We got to eat and drink in places that some of my favourite musicians had spent time in and just soaked up the atmosphere, it's a pretty unique place even in London.
In any case, a visit to Camden Town should feature in your itinerary as there's nowhere else in London like it.
Emerge from Camden Town tube station into the busy streets and be greeted by extravagantly decorated shop facades. Wandering through the markets with food stalls from all over the world, and antique shops with treasures I would never find at home in New Zealand was a delight.
Camden with it's raw and edgy side was a more than a pleasant surprise to the more formal London that visitors sometimes expect.
Some of the pubs I visited as we walked from Camden towards Kentish Town include The World's End, The Hawley Arms, The Lock Tavern, The Good Mixer, and the Dublin Castle and the wonderfully named Pineapple and the Oxford Arms. Excellent atmosphere, food, and drink with a real mix of locals and characters in each one.
Nearest Tube Station – Camden Town – Northern Line
Alternatives
If a tour of some of London's best pubs isn't for you then I would suggest catching up on some of the things from day one if you didn't fit it all in, or paying a visit to some of the following on day three of your 4 days in London itinerary.
Explore more of London's world-famous museums.
Pay a visit to South Kensington and follow directions to a small area that has a fantastic area of museums, there truly is something for everyone.
You can visit the Natural History Museum, the Victoria and Albert or V&A Museum and the Science Museum all within walking distance. These are all free to enter, though certain exhibits may have an entry charge.
If you still want to see something else after visiting all of these you can walk to the Royal Albert Hall, a stunning building that would be a great end to the day.
Nearest Tube Station – South Kensington – District, Circle and Picadilly lines
Shop until you drop!
This one needs no explanation and may see your budget go right out of the window! London has every type of shop you could ever need. High-end fashion, classic vintage, clothes, shoes, music, gadgets, food… the list is never-ending. What you like will dictate where you want to go.
Oxford Street and Regent St are perfect for higher-end clothes etc. You can visit the Westfield Shopping Centre if mall shopping is more your thing, or if you're looking for unique designers and vintage clothing then Old Spitalfields Market is the place for you.
Oxford St
Nearest Tube Station – Oxford Street – Bakerloo, Central and Victoria lines
Westfield Shopping Centre
Nearest Tube Station – Shepherd's Bush – Central line
Old Spitalfields Market
Nearest Tube Station – Liverpool St – Central, Circle, Hammersmith & City and Metropolitan lines, But I would suggest walking from Shoreditch Tube – Northern Line, and pay a visit to Brick Lane
London Zoo
London Zoo is world-famous and an amazing place if you're an animal lover, depending on your views of zoos themselves of course.
They have a wide variety of animals and have played a part in helping breed and sustain numerous species. It's a great way to spend the day and to escape the hustle and bustle of London itself. It's worth buying tickets in advance and double-checking what events might be on when you visit.
There is a charge to enter from £30 per adult so make sure you give yourself enough time to explore and see everything you want to and get the most from your visit.
Nearest Tube Station – Camden Town – Northern Line
Madame Tussauds
Want a selfie with a celeb? If so then Madame Tussauds should be on your list. It has ridiculously accurate waxworks of everyone from The Queen to the Rock.
They're always kept up to date this is a perfect place for a rainy London day. Again, this is not the cheapest ticket in town with tickets ranging from £30 upwards.
Nearest Tube Station – Baker Street – Bakerloo, Circle, Jubilee, Metropolitan and Hammersmith & City lines
The Tower of London
If history is more your thing then the Tower of London is a must.
Built by William the Conquer in the early 1080s, the Tower is one of Londons most famous landmarks and one of the most popular visitor attractions. You can wander the grounds and explore the keep learning of its history as a fortress and as a prison. it can be pretty gruesome.
You can also see a collection of the crown jewels guarded by the famous Beefeaters, there really is nowhere else like it! Entry is £25 for adults so once again do make sure you give yourself enough time to make the most of your visit.
Nearest Tube Station – Tower Hill – District and Circle lines
London Itinerary – 4 Days: Day 4
Notting Hill
Day four started a little later, mainly due to day three! I found my way to Notting Hill, another destination made famous by a movie and its amazing carnival, and one that seemed a little surreal to visit. Sadly I wasn't there for the carnival but would love to visit when this amazing spectacle takes place.
The area is a mix of residential, shop cafes, and boutiques. I happily wandered around, feeling like a local more and more until I found the famous blue door from the movie, and the location of the bookshop where I went right back to being a tourist again!
Nearest Tube Station – Notting Hill Gate – Central Line
Portobello Road Market
A short walk from Notting Hill you can find the famous Portobello Market. It's a combination of several markets combined into one and known for its vintage clothes, antiques, and bargains. I really enjoyed the street food on offer that was both delicious and budget-friendly!
Make sure you visit when the type of stalls you're most interested in are running, you can find information on this here.
Nearest Tube Station – Ladbroke Grove – Circle Line
Covent Garden
Next, I used my now pro tube skills to get to Covent Garden and explore the area.
You will now find a very cool market in Covent Garden itself as well as lots of shops and places to eat. Be warned you're now deep in the heart of one of London's most visited areas so you'll notice the price of things starts to creep up.
Nearest Tube Station – Covent Garden – Picadilly Line
Leicester Square and Soho
Leicester Square, pronounced Lester, is a short walk from Covent Garden and home to all the cinemas you see London's movie premieres taking place in. It's a great place to sit and people watch. After 3 days exploring London, you'll need a sit down just to watch the world go by.
I wasn't just in Leicester Square to rest my feet though, here you can find many booths touting tickets to all the West End shows and more!
What better way to end your visit than with a trip to a show, especially when you can get tickets which are reduced for shows playing that day, depending on availability. I snapped up a ticket to Rock of Ages, and saw what I'm sure won't be my last London show.
If seeing a show isn't your thing but you fancy ending your trip on a high then head to Chinatown and Soho, one of London's most vibrant and colourful neighbourhoods! Fantastic nightlife, amazing food, and a constant buzz that makes people fall in love with London, you'll dance the night away if your feet aren't too sore from all the walking!
If you do find yourself still in Soho in the wee small hours head to Bar Italia for a hot chocolate and a bite to eat, they're open until 5 am and the perfect way to end the night.
Nearest Tube – Leicester Square – Northern Line
Where to Stay in London
Most Aussies and Kiwis know someone in London and have an amazing ability to find a couch to sleep on, which is exactly what I did on my first visit, in Shepherd's Bush no less.
Accommodation in London will likely be the lions share of your budget, however.
Research backpackers and rooms on Airbnb to keep the costs down but make sure that you double-check the location and what transport is on offer nearby. London is 1,572 km² so making sure you can reach the places you want to visit without a long commute is crucial.
Check for tube and bus routes, distance from your accommodation to a station or bus stop, and exactly where that route covers. It will pay in both time and money to spend a little more on a room that has better connections than a cheaper one that doesn't!
It can take 45 mins to travel on the tube into the centre of the city to start your sightseeing, but if you're not on a tube line bus travel will take a lot longer.
Where to Eat in London
Taking a packed lunch may not seem the most exciting way to enjoy your lunch but four days in London is not cheap, particularly if you're planning nights out and going into visitor attractions. Taking advantage of takeaway sandwiches from cafes and chains and eating them in front of iconic London landmarks is maybe not the most exciting but it is an easy way to manage some of your budget.
Personal favourites as far as chains go are Pret A Manger or Boots where they have meal deals. Once you have your lunch you can spend it anywhere! For someone from the other side of the world, eating lunch on the steps of St Paul's Cathedral or on the edge of a fountain in Trafalgar Square was actually pretty cool.
If you have a little more budget to play with then it's time to visit the great British institution that is the pub!
There are pubs everywhere but some will be much more expensive than others and not all will do food, so it's worth asking when you first go in. For a cheap and cheerful pub experience look out for Wetherspoons however, try to shop local and avoid the big chains and support local businesses. You'll discover a lot more of "real" London if you venture away from the bigger corporations.
To really enjoy London don't be afraid to try small independent cafes, markets, and street food vendors. These can all prove to be just as cost-effective and will provide a variety of food that is hard to beat.
London is said to have someone from nearly every country in the world living in it and you can see the influence this has had on its cuisine at the many markets across the city. Some favourite markets include Camden, Berwick Street Market in Soho, and Borough Market.
You won't be short of restaurants to visit but do check the prices to make sure they suit your purpose. Outside of the main tourist areas, like any city, everything is a little cheaper.
What else?
The problem with London, and the best thing, of course, is that the list is really never-ending. I know plenty of people who have lived in London and haven't seen half the things on this list.
If I'd had more time I would have added the following to this four day London itinerary:
Visited the Churchill War rooms

Enjoy a bottomless brunch in the city

See a premier league football match

Walked down Chelsea's famous Kings Road
The list of things goes on and on, you'll always feel like you missed something!
Plus, there's always something happening like carnivals, premieres, shows, or major sporting events.
Ultimately, it's best to view London as a series of villages joined together, each with their history, attractions, and locals that swear to you that it is THE only place to see if you pay it a visit.
My four day London itinerary helped me a see a lot of what I'd read about or seen in films and TV and set me up perfectly for visits in the future and I hope it'll do the same for you.
I can't wait to get off the beaten track again a little and delve deeper into everything this fantastic city has to offer! I have to admit, I fell in love with London a little and can't wait to be back.
Sonja x