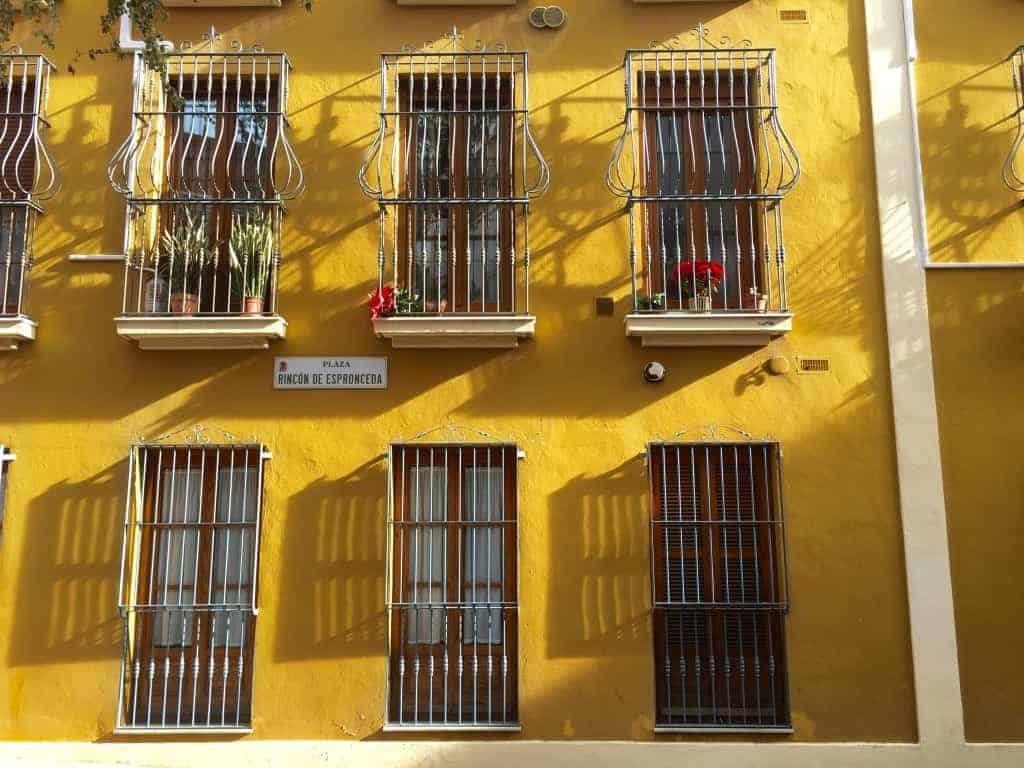 The fleeting thought had crossed my mind a few times in the past few days, but as I faced a room full of school children staring at me and tried to understand a single word of the conversation between them and their teacher it solidified in my mind…
Had I made a mistake moving to Spain? 
The first days of moving to a new country can be rough, in fact, the first weeks or even months can be rough. So much leads up to the point of leaving and it seems to drag on forever. Then comes the rushed last minute packing, the holding-back-tears goodbyes, and after shuffling around uncomfortably in a plane seat and watching so many movies you can't remember them anymore, you're shunted into the whirlwind of a new country and culture.
I knew this. It's not like I haven't done it before. I tried to make it easier on myself. By chance I had a friend living here, and I had a job so I didn't need to worry, or so I thought.
Working in Spain with the Auxiliar de Conversación program
My first day at the school in Spain did not go well. I arrived in Almería the day before I started work in the Auxiliar de Conversaciòn program. When the cab I took to make things easier dropped me outside the gates, I tried to walk into the wrong school. The cab driver sounded the horn and pointed to the opposite side of the street. Except I didn't know how to get in past the high fences and seemingly locked gate. I walked around the entire outside of the school before seeing some others enter the main gate I had been dropped up just by pushing it. Whoops.
It was such a rush arriving in Almería and suddenly finding myself at the school that I hadn't even thought about what I would say when I got there in English let alone my very very basic Spanish. BIG mistake. I stood just inside the door not even knowing who to speak to, until finally someone came over and I tried to say the name of the contact I had at the school. Blank look in return. Another person joined us. More blank looks. And then another. Blank looks all around. It was not going well.
Pulling up an email on my phone didn't work because I didn't have internet on my phone yet. I was taken into another room and more rapid Spanish was spoken to me and around me and I couldn't catch a word. Finally the name and something I was saying seemed to work and I was seated and asked to wait. Not that everyone wasn't trying to be helpful and lovely, but basically, I felt stupid. I couldn't communicate and far less of the teachers spoke English than I expected, not that I was expecting much but I didn't think it would be this hard just explaining who I was. I had hoped I wouldn't feel quite this lost. If you don't know, in Andalusia the accent is very strong, and the words can be spoken quite differently to elsewhere. Combined with fast speech, my untrained ear and tendency to understand words rather than whole phrases and I was at sea.
When the contact I had with the school who spoke English arrived it was like being tossed a lifeline. I wanted to stay glued to his side. Instead he showed me a couple of things before taking me to the first class on my schedule where I spent an hour trying to understand things about geology that I hadn't thought about since I was in primary school, in Spanish.
After the class I was lost again. I had no idea where to go or what to do. An hour of wandering and finding a cafeteria where I had coffee and tomato on toast (what I always have, because I can say it…) I stumbled upon my contact again and was taken to meet the Principal. She was so lovely, and through a translator she told me to let her know if there was anything at all I needed, that they were so excited to have me there and they hoped I would enjoy it. I wanted to cry. Could someone just download Spanish into my brain somehow?
The day improved when I went for coffee with some teachers and I was able to speak to half of them…but because they spoke English. I felt so inadequate, and hated the idea of people speaking English around me, especially to each other, just because I was the one person who hadn't mastered a second language.
The part they don't tell you about moving abroad
It's tough.
Turns out I put a lot of pressure on myself, especially when I feel unsettled. Since I moved to Spain I've realised how much I value my independence and being able to get things done for myself. I've felt very much like I lost that here, and I'm not good at accepting it or accepting help. I know people don't mind being patient with me and helping me out, but I don't seem to like being on the receiving end!
It also turns out I'm not so good at being patient when I know how I want things to be. In the first few days I felt overwhelmed by all the things I wanted to get done and couldn't seem to do. Get an apartment, get a bicycle, find a Spanish tutor, sign up for a bank account, get things for my apartment. While I know it will all come together in time and I could rationally say to myself it had only been a week it still got me down.
It's because moving to a new country can be frustrating. You know you're in a different place and things will be different, but sometimes you just wonder WHY they have to be that way. There can be extra hoops to jump through that there aren't at home, things you haven't had to do before that you suddenly do, and finding out whole new systems to how people do things. At home you take for granted knowing where to go and what to do to get certain things, and when it's a new country and sometimes another language it can be even more difficult because a quick internet search isn't going to save you.
So did I make a mistake moving to Spain?
No. Has it been as hard as it has been awesome so far? Yes.
I know I'll continue to have moments where I wonder what the hell I've got myself in to and why I decided this would be a good idea, and then I'll have moments where everything comes together and it seems like life couldn't get any better. It's all part of the challenge and reward of living abroad. It's all part of why you should make the move.
Here's hoping by the end of my time here I'll be understanding almost every word in that Spanish classroom…
Sonja x
Have you ever lived abroad and wondered at some point why you thought it was a good idea? I'd love to here your stories below! 
If you liked it, pin it!