Happy first day of Spring! I published this post and then realised that I'm in the northern hemisphere… so it's actually autumn. Oops. My birthday is in September and I always think of it as spring! Expat problems…
It's time to round up last month once again. Since my blog isn't in chronological order I post these monthly thoughts which hopefully make things a little more personal.
August, you're up.
Destinations of the month
This month had a theme. Or rather…a country! When I lived in Edinburgh for two years it was rare a month would pass by without a trip away. But, August was always an exception…
Edinburgh, Scotland – 25 Days
There's no better place to be in August than Edinburgh! I spent most of the month here because it's festival time! Edinburgh has twelve festivals running throughout the year, and five of them are in August. The population of the city basically doubles and it all gets a little crazy.
This August festival season I was super lucky to be able to work with Festivals Edinburgh and Visit Britain. Doing so much festival stuff just confirmed my belief that everyone needs to experience the Edinburgh Festivals at some point!
My definite highlights were having the most epic view ever of the Royal Edinburgh Military Tattoo, seeing Alan Cumming perform sappy songs (truly) and attending terrible and fantastic shows. The terrible is a part of the whole experience. Trust me.
Pentland Hills, Scotland – 1 Day
I've wanted to get out to the Peatland Hills ever since I first moved to Edinburgh and could see their snow sprinkled loveliness from my kitchen window. They're accessible by public transport, but we made the drive there one Sunday for a roast dinner and a wander in the hills.
Loch Ness & Highlands, Scotland – 2 Days
Jane Austen may have queried who could tire of Bath, but I say, who could tire of the Highlands?! Every time I journey out of Edinburgh the countryside looks different. I went on a two day Loch Ness & Highlands Tour with Rabbies Tours, and it was the first time I'd seen the beautiful purple heather that carpets the fields and hills at this time of year.
I don't usually go in for guided tours longer than one day, but to see the Highlands and Loch Ness properly I really think you need more time, so this tour worked out perfectly! From everything I'd read the guides are what make Rabbies Tours really fantastic, and I have to say my guide Heather (perfectly matched name, btw) lived up to the hype.
Plus, did you know there are reindeer in Scotland?! I didn't.
Electric Fields Festival, Drumlanrig Castle, Scotland – 3 Days
Music festival in New Zealand have absolutely nothing on music festivals in Europe! Electric Fields is a small festival in the grounds of Drumlanrig Castle, but it was a great option for an easy festival weekend away from the city. The Charlatans, Primal Scream and Colonel Mustard with their inflatable unicorns, disco balls on sticks and super catchy songs were my favourites!
Highlights of August
Speaking of highlights, August had so many I wasn't sure where to start this one! Since I was in one place most of the time it all just blended into one great month. But…
Royal Edinburgh Military Tattoo
I still can't get over how great the show was, and how awesome the view I had was. Plus, it included a David Bowie tribute with him projected on Edinburgh Castle. Enough said.
Getting back into the Highlands
If I had a car I'd probably drive up this way every weekend! I had a really lovely trip and the scenery never ever gets old.
Wedding Stuff
Confession: I'm obsessed with Say Yes to the Dress. I actually have no idea why, I just love that program! I was a little apprehensive about shopping for my own wedding dress however. My Mum was in Edinburgh for one weekend though, and everyone says you're supposed to do all this wedding stuff way in advance (it's like they want weddings to be more stressful!!!) so we decided to go shopping.
Annnnnnnd…I bought a dress! No photos, for obvious reasons. Spending so much on one dress makes me feel slightly ill, especially given I have rarely ever bought dresses more than £20. And think of all the travelling that could be done with that money?! But every time I look at the pictures I fall in love with it all over again and get super excited so I'm actually also weirdly ok with it…
Lowlights of August
Blogging stress
Blogging on top of wedding planning, visa application planning and LIFE has gotten a little on top of me this month. Trying to keep up with writing, photography, social media and all that other stuff has been getting a little overwhelming. Awhile ago I wrote about thinking twice if you want to start a blog, because it can seriously change things!
Much of the pressure I put on myself, but I really want to create something awesome. I have about 40 drafts going on and I'd love to get more up to date so I can have the time to write some more meaningful posts. Fingers crossed for the months ahead!
Where am I and what's coming up?
Right now I'm sitting in one of my favourite cafes in Edinburgh. I have just over two weeks left in the city before EB and I go on an end of summer holiday to Montenegro…Eeek! I've been looking forward to it all summer, but it's bittersweet because it means just afterwards I'll be back into a long distance relationship again. Meh. But also back in Almería, Spain. Yay! Yin and yang right?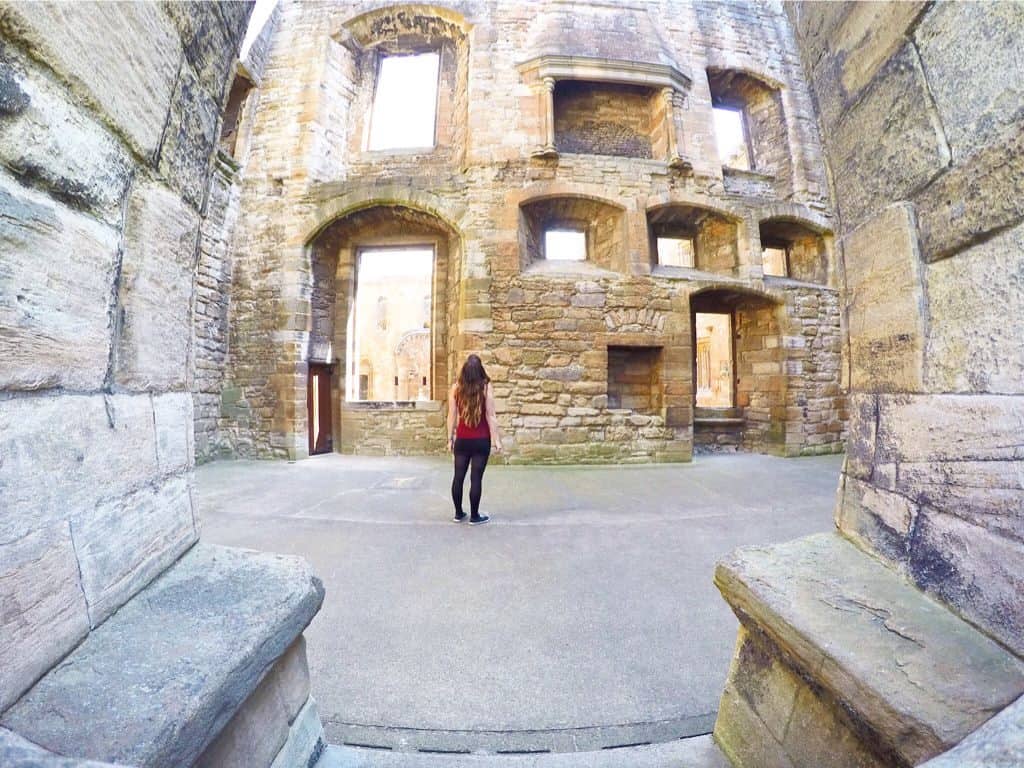 Popular Posts for August
The Luleå Way: Stories From Swedish Lapland was a super popular post in August, and I'm so glad! It really is a stunning place and I hope more people get to go and experience it's awesomeness.
I also wrote a couple of posts about Edinburgh and the festivals which I'd love for you to check out if you haven't already! Why Edinburgh's Festivals Have to be on Your Bucket List and A Quick Guide to Edinburgh's Festivals in August.
After a few comments about how my changed relationship status would be putting a halt to my travels, I wrote about why You Don't Have To Be Single To Travel Solo and while it sadly seems like I'm not the only one who's dealt with those comments, the general consensus was: No matter what your relationship status, TRAVEL!
Top Instagram Photo
This month's best Instagram photo was of Urquhart Castle and Loch Ness. Have you been?
Blogger Shout Out
Last month I mentioned I would be starting a blogger shout out to showcase some of my favourites. This month I wanted to mention Jaimee over at Travel, Pray, Love. She was the first person I interviewed in my Expat Interview Series which I loved because although I don't write so much about relationships, I really appreciate her honesty and humour in doing so. She also has some great insight into expat life, so head on over and check her out!
Well, that's August done and dusted, and spring on the way!
As always, I'd love to know if you stopped by you pop a comment down below!
Sonja x