This is the second instalment of MM Monthly Thoughts! Since my blog doesn't run in chronological order, I decided to post an overview of every month. I like being able to summarise what's happened, and keep everyone in the loop!
So where am I at?
This month was my fourth month living in Spain. It seems to have gone so fast! I'm still enjoying teaching english with the Auxiliar de Conversación program, and I feel like I'm gaining more and more confidence as time passes.
This month I've become really aware of how little time I have left in Spain and in Almería. At least this time around. I've applied for the program for another year because I feel like I've invested time in living in Spain and I want to stay for a bit longer. I'd like to continue to improve my Spanish, have the freedom to keep working on this blog (since it's a lot of work!) and keep teaching.
This month became the month of visitors. I had some fellow Kiwi Auxiliars come to stay, my parents, and the boy, EB.
There's plenty to do here, which I finally wrote about in the top ten things to do in Almería, but I also finally made it to Cabo de Gata! Everyone here raves on about Cabo de Gata, and now I understand why! These beautiful and largely unpopulated beaches really are the place to go here. We were able to visit the main beaches, the Tabernas Desert and some of the villages of the Alpujarras in Almería all in two days. Posts coming very soon with more details about things in Almería like Los Refugios, and Cabo de Gata!
The colour of that sea!
In the final weekend of April I took my first trip out of Andalucia, to meet a friend in Barcelona. It was a COMPLETELY different side of Spain and I have to say I was surprised! Here's a sneak peak photo taken at Park Güell, with some more posts also coming very soon. Keep an eye on Instagram in the meantime!
Thoughts for the month
On learning another language
My Spanish is still coming along, slowly. I guess I was hoping to reach a certain point where the language just fell into place and it become a lot easier, but since this has been the month of visitors I almost feel like my Spanish language has gotten worse. it could be that it's become more apparent to me when I've been trying to translate for other people who know absolutely no Spanish, or it could just be my own self confidence.
My Spanish tutor assures me I'm progressing, but I think it's my inability to speak in social situations that gets me down. In a one-on-one conversation I feel I can do ok, but in a group I'm more likely to stay quiet, listening and understanding a lot, but not really contributing. In all honesty I'm often like this in a group of English speakers too!
So what's coming up?
I only have one more month in Spain, which just seems crazy. Where did the time go?! Although I've applied to renew with the Auxiliar de Conversacion program I won't hear if I've been successful in my application to stay at my schools for a couple more months. That means everything is a little uncertain, although the chance of returning is really high since I've already been living and teaching here.
I'm in summer planning mode, and I've actually booked my ticket back to Edinburgh, my base for the summer! I can't wait to spend more time in this amazing city and my former home in the UK. While I'd love to travel for the entire summer, I've decided instead to make my home in Edinburgh and take trips where I can. Maybe more on the reasons for that one day too…
I plan to spend time seeing even more of Scotland, since I love it so much, including going back to the Shetland Isles, a highly underrated tourist destination, where my family moved to New Zealand from. Other than that I have some exciting plans for Stockholm and Copenhagen, the relatively new Electric Fields Festival in Scotland, and whatever else looks good on Skyscanner! Plus spending as much time as possible in Edinburgh in August for Festival of course.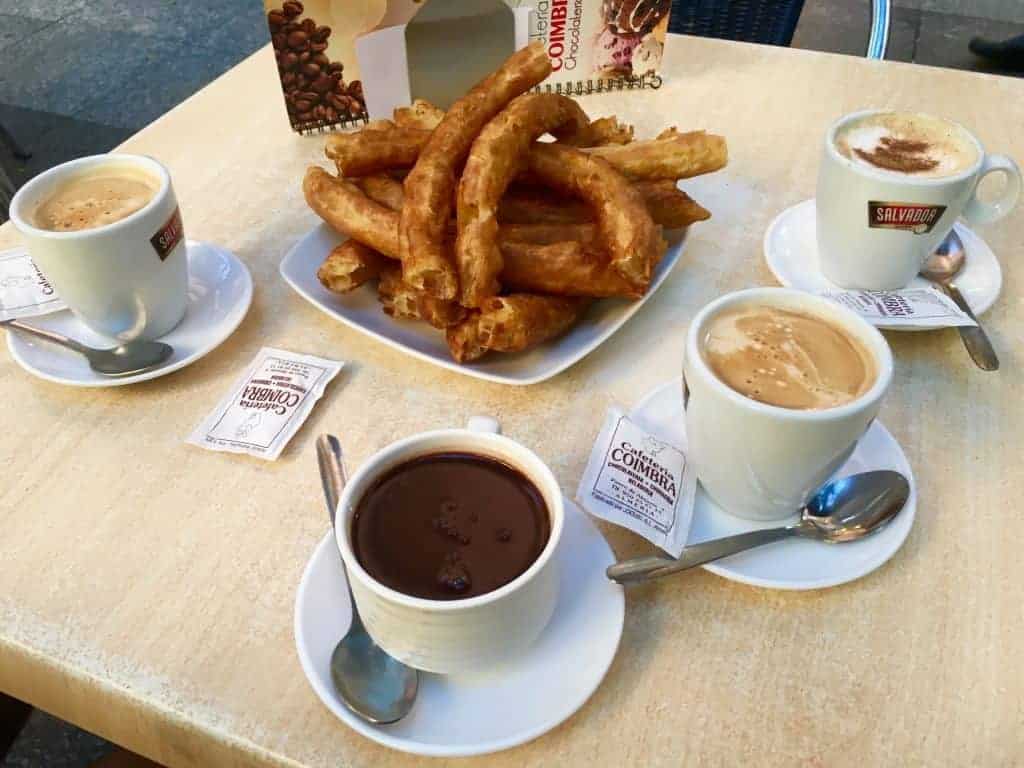 Eating Churros in Almeria
Goals for May
Last month I said I wanted to continue to learn more Spanish. I think that's happened, but not as fast as I'd like. Teaching English kind of puts a roadblock in the immersion way of learning!
I definitely explored more around Almeria, and I can't wait to share my new findings with you all. So many posts in draft fight now!
As for the exercise, and the reading, that didn't happen so much…
So here's this month:
Cram as much Spanish in as possible, so I can have a lot to practice in the summer
Find fun games to play for the last month of teaching. Calling all English teachers?!
Finish and publish all the Almeria posts I have ready, you guys need to know more about this place!
As always, thanks for stopping by, and please let me know if you did! How was your April?
Sonja x