The next installment in the Expat Interview Series! I've reached out to expats in different countries to hear why people might choose to move abroad, and how they do it. If you want to know more about moving to a particular country this is the place. If you're interested in taking part or want to see a certain place featured let me know!
Two and a half years ago I moved to Spain, but it was to the smaller regional city of Almería. I've shared about what it was like to live there a lot, but many people who become expats in Spain move to Madrid, so I'm really excited to share this interview with Sarah from Sarah La Viajera about what you need to know before moving to Madrid! 
Tell us about yourself
I'm Sarah, a 29-year-old fun-loving American girl from the birthplace of aviation, Dayton, Ohio. I drink more tea than you can imagine and I eat even more Mexican food on top of that. I also love a good, deep red wine, a great book and wandering around a new city without a map. My obsessions with the color purple and Latino music may also be borderline unhealthy now.
I live in Madrid as a freelance Spanish to English translator and digital content creator. I previously lived in La Coruña and Santiago de Compostela (Galicia) as an auxiliar de conversación. I was also an auxiliar here in Madrid from 2016-2017 but made the switch to become a freelancer and official resident of Spain just last fall when I modified my student visa to a freelance one.
My family background is military, but although my immediate family didn't move around while I was growing up, my mom's did. Both of my parents love to travel across the United States and being from complete opposite states themselves (Nebraska and California), we had no choice but to travel to see our extended family. When I was just five years old, we drove cross-country from Ohio to just outside Los Angeles to spend Christmas with my grandparents. We passed through nearly a dozen states and saw many points of interest along the way. It was quite the history and geography lesson for a young girl!
My mom has a saying that has stuck in my mind for a long time now "the best things are the farthest away", and this rings true for many different life experiences I've had. The private school I attended in another town or the high school volunteer trips I took to Baja California, Mexico or the university in Florida where I pursued my degree, to name a few.
The best and most important decision I made in my life thus far was to study abroad for a semester in Seville, Spain. I often do things alone (better to go alone than miss out, right?) but that year was the first year I ever took a trans-Atlantic flight all by myself. I was even the only student from my university to go to Seville with a program while other students in my graduating year went to Barcelona. Even though I found it difficult to make friends in the beginning as I was basically starting from scratch, I met a few key people, both Americans and Spaniards, who helped me fall in love with Spain and long to come back.
What made you decide to move to Madrid/Spain?
Ever since I first lived in Seville a few years ago, I realized that Spain is the one country that has always brought out the best in me and living here has helped me grow immensely as a person and a traveler. There is only one reason why this country has the ability to do this: it's an incredible place filled with amazing people, a rich, deep culture and a place for everyone. There is always something new to discover and experience and each region is so unique.
I spent two years in Galicia and while I loved my time there, the climate did not agree with my lifestyle. I love being outside and roaming the streets of cities and not having to worry about whether or not I'll arrive back home after a fun night out sopping wet. I previously lived in Santiago and it rained for 40 days in a row there and that's when I had had enough. I had applied to renew in Galicia for another year but sent the Ministry a very formal email (read: begging them) to request a change to a new region: Madrid.
After perfecting my Spanish language skills, which were already advanced when I arrived, and learning enough Portuguese to feel confident to travel and communicate, I felt I had accomplished everything I had set out to do in Galicia. I had initially wanted to live in Madrid during my first year of teaching but put it on the back burner when I didn't get accepted into my program of choice. Coincidentally, in 2014, I met a half Spanish, half Costa Rican guy who was studying in my hometown but was from Orense (Galicia). I was lucky enough to get a sneak peek at Galician culture and life before I even set foot there.
However, two years passed and Galicia became too small and not as challenging for me. I had also started to get comfortable with life there, which is usually a personal indicator for me to consider moving on. It's the same feeling that made me move out of my college town of Jacksonville, Florida, after spending two and a half years post-college living and working there. I felt like it was time to move to somewhere new. I also wanted to expand my network and start to find work opportunities outside of teaching so Madrid seemed like the perfect place for both things.
I had also visited Madrid again in winter 2016 during Galicia's Carnival vacations and had an amazing time. I had visited the city about a dozen times beforehand (so it was only a matter of time before I moved here myself, right?) but this time I stayed with one of my friends who worked there as an ESL teacher. She had Madrileño friends and knew lots of local places, which she happily explored with me again. That experience totally changed my perspective on Madrid and I felt myself falling in love with the capital. I couldn't believe it!
But I'm so glad I moved here and call this wonderfully loud and vibrant city home.
I owe a lot to the Spanish people and culture for helping me become a more open person, a better traveler, a vibrant storyteller and lover of life. If you have even a short conversation with me about the country, it's highly likely that I'll make you fall in love with this country and its capital city as much as I have. Some of my best experiences have been when I travel slowly, learn about a city's unique culture and meet locals.
Tell me what the cost of living in Madrid is like
For a major European city, Madrid is quite affordable but transportation and the ever-increasing rent prices can make it feel a bit expensive. The city offers young people a deep discount on a 30-day transportation pass (the Abono Jóven) for only €20 and you can travel throughout all zones. Regular passes start from €54 and increase in price by zone. For a room in a shared apartment, I pay around €360, with utilities fluctuating. I live about 30-40 minutes from the center on the commuter train or regular metro. I prefer the areas of Chamberí, Chamartín, and Moncloa when it comes to choosing a place to live.
Madrid is a sprawling metropolis but my neighborhood is fairly residential, quiet and very walkable. A taxi to the airport has a minimum surcharge fee of €20, plus, the cost per kilometer traveled. The metro runs until 2 am (last trains usually leaving a good 10-15 minutes before this time) so I usually don't stay out too late in order to have to call a cab home. On the off chance that I do, I've only paid €7-13 for about a 15-minute ride or used Cabify for rides over 20 minutes.
Meal at a restaurant: €15
Cost of beer at a restaurant: €2.50
Cost of wine at a restaurant: €2,50-€3
Cost of bread: €0.45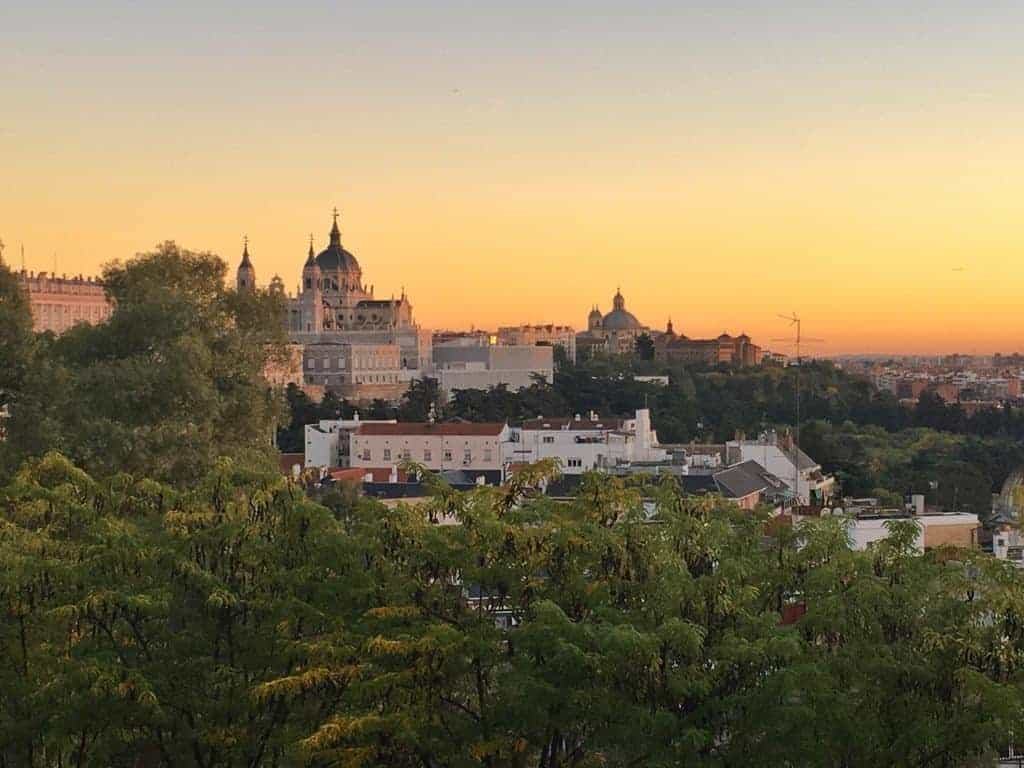 How did you find the job seeking process, or how do you make a living?
I'm an American living so I have to have a visa in order to be in Spain for longer than 90 days.
From 2014-2017, I was an Auxiliar de Conversación and here on a student visa. However, in July 2017, I was within the allotted time frame to apply to modify my student visa to a work visa, so I did it. I opted to go the route of becoming a freelancer in Spain as there were minimal startup costs and I had met the required time and "completed my studies" or successfully taught the minimum of 3 years in my assigned schools. I wrote a detailed account of my experience here if you're reading this and have questions about how to do the same process.
I earn my income in a few different ways:
Digital copywriting and translation
Private, one-on-one English classes
Native English voice over for e-learning courses
Research on living in Spain, travel writing and virtual assistant work
It's a lot of things to juggle but for the most part, I'm content with the path I've taken thus far. The first year has been full of learning experiences but I can apply those lessons to my next couple of years in business as a freelancer.
What's the social scene like in Madrid? How easy is it to make friends?
Overall, it's hard to break into an all-Spaniard friend group. People here tend to have friends from when they were very young or around high school age and stick with them for life. Luckily, Madrid is so diverse that you can easily meet anyone from any part of Spain or the world. I have found the most success meeting people at language exchange (intercambios) nights at a local bar or hobby groups like running, rollerblading, tennis, football or networking in your particular field. I'm also a Christian so naturally I gravitated towards connecting with a local church and getting involved with their young adult group. I've also connected with people who share some of the same interests as me through a local blogger group and an all-female expat group.
It all depends on what you like to do and how outgoing you are. One piece of advice I would give is to go to every event you´re interested in at the beginning and then decide which groups you feel you clicked best with.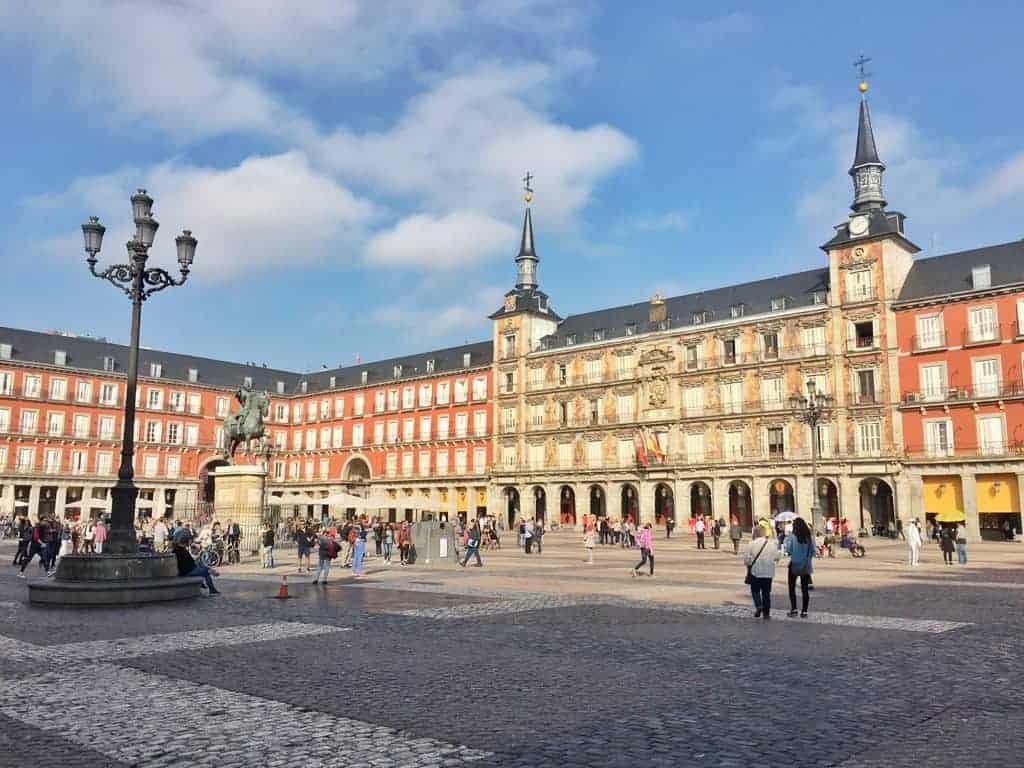 What's the best thing about living in Madrid?
I think the best thing about living in Madrid is the variety. I was craving lots of international cuisines that I just couldn´t find up in the North and Madrid more than fits the bill. I spent several months during my first year trying all sorts of dishes, from Japanese ramen to Middle Eastern shawarma to eating all the tacos and had a blast. Santiago is known for an annual tapas contest it does but each of Madrid´s barrios has some type of food festival going on throughout the year. I wanted more variety in everything: shopping, restaurants, bookstores, movie theaters, cultural events, and Madrid has definitely delivered in all those areas.
What's the hardest thing about living in Madrid?
I think the hardest thing about living in Madrid is the fact that it's a big city. I live in a very quiet and residential neighborhood now but I still hear noise all the time. From the trash trucks at night to the chatty school children walking home in the mid-afternoon, it's never truly silent. Madrid is loud, stressful and polluted, which can cause health problems if you don't take the time to manage your work and personal life and make sure you stay fit.
It's also important to prioritize time to relax and find the stress reliever that works best for you. Whether that's getting a weekly massage, going for a run or to the spa or simply reading a book in a park, you´ll start to learn how you can de-stress and better manage your time.
How is your new home different from your old one?
Madrid is nothing like my hometown in Ohio. I will say that it's surprisingly greener than I expected it to be with lush parks like Parque de El Retiro and my neighborhood park, Parque de Berlín just a few metro stops away. I love how you can get anywhere you want to go on any of its efficient modes of transportation, find almost anything you're looking for in a shop and have dozens of cultural and social activities at your fingertips.
The American East Coast mindset exists in Ohio but it's a lot less rushed and stressful compared to Madrid and its residents. It is harder to get to know people who are from the city as they're tougher to crack in the very beginning, whereas the Midwest is known for its friendliness and hospitality. However, Madrid has a charm all its own and the city stays active year round with tourism, cultural events, and a buzzing nightlife.
If we had just one day in Madrid, what should we not miss?
Besides all of the amazing tapas, rooftop bars, and international cuisines, here are a few places I would definitely recommend you see if you only had one day in Madrid:
Museo del Prado: Part of the Museum Triangle located on Paseo del Prado, this is one of Madrid's best museums. It houses fine paintings from all over the world plus, famous works by Spanish painters like Goya and Velázquez. Every evening from 6-8pm the Prado offers free admission for everyone. If you're on a budget and want to feast your eyes on some of the world's most famous artwork, plan to come here before the day is over.
Parque de El Retiro: This is Madrid's gigantic green lung and is as big as Central Park in New York. Some photo worthy points of interest are the Palacio de Cristal, the Estanque (pond) and the steps around the Alfonso XIII monument. Blissfully cool in the spring and splashed with color in the fall, this park is perfect to visit in any season. If you only have one day to visit the city, prioritize a big walk in the park and finish off your time by grabbing a friend and going for a boat ride around the big lake. I wouldn't necessarily recommend doing it on a hot, summer day but try to go on a sunny day to capture the best photos.
Círculo de Bellas Artes: It's a fine arts museum that's known for its concerts, theaters, and black tie events but most madrileños and tourists frequent it for its rooftop bar with views of the city. You can gush over a close-up view of the famous Metropolis building across the street and see the city stretch out for miles. Day or night, this rooftop is something you can't skip but bundle up in the windy, cold winter!
La Rosaleda de Madrid: The city's rose garden that holds an international rose contest each year is a hidden gem behind the Príncipe Pío train station. You can smell roses from Spain, the UK, the US, France, Holland and more. Beside the garden is a Cable Car station where you can travel from the northwestern barrio of Moncloa all the way down to Casa de Campo, another gigantic park in the city. Both are perfect late morning or early afternoon excursions during the spring or early summer.
Plaza Mayor: It's busy and crowded during the day but you can't skip Madrid's biggest and most impressive square in all the city. Enjoy a drink on one of the umbrella terraces or sit down with a group of friends right in the middle of the square and soak up the warmth from the stone square itself. Day or night, the architecture and construction of this square will dazzle you.
Puerta del Sol: The center of not only the city but the entire country. It's known for being the sunniest part of the city and where you can see just about any street performance, protest or demonstration. Snap photos with the iconic "Oso y el Madroño" statue or a cold drink or ice cream on one of the square's fountains. Don't leave the area without snapping a photo of your feet placed on Kilómetro 0, the country's centermost point.
Can you share your best local/insider tip about where you live?
Madrid really shines in the springtime. The weather is mild, the days are getting longer and you can sleep comfortably with the windows open at night. Many different types of flowers are also in bloom during that time, like the almond blossoms in Parque Quinta de los Molinos. On the contrary, I found that the worst time to visit the city was during the month of August. I spent my first verano madrileño (Madrid summer) here last year and I barely survived. Not only was it an extremely hot summer, but by the time early August rolled around, Madrid became a ghost town.
I lived in a northwest barrio at the time and would take walks around the once lively streets to find that most bars, restaurants, and shops were closed until the end of the month. What's worse is that they didn't take their vacations all at the same time nor for the same length of time. It drove me a bit crazy but at least I had a huge freelance copywriting project to keep me busy. So, in short, I would not recommend a visit to Madrid during the month of August. Spanish people all around the country take their vacations seriously and if you visit during this month, you won't see Madrid at its best. In fact, you'll barely see any madrileños cause they'll all be at the beach or in their village. Luckily, I've already made my plans to escape for half the month to a much cooler destination!
If you could give one piece of advice to people looking to live in Madrid what would it be?
The one piece of advice I would give anyone who's looking to live in Madrid would be to stay ahead of the competition. A lot of the jobs in Spain are almost exclusively found in big cities and most everyone who's an expat does eventually end up moving to either Madrid or Barcelona to improve their work opportunities and expand their network. So, if a lot of people are vying for a job in the same field as you, it can only mean that competition can be stiff at times.
I find that that madrileñas are more competitive than their male counterparts in nearly everything: fashion, physical appearance, status, skill set, foreign language abilities…the list goes on. I would encourage anyone who wants to move to Madrid to not lose their sense of individuality in their quest for establishing a life here, whether it's for a few months or for the long haul. Be who you are and show your personality off proudly no matter where you go.
Find out more about Sarah's experience and moving to Spain on her blog, Sarah La Viajera, and her Twitter and Instagram.