Want to plan the perfect Seville itinerary for one day?
The following is a post by Marco Santos from Travel-Boo. Born and raised in South Africa, together with his partner, he moved to sunny Lisbon over 3 years ago. With an absolute love for Europe, he is on a mission to rediscover his own Portuguese heritage along the way. Marco has set out to blog and share his passion for travelling through and exploring both Portugal, Spain and throughout Europe through his blog Travel-Boo.
Seville is one of the most visited cities in Europe, and its good reputation is certainly well deserved.
This vibrant Andalusian gem known for its oranges and Flamenco dancing has captured many a visitor's heart through its incredible architecture, history, food and culture. If you have several days to spare, then exploring the city and the surrounding region would be the most ideal.
A day trip from Seville to Cordoba is one exciting excursion you could plan for. However, if your time in gorgeous Sevilla is somewhat limited, then there are plenty of fantastic things to see and do in Seville that you can squeeze into just one day.
So in this Seville one-day itinerary, I will cover everything you need to know to help you plan the perfect day in Seville! 
Seville Travel: Getting Around
Many of the top things to do in Seville can be reached on foot or by bike, but if needed, there is a bus, metro and taxi service. 
Rent a Bike or Walk
Getting around Seville is always thrilling and an adventure in itself.
Many travellers choose to wander the streets on foot or rent a bike to reach their destinations further out. The city is extremely bike-friendly, with paths and flat terrain. Bike rental stores can be found in all areas and are super affordable. 
Bus
Seville has an efficient bus service that allows you to travel in and around the city quickly and affordably.
While the bus doesn't travel directly to the city centre, it can transport you to the surrounding areas that feature some of the city's other popular attractions.
The bus lines run from 06:00 to 23:30, so whether you're planning an early adventure or late-night shenanigans, the bus will be a reliable option.
Metro
Alternatively, you can take the popular transport that the locals use for their commutes. The Metro Sevilla.
On Fridays and Saturdays, you can hop from bar to bar and explore the nightlife, as the metro can run until as late as 02:00.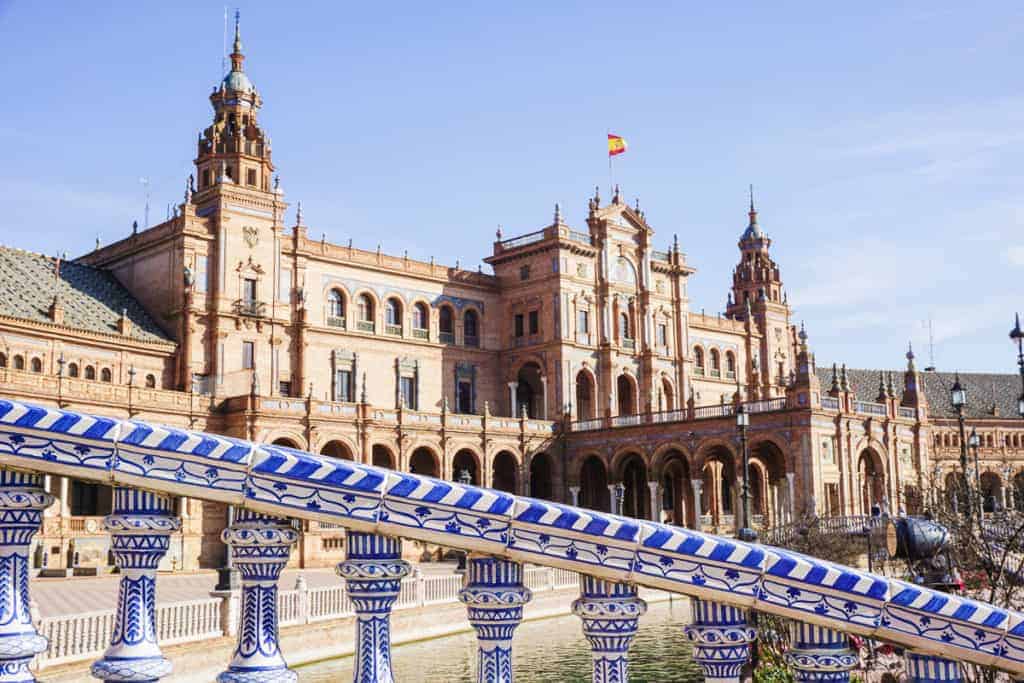 What to See in Seville, Spain, in One Day
Given that Seville is a city that's steeped in history, travellers will be enchanted by the Gothic cathedrals, arching palaces and centuries-old mansions.
And for those of you who've seen enough history, there are lively taverns, winding alleyways, and wooden mushroom structures to be seen. 
Explore the Santa Cruz Neighbourhood
Surrounding the old quarter are some pretty important historical sights that are worth exploring, and all within walking distance.
The biggest attractions are the Alcazar Palace and the Giralda Tower of the Cathedral, which you can explore by joining a short guided tour. 
With all the narrow, winding streets, you'll enjoy just wandering the streets and appreciating Seville's unique beauty.
Once you've reached the end of the neighbourhood, you'll arrive at 'Jardines de Murillo' park, with benches, shade and a historic monument. 
The Metropol Parasol
Next up, is Metropol Parasol. Take the Line 32 bus, and you'll be there in 10 minutes.
As unusual as the Metropol Parasol is, it's still one of Seville's most popular tourist attractions. The impressive wooden structures reach 170 metres into the sky, where they show off wondrous views of the city life below.
An interesting fact about the mushroom top development is that the builders were met with a startling surprise. Roman remains were found here, which have now been preserved at the Antiquarium Museum on the basement level. 
Casa de Pilatos
This is one of the most well-preserved buildings in the whole of Seville and also one of the most beautiful. It's renowned for its complex architecture and decor that includes Mudéjar, Italian Renaissance styles and Gothic influences. 
The palace is open every day, but you're required to purchase tickets. At the moment, full-access visits will cost you 12 Euros, while ground-floor access will only cost you 10 Euros.
Tickets can be bought at the entrance, but to make the most of your experience, join a tour and explore this glorious mansion.
Alameda de Hercules Plaza
After galavanting around Seville, chill out at the local park. The Alameda de Hercules Plaza is the perfect place to spend the day with friends or family or to hit up solo.
The plaza features two playgrounds, outdoor activities (such as a friendly game of soccer), and some awesome restaurants and bars surrounding it. 
The park is also used as an entertaining area, where you'll often find musicians playing jazz or multicultural events. 
Enjoy Happy Hour at the Rooftop Bars in Seville
One of the top things to do in Seville is to end your day with happy hour at any one of the bustling rooftop bars.
The rooftop bars show off incredible views of the city, and it's a fantastic place to start up some conversation with the locals. Or to meet fellow international travellers. 
Some of the favourites are Terraza del Hotel Dona Maria, Terraza Eme, Roof Estamos Arriba and Terraza de El Corte Inglés el Duque. The sunsets from these bars will blow your mind!
Food to Try and Where to Eat
From fantastic tapas bars, quirky, cosy coffee shops and superb markets, Seville has gained a good reputation and is undoubtedly one of the most beautiful places to visit in Spain. 
Here's how to enjoy your one day in Seville and experience the unique culture and eating experiences.
Breakfast – Triana Market
You know what they say about breakfast being the most important meal of the day. And when you've only got a day to explore the city, you're going to need to fuel up for a full day of adventures. 
Triana Market hosts a wonderful array of fresh fruits, fried fish, tapas, fruit juices and sweet treats for the road. Feel free to head back here after your day of travels, too, to pick up some supplies for your accommodation spot. 
Ice Cream Break – Freskura
While in Spain, ice cream tasting is an essential part of your travelling.
Freskura has an impressive array of flavours, such as hazelnut, figs and nougat, along with dairy-free sorbets, granitas and mousses. 
Lunch – Antigua Abacería de San Lorenzo
Order their famous montadito de chorizo picante y cabrales, a spicy chorizo sandwich with creamy blue cheese.
Enjoy your lunch in the cosy interior, or take your lunch outside to the patio to enjoy the sunshine. 
Dinner – Tapas at Castizo
Enjoy classic and modern Spanish tapas. The open, warm and eye-catching interior makes for a lively atmosphere. You might even be in luck to hear the head chef singing from inside the kitchen. 
Depending on where you're sitting, at the bar or at a table, you'll have a different menu. Pair up your meals with a selection of fortified wines, and end it off with a fresh dessert. 
Where to Stay in Spain, Seville
Depending on your travel preferences, the best area to stay in during your 1 day in Seville varies.
Seville is a small-scale city, and all of the main attractions are relatively close to one another. It's perfectly feasible to stay in a neighbourhood of your choice and venture around the city.
Barrio Santa Cruz
Some of the best hotels and luxury accommodation options are found within the Barrio Santa Cruz region, the heart of Seville. Having a car here won't be necessary as you'll easily get from one place to the other on foot. 
Luxury –

Mini-stay: Recaredo

is a private, luxury apartment that

shows off beautiful

views of the city
Marcena
Previously one of the poorest parts of Seville, Macarena has been gentrified and attracts those interested in the less touristy parts of Seville.
With tapas bars, and nightclubs, Macarena has a buzzing nightlife. 
Nightlife –

Miraflores 58

is within walking distance to Barrio Santa Cruz and the top attractions in Seville
Triana
If you're a foodie, Triana is also another great area. It's renowned for its local cuisine that keeps with the authentic Spanish style and simple dishes that'll surprise you.
There's also an array of funky cocktail bars and tiny street shops. 
Just one day in Seville is really not enough, but if it's all you have, then you can make the most of it by following this one-day guide!
Planning a Spain trip? Check these out!