Guys. Migrating Miss has been alive on the world wide web for a whole year! It's totally cliche, but I actually can't believe it.
The travel blogging world isn't exactly crying out for new bloggers, and I honestly can't tell you if I thought I'd even make it this far.
It's a muggy day in Edinburgh (which is weird) but it's drizzling with rain in typical Scottish fashion. I'm cross-legged in an armchair by a floor-length open window, listening to the cars passing by on the wet road. My life right now to my life last year, pre-blog? Polar opposites.
"Rock bottom became the solid foundation on which I rebuilt my life."

J K Rowling
Migrating Miss was born from a need for distraction, mostly, and frustration at being unable to achieve what I wanted to.
For the previous four years since finishing university – hell, you could even say as much as nine years since I finished high school – I'd been building towards and living this dream of travel and moving to Europe.
And then it all came crashing down.
Debt and visas forced me home (or close to it) and although I wasn't exactly living a hard life on the Gold Coast of Australia, moving back in with my parents at 27 and having no clue what I was doing next was not exactly my dream.
How did all those people with these fancy travel blogs get to become digital nomads, travelling, writing, and taking photos for a living?
How do I get to a position where I'm not forced to return home like that again? It was time to find out.
Don't give up hope before you've even started
Type "travel blog" into Google and see how many thousands of them pop up.
At first, I was too intimidated to start a travel blog because I only knew about the big players in the game. They've all been around for years and I couldn't see how I would ever be able to compete.
I almost didn't even start a blog because of the fear of failure. Finding out there were thousands and thousands of travel blogs out there actually gave me the motivation to do it.
If there were so many other people trying their hand at it, why couldn't I?
Since then, the beautiful thing I've found out about the travel blogging community is that we all love to help each other out.
One person's success is another's in a sense because we are all trying to prove this really is a legit way to do business.
"There is freedom waiting for you, on the breezes of the sky, and you ask "What if I fail?". Oh, but my darling, what if you fly?"

Erin Hanson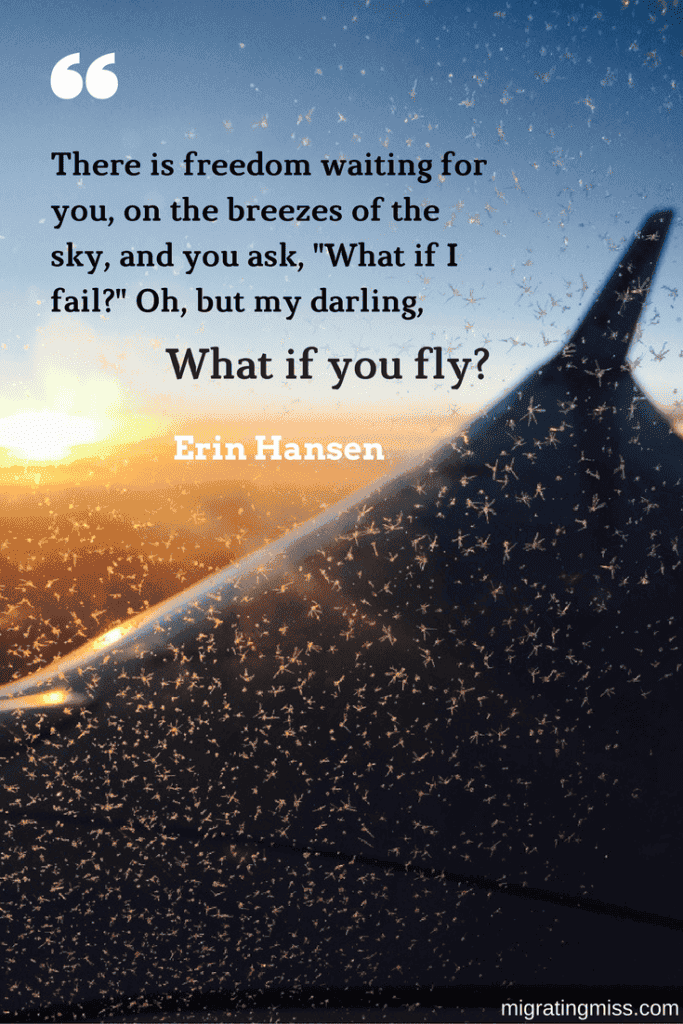 There is a right time for everything, or at least we make it the right time.
For the first while after I launched Migrating Miss, I was disappointed in myself for not having started sooner.
I had just finished travelling around Europe for the past 2 and a half years, not to mention trips to South East Asia, China, studying abroad in Canada, and moving from New Zealand to Australia. *Face Palm*.
I soon realised though, that travelling as a travel blogger is completely different to travelling as a traveller. And how travel has changed in the past few years.
When I was first travelling I posted the odd thing on whatever social media there was, and at the beginning, that was none! (Yes, old).
Now as a travel blogger, I post on EVERYTHING.
I'm not complaining; it's just different. All this made me realise that things happen at the right time.
Maybe if I had started my blog earlier, I would be in a different place now.
But then again, maybe I wouldn't. I started it at just the right time for me. When I had the time and the motivation and the need to do something.
"All you have to do is pay attention. Lessons always arrive when you are ready."

Paulo Coelho
Pursue your passion. But really.
Confession: this isn't my first gig.
I had a blog while I was living in the UK for two years, but it was very much a "look Ma, I went to Rome!" kind of thing.
But I loved writing. I loved creating. And I'd loved it for a long time.
Back in the days of Open Diary (please tell me I'm not the only one and SOMEBODY remembers this) when you could create your own little diary online with posts and add pictures, I got really into it. Teenage me even learnt some coding to make it look prettier.
I don't know why I never pursued it, but over 10 years later, I decided it was probably time I did something about all those little stories and things I write in my head.
"Remember what wherever your heart is, there you will find your treasure."

Paulo Coelho
Search for something you really love to do, or recognise it
Writing and taking photos might have been a passion, but I didn't see it as something viable for my future.
At university I studied Law and Criminology because I enjoyed it, but I was never entirely sure whether I wanted to be a lawyer. I'm still not sure.
Having ploughed a significant amount of time (and money) into studying, I was spat out the other side into the big wide working world. Welcome to the recession, where you take what work you can get.
Looking back, I never made a super-conscious choice to go to university. It was just what was expected of me when I finished high school. I think it's different now, and todays teenagers (oh god, old again) seem to be much more savvy about planning their future.
For me, the planning came after university. Except I was nowhere near ready to start climbing some career ladder that I knew I would struggle to jump off.
Wanting to travel the world and taking whatever job I could get to do it became the norm for me.
I bounced from one boring office job to another, and I was happy because I was bouncing from one country to another at the same time. I was living the dream, or close enough to it, and I was happy with that.
Except at some point, I got over working these jobs I had no passion for.
I love learning new things, so I'd be entertained for a while, and then once I knew the job, I'd be bored. It was time to find something I really loved to do, and I've found it in blogging.
I'm not exactly raking in the money at Migrating Miss, and I'm still teaching English in Spain as a job on the side, but blogging is opening doors for me and when I have to actually start looking for jobs in the UK next year, I'm hoping they will be more closely related to what I want to do.
And in any case, I'll continue working on this labour of love!
"Above all, watch with glittering eyes the whole world around you, because the greatest secrets are always hidden in the most unlikely places. Those who don't believe in magic will never find it."

Roald Dahl
You don't have to do it the way everyone tells you to
I already knew this, of course. But I'm not sure how much I REALLY knew it.
As a Kiwi, living abroad for a few years in your twenties is far from extreme.
Moving to the UK is almost ordinary and hardly anyone would blink if you told them you were going to do it.
I might have skipped the country a little earlier than most people I knew, but I wasn't forging into unknown territory.
I might have moved to Edinburgh instead of London, but I wasn't the only one.
Before I started blogging, I didn't know there were a million and one ways to make money online. I didn't know about all these amazing jobs you can have. And the crazy stuff you can do.
There truly are so many different ways to do things and you really don't have to follow the same path.
There are so many ways to go after what you want and saying there isn't just means you haven't looked hard enough.
I read all the time about travelling, blogging, moving abroad, and I both learn a lot and take it all with a grain of salt.
Do what YOU want, how YOU want. I guarantee you won't be the only one.
"Have the courage to follow your heart and intuition. They somehow already know what you truly want to become."

Steve Jobs
If you want it, you need to work really hard for it
I think I've always worked hard, and yet; sometimes, it feels like I haven't worked hard at the right things.
I didn't feel like I would be able to start a travel blog or make something of it, even though I really wanted to.
Wishing and hoping and dreaming are all fantastic things to do, but no one's going to come and hand you what you want. Or even point you in the right direction.
Luck is a wonderful thing, and it's out there, but luck isn't enough. Sometimes you need to force yourself into the space you want to be in with sheer determination and hard work.
"If you trust in yourself…and believe in your dreams…and follow your star…you'll still get beaten by people who spent their time working hard and learning things and weren't so lazy."

Terry Pratchett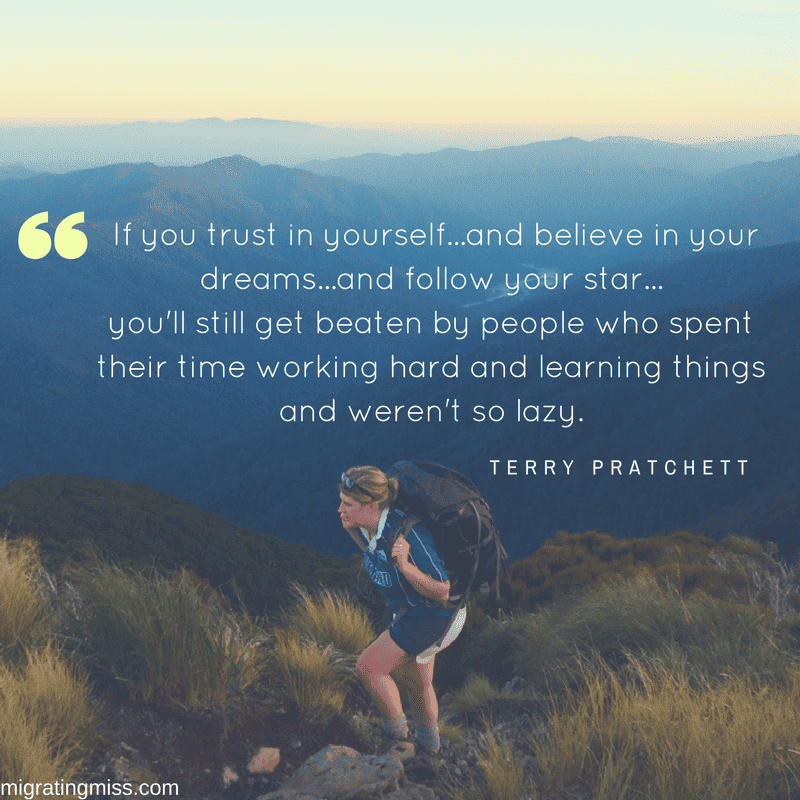 So what haven't I learnt?
It's been a crazy first year of blogging, and I've had some awesome successes.
I attended my first TBEX and met so many lovely people and brands. I went on my first trip to Luleå, in Swedish Lapland and it was AMAZING. I actually can't express how much (which is bad, for someone who's meant to be able to do that…oops).
I covered the Edinburgh Festivals in August, which was so much fun and I couldn't have wished for better since I LOVE Edinburgh. And festivals.
But. I still suck at organising my photos.
Before I started blogging I organised all my old photos on a PC hard drive. Then I got a Mac, and that went out the window because I can't figure out how to add new stuff to it. So I bought a new hard drive. Yesterday…
I still mostly use an iPhone for my photos.
I've tried using a DSLR and I want to learn and practice a lot more, but I actually take my best photos with an iPhone!
I think my eyes are crooked because all my DSLR photos are…
I still stress myself out.
The list of blogging things to do seriously never ends. I keep thinking if I could just get a little more done then I wouldn't get stressed about it. Instead, I think I need to learn how to not stress about it even when there are things to be done. Did I mention I'm a Virgo?
I still don't know what I'm doing.
The blogging world constantly changes (Instagram stories anyone?!) and it's a learning curve that never quite peaks. That's why I love it though. It's a job I'll never be bored of.
"You keep putting one foot in front of the other, and then one day you look back and you've climbed a mountain."

Tom Hiddleston
Where to, Miss?
After the changes of the last year I could never presume to know what's next.
On a personal level, I want to keep growing like I feel I have in the past year.
On a professional level, I want to continue to improve this blog, grow it, make it better, and have amazing things come from it. I hope you're with me.
"If you don't turn your life into a story, you'll just become a part of someone else's story."

Terry Pratchett
Sonja x
Just a note: Travel Blog Success (now Superstar Blogging)has been instrumental in helping me with my blog! It was so helpful in how I should set things up from the beginning, and the ongoing support of the Facebook group is amazing. I'd HIGHLY recommend it!
Looking for Blog Coaching?
We can help you with your blog business strategy!
If you liked it, pin it!