There are plenty of opportunities to drive some amazing routes on a road trip in France, given that it's one of the biggest countries in Europe! I will admit that my first time driving in France I completely underestimated the distances and was far too ambitious with my planning.
To help you avoid making the same mistake I did I've enlisted the help of some of my fellow travel bloggers to put together this post about some of the best French road trips! Some of them start and end in Paris, and others are linear trips from various locations across the country.
These France road trip itineraries cover much of the country and are of varying lengths, so there'll be something to suit everyone for sure.
Southern Dordogne
Route: Bergerac to Sarlat-la-Caneda via Eymet, Montignac-de-Lauzun (for the prehistoric caves), Issigeac, Monpazier, Beynac, La Roque and more
Duration: 2-3 days minimum
The Dordogne is a large region in southwest France. This is where we planned our road trip and where I totally overestimated all the things to do in the Dordogne and the places to see. I've broken up what we did into two separate trips, this one and the other on this list.
This part of the Dordogne is easy to access via Bordeaux or Bergerac airports. Between those and Sarlat-la-Caneda are countless beautiful French villages, scenery, Chateaux, and more!
I would recommend taking the route above and stopping at or at the very least driving through the following:
The market town of Eymet with its picturesque square
Lascaux Caves near Montignac where you can see replicas of the original paintings, some thought to have been painted over 17,000 years ago
Issigeac with its stone and wooden houses and lots of events throughout the year
The fortified town of Monpazier built by Edward I of England
Chateau de Beynac perched dramatically on a cliff high above the river
Chateau de Marqueyssac and the gardens, which can be viewed by candlelight at night in summer
Chateau de Castlenaud to learn more about the history of the area
La Roque-Gageac, which is built between the river and a cliff, with many buildings carved directly from the rock
Sarlat-la-Caneda with its beautiful sandstone buildings Saturday market, and plenty of places to eat and explore
You could actually drive all of this in one very long day if you didn't stop too much, but I would recommend stopping to stay somewhere near Eymet and Issigeac, and then again at Sarlat-la-Caneda or nearby since there's so much to see there.
Normandy
By Stephanie from History Fan Girl
Route: Cherbourg to Rouen. If you need to fly into the country and pick-up a rental car, you can fly in and out of Paris.
Duration: 3-7 Days
A Normandy road trip is primarily centered around seeing the important sites associated with the D-Day Invasion, however, there are a few additional older monuments to see in this part of the country as well.
Start your Normandy adventure in Cherbourg. This beautiful city was the last city the Titanic visited before moving on to its fateful Transatlantic crossing. This is the perfect place to spend the night and rest before getting up for your first full day of sightseeing. Enjoy dinner overlooking the harbor and enjoy walking through the city.
Your next stop is St. Mere Eglise, the first French village to be liberated on D-Day. Make sure to stop by the church here to see where a US paratrooper was famously hanging for hours when his parachute got stuck on the roof.
There are many important sites in the area, and depending on how many days you have to explore you can see as much as you can or stick to the highlights. You will want to see a few of the D-Day beaches, though if you have more time you can see all of them. There are also great museums at most of the beaches, but if you are short on time make sure to visit the Juneau Beach Centre and the Omaha Beach Memorial Museum.
Other must-see sites include the Normandy American Cemetery and Pont Du Hoc. If you have more time you can incorporate seeing the rest of the beaches, Gold, Sword, and Utah Beach, the Pegasus Bridge, and the somber La Cambe German War Cemetery.
Along the way, you can stay in Bayeaux, and see the famous Bayeaux Tapestry if it's in town. Finish your trip with a day exploring Rouen.
Bordeaux to Perpignan
By Pauline from BeeLoved City
Route: Bordeaux to Perpignan via Toulouse and Carcassonne
Duration: 5 Days
If you want to discover the most beautiful places in Southwest France, a road trip from Bordeaux to Perpignan through Toulouse and Carcassonne will be ideal.
You will be starting in Bordeaux, France's wine capital! The city centre is very pretty and easy to discover on foot. You can roam around the narrow streets and check out the beautiful Water Mirror. As you head out of Bordeaux, make sure to stop in one of the vineyards. You will find a handful of them in Cadillac. It's on the way (no need for a detour) and you can taste some delicious Bordeaux wines. After a couple of hours' drive you will get to Toulouse.
Nicknamed the Pink City, "La Ville Rose", Toulouse offers a very different experience and architectural style. There is plenty to do in Toulouse city centre but one of the best spots to head to is La Daurade. The views over the River Garonne are wonderful!
If you are travelling with kids, you should also consider stopping at the Space City. It's very good fun!
As you keep driving south, you will get to Carcassonne. This medieval town is very famous for its beautiful citadel. You can stop and visit the fortress. It will take a couple of hours. After that, head into town for lunch (or dinner). The typical dish in Carcassonne is the Cassoulet. You will find it in every restaurant there! If you want to try authentic french food, that will be the perfect meal!
Finally, as you keep driving for a couple of hours, you will reach the Mediterranean sea and Perpignan. This coastal city is very different from the ones mentioned above. There is a strong Catalan influence, making it very interesting from a cultural point of view. One of the best places to visit is the Palace of the Kings of Majorca.
Pyrénées-Orientales Region
By Gábor from Surfing the Planet
Route: Collioure-Perpignan-Castlenou-Eus-Mosset-Villefranche-de-Conflent-Evol
Duration: 2-3 days
When travellers think about the South of France, most people only think about the famous Provence Region.
Nevertheless, there are other areas that would deserve your attention, such as the Pyrénées-Orientales Region, also known as Northern Catalonia. This French region close to the Spanish border is an interesting mixture of French and Catalan culture.
You can start your trip in Collioure, a lovely seaside village near the French-Spanish border. Collioure is known as the pearl of the Vermillion Coast with its beautiful architecture and pleasant atmosphere.
From here, you can continue to Perpignan, the most important historical town in the area and the capital of the Catalan identity inside France. Perpignan has an old castle (Castillet), several beautiful churches, and a charming atmosphere, especially on the riverside.
From here, you can continue to the west and visit some of the most beautiful villages near Perpignan. You should dedicate some time to Castlenou, Eus, and Mosset, which are picture-perfect hilltop villages with a medieval atmosphere. Castelnau is especially beautiful with a small castle on the upper part of the settlement.
Your next stop should be Villefranche-de-Conflent, a beautiful fortified town on the banks of River Têt, and you can continue till Evol, a very small village that transmits the ambience of the calm life in the South of France. The landscape during the trip is simply amazing with vineyards and the mysterious Canigou mountain presiding the views.
Villages of Provence
By Supriya from Fun Travelog
Route: Marseille to Avignon
Duration: 7 days
A road trip in Provence, France combines dramatic hilltop villages, delicious farm-fresh produce, and weekly farmer's markets, art, and drop-dead gorgeous scenery.
In June and July, most travelers make a beeline for lavender fields in Provence, one of the biggest reasons that this road trip should be on your bucket list.
Begin your journey in Marseille, which is one of the nearest airports in the area. Drive north to the village of Aix-en-Provence or further up to Lourmarin, a small village nestled between vineyards, olive, and almond trees, that is one of the prettiest villages of Provence.
Next, spend a day exploring the French Catalan village of Roussillon where you can admire red cliffs and ochre quarries amidst a picturesque landscape. The best way to see these cliffs is by walking the ochre trail.
Each village in Provence hosts a farmer's market on a different day of the week, and it is best to check on the timings for those in advance. There are some small art galleries in Roussilon as well.
For a hilltop village straight out of a fairy tale, stay in Gordes. The villages of L'Isle Sur La Sorgue and Coustellet also host farmer's markets with vendors selling soaps, baked items, bread, fresh fruits, vegetables, wine, and so on.
Lavender lovers can head to the Valensole region or the village of Sault to get a fix of the purple flora then end your trip in Saint Remy, where Vincent Van Gogh once lived.
With a little more time on hand, head over to Avignon to see the Palais de Papes, a historical fort and palace.
Family-owned B&Bs with private pools and homemade breakfast spreads are the best places to base yourself while on this journey. While you're in the region, don't miss out on a Michelin star meal, most of which are quite affordable.
Corsica
By Simon from Wild About Travel
Route: Starting and ending in Ajaccio
Length: 7 days
On this incredible journey, you'll discover some of the most beautiful areas of Corsica. The Corsica road trip starts and ends in Ajaccio, convenient as you can get there by ferry or by plane, and car rental on arrival is straightforward.
Ajaccio is the capital of Corsica and Napoleon's birthplace. It's worth spending a few hours at the beginning or the end of the trip to visit the main attractions: Bonaparte museum, the Citadel, and a stroll along the old town's boulevards.
From Ajaccio, head southwards toward Sartène, a picturesque town perched atop a hill and an excellent spot to spend the night.
On the second day, travel further south to Bonifacio, one of the most beautiful and romantic towns in France. Stroll in the charming alleys, wander in the small port to admire some of the most luxurious yachts in the Mediterranean, take a boat trip to look at Bonifacio from the sea. Late in the afternoon, drive to Porto Vecchio, to spend the evening and the night.
Start the following day by exploring the beaches around Porto Vecchio, famous for the white sand and Cristal-clear water. Hop in the car, and drive inland through beautiful forests to the Aiguilles de Bavella, the Bavella needles, a stunning mountain landscape. Spend the night in the surroundings.
Day four makes for a longer ride to reach Corte, another picturesque town, and the nearby Restonica valley.
Another day, another ride, this time back to the sea, to Porto, the small city surrounded by cliffs. Explore the Gulf of Porto, particularly the Calanques de Piana and the Girolata Nature Reserve.
From Porto, you'll head back south to Ajaccio, your starting point, enjoying more beautiful scenery along the way.
Gorges du Tarn
By Daniela from Ipanema Travels
Route: Starting and ending in Millau
Duration: 4 days
A road trip in France is always a good idea. Especially if it involves some breathtaking views and a bunch of cute little villages. This 4-day itinerary (about 200 km in total) will take you on a road trip through one of the most beautiful areas in France – Gorges du Tarn and Gorges de La Jonte in the Causses and the Cévennes.
The journey starts and ends in Millau – a lovely, though a bit sleepy, medieval city on the Tarn River. On the first day visit the Viaduct of Millau – the tallest bridge in the world and the little hamlet of Peyre, included on the list of the Most Beautiful Villages in France. Spend the night in Millau.
The next day head to Les Vignes via D907. You'll be travelling upstream through Tarn and a few kilometres after Millau you'll notice that the valley slowly disappears and the gorge becomes deeper and narrower. At Les Vignes take a detour to Point Sublime for a stunning panorama view of the gorge.
Afterwards, go back to Les Vignes and continue to Sainte-Enemie. On the way, you can stop at La Malene and Saint-Chelly-du-Tarn. Spend the second night in Sainte-Enemie, a truly adorable place, and the second one on this road trip included on the list of the Most Beautiful Villages.
On the third day head to Florac and then to Meyrueis and the Dargilan Cave. After the cave, go back to Meyrueis, where you can spend the third night.
The next morning take the road up the Causse Méjean and visit the amazing Aven Armand cave and the old farmstead in Hyelzas (Ferme Caussenarde d'Autrefois). The scenery here is totally different but still beautiful.
After the farm head to D996 via D63. Now you'll be passing through the gorge on La Jonte River. Stop at Le Rozier for a walk and visit the twin town of Payreleau. Afterwards, continue back to Millau where the trip ends.
Ile de Ré
By Susan from Luxury Columnist
Route: An island off the west of France, accessed via the Pont de Re toll bridge
Duration: 1-2 days
The French island of Ile de Ré is a great destination for a relaxing road trip. Located less than 30 minutes from Ile de Ré Airport in Western France, it has a very unspoiled ambiance. High rise buildings are prohibited and all house shutters must be painted in specific shades of green or grey.
The journey starts and ends with a drive over the Pont de Re toll bridge. From here, you can either drive westwards towards Sainte Marie de Ré or eastwards to Rivedoux-Plage. Sainte Marie de Ré is a picturesque fishing village, while Rivedoux-Plage is popular for its sandy beaches.
Highlights include a visit to the lighthouse at Le Phare des Baleines, as well as Saint-Martin-de-Ré, the largest town on the island. It is known for its star-shaped fortifications, built by the military engineer Vauban.
La Flotte has a great artisanal food market, while Ars-en-Ré is known for its two-tone church spire.
The Ile de Re is a haven for wildlife, with 218 species of birds. During your road trip, you'll also pass by oyster flats, salt marshes, and vineyards.
As the island is only 18 miles long, you could drive around it in a day. However, it's best to stay for at least one night to give yourself plenty of time to explore the island's attractions. There are some lovely places to stay in St-Martin-de-Re, such as Hotel La Baronnie. If you like seafood, there are many great oyster shacks along the way.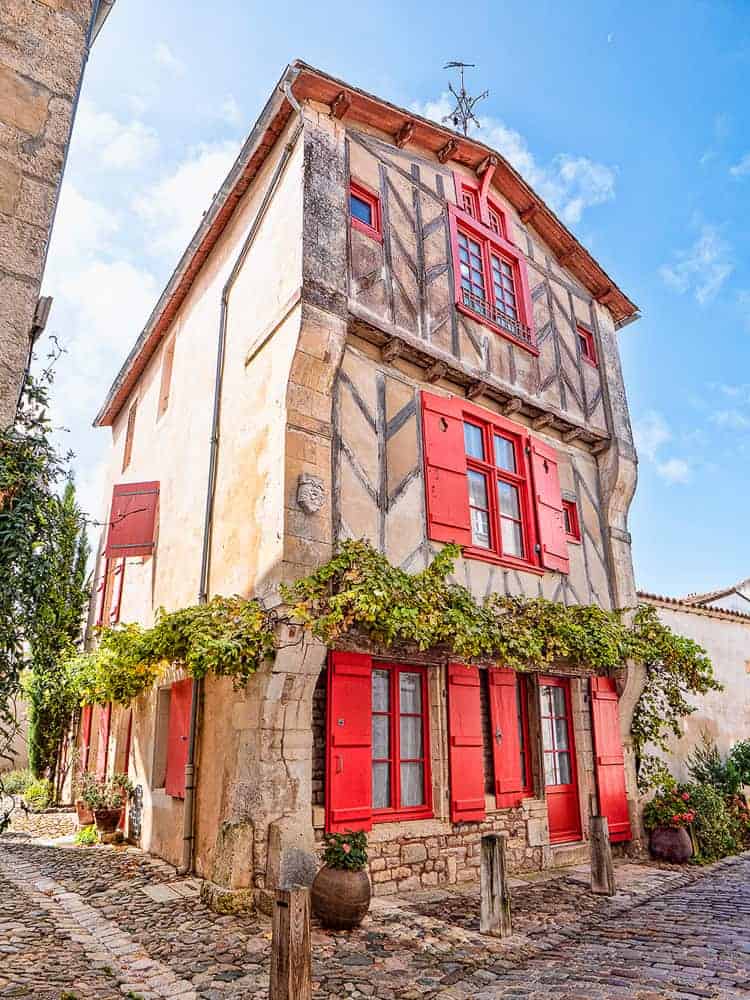 Loire Valley
By Norbert from World in Paris
Route: Starts and ends in Paris
Duration: 4 days minimum
The Loire Valley is home to some of the best castles near Paris but also medieval cities and towns, impressive cathedrals, and some of the country's best wines. It is possible to visit some areas of the Loire Valley on a day trip from Paris but if you have the time, why rush?
This Loire Valley road trip takes you to some of the Loire Valley's most beautiful sights. The trip starts and ends in Paris and it takes a minimum of four days, more if you want to take your time and visit other places nearby.
From Paris, drive to Blois (2 hours) where you can spend two nights. Blois is a beautiful historical city to explore, and the gateway to the region's big sights. Blois is also home to one of the Loire Valley's must-see châteaux, where seven kings and ten queens of France lived.
On day two, explore the impressive Château de Chambord on a day trip from Blois. Chambord is one of the best examples of renaissance-style châteaux in France and it is believed that Leonardo da Vinci was involved in the project.
On day three drive from Blois to Amboise (40 minutes), another beautiful medieval town with interesting sights to explore like the Château d'Amboise or Clos de Luce, where Da Vinci lived.
On the fourth day, it's time to go back to Paris. On the way, you can do a detour to visit Château de Chenonceau – another of the must-see Loire Castles – before driving back to the French capital.
The Wine Route of Alsace
By Elisa from France Bucket List
Route: Strasbourg to Mulhouse
Duration: 3 days minimum
The Wine Route of Alsace takes you to some of the most beautiful corners of Eastern France. Alsace is a historical region bordering Germany, well known for its medieval fortresses, picturesque towns, and white wines. Today, Alsace is part of the new French region of Grand Est and the capital is Strasbourg.
This Alsace road trip starts in Strasbourg, where you can rent a car if you don't have one, and ends in Mulhouse. For this road trip, we recommend considering a minimum of 3 full days, dedicating one day to visit Strasbourg.
Strasbourg is well known for its gothic cathedral and historic center. The city is also a good place to taste some regional specialties like the choucroute, the flammekueche, and some local beers.
Once you hit the road, be ready to explore pretty towns and villages like Colmar, Kaysersberg, or Eiguisheim, vineyards, and wine producers to taste some of their wines. The villages of Alsace are well known for its beautiful architecture of half-timbered houses and pretty squares so you can extend your road trip by adding more villages to your itinerary.
We recommend doing this Alsace road trip in September or October after the wine harvest. Crowds are gone and you can still find wine festivals in some villages. If you decide to do it in November or December, you can add a couple of Alsatian Christmas Markets to your itinerary.
Cote d'Azur
By Chrysoula from Travel Passionate
Route: St Tropez to Menton
Duration: 7 days
Most travelers have heard about the Cote d'Azur as an incredible summer vacation destination but what they might not know is that it makes for a wonderful road trip journey, allowing you to take in different sights and towns along the way.
A trip from Menton to St Tropez (which covers most of the Cote d'Azur) would only take around three hours if you were to drive straight through on the coastal roads, but if you have more time it can be amazing to stop off in Nice, Saint-Jean-Cap-Ferrat, Saint-Paul-de-Vence, Cannes, Grasse, Monaco and Eze en route (to name but a few!).
Each of these different destinations has its own character and charm, with some towns famous for their museums and markets while others are known for their vineyards, harbours, hiking trails, cuisine, or beaches.
It doesn't matter whether you start in the east or west of the Cote d'Azur as both are equally as beautiful and offer everything from Michelin-starred dining and art galleries to chic wine bars and important historic attractions.
Saint Tropez, Sainte-Maxime, and Saint-Raphael are glorious beach destinations to start your journey off in the west, before moving on to Cannes, Antibes, and Nice; great cities in which to soak up the café culture and promenades.
If you want a brief respite from the glamourous coastal towns, you may want to head inland slightly to take in the hilltop towns of Grasse, Eze, Saint-Paul-De-Vence, and La Turbie. These towns feature ancient ramparts, quaint local culture, and unspoiled coastal views and are a lovely place to unwind.
For those that prefer hiking, you may want to enjoy the coastal path around the Cap d'Antibes, the walk around the headland at Saint-Jean-Cap-Ferret, or some of the more remote trails around the town of Menton in the east.
Instead of just visiting one or two of the glitzy holiday destinations on the coast, why not take a week-long road trip (or longer!) to explore more of the beaches and beauty of the French Riviera?
Route de Grandes Alpes
By Kat from Wandering Bird
Route: Lake Geneva to the French Riveria
Duration: 3-5 days
One of the most famous road trips in France is the Route des Grandes Alpes, which runs through some of the most beautiful parts of the French Alps.
The route starts in Lake Geneva and winds south over the highest mountain passes until you reach the French Riviera, (but you can easily drive it in reverse from south to North if you wish.)
The trip can take anywhere from 3-5 days and the best times are either late Spring or early Autumn- (May/ June or September/ October.)
Avoid winter due to the weather (winter snow means road closures in the mountains) and avoid high summer due to the cyclists- you will not BELIEVE the number of cyclists who ride up and down these steep roads!
Also, the Tour de France always visits the Alps in July- so check their itinerary beforehand and be sure to avoid those dates – it can get incredibly crowded and many roads around the route are closed.
You can do the route by car, but a great option is to do some motorhome touring – either with your own camper or hire one. It allows you to camp along the route and take your time exploring as you go.
Some Highlights of the trip include:
Visiting Lake Annecy
Wandering the breathtaking Gorge du Fier
Ascending Mont Blanc in a cable car
Incredible mountain views at every turn
Dordogne South to North
Route: Bergerac to Oradour-sur-Glane via Perigeaux, Brantome en Perigord, and Nontron
Duration: 2-3 days
Like the other Dordogne road trip, you could start this trip from Bordeaux or Bergerac, and it could even be done in reverse if you fly into Limoges airport. The Dordogne covers such a large area and this France road trip takes you right through the heart of it.
It could be driven in one day, but you'll definitely want to make stops so I'd recommend staying overnight around Perigeaux or Brantome at least.
Bergerac is known for its wine, so you'll want to start the trip by visiting some of the wineries. You may not be able to do lots of tasting since you're on a road trip but you cant take some for the road!
Perigueux is one of the larger places to visit in the Dordogne and it has several points of interest including Vesunna Gallo-Roman Museum where you can see the remains of a Roman villa and other artifacts, the Saint-Front Cathedral, and Mataguerre tower.
Continue on to Brantome en Perigord, known as the Venice of France, thanks to the many streets that line the surrounding river and its history of glassblowing. You can go kayaking and boating here, and explore the caves on one side of the river that have been turned into shops and restaurants.
Further north is the town of Nontron, famous for the knife factory where the art of knife making that has been practiced here since the middle ages continues. You can enter the factory and watch workers making knives by hand still.
There are lots of hiking trails and other small villages to see throughout the Périgord-Limousin Natural Regional Park but if you also want to continue north just outside the Dordogne is Oradour-sur-Glane, where you can see the original village that was destroyed in June 1944 by an SS unit and is now a memorial site.
Ile de France
By Margarita from Downshifting Pro
Route: Starting and ending in Paris, via Fontainebleau, Chartres, Versailles, and St. Denis.
Duration: A day trip or 3-4 days
You can tour the Ile de France, the area surrounding Paris either as quick day trips or 3-4 day road trip. It is what I would call the home of kings and queens and their final resting place tour. It is a circle starting in Paris and stops in Fontainebleau, Chartres, Versailles and St. Denis. Start to finish the road-trip take approximately 6.5 hours when you take leisure country roads avoiding highways.
A hunting lodge for Kings, Fontainbleau has always been used by the royals as a "family home". King Louis XIII was born here, Louis XV was married here but it is Napoleon I who began and ended his reign here (with is coronation and abdication). You will love the Diana the Huntress gardens and surrounding forest. Because this is such a beautiful area, I would suggest you overnight in Fontainebleau.
Head west through the Gâtinais Français Natural Regional Park towards Our Lady of Chartres Cathedral. After the original cathedral burned it was quickly rebuilt in the Gothic style with towers and buttresses holding up the walls that frame the medieval stain glass. They illustrated biblical stories for peasants and pilgrims in an age when many were illiterate. From here, I would drive to Versailles and stay overnight there to get an early start.
Make reservations beforehand as the lines here are notoriously long. Take in the beauty and opulence of Versailles. You will not want to miss the Hall of Mirrors, the Chapel, or the King's and Queen's bed chambers. This is where the Sun King held court and ruled France and where his grandson Louis XVI and Marie-Antoinette lost it! Take the time to visit the small village built so she could play the peasant. Versaille will take an entire day to tour as it is not just the palace but the grounds, the 'smaller' Grand and Petite Trianon.
End your Ile de France road trip with a visit to St. Denis, the final resting place of the French Kings with nearly every king from the 10th to the 18th centuries being buried there, as well as many from previous centuries. Head back to Paris in the afternoon and relax!
Gorges du Verdon
By Amandine from Les Berlinettes
Route: Castellane to Moustier Sainte Marie
Duration: 3 days
If you are looking for a road trip idea starting from the South of France let's say Cannes or nice you might want to drive north towards Gorges du Verdon. The Verdon Canyon is the grand canyon of France.
You can decide to make a stop in Grasse, the iconic town for perfume, and visit some factories but if you are short in time you can drive directly to Castellane, the village where the Verdon canyon start.
It is the perfect place to go on a hike to see Notre Dame du Roc from which you will have breathtaking views over the canyon Verdon and to go on a kayak adventure. You can plan to stay there for one day.
The next day, continue your drive to the canyon and stop at Point Sublime and on the belvedere on route des Crêtes for some breathtaking views over the canyon. At the end of the day, plan to refresh yourself at Saint Croix lake.
On day three, your last stop will be Moustier Sainte Marie. It is one of France's most beautiful villages. You can wander the narrow streets and shop for pottery that's are famous in this town. To end up the day, hike to Notre Dame de Beauvoir to see the sunset.
There are, of course, so many other beautiful and interesting places to visit in France and many more road trips you could take, but these will definitely get you started with your planning!
Sonja x
If you liked it, pin it!