The following guest post about Romantic Things to Do in Rome is by Nikita & Harry from Vagabond Stories. They share a mutual love for Travel, Food, Wine, Photography, Music & reading, and Vagabond Stories is an amalgamation of their passions. Their aim is to inspire & spread love & happiness. Travelled to: 26 cities in India & 9 Countries.
Is Rome a romantic place? Italy has long been considered a romantic destination for couples, and although romantics may look for often to the canals and streets of Venice for romance, there are actually plenty of romantic things to do in Rome.
Italy's sprawling, dynamic capital city, with its cobbled streets, ancient history, glorious architecture and hidden cafes make it the perfect scene for romance, and a great city destination for couples. So if you're visiting Rome with your loved one, then try some of the following date ideas for Rome and romantic things to do.
So what can couples do in Rome? Check out the full list below!
Throwing a coin in Trevi Fountain
For first-timers to Rome and couples looking for something romantic to do, this should be at the top of the list! The Trevi Fountain is one of the most iconic and stunning places to see in Rome. It has served as a picturesque background for many Hollywood movies, including, of course, romantic comedies!
Legend has it that by throwing a coin in this fountain you ensure that you'll return back to the city one day. What's the harming in trying anyway?!
The Trevi Fountain collects roughly €3,000 a day from people following the tradition of throwing coins into the fountain. The city of Rome then gives the money to charity. So, if you'd ever wonder what happens to the tons of coins lying at the bottom of the pool, now you know!
Obviously, it's a crime to steal coins from this architectural landmark, but in the past, many thieves used to steal the coins at night.
Although it may be tempting on a hot summer's day, don't make the mistake of thinking that taking a dip in the Trevi Fountain would be a romantic thing to do in Rome. You can be fined around €450 for the privilege or even arrested, not exactly the romantic date you might have had in mind!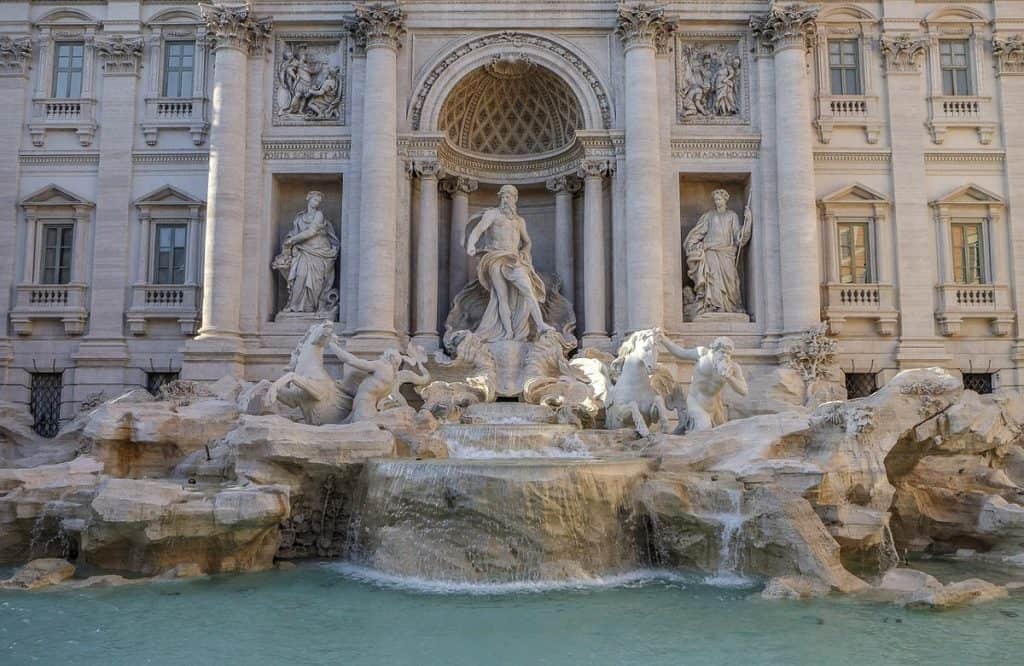 Roam the streets of Trastevere
Nothing is more romantic than a leisurely stroll around the cute streets of Rome as a couple with a gelato in hand! Trastevere is a quaint neighbourhood which has all the old charms and is the perfect place to enjoy long walks with your loved one.
If you have already explored the rest of Rome, this neighbourhood is perfect to give you a look at a less crowded side of the city in what was formerly a working-class district but is now one of the most romantic places in Rome.
Head towards Piazza di Santa Maria, the heart of the district, where there are many shops and cafes to keep you busy. You will find everything here from the best Gelato to budget shops which sell Italian branded clothes. You can even just relax at the steps of the fountain and people watch!
If you're looking for date ideas in Rome, at night the many street cafes and restaurants which are lit up and the nightlife is vibrant, making a visit here one of the most romantic things to do in Rome at night.
Visit the Piazza Navona
Nothing is more beautiful in Rome that the "Piazzas" that open up to stunning fountains and Bernini sculptures. These squares take you back in time and are a wonderful place to relax and enjoy the stunning architectural glory of this city! Take a break together and try an Italian coffee at the many cafes that circle the famous Piazza Navona.
Legend has it that the Nile figure in the central sculpture is shielding his eyes from the nearby Chiesa di Sant'Agnese in Agone designed by Bernini's hated rival, Francesco Borromini. But the truth is that Bernini started his work two years before his rival!
Either way, people taking a break in this beautiful piazza to relax, people watch, and enjoy some coffee or wine is one of best ways to treat each other to a romantic afternoon in Rome.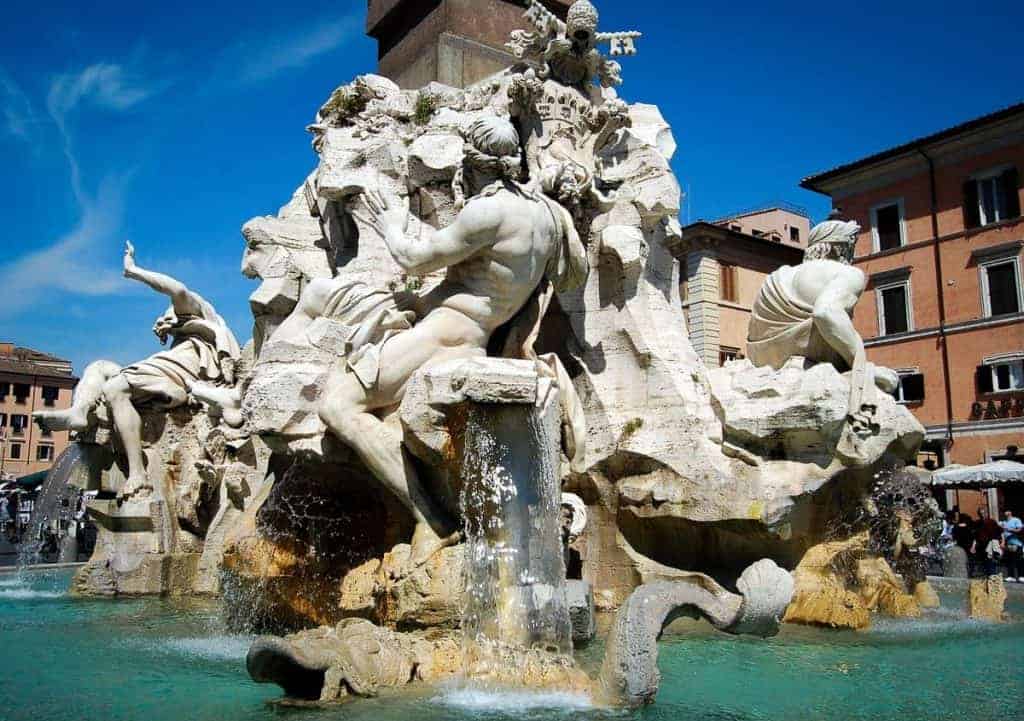 Take a walk on Ponte Sisto
If you're walking over to the Trastevere then you'll cross this surreal looking bridge. It's one of the most picturesque bridges in Rome over river Tiber. Strolling hand in hand along the river and over the Ponte Sisto has to be one of the most romantic things to do in Rome.
This bridge gives you some places where you could enjoy a bottle of wine together and you can also take in some lovely views of the city from here. Definitely a date to remember!
Walk the Spanish Steps
The Spanish Steps a famous set of outdoor steps in Rome that link the Trinità dei Monti church and the square below. Definitely one of the most romantic places in Rome, the Spanish steps is also one of the most popular tourist destinations. Remember the popular movie, Roman Holiday? It was shot here! No wonder this is considered one of the most romantic places in Rome.
However, rules have been introduced that mean you're no longer allowed to sit here. This law came into being as it became impossible to go past the stairs because of many people just sitting here and not budging!
The Fontana della Barcaccia runs with potable water, which you should drink from the spouts in the side of the boat, not from the basin. The best time to visit the Spanish Steps is around sunset when friends and lovers can enjoy the lovely view of the city. If you ever want to have them to yourself you have to wake up pretty early or stay up pretty late!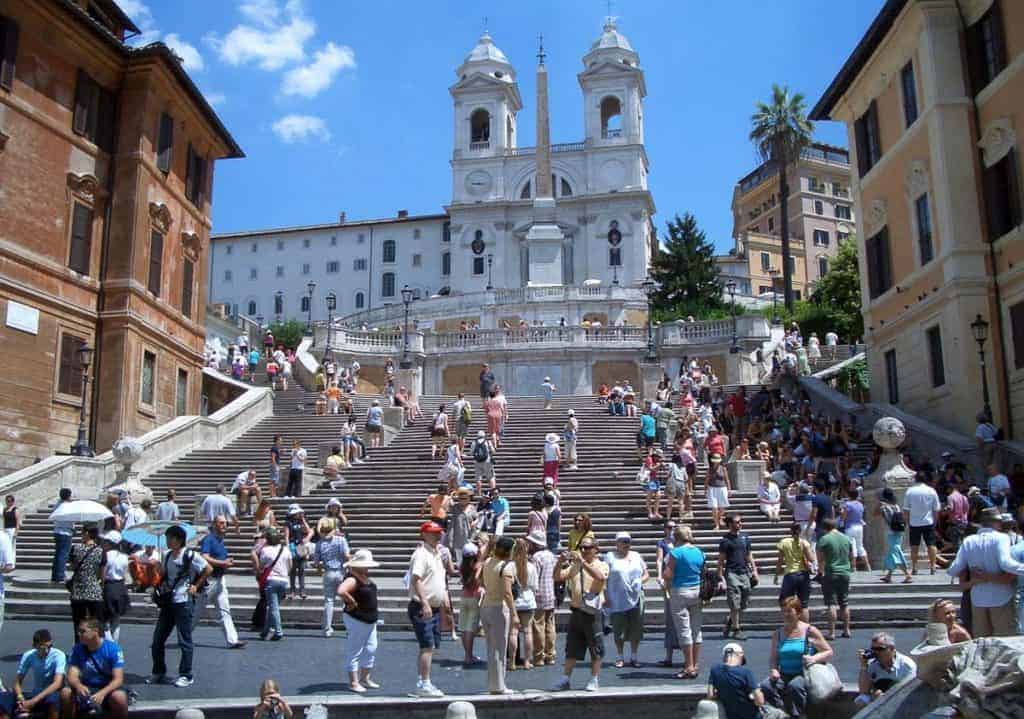 These are just a few suggestions of romantic things to do and date ideas for couples visiting Rome. Of course, you can do other things like rent a Vespa to tour the city (if you dare) or visit historical landmarks like the Colosseum, if that's your kind of thing, and you should ALWAYS sample a lot of delicious Italian food and wine! There's plenty of romance in Rome!
Planning your trip already? Here are some more tips on how to plan your trip to Rome!
If you liked it, pin it!