The following is a guest post by Mimi McFadden from The Atlas Heart. A California native and al pastor burrito enthusiast, she has spent 24+ years living in California in three different cities and regions of the Golden State and published a book about California road trips in 2020.
Los Angeles is a city that was meant for solo travel.
The City of Stars is full of transplants. These are usually people who move to the city by themselves without knowing a soul, all for the chance to make it big in Hollywood or at a major record label.
This is all to say that the city is designed for the solo traveller in mind, and, in such a huge metropolis, it's easy to blend into the beating heart of LA without ever feeling alone.
Although Los Angeles sometimes gets a bad rap, the city is what you make of it and if you know what you're doing and where you're going solo travel in Los Angeles can be a lot of fun!
There are a lot of unique activities to enjoy in Los Angeles as a solo traveller. In this guide, you'll discover a few favourite picks as someone who has visited the city solo multiple times.
Best Places to Visit in Los Angeles as a Solo Traveller
Universal Studios Hollywood
Although going to an amusement park by yourself may seem like an odd thing to do, it's the perfect excuse to take advantage of the solo visitor benefits at Universal Studios.
The best part about going solo to Universal Studios Hollywood is the single rider lines. These allow you to bypass the line for many popular rides if you're a single rider.
The rides with a single ride line include:
Revenge of the Mummy
Transformers: The Ride 3D
Harry Potter and the Forbidden Journey
Jurassic Park: The Ride
This alone is worth visiting the park by yourself because ride wait times can be painstakingly long, especially during peak season.
If you're wondering about how to get pictures of yourself if you're travelling solo (especially if you want to capture your first sip of a refreshing butterbeer in Hogsmeade), there are plenty of friendly staff who are used to taking pictures for guests.
Lastly, if you're worried about carrying your stuff around with you all day, there are lockers so you don't have to worry about anyone having to watch your stuff.
Venice Beach
Venice Beach is an ideal spot to visit as a solo traveller because it's the welcoming hippie neighbourhood of LA.
You'll see just about everything in Venice Beach, from dreadlocks to vegan cafes and drum circles. Sometimes the best thing you can do in Venice Beach is to simply people watch and take in the scene in front of you.
Once you've walked around the boardwalk and perused the outdoor craft stalls, grab lunch at The Rose Venice, head to the beach (just don't leave your stuff unattended), watch the skateboarders at the skate park, and walk over to the beautiful Venice Canals.
Grab a Drink at The Know Where Bar
If you want to experience Los Angeles nightlife, it doesn't have to be intimidating as a solo traveller.
Skip the clubs and head to the local watering hole called The Know Where Bar on Hollywood Boulevard, where bartenders are friendly and drinks are tasty.
The bar oozes a 1930s vibe and is best-visited solo during the week when it has a more low key vibe. Don't miss out on trying one of their unique Mezcal cocktails before you leave.
Griffith Observatory and the Hollywood Sign
For one of the best views looking out over Los Angeles and a famous movie filming location (Rebel Without a Cause, La La Land, etc), head to the Griffith Observatory.
Visiting the Observatory and its surrounding jaw-dropping views is one of the best free things to do in the city. This is also a good spot to view the Hollywood Sign from afar or hike up to it.
If you want to hike to the Hollywood Sign, just know that it's further than it looks. The hike that starts from Griffith Park is six miles roundtrip and is a somewhat strenuous uphill climb.
For solo travellers, it's best to take public transit or a rideshare up to the park since parking can be impossible, especially on weekends and holidays.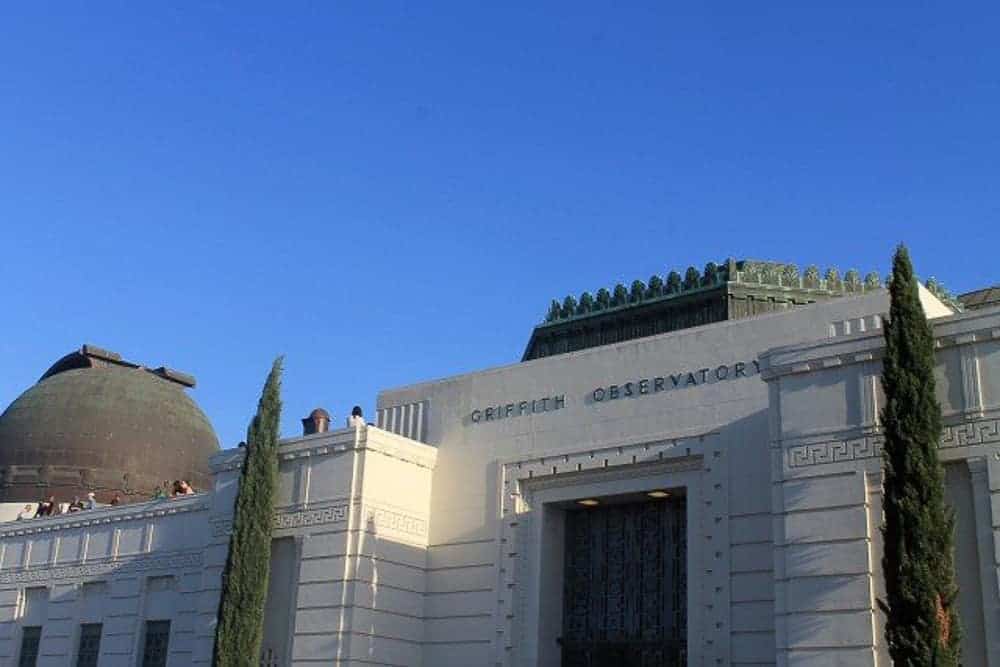 Record Stores, Farmers Markets and the Flea Market
One of the best things to do as a solo traveler in Los Angeles is to go shopping!
There are plenty of shopping areas around the city, but if you want a more unique shopping experience head to one of the many hipster record stores, colourful farmers markets, or the monthly Rose Bowl Flea Market (Second Sunday of each month).
For vinyls, check out Amoeba Music, Headline Records, and Record Surplus.
For farmers markets, the most famous (and touristy) one is The Original Farmers Market, which is open every day.
If you want to go to a more local market, check out the Santa Monica Farmers Market (Wed & Sat), Silver Lake Farmers Market (Tues & Sat), or the Altadena Farmers Market (Wed).
The Rose Bowl Flea Market only happens once a month, but if you can time it right you'll get to see the inside of Rose Bowl Stadium and shop through an eclectic variety of antiques, apparel, and crafts from over 2500 vendors. Admission to the flea market starts at $9 per person.
Hike at Runyon Canyon Park
Hiking is as much a part of Los Angeles culture as famous award shows are, and a good place to go solo hiking in the city is Runyon Canyon Park.
The Canyon is one of LA's most popular local hiking spots, which means it's unlikely you'll find yourself alone on the trail or in too remote of a location if you get into a sticky situation.
As a bonus, you'll probably come across a few friendly canines along the way since Runyon Canyon Park is a popular dog park.
Tackle the 3.3-mile Runyon Canyon Loop trail, which gives you a decent workout and takes you to the top of the park for a stunning lookout.
Warner Bros. Studio Tour
When I'm travelling solo and craving company, going on a tour can be one of the best ways to meet other people and have a built-in group for a few hours.
One of the most popular tours you can do in Los Angeles is the Warner Bros. Studio Tour. If you're a fan of movies and you've always wanted to see what a movie set looks like, this is a good tour option.
At Warner Bros., you can choose from a few different tours that take you around the oldest and most famous movie sets in LA.
Tours are anywhere from three to six hours. A good one to start with if you've never been to Warner Bros. before is the three-hour Original Studio Tour.
The Last Bookstore
Another favourite pastime as a solo traveller is getting lost in cosy bookstores.
The Last Bookstore has become a popular Instagram spot in recent years, but regardless if you're on the 'gram or not, this is a good spot to get lost in for an hour or two.
Housed in what used to be a bank, the bookstore features a unique atmosphere, local art, vinyl, and, of course, plenty of books. They're especially known for their vintage books selection, so if you love perusing through old books this is a good place to visit.
Have a Museum Day
Checking out the best museums in a new city can be a great way to spend a day as a solo traveller. Luckily, Los Angeles has a plethora of different types of museums – from wacky, to weird and world-renowned.
A good museum to start with is the LACMA, which is LA's most popular art museum. As the largest art museum in the western USA, you could easily spend the whole day walking through the exhibits at this museum.
Just make sure you have some comfortable travel shoes because you'll be on your feet for most of the day.
Right outside of the LACMA is the Instagram-famous "Urban Light" art installation, which is most impressive once the sun goes down.
The LACMA is also in the Miracle Mile neighbourhood and located on "Museum Row", so there are plenty of options for other museums to visit in the vicinity.
Another museum that shouldn't be missed nearby is La Brea Tar Pits, which features ancient fossils and is the only active urban Ice Age excavation site in the world.
Other good museums to visit while you're in Los Angeles include:
The Broad (for contemporary art)
Natural History Museum of Los Angeles
Museum of Tolerance
The Getty Center & The Getty Villa
Descanso Gardens
If you're looking for a peaceful place to visit without ever having to leave the city, the Descanso Gardens are an urban oasis in Northern Los Angeles County.
The gardens are located in a 150-acre botanical park that is as lush as it is rejuvenating.
You can either spend your time walking around the impressive horticultural displays or enjoy one of the many concerts, events, or classes they offer at the gardens.
Best Accommodation Options in Los Angeles for Solo Travelers
Freehand Los Angeles – The Freehand is one of the most popular hotels for solo female travelers in Los Angeles.
The best thing about the Freehand, besides its impeccable interior decor and 24-hour security, is that it offers both private and shared rooms.
This means you have the option to get social in a dorm-style room or to indulge in a private room while enjoying a more social atmosphere in the common spaces.
The Freehand is located in Downtown Los Angeles, so it's central and easy to get to and from on public transit.
El Royale Hotel – Near Universal Studios – El Royale Hotel is a solid budget to mid-range option for solo travelers who want to be central without spending a ton on accommodation.
This boutique hotel is nestled at the foot of the Hollywood Hills, near Universal Studios, making it central enough to be convenient but not right in the middle of the city.
The property is especially known for its friendly and welcoming service, which goes a long way when you're traveling alone in a new city.
Venice Beach House – If you want to have a more relaxed atmosphere for your Los Angeles accommodation, head over to the Venice Beach House.
Established in 1911, this Venice Beach staple has been welcoming guests for over a century. This is a good spot to book if you're looking to indulge in a more luxurious, personal, and peaceful stay as a solo traveller.
The property also features gardens that are nicknamed "The Oasis of Venice Beach" and it's only a few minutes from the beach.
How to Get Around Los Angeles as a Solo Traveler
As with most Southern California cities, the easiest and fastest way to get around Los Angeles is by car.
Unfortunately, renting a car means you're adding to the congestion that is already prevalent in Los Angeles. If you're driving, be prepared to regularly sit in traffic and pay for parking in most areas. And whatever you do, avoid rush hour at all costs.
The public transit isn't as great in Los Angeles as it is in San Francisco and New York, but it has become slightly better in recent years. If you're sticking to mostly central spots around the city, it can be a good way to get around.
If you want to use public transit, grab a TAP transit card for the rail and bus. You can pick up a card at one of the TAP vending machines at Metro Rail Stations, online, or you can search for additional vendors here.
Lastly, rideshares and taxis are a common way to get around the city. Uber and Lyft both operate in Los Angeles, and there are motorized scooters and electric bike shares throughout the city as well.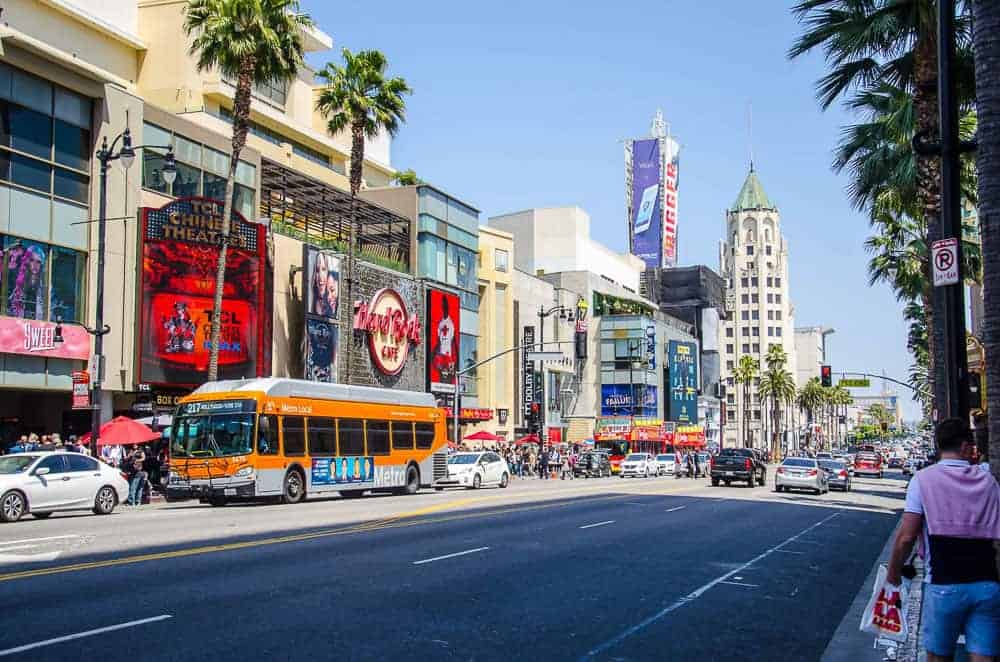 Los Angeles Safety Tips for Solo Travelers
As with any big city, be aware of your surroundings. Never leave your belongings unattended.
If you're renting a car, never leave any valuables in your car.
The tap water in Los Angeles is not the best. Most locals drink filtered water.
Pickpockets are common around the main tourist areas of Los Angeles, especially Hollywood Boulevard and the Hollywood Walk of Fame. Don't have your wallet visible or in your back pocket. If you're carrying a purse, it's best to have a crossover style.
Always make copies of your personal documents (e.g. your passport and ID)
Don't get overly intoxicated if you're by yourself, especially if you're not that familiar with where you are.
Earthquakes are common in California. If you're near the water, make sure you know where to exit the tsunami zone.
Wildfires have become commonplace in California in recent years. Although this probably won't affect you if you're staying in the city, be aware of current conditions – especially if you're in more forested areas.
I hope that helps you plan your solo trip to Los Angeles! Solo travel in Los Angeles doesn't have to be intimidating, as you can see. So why not get planning your solo LA trip!
If you liked it, pin it!