There are hundreds, if not thousands, of Spanish festivals held every year, celebrating all sorts of different things from music to religion to food. Some of the most famous Spanish festivals include "the tomato festival", La Tomatina and the "running of the bulls", or San Fermin, in Pamploma. There are so many festivals in Spain that when I was living and travelling theret, I found myself stumbling over several without even knowing they were happening! It seems I'm not the only one, so I put a call out to some fellow travel bloggers to see what they consider to be some of the best Spanish festivals.
Spain knows how to throw a party, from the traditional cultural festival to the more modern music festival. Here's a list of just a few of the many Spanish festivals you could attend when you're visiting Spain!
Cadíz Carnival, Cadíz
February
One of the first things I did when I moved to Spain travel all the way from Almería to Cadíz Carnival! Los Carnavales, or the Carnival of Cadíz is one of the biggest in Spain. It runs for two weeks every year and is centered around musical groups called chirigotas, the choirs, and comparsas. Cadíz Carnival is famous for the original compositions of these groups who sing about politics, news, and everyday things with satire and wit.
Every day the streets of Cadíz are packed with people in all sorts of costumes, eating, drinking and watching these musical groups on organised stages, or the smaller groups who wander around the streets and perform. Whether you go to Cadíz Carnival for one night or a whole week, it's easy to get caught up in the celebratory atmosphere even when you don't understand the songs, and it's an experience I'll certainly never forget!
Sitges Carnival, Sitges
February
By Amy Cancryn, My Kids In Tow
Every year, more than 250,000 people descend on the beautiful whitewashed town of Sitges, Spain for one of the best carnivals in the world. Sitges, a stunning seaside town thirty minutes south of Barcelona is transformed into an extravagant and exhilarating party for an entire week during carnival.
Everyone gets involved in the preparation and the execution of the carnival. Between stunning whitewashed Mediterranean buildings, you find thousands of people dressed in colorful costumes winding through narrow cobblestone streets.
The costumes range from colorful to scary.The great thing about Sitges carnival is, it's kid and family friendly. Most carnivals around the world are mainly for adults, but Sitges carnival includes a kids parade and family-friendly events during the week.
So, if you are in Spain in February, stop in Sitges and enjoy the food, the live music, colorful costumes and crazy authentic carnival atmosphere.
Las Fallas, Valencia
March
By Kemkem, Nextbiteoflife
Las Fallas is a Valenciano traditional way of celebrating Saint Joseph. This occurs over a week in March and is attended by thousands of tourists yearly. It became a UNESCO intangible cultural heritage of humanity in 2016.
Over the course of the year, each neighborhood builds their own falla which are monuments that are eventually burned. The falla can be anything from political statement ninots (dolls or puppets) to entertainment figures. There is fierce competition to build the best and biggest. The streets are filled with ladies in their finest gowns and revelers enjoying street music, drinks, and various festivities. At
At 2pm daily, there is the Mascleta, a dizzying and deafening display of fireworks and firecrackers. After some rest, people emerge from their siesta to continue the partying. Mardi Gras on steroids would not be a bad way to describe it. Only the winning falla is saved from burning yearly.
Semana Santa, all across Spain
March/April
Holy Week in Spain is called Semana Santa, and there are processions and celebrations held in almost every town and city across the country. Semana Santa in Andalucía is known to be more glamourous or elaborate in it's celebrations, while in other parts of the country it can be more sombre. I was so amazed the first time I saw a procession, complete with huge ornate floats with statues on them, carried from underneath with perfect precision of movement. "Brotherhoods" march in special cloaks and conical hats that cover their face, and there is often sombre music, although in some places like Malaga flamenco verses can be more common.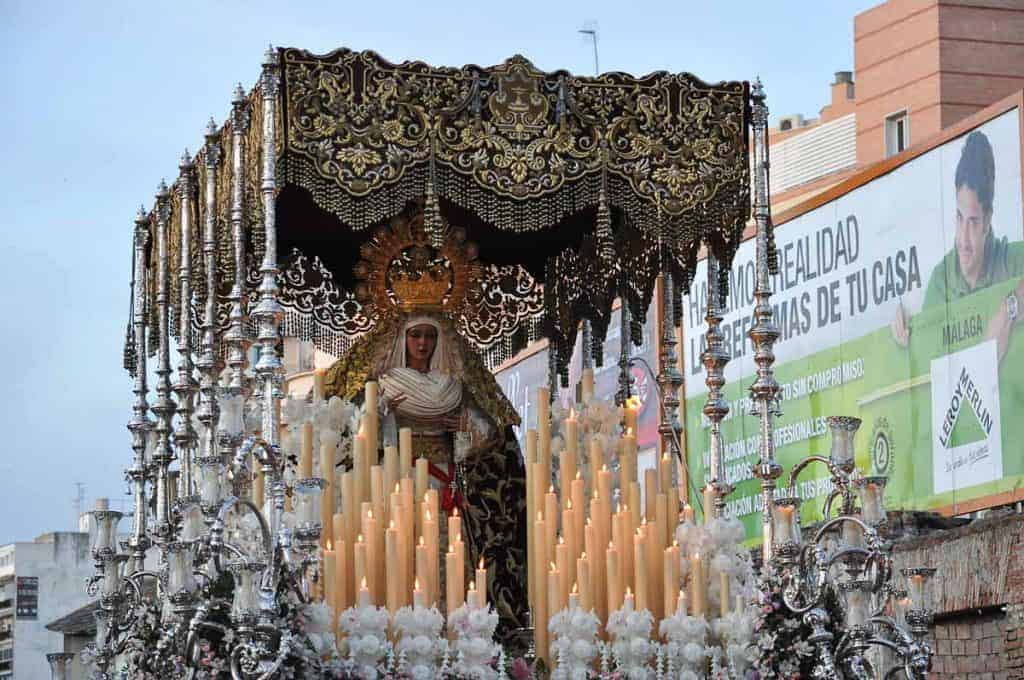 La Feria del Queso, Trujillo
April
By Alison, Up&AtEm Travel
A small Spanish town in the green region of Extremadura hosts an annual cheese fair. La Feria del Queso, as it is known locally, takes place in the Trujillo's main square at the end of April. The two and a half hour drive from Madrid keeps many tourists away, preserving the local flavour of the event.
Regional cheesemongers gather to supply visitors a long weekend of cheesy gluttony. Attendees purchase tickets to exchange for small samples of cheese – ranging from mature goat and sheep cheese to a decadent chunk of cheesecake. A local favourite, which is featured in many restaurants on the square, is Torta del Casar.
Trujillo's cheese festival has been running for three decades, and all die-hard queso fanatics should make the trip.
Feria de Abril, Sevilla
April
The Seville Fair turned 170 years old this year and is probably one of the most famous ferias in Spain. It involves a huge fairground as well as decorated marquee tents (casetas). Unlike some other ferias, the casetas at the Sevilla Feria are usually only for prominent families or organisations, and not open to the public, although now there are some public casetas too!
At Feria de Abril in Sevilla, the women usually dress up in traditional flamenco style dresses, and the men either in "traje corto" (short jacket, tight trousers and boots) or more commonly now, suits. If you attend, be sure to source a costume and then enjoy the dancing, tapas, and traditional feria drink of rebujito (white wine and lemonade).
Read more: One Day in Seville Itinerary
Source: Flickr
San Isidro's Feast Day, Madrid
May
By Kate, Our Escape Clause
San Isidro's Feast Day is celebrated widely, loudly, and colorfully in Madrid–essentially, exactly how you would expect Madrid to celebrate their patron saint!
When we accidentally stumbled onto this festival in 2016 (it is held annually on May 15), we couldn't believe how colorful it was! Food and decor spilled out from all corners of the square, concerts played, and people as young as infants and as old as grandparents were dressed to the nines in festive costumes.
The San Isidro festivities also include bullfighting, and while we didn't go, it's one of the most popular times of year to do so. Truthfully, we were much more interested in the parades, music, and food.
If you're heading to Madrid in mid-May, be sure to make a point to plan some time spent among the celebrants of San Isidro's Feast Day!
La Batalla de Vino, Haro
June
By John Widmer, Roaming Around the World
Each year on June 29, a battle occurs in the town of Haro, Spain. The weapon of choice is: red wine! Located in the heart of Spain's wine-producing La Rioja region, people descend in droves to the otherwise quaint town of Haro to wage war on fellow revelers.It's all one big party that starts the night before the wine
It's all one big party that starts the night before the wine battle itself. The fiesta culminates in the early morning hours, just after sunrise. It's then that the tradition is to walk up a nearby hill to begin the wine fight. Revelers come armed with squirt guns, bug sprayers, and even enormous buckets full of red wine. It doesn't take long for everyone to become completely soaked to the core with the vino. And then, the party continues! It seems that some of the wine also makes its way into people's mouths. The wine battle in Haro is such a unique and fun festival to attend in Spain!
San Fermin, Pamplona
July
By Kim-Ling & Guy, Travel-ling
San Fermín has to be the craziest and most controversial festival in Spain. Commonly referred to as the Running of the Bulls, San Fermín commences on the 6th July and wraps up on the 14th. Each day (from the 7th of July), crazy men and women attempt to outrun six large bulls through a short course of the streets of Pamplona. As expected, there are always numerous injuries and even the random fatality.
Thankfully, it's not a prerequisite to run, and those with some more common sense (such as myself) may choose to sit in the bullring to watch the event on the big screen and see the survivors make it to the ring. Mind you, I was still pretty anxious, as I was waiting for Guy to make it through the gates unharmed!
The week isn't just daily bull runs; there are also bullfights, raucous street parties, live brass band processions, sangria fights and a final gathering in the square with singing and fireworks. Pamplona really comes alive during this event, attracting visitors from all over the world.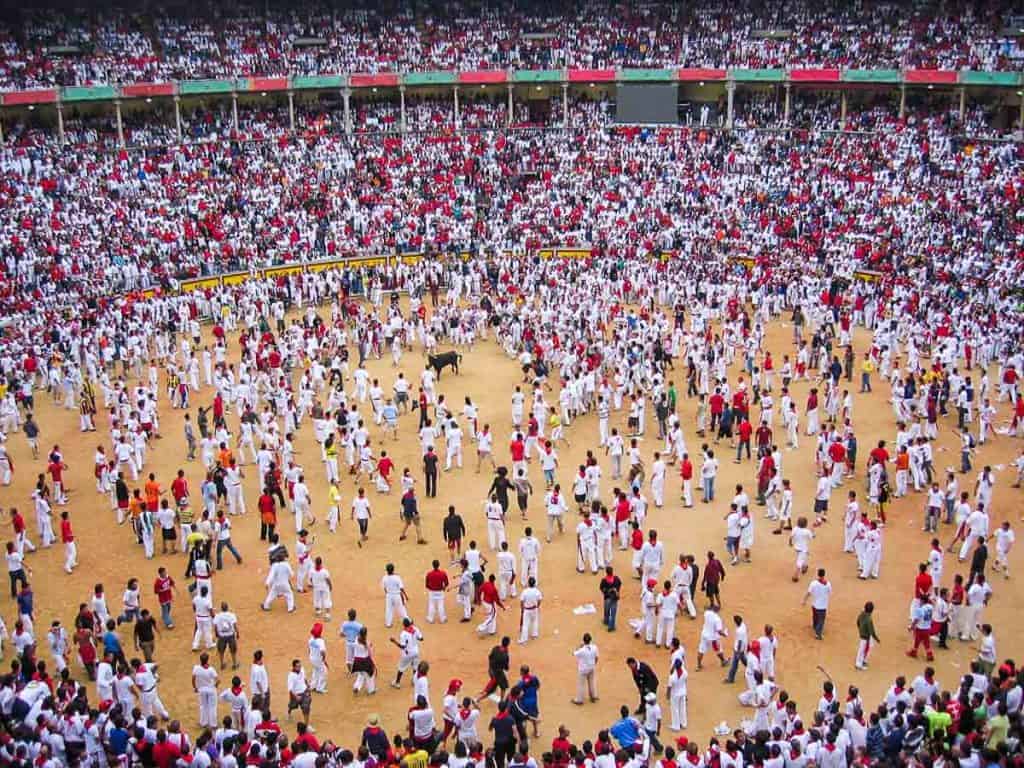 Source: Flickr
Gracia Festival, Barcelona
August
By Claire, Tales of a Backpacker
Barcelona is a city which loves to party! Each area of Barcelona has its own Festa Major when the whole neighbourhood comes together to celebrate in the summer. The biggest, and best, is the week-long Gracia Festival, every August. There are parties all day and night, and the street decorations here are second to none. Competition is fierce as streets compete to win the top prize, and the streets come alive with themes like Jurassic Park, Zombie Apocalypse, the Amazon Rainforest or Alice in Wonderland.
There are stages for live music, dancing in the plazas, and like any Catalan Festival, the Castellers create gravity-defying human towers in front of the town hall. And then comes the Correfoc. Health & safety goes out of the window as masked devils chase the public through the streets with fireworks banging and whizzing around their ears. Part thrilling, part terrifying, you haven't been to a Barcelona Festival until you've run from the devil!
Source: Flickr
La Tomatina, Buñol
August
By Andrew & Emily, Along Dusty Roads
Definitely one of the craziest experiences I've ever had, La Tomatina Festival is, essentially, the world's largest food fight!
20,000 locals, Spaniards, and international thrill seekers fill the tiny streets of this normally sleepy town and await the arrival of several trucks delivering 120,000 pounds of over-ripe tomatoes. Once the starting gun fires, you have one hour to pelt friends, foes and anyone within throwing distance with juicy red projectiles.
It's messy mayhem which really does have to be seen to be believed, and will leave you finding bits of tomato upon your person for days after!
Feria de Malaga, Malaga
August
By Paulina, Paulina On The Road
The ferias of Andalusia are well known all over the world for their vibrant colours, traditional dresses, thrilling music, tasty food and majestic horses. Each town and village in Andalusia has its very own feria ("fair") during which they celebrate their town or their saint.
Whereas the most famous one is probably the April Fair of Seville, the Feria de Malaga is my favourite. It takes place in mid-August, and in contrast to Seville's April Fair, it's less restrictive when it comes to the dress code and access to the casetas (private party tents).
During the feria, Malaga hosts bullfights, a modern fairground, food courts serving traditional drinks like cartojal (sweet wine) and grilled meats. And of course, there are the legendary casetas with music all day and all night long. The feria lasts for 1 week and is celebrated in the city center (feria de día) and on Malaga's exhibition site (feria de noche).
I attended Feria de Malaga twice, each time dressed in the traditional Flamenca dress. It's a blast: you meet loads of people and just celebrate the joys of life. Can't wait for the next edition!
Feria de Tarifa, Tarifa
September
By Iris Veldwijk, Mind of a Hitchhiker
Once per year, 80 horses march through the famous Puerta de Jerez in Tarifa. This hotspot for aquatic sports celebrates its most important festival in September. They kick off with the religious procession of the patron saint Nuestra Señora de la Luz – also known as the Virgin Mary. People from all ages ride the horses through the gate, looking dandy in their suits. Many local women in the crowd will also wear their frilly and dotted flamenco dresses for the occasion, with matching flower-in-hair.
After the procession, most people head out to the fairgrounds, where the people eat, drink and put their kids in various amusement rides. The adults will dance to Sevillana music and drink Rebujitos, which is a mixed drink of sherry and Sprite. There are tons of food options, from simple hamburgers to proper dining with service. There are six more nights before the Feria ends.
You might notice most of these Spanish festivals are on the traditional side and that's because every place in Spain has their own local festivals, although some have become more famous than others. No matter where you go in Spain, there will be some sort of fiesta happening. Before you know it, you'll be caught up in the party!
Have you been to a festival in Spain?
Sonja x
If you liked it, pin it!