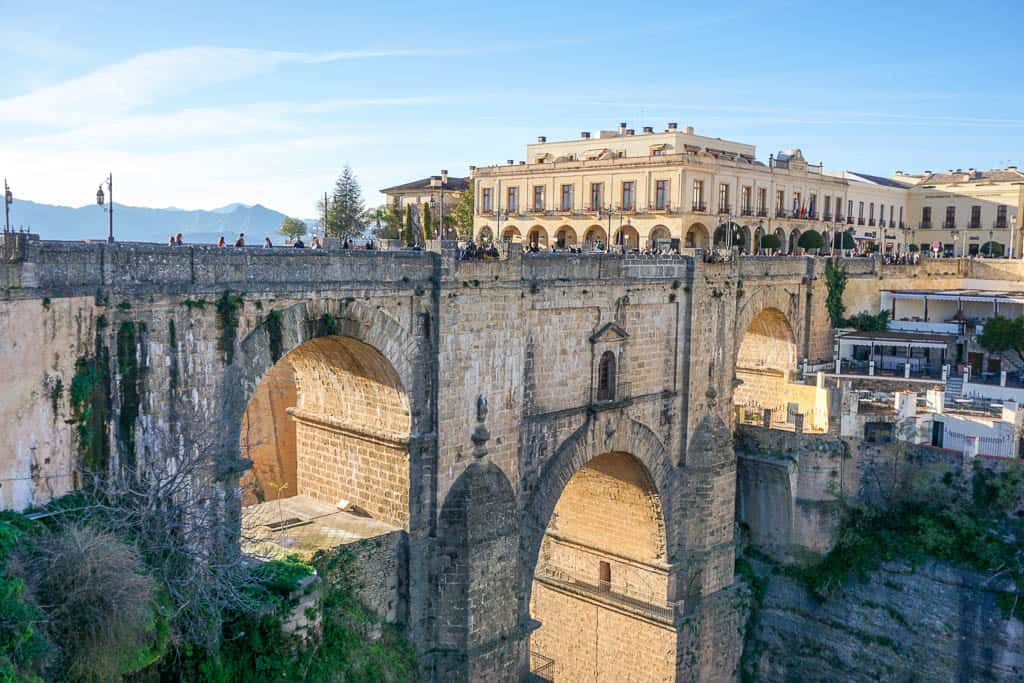 "Lovely promenades, fine wine, excellent food, nothing to do…"
This is how Ernest Hemingway described Ronda, after spending much of a summer there in 1959. I'm not entirely sure I'd agree there is nothing to do in Ronda, but it is one of those places where the best things to do mostly involve walking and looking. Walk around the narrow cobbled streets in the shadow of centuries old homes, walk across the Puente Nuevo, an 18th century stone bridge, and look down into the gorge that Ronda spans, walk down towards the river 100 metres below and look back at the magnificent archway that makes up the bridge itself, walk along the cliffs above and look at the valleys below. You get the idea…
Ronda in its current form has been around since Roman times and its popularity over time is owed in part to people like Hemingway and other notable people visiting, and partly because it is considered to be the origin of bullfighting in it's current form. For whatever reason, Ronda is consistently ranked as one of Spain's most beautiful towns and after finally visiting I'm going to have to agree it deserves a spot on the prettiest places list at least!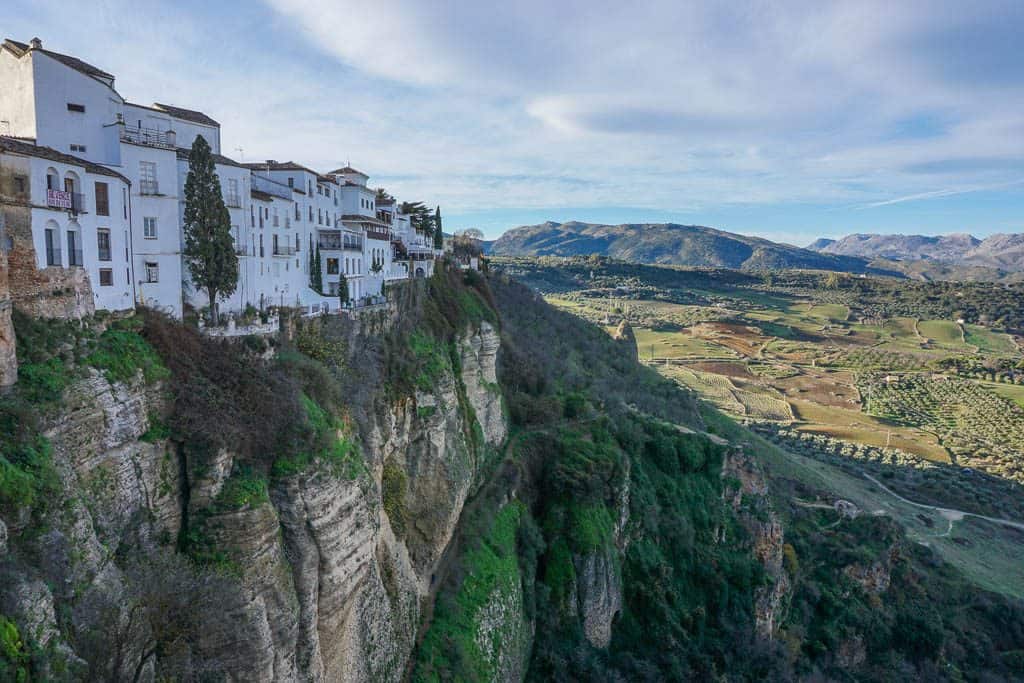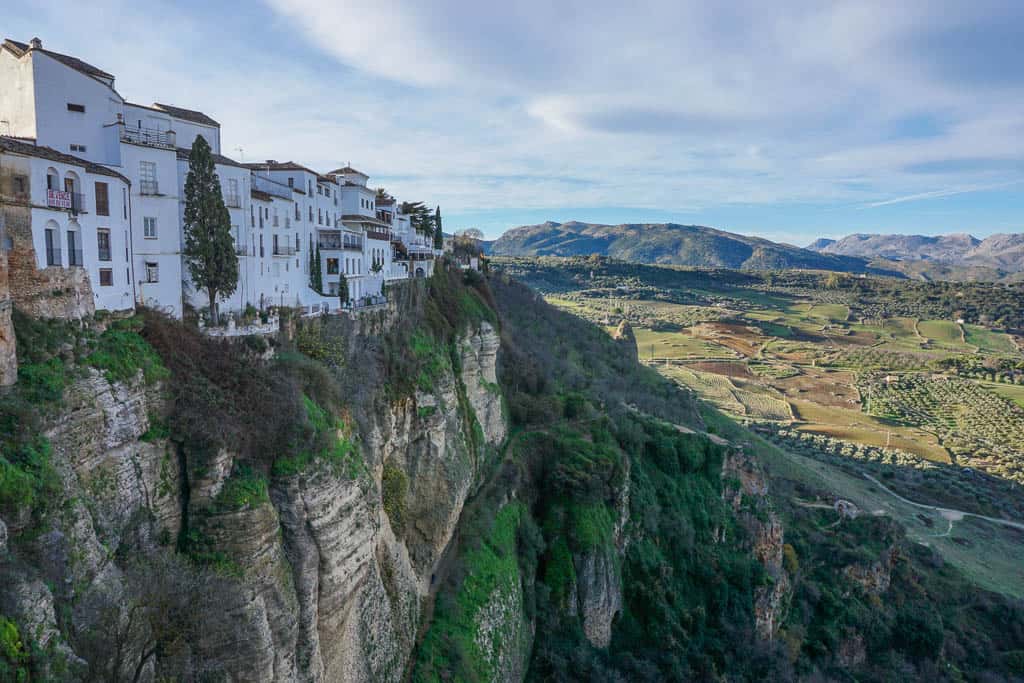 Where is Ronda?
Ronda is in the Malaga province of Andalucia, in the south of Spain. Andalucia was the part of Spain that was under Moorish rule for the longest and as a result hosts some of the prettiest places because of their architecture and often beautiful surroundings. Ronda is one of those mountain towns dramatically placed at the top of a gorge separating the new and old towns.
"We sighted Ronda. It was raised up in the mountains, like a natural extension of the landscape, and in the sunlight it seemed to me to be the most beautiful city in the world." – J. Agustín Goytisolo, Spanish poet and scholar.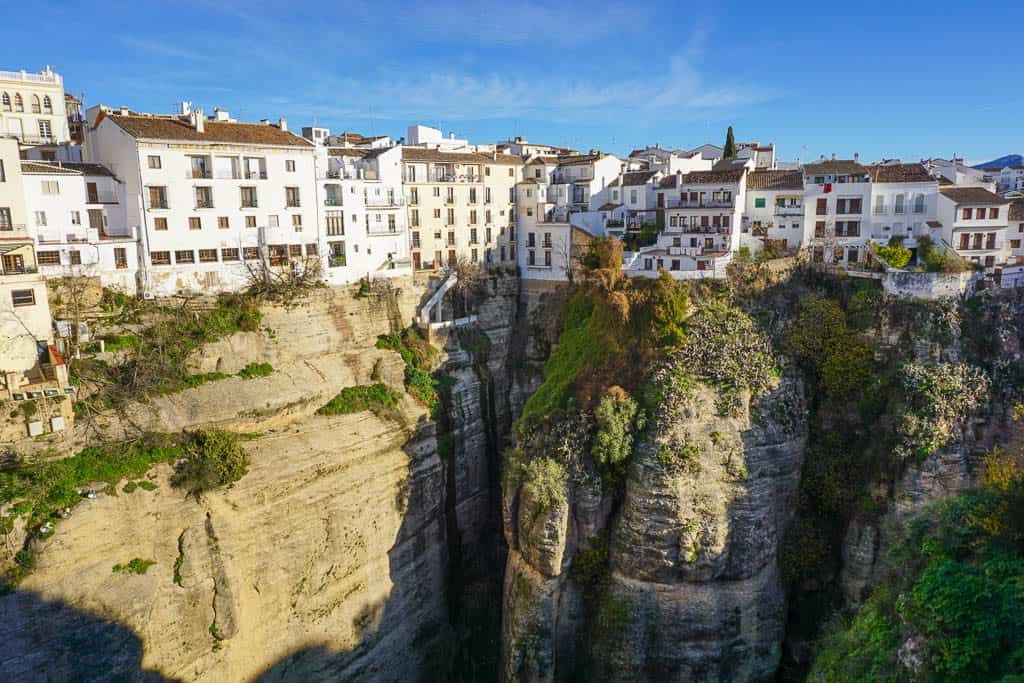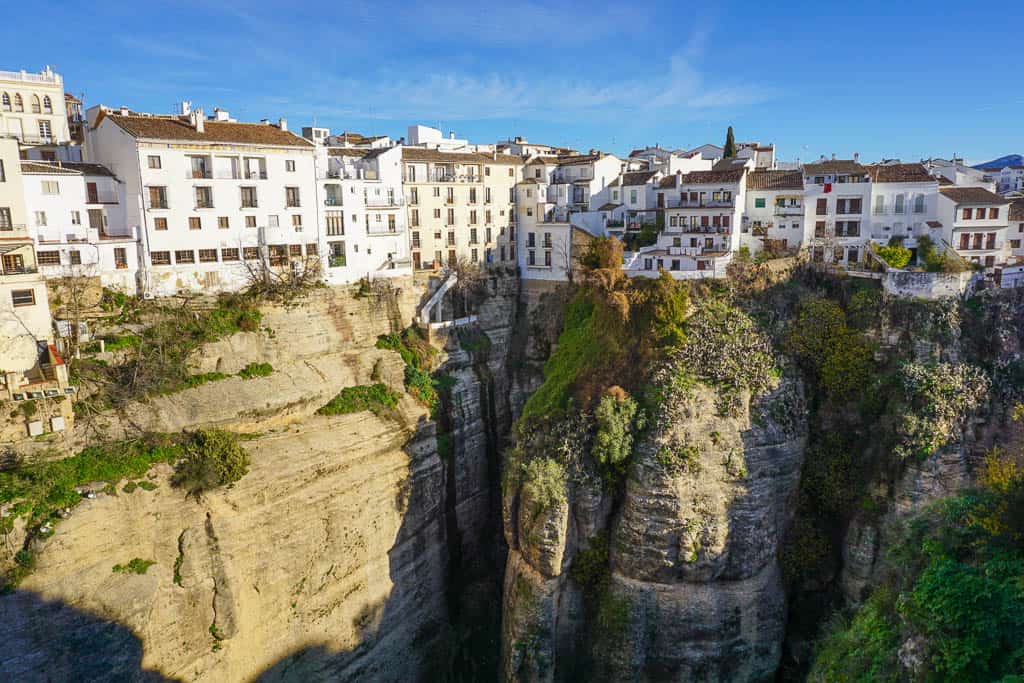 Things to do in Ronda
Like I mentioned above, the highlights of Ronda can be seen just by walking around, but there are a few specifics to watch out for.
Puente Nuevo
The biggest attraction in Ronda has to be this bridge spanning the El Tajo gorge. The "New Bridge" is the largest of three that join the old and new town. From the top it is rather inconspicuous, but it took more than 40 years to build up brick by brick from the river 100 metres below. You can view it from both sides at the top, but it's the most magnificent from down in the valley below.
The bridge does have a tragic history, as 50 works were killed before it was finished in 1751. There is a small chamber in the centre that was used as a prison, and during the Spanish Civil War both sides are said to have used it as a torture chamber and to have thrown captured opponents from the windows to the riverbed below.
If you walk down below the bridge there are several different paths that lead you to the base of the bridge or right down to the valley below. I spent well over an hour wandering the paths. Just remember you'll have to walk back up again!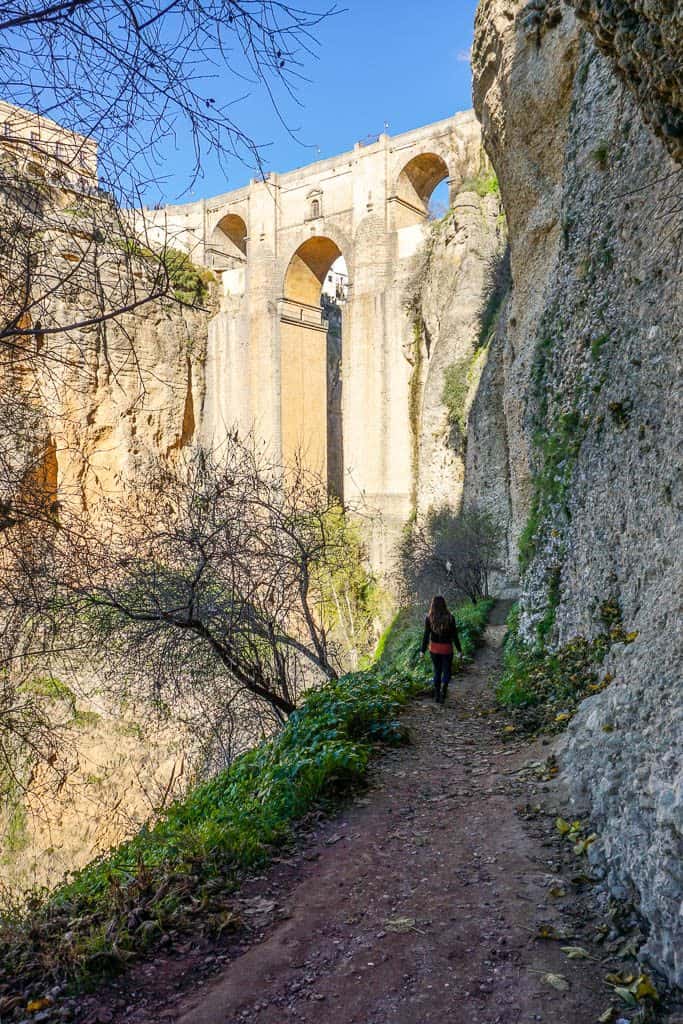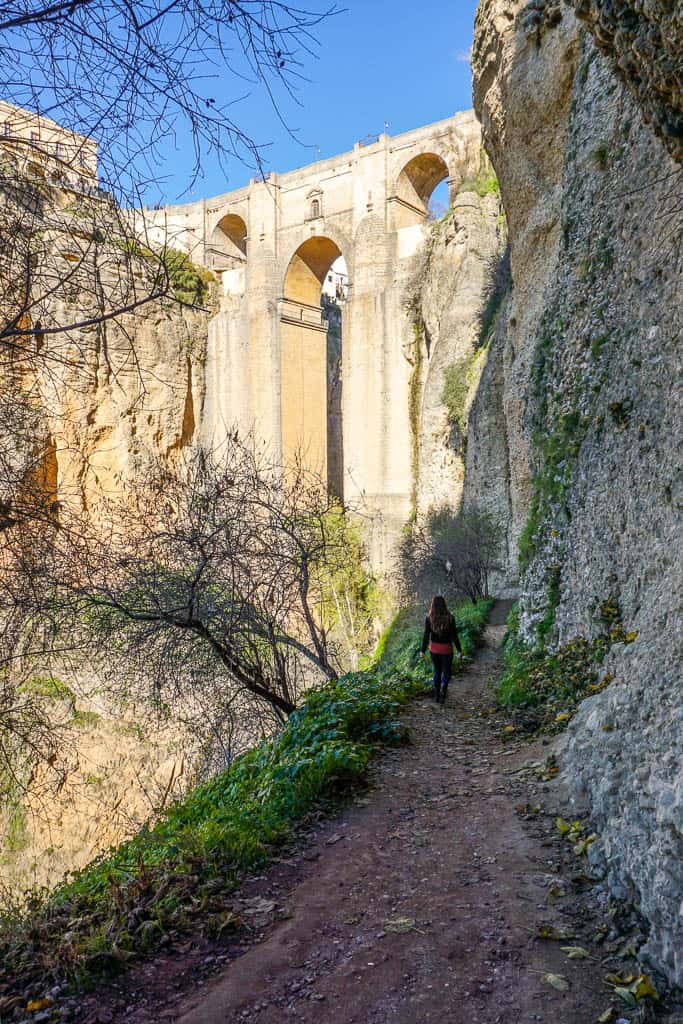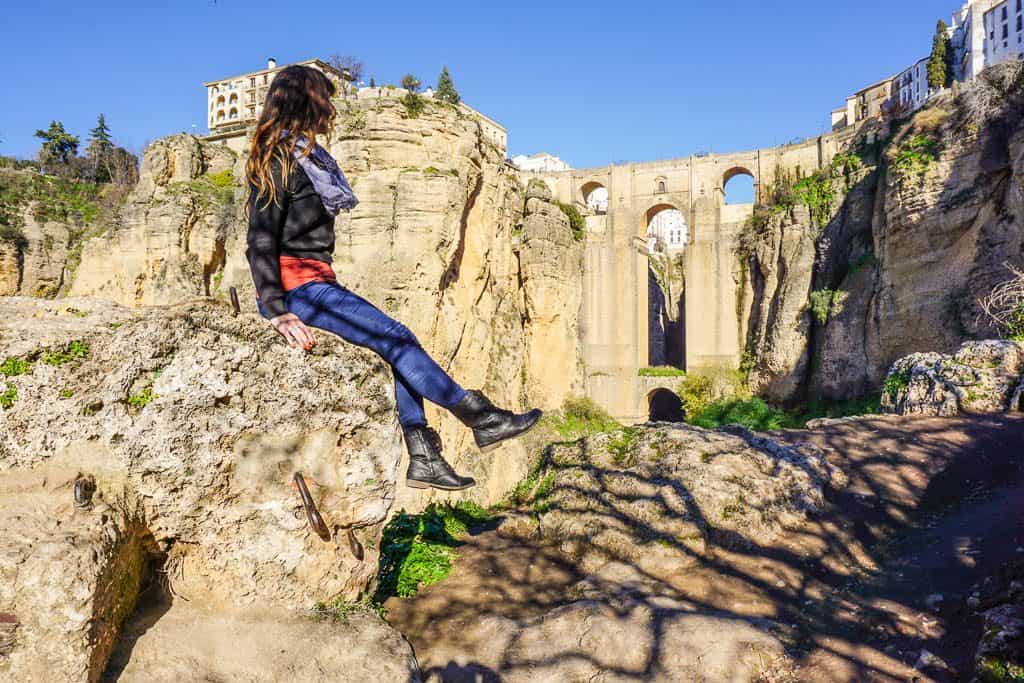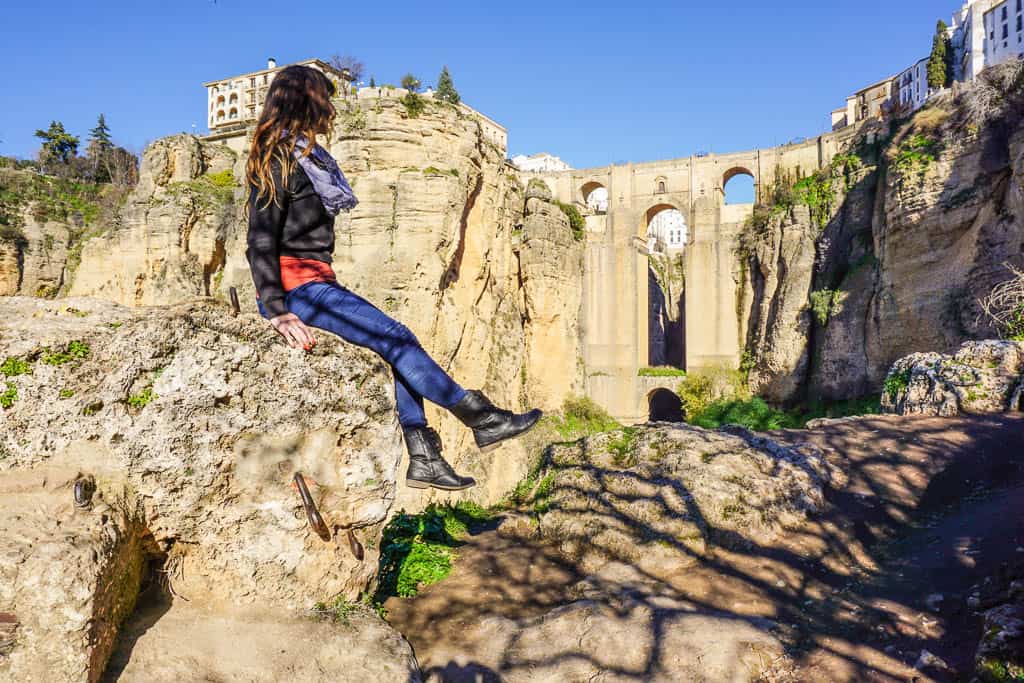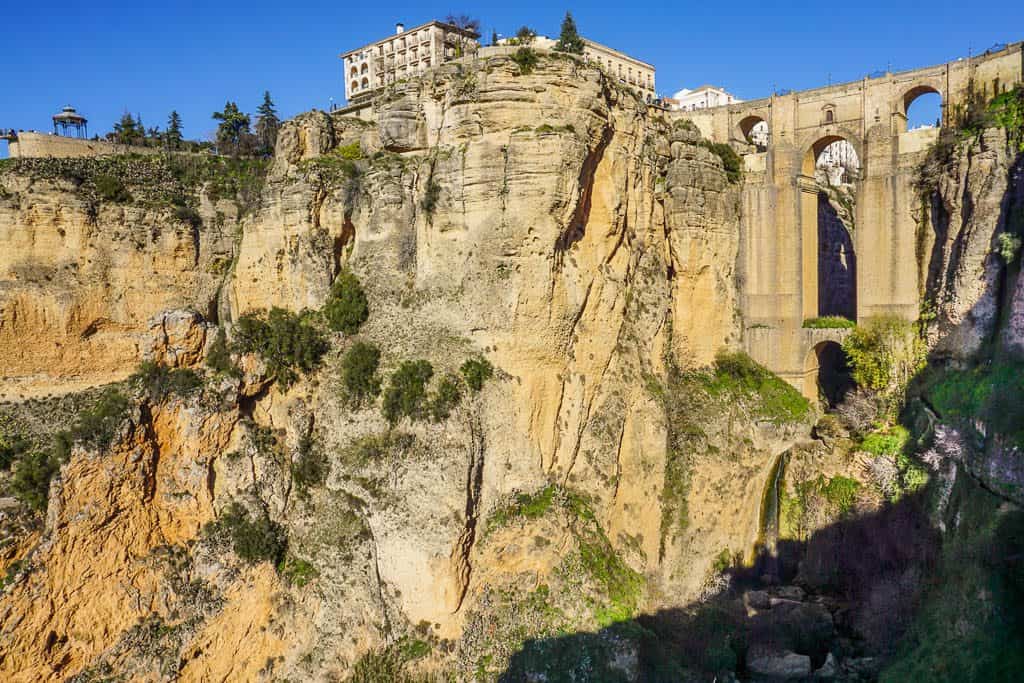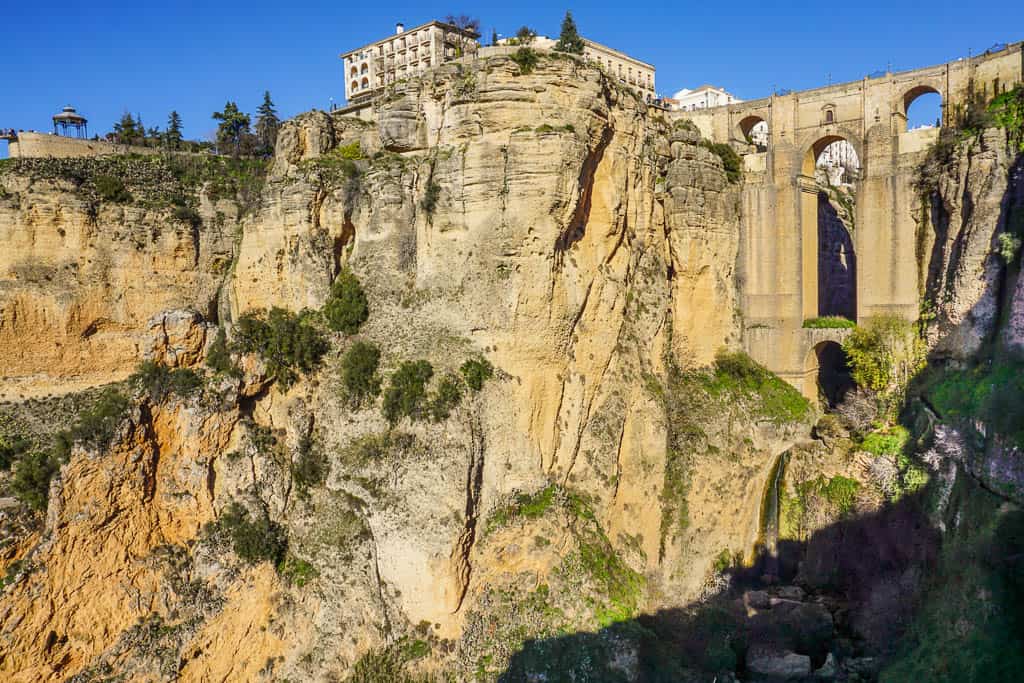 Ronda Bullring (Plaza de Toros)
The bullring in Ronda was built in the 18th century, and it has an important place in Spanish culture because it's seen as the birthplace of modern bullfighting. It is the oldest bullring to house a bullfight in Spain and the only one to be entirely made of stone. Although it doesn't seat the most people it does have the biggest ground space. Bullfighting is a controversial sport now and it does still take place here one week in the year. At other times you can view the bullring and museum.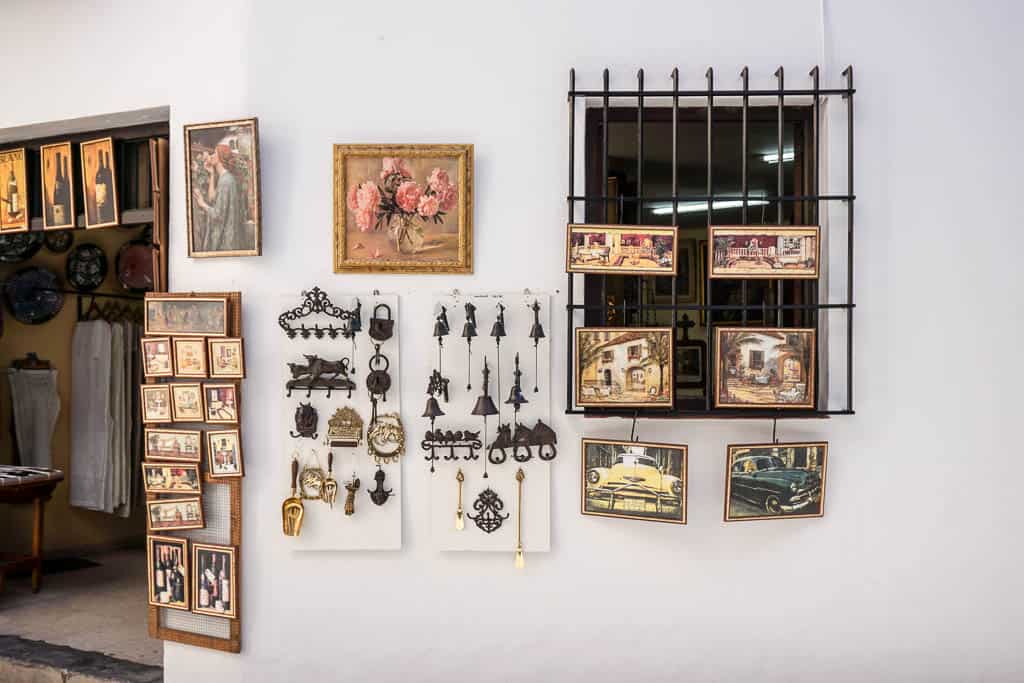 Arab Baths
These were originally outside the city walls and date back to the late 13th century. They are some of the best preserved Arab Baths in Spain.
Ronda city walls
Ronda's elevation and position allowed the city to develop securely against attack. So much so the medieval city walls and gates didn't even join up in many places. You can walk around the old city walls and through the gates for more views of Ronda and beyond.
"…in Ronda there are many streets which take us to ourselves. The gorge has no obligations to the guides. One leans over the edge of it and may find in its depths fear, prophecies, prayers or poems" – José María Pemán, Spanish journalist, poet and novelist.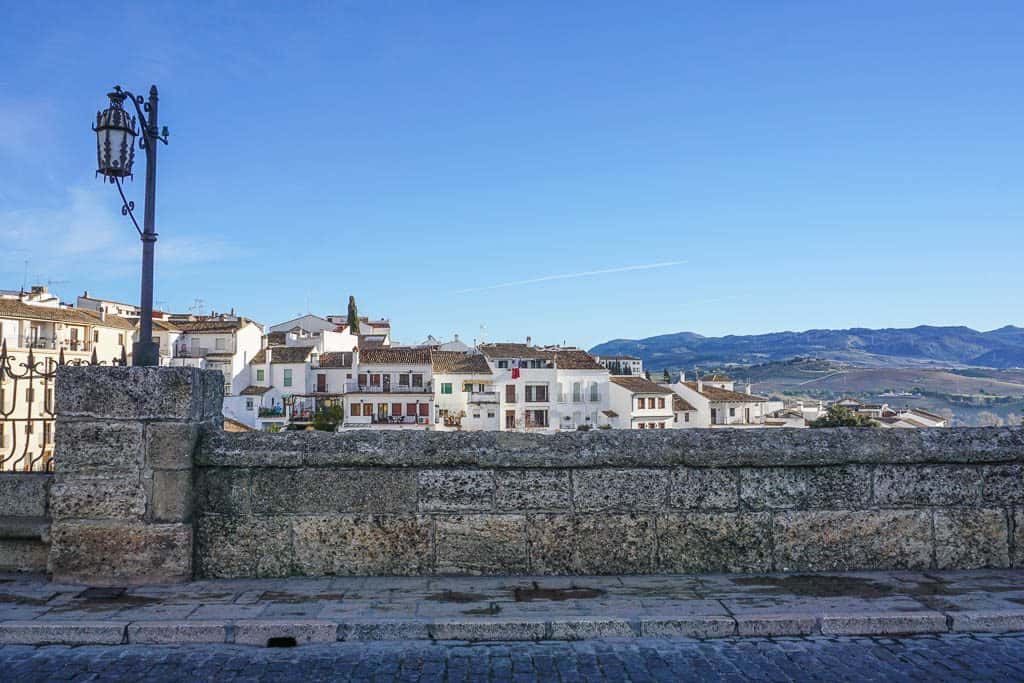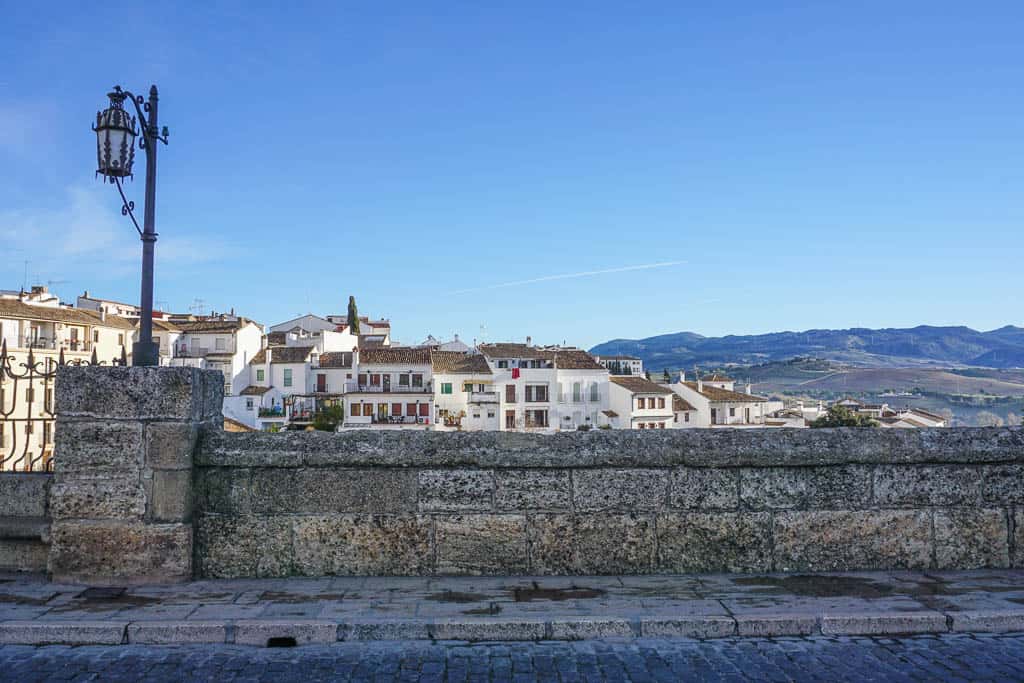 How to get to Ronda
Because of Ronda's proximity to Malaga and Seville it makes a great day trip from either of those places. There are some organised day tours from those cities, but I always like to make my own way if I can. If you have a car you can drive the hour and a half from Malaga or the one hour forty minute drive from Sevilla. You can also take the train to Ronda from Malaga or Cordoba for two hours, so it can be a day trip from plenty of places!
Places to stay in Ronda
I'd recommend staying within walking distance of the centre so that you can easily get around, and the beauty of Ronda is that it's small and walkable! We stayed in an Airbnb in the new part of Ronda. There are lots of apartments for rent and if you sign up here you'll get $32USD credit for your first stay. I also use Booking.com to search for apartment rentals and have had great success since sometimes people list them there but not Airbnb!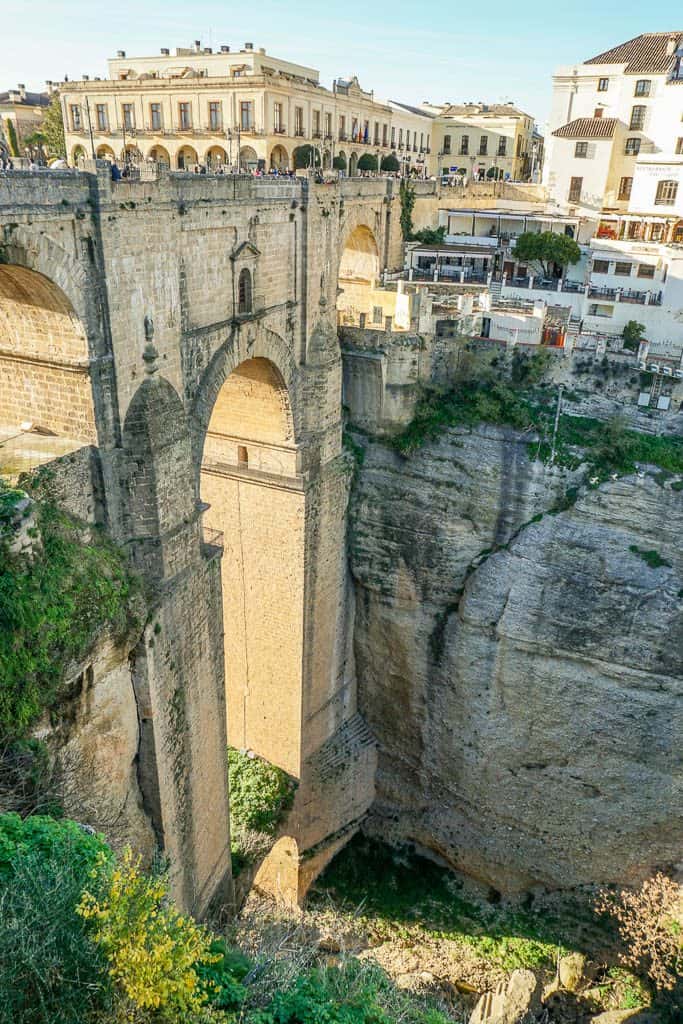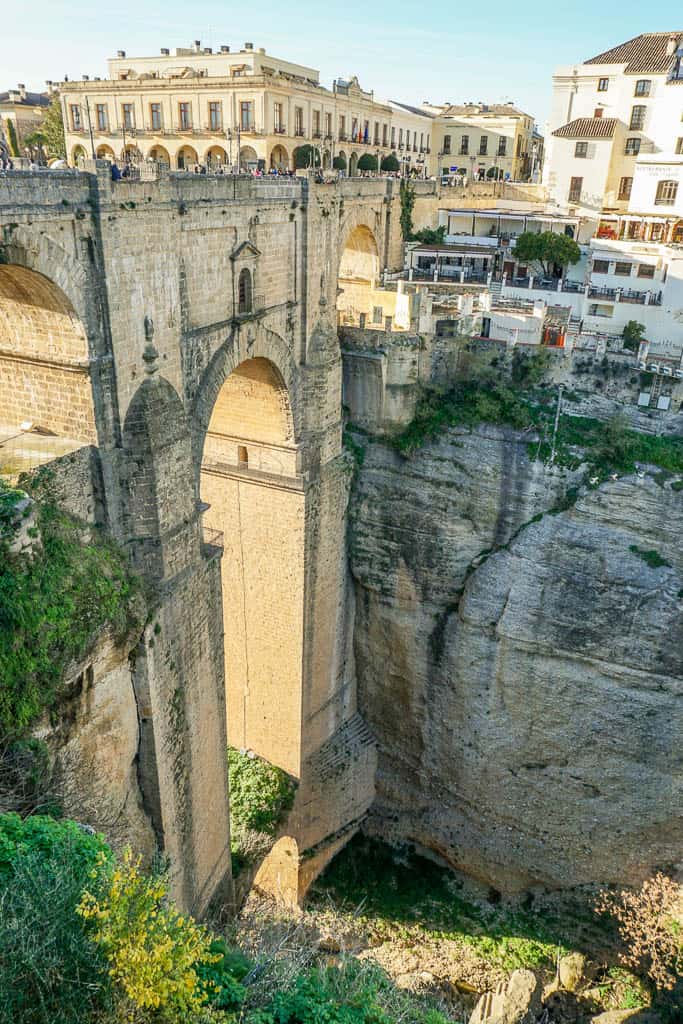 Have you heard of Ronda before?
Sonja x
P.S. This post contains affiliate link that help me out at no cost to you. 
If you liked it, pin it!