I loved Copenhagen within the first ten minutes. The colourful building facades, the green-topped towers rising over the city, the smell of waffle cones in the air, plus music and glasses clinking next to the waterways and canals.
As I walked to my hostel with a huge smile on my face I realised I was going to have to come back because this time I had just one day in Copenhagen! There's a lot of top things to do in this city, plus some extra non-touristy and unique things too. So I made a plan and headed out!
The following are all the best things to do in one day in Copenhagen, in whichever order you like based on the 24 hours you have. And trust me, you won't be able to stop taking photos in Copenhagen!
Nyhavn
Nyhavn was built in the 17th century as a gateway waterway from the city to the sea and it's a fantastic place to start your exploration of Copenhagen in a day. Originally a rather notorious haunt for sailors, it was revitalised in the 1960s and has developed into the hugely popular top spot in Copenhagen that it is now!
From Nyhavn you can take boat tours around the canals, or enjoy a bite to eat and drink in one of the many restaurants lining the cobbled habourside.
Budget Tip: If you can't afford to eat out all of the time then grab a hotdog or some food and drink from the supermarket and perch on the edge of the canal at Nyhavn. You can still hear the buskers music and enjoy the atmosphere without breaking the bank and it's one of the best options for cheat eats in Copenhagen!
Copenhagen Street Food
Unfortunately, Papirøen, an awesome place to eat a variety of street food in Copenhagen, closed at the end of 2017. It was a huge warehouse holding colourful food trucks selling Italian, Mexican, Korean, Danish and all sorts of other national and fusion foods. Copenhagen Street Food based itself on the value of good food made from scratch with local ingredients.
But never fear! The organisers of Copenhagen Street Food have now transformed the historical industrial shipyard of Refshaleøen into a new street food and creative venue. It's easy to get there at 10 minutes cycle from Nyhavn, 10 minutes by harbour bus or 15 minutes by Hop on Hop Off Boat. Check out more details here.
Budget Tip: Basically visiting Copenhagen Street Food is the budget tip! You can eat here for 50DKK, which is much cheaper than any restaurants in Copenhagen. While some dishes cost more you should be able to find an option at this price in most food trucks.
Freetown Christiania
This alternative community sprung up in the neighbourhood of Christianshavn in 1971 from the hippie, collective, and anarchist movements. For many people, it's one of the top things they want to do if they have one day in Copenhagen! Residents have their own set of rules, including who can live in their self-proclaimed haven. It's well-known for the drug sales in the main street which have caused controversy over the years, but that's not something to worry about as a tourist to the area. I had no problems there and you can also avoid walking around that part of Christiania if you like.
As a tourist spot, Christiania is a car-free beautiful green space to relax and a nice place to grab a bite to eat in one of the cafes or from a street food stall. There are signs outlining the rules as you enter, including not taking photographs in the main street, which kind of leads to the attraction of going because there is some amazing graffiti there! The below was taken just outside.
Christiansborg Palace and Tarnet Tower
Christiansborg Palace used to house the Kings and Queens of Denmark and is now the home of the Danish Parliament. At the King's Gate entrance you can climb up to Tarnet Tower, which is the tallest tower in Copenhagen and has panoramic views of the city. It's also free! Only a limited number of people can be up there at once, so you may need to wait in line before you can ascend the elevator and steps to the very top.
Budget Tip: There are a few different towers across Copenhagen where you can view the city, like the Round Tower and the Spire at the Church of Our Saviour near Christiania, but they will put you a little out of pocket. Tarnet Tower is the tallest and it's free so a great option if your on a budget during your day in Copenhagen!
Tivoli Gardens Amusement Park
The second oldest amusement park in the world opened in Copenhagen in 1843, and it's still going strong! The Tivoli Gardens are open for your enjoyment seasonally during summer, Halloween, and Christmas and cost around 100DKK to enter or 200DKK for unlimited rides. Visiting Tivoli could take up quite a lot of time if you only have a day in Copenhagen so be sure to plan carefully if you want to fit more things in.
Budget Tip: Use the entry fee and ticket and then pay separately for rides you'd like to take. Or if you have more time in Copenhagen you could head north to Bakken, a UNESCO world heritage site as it's another old amusement park. It has free entry and is much less crowded than Tivoli!
The Little Mermaid Statue
Located about a 30-minute walk from Nyhavn and the city centre, you can find the iconic statue of the little mermaid, as inspired by Hans Christian Anderson's fairytale. The statue has been there since 1913 and usually tops must visit lists for Copenhagen.
When I was looking at how to get to the little mermaid statue I came across a ton of reviews stating that it wasn't worth going because it's tiny and far away, especially if you only have a day. I'm not entirely sure what people expect from a life-size statue, but I thought it was cute and I enjoyed the walk there!
Food in Copenhagen
I already mentioned Copenhagen Street Food where you can get bargain delicious eats, but Copenhagen has earned its reputation as a foodie city. There's so many restaurants and places to eat, but unfortunately, the food also doesn't come cheap! If you're only spending a day in Copenhagen then maybe you'll be more prepared to splash out, but I was on a fairly strict budget so looked for the cheaper eats!
Hotdogs
Hotdogs in Copenhagen are super tasty and probably one of the most budget friendly options. There are stands all over the city with lots of options to choose from. I'm not even ashamed to admit I basically lived on these as both a snack after all the walking and as a meal as well!
Ice cream
When I think of Copenhagen I think of the smell of waffle scones and freshly cut grass around Christiania. Visiting Copenhagen in July meant it was pretty hot and I definitely used ice cream as a default option for cooling down!
Cafes
I love cafes, and a cafe is usually cheaper than a proper restaurant. If you wander down some of the side streets away from the main squares and Nyhavn you'll stumble across more local and cheaper options. Hafnia Bar on a side street near the Generator Hostel had free wifi, great coffee and a delicious brunch meal that kept me going for the day!
Getting to Copenhagen and around
I took the train to Copenhagen at the end of a longer trip to Sweden. It took around 5 hours and booking early meant it cost around £15. Visiting Copenhagen for a day or two is a good add-on to a trip before or after Sweden if you have the time!
The Skyscanner "Everywhere" option always pops up Copenhagen as one of the cheaper destinations to fly to in Europe from where I live, especially around the summer months.
Once you're in the city you'll find that public transport is fairly easy to negotiate, and if you're staying central you can walk or cycle. Cyclists are everywhere in Copenhagen. Women zipping along gracefully in skirts with satchels strung over one shoulder and baskets on the front of the bicycle. I swear I could never look that good on a bike!
You can rent bicycles from kiosks on the street and use the GPS built into the bike to help you plan your route and what to do in Copenhagen in a day, or check with your accommodation to see if they can help you with a rental.
When you walk or cycle around the canals in good weather you'll see everyone out and about on boats (some you can privately hire too, although that's not such a budget tip!) and bringing tables out of their houses to bbq and picnic next to the water.
Where to stay in Copenhagen
I stayed at the Generator Hostel in Copenhagen, which is usually rated as one of their best. Booking with Booking.com actually gave me a better deal too! It's really central and I walked to all the major things to do in Copenhagen in one day from here.
Airbnb options around Copenhagen look great but you need to book early because I've looked for other weekends and they book out fast! Use this link to get credit for your first booking.
Where to go from Copenhagen
You can see a lot in Copenhagen in a day, and should easily get through the list of things above. Copenhagen makes a perfect city break weekend getaway start to a Scandinavian itinerary.
Copenhagen isn't the cheapest destination, but flights there often make up for the cost on the ground. You can choose cheaper accommodation options, and make the most of your feet and a bicycle to see everything you need to. Many of the tourist attractions are free (including these 25 free things to do!), and that just leaves cuisine as the number one place to budget in Copenhagen if you need to. There's plenty of street food options and cheaper places to eat off the beaten tourist track.
One day in Copenhagen is enough to scratch the surface and see all of the top things to do, but don't be surprised if it leaves you wanting more!
Have you been to Copenhagen? What did you think?
Sonja x
If you liked it, pin it!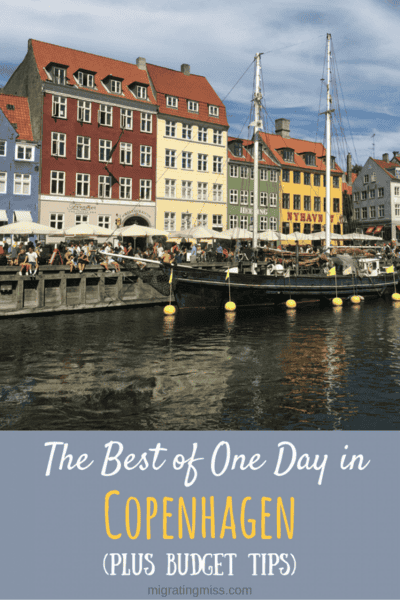 Disclaimer: Some of these links are affiliate links, which helps me pay the bills at no cost to you!