There's plenty to do in Aberdeen with kids!
As the third-largest city in Scotland and strategically placed near plenty of beautiful beaches as well as picturesque inland countryside filled with castles, you won't be short of things to entertain all different age groups. 
We love exploring all the city, and the surrounding countryside has to offer, from historic places and museums to adventurous outdoor activities, walks, beaches, and castles.
Every time we go, we find new things to do, and when you have a child in tow, you're always seeking out more! 
So here's a breakdown of lots of the things you can do in Aberdeen for families and close by as well. 
Explore History
Aberdeen, Scotland, is home to a rich history that dates back to around 6,000BC when hunter-gatherers would have roamed the area. Settlers from the Rhine lands, Celts, and Romans followed.
The city as we know it now was established in two separate areas, Old Aberdeen and New Aberdeen. 
While all of this may not be the most interesting for children, there are a couple of parts of the city that are well worth exploring to learn a little more about the history of it!
Old Aberdeen
Technically a city within the city, Old Aberdeen was established in 1489 as a separate burgh. It's now mostly the main campus of Aberdeen University, but it houses some wonderful original architecture. 
From schools to churches and even a beautiful park, plan to spend a few hours wandering around this charming part of town and experience a little of Scotland through the ages.
Take a walk through to see some of the buildings like King's College, the Powis Gates, and St Machar's Cathedral before letting the kids roam free in the Cruickshank Botanic Gardens (free of charge) and Seaton Park, mentioned more below. 
Walk around Footdee
Located on the coast, Footdee (Fittie to the locals) is the old fishing district of Aberdeen. Settlements here date all the way back to the 1400s.
A walk through this historic neighbourhood offers up a pleasant way to spend an afternoon.
There are cobblestone streets lined by little cottages with quirky gardens and a play park too. 
Museums
Museums may not be every family's cup of tea, but we do find they're good for a rainy day activity.
Aberdeen offers up an array of museums suitable for kids of all ages for a small town. These are a few of our favourites. 
Aberdeen Maritime Museum
Learn about the long-standing history of Aberdeen and the sea with this interactive museum.
From fisherman to oil production, there's a lot to see and to do, and it's very hands-on. The museum has a lovely cafe, in case you need to stop and grab something to eat, as well as baby-changing facilities.
Gordon Highlanders Museum
With a museum and gardens, this stunning location celebrates the Gordon Highlanders, a long-standing military branch that plays a rich and fascinating part in Scottish history.
The museum explores 200 years of exciting history told with beautiful displays as well as reenactors to bring history to life. 
The museum is also fantastic for kids with an app built just for them, dress-up areas and items they can handle and explore throughout.
Aberdeen Science Centre
Get your lab coats on and your hands dirty at the Aberdeen Science Centre. With plenty of interactive programs, you can immerse your family in the wonderful world of science.
Little Treasures Toy Museum
Filled with antique toys, this kid-friendly museum in Aberdeen brings out the imagination in all of us. Beautiful displays show an array of toys that create a magical world.
Best for big kids who'd like to remember the toys from their childhood, with activities for the actual children to do as they go around.
Tolbooth Museum
As one of the oldest buildings in Aberdeen, this former prison is a must-see. Experience the spooky nature of real jail cells and see how crime and punishment have been managed over the years.
Best suited for families with older children as there are several flights of steep stairs.
Zoological Museum
Located in the Zoology Building of King's College, this rotating exhibit space is all about wildlife.
From the smallest bacteria to huge whale skeletons, there's something for everyone to see, especially any little David Attenboroughs you may have in your party.
A visit to the Zoological Museum only takes a couple of hours, making it an excellent stop if you're checking out Old Aberdeen.
Outdoor Activities
One of the best things to do in Aberdeen with kids is to spend the day outside.
Plenty of exciting adventures await with these outdoor activities in Aberdeen with kids.
Transition Extreme
Get the adrenaline pumping at Aberdeen's premier adventure sports centre. Learn to rock climb, take a ropes course, or check out the BMX bike and skate park.
Transition Extreme is the perfect way to spend a day if you have high-octane kiddos who love being active.
Go Ape Crathes Castle
Go for a high-flying tree-top adventure right on the Crathes Castle grounds.
Children 10 and up can enjoy a day spent in the canopy with ziplines, obstacle courses, and more. Perfect for a kid's birthday party or some high-flying family fun, this is one the adults will love too!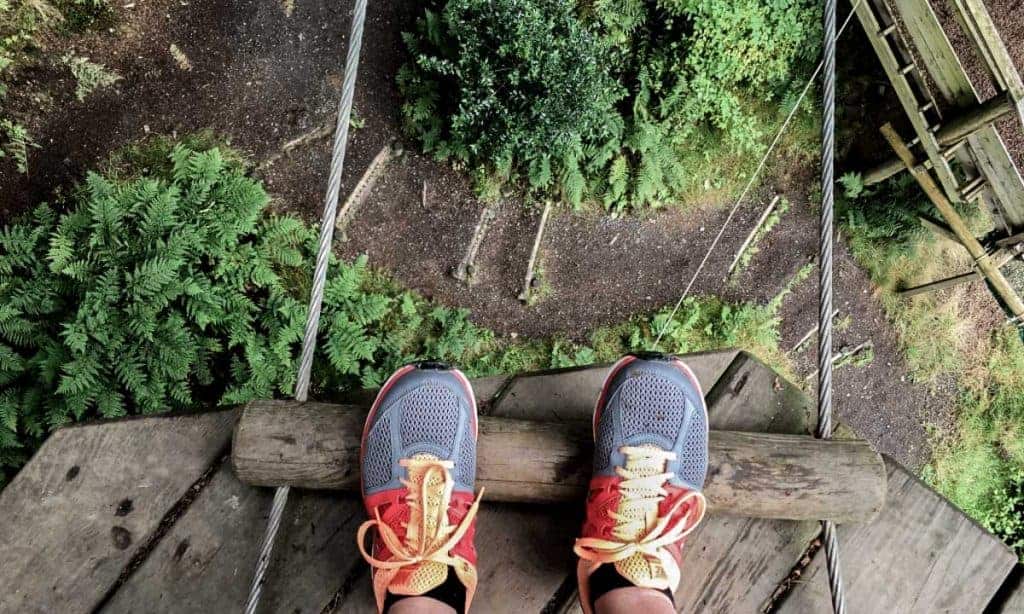 Horse Riding
Just 10 minutes from the city centre, you can experience the excitement of horse riding in the safe hands of the Hayfield Riding Centre.
Suitable for all ages and all experience levels, spend the day riding horses in this lovely location. 
There is something for every level of experience, from cross-country courses to learning the basics of the saddle in one of the outdoor arenas. 
These beautiful animals will win the hearts of any little one, though they may then want a horse for Christmas…
Codona's Amusement Park
Fun for the whole family, Codona's Amusement Park features everything from high-flying roller coasters to ten-pin bowling, go-karting, adventure golf and more.
There's even a spot to grab a beer and a pizza for the adults!
Doonies Farm
Discover the farming heritage of Scotland and Doonies Farm. Specialising in endangered farm animals, this unique farm is unlike anything else you've seen before.
One of the best things to do in Aberdeen for kids who love animals is to meet the animals at Doonies!
Scot Surf School
Offering surf lessons at the beach and paddleboarding at the River Don, this is a great thing to do in Aberdeen with older kids.
Parks & Walks
Spend the day exploring all nature has to offer while your children play. Aberdeen is home to plenty of beautiful parks and walks perfect for a family picnic, a long walk or just a moment to regroup and relax.
Duthie Park
Beautiful Victorian-era gardens with rolling greens make this an ideal spot to relax and play.
Don't forget to visit the David Welch Winter Gardens, one of the largest indoor gardens in Europe, and meet its famous talking cactus!
This indoor garden celebrates blooms year-round. A perfect winter activity in Aberdeen with kids. 
Seaton Park
A luscious historic park situated on the banks of the River Don. Take a stroll through the famous "Cathedral Walk" by the St Machar's Cathedral during the mid-summer.
Don't forget to visit the Brig o' Balgownie, a bridge featured in a poem by Byron and potentially completed by Robert the Bruce.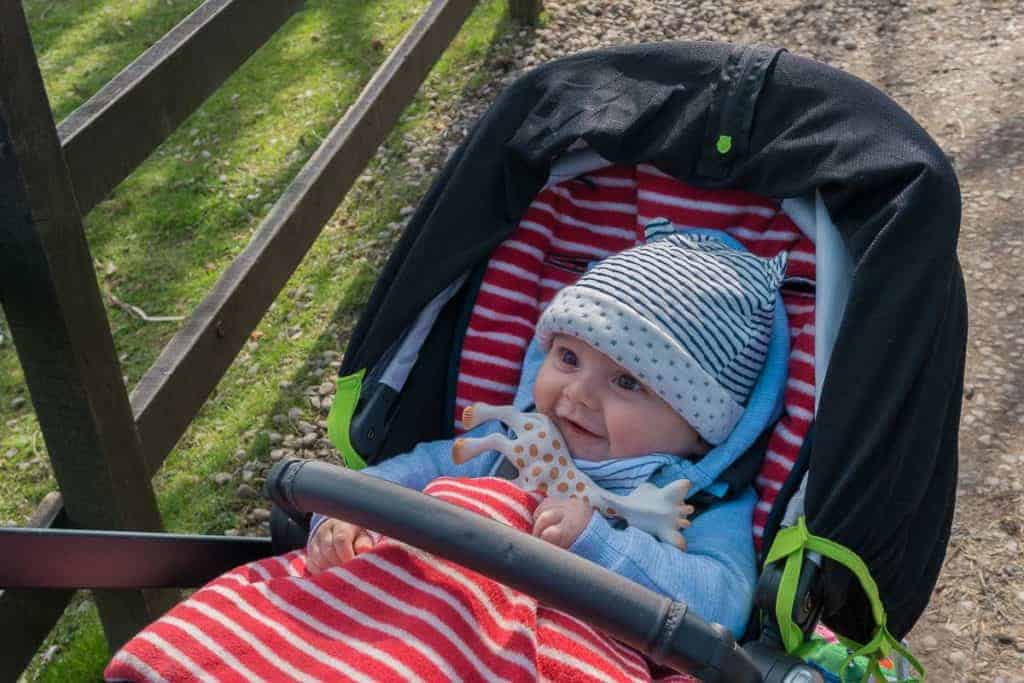 Hazlehead Park
Filled with football pitches, playgrounds, a pitch and putt, and even two 18-hole golf courses, this beautiful park has plenty of entertainment for the whole family.
Although a bit outside of Aberdeen, it's worth the short commute to check out this family-friendly park.
Pitmedden Garden
Try to stay on the right path as you wander through 6 miles of trimmed hedge mazes and gardens in this unique and fun outdoor space.
The Museum of Farming and Life, along with an annual Autumn fruit harvest, make this a must-see garden throughout the year for the whole family.
Aden Country Park
The stunning Aden Country Park features playgrounds, BBQs, a horse arena, and walking trails as one of the country's best green spaces.
You'll find all the essentials for a family day out from Aberdeen with a cafe and toilets.
The Den and The Glen
The indoor soft play area and the outdoor playgrounds make the Den and the Glen the ideal spot for young children to play and imagine.
With the idyllic wooded country backdrop, this beautiful play spot features animals, playgrounds, and more.
Tarland Trails
Located in the Drummy Woods, this park features 3 km of single-track mountain bike trails. The short trails mean you can give mountain biking a try without committing to a full day's adventure.
Try the Spiky Hedgehog Trail that's suitable for the whole family. Older kids will enjoy the pump track and jumping trails.
Aberdeen Spy Mission Treasure Trail
Purchase the Spy Mission themed map and walk through the west end of Aberdeen as you seek to solve all the mysteries!
There are clues on the building and monuments in the area, and if you get stuck you can text for clues. 
Indoor Activities
Scottish weather won't always be on your side; however well you've planned your time, spend some time inside with these family-friendly indoor activities in Aberdeen.
Linx Ice Arena
Learn to skate or practice your routine at the Linx Ice Arena. Offering lessons for anyone from toddler age to adults, there's plenty of skating fun for the whole family.
Aberdeen Snowsports Centre
Head to Aberdeen's only indoor dry ski slope and learn how to ski and snowboard, whatever the weather!
Lessons are available for all abilities, including a special kids programme that includes a tubing session.
Beach Leisure Centre
Make a splash at this family-friendly indoor water park facility. Plenty of pools, four flumes, and a wave pool keep this swimming hole a fun place to venture to year-round.
Smugglers Cove Soft Play
Located inside Codona's Amusement Park, the Smuggler's Cove Soft Play area is a pirate-themed jungle gym suitable for kids up to 10 years old. Perfect for birthday parties or swashbuckling this wonderful play area offers plenty of indoor-outdoor fun.
With areas for kids of different ages, it's an ideal spot to play in Aberdeen.
Innoflate Inflatable Theme Park
The first of its kind in Scotland, this indoor inflatable theme park has parts that are suitable for all ages and abilities. There's also a cafe, arcade, and party rooms.
Beaches
Who doesn't love a day at the beach? Aberdeen is a city by the sea and filled with plenty of beautiful beach fronts suitable for kids of all ages.
Yes, Scotland's weather isn't always the brightest, but some of the beaches have plenty of facilities nearby if it turns bad! 
Aberdeen Beach
You'll find the beautiful expanse of Aberdeen Beach just minutes from the city centre.
Spend some time building sandcastles, then head to the Beach Leisure Centre, Linx Ice Arena or one of the many family-friendly cafes nearby. Plus it's an easy wander down to Footdee too. 
Balmedie Beach
Five miles from Aberdeen you'll find a stretch of gentle, quiet beach. Balmedie Beach offers a more natural experience.
Tranquil coastlines are perfect for families looking for some peace and quiet. Facilities include toilets, nearby shops, and a ranger centre.
Newburgh Beach
Newburgh Beach hosts an amazing wealth of wildlife at the mouth of the Ythan River.
From beautiful diving terns, ducks, and over 400 seals, this is the spot for families who love wildlife. Catch oysters along the shores and cook up a tasty treat that evening.
Castles Nearby
Aberdeenshire is Castle Country, with over 260 castles, ruins, and stately homes dotting the countryside. This means plenty of places to explore with the kids! 
Make your way to one (or three) of these amazing castles and let their imagination run wild. 
Crathes Castle
The 16th-century Crathes Castle is home to beautiful walled gardens, turrets, spiralling towers and beautifully painted ceilings. There are lots to look at here to keep kids' attention.
Not to mention the nearby Go Ape Adventure Park offers canopy adventures and obstacle courses right on the castle grounds.
Dunnottor Castle
Situated on an outcrop in the sea, Dunnottor Castle is straight out of a fairytale. Kids will love the castle grounds and impenetrable fortress.
Keep in mind you need to go down a lot of stairs and back up again to access the castle, so it's not suitable for pushchairs.
Craigievar Castle
Craigievar Castle's pink walls and beautiful artwork is the perfect backdrop for any princess (or prince!). 
Steeped in history, this well-preserved castle is the ideal spot for families that love to walk outdoors and explore this beautiful landmark.
There are accessible areas of the castle, but to reach the upper floors, you'll need to ascend steep, spiral stone stairs.
Castle Fraser
For the exploring family, Castle Fraser hosts an array of quirky surprises.
With trap doors, secret staircases and more intriguing architecture, this castle brings even the most imaginative castle designs to life. The castle offers children's activities, guided tours, buggy access and more.
All of these things to do in Aberdeen with kids are sure to keep you going for a while, and there are definitely even more things to be found to do as a family than this! 
Sonja x
Want more Scotland for families content? Check out these posts: