Loch Ness is a bucket list destination for the many travellers who come to Scotland each year, largely thanks to a certain creature in Scottish folklore. At the foot of the famous Loch is the tiny town of Fort Augustus.
Despite being strategically placed within a stone's throw of many of the Highlands key destinations, the 300,000 travellers that come throughout the year hoping for a glimpse of Nessie often only stop for a short time. They use the town as an opportunity to fuel up on food while taking a few pictures of Loch Ness or perhaps enjoying a cruise before moving on for further Scottish adventures.
But actually, for a town of just 650 people, there are so many more things to do in Fort Augustus than many give it credit for, not to mention the surrounding area! Having visited many times now, I really think Fort Augustus warrants more than a fleeting visit. The adventure can be right here!
Driving through the Highlands is easily one of my favourite road trips, and this area has everything a traveller to Scotland could want. A wealth of scenery in the form of beautiful lochs and rugged mountains, history in the form of castles and exhibition centres that delve into the past, exciting experiences in the form of adventure activities and beautiful hikes. All this while supporting local businesses like whisky distilleries and boutique shops.
I've passed through Fort Augustus many times on my adventures around Scotland, but on our most recent visit, we stayed at the eco-conscious Lovat Hotel, using the opportunity to find out more about what to do in Fort Augustus, and how to use it as a base for exploring the wider area. And now I get to share it with you!
So, here are all the things to do in Fort Augustus!
Loch Ness
First things first in case you're not aware, a loch is the Scottish word for a lake, you'll never hear Loch Ness called Lake Ness!
So what is it that makes Loch Ness so special? For many, it's the legend of Nessie that draws them here.
Some say the sightings of something strange at Loch Ness stretch back to the 6th century when an Irish monk was staying at Loch Ness and a man was killed by an unknown creature, but the legend as we know it today really took hold in 1933.
George Spicer and his wife claim to have spotted a strange kind of animal as they drove alongside Loch Ness, and their story was published in London newspaper. Letters began pouring into the newspaper from others claiming they had seen something too, and eventually the name "Loch Ness Monster" was born.
The next year, a now-famous photo said to depict the monster was published, and for 60 years was used as proof that Nessie existed, until the 1990s when the photo was closely analysed and it was determined that it was an elaborate hoax, using a toy submarine and wood putty to create a head and neck.
My photo of Nessie…
Further photos and sonar images claiming to be of the Loch Ness Monster have emerged over the years, but they have always been explained away as algae, seals, or floating wood. On my first visit to Loch Ness, I actually took a ride on the Nessie Hunter with George Edwards, one of the people who claim to have truly seen Nessie and have taken a photo.
Despite the continued debunking of the myth, many people still believe Nessie exists, or at least are unwilling to rule out the possibility, and thus the legend and popularity of Loch Ness endures!
But aside from Nessie, the Loch is actually unique in its own right, thanks to its geological features. These make it worth the visit anyway!
The water visibility is extremely low due to the peat in the surrounding hillsides, to the point that it almost looks black when you're sailing on it. This blackness and mysterious hidden depths is part of the reason the idea of a hidden monster continues to thrive!
It's the largest loch by volume in the British Isles, the second-largest in surface area and the second deepest, owing to the way it was created. The Loch has extremely steep sides and you can sail a boat fairly close to the edge. Plus, amazingly, it contains more freshwater than all the lakes in England and Wales.
So it's no surprise then that Loch Ness is the number one thing that draws people to Fort Augustus!
Take a Loch Ness Cruise
Easily the best way to experience Loch Ness rather than just looking at it is by taking a cruise. As well as taking in the beautiful scenery, there is, of course, the chance you might spot something a little unusual in the water too!
There are several companies that depart from different points around the Loch. In Fort Augustus, you'll find Cruise Loch Ness. They run Scenic Day and Evening Cruises (50 and 60 minutes respectively) on their custom-built vessels that feature live sonar images of the Loch below.
For something a little different, you could jump on one of their high-speed RIB boats for a Nessie Hunt, a thrilling adventure all the way up to Urquhart Castle, or even to the other end of the Loch and back.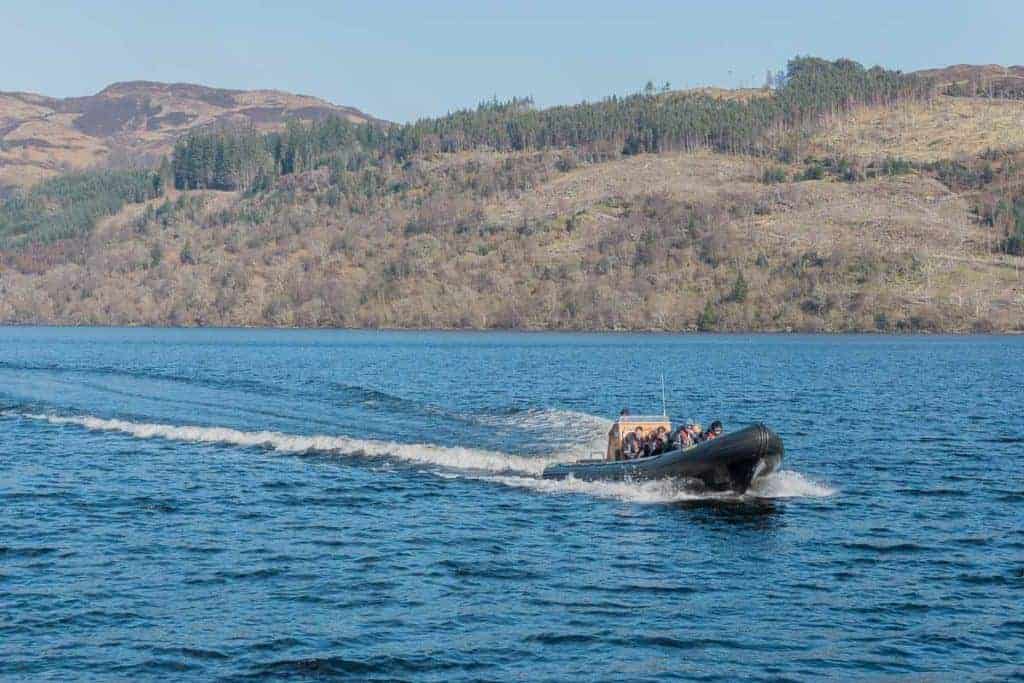 Take a photo at Loch Ness Viewpoint
If a cruise isn't for you but you still fancy getting close to the Loch then you're in luck. Wander along the bank of the Caledonian Canal and watch as the expanse of Loch Ness opens up before you.
It's a great spot for both people and boat watching, and there's even a tiny "beach". It may be narrow, but the length of the Loch means it stretches far into the distance, the perfect spot for a photo!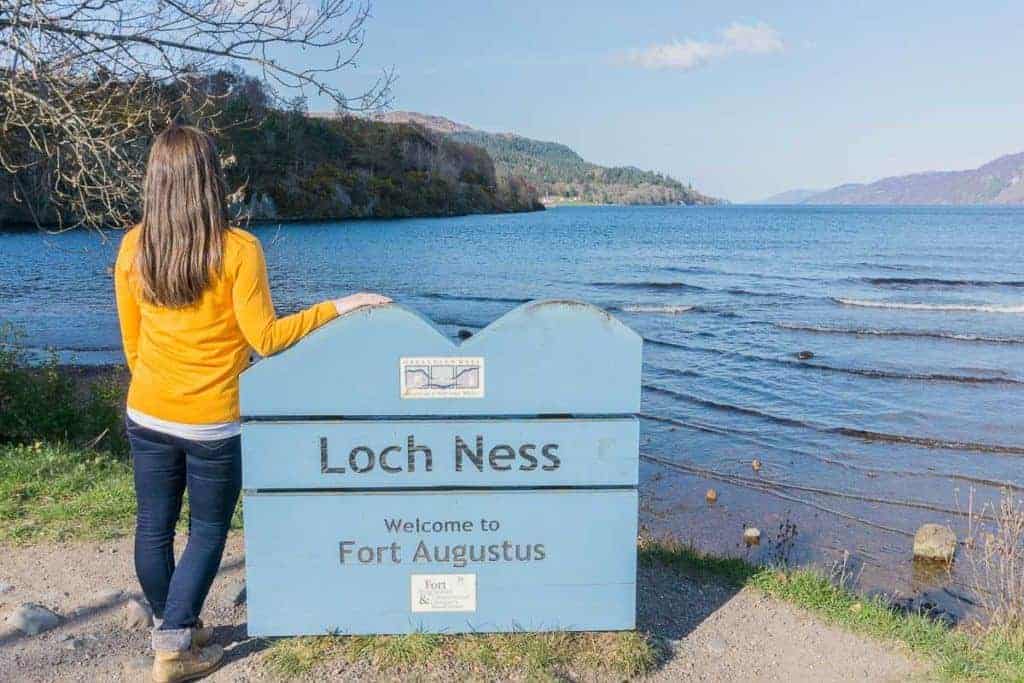 See boats pass through the Caledonian Canal Locks
Loch Ness runs diagonally across the Scottish Highlands and is the largest member of a series of lochs and man-made waterways that together make up the famous Caledonian Canal. It stretches all the way from Inverness to Corpach, located near Fort William, with just 22 miles of it being man-made.
I can already hear you wondering why these collective bodies of water could possibly be important to you. Well, it means you can sail across the width of Scotland! As soon as we realised this, a boat trip across Scotland was instantly added to our family bucket list. Yes, we have a family bucket list, even if it is only me that adds to it…
If you're lucky enough to be in Fort Augustus at the right time, you'll be able to watch boats navigating their way through the lock system. It's strange to watch the water fill up and empty in each compartment in a way that allows the boats to negotiate the locks like a staircase!
Fort Augustus Attractions
Shop at Iceberg Glass
Just by the bridge across the Caledonian Canal, you'll find Iceberg Glass, a glassblowing studio and shop. Its simple exterior belies all the of the stunning artwork within. As well as browsing the beautiful glass products, some of which are incredibly intricate, you can watch as one of the store staff create new pieces right in front of you.
The first time I visited I watched tiny glass Nessie ornaments come to life. It was mesmerising to watch small cylinders of glass transform into little creatures. They make it look so easy but it's far from it I imagine! I would certainly recommend that you pop along and pick up a unique souvenir.
Visit the Caledonian Canal Centre
The newly opened Caledonian Canal Centre offers a wealth of visitor information on the 60 miles of waterway that cuts across Scotland, as well as being a valuable resource for exploring the surrounding area. It houses a lovely cafe, plus a gift shop full of Scottish produce and local goods. There are also several rooms available to book as accommodation via Airbnb.
Explore the Clansman Centre
The Clansman Centre on the banks of the Caledonian Canal is a tribute to 17th-century clan weaponry, with a fascinating exhibition, demonstrations, and a gift shop featuring locally made goods and crafts. Located in what was a schoolhouse in the 19th century, the interior has now been transformed to replicate the inside of Highland turf home. For any Outlander fans especially it is well worth a visit!
Open March to October, seven days a week 10.30am – 6.00pm and later on some evenings in summer.
Spot Loch Ness Pepperpot Lighthouse
A "Pepper-pot Lighthouse" is the description for a particular type of tiny lighthouse that gains its unusual name for somewhat resembles a pepper or salt shaker. There are three of these located along the Caledonian Canal, and they are the smallest lighthouses in Britain. One of these, built in 1840, is located at the point where the Caledonian Canal meets the southern end of Loch Ness. If you walk towards Loch Ness on the right side of the canal then you'll come across it.
Although you can't enter, it is rather cute and if you're anything like me then you enjoy laying claim to having seen something unique, like one of the smallest lighthouses in the country! It's also a quieter spot to gaze out on the Loch and get some more of those all important photos, although Baby B probably wished we would hurry up and stop taking so many!
Play 9-holes at the Fort Augustus Golf Club
This 9 hole golf course was laid in 1924 and has been regarded as one of the most challenging in Scotland, thanks to the dense heather and gorse bushes that hug the edges of the fairway. You don't want your ball to end up in there!
Its location offers beautiful views of the surrounding area and the canal plus there are dual tee positions meaning you can play it as an 18 hole course if you like. Non-members are welcome all year round for those that are up for the challenge.
Go for a Cycle around the area
You can explore the Fort Augustus area in yet another way by hiring a bike. Ness E' Bikes have both electric and mountain bikes to rent from Girvans Hardware in town. Take a leisurely ride along to the Bridge of Oich, or cycle the more difficult upper Great Glen Way trail, with stunning views around the countryside. There's also the South Loch Ness trail for keen mountain bikers.
Food & Drink
The Brasserie at The Lovat
Looking for something a little more special for lunch or dinner? The Brasserie at The Lovat Hotel combines a welcoming atmosphere with quality produce, crafted into dishes that are a feast for the eye as well as the taste buds.
We dined on starters of miso-glazed mackerel and cured salmon, mains of roasted venison and lamb, and moorish chocolate brownie and "Snickers" inspired desserts. They were very accommodating of Baby B, his pushchair and his tendency to not want to stay still or sleep during each course!
The Loch Inn
Located alongside the Caledonian Canal, the Loch Inn is a cosy and traditional pub offering typical Highland fare like haggis, haddock, steak pie, and burgers. Tasty and filling, great after a long day sightseeing.
Highland Ice Cream
I have yet to find a day when I don't want ice cream! Even on coldest of days I still crave it. Highland Ice Cream is a personal fav, solving every ice cream urge with a wonderful mix of flavours. Pop in for a treat while you walk along the Canal.
The Bothy
Another bar and restaurant located along the Canal, the Bothy has an extensive whisky collection as well as traditional Scottish menu. This was recommended to me by a Rabbie's guide when I previously joined one of their tours.
The Boathouse
Located right on the banks of Loch Ness, is the newest addition to the Augustus dining scene, The Boathouse. They serve classic Scottish dishes like Fish & Chips and chicken with haggis, as well as offering Mediterranean specialists. I wasn't lucky enough to pay it a visit but we found it while enjoying the views, with outdoor dining available it may have the best views in Fort Augustus!
Things to do near Fort Augustus
Loch Ness Centre & Exhibition
Located in Drumnadrochit, The Loch Ness Centre & Exhibition is a fantastic place to learn more about the natural history of the Loch, as well as the legend of the Loch Ness Monster. There are actually seven differently themed areas designed to take you on a journey from the beginning of Loch Ness at the end of the last Great Ice Age through to the present day. It really is fascinating.
Urquhart Castle
It wouldn't be a Scottish adventure without exploring a castle! I'm pretty sure I mess up how to pronounce this castle name, no matter how many times I visit!
Perched on the banks of Loch Ness, Urquhart Castle has a dramatic history that includes seizure of the castle by Edward I when he invaded Scotland, a takeover by Lords from the Isles looking to expand their territory, and was used by government troops fighting against the Jacobite Uprisings, before they blew the castle up when they left in 1692. Which seems crazy to us now given how much we love exploring castles!
Urquhart is now one of the most visited in Scotland, frequented by those who arrive by road and by boat from Loch Ness.
Bridge of Oich
Just 10 minutes from Fort Augustus by car or half an hour by bicycle is the Bridge of Oich. This listed suspension bridge that was used from 1854 until 1932 as part of the main road across the river, and it now forms part of a public path.
Adventure Activities Around Fort Augustus
As I've mentioned, Fort Augustus makes a great base for anyone wanting to take advantage of the abundance of adventure activities available in the Scottish Highlands. Walking and cycling are just the tips of the iceberg when it comes to the things to do! There's also kayaking and canoeing, white water rafting, sailing, horseback riding, abseiling, archery, and clay pigeon shooting. All within a stone's throw of Fort Augustus! Check out providers like Monster Activities or Great Glen Adventures for more info.
Falls of Foyers Walk
A dramatic 140ft waterfall can be found during a 1.5-2 hour walk that includes wandering through the forest, stunning scenery, beautiful views of the gorge the river runs through, before finally reaching the shore of Loch Ness.
It's a fairly steep path that includes lots of steps, but it's a lovely walk along the side of Loch Ness that is much less visited than the others. Peace, quiet amazing sights, plus there's a cafe at the beginning/end for a well-deserved scone or cup of tea!
The Commando Memorial
The Commando Memorial is located near Spean Bridge, overlooking Aonach Mòr looking out over the Nevis Range. Even though it's fairly simple, this is easily one of the best memorials I've ever visited. Dedicated to the original British Commando Forces, who fought in WWII, it features three Commandos looking at the area that was their training ground.
There's also a Garden of Remembrance at the site, where the ashes of many WWII Commandos have had their ashes scattered, and where contemporary Commandos who have lost their lives in more recent wars are remembered.
Morag's Crafty Bothy
Located at the Falls of Foyers walk, Morag's Crafty Bothy is a unique gift shop where you can find local, handcrafted gifts or even "paint your own pot" creating your own ceramic gift. Nancy's Nook next door is a comfy tea room offering a respite before or after walking to the falls, or just worth the visit anyway!
Open Tuesday to Sunday from 10 am to 5 pm from Easter to October.
Day trips from Fort Augustus
Its central location in the Highlands means that Fort Augustus is a fantastic base for exploring the whole area. It gives you the opportunity to relax in one location that has a little of everything and take day trips, rather than jumping around to somewhere different every day!
Eilean Donan Castle
One hour drive
Eilean Donan is both one of the most photographed and famous castles in Scotland, thanks to its picturesque location at the meeting point of three lochs. This 13th-century castle was initially built to protect the area from Viking invasions but was later left in ruin after one of the Jacobite Uprisings. It was then reconstructed between 1912 and 1932 adding the bridge which helps make it the perfect castle to take photos of. If, like me, you love Instagram then Eilean Donan needs to be on your list. (IG LINK)
Visit at the right time of day when the tide is in and you'll be able to see the iconic reflection of the castle in the loch.
I really can't explain quite how iconic this beautiful castle is and should be on everyone's Scotland bucket list. I first experienced it when driving to the Isle of Skye and I've returned many times since!
Inverness
One hour drive
The "Capital of the Highlands", Inverness, can be found just northwest of Loch Ness, where the River Ness joins the Moray Firth. Inverness is often underrated, but the river area is picturesque and you can visit Inverness Castle and Inverness Cathedral, both located along the river. There's plenty of things to do around Inverness.
However, for me, visiting nearby Culloden is a must. This is where the last battle on British soil took place in 1746, between the government forces and the Jacobite forces of Charles Stuart (or "Bonnie Prince Charlie"). It's a somber visit, with the Visitor Centre providing insight into what happened on this fateful day. The Scottish Highlands were forever changed afterward, and walking around the battlefield invokes a range of emotions.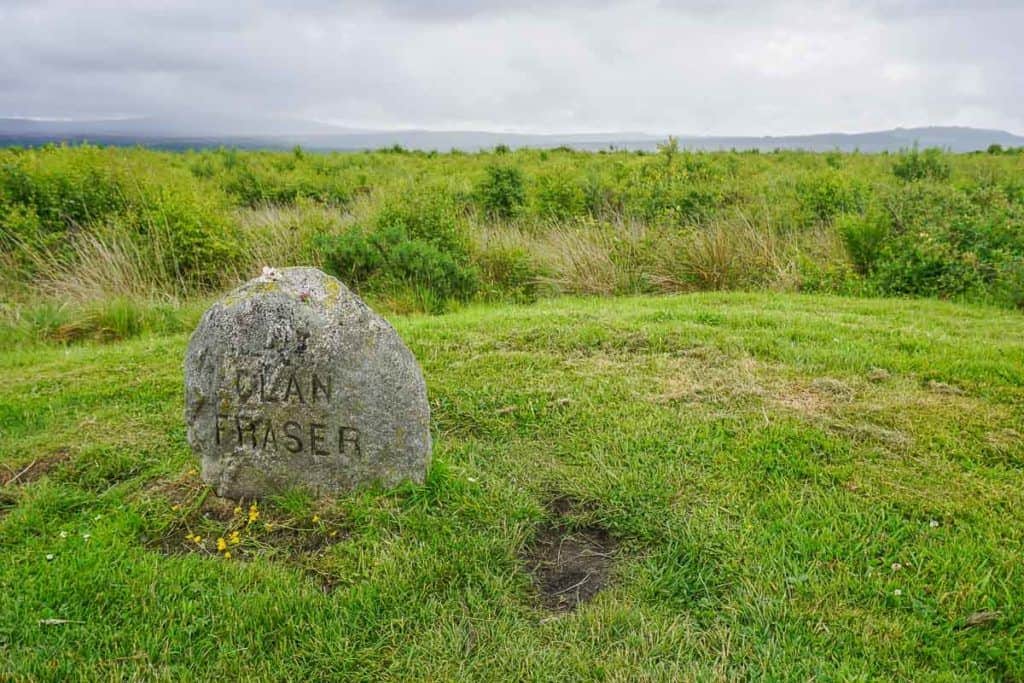 Fort William
One hour drive
Fort William is the gateway to Ben Nevis and the Nevis Range, but there are plenty of other things to do there too. Check out Glen Nevis, the Ben Nevis Distillery, Old Inverlochy Castle, or eat out in one of the many pubs and restaurants.
Where to Stay in Fort Augustus
We stayed at The Lovat Hotel Loch Ness. It was originally the site of an army barracks built in 1718 (you can still see the original west wall in the grounds of the hotel) before becoming a station hotel first constructed in 1869. It's been known as "The Lovat" in some form since 1903 and has now had its interior transformed into an eco-conscious and environmentally aware hotel fit with all mod cons, while still retaining its charming historical appearance.
Our room, one of the four "Loft Rooms", was located on the top floor, (thankfully with an elevator to help with all the baby stuff!) and had amazing views down towards Loch Ness and the surrounding hillsides. The neutral tones of the furnishings complement the historical features throughout the rest of the hotel, making it feel just modern enough but not out of place. Other room options include the Master Rooms and Deluxe Rooms, as well the quaint Garden Rooms located outside the main building.
The hotel was in the heart of Fort Augustus itself, we were able to easily ditch the car in their car park and explore the town on foot. Dinner was another easy feat, with the in-house restaurant The Brasserie, offering delicious, carefully crafted meals made with distinctly Scottish ingredients.
The service of the staff throughout our stay was impeccable, from the warm welcome in the restaurant at dinner and breakfast to the helpful reception team full of tips and advice about what to see and do. As a travelling family, we very much appreciated how helpful they were with all things baby, including making allowances when one of us had to duck out of dinner once or twice to calm a grumpy Baby B down a little.
But one of the main things that made The Lovat stand out above other accommodation we've stayed in is their approach to the environment and their eco-conscious ethos. It stretches from the installation of a specialised wood chip boiler to heat the hotel, down to avoiding products that use palm oil, using environmentally friendly cleaning products, having motion detection lighting, and many more small details. Also, the notepaper in the rooms is recycled, the pens are made from recycled CDs and pencils from video cassettes. How cool is that?!
Exploring Fort Augustus and experiencing it first hand rather than just quickly travelling through helped me realise how much this little town has to offer. It allows you to take advantage of all the things to do in Fort Augustus at your own pace while having a wealth of Scotland's great adventures on your doorstep. Pause for more than a moment to soak in the atmosphere of the Highlands, do and see more, and you won't regret it.
If you liked it, pin it!
We were invited to stay at The Lovat, Loch Ness, but as always, all opinions are my own!