This post may contain affiliate links that I earn a small commission from at no cost to you. Please see my disclosure page for information. Please check for current circumstances before travelling.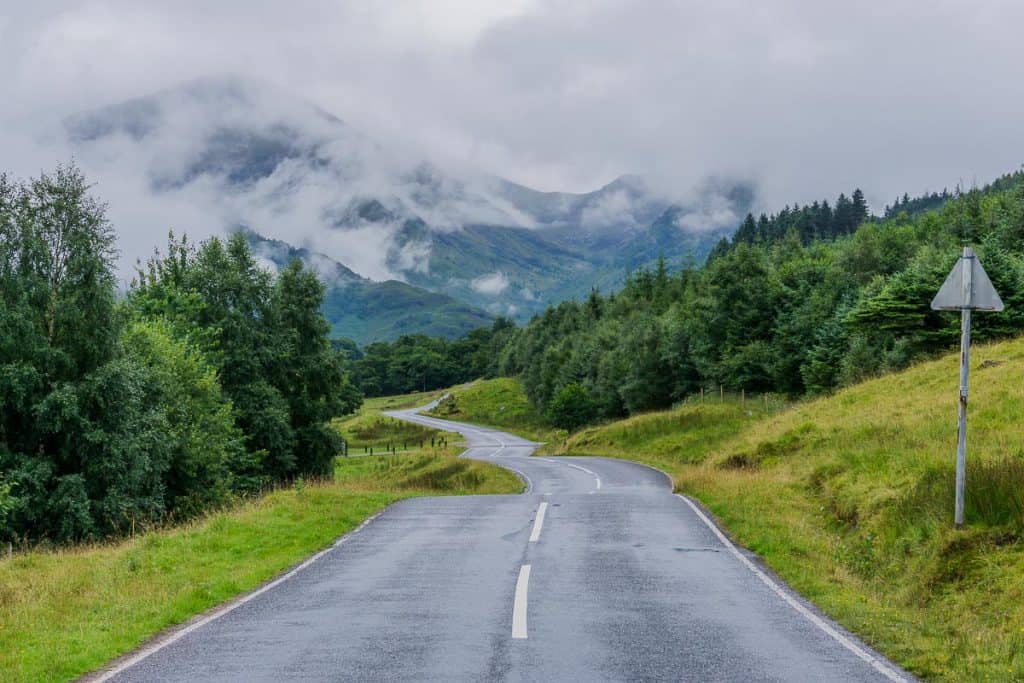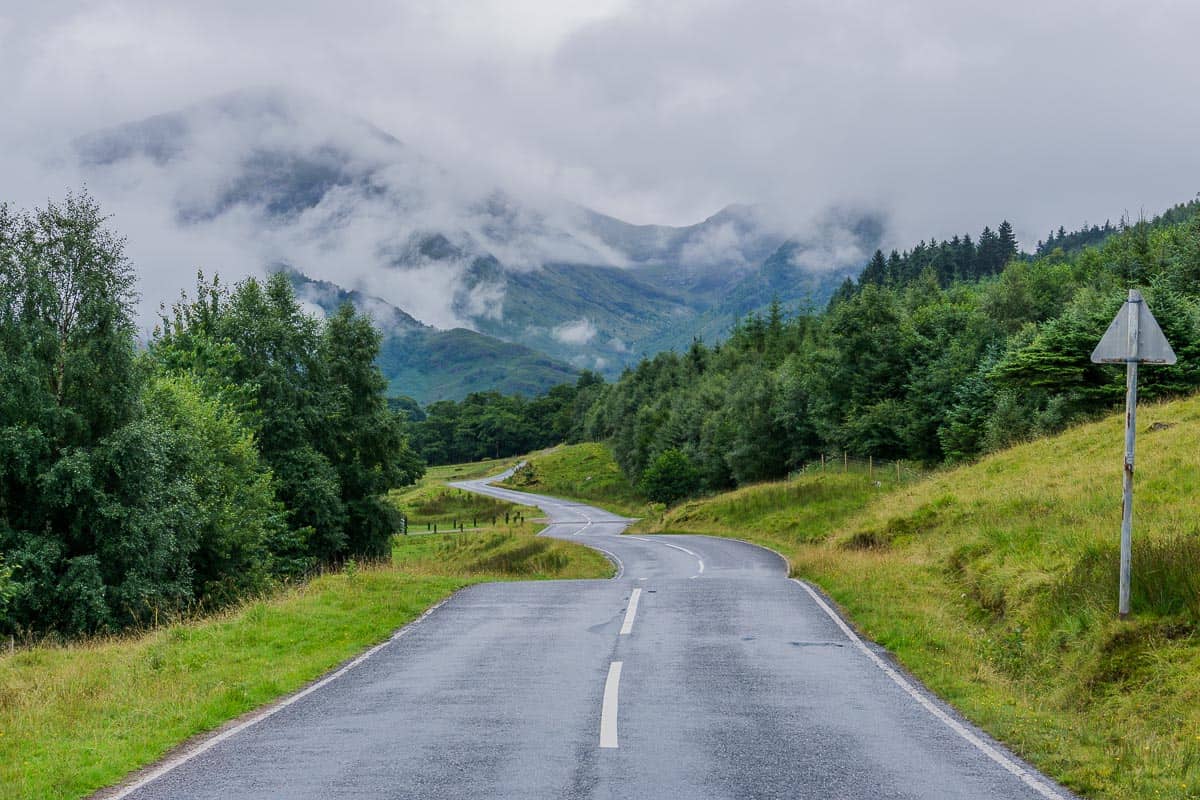 Fort William isn't the first place I tell people they must go when they come to Scotland, but it probably should be. After all, it's the outdoor capital of the United Kingdom and there are so many things to do in Fort William and the surrounding area that you'll be able to tick a lot off your Scotland bucket list!
The reason that I don't always remember to mention Fort William as a destination in its own right is because of really the beautiful scenery around it and all the other exciting points of interest!
Check out this video for a sneak peak of the things to do in Fort William. Hostelling Scotland kindly invited me to check out their new hostel and we used it as a base to explore the area.
And here are all the things to do in Fort William and why you need to add the area to your Scotland itinerary!
Ben Nevis Distillery
What better place to start your explorations of the Fort William area than at a whisky distillery? You can't really visit Scotland and not go to at least one distillery or give whisky a try, even if you're not sure if it's your thing. Scottish whisky is written without the 'e' and is to be considered as such it has to fit special legal specifications including being produced in Scotland and aged in oak barrels for at least 3 years.
The original distillery was founded in 1825 as John MacDonald thought the location near clean water coming from Ben Nevis and the local peat banks were just right for use in the production of whisky. A second distillery was opened nearby in 1878 before the two combined to become the Ben Nevis Distillery. Tours start from £5 for adults.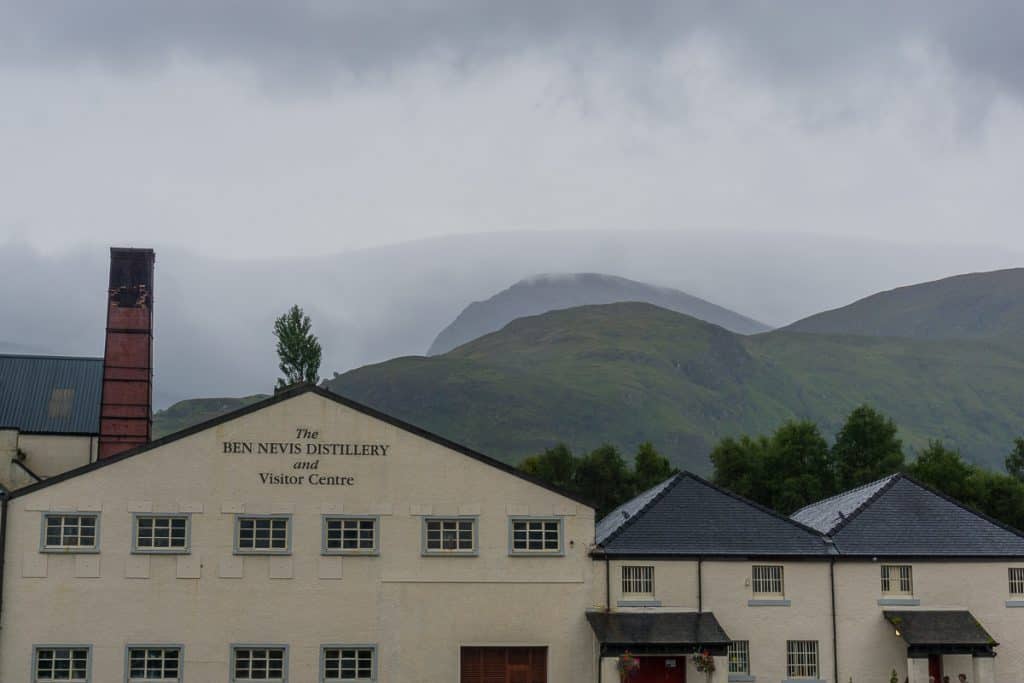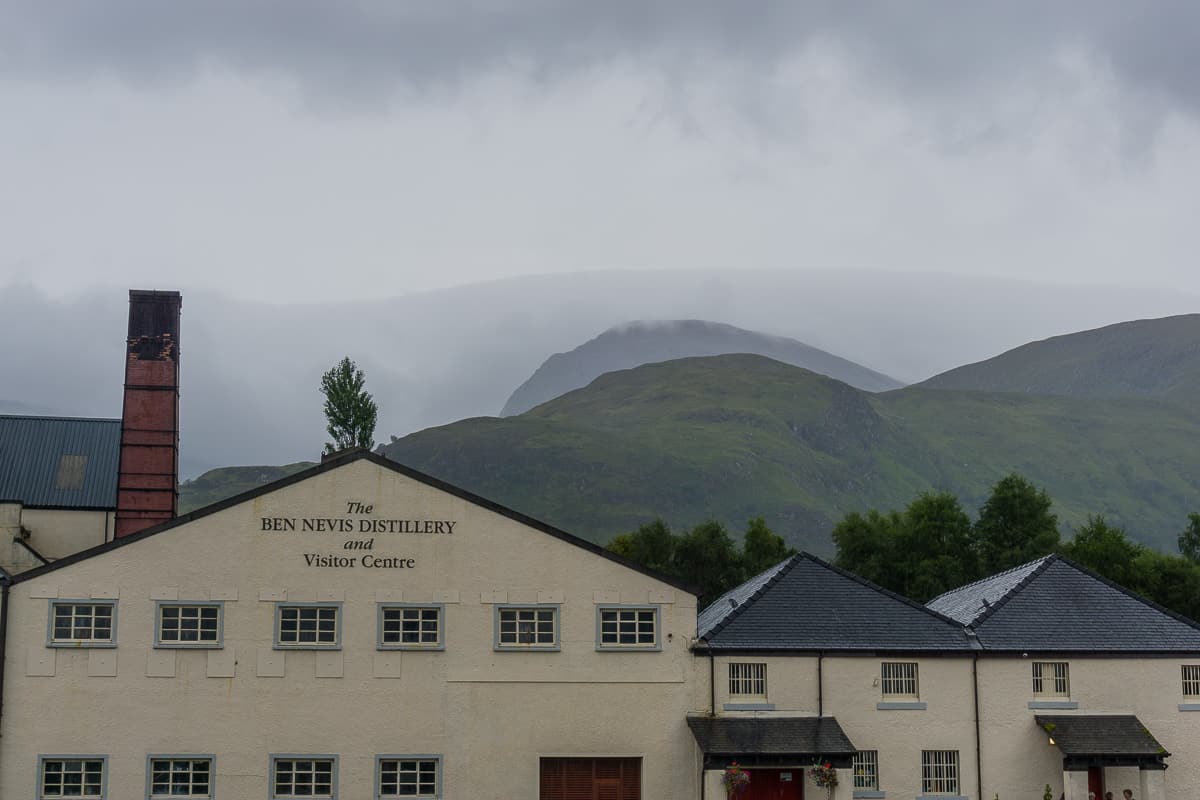 West Highland Museum
If you're looking for things to do in Fort William on a rainy day then pay a visit to the West Highland Museum on Cameron Square. It's one of the oldest in the Highlands, having been founded in 1922 and in it's present location since 1926. You can learn a lot more about Bonnie Prince Charlie and the Jacobite Cause, which you'll see and hear more about if you're travelling further around the Highlands, as well as other parts of local history.
Climb Ben Nevis
This is, of course, not a compulsory thing to do when you come to Fort William but it's the reason many people do! I have never climbed Ben Nevis myself although my husband has. It is something I aim to change in the near future! In fact, I've been lucky to actually spot the summit of Ben Nevis as it can quite frequently be covered in cloud! From what I know the walk is STEEP but worth it if you get the views, and to revel in the accomplishment of climbing the tallest peak in the United Kingdom of course.
Planning to climb Ben Nevis is a little unpredictable since you need to take into account the weather which frequently changes. Be prepared with the right gear, including waterproofs for sure!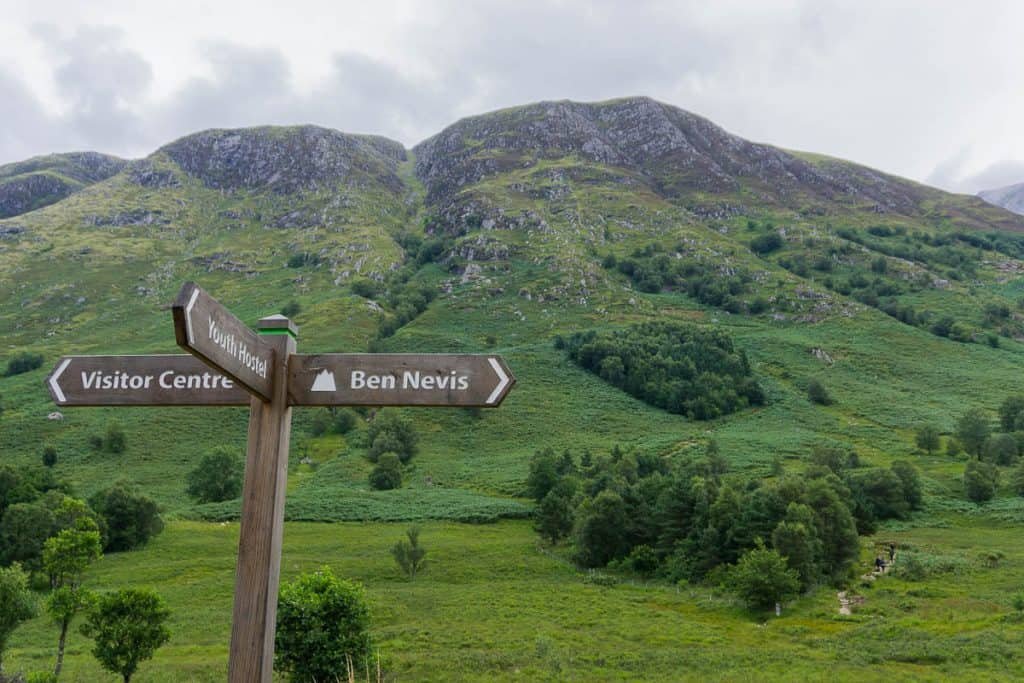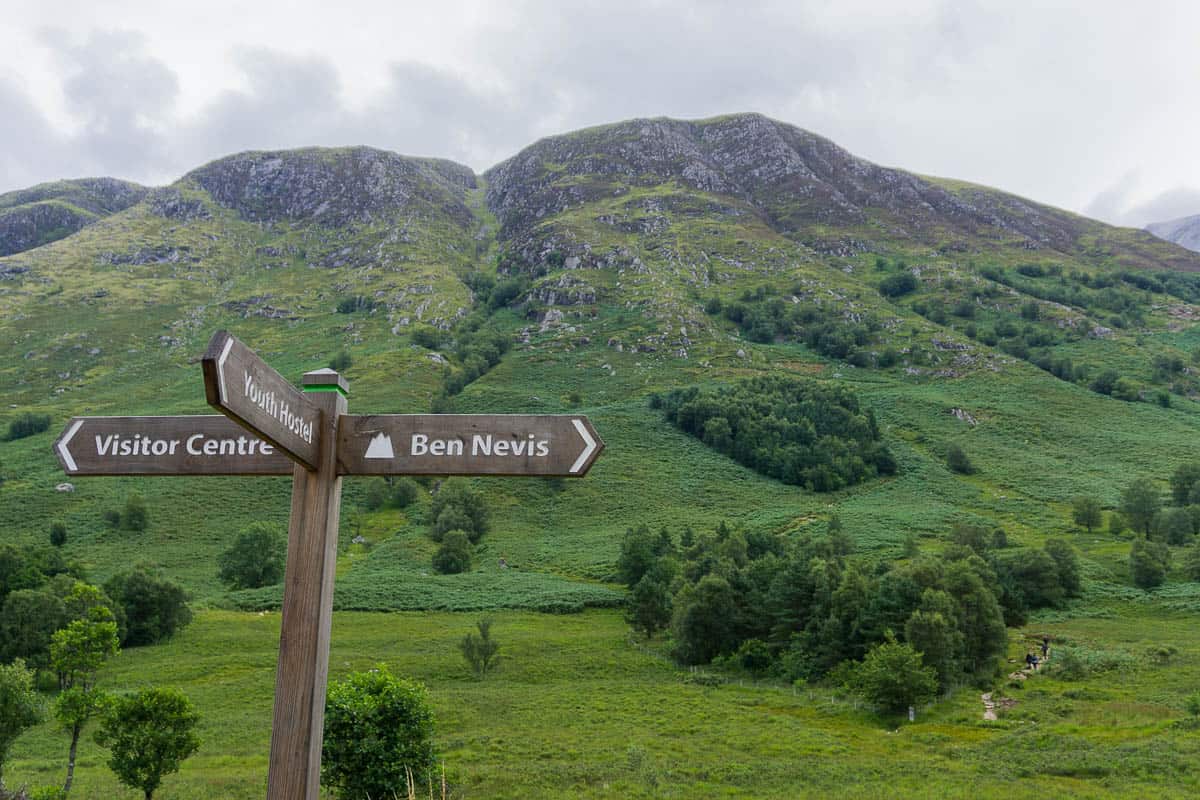 Neptune's Staircase
The Caledonian Canal stretches from the east coast of Scotland right through to Corpach near Fort William in the west, and means you can sail through the entire width of Scotland! Between Fort William and Corpach is Neptune's Staircase, a series of 8 lochs than can lift boats up to 20 metres to allow them to pass along the canal. It was built between 1803 and 1822 and is the longest lock staircase in Britain. We had to stop for a short while as the bridge in front of us swung completely to the side to allow two boats coming down the staircase to sail past!
Glen Nevis
Ok, I'm going to admit something a little silly here… I had no idea where Glen Nevis was before I went there. Of course, having now thought about it, it makes perfect sense that the valley (or glen as it's known in Scotland) that runs alongside the Nevis Range would be called Glen Nevis. Duh. Now having been there, I can't believe I didn't explore it earlier! Literally 5 minutes from Fort William you have beautiful views of the mountains and a winding road running through the glen leading to a waterfall walk. Now, something I would definitely add to your list of what to do in Fort William!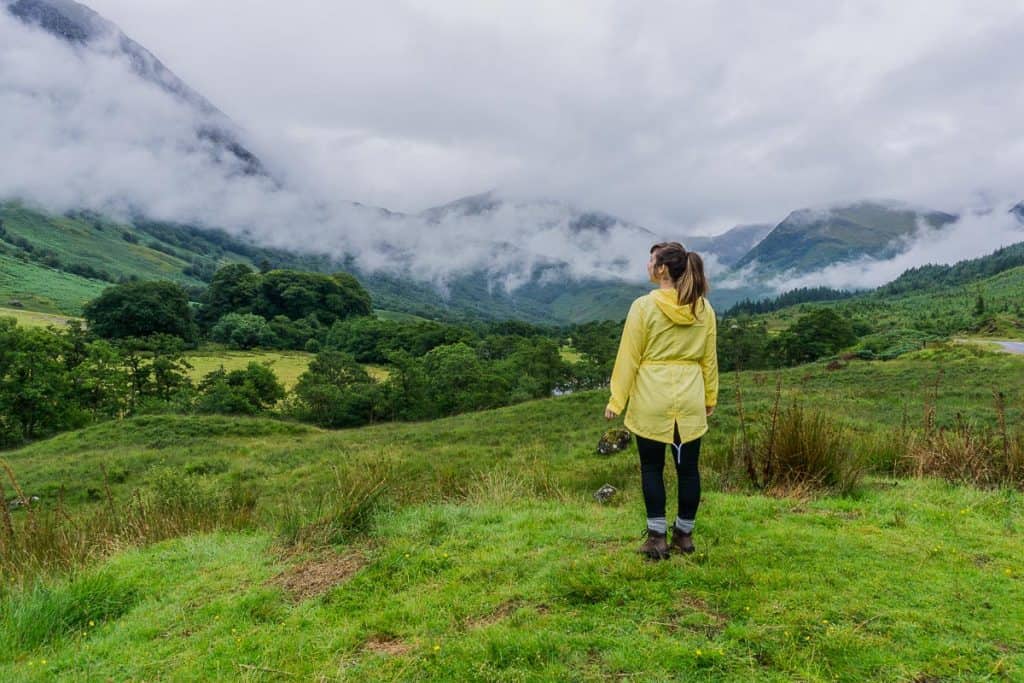 Trails and walking around Fort William
Ben Nevis isn't the only walk to do near Fort William, so don't be put off if you're not up for the big climb! There are lots of walks around the Glen and Nevis ranges for all sorts of levels, as can be found on the Walk Highlands site.
The Creag Meagaidh National Nature Reserve is also near Fort William and includes woods, a loch, Munros and open moorlands. There are panels with information to help you identify wildlife you might see as well as rare plants and native trees.
We enjoyed the Steall Falls Walk, which can be found at the very end of the road into Glen Nevis. It's said to be one of the best short walks in Scotland, as you walk through the forest and through the meadows to see the second highest waterfall in the country.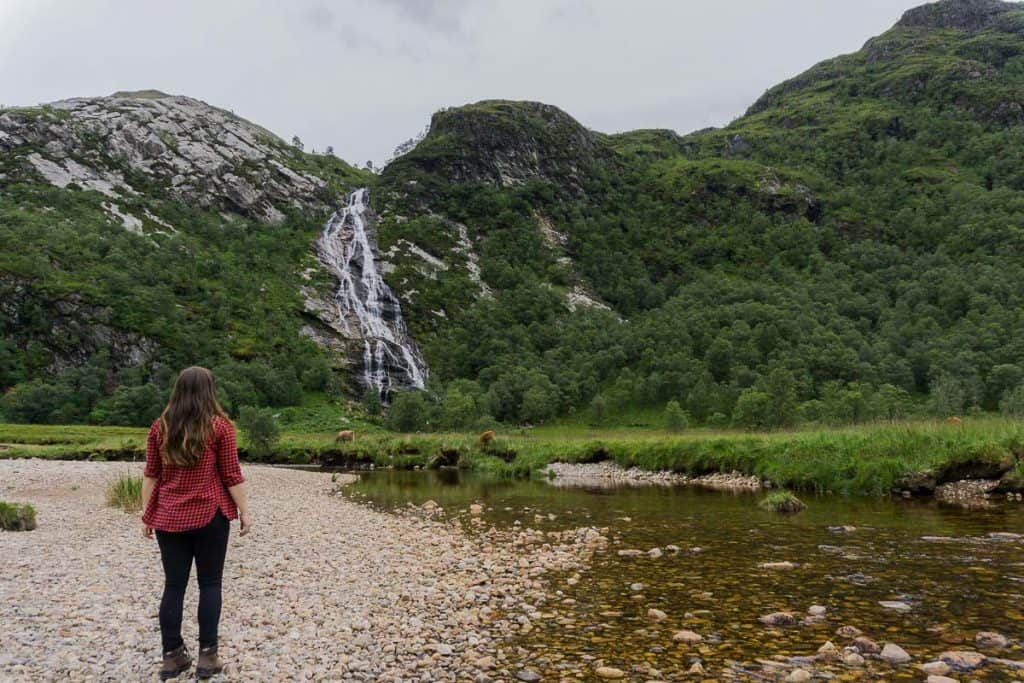 Old Inverlochy Castle
This ruined 13th-century castle near Fort William may not look like too much now but it is strategically placed at the entrance to the Great Glen, a major passage through Scotland that continues on to Urquhart Castle at Loch Ness. It's actually one of the few examples in Scotland of a castle from the 1200s that was not later altered, and it's the most complete. You can wander around the Castle and grounds for free, reading the placards for more information.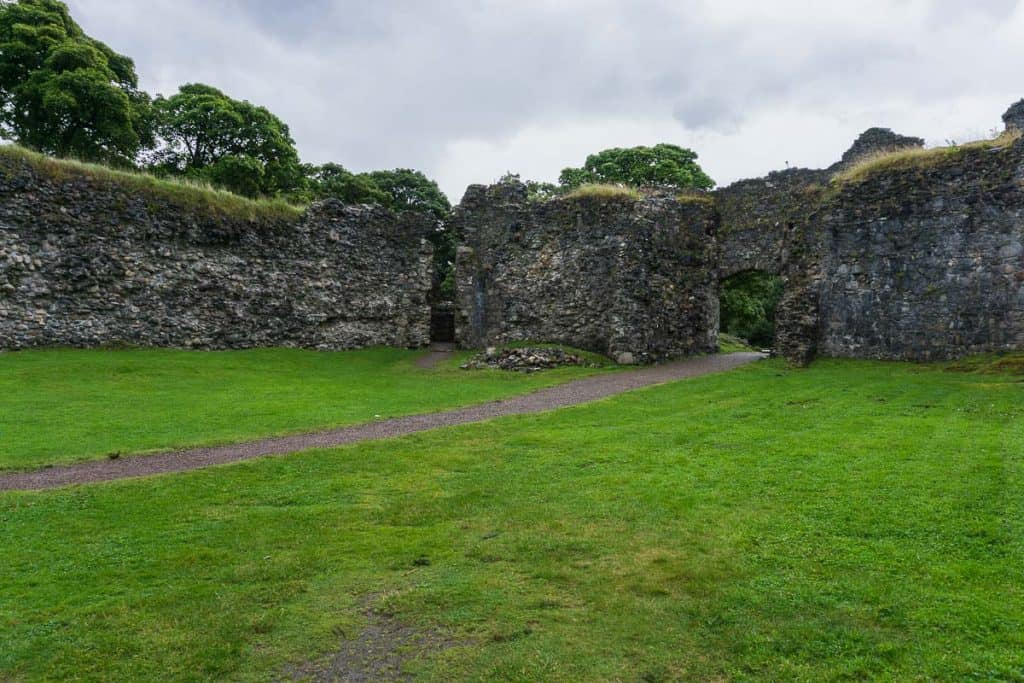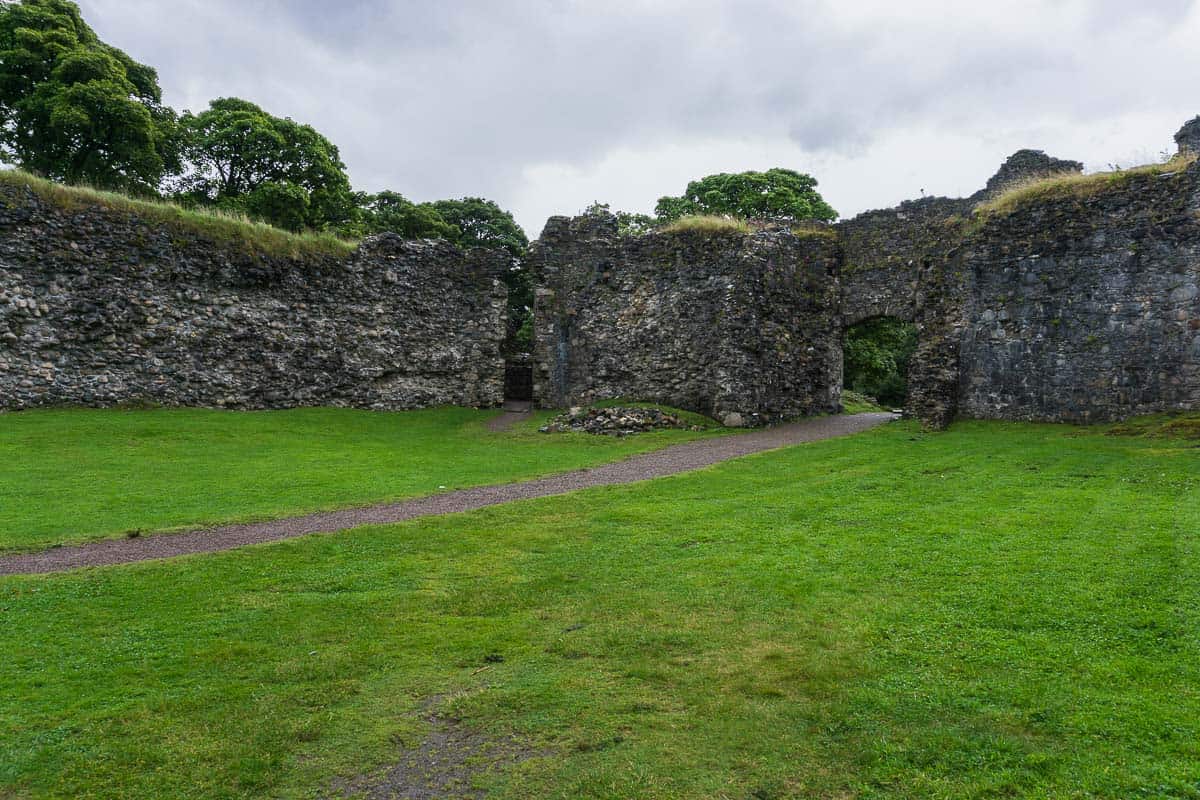 Eat out in Fort William
Want to try some traditional Scottish food? Fort William has plenty! You really can't travel around Scotland without trying a few things like haggis (or veggie haggis!), Cullen Skink (a creamy fish soup) and desserts like cranachan (cream, honey, raspberries, and oatmeal).
There are lots of restaurants and pubs on the main street in Fort William, but we went to two places that we enjoyed in particular during our time in the area. The first was Garrison West, a popular gastropub just off the main street, and the Ben Nevis Inn which is a pub literally at the start (or end!) of the Ben Nevis trail. Both were really popular and we had to call ahead to the Ben Nevis Inn to get a table. It was our favourite though with simple but delicious Scottish fare! I had the chicken with veggie haggis and rumbledethumps (mashed potato, cabbage, and cheese) in a whisky cream sauce and EB can particularly recommend the Dark Rum & Clootie Dumpling Ice Cream!
Corpach Shipwreck
Near the far end of the Caledonian Canal on the Loch Linnhe beach at Corpach is a large abandoned ship that has become known as the Corpach Shipwreck. She was originally built in 1975 and was used until 2001 before being moored at Kinlochleven Pier. Unfortunately, a chain failed during a heavy storm and she ran aground in 2011 and has been there ever since.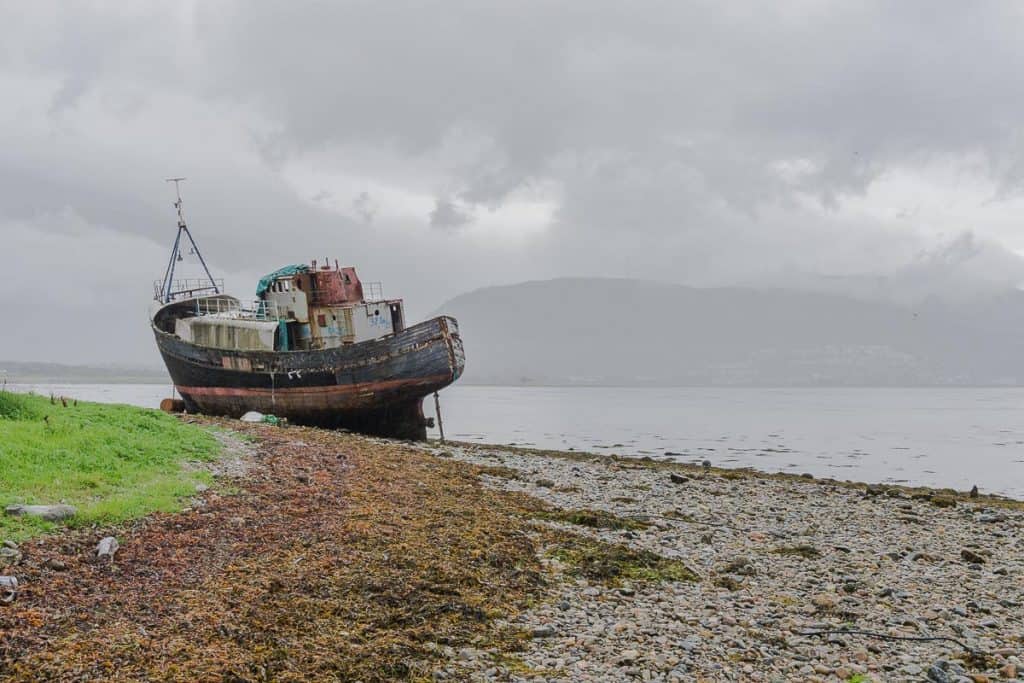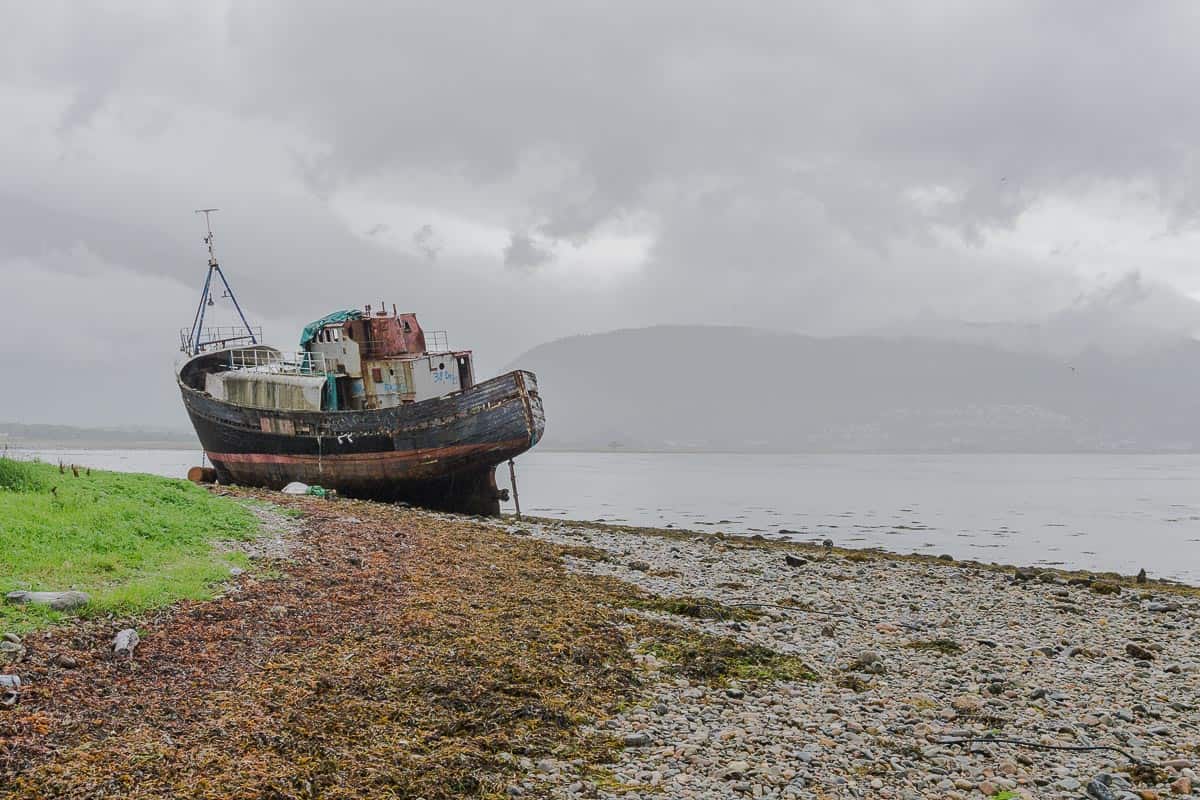 Shopping
If you've come to Scotland underprepared for the weather and conditions then Fort William is the place to pick up the right gear. With so many outdoor pursuits and activities nearby, the town has lots of shops where you can buy outdoor gear or stock up on a few essentials!
Jacobite Steam Train
Also known as, the Harry Potter Train! In the movies, the Jacobite Steam Train was featured on the way to Hogwarts, which is of course in Scotland! So while you're in Fort William you can even ride on the train yourself. It runs from Fort William to Mallaig return in the morning and afternoon from Monday to Friday, and on Saturday and Sunday through the summer.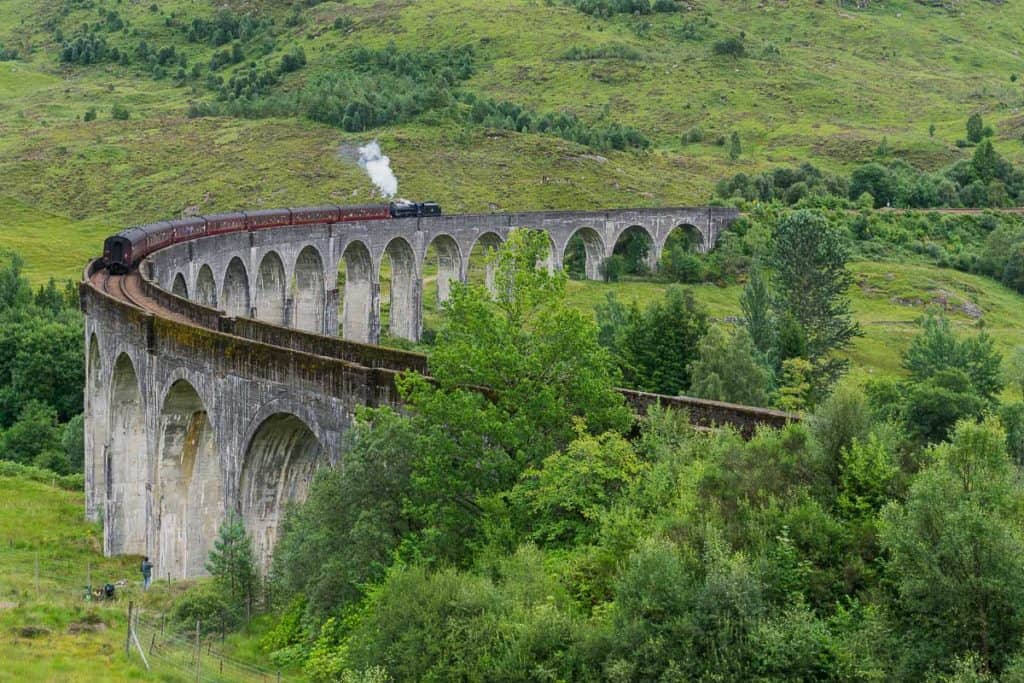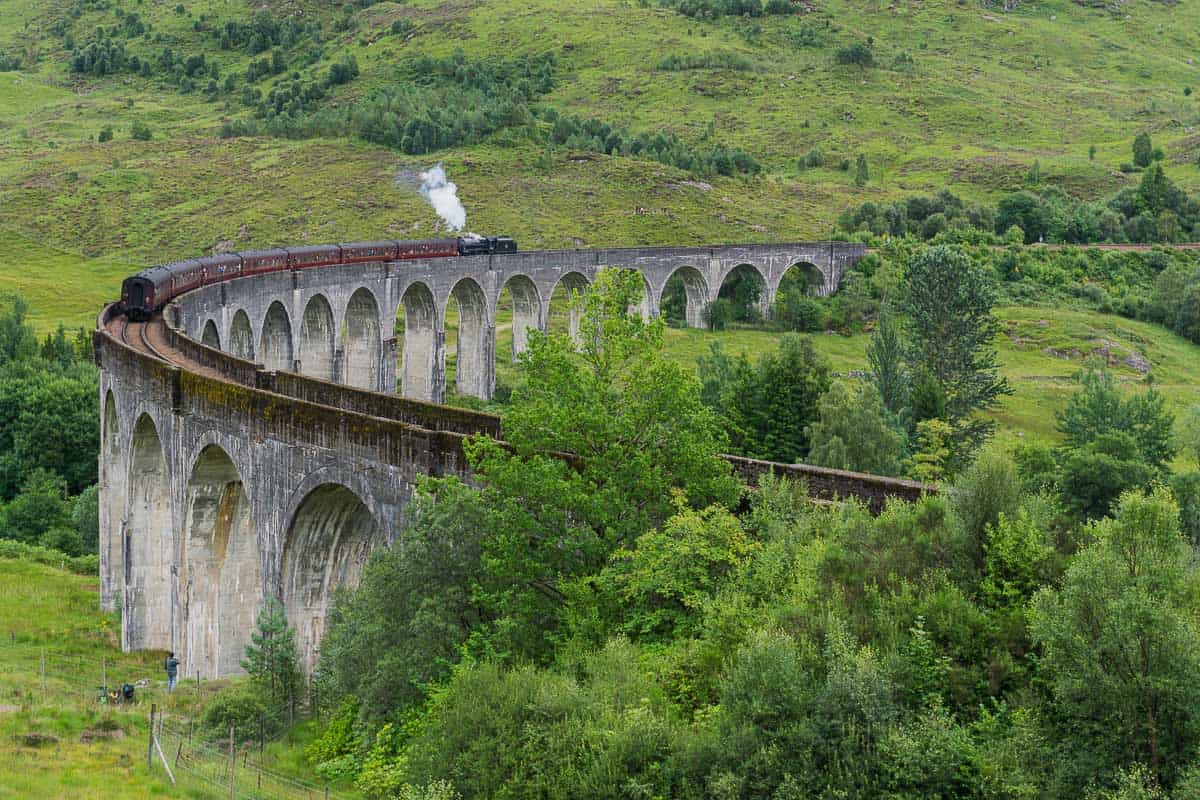 Glenfinnan Viaduct
And if you've seen the Harry Potter movies then you might remember that the train crosses a large viaduct, which is actually the Glenfinnan Viaduct. It's possible to go and see it at any time of day, but if you time it right you can also catch the Jacobite Train crossing! To reach the viaduct viewpoint you'll need to park in the car park just past the Visitor Centre (or possibly further down the road as it gets VERY full around the time the train is due, be careful on the busy road!). Walk along a path from that car park towards the viaduct until you see a sign for Viaduct viewpoints. Follow this up the hill and through a gate until you're as high as you'd like to be to look back on the track. Chances are you won't be the only one so go early!
The train crosses Glenfinnan Viaduct about half an hour after it leaves Fort William so check the times and arrive early to get your position before it's due. Although this is the most classic view you'll probably spot some people on the hill directly opposite in the distance, or even at other places around the glen where you can see the viaduct, so there are also plenty of alternative places to see the train crossing.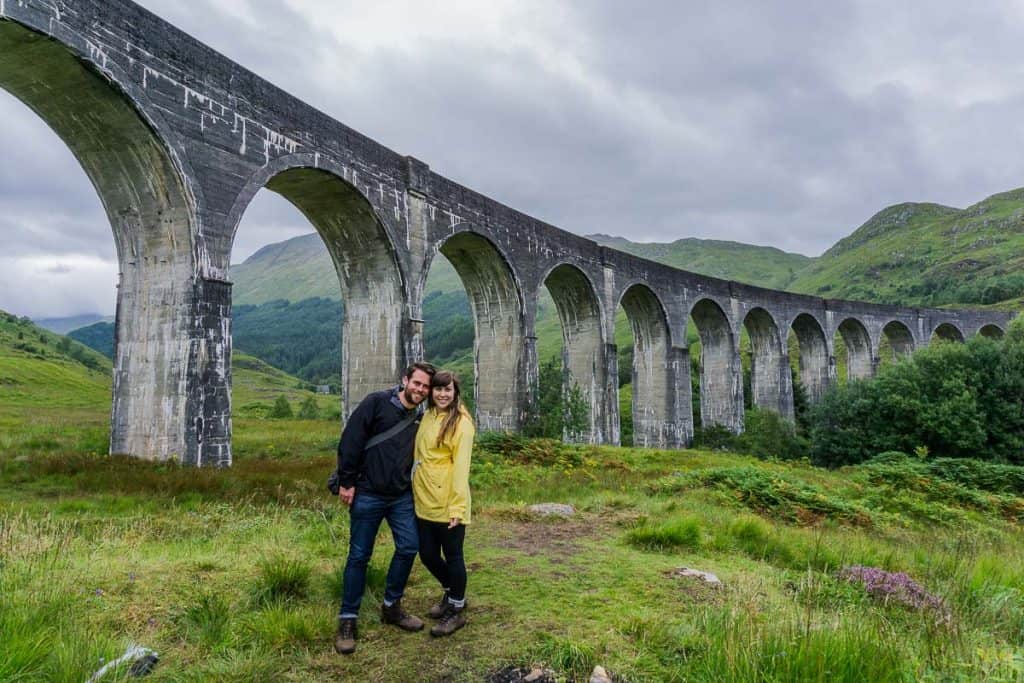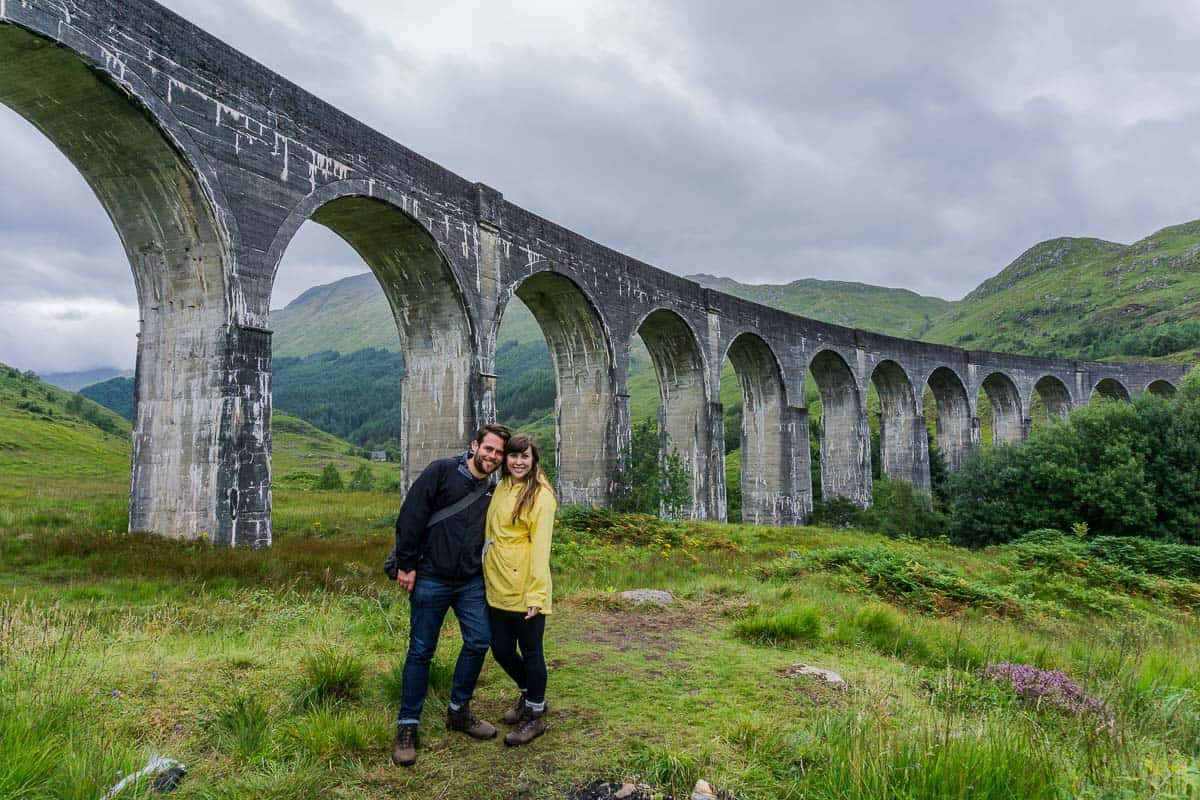 Visit the Commando Memorial
Located past Spean Bridge just north of Fort William is the Commando Memorial, dedicated to the original British Commando forces from WWII. They trained in this area and the memorial was built to show the soldiers looking across Aonach Mòr to Ben Nevis. It's one of my favourite spots to visit on a road trip through the Highlands.
A garden of remembrance has also been created nearby and is the final resting place for many of the ashes of the WWII Commandos as well as a tribute to contemporary Commando units who have fought since then. There's also a memorial path that connects this monument and High Bridge, the site where the first shots of the 1745 Jacobite Rising were fired.
Nevis Range
Nevis Range has something for you to do in Fort William for any season! There are gondolas that take you further up into the range for skiing in the winter, and mountain biking and trail walking in the summer. You can hire bikes from the shop at the base of the gondola and there's a cafe there as well. In the trees around the bottom of the range are adventure courses for both children and adults.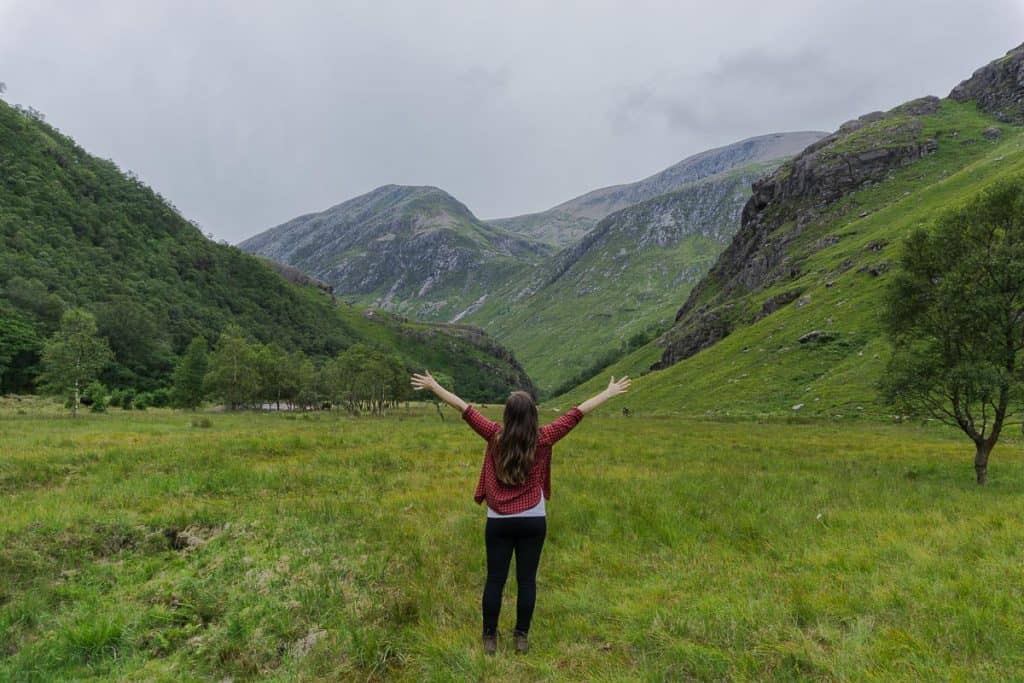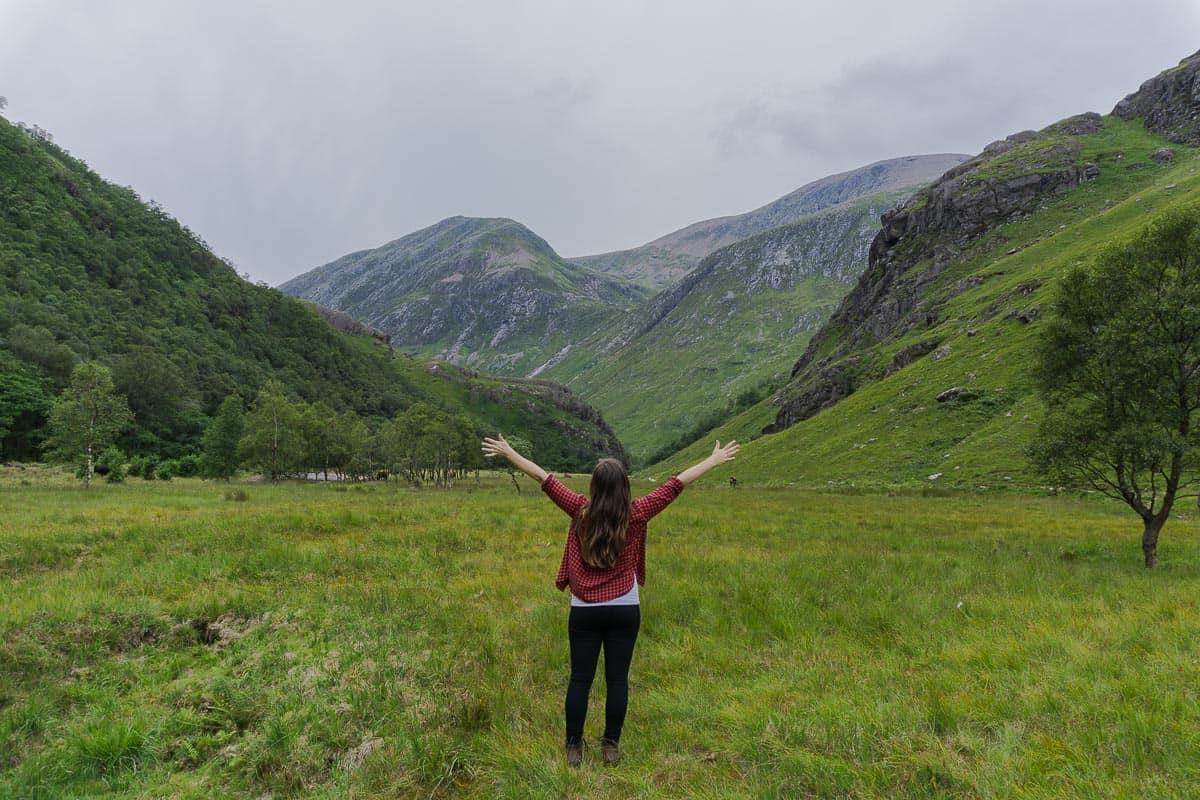 Where to stay in Fort William
Because of its strategic location as a base for exploring the Highlands and status as an adventure capital, there's plenty of accommodation in Fort William, from hotels to B&Bs and apartments.
We stayed at the Glen Nevis Youth Hostel at the invitation of Hostelling Scotland. We had our own private room and ensuite with views of the Nevis Range directly across from us and it was lovely! A lot of people who plan to climb Ben Nevis stay there because the track starts literally across the road from the hostel.
However, we didn't do the climb and it was still a great place to stay and explore the other things to do in the Fort William area. They have a large guest kitchen and lots of different seating areas so you can cook your own food if you're on a budget and relax outside of your room, or head into Fort William to eat out.
Depending on your plans you could use Fort William as a base for further explorations to the Highlands and Scottish Islands, or just stay for a couple of nights and see the area. All I know is that now I've taken the time to stay there on a weekend getaway, I'll be going back again!
Sonja x
If you liked it, pin it!