The following is a guest post by Kyle Kroeger of ViaTravelers.com. ViaTravelers is a modern travel blog providing the best tips, hacks, and itineraries to ensure you have an amazing adventure. Follow them on Instagram, Pinterest, Facebook, and YouTube to get their latest travel updates in real-time.
The capital of France is home to the most stunning tourist attractions in the world. The gorgeous city of Paris is known for its fine architecture, sumptuous cuisine, inspiring art, and Avante-Garde fashion.
Paris lights up with many holiday festivities during winters, having an even better appeal; therefore, it is people's favourite winter destination in Europe.
Some tourists may consider the weather a little cold, but this offers you the opportunity to wear your favourite cosy clothes on a walking tour in Paris.
The weather in Paris in winter
Winter in Paris has fluctuating weather because it has a temperate climate. From sudden bouts of rain to wind breezes originating from the Atlantic Ocean, the magical city of Paris helps you experience winter to the fullest.
With temperatures ranging from 36° F to 43° F (2-6C), Paris has rare snowy days. If you want to enjoy a warmer winter day roaming the streets of Paris, you should make a trip between January and March.
During these months, you'll be able to enjoy some outdoor activities such as ice-skating in the open air in daylight hours. At the same time, you'll also be able to deal with temperature changes as you visit the cold streets, centrally heated museums, and restaurants in the evening.
Things to Do in Paris in Winter
Ice Skating
Swim in Aquaboulevard
See the Champs-Elysées Christmas Lights
Shopping at Galeries Lafayette
Passages Couverts
Nurse a good cafe creme or chocolat chaud
Visit Paris' museums and cathedrals
Visit the Eiffel Tower
Browse a book store
Go Ice Skating
One of the best things to do in Paris during winter is ice skating. During late November, many ice-skating rinks, locally known as patinoires, open in festive locations. Some picturesque rinks include the one in front of the Hotel de Ville and the Champs de Mars Christmas Village.
One of them is at the base of the Montparnasse skyscraper. However, everyone's favourite ice skating rink is about 200 feet in the air on the first level of the Eiffel Tower. Therefore, if you visit this rink, you'll also be able to pay a visit to the marvellous Eiffel Tower itself.
All of these rinks are in fabulous locations, making great photo spots. These rinks are free to use, although you have to rent the skates. For the Eiffel tower rink, you have to pay the tower admission fee.
Ice skating in Paris helps you absorb the atmosphere, recreate the best scenes from romantic Hollywood films, and helps you stay warm on a fabulous winter day!
Go For an Indoor Swim in Aquaboulevard
After ice skating, you can take a trip to the Aquaboulevard, a water park in the southwest of Paris. The aquaboulevard has the best swimming pools, jacuzzis, water slides, and saunas.
This place has a tropical island climate as many tropical plants grow inside the main hall. You can also enjoy meals and spa facilities here.
See the Champs-Elysées Christmas Lights
The city of light offers the most beautiful eye-capturing treats, one of which is the glowing Champs-Elysees in winter. The holiday lights cover the city's streets, significant buildings, cafes, and stores.
During the Christmas season, trees covered with dazzling lights line the avenue of Champ Elysees from Place de la Concorde to the Arc de Triomphe. Besides this, all the stores are filled with Christmas decorations, bringing life to the festivities.
The lower end of the Champ Elysees is also a sight worth capturing with 300 fir trees blanketed by Christmas lights.
You could also visit Avenue Montaigne or Rue du Faubourg Saint-Honoré to view festive lighting.
Shop at Galeries Lafayette
During the winter, you should visit Les Soldes (sale shopping) in Paris. Since Paris is the hub of fashion and trends, make the most of your trip by availing yourself of the opportunity to shop from high-end street stores to designer boutiques.
During winter, these stores offer up to 75% off on many of their items. In addition, you can visit department stores such as Galeries Lafayette to shop in style!
Galeries Lafayette also features a huge well-decorated Christmas tree during the holiday season. This iconic tree rises through the central hall, allowing you to capture the best Christmas pictures!
Visit the Passages Couverts
The picture-perfect walkways and arcades are a substantial part of a Paris trip. These covered arcades are well lit during the festive season. In addition, they have many coffee stores offering the best blend of coffee and cocoa.
These indoor arcades are all over Paris, so the chances are that one of these indoor spots is always in close proximity to other spots you'll be visiting.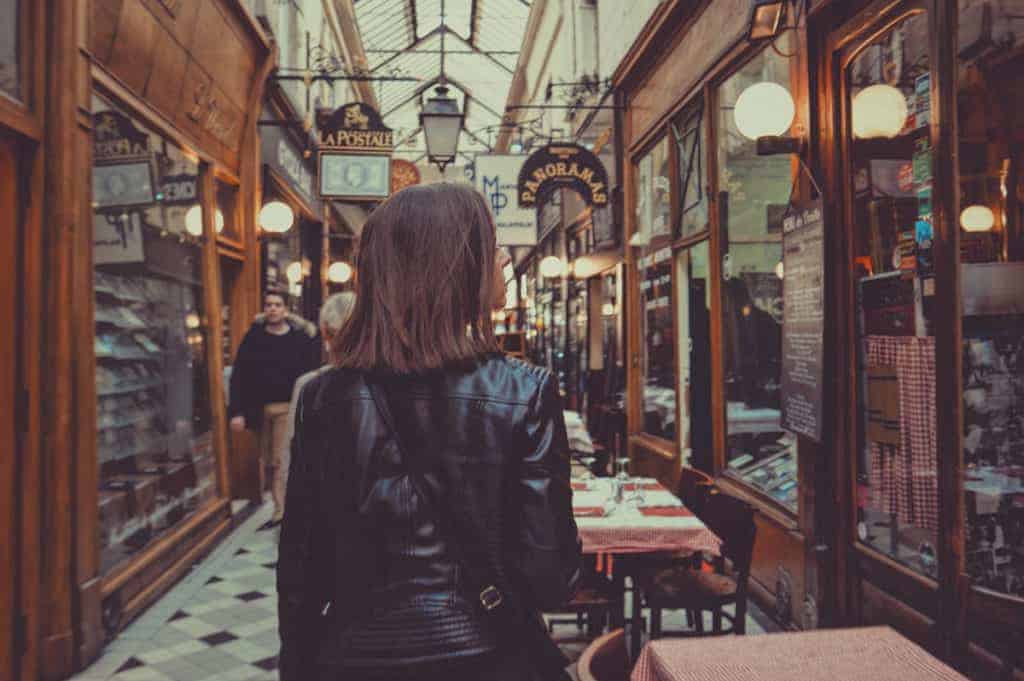 Nurse a Good Cafe Creme or Chocolat Chaud
One of the wintertime pleasures of Paris includes sitting at an outdoor cafe on a cosy winter day. You can enjoy cafe creme, chocolat chaud, or vin chaud. You won't have to worry about the cold as most of the restaurants in Paris fire up the braziers to keep the visitors warm.
We also recommend going inside the cafes and restaurants in Paris as they have the most stunning interiors.
But, most importantly, if you're a fan of reading, you could grab your favourite book and enjoy reading with a warm mug of hot chocolate (chocolat chaud).
Visit Paris' Museums and Cathedrals
If you enjoy indoor activities such as exploring museums and visiting cathedrals, Paris has some fantastic sites in store for you! This city is home to hundreds of cathedrals and museums, including the most beautiful gothic cathedral, Notre Dame.
You could make your way to the Musee D'Orsay, Fragonard Perfume Museum, the gold-domed Army Museums, and the National Museum of Natural History.
Another site harbouring the most extensive collection of pre-20th century art is the Louvre Museum. This museum is home to the Mona Lisa, Venus de Milo, and the Great Sphinx of Tanis.
With over 35,000 world's most famous works of art, the Louvre houses the most diverse sculptures, paintings, and decorative pieces. This palace also holds historical significance as it is a work of art.
Besides this, if you're fond of architecture, then the medieval beauty of the Notre Dame is a site worth visiting. With dramatic towers, glass windows, and archaeological crypts, Notre Dame is one of the fascinating monuments in Paris. Unfortunately, it was extensively damaged in a fire in 2019, but parts of it have been reopened to the public.
Visit the Eiffel Tower
The Eiffel Tower is an architectural marvel, so your visit to Paris would be incomplete without visiting this symbol of elegance and love.
If you wish to witness the most stunning places of the city at night, then the Eiffel tower has you covered. Illuminated by festive lights, it offers a breathtaking view during the winter nights.
The tower also had a renovation recently, so it now has glass-floored observation platforms and solar panels.
Browse a Book Store
Most of the movies feature the traditional Parisian cafes and their book corners. If you wish to explore these, spending a few hours of quality reading should be on your list of things you want to do in Paris.
Besides this, you can also browse through Paris' English-language bookstores. Some notable book stores include Red Wheelbarrow Bookstore and Shakespeare and Company.
What to Wear in Paris in Winter
Winters in Paris are cold, but it's never below freezing point. Even during December and January, Paris has mildly cold weather. If you've experienced the winters in the United States or Canada, the chances are that you wouldn't feel that cold in Paris. Therefore, you'll have to pack accordingly.
It would be best to pack clothes for centrally heated indoor places. Hence, it's wise to layer up! Pack layers that are easy to take on and off according to the place that you'll visit in Paris and the weather of the day.
In addition to that, make sure to keep an umbrella with you since rainy days are pretty common in the city.
Where to Stay in Paris in Winter
The arrondissement is a French word for a district in France. Paris has about twenty arrondissements.
If you're visiting Paris for the first time, you should find a place to stay in arrondissements 1 to 4 as they are in the central city, covering most tourist attractions.
The Louvre, Notre Dame, Centre Pompidou, Picasso National Museum, and Arc de Triomphe are situated in arrondissements 1 to 4.
Besides this, staying near the metro means you'll be able to navigate your way through the city easily.
If you have a reasonable budget, staying in a five-star hotel in Paris is a dream come true. Some of the best hotels are Hotel Raphael, Ritz Paris, and Hotel de Crillon.
The great part about winter in Paris is that you can also splurge on a comfortable top rated Airbnb in Paris for less than in the summer season and just cosy up at home while looking at the stunning views outside your window.
While most people book a tour to Paris in the summer, this magical city does not lose its charm during the winter.
Winter in Paris offers a plethora of fun activities along with plenty of exciting things to do. Plus, if it snows, consider yourself lucky as you may witness the prettiest snowfall of your lifetime! 
Want more about Paris?