Perth may be one of Scotland's smaller cities, but that doesn't mean it's short on things to do!
Strategically located on the banks of the River Tay and near Scone Castle, where the Scottish Kings were crowned, Perth has a rich history.
Families will find that there are plenty of things to do in Perth with kids and in the surrounding area of Perthshire too.
Whether you live in Scotland or you're visiting and looking for somewhere to base yourself, building a Perth itinerary with kids is easy to do! 
We've divided up some of the best things to do in the area by indoor and outdoor activities and adventures, castles to visit, museums, where to see wildlife, and walks near Perth for families. 
Enjoy Soft play and Indoor Activities
Now we all know that the weather in Scotland isn't always willing to cooperate.
Most of the time, you can get around this by having the right things to wear in Scotland, but if it's a really dreich (that means dreary, usually rainy, day), then indoor activities might be your best bet!
Perth offers a variety of kid-friendly activities that support indoor play. Here are just a few of our favourites.
Noah's Ark Perth
With a soft play area, ceramics centre, go-karting, and bowling Noah's Ark is a great spot for families with kids of multiple ages. There's even a cafe for a quick snack, or have them host your kid's party.
Perth College Climbing Wall
Thirty-one roped climbs and a bouldering area with over 150 routes make the Perth College Climbing Wall a great spot for experienced and new climbers alike.
Sign up for a parent-kid teaching session and learn the ropes together. All climbers will need to call to make advanced reservations.
Perth Leisure Pool
Just five minutes from the Perth city centre, you'll find a fun-filled water world suitable for the whole family. With flumes, pools, and even an outdoor area, there's a watery adventure for everyone.
For Art's Sake
Have a crafty family? Head over to For Art's Sake for a day of arts and crafts.
Offering up everything from workshops to pottery painting, canvas paints, and even jewellery making, there's seriously a craft for everyone. Perfect for the entire family, or let your kids take an art class while you relax.
Dewars Centre
Learn to ice skate at the Dewars Centre. Opt to take a lesson (available for kids 2 to 5 and kids 5 and up) or enjoy family free-skate time on the ice.
The facility also offers skate aides to help young kids who need some extra help with balance.
Squirrel Play Land
For younger children (ages 5 and under), head to Squirrel Play Land for a soft play area where you can relax with a snack while your kid enjoys a supervised indoor play area.
Older kids (think ages 5 to 8) have a larger play area too.
Caithness Glass and Crieff Visitor Centre
Discover the art of glass blowing at the Caithness Glass and Crieff Visitor Center. With their live studio, you can watch as artisans create beautifully sculpted pieces right before your eyes.
Adults and kids 16 and older can create their own paperweight and try the art of glass blowing for themselves.
Alternatively, you can opt to take a glass painting class and paint your own work of art. Advanced reservations are recommended.
Explore Outdoors & Adventure Activities
Get outside with the below adventure activities for kids in Perth. The city is about an hour to Edinburgh and Glasgow and two hours to Aberdeen, Fort William, and Inverness. Between all of these, there are so many great things to do with kids!
We've included things in the greater Perthshire area if you're willing to get out and explore more. It's well worth it, especially at the beautiful Loch Tay. 
Some of these are suited to older children or teenagers, but there are also some things for the little ones to add to your Perth itinerary too. 
Splash White Water Rafting
Located at Aberfeldy, about 50 minutes drive away, but well worth it for the adrenalin adventure! Certified guided tours and equipment rental are available for all abilities, from river rats to the newly initiated.
This activity is best suited for children who are older (check with the specific tour for age requirements) and able to paddle.
Highland Safaris
Take a Land Rover or go by bike on one of the many highland safari trips. Each trip heads deep into the wilderness to discover the beauty and magic of the mountains and forest. 
Spot wildlife, go on a nice walk or enjoy a picnic lunch.
Suitable for kids who enjoy getting outside and who don't mind sitting in a car for the journey.
Nae Limits Adventure Activities
For kids who love adventure, book a tour with Nae Limits Adventure Activities.
Raft, tube, or climb your way through beautiful waterways. Challenging obstacles await you, such as cliff jumping, white water rafting or swimming.
Age limits depend on activities, but generally for kids 6-8 and up.
Noah's Ark Golf Course
From mini-golf or playing a round of 18, the Noah's Ark Golf Course offers plenty of options for the whole family. Enrol your child in a gold lesson or enjoy the putt-putt course for a relaxed day outside.
Loch Tay Boat Trip with Loch Tay Safaris
Head out on a boat safari along the tranquil Loch Tay. Stopping at various points of interest, including an island and abandoned villages, you'll enjoy exploring this stunning landscape.
Willowgate Activity Centre
Feel like the whole family went to summer camp at the Willowgate Activity Centre.
With a variety of activities from outdoor education to bushcraft to paddleboarding, there's something for every kind of adventurer. Some activities have age requirements.
Active Kids Adventure Park
For kids under 7, the Active Kids Adventure Park is the ultimate play place.
With indoor and outdoor play options, as well as a cafe, there's plenty to get excited about.
Climb, slide, Kart, and explore your way through this beautiful play park.
Visit Perthshire Castles
Just because nearby Aberdeenshire is considered Castle Country doesn't mean there aren't plenty of castles close to Perth for families to visit.
Castles provide plenty of entertainment for kids and parents alike. The little ones can let their imaginations run wild while you learn an important part of history and enjoy the scenery.
Huntingtower Castle
This humble castle hosts hidden rooms and interesting architecture. It's where Mary Queen of Scots and her husband Lord Darnley once stayed while they were working against a rebellion.
It's tucked away from the main road just outside of Perth, with a visitors centre nearby too. Not one for prams, thanks to all the stairs and the uneven grounds outside.
Scone Palace
With beautiful grounds, fishing, and plenty of history, this is a must-visit spot for families that love castles.
Scone Palace was once the crowning place of the Scottish Kings, with Macbeth, Robert the Bruce, and Charles II all crowned here, over the Stone of Destiny, which was later taken to England and then stolen back to Scotland by a group of university students.
You can see where the stone once stood, see the needlework of Mary Queen of Scots and the desk where Marie Antionette once wrote letters, as well as the staterooms once occupied by Queen Victoria. 
The unique hedge maze and palace grounds are filled with kid-friendly activities too.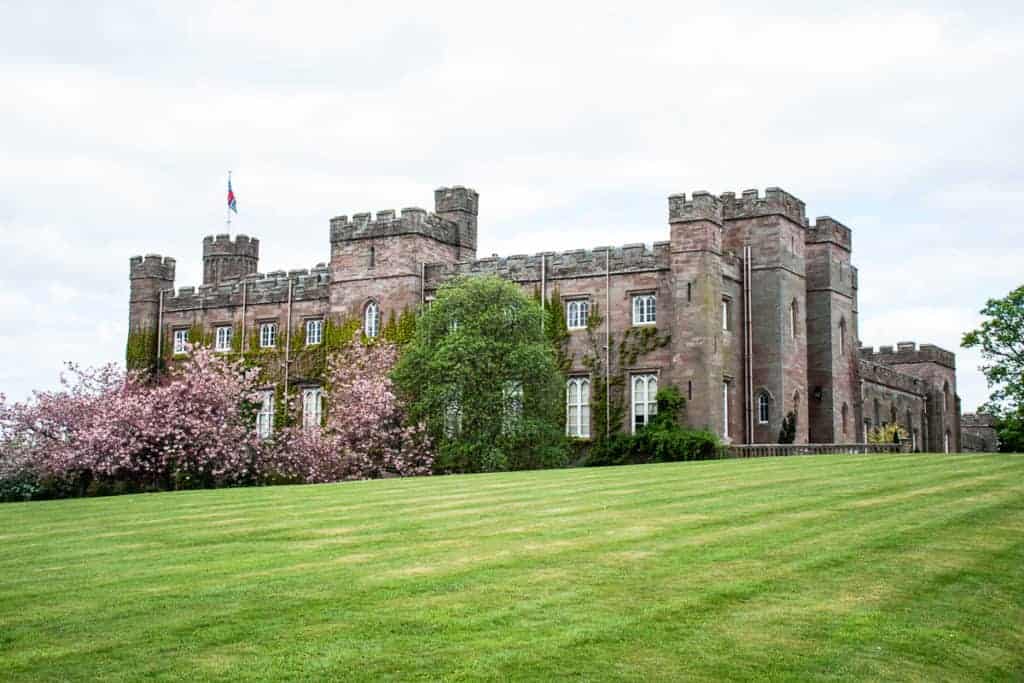 Elcho Castle
With beautiful views of the countryside, an orchard, and home to lots of wildlife, Elcho Castle is the perfect place to take a stroll, and it's close to the city, so an easy thing to do in Perth with kids.
The castle is in good shape for being built in the 1500s! It's actually one of Scotland's oldest tower houses, and you can even see the remains of the plasterwork and climb the spiral staircase.
There are large grass areas to wander around or have a picnic outside too.
Lochleven castle
The scene of a dramatic imprisonment and then escape of Mary Queen of Scots, the Lochleven Castle ruins feels as if they are the scene of a scary movie.
The grounds may be beautiful, and views of the loch awe-inspiring, but these walls have stories to tell.
The only way to visit Lochleven Castle is by boat, and you should book ahead to avoid disappointment.
Blair Castle
Blair Castle houses an incredible array of art and interior design. This must-see castle offers self-guided tours, several display rooms, a restaurant, and even a gift shop.
Outside there are extensive gardens and woodlands to explore.
It is possible to book tickets just for the gardens if you have little ones who might not be so interested in the castle interiors!
Explore the Museums
Visiting museums may not spark joy in some young ones, but hopefully, some of these might!
There are a few museums in Perth itself, as well as some nearby too. Each of these learning centres provides excellent activities in Perth for kids.
Perth Museum and Art Gallery
Located right near the West Bridge, the Perth Museum and Art Gallery is filled with beautiful photographs and art displays.
Learn local history at the Beginnings Gallery or partake in one of the in-gallery activities geared towards families.
Scottish Crannog Centre
Located at Loch Tay, this interactive living museum focuses on the history of the Iron Age.
You can see real and re-created artefacts from the Iron Age era and learn how the people of Scotland lived then. 
Currently being restored after a fire.
The Black Watch Museum
The Black Watch was one of the most important parts of Scottish military history.
Inside Balhousie Castle in Perth, you'll find an entire museum dedicated to this military regiment. With weapons displays, live drums, and an interactive kids programme, there's lots to see and keep them entertained.
Fair Maids House & Visitor Centre
At the oldest secular building in Perth, you and your family can discover the magic of science and discovery.
As an official Royal Scottish Geographic Society visitor centre, there is plenty to learn and explore through maps and displays.
Encounter Wildlife
Many animals call the lush, natural landscape of Perthshire home. Spend time with your kids at one of the wildlife centres in the area.
The Scottish Deer Centre
Home to native Scottish wildlife, including deer, wildcats, and even wolves, The Scottish Deer Centre provides ample activities and learning for kids.
Daily feeding talks, tours, and shows help you and your family get up close and personal with Scottish wildlife.
Auchingarrich Wildlife Centre
The Auchingarrich Wildlife Centre has a lot of exciting activities for kids. An outdoor play park and indoor soft play area are just the beginning.
Fishing ponds, pony rides, animal feeding, and even milking a cow are all on the menu here. Don't forget to grab a snack at the cafe.
Family Walks Near Perth
Taking a walk with your kids on one of the many trails near Perth is an excellent way to be active and explore the area. Get in touch with nature at these nearby trails and attractions.
Kinnoull Hill
Walk straight from the city centre to the top of an escarpment overlooking the Tay on this excellent walk.
The 6.5 km trail takes around 2 to 3 hours to complete and does involve some uphill walking, so plan accordingly.
Loch Leven Heritage Trail
The Loch Leven Heritage Trail is known for birdwatching. As a level path that makes its way around the loch, it's also a suitable walk for young children, at least part of it!
Opt to do the entire 21 km loop if you're up for a big day or just a portion of the nature trail.
With several species of birds, you can spot lots of wildlife too. The path is also suitable for all-terrain buggies.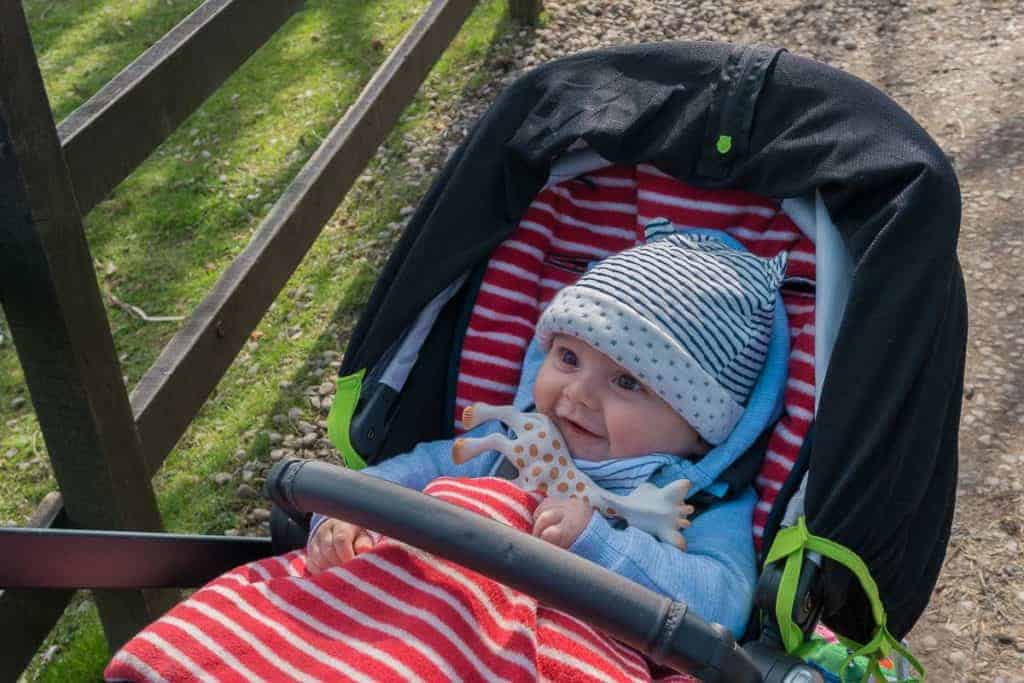 Lady Mary's Walk
The 9 km walking trail starts at the Famous Grouse Experience (a distillery) and wanders its way along the River Earn with views of the surrounding scenery and through woodlands.
The path is suitable for pushchairs, but you can also divert to loop up to Laggan Hill as well.
You'll also pass through MacRosty Park – a great place for a picnic.
Faskally Forest
Walk amongst 200-year-old giants at the Farskally Forest Preserve. With a network of walking trails and a boathouse, the Faskally Forest is truly a picturesque place. Tranquil and perfect for kids to explore; your whole family will love this beautiful spot.
Visit in autumn to see the Enchanted Forest light show, where the woods is illuminated in bright colours at night. Make sure you book well in advance because it sells out fast!
The Hermitage
The Hermitage is one of our favourite stops whenever we're travelling through Perthshire. Located just near Dunkeld, it's an easy walk through the towering forest to a small folly called Ossian's Hall, where you can view the cascading Black Linn Falls.
The path through the trees is relatively flat, but there are lots of tree routes, so you can also take the accessible path if you have a buggy.
There are limited facilities here, open only when the small cafe is open, so come prepared. 
Whether you're looking for day trips from Perth with kids or you're staying in the area on a holiday, there are plenty of things to add to your Perth itinerary!
Sonja x 
Want more Scotland for families content? Check out these posts: