The Dordogne is a beautiful area in the southwest of France. It's known for its picturesque medieval villages, prehistoric cave paintings, vineyards, and laid-back country life.
Although there are pockets of popular places, much of it could be considered off the beaten track, making it a fantastic place for really experiencing France.
You may also see it referred to as Périgord, which is the historic name of the area.
After planning a summer trip to the area, I began looking at things to do in the Dordogne and realised that as much as it has been popular with English tourists (thanks to its history around the 100-year war) there isn't a whole lot of information out there on what to do in the Dordogne, or it's rather scattered.
So I decided to pull together what I could from my own experiences in the region and a large amount of research and give you the best things to do in the Dordogne!
Get ready for gorgeous castles out of fairytales, rolling farmlands and fields of sunflowers surrounding some of the most beautiful villages in France, and plenty of other things to keep you occupied or relaxed on your trip!
Visit the many Chateaux
The Dordogne region is said to have 1001 chateaux, many of which are open to the public.
The area played a central role in the Hundred Years' War between England and France, so many of these grand structures sprung up or were fortified during this time.
The castles in the Dordogne are often surrounded by small villages picturesque villages and have commanding views over the countryside.
As you drive through the Dordogne, you'll spot plenty of chateaux, but here are a few of my favourites to visit.
Chateau de Beynac
Perched dramatically on top of a cliff over the river, Chateau de Beynac is one of the best-preserved chateaux in the region and one of the most picturesque. Visit for the amazing views!
Chateau de Marqueyssac
This 17th-century chateau is most well-known for its gorgeous gardens, said to be some of the most romantic in France. On some summer evenings, they light the paths by candlelight!
Visit to see the amazing gardens.
Chateau de Castlenaud
Within a stone's throw of the above is Chateau de Castlenaud, which has a strong military history and now houses the Museum of Medieval Warfare. Visit to learn more about the history of the area.
Other options are Château de Bridoire near Bergerac, Château de Hautefort in the north, or Château de Jumilhac with its classic romantic look.
Explore Prehistoric Caves
The Dordogne is an area of huge historical significance, home to many people over centuries. The region houses hundreds of caves and, within some of them, prehistoric paintings.
The Lascaux Caves near Montignac are the most famous, as over 600 paintings were found on the ceilings and walls. The earliest age of the paintings has been estimated at around 17,000 years ago!
They were discovered in 1940 and it was opened to the public in 1948, but unfortunately, by 1955, damage to the paints from visitors could be seen, mainly from breathing out carbon dioxide and the dampness of opening the caves.
In 1963 the cave was closed, and in 1983 a replica of two of the caves in the system was opened nearby, which you can now visit to see exactly what the actual cave looks like.
Check out this guided tour from Sarlat if you don't want to drive yourself!
However, there are other caves in the Dordogne where you can also see real prehistoric paints, for example, Rouffignac or Villars, which has a rare painting of a person.
And many of the other caves in the area are just as beautiful without paintings!
Bergerac
Bergerac is the heart of the wine region in the Dordogne. Like many towns, it sits on the bank of the Dordogne, and its historical buildings are often half made of stone and wood.
Many of the best wineries in the region surround Bergerac, so you may want to look into tasting sessions!
Cyrano de Bergerac is the subject of a late 19th-century play written by Edmond Rostand, and although he was a real man, the play only broadly follows his life. Although he never truly lived in Bergerac, there are two statues of him in the city.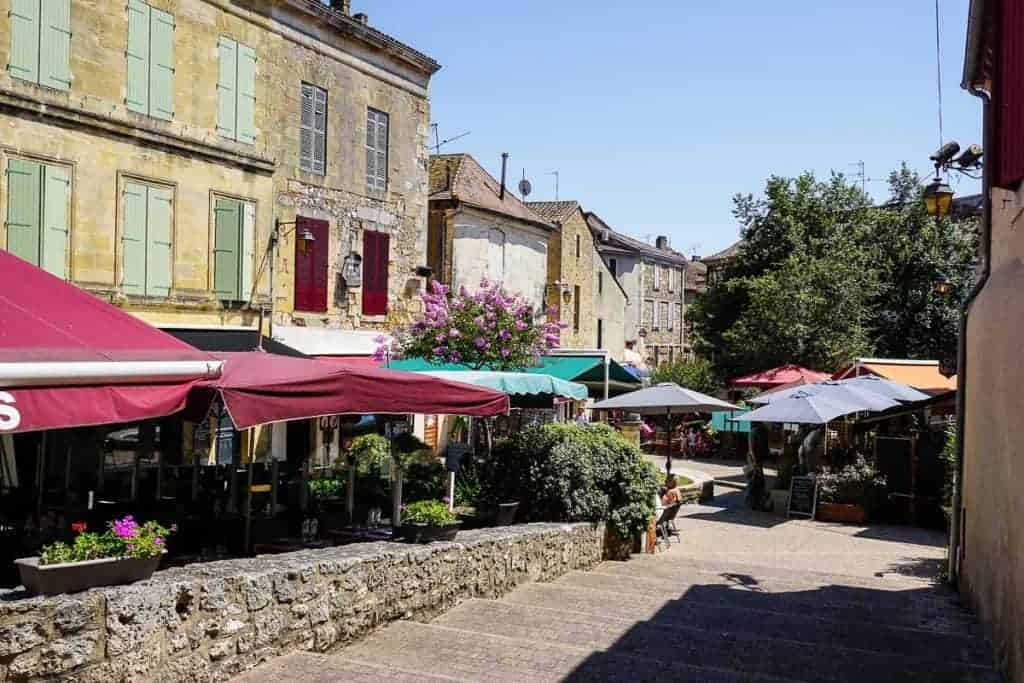 Perigeaux
Perigueux is a large town in the middle of the Dordogne that you may pass through if you're heading from south to north or vice-versa.
The Saint-Front Cathedral, in the centre, is its most well-known landmark, with its towering domes and turrets.
There is also the Vesunna Gallo-Roman Museum, where you can see the remains of a Roman villa, including the underfloor heating and mosaics, as well as other Roman artefacts.
A defensive wall used to surround the city, but now all that remains of it is the Mataguerre tower, which you can go to the top of to see views around Perigueux.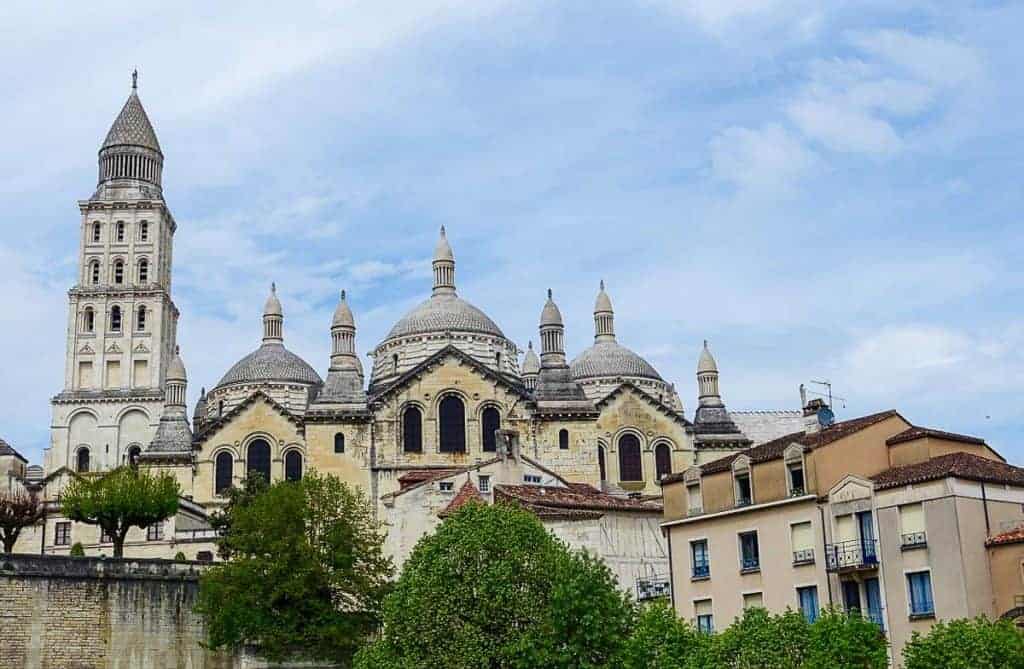 Sarlat-la-Canéda
After Bergerac, Sarlat-la-Canéda is probably the most famous city in the Dordogne and definitely one of the most visited.
It was by far my favourite of all the major places, and if I return to the area, I would love to stay here and explore more of it.
The population is only around 10,000, but it was where we saw the most tourists during our time in the region.
Beautiful sandstone buildings line the pedestrianised centre that dates back to medieval and Renaissance times.
In the town itself, you can go up the Panoramic Lift within the tower of the former Saint Mary's Church for 360 degrees views and visit the indoor market in the church itself to sample and buy delicious local produce.
The Saturday morning market in Sarlat is one of the biggest and most popular, with stalls from local vendors and farmers covering several streets around Cathédrale St-Sacerdos.
Around Sarlat, you'll find some of the best points of interest in the Dordogne and things to do.
Chateau de Beynac, the Marqueyssac, Chateau de Castlebaud, La-Roque, and Domme are all in the vicinity.
If you want to stay in the area but not drive yourself about, you can also check out this guided tour to many of the best spots.
Adventure activities on the Dordogne River
There are lots of outdoor activities in the Dordogne, like walking, cycling, and horse-riding, but the most popular ones revolve around the Dordogne River.
You can take a boat trip or rent kayaks, canoes, and paddleboards to explore various different parts of the river, seeing caves, chateaus, and pretty villages pass you by. Perfect on a hot summer's day!
Wander around beautiful towns in the Dordogne
The Dordogne is full of beautiful towns, many of which could be classed as the most beautiful town in France! So much so that we listed 16 of our favourites to visit here.
When we were planning what things to do in the Dordogne, one of the most popular was to simply visit these beautiful villages.
The best towns in the Dordogne are spread all over the area, so you'll need to check what's nearby you and what is a feasible drive.
La Roque-Gageac is built right between the Dordogne River and a cliff face, with many buildings carved directly out of the rock. From here, you can take boat trips down the Dordogne and see the beautiful town from the best vantage point on the water.
Monpazier is a great example of a bastide or fortified town. It was built by Edward I of England, with a square surrounded by buildings with arches and arcades.
Eymet is a market town that is popular with British expats. Our first accommodation in the Dordogne was near here, so we ventured in to try the many different bars and restaurants around the small central square that houses varied and interesting historical buildings.
Domme is built high above the Dordogne River, and is often listed as one of the most beautiful villages in France, several of which are in the Dordogne!
Issigeac is a charming medieval town with lots of markets and events happening. Many of the houses are made of stone and wood, making for a unique look!
Brantôme is known as the Venice of France, but it really a beautiful place in its own right. Many of the streets line the river, and it's popular with kayakers and boaters. There are several shops and glassblowing workshops built into the rock of the cliff opposite the main part of town.
Gastronomy of the Dordogne
Like much of France, the Dordogne region has its own local specialities in addition to the delicious pastries and cheese that France is known for. Part of the experience of France is eating all the food!
Aside from local bakeries (boulangeries) serving some of the best croissants and other pastries I've ever had, there are a few different things to try.
Perigord Truffles – Sorges, just north of Bergerac, is the self-proclaimed truffle capital. You'll see truffles on many menus around the region, and they are plentiful in the area since they tend to grow near the ample number of oak and other trees.
Fois Gras – Although there is some controversy over the feeding of ducks and geese to get Fois Gras, this is something you will see advertised all across the Dordogne. It can be cooked in a number of ways but is often served as paté.
Périgord wines – Less well known than Bordeaux wines, but there are plenty of vineyards, especially in the Bergerac area, which is known as Périgord Pourpre, or purple Périgord.
Confit de canard – Usually duck legs slow-cooked in fat and then fried in it, served alongside potatoes.
Cassoulet – A rich white bean stew that usually includes confit de canard and pork.
Walnuts – The Dordogne is known for its many walnut trees, so you'll see these in shops, included in dishes, or in walnut cake.
Supermarkets and markets also had fantastic ranges of cheeses and hams, so we often chose to prepare our breakfast in our accommodation with the things we bought the day before!
This also gave me a chance to practice my French!
Shop at the Markets
There are markets in many of the towns and cities throughout the Dordogne, but it's about timing it right to see them!
They will usually be food markets with delicious local produce, so are a great place to pick up some things for breakfast, snacks, or lunch on the go. Check locally wherever you're staying.
Here are a few examples:
Eymet – Market held every Thursday morning with an extra Sunday morning market in July and August.
Sarlat-la-Canéda – One of the largest markets attracting vendors from around the region, is held every Wednesday and Saturday.
The covered market in the former Saint Mary's Church is held year-round every day except Thursday in the offseason.
You can take a guided tour on market day to taste some of the best dishes in the region and learn more about Sarlat.
Ségur-le-Château – Technically just outside the north of the Dordogne, Ségur-le-Château has a fantastic night market every Monday in July and August.
Local vendors come to sell all sorts of products, from fresh trout to bread, pastries, salads made with truffles and potato, apple juice and wine.
There are long trestle tables set up, and people bring their own table clothes and cutlery (not necessary if you don't have it but a nice addition!), buy whatever they want from the vendors and create their own meals.
You can even buy meat to be barbecued right there too!
Learn about the Nontron knife
Making knives is a craft that has been practised in Nontron in the northern Dordogne since the middle ages, likely because the surrounding area was suitable for the production of forging the blades and making the knife handle from a box tree.
You can visit the knife factory in Nontron at Rue Carnot 33 to see the knives still being made by experts today.
Take a Hot Air Balloon flight
There are various Hot Air Balloon tours offered around the Dordogne, with the most popular taking off and floating over Chateaux, beautiful countryside and villages.
Although we didn't do it, the reviews from those who have seem to be glowing!
Run through the sunflower fields
Ok, maybe not run because they pack those sunflowers in!
On our journeys around the Dordogne, we passed so many beautiful sunflower fields, many stretching as far as the eye could see. Some of them were still growing, while others were towering well above my height!
Something about sunflowers just makes me happy, so if you're visiting in the summer, make sure you stop and admire some along the way.
Other places to visit nearby
The Dordogne is a large region with plenty of things to see and do, but there are also a couple of things close by that you could consider.
Bordeaux
Bordeaux is a famous wine region and one of the best places for wine tasting in France.
It's well worth a detour on your way around the Dordogne or makes a great starting point for your journey as it has an airport with frequent international flights.
The city is a great place to fly into and explore before heading to the coast or the Dordogne.
The Old Town has beautiful sandstone buildings and lanes with lots of restaurants and bars offering local fare, and walks along the river at sunset are a must.
Rocamadour
Rocamadour is another beautiful medieval village just over the border from the east of the Dordogne, about an hour from Sarlat-la-Canéda.
Despite being home to only 645 people, it receives over one million visitors a year. For around 1000 years it has been a destination for pilgrimages, thanks to its reputation as a site of healing, and the Chapelle Notre-Dame, with its Black Madonna statue.
You can take a half-day tour from Sarlat if you don't want to drive yourself.
Oradour-Sur-Glane
Just outside of the north of the Dordogne is one of the most tragic places I've ever been.
On the 10th of June 1944, the entire town was destroyed by the German SS, and 642 of the town's inhabitants, including women and children, were killed.
The town has been left as it was as a permanent memorial and reminder of the horrors of war, although no one has ever really been held responsible.
There is a museum that explains more before you wander through what is left of the town after it was ravaged by fire.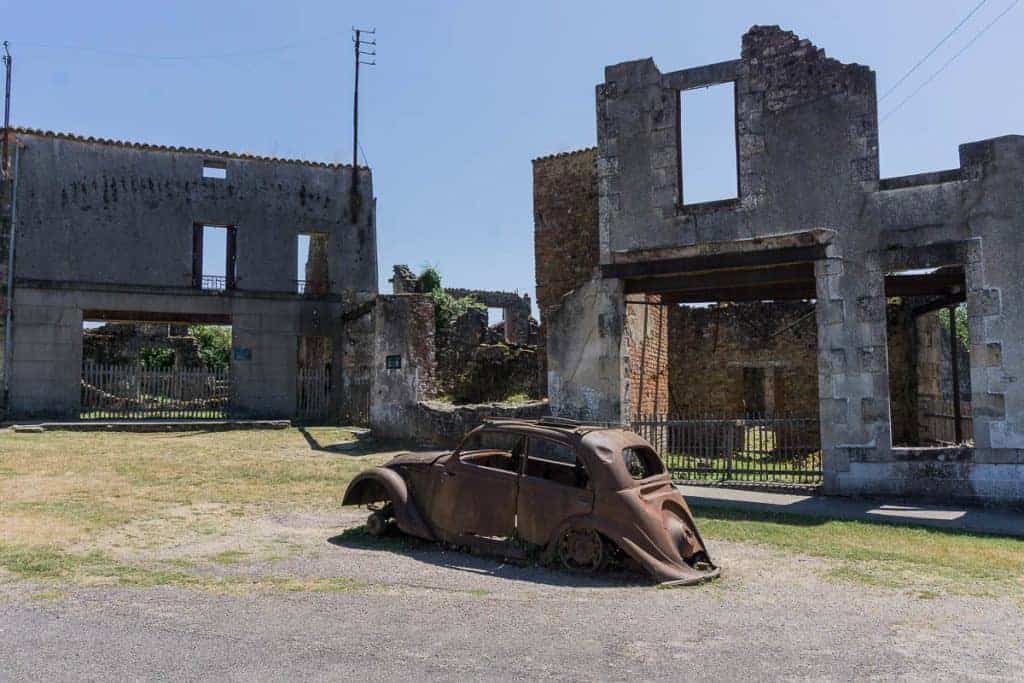 When to visit the Dordogne
The best time to visit the Dordogne is from May to October when the weather is warmer, and you can enjoy the outdoors.
July and August are peak seasons but nothing like other places in Europe where it can get very crowded with tourists. We were wandering around many of the towns, wondering where all the people were!
There are also more flights during this period into some of the smaller airports like Bergerac.
However, you can still fly into Bordeaux or Limoges through the off-season, and travelling in the off-season in Europe has its benefits!
How to get there and around
Many people from the UK visit by taking the ferry and their own car over, but it's also possible to fly into Bergerac, Bordeaux, or Limoges.
You'll definitely want to hire a car to see the best of what the region has to offer, although there are some limited tour options if you don't want to drive (see some of the links in the sections above).
However, another option to consider is driving around France in a motorhome!
Tips for driving in France:
Drive on the right side of the road, although expect to see French drivers coming at you in the centre on smaller roads and moving across at the last minute!
Watch for tolls near major cities like Bordeaux. It's possible to avoid them if you like; otherwise, be prepared to pay by cash or card.
The drink driving limit is very low, at 50mg per 100ml of blood, so be very careful if you plan to have a glass of wine or beer with dinner, as a large one will be enough to put you over!
Speed limits vary greatly depending on the road, and all major roads have been lowered down from 90 or 80 as of July 2018, so be aware of changes and keep an eye out for signs.
Your GPS may not always be right! Our GPS had a real problem in France, directing us along strange routes and, at times, telling us to drive down roads we weren't allowed to or that were actually just fields. Compare your GPS and a map before setting out, if possible!
On roundabouts, drivers will often slow to allow other vehicles onto the roundabout, so be prepared to do so as well and to go if someone slows for you.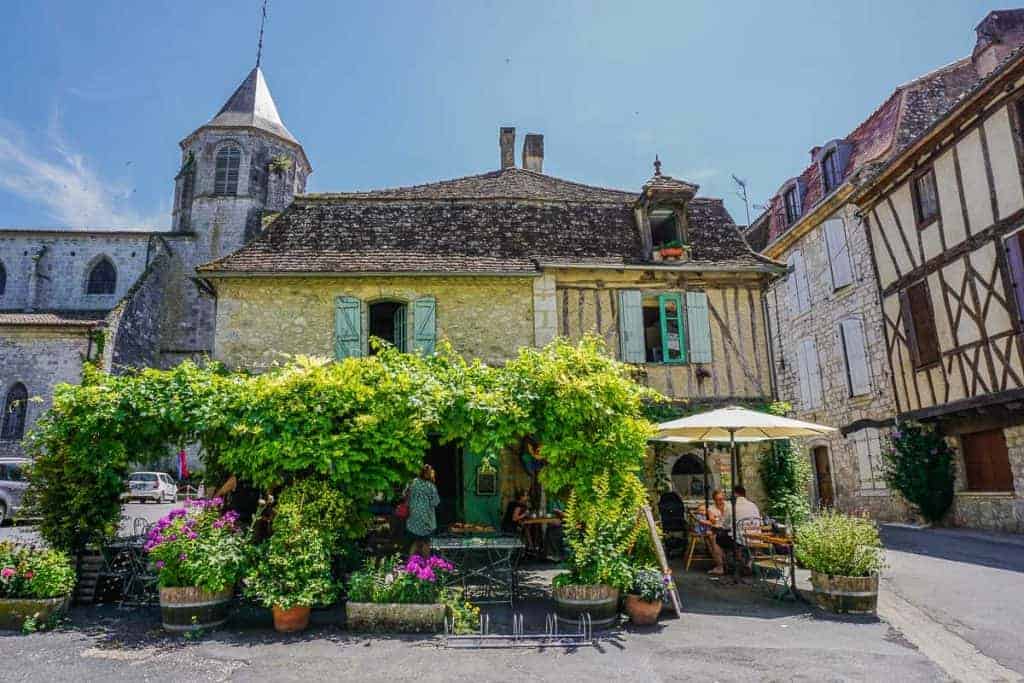 Best places to stay in the Dordogne
The Dordogne is a bigger region than you think, trust me! We ended up doing far more driving than we thought we were in for in order to see as many things to do in the Dordogne as possible.
There are plenty of accommodation options in the Dordogne, but it's about choosing where is going to be best for your trip.
For a short trip, I would recommend basing yourself in accommodation in or around Sarlat-la-Canéda, as there is plenty to see in the area to give you a taste of the region.
For longer trips, consider splitting your time between two or more destinations so you can cut down on driving time by seeing things in one area, and then moving on to the next.
Try the areas near Sarlat, Bergerac, and in the north by the national park.
The Dordogne is a stunningly picturesque part of France, with plenty of things to do once you know where to look.
We found we spent a lot of time wandering and enjoyed the journey as much as the destination… although having a list is always helpful!
Read More: 16 Beautiful Dordogne Villages To Visit
Sonja x
If you liked it, pin it!