I visited Tofino while I was studying abroad in Victoria on Vancouver Island. As soon as I landed, it felt like everyone was asking when I would be going, as it's one of the most popular places to visit!
I finally made the trip with 9 friends on a epic road trip around Vancouver Island, and it didn't disappoint. I'm finally sharing all my thoughts on the best things to do in Tofino and the surrounding area, how to get there, and where to stay.
But let's start with a little more about the place!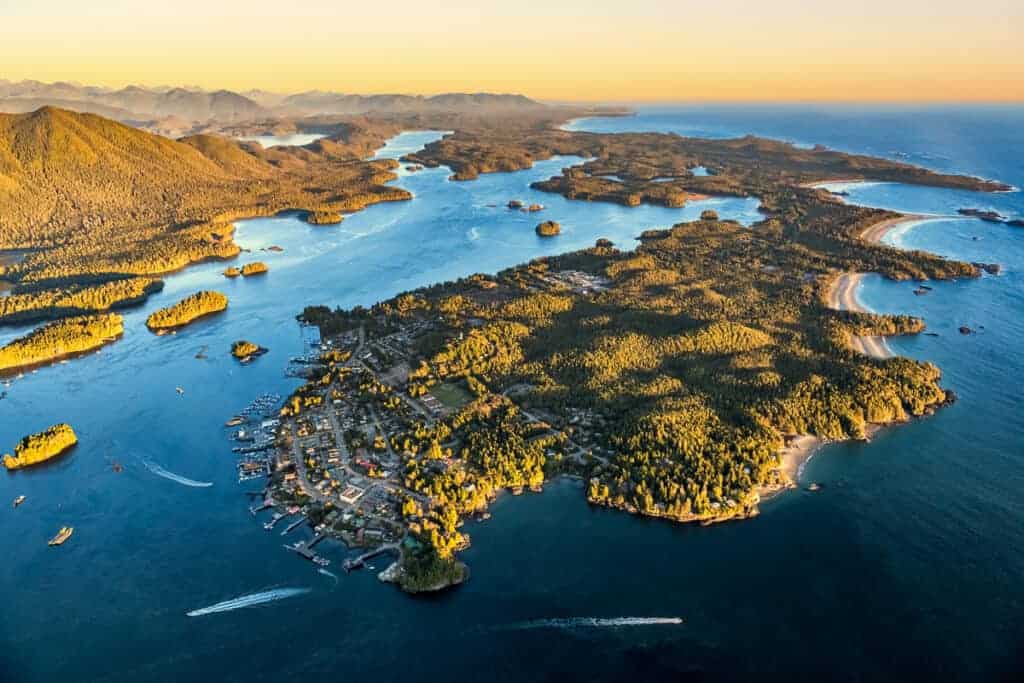 Tofino is located on the west coast of Vancouver Island in British Columbia, Canada. The area around Tofino is part of the traditional territory of the Tla-o-qui-aht First Nation, who have lived in the area for thousands of years.
It's now situated within the Clayoquot Sound UNESCO Biosphere Reserve, which is home to a diverse range of marine and terrestrial species, including bears, wolves, whales, and sea otters.
The town of Tofino has a population of around 2,000 people, but it attracts thousands of tourists each year who come to enjoy its natural beauty and outdoor activities.
Tofino is known for its surfing, and it has some of the best waves in North America. The town hosts several surfing competitions each year, including the Rip Curl Pro Tofino.
If you're going all the way to Tofino, then it's worth making the most of your time there. Here are 20 things to do in Tofino!
23 Things to Do in Tofino
Surfing
As mentioned, Tofino is famous for its world-class surfing waves, which attract surfers from all over the world. The town has many surf schools and shops that offer rentals and lessons.
Obviously, it's better to do this in the warmer weather, as the waves can get pretty ferocious in worse weather in winter!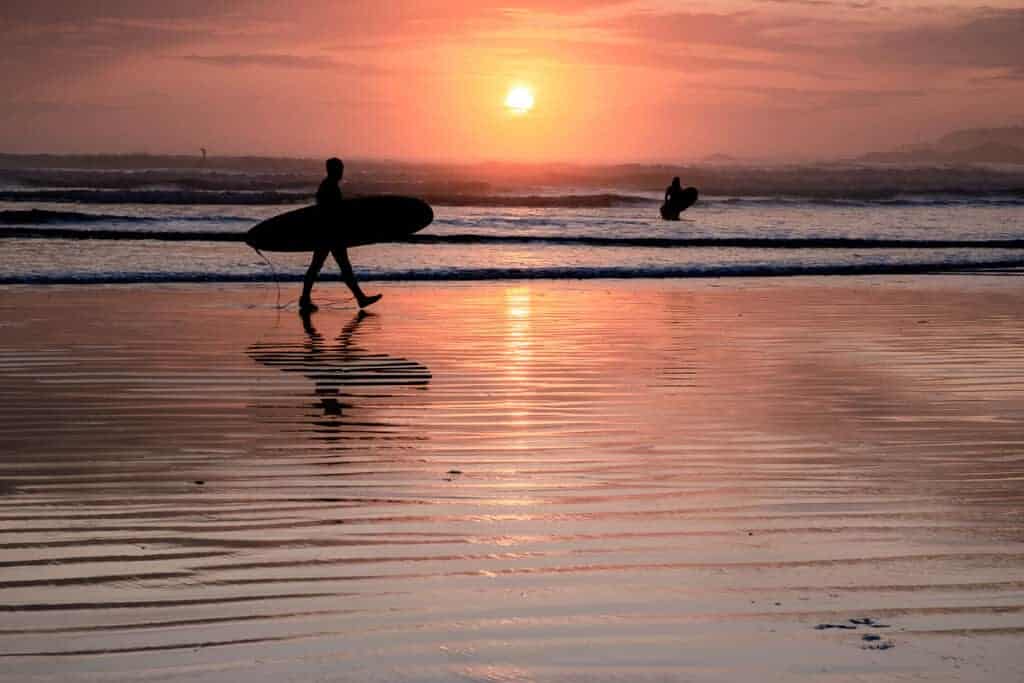 Kayaking
Experience the beauty of Tofino's coastline by kayaking. There are many shallow tidal areas and the calm water of the bay to explore too.
Tours are available for all levels of experience.
Fishing
Tofino is home to many species of fish, including salmon and halibut. Charter a boat and experience the thrill of catching your own dinner.
Whale Watching
Tofino is a prime location for whale watching. Take a tour and watch for grey whales, humpback whales, and orcas.
There are several resident Orca pods in the area, so if it's the right time of year, your chances are good! It's possible from February to November but best from June to September.
Camping
Tofino has several campgrounds, including the popular Green Point Campground in Pacific Rim National Park Reserve. Wake up to the sound of the ocean and enjoy the beauty of the west coast.
Hiking
Tofino has many hiking trails, including the popular Pacific Rim National Park Reserve, where you can explore temperate rainforests, sandy beaches, and rugged coastline.
The Rainforest Trail is an easy walk mostly along a boardwalk, with two loop options just over one kilometre each.
The Lighthouse Loop at Ucluelet, just a 40-minute drive south of Tofino, is another great option for amazing views.
The South Beach Trail is unique for its rock formations on the beach and may or may not have been used in the filming of Twilight…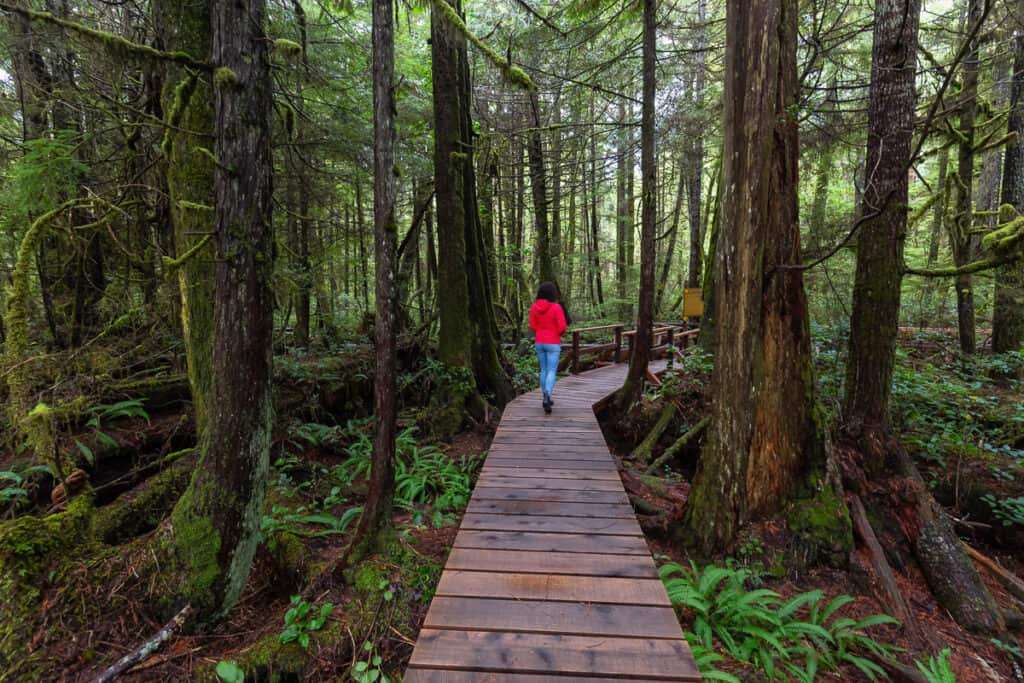 Hot Springs
This is one of the highlights of Tofino and not something I thought I would do in Canada.
Take a boat or seaplane to the remote hot springs in the Maquinna Provincial Park. The hot springs are located on a small island and offer a unique and relaxing experience.
Explore the Beaches
Tofino has many beautiful beaches to explore, including Long Beach, Chesterman Beach, and Cox Bay Beach. Each beach offers its own unique experience.
Paddleboarding
Paddleboarding is a fun and relaxing way to explore Tofino's waterways. Rentals and tours are available. You don't need experience!
Wildlife Viewing
Tofino is home to a variety of wildlife, including black bears, bald eagles, sea otters, and more. Take a guided tour to get up close and personal with these animals… well maybe some of them!
You can actually go bear watching from a boat, and some tours are both whale and bear watching tours!
Practise Your Photography
Tofino's stunning scenery provides endless opportunities for photographers. Capture the beauty of the coastline, wildlife, and sunsets.
Honestly, you can't help but be inspired here!
I actually entered a photo competition at my university for study abroad students using a picture that I took at Tofino and won! Looking backing now, it's pretty basic and not amazing… but this was pre-Instagram days! No filter…
Art Galleries
For it's size, there are plenty of galleries to visit in Tofino. Tofino has a thriving art scene, with many galleries showcasing the work of local artists. It's the kind of place that attracts creatives.
I found this to be true about many places in Vancouver Island and the surrounding islands, including Salt Spring Island, one of my favourites.
Cultural Tours
Learn about the indigenous cultures of the area on a cultural tour. West Coast Aquatic Safaris run a Cultural Tour through the summer months.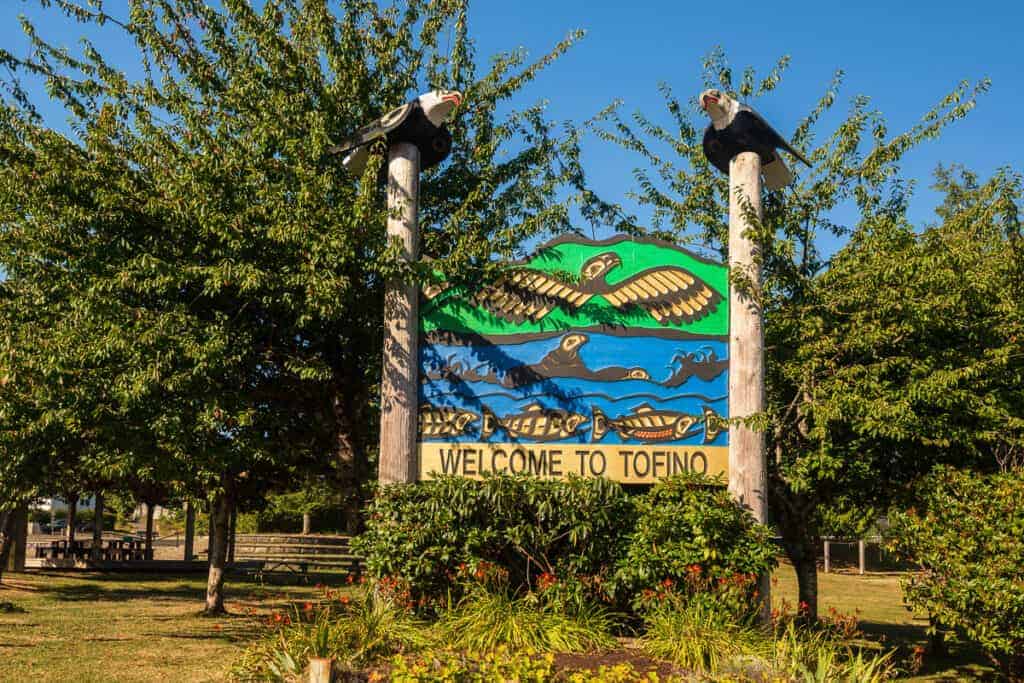 Storm Watching
Obviously this is weather dependent, but while I was in Tofino, it was pretty rainy and stormy!
Tofino is known for its dramatic winter storms, with waves crashing against the shoreline and winds whipping through the trees.
You need to be mindful of the tides and the ease with which waves can go much higher than you think! The Wickaninnish Inn is a great place to storm watch from the cosy inside, with its large seafront windows.
Wine Tasting
Visit the nearby Cowichan Valley and sample the local wines. The valley is known for its excellent wineries and vineyards.
Tofino Distillery
You can also visit the Tofino Distillery to try their different spirits inspired by the landscape around them.
Helicopter Tours
It's definitely a more premium thing to do, but a highlight if you do! Take a helicopter tour and see Tofino's stunning scenery from a new perspective.
Scenic Flights
Again, not a budget-friendly option but something well worth splashing out on.
Take a scenic flight over Tofino and the surrounding area, and enjoy breathtaking views of the rugged coastline, forests, and mountains. Some flights even include whale watching from the air.
Seaplanes are a regular sight on Vancouver Island and a great way to get around and take in the sights!
Brewery Tastings
Visit the Tofino Brewery for a taste of their unique brews, including the Sea Cider and Kelp Stout.
Spa Treatments
Relax and rejuvenate with a spa treatment. Tofino has many spas offering a variety of treatments, many of them with unique views or experiences related to the area.
Bird Watching
Tofino is home to many species of birds, including eagles, herons, and shorebirds. Take a guided tour and learn about these fascinating creatures.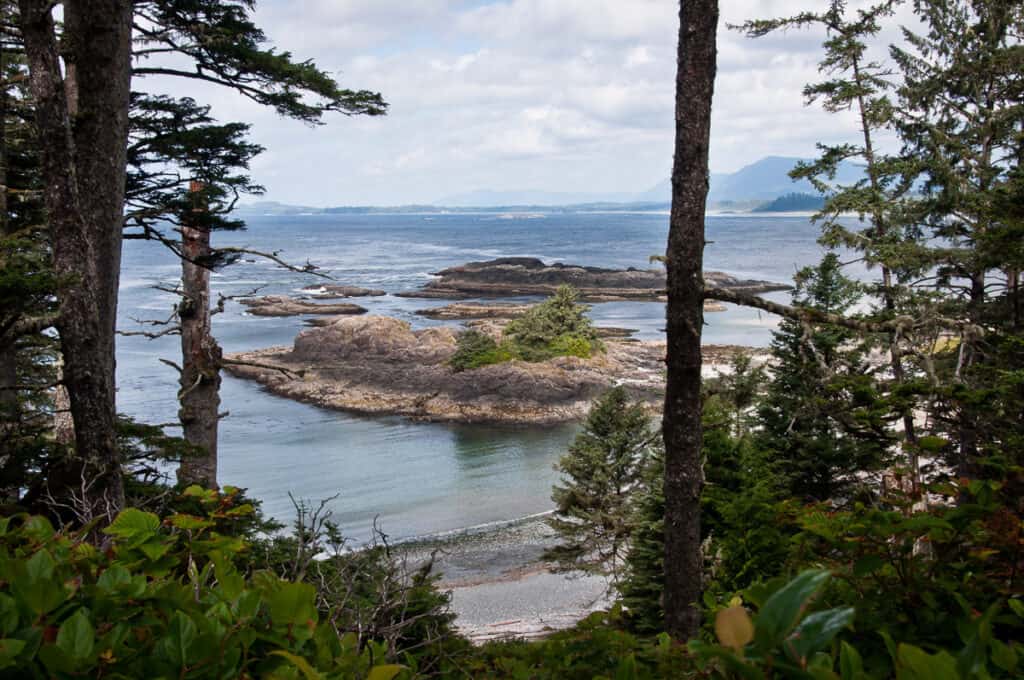 Eat out at cafes and restaurants
Many of Tofino's cafes and restaurants offer delicious food that has been carefully thought out to reflect the location and seaside location.
Chocolate Tofino, Wildside Grill and Shed are three of the most popular places to eat.
Bike Tours
Explore Tofino and its surroundings on two wheels with a guided bike tour, or venture out on your own if you're up for it!
Enjoy the scenery and fresh air as you cycle along the beaches, forests, and quiet country roads. E-Bikes are readily available too.
Where to Stay in Tofino
HI Tofino, Whalers on the Point Guesthouse
A budget option but with stunning views across the ocean from the common areas.
Duffin Cove Resort
This resort is located in a quiet cove and offers affordable accommodations with beautiful ocean views. The rooms are cosy and comfortable, and the resort has a hot tub and outdoor fire pit for guests to enjoy.
Tofino Resort + Marina
This resort is located on the waterfront and offers accommodations with stunning ocean views and within 10 minutes walking distance of the town centre. The resort has a restaurant, spa, and fitness center, and offers a range of activities and adventures.
Wickaninnish Inn
This luxurious resort is situated on Chesterman Beach and offers beautiful rooms and suites with ocean or forest views. The resort has a restaurant, spa, and fitness center, and offers a range of activities and adventures.
Clayoquot Wilderness Resort
This luxurious resort is located in a remote wilderness setting and offers glamping-style accommodations in beautiful tents with comfortable furnishings. The resort offers gourmet dining, spa services, and a range of outdoor activities and adventures. Note that this resort is only open during the summer months and has a high price point.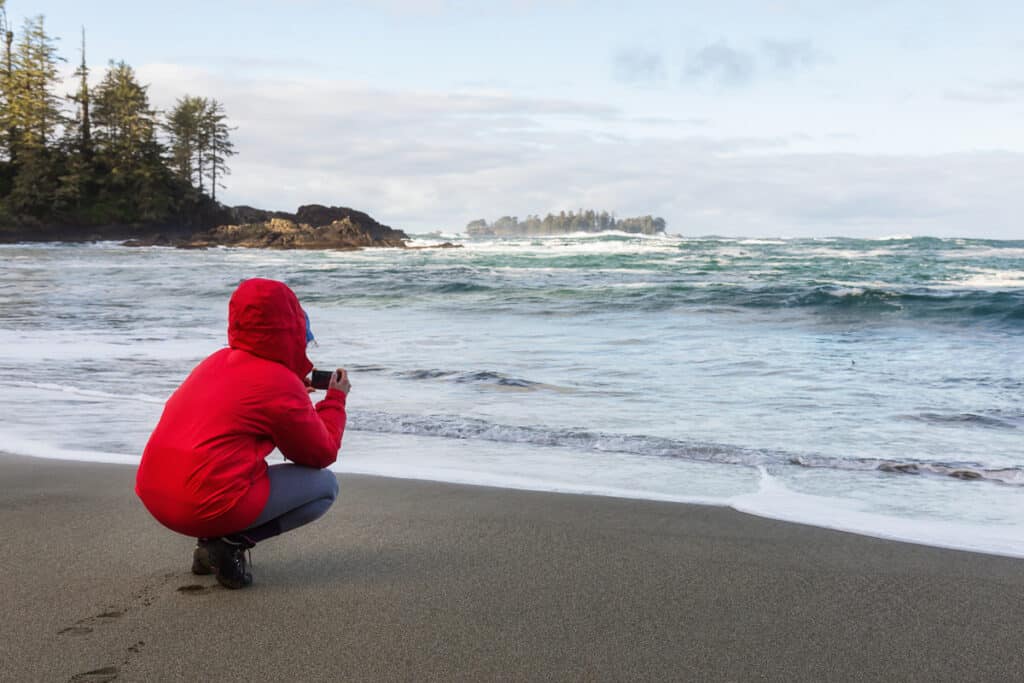 How to Get to Tofino
By Car: Tofino is located on the west coast of Vancouver Island and is accessible by car from Victoria or Nanaimo. From Victoria, take Highway 1 to Nanaimo, then follow Highway 19 north to Highway 4, which leads to Tofino. The drive takes approximately 5-6 hours from Victoria or 3 hours from Nanaimo.
By Bus: Tofino is also accessible by bus from Vancouver or Victoria. Several bus companies, such as Tofino Bus and Island Link Bus, offer regular services to Tofino from these cities.
By Air: The closest airport to Tofino is the Tofino-Long Beach Airport (YAZ), which is serviced by several airlines, such as Pacific Coastal Airlines and KD Air. The airport is located approximately 20 minutes south of Tofino, and shuttle services are available to transport passengers to and from the town. Alternatively, visitors can fly to Victoria or Nanaimo and then rent a car or take a bus to Tofino.
And that's my guide to the best things to do in Tofino! With tips on how to get there and where to stay. Seriously, you won't regret planning a trip!
Sonja x
Read More About Canada:
If you liked it, pin it!