Salt Spring Island is one of the most popular and well-known of the Gulf Islands, which lie between Mainland British Colombia and Vancouver Island off Canada's west coast.
There are so many great things to do on Salt Spring Island, even with a population of just 11,000 and a total size that allows you to drive from the top of the island to the bottom in 45 minutes!
From relaxing in a peaceful location or checking out the arts and crafts trails to more adventurous activities like hiking and kayaking, Salt Spring Island is bursting with top attractions and things to do.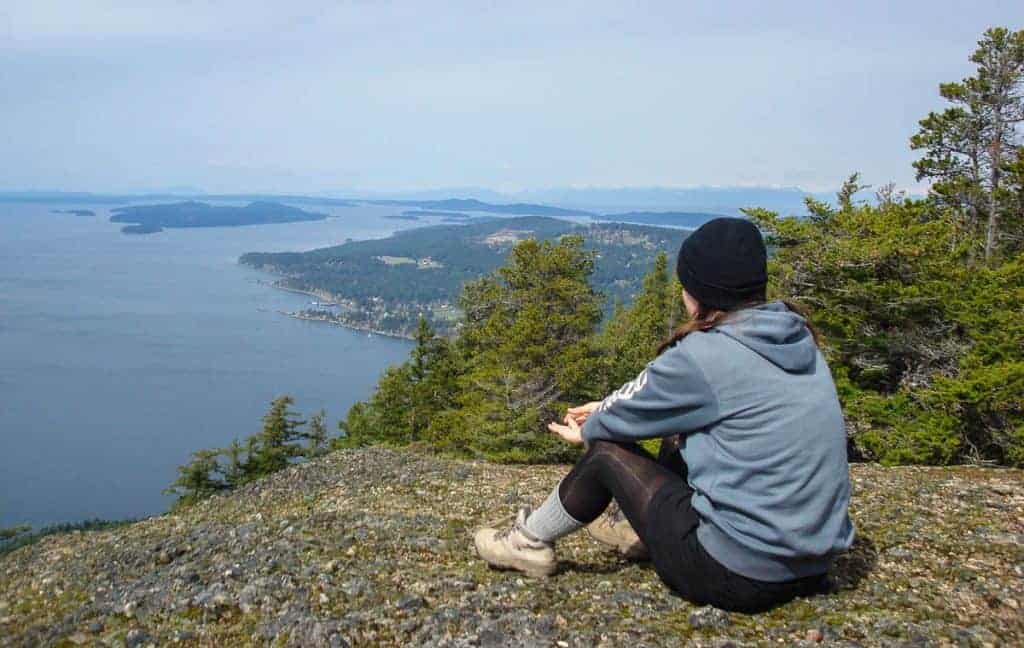 Best Things to Do on Salt Spring Island
Salt Spring Island is a great place to escape and get away from it all.
When I was studying abroad in Victoria I absolutely loved visiting to de-stress and relax by visiting nearby places and surrounding myself with stunning scenery. And Salt Spring Island was one of my favourite trips!
The locals are really friendly and there's plenty to do if you want to get out and explore. Alternatively, you can sit back and just enjoy the atmosphere.
These are some of my favourite things to do on Salt Spring Island, but I'd encourage you to ask around and see what's happening during your visit or about anything new as well! 
Kayaking
Kayaking is a very popular activity on the island.
If you're experienced, you can hire kayaks or take a tour that includes some of the mini-islands around Salt Spring. You might even spot a seal or an otter!
We went with Salt Spring Adventure Co Ltd, who took us on a tour around the harbour right from the beach, over towards nearby islands.
It was great for beginners and those who want a shorter paddle, but they also offer much longer paddling options and even multi-day tours.
If I could go again, I'd try their Bioluminescence Tour, which ends in the dark and allows you to see this amazing natural phenomenon as your paddles hit the water!
Saturday Market
The Salt Spring Island Market, which is held every Saturday from Easter until the end of October, is the biggest in British Colombia. You can find produce, treats and local artwork for sale.
Wandering through the market and checking out all the different stalls was one of the highlights of our trip!
The market is unique in that everything that is sold there must be made or grown by the vendor themselves. We purchased a few little locally-made souvenirs.
This also gives you the opportunity to talk to all the sellers specifically about their craft too!
You'll find the market at Oceanside at Centennial Park in the heart of Ganges. 
Swimming
There are freshwater lakes and beaches around Salt Spring Island where you can dip your toes in or go swimming.
Try Beddis Beach and Vesuvius Beach, both sandy beaches, or the tidal pools at Baker.
Cusheon Lake has a little stretch of beach popular with families, as does Stowell Lake. 
The water can be chilly at times, but it's so clean and refreshing! 
Hiking
There are plenty of different hikes on Salt Spring Island, and it's one of the main reasons we chose to visit. You'll be able to find a walk that suits your level of fitness among them all! 
Mount Maxwell is popular for its beautiful views over the Fulford Valley.
The Chris Hatfield Trail is a community-maintained 20-minute walk that includes a fairy village (great for kids!).
The Reginald Hill Trail and Mount Erskine Provincial Park also give great panoramic views if you can handle the steep uphill! Ruckle Provincial Park has beautiful tracks that follow the coastline and so are a bit flatter for those not wanting to climb upwards. 
If enjoying the outdoors is your thing and you plan to explore more of Canada, then check out my post on epic outdoor adventures in British Columbia.
Artist Studio Tour
If you take the ferry to Salt Spring Island, there is usually a map for the Artist Studio Tour, or you can pick one up from the Tourist Information Centre.
It is a self-guided tour that takes you around the many artist studios on the island, from painters to ceramics and other crafts.
It notes which studios are open when, as some only operate from May to September and others are year-round. 
If you're not on the island for the Saturday Market, then this is a great way to see what wonderful things artists on the island have to offer!
Waterfront Gallery
You might have realised by now that art and craft play a big part in life on Salt Spring Island.
At the Waterfront Gallery, you can discover art and crafts made by local artists for sale. It includes ceramics, jewellery, paintings, lotions, tea, woodworking, glass, candles, cards, and much more!
For those short of time or not able to visit the Saturday Market or Artists Trail, then this is a must-see!
Whale Watching tour
Whale Watching is popular around this whole region, and Salt Spring Island is no exception.
From the boat, you may be able to spot Orcas, Humpbacks, Porpoises, and Otters in the waters surrounding the island.
It's a wonderful way to see Salt Spring Island from another perspective, at the very least.  Whale watching tours usually run between March and October, and you can expect to frequently see whales between June and September.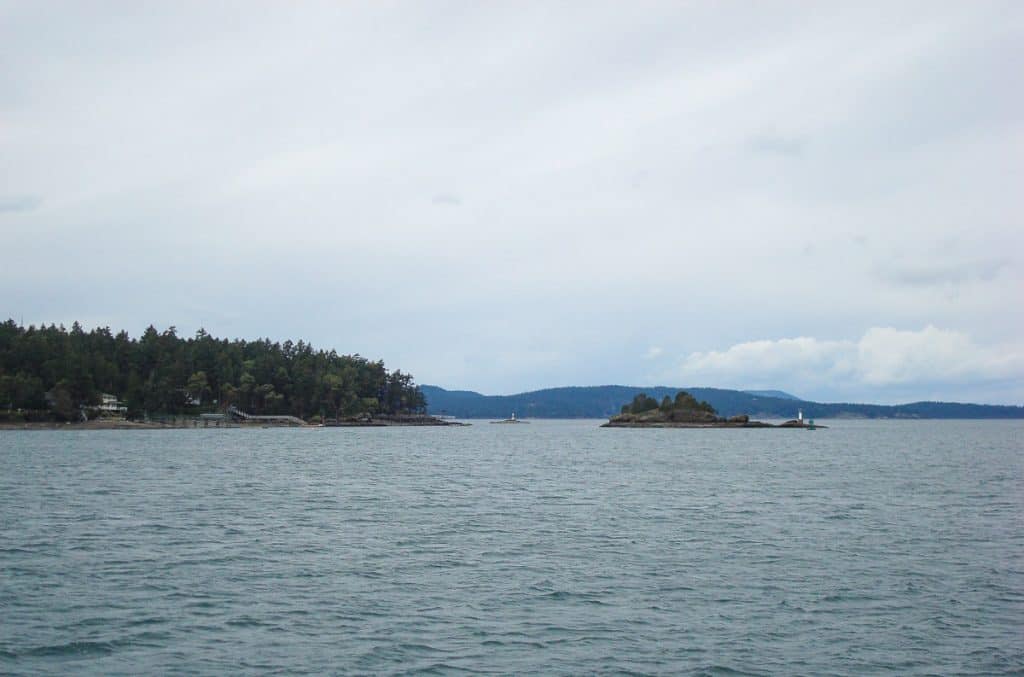 Salt Spring Island Ales
Visit the Salt Spring Island Ales Brewery at 270 Furness Rd to enjoy a beer tasting in the tasting room or picnic area, or purchase some to go.
Their craft beer is made with no preservatives and is unpasteurized. The water for making the beer is actually piped straight from a mountain spring into the brewing room!
They stick to traditional methods and hand-brew the beer as well. Definitely a stop for those who love craft beer or want to try something different! 
Salt Spring Island Cheese
Salt Spring Island Cheese is handmade from goats and sheep milk, with the soft goat's cheese proving to be the most popular. They are available from the farm shop or at the Saturday Market. 
Not only do their cheeses look absolutely beautiful, but they taste amazing too!
They also use traditional methods, so all of the cheese is handmade, plus the business is family owned and operated. On Salt Spring Island, people like to stick to their roots! 
Sacred Mountain Lavender
This two-acre lavender farm is open for visitors from May until September, with the most lavender blooming from June.
It's free to enter, and you can enjoy a self-guided tour. It's the only lavender farm on the island and was established in 2001.
They grow all the lavender organically and also steam it into essential oil on site. 
As well as the oil, you'll find many other lavender-based products in their farm shop, or you can order online too. 
Wineries
Salt Spring Island is home to several wineries. Pop in to taste the wine and some other local delicacies like cheese, where available. Each one has its own opening hours.
Salt Spring Wild
Salt Spring Wild make organic craft cider from apples grown on Salt Spring Island, including some from their 100-year-old heritage apple trees but also from wild apples and pears that grow around the island.
They have a traditional scrumpy apple cider but also blended apples and plums for a delicious plum cider, and made a Bitter Orange Rosemary cider too. 
Head along to the Cider House to taste test their ciders, as well as "farm style tapas" too. 
Festivals
Salt Spring Island isn't short on festivals, so be sure to check the calendar when you're visiting!
Some favourites include:
Maple Syrup Day – February
Ruckle Farm Day – May
Lavender Festival – July
Fall Fair – September
Apple Festival – September
Harvest Grape Stomp – October
How to get to Salt Spring Island
The island is accessible by air or sea, with three ferry terminals to choose from:
Crofton, Vancouver Island to Vesuvius, Salt Spring Island – 20 minutes
Swartz Bay, Vancouver Island to Fulford Harbour, Salt Spring Island – 35 minutes
Tsawwassen, Vancouver to Long Harbour, Salt Spring Island – 1 hour 15 mins to 3.5 hours, depending on how many other island stops are made between them
Check out BC Ferries for timetables and more info.
Saltspring Island also has its own Sea Plane company called Harbour Air, which flies to and from Vancouver and Vancouver Island three times a day.
Getting around Salt Spring Island
Car is the easiest way to get around Salt Spring Island. You can bring a car over on the ferry, or there are a small number of cars available to hire.
There are buses that operate in conjunction with the ferry times from the terminals to Ganges, and to Fernwood. However, they're not very useful as they don't go past many of the best island attractions and only run a few times a day. 
Bicycle is also a popular way to get around Salt Spring Island. There are some dedicated bicycle routes but many cyclists also use the roads. Be warned, though; these can be quite narrow, windy, and hilly.
Hitchhiking is common and is a frequent way for young residents of the island to get around as well. If you do give it a go, you can usually be picked up within 5-15 minutes by kindhearted locals.
Where to eat
Rock Salt Cafe and Morningside Organic Bakery and Cafe are very popular options for eating in Fulford.
Ganges has the Tree House Cafe, Auntie Pestos, Barb's Buns and the Salt Spring Coffee Shop, as well as the Rendezvous French Patisserie.
The Salt Spring Island Golf and Country Club opens the Falconshead Grill and Lounge to visitors.
House Piccolo and Hastings House are fancier dining options.
Where to stay
Salt Spring Island accommodation varies from camping sites to B&Bs, self-catering guest houses to hotels and resorts.
Garden Faire Campground is a budget option, and Hastings House, Salt Springs Spa Resort and Cusheon Lake Resort Are more luxury options.
I love the Cabanas at Lakeside Gardens Resort, where we stayed. They're little cabins overlooking the lake, with a lounge/dining area inside, a loft bed accessed by a ladder, and a small veranda with an outdoor kitchen. I've raved about these to so many people since we stayed there, and I would go back in a heartbeat!
Check out Booking.com for plenty more options, including B&B's and self-catering accommodation.
Salt Spring Island Best Time to Visit + Weather
Every season offers something different on Salt Spring Island, so it depends on what you want to do!
You'll notice many things to do have reduced hours during the winter season, so it may be best to go at another time of year if you really want to see a particular attraction. 
Spring can see some drizzle and rain, but it's also warming up into the summer.
It's never excessively hot, even in the summer, which means you can still do some great hikes at that time of year.
In Autumn/Fall, you can expect less rain and a beautiful change in the colour of the landscape, plus it usually stays a bit warmer into October. 
If you're visiting Vancouver or Vancouver Island, then I'd highly recommend fitting a trip to Salt Spring Island into your itinerary!
Sonja x
Planning a trip to Canada? Check out these posts:
If you liked it, pin it!