The following is a guest post by Hannah Henderson, a travel blogger based in France. An avid foodie and photographer, Hannah's travels usually involve large doses of food, art, and people-watching from cafés.
Looking for the perfect itinerary for four days in Vancouver? Use this guide to help you plan out the best things to do in Vancouver!
Vancouver is everything a big city should be and more. It offers the best of both worlds, a vibrant and diverse city surrounded by natural beauty and outdoor activities.
The bustling downtown gives way to the charm of False Creek and Granville Island. To the Northwest, Stanley Park offers such wide-open green spaces that you feel miles away from a big city.
There's so much to do in the city and the surrounding area that you could base yourself in Vancouver for much longer than four days, but it's also a great amount of time to give you a taste for all the city has to offer and see all the main highlights of the biggest city in British Columbia.
How to get to Vancouver
Being in the far west of Canada, you will likely be arriving in Vancouver by way of Vancouver International Airport, situated on Sea Island in Richmond, south of downtown Vancouver.
You can easily reach downtown from the airport by catching the SkyTrain.
Driving in Vancouver is relatively easy. However, like any big city, parking can be a problem, so it may be best to avoid driving around or hiring a car until you want to leave the city.
Vancouver has a great public transport network and is also bike-friendly (as long as you don't mind a few hills).
Things to put on your Vancouver 4-day itinerary
Cycling the Stanley Park Sea Wall
Stanley Park is the absolute gem of Vancouver. Sitting on a peninsula to the northwest of the city, Stanley Park is almost completely surrounded by the waters of Vancouver Harbour and English Bay.
There are hiking trails through Stanley Park, as well as the main road that leads north over Lions Gate Bridge.
But by far the best activity to do is to cycle around the seawall, stopping along the way to see the sights.
The one-way cycle path takes you counter-clockwise around the peninsula, where you can stop to see the spectacular Totem Poles, Brockton Point Lighthouse, Lion's Gate Bridge, Prospect Point, Siwash Rock, Third Beach, and the Lost Lagoon.
Foraging for lunch at Granville Island
Granville Island isn't actually an island, but it is a wonderful place to visit. Home to the Granville Island Public Market and the Granville Island Brewing Company, it makes for a fun afternoon trip.
The covered market has every kind of cuisine you can think of, plus fresh food and produce (if you feel like cooking), as well as arts and crafts.
There are bars and restaurants as well as the brewery, but I suggest grabbing some picnic ingredients from the market and enjoying their outdoor seating area or take away for a picnic.
Granville Island can be reached by bus or water taxi.
Do a self-guided Brewery Tour
Vancouver does breweries really well, producing beers for every palate, from IPAs to lagers and stouts. Start near the waterfront on Dunlevy Avenue at Postmark Brewing, then work your way east to Strathcona Beer Company, Powell Brewery, Andina Brewing Company, and Doan's Craft Brewing Company.
For those who don't drink beer, visit Odd Society Spirits and taste their delicious gins and vodkas – definitely try their cocktails too.
If you have the stamina, head south to the Coal Harbour Brewing Company and Parallel 49 Brewing Company too.
Picnic at Sunset Beach Park
If Granville Island Public Market is too busy to sit and relax, why not grab your picnic and take a water taxi back across False Creek to Sunset Beach Park.
From this sunny vantage point, you can watch the world go by and see the sun go down over Kits Point.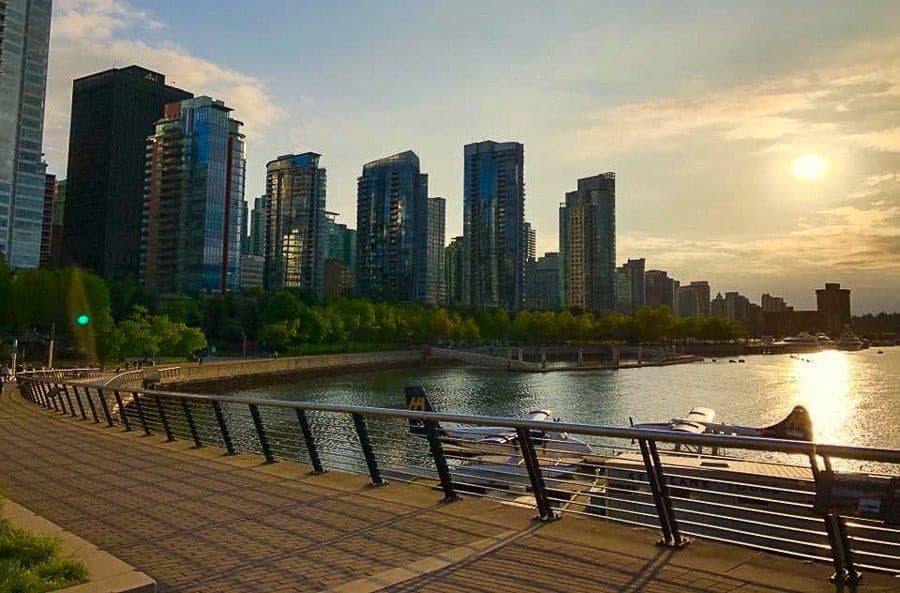 Walk Gastown and the Waterfront
Start at the Gastown Steam Clock (as a famous icon in Vancouver, it has to be done).
Once you've explored Gastown and enjoyed the buzz of the area, head down towards the Port of Vancouver.
Vancouver Harbour is alive with activity – with everything from cruise ships to seaplanes, the waterfront is a joy to walk around.
You also get to enjoy the views back towards the city, which are quite spectacular.
Make sure you walk as far as Coal Harbour; there are some delightful houseboats and super yachts moored here.
Visit the Vancouver Art Gallery
This grand building is home to the largest art gallery in Western Canada, containing works by some of the best artists British Colombia has produced over the last century.
With an extensive permanent collection including indigenous art from the region, the gallery also hosts regular touring exhibitions.
You can easily while away a few hours in this exceptional art gallery. If you're a history fan, I highly recommend a visit to the Museum of Vancouver and the Vancouver Maritime Museum over on Kits Point.
Take a paddle boat tour of the harbour
Vancouver Harbour is very much a working harbour, but I would still recommend a paddle boat tour, purely just to take in the views back to the city and over to North Vancouver.
The MPV Constitution is a beautiful paddle wheeler on which to cruise the harbour.
There are also evening dinner cruises too if you wanted something a little more romantic.
Explore Chinatown
Vancouver's Chinatown is the biggest in Canada and has been established since the 1890s. It's now a National Historic Site, and you can explore the history within as well as visit all sorts of unique shops, places to eat, and also the Dr Sun Yat-Sen garden.
Grouse Mountain
Vancouver is unique in that you could be taking part in water-based activities in the sea and then, within an hour, be on top of a snowy mountain.
In winter, you can go skiing or snowboarding, or snowshoeing along snow-covered forest paths.
In summer, there's mountain biking and hiking to be done! The views of Vancouver from the top of the 1600-metre Skyride tram system are amazing.
Take a wildlife-watching tour
British Columbia has an abundance of wildlife, and the west coast of Canada is home to plenty of marine wildlife and whales.
Consider taking to the sea again on a wildlife spotting tour, where you might see orcas, seals, and even humpback whales. Check the time of year to see whether it's likely first!
Where to Eat in Vancouver
Gastown – For hearty pub food and pizzas, try Steamworks microbrewery and restaurant.
English Bay – If you want divine seafood, visit Hook on Denman Street.
Downtown – With an amazing rooftop patio, Joe Fortes Seafood & Chop House is a great downtown dining option.
Hastings-Sunrise – Jackalope's Neighbourhood Dive Bar has exceptional cocktails, great bourbon, and epic ribs and nachos!
Yaletown – If you want modern Canadian classics and a good happy hour, hit The Flying Pig in Yaletown.
Tours to take in Vancouver
If you prefer tours to guiding yourself, here are some tour ideas within Vancouver:
Tours to take outside of Vancouver
There is a wealth of activities within striking distance of Vancouver, so if you have time, here are some ideas for day trips from Vancouver itself:
Capilano Suspension Bridge (can also include Grouse Mountain) – check here
Whistler day trip – check here
Sea to Sky Highway day trip from Vancouver to just north of Whistler
Victoria and Butchart Gardens day trip (if you visit Vancouver Island on your own, use this handy 24 hour guide to Victoria to make the most of your time there) – check here
Where to stay in Vancouver
I'm a big fan of the West End of Vancouver. Situated away from the tourist hotspots of Gastown and just far enough from Downtown and the Waterfront to have cheaper alternatives.
The West End has options within walking distance of Downtown, Stanley Park, and Coal Harbour, with the advantage of local restaurants and supermarkets. It's a great place to base yourself for four days in Vancouver.
The best thing about Vancouver is the juxtaposition of big-city attractions and a vibrant cultural and foodie scene, with the natural beauty that surrounds the city.
The high-rises of downtown are architecturally stunning yet sit in harmony with the quaintness of False Creek.
You can be in a trendy bar in the West End of Vancouver, but within blocks, be enjoying the quiet beauty of Stanley Park.
It is no wonder that Vancouver is a desirable place to live. The city really does have it all. Four days in Vancouver is the perfect amount of time to get a taste of this incredibly diverse city.
If you liked it, pin it!