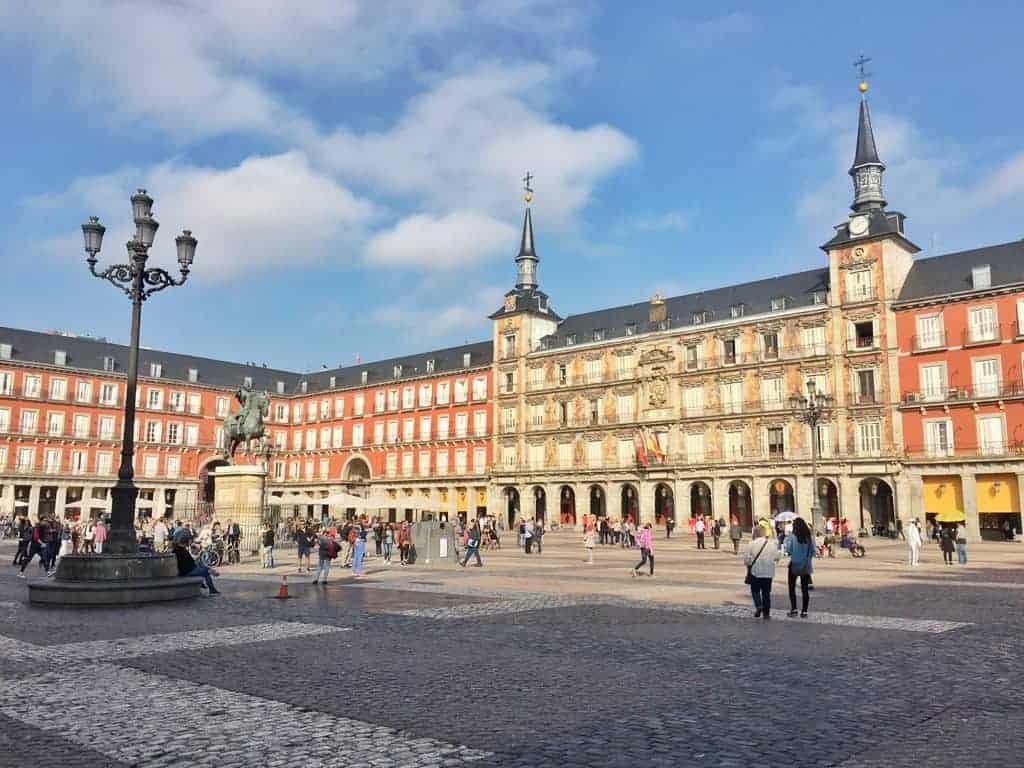 I noticed a distinct change in the way I felt before travelling recently. Instead of moments of high anticipation and excitement I was feeling pangs of dread. Rather than picturing myself marvelling at new sights and sampling new local delights I had subtle hints of anxiety at the effort it was going to take to do everything I wanted, find my way alone, gather blog material, all while trying to find things to love in another new destination. In short, the thought of travelling was making me feel exhausted and anxious.
Obviously, that's not how it should be.
I knew there were a couple of reasons why an upcoming trip to Madrid wasn't exactly filling me with joy. I was finally going to Spain's capital city because I had to make a visa application. Not the most exciting prospect, and actually a rather stressful one. I've also fallen into the solo traveller trap lately of letting myself get lonely, and I really wasn't looking forward to the cheap hostel and being by myself this time. Plus, travel blogging can change the way you travel, and I'd been letting the pressure of having to try and see EVERYTHING in a new place get on top of me. And yet I booked the trains to allow me the most time there possible, because if I was going, I was going to do Madrid properly. And I like to stress myself out apparently!
Madrid and I didn't exactly start out on the right foot. I got lost as usual, taking the metro in the wrong direction before I realised it was closed in the direction I needed to go. I was ill, and had a stubborn cough that definitely did not endear me to my hostel roommates. No less than three kind people (or pissed off…) offered me medicine in the night. Thankfully I managed to get to my visa appointment on my first proper day in Madrid without too much grief (just a little, of course!). After it was all completed (and I sprawled myself on the pavement when I tripped on my way out) I was at a loss about what to do.
I was finally in Madrid. A new place I'd wanted to explore for a long time. And yet I had no idea what I wanted to do.
When in doubt in a new city, I always used wander aimlessly, allowing the architecture and vibe of a city to lead my way. I decided a return to this tactic was in order, and at the same time that I wouldn't write anything about Madrid. It would just be a holiday for me. I wandered the streets of Madrid for 4 hours, shaded by buildings in a traditional Spanish style. Glancing down narrow streets and deciding to follow them when something took my fancy.
And that's when it happened.
I started to enjoy it again. That sensation of being in a new place and discovering new things. Madrid in autumn was reminding me of why I love to travel. To see new sights and marvel at different ways of living, and find similarities too.
I fell in love with Madrid and travel again during my time there. I felt like a local in Madrid, understanding a lot a Spanish and speaking it too, albeit sometimes with a bit of an Andalusian accent, dropping the "s" from everything! I remembered sometimes we need to take time for ourselves, to relax, to let go of the stresses, even if they're still there, and to enjoy being in the moment again.
Autumn seemed to be the perfect time to visit Madrid. It wasn't too hot as it can be in the summer, and although it was a little chilly in the mornings, it wasn't cold either. Although I thought I wouldn't write about it, I couldn't resist sharing a few of the reasons why I fell in love with Madrid.
What to do in Madrid in autumn
Visit Parque del Buen Retiro
In the midst of the bustling central city, close to the Madrid Train Station, is Parque del Retiro, or "Park of the Pleasant Retreat". It used to belong to the Spanish Monarchy, but now it's available for everyone to enjoy. It seems I picked the perfect time to visit Madrid, when the trees were an array of autumn colours, and the ground was littered with crunchy leaves.
Within El Retiro itself there are several things to see, besides just wandering the many paths. There's the stunning Crystal Palace peaking out of the trees, and the monument to Alfonso XII which has a lake next to it that you can row across.
Living in Almería on the southern coast meant I hadn't seen any kind of physical change in the landscape as the new season came about, it only got slightly colder. Visiting Madrid in autumn and especially  El Retiro meant I was able to remember how amazing the change of seasons can be. Madrid knows how to do autumn!
Find the views of Madrid
Madrid isn't short on epic views, but one of my favourites was in a rather unusual place. On the top floor of the Corte Inglés at Gran Via, the main shopping street, is the food court. From there you can have an amazing view down the Gran Via itself and if you wander along the balcony outside, much of the rest of Madrid too.
Another of my favourite views was from the site of the Temple of Debod. The temple itself was gifted to Spain by Egypt, and rebuilt on it's current site. It is a beautiful, if crowded, spot to watch the sunset. The line to get onto the island on which the Temple of Debod sits was super long, so I'd recommend going early if you want to be on it for the sunset itself. I was happy to just wander the site and take it in. Behind and to the left of the temple there was a great spot to see the sunset over the central part of Madrid.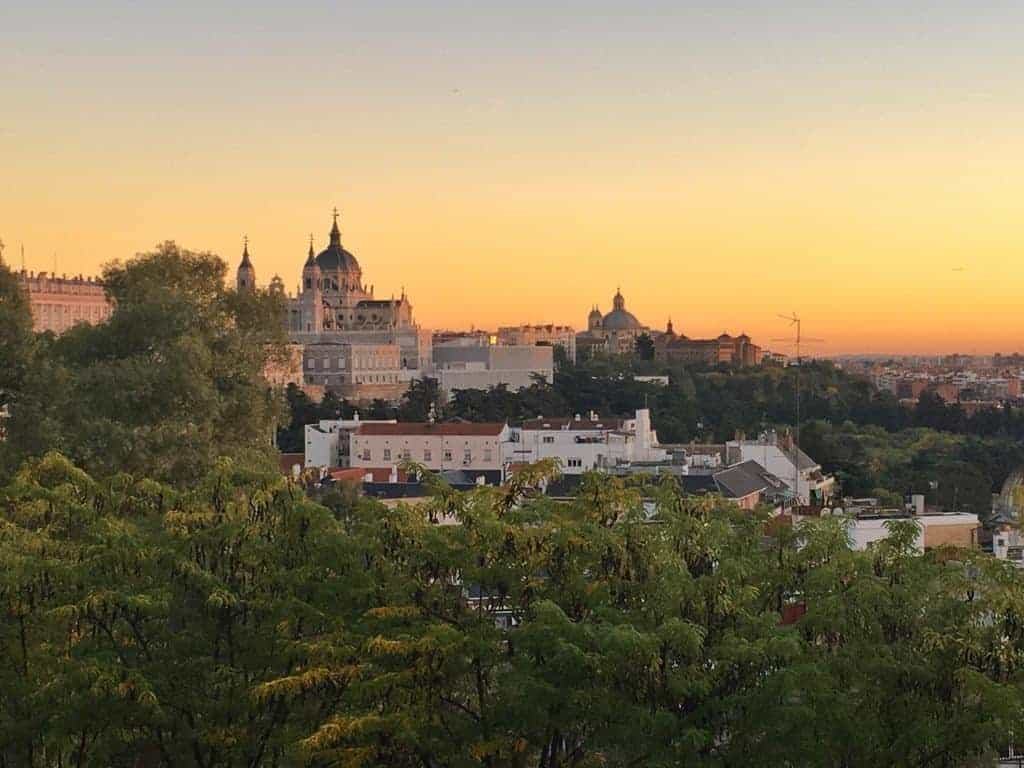 Wander El Rastro Market
Every Sunday hundreds of stalls are set up for the biggest and most popular open-air flea market in Spain. It runs from about 9am-3pm, and I must have spent at least 3 hours there checking out the stalls. My favourite were the ones with all the old Spanish things, including tins and coffee grinders!
Explore the neighbourhoods of Madrid
By accident, I found myself in what became one of my favourite neighbourhoods in Madrid. The Huertas neighbourhood had a ton of great looking restaurants, cafes and shops along with small one way lanes framed by historic buildings. It was within easy walking distance of Sol, the centre of Madrid, and Plaza Mayor, but it felt like a neighbourhood rather than the central city. I'd highly recommend it as a place to stay!
Other great neighbourhoods that I spent time wandering through were Malasaña, known for it's street art and counterculture scene. basically if you want hipster, this is where to go. Chueca is a more modern area, and it's known as the gay district of Madrid. People go there for the nightlife, with independent bars and restaurants, and boutique shops.
Sample the cafes of Madrid
It's no secret I'm obsessed with cafes. And coffee. And cake too. All of the above neighbourhoods had great cafe options. One of my favourites in Huertas was Tekoe, a tea shop with huge tins of tea in all sorts of flavours lining the walls, plus coffee options, savouries and cakes. Free wifi as well of course!
Another favourite was La Bicicleta Cafe near the Justicia neighbourhood, between Chueca and Malasaña. They had workstations for people with laptops, and couches and a variety of other areas for other customers. I loved the vibe of the place with its industrial decor and I would definitely use it as a workspace if I lived in Madrid! They also do brunch, something I've been craving, but unfortunately, I missed it as it's only on Sundays and for a limited number of people.
Day trips from Madrid
I took two day trips from Madrid to a total of three different places. Toledo is an easy trip to make on you're own, being only a half hour train ride from Madrid. It's one of the most visited sights in Spain, with a history dating back to the Romans, signs of the Muslim rule and currently home to many Catholic convents. I loved wandering the medieval streets, tasting the marzipan which is as to have been invented here, and watching the sunset over the town.
My second day trip was to Ávila and Segovia on a tour with City Discovery, a website where you can search for different kinds of tours in places all over the world. These two towns can be reached by train also, but I found it easier to take a trip that combined both of them in one day. Ávila is known for its fortress type walls that also date back to the Romans, and Segovia for the huge viaduct in the centre of the town, that isn't currently in use but does still work. I really enjoyed visiting both and learning more about the history of Spain and the part these small towns played.
So what began as a stressful and somewhat unwanted visit to Madrid, turned into a reminder to not take opportunities for granted. To get out and explore, even if I don't feel like it, but to explore in a way that I want to, not a way I feel that I HAVE to. Madrid in autumn was beautiful, and just what I needed!
Have you ever been burned out by travel? 
Sonja x
Disclaimer: My tour with CityDiscovery was complimentary in exchange for work, but all opinions are my own, as always! 
If you liked it, pin it!