The following is a guest post by Laura from She Who Wanders. Originally from Canada & currently calling Bristol, England home, she has a passion for wandering wherever she can in this great big world.
Straddling the Avon River in the south west of England lies the city of Bristol. It may not be the first destination you think of visiting in England, but if you visit Bristol for a weekend, you'll see there's plenty of great things to see and do.
Named as the best place to live in the United Kingdom in both 2014 and 2017, from your first steps around town it is easy to see why it's been dubbed with such a prestigious title. From the city centre lined with shops and restaurants to the narrow quay hugging the river lined with tall ships, the scattered street art thanks to resident Banksy and views of Clifton Suspension Bridge – all of this is what attracts thousands of visitors to Bristol no matter the season.
Things to do in Bristol in a weekend
Of course, it depends what you like and you may not fit everything in, but these are the top things to do in Bristol in 2 days. Spending a weekend in this eclectic city can involve anything from indulging in the foodie scene, getting lost in nature, relaxing by the sea, or shopping.
Clifton Suspension Bridge
Linking Bristol to Northern Somerset, this world-famous bridge is easy on the eyes and walkable from the city. There are pedestrian walkways on either side allowing people to get epic views of Bristol from the bridge itself. Be sure to climb observatory hill to the right of the bridge for even better views.
Harbourside & M Shed
The harbour is a great spot to take in all the tall ships and spot the coloured row houses on the hill in Bristol. Pop into M-Shed, Bristol's Museum, to find out more about the cities history from the present all the way back to the prehistoric (bonus, it's entry by donation!)
Troopers Hill
Located in the St-George area, Troopers Hill is a great spot to get up high and catch the views of Bristol. An iconic chimney sits at the peak and several different trails set off from the top. It's the perfect spot to end the day and soak up sunset or take the dog for a roam if you're traveling with your furry friend.
Stokes Croft
A hub for art & culture in Bristol, Stokes Croft is home to countless art galleries, cinemas & cafes. Keep your eyes peeled for the epic street art that lines this part of town, you won't be disappointed in what you find.
Eastville Park
Another great park area to take a stroll and get out of the city is Eastville, located in Fishponds. As the name states, there is a fishpond here where fishing is permitted with the right permit of course and. The perfect place for a stroll and with trails leading off to other parks it's a great place to explore during your weekend in Bristol.
Gloucester Road
North of the city and past Stokes Croft lies Gloucester Road. You'll find plenty of eateries, music venues and even more art by infamous Banksy. It's another shopping hub if you want some more unique options instead of the city centre shops.
Banksy Street Art
No visit to Bristol would be complete if you didn't get to see at least one or two pieces by the infamous Banksy, an anonymous street artist from Bristol. Born in 1974, the World famous art of Banksy is known in every corner of the globe and his art has sold for thousands of pounds (and more). There are guided tours, but if you're on a budget then there are plenty of sites that map out his pieces around the city for you to find!
St Nicholas Markets
The oldest and most popular markets in Bristol you'll find everything from unique trinkets, local art, great produce and food stalls to please anyone! Establish in 1743 these markets can be found in a Georgian style arcade where you can spend hours roaming the lanes and stalls.
Bristol Cathedral
Located on College Green with spires that can be seen from the Harbour, this cathedral is England's only hall church Cathedral and is free to enter. The Cathedral itself is absolutely stunning and the interior details are magical. A must stop spot on your 2 day trip to Bristol.
Weston Super Mare
A 25-minute train ride from Bristol Temple Meads & you'll find yourself at the seaside. Easy enough for an afternoon away to soak up some vitamin sea (or D if the sun is out) the pier is great and the sunsets are even better from here too!
How to get to Bristol
At about 120 miles from London, the city is easy to get to via train, bus or car & perfect for a city break!
The main railway transit hub in Bristol is Temple Meads Station, connecting you with rail service from London in just under 2 hours, or even less time from nearby Cardiff in Wales in about minutes. From Temple Meads, it's about 15-minute walk to the city centre where you'll find all the amenities you can hope for. If you're coming in from further via airport then the bus will let you off at Temple Meads or right in the centre of town via National Express or Megabus.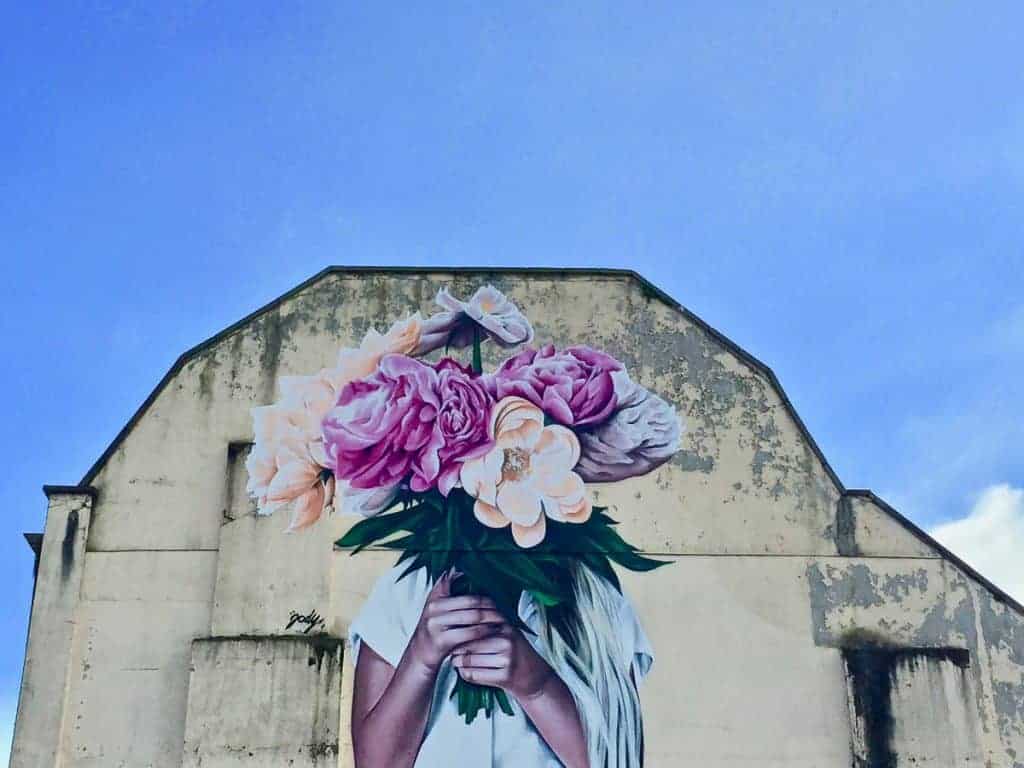 Where to stay in Bristol
For those looking for affordable accommodation in Bristol for a weekend, look no further than YHA Bristol. Located right on the Harbourside of Bristol and about a 15-minute walk from either transit hub, this hostel boasts a prime location for anyone coming to Bristol whether that be a family visit or a friend getaway to the city for dinner & drinks.
The former waterfront Greenhouse has private rooms and dorms available, a great cafe bar area with a cool little mezzanine level where you can enjoy a pint or a coffee at the start or end of your day exploring. With great staff ready to help you make the most of your visit to the city, this is the perfect spot to lay your head at night in the city
Where to eat & drink
Bristol has plenty of fantastic places to eat and drink! The below are just a small selection.
Beatroot Cafe
Located at the top of the Christmas Steps, this quaint cafe is perfect for pre exploring coffees & breakfast or lunch! A great vibe & top notch food – try the fried egg, pesto & mushroom sandwich I dare you!
Christmas Steps Pub
A classic old school English Pub at the bottom of some very steep steps, but will make the pint taste that much better. Catch some live music or start the night/afternoon off with one of the dozens of craft beers. They even have an outdoor seating area for those sunny summer days.
Chance & Counters
Named as Bristols only board game cafe this is the perfect place to let your competitive side lose & challenge your friends to one of the hundreds of different games the cafe has on offer. Drinks, coffees, and a great selection of food are available as well.
The Bristolian
In the Montpelier neighbourhood this cafe/restaurant boasts "Bristol's best breakfast" and while I'm neither a vegan or vegetarian those 2 breakfasts are seriously incredible. If you're lucky with a good weather day, their side patio is the perfect place to spend a few hours over good food & good company.
The Bristol Loaf
This cafe has quickly become my favourite because of its atmosphere & sweet treats. Not only is this cafe a great place to spend a few hours, they bake their own bread and pastries daily so it always smells good in there!
Society Cafe
Sharing a neighbouring wall with the YHA Bristol hostel, this is a great spot to watch the afternoon turn to dusk by the harbour. Their treats and some seriously wicked baristas make this the perfect spot along the water.
Crazy Fox
With a cute little fox as their logo, this cafe is located in the heart of the main shopping area around Cabot Circus & the perfect place to refuel after shopping. Whether it's coffee, a sweet treat of any one of their epic sandwiches you can't go wrong!
Day trips and where to go from Bristol
From Bristol it's an easy train ride to Bath for the day, to check out Well Cathedral and the infamous Roman Baths. If you've got even longer, grab the train headed further west into Wales and get to Cardiff! Bristol is the perfect set off point for another city break in Liverpool, Manchester or even Birmingham.
If you're craving some nature then head a little more north towards the Cotswolds or even south down into Somerset and Cornwall where there are plentiful coastal walks. Plane, bus or train, Bristol has you covered on transit options to get you to your next destination without a worry!
A weekend in Bristol is enough to get a taste of the city and see the top things to do and check out one of the UK's most vibrant and colourful cities.
If you liked it, pin it!