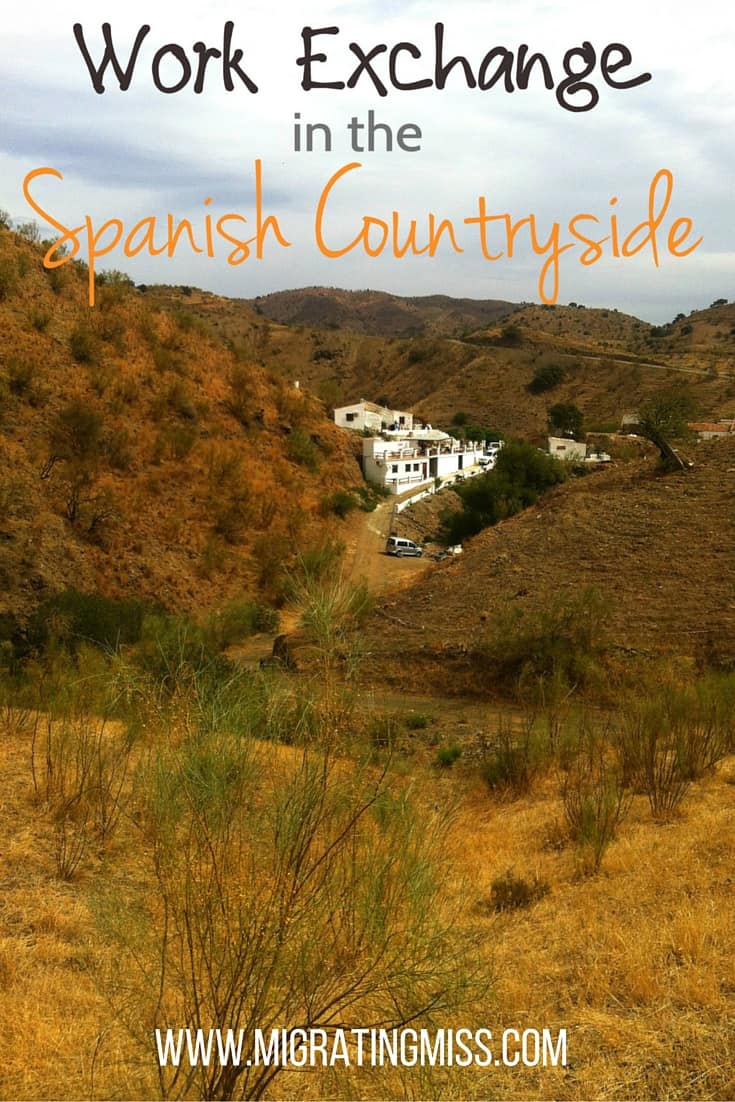 HelpX Spain Life
Waking up to the end of summer sun rising over the sun-browned hills of the Spanish countryside.
Making breakfast with fresh eggs and showering with a view.
Wandering with the dogs up and down the rolling hills, stopping to eat freshly cracked almonds and enjoy the hospitality of Spanish neighbours without much understanding of what the other is saying.
Cleaning the never ending dust away from around the traditional Andalusian style house followed by siestas in the afternoon.
Listening to the one radio channel that reaches through to this remote location while playing cards and drinking local beer to pass the time as the sun sinks.
Enjoying our evening meal late to avoid the heat and wasps that disappear with the sun, before talking into the night and collapsing into bed to wake up again for another day in the Alora Campo.
This was my life a year ago.
I spent one of the best travel weeks I have ever had doing HelpX in Spain – in the countryside 40km from Malaga, twenty minutes drive up a riverbed from a small Andalusian town called Alora, in what is called the Alora Campo.
I'm generally happy to spend time exploring city sights but I've always been drawn to the countryside, to see life at a slower pace and be away from the hustle of the city. Searching for a different travel experience and a way to save money while travelling led me to HelpX, a global organisation that facilitates volunteering in exchange for free accommodation and often food.
HelpX or working in exchange for your accommodation and food is a great way to save money and travel at the same time. There are some great websites that help you connect with people willing to offer you a place to stay in exchange for work. I chose HelpX for Spain over others such as Workaway and Woofing. HelpX lets you see the offerings in each country before you need to sign up for a small yearly fee that gives you more access and the ability to contact owners.
Tips for selecting a work in exchange for accommodation host
For my HelpX in Spain I purposely chose a host that offered places to multiple volunteers because I wanted to be able to meet other travellers. There are so many HelpX options to choose from, working in hostels and hotels, in the countryside, in the city, in more plush accommodation, or even camping, not to mention all different kinds of work.
Remember, the host needs to choose you as well. My HelpX hosts in Spain told me they received multiple messages a day from potential workers. Make your profile attractive, include pictures and information about yourself. Most importantly, don't send a generic email to everyone you are thinking of staying with. Some hosts only want long term stayers, or workers with certain experience such as building. Some want specific dates. Pay attention to their listing to be sure you meet their need for workers in exchange for whatever kind of accommodation they provide.
You can email a few hosts just in case but always reply and follow up even if you don't intend to stay there, or if your plans change.
My HelpX hosts in Spain asked for a small donation for food which is not often the case, but the work we did for them was also less than expected in many work exchanges. We stacked wood, planted seedlings, walked the dogs and kept the communal and outdoor areas clean. Easy work in exchange for staying in an amazing place! They were willing to realise at heart we were travellers, wanting to experience the country around us. Travel really teaches us how to make the most of opportunities. I was so grateful that during my HelpX we had time off to visit Malaga, Alora, and El Chorro with their help in driving us to  the train.
Tips for selecting a place to work for accommodation
HelpX or work exchange is a great option for long-term travellers and budget travellers, or those looking to spend a decent amount of time in one place experiencing what normal life could be like.
If you're travelling on a budget and headed somewhere where the accommodation is expensive then a work exchange would be a great way to save money and extend your travel.
I spent a long time looking at the different areas I wanted to go for HelpX in Spain, reading reviews and seeing if the place was a match for my expectations. It was important to me to be somewhere social and in the countryside.
There are definitely HelpX hosts in city settings and for those that want to experience life in a city. This would be a great way to try out a place before moving there or just have a taste of what it's like to live somewhere different. There are usually hostel or guest house options, or even family stays.
I couldn't recommend taking part in a work exchange enough. Travelling in this part of the Spanish countryside would not have been possible without HelpX and the work in exchange for accommodation opportunity. My HelpX in Spain experience in the Alora Campo was a once in a lifetime that can never be recreated, especially because of the amazing people I met there.
Have you completed a work exchange with HelpX, Workaway or Woofing? Is it something on your travel list?
Sonja x