Welcome to the Expat Interview Series! I've reached out to expats in different countries to hear why people might choose to move abroad, and how they do it. If you want to know more about moving to a particular country this is the place. Check out the archive of Expat Interviews for more!
A lot of New Zealander's make the make to Australia, but not so many do it in reverse. I'm so excited to share another interview with someone living in what was once my home city, Wellington, New Zealand, and to have the point of view of an Australian moving to New Zealand! I spent my late teens and early twenties going to university and working in Wellington, and it's one of my favourite cities in the world for sure. Alyse from The Invisible Tourist shares her experiences of living in New Zealand below!
Tell us about yourself
Born and raised in Sydney, Australia, as a child I was always very fascinated by European art and architecture I saw in books. The allure of being in foreign destinations also inspired me (probably because Australia is so far away from everything). As soon as I started working full time I was determined to get to Europe. I saved as much money as I could within a year and not long after I made the trip to Europe with my then boyfriend (now husband). This was one of the best – and worst – things to ever happen to me. I became absolutely hooked on travel!
What made you decide to move to New Zealand?
Hubby and I were always faced with a dilemma. We wanted to experience living abroad in a city like London but also knew during the years we'd be away housing prices back home were going to keep escalating. After a spending a few weeks in London during a trip, it turns out we didn't actually like it as much as we thought we would so we decided to buy property at home instead and travel when we could.
Last year the opportunity arose with hubby's work for us to temporarily relocate to Wellington, New Zealand's capital for 8 months. It was perfect – as a young family, we finally got to fulfill our wish of living abroad, only a 3-hour flight from home and in a place that had many wonderful similarities to our favourite city, Melbourne.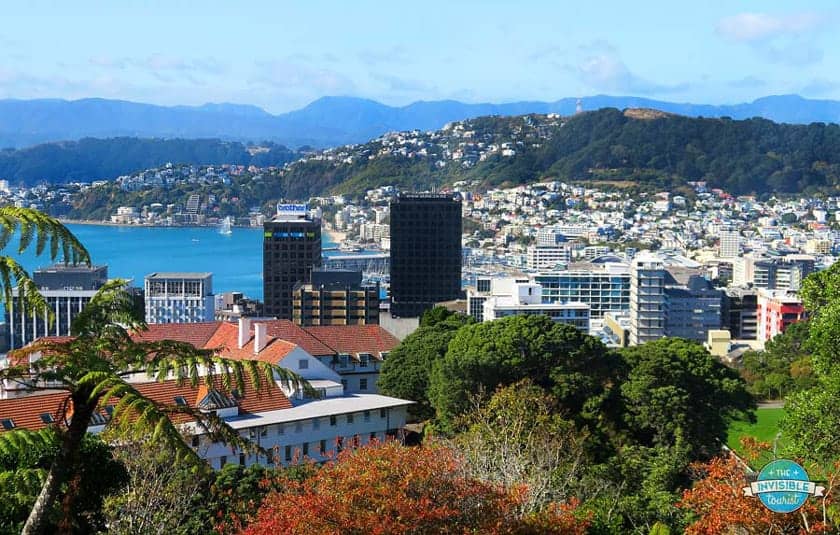 Tell me about the cost of living in Wellington
In terms of housing, Wellington is much more affordable than living in Sydney but with other things, the cost is about the same or a little more. For instance (all in New Zealand dollars), a 3-bedroom house in Karori (5kms from Wellington's CBD) on average would cost $791,500 to buy or $550 per week to rent, whereas a comparable 3-bedroom property in Annandale (5kms from Sydney's CBD) on average would set you back $1.97 million to buy or $938 per week to rent.
Transport is on the more expensive side in Wellington, however, with commuting to the city 5kms by bus is $50 per week but in Sydney about $40. Train travel from the suburbs, around 20kms from each CBD costs $80 per week in Wellington compared to only $54 in Sydney. A pint of beer in Wellington is about $8 at a pub or restaurant while a loaf of bread is about $3. These prices are similar to Sydney prices. However, in Wellington, you can save money by doing a weekly grocery shop instead of eating out and buying alcohol in the supermarket.
How did you find the job seeking process?
New Zealand currently has a skills shortage in the tech industries. My hubby was asked over to assist the Wellington branch of his firm and we jumped at it, so there wasn't an actual job seeking process in this case. Because the project was long term it meant that I was fortunate enough to join him and create my blog whilst he was working there.
Do you need a visa to live in Wellington?
As Australian citizens, we did not need any sort of visa to live in Wellington. Australia and New Zealand have a special working agreement (much like the European Union) where Aussies and Kiwis have free movement between the two nations to live and work. This arrangement allows us to fly back and forth as we wish for as long as we like.
What's the social scene like? How easy is it to make friends?
In terms of the social scene, Wellington is always buzzing. Unlike Sydney with its 1:30 am lockout laws, dreadful traffic, and 3 am taxi change over (making getting home from the city a drawn-out nightmare if you live in the suburbs), Wellington is open until dawn on Friday and Saturday nights. Most people are happy to stay out for a few (or many) drinks after work because it won't take them long to get home, either. I found it easy to make friends because Wellingtonians are super friendly, genuine people who love a good chat. My hubby's work colleagues were wonderful too and made us feel like we had always known them!
What's the best thing about living in Wellington?
There's always a festival or event on that brings the community together. The outdoors scene is also awesome: there are so many picturesque walks, hikes, lookouts, museums, cafés, and boutiques to explore so you're never at a loss for things to do. If you know where to look, there is also ample local wildlife to be found too, which is really nice to see.
What's the hardest thing about living in Wellington?
As much as I loved the boutique shops in the CBD, sometimes it's nice to have access to larger department stores for variety when it comes to shopping. Welly only recently opened a David Jones (which was a big deal!) but even that is a bit limited with stock availability. Yes, this is a first-world problem but one I found challenging having moved from a larger city to a smaller one!
How is your new home different from your old one?
Wellington is ridiculously easy to get around in comparison to Sydney. Its compact size means I can walk to many places very easily which gives the whole city a chilled out, relaxed vibe. Due to crazy housing prices and dreadful roadways, most Sydneysiders are stressed: Mortgage stress, driving stress, school run stress, and with everything so spaced out it makes trying to get around a troublesome task. Living in Wellington was a nice reminder that life doesn't have to be that way! It was also refreshing to hear "excuse me" and "sorry" in Wellington when people accidentally bumped into me, that's something very rare in Sydney. Wellingtonians are just polite in general.
If we had just one day in Wellington what should we not miss?
As mentioned above, Welly is relatively small compared to many other cities so a lot of ground can be covered in one day. For the highlights I'd suggest starting off at the stunning Botanical Gardens that overlook the city and make your way back down to the CBD through Bolton Street Cemetery (the flowers through here are just lovely!), past the Beehive (parliament) and around the corner to Lambton Quay to browse the shops and admire some colonial-era buildings that will lead you to the gorgeous waterfront. From here, The Museum of Te Papa Tongawera is a wonderful way to spend the afternoon, it has a great showcase of everything to do with New Zealand (even an earthquake simulator) and is a huge hit with kids!
Can you share your best local/insider tip about where you live?
On a fine weekend enjoy a delicious sweet or savoury treat at Kowhai café, at the top of the Cable Car in Kelburn. The view over the entire city and harbour on a clear day is unbeatable as you sit there sipping your coffee! It's also a short stroll to the Botanic Gardens from here.
If you could give one piece of advice to people looking to live in Wellington, what would it be?
Go for it – especially if you're in the tech industries. Wellington will welcome you with open arms and it won't take you long to settle in. Also, make the most of any sunny days! Go to the beach, on a hike, explore the city and surrounding areas. The weather can change fairly quickly and it can get quite cold and rainy at times. But, when the sun is out and the breeze is minimal, the locals like to say "You can't beat Welly on a good day" and that is the absolute truth!
You can follow Alyse's adventures and find out more about living in Wellington on The Invisible Tourist, or on Facebook and Instagram.