It may be many years since the last Harry Potter movie was filmed and even more since the books were written, but the lure of visiting Harry Potter locations doesn't seem to have subsided. New generations are discovering Harry Potter, and people continue to flock to Harry Potter filming locations in Scotland.
I wrote about all the Harry Potter locations in Edinburgh a while ago, but I recently realised it's probably about time to write about all the other Harry Potter locations in Scotland!
I've visited the majority of these and have plans to go to the others in the near future. Many are amazing places to visit regardless of their connection to the Harry Potter series, so I'd recommend considering them for your Scotland itinerary even if you're not a huge Harry Potter fan.
However, I've always loved visiting locations from films and books and making those connections to a place.
I don't know if it stems from growing up in New Zealand, where places I saw on screen or read about always seemed exotic and far away (until the Lord of the Rings, of course!), but it's definitely one of my favourite things about travelling!
Firstly I've listed Edinburgh Harry Potter locations with a bit about each place, but you can check out my full post on those here.
Then let's go through the Harry Potter film locations in Scotland, what was filmed there, what you can see there now, and how to find them!
Edinburgh
There are lots of Harry Potter locations in Edinburgh to discover! You can read my full post all about them here, but there's also a summary of the most popular below.
Writing Cafes – Elephant House and Nicholsons Cafe
It's well-known that J K Rowling wrote much of the earlier Harry Potter books in cafes around Edinburgh. The story goes that it was cheaper to buy a coffee out than pay for heating at home, but as someone who frequently works in cafes, I'd also say it's just much more enjoyable and fun!
The Elephant House on George IV Bridge is widely seen as the "birthplace" of Harry Potter, but it is actually not the first cafe where J K Rowling began writing the series. That honour goes to Nicholsons Cafe, which was located above what's now the Black Medicine cafe on Nicholson Street.
It was owned by her brother-in-law at the time and has since been a Chinese restaurant, another cafe called Spoons and is now a Chinese restaurant again. You can still see a plaque on the wall outside at street level, however.
The Elephant House has an amazing view of Edinburgh Castle from the back window that no doubt could be the inspiration for Hogwarts School.
It's also located close to Greyfriars Kirkyard, another Edinburgh Harry Potter location, and George Heriot School, which is also said to have inspired Hogwarts. Note that the cafe was damaged by fire but is currently being restored.
Greyfriars Kirkyard
There are several headstones in Greyfriars Kirkyard that inspired the names in Harry Potter. J K Rowling has acknowledged that she used some but not others, including McGonagall and Thomas Riddle.
George Heriot School
This prestigious school has four towers and four houses which some say was the inspiration for Hogwarts.
Edinburgh Castle
It's pretty clear to see how Edinburgh Castle could have inspired Hogwarts School, which is found in Scotland. Both are perched on the top of a huge rock!
Victoria Street
This curving street with colourful shops and places to eat is said to be somewhat like Diagon Alley, and is now a popular spot for photos and visiting the shops, some of which have Harry Potter merchandise.
The Balmoral Hotel
J K Rowling finished the last Harry Potter book while staying at a suite in the Balmoral. A far cry from having to write in cafes to stay warm!
You can't go in the suite (unless you book it, of course), but the Afternoon Tea at the Balmoral is amazing, and I'd highly recommend it.
Glenfinnan Viaduct
The Glenfinnan Viaduct is already iconic but has become even more popular after featuring in the Harry Potter series, specifically with the Hogwarts Express, aka the Jacobite Steam Train crossing it.
You can also ride across the Viaduct in a normal train, but we personally think the best view is from outside of a train, watching them go past.
Parking at the Glenfinnan Viaduct is limited, so we'd recommend arriving early if you want to see a train cross. Please don't park dangerously!
There are several vantage points to see the Jacobite Stream Train crossing the Glenfinnan Viaduct. From below the Viaduct not far from the carpark, or walk further under the Viaduct and up towards the left for the iconic views of it coming around the bend.
The Jacobite Steam Train
This stunning old steam train runs between Fort William and Mallaig and was used as the filming location for the Hogwarts Express in the Harry Potter films.
As mentioned above, you can ride the Jacobite Train for yourself! But book early because tickets for the train now book out months in advance!
Loch Shiel
The Loch has been used as the backdrop of Hogwarts School of Wizarding in several of the films and is the location of the Black Lake in The Prisoner of Azkaban and The Half-Blood Prince.
Loch Etive
Loch Etive was used as a filming location for Harry Potter and the Deathly Hallows, most specifically, as well as Glen Etive, although they were used in other films too.
Most recognisably, Loch Etive is where Harry, Ron, and Hermione ended up after jumping off the back of a dragon after escaping from Gringotts.
You can drive down Glen Etive from the A82 (also recognisable from the James Bond movie Skyfall) towards the Loch. Loch Etive is actually a sea loch that stretches all the way to just past Oban.
Rannoch Moor
One of our favourite spots in Scotland!
Rannoch Moor is a stunningly deserted landscape that you drive through on the way to Glencoe from the south, and it's one of our favourite drives.
The Hogwarts Express briefly passes through in Harry Potter and the Half-Blood Prince, but most recognisably, it's where the Dementors stop the train at the beginning of Harry Potter and the Deathly Hallows.
Black Rock Gorge
A narrow gorge located in the Scottish Highlands that was used as a filming location for some of the Triwizard Tournament scenes in Harry Potter and the Goblet of Fire. Specifically, the dragon challenge when Harry is chased by a dragon into the gorge itself.
You can walk up into the gorge if you want to see it. It takes around an hour and a half and is a 2.5-mile round trip.
Glen Coe
Glen Coe is arguably one of the most scenic spots in Scotland, so it's no wonder it was featured as a film location in Harry Potter.
The most popular part of the film is near the Clachaig Inn (well worth a visit!), where Hagrid's Hut was built up on the hills above Torren Lochan in Clachaig Gully.
Obviously, the film set and hut are no longer there, but you can go for a walk in the area to see what you recognise!
Go past the inn itself, and you'll see a narrow path next to the road that leads up to the fern where it used to be. It only takes around 10 minutes.
Loch Eilt
Loch Eilt that was used as a filming location for scenes in Harry Potter and the Goblet of Fire and the Prisoner of Azkaban.
Most famously is Eilean na Moine, a small island located in the loch that is the location of Dumbledore's grave.
Loch Eilt was also where Hagrid can be seen throwing stones into the water after Buckbeak's sentencing.
It was also used for Hogwarts exterior shots in Harry Potter and the Goblet of Fire and Harry Potter and the Chamber of Secrets.
However, you may not recognise it so easily because, in the film, Loch Arkaig and Loch Eilt were blended together because the director didn't like how the shape of Loch Eilt looked from certain angles.
Steall Falls in Glen Nevis
Steall Falls is a beautiful waterfall and a not-too-strenuous walk in Glen Nevis (I did it while pregnant!).
It featured in a number of the Harry Potter movies, most commonly as the backdrop for Quidditch matches where they're flying on broomsticks, and also for the Triwizard Tournament in Harry Potter and the Goblet of Fire.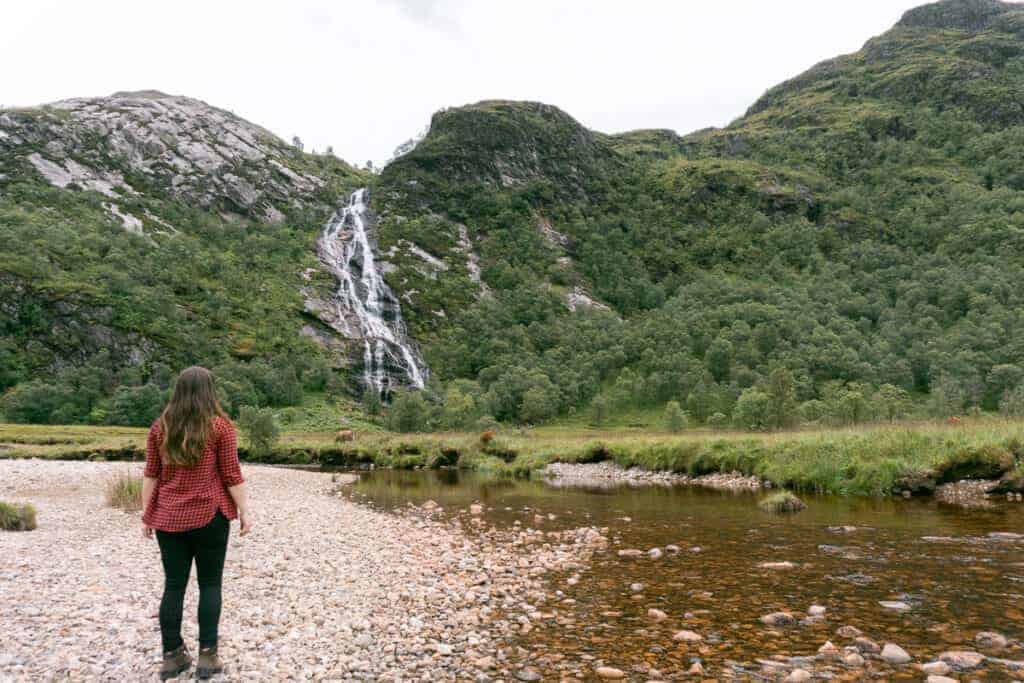 Alnwick Castle in Northumberland
People often think that this castle must be in Scotland, so we've included it here, but it is in England! However, it is often included in Harry Potter tours from Edinburgh or around the Borders area as it's only a couple of hours' drive.
The first two Harry Potter films used the outside of the castle, and in particular, the first broomstick training in Harry Potter and the Philosopher's Stone was half there. Sometimes they have "flying" lessons on this exact spot!
How to Visit the Harry Potter Locations in Scotland
If you're travelling around Scotland by car, then it's easy to fit most of these into your itinerary since you'll likely pass by them if you're visiting common tourist areas.
If you're heading north you can drive through Rannoch Moor, detour down Glen Etive, then drive through Glencoe and stop at the Clachaig Inn. A visit to Oban means you can detour to see Loch Etive.
However, a few will be a bit further off the beaten track, like Black Rock Gorge, which is a bit further north of Inverness and requires a walk, although still doable if you're staying there.
Tours to Harry Potter Film Locations
There are seriously countless tours that include the Harry Potter locations around Scotland, although there are also some Harry Potter-specific tours too.
Some tours also include the Jacobite Steam Train, so are well worth checking out if you haven't managed to get tickets yourself. There's this tour from Inverness and this one from Edinburgh.
Hope you love these locations as much as I do!
Sonja x