It was almost midnight, and I was staring out at the sun still resting on the horizon with my toes buried in the sand. The hot sauna and chilly swim were starting to work their magic in relaxing my muscles after a day of kayaking. I was one hour from the arctic circle, in the middle of the Luleå archipelago. And I was having a summer holiday.
…
Swedish Lapland might be a fantastic spot to chase the aurora borealis off your bucket list, but it's also a summer destination with a difference. It's a place that's still relatively undiscovered, even by the people of Sweden, but fantastic hospitality reins king here, and you can find any and every adventure you like. I came away with some awesome stories from Luleå, and plenty more reasons to love Scandinavia!
1. The midnight sun
Near darkness all the time in winter makes Luleå a great spot for seeing the Northern Lights, but that means in the summer you get the opposite, with a chance to see the midnight sun! We all wish that the summer could be endless, and in the height of the season in Luleå, it practically is.
That means everything you see on this list can be done at almost any time in the height of summer, there's no running out of daylight here!
2. Kayaking the Luleå archipelago
Kayaking isn't confined to any one place of course, but the beauty of kayaking in Luleå is the chance to sea kayak in the Bay of Bothnia, which is full of islands. Kayaking in Swedish Lapland, not something on the normal Lapland list! The archipelago of Luleå is really beautiful and you can paddle around some of the 1300 islands in calm waters.
3. Whitewater rafting near Luleå
If you want something a bit more adventurous then not far from Luleå there's white water rafting in rivers from class II to IV, which is fairly hardcore! Luleå is the perfect spot to be able to indulge in all different kinds of summer adventures in the beautiful scenery of Swedish Lapland. Creactive Adventures do both kayaking and white water rafting in Luleå if you're up for the experience!
4. Fat Bike adventures
It's not like I've ever been a huge mountain bike adventurer, but fat biking has made me a convert. These bikes with giant tired let you go wherever you want across the landscape. Over sand dunes, traversing forest floors and through water, until your bike starts floating when it gets too deep! Seriously such an awesome adventure, and I can highly recommend Fat Bike Adventures!
5. Food in Swedish Lapland
The special thing about the food in Luleå is that it's most often local. So local you can see the spot where your fish was caught from where you're eating it! In Swedish Lapland you can dine on reindeer, moose and even brown bear, which for many of us is a whole new experience in itself.
The other local delicacy is caviar from Löja, a fish that lives exclusively in this part of Sweden. It's been referred to as "the gold of the north" and is often known internationally as Kalix. I ate so much of this while I was in Luleå and it was SO delicious.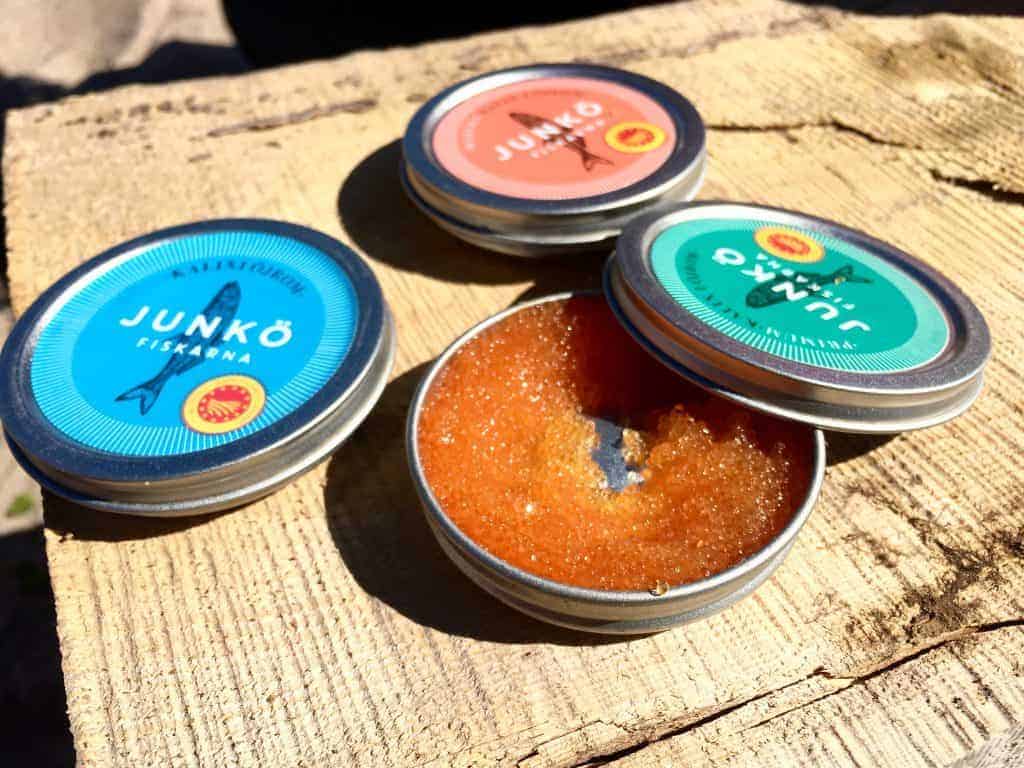 6. Aurora Borealis
For much of summer it might be light almost all night long, but if you go to Lulea later in August (technically still summer!) then there's a chance of glimpsing the Northern Lights. Even better, at this time it can still get out on the archipelago in boats and kayaks, which means you could be watching the aurora borealis as you float through the waters of the Bay the Bothnia.
7. Stay in a little red house on an island
In winter the whole archipelago around Luleå freezes and roads are marked out on the ice for people who want to travel out to their holiday homes. In the summer though, it'll feel more like a getaway since you're separated from the city by all that water, and you can swim and take advantage of long summer days instead of wanting to be inside by a fire!
8. Swedish saunas
Saunas might be an all year around activity, but in the summer having a hot sauna with a beer in hand, then running down to the ocean shore for a quick swim under the midnight sun is a completing different experience than your usual gym sauna!
9. The Facebook Data Centre
Maybe not the number one reason to visit Luleå, but definitely something unique. Facebook opened their first data centre outside the US in Luleå. The weather is cold enough to not need so many fans to keep everything cool, plus there's an abundance of hydro electricity. Facebook's data centre is just near the Luleå university campus, and labelled with a very unassuming little sign that simply reads "Facebook". It's not even blue! Kind of awesome to see Facebook "in the real" though.
10. Historic town of Gammelstad
Just inland from Luleå is the UNESCO world heritage site of Gammelstad. In the past, Swedish people had to pay a fine if they didn't attend church services, In Swedish Lapland the trek to church was a long one. The people would build small cottages around the church, giving them somewhere to stay when they came into town for the service.
Gammelstad is now a living heritage site, with people still making use of the majority of these small cottages haphazardly arranged around the central church. It's the biggest concentration of these cute little red houses I've ever seen!
11. The home of the Max Burger Chain
Luleå might be the only place in the world where a rival burger chain has caused the closure of a McDonalds store. Max Burger's started here in 1971 and can now be found across all of Sweden and in some places in Denmark. When you try it you'll see why going to McDonalds had no appeal for the locals!
12. Camping in Luleå, Swedish Lapland
They say all you need in Swedish Lapland in the summer is a tent. The camping possibilities here are endless! There are thousands of islands in the Luleå archipelago, and more options on the mainland. If you want to travel in Sweden on a budget then camping definitely helps too.
13. Fishing
The best time to go is often dawn or dusk. So what if it's dawn and dusk like almost all night? In Luleå in summer you can fish at all hours!
14. The Tree Hotel
If you're into travel on Pinterest, then you might have seen the Mirror Cube Treehouse. It looks just like a mirrored box, suspended in a tree. It's actually one of five different treeehouses designed by different architects, including one that actually looks like a giant birds nest! It's an hours drive from Luleå and staying there doesn't come cheap, but it's a once in a lifetime experience for sure.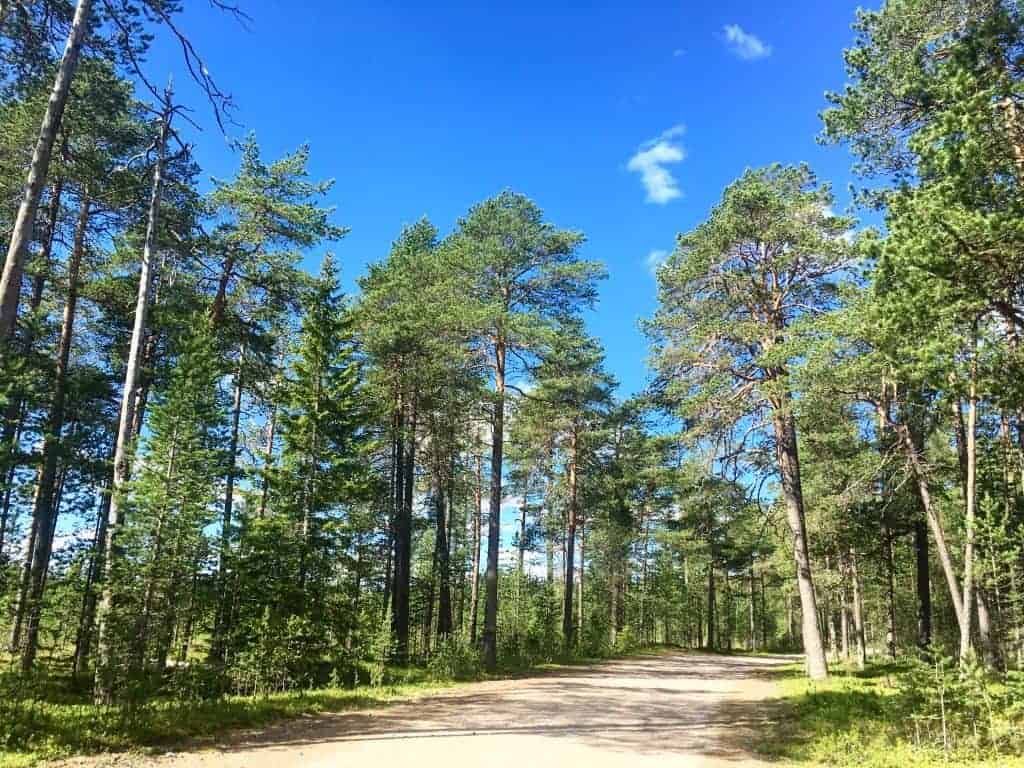 Travel info
Getting there
Fly to Luleå airport in one hour with either Norwegian Airlines or SAS Airlines on daily flights from Stockholm.
For something different, take the overnight train with SJ from Stockholm and wake up to the forests of Swedish Lapland flying by.
Where to stay
While in Luleå I stayed at the Clarion Sense Hotel in the centre of town. It's easy to get to everywhere you need to go and has an amazing rooftop restaurant where you can breakfast, have drinks and eat a delicious dinner. Also, theres a spa that overlooks the harbour!
In the Luleå archipelago I stayed at Klubbviken on Sandon island. We stayed in gorgeous little red huts right on the sea and this is where I had my experience with Fat Bike Adventures.
You can check out Booking.com for more options too, as usual!
Have you thought about visiting Swedish Lapland? What about heading there in the summer?
Sonja x
If you liked it, pin it!
Disclaimer: I took a trip to Luleå with Visit Luleå and Swedish Lapland. All opinions are entirely my own as always! There are also some affiliates in this post which help me out at no cost to you.