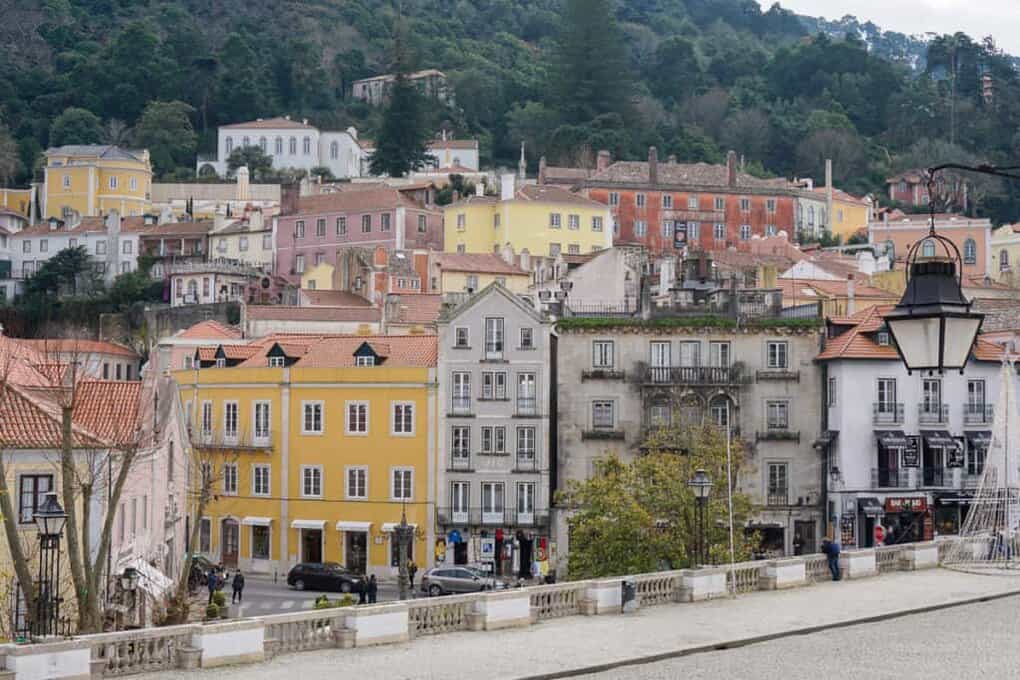 Sintra is a super popular day trip from Lisbon, for good reason. The resort town is located in the hills, giving a bit of cool respite from the heat of the city, and as well as being a picturesque village, it's also home to historic palaces and castles.
It's easy to get there in several different ways, and you'll definitely enjoy the sites. However, since it's so popular, making the most out of your trip takes some planning. I've laid out all the ways to get to Sintra from Lisbon, how to get around, what you can expect to see, and even whether it's actually worth visiting, plus some alternative places to go too.
How to get to Sintra
Sintra makes for an excellent day trip from the capital of Lisbon because of the ease of getting there. There are a few different ways to make it to this historic, stunning village.
Getting to Sintra by Bus
Getting to Sintra from Lisbon by bus isn't possible, but once you've arrived in Sintra there are a few worthy tourist busses to utilize in order to make the most of your trip.
Getting to Sintra by Train
The easiest way to get to Sintra, Portugal is to hop on the train. The direct rail service runs for Rossio Station in the Baixa district of Lisbon right to the heart of Sintra. The Viva Viagem Card offers an easy way to pay for the journey.
Finding a train is super-simple since there are at least four trains an hour that leave for Sintra. There are no advanced reservations and tickets can't be bought online, so simply head to the train station and hop on the first available train. Tickets cost €4.15 for a round trip ticket.
Getting to Sintra by Car
Of course, you travel to Sintra from Lisbon by car. Follow the IC19 highway west out of Lisbon. However, keep in mind that travel to Sintra by road is very busy and parking is at a premium. There are only 70 public parking spaces in the village of Sintra, so if you plan to travel by car, do so before rush hour, during the week to avoid the traffic.
Tours to Sintra
If you're short on time or planning each and every day of your trip to Portugal stresses you out, consider going on an organized tour of Sintra. Organized tours take the stress out of planning and arrange all of the details for you. They are an ideal choice for new travellers, solo travellers or travellers who may have a family or large group and don't want to deal with the planning logistics. Also, you'll get inside knowledge on a location and likely learn more about the history and life of Sintra than you would if you were to wander around on your own.
On an organized tour, you'll see all the exciting sites, however, you'll also have to stick to an itinerary, eat and shop only at places the tour wants you to go, and you'll likely be with other people you don't know. You'll also have to pay fees to cover the tour guide, including a tip. It's a great way to explore the city, especially for a short day trip, but it's also a bit more limiting on your freedoms as well as more taxing on your budget.
Getting around Sintra
Sintra is a small town with lots to see and do. You'll want to know a bit about how to get around Sintra before you visit so you'll be able to make the most of your time in this charming, historical Portuguese village. If you've come by public transport then you'll find that the sites aren't very close together. Even if you drive, you may need to park some way away from the town and then might not want to give up your spot to head up to the castle and the palace, so the best way to get around is by tourist bus.
Tourist buses 434 and 435
Although it may be a small town, Sintra is well-suited to handle the rush of tourists with two distinct bus lines that run throughout the city.
The 434 bus makes the steep, hilly walk up to the Palácio Nacional da Pena (a must-see attraction) a breeze. You can hop on the bus at the Sintra Train Station and ride it in a one-way loop through the historic village. Hop on and off as you please in order to make your way to each of the attractions.
The 434 stops at:
Sintra Train Station
The historic town-centre and the Palácio Nacional de Sintra
Castelo dos Mouros
Palácio Nacional da Pena
Then back to the Sintra train station
The other major tourist bus line is the 435 line which goes from the following in a one-way loop.
Sintra Train Station
City Centre
Regaleira PalaceSeteais PalaceMonserrate Palace
Return to Sintra
A hop-on-hop-off ticket costs €6.90 while a single ticket is €3.90. All tickets can be purchased from the driver and there is a summer and winter timetable (be sure to select the correct bus line)
Things to do on a Sintra day trip
Sintra is packed with beautiful historic sites, delicious food, and incredibly beautiful scenery. If you only have one day in Sintra there's plenty to see and do. Here's a look at the best things to do with one day in Sintra.
The Palacio Nacional de Sintra
As one of the best examples of a preserved medieval royal palace the Palacio Nacional de Sintra is a must-see attraction. Located right in the heart of Sintra, this palace is also known as the Town Palace. It is easily recognized with its two, towering white chimneys that protrude from the kitchen.
Cost: €10.00/€8.50/€8.50/€33.00 (adult/child/senior/family)
Hours: Open every day from 9:30 until 19:00 and the last entrance at 18:30. It takes between 30 to 60 minutes to explore the castle.
Walk around the historic centre
For an early-morning delight (before the town gets overrun by tourists) take a stroll through the historic Sintra town centre. Beautiful cobblestone alleyways, narrow stairways and historic churches line the centre of this charming Portuguese town. Watch the locals go about their morning routines and enjoy the people watching before the crowds swoop in.
Eat the delicious food
Portugal is a foodie's playground and Sintra is no different. This UNESCO World Heritage site offers up the perfect menu for the hungry traveller. Grab a Portuguese-style coffee at Cafe Saudade, score a delicious lunch at Incomum or snag a delicious Portuguese pastry (such as the local favourite, Quijada de Sintra) at one of the many pastry cafes and shops in town.
Castelo dos Mouros
For a different kind of experience, head to the Castelo dos Mouros, located atop a steep, forested hill. This castle ruin is one of the oldest structures in Sintra and offers plenty in the way of exploring ruins amongst verdant green trees. Unlike its showy palace counterparts, the Castelo dos Mouros is a simple structure without the opulence and charm of a palace. It feels more like walking through an ancient ruin than visiting a historic palace.
Cost: €8.00/€6.50/€6.50 (adult/child/senior)
Hours: You can visit the castle between 9:30-20:00 (summer season) or 10:00–18:00 (winter season) on any day (including Monday, when most attractions are closed). The last admission is one hour prior to close. It takes around one to one and a half hours to visit.
Palácio da Pena
Known for its colourful architecture and unbeatable views, the Palácio da Pena is the top tourist attractions in Sintra. The interior of the palace matches the eclectic exterior with colourful decor and incredible detail. The views from the palace, especially the queen's terrace, are well worth the crowds. Don't forget to take in the palace from the Cruz Alta viewpoint as well.
Cost: Depends on your ticket. You can get the Palace and Park ticket or just the park ticket. The Park Ticket is the cheaper option and lets you experience the colourful grounds and exterior, while the Palace and Park Ticket will grant you access to the interior. It takes around 1.5 to 2 hours to see the entire palace, as many people like to soak in all the views.
Hours: The park is open from 9:30 until 20:00 with the last admission at 19:00 while the palace is open between 9:30 and 19:00 with the last admission at 18:30.
The Parque da Pena
Surrounding the Palácio da Pena is a beautiful, must-see forested garden. Wander the gardens to connect with nature and get the best views of the Palácio da Pena. There are over 2,000 exotic species of plants in the garden grounds, from South America to New Zealand. It's truly an exquisite site. Combine this with a trip to the palace itself for a fun-filled afternoon near Sintra.
Cost: €7.50/€6.50/€6.50/€26.00 (adult/child/senior/family). This ticket includes a visit to the terraces of the palace proper as well.
Hours: The park is open from 9:30 until 20:00 with the last admission at 19:00.
Is Sintra worth visiting?
Sintra is definitely worth visiting if you plan your trip right. It's a beautiful place with plenty to see, and you could easily spend more than one day in Sintra. If you have the time while you're in Lisbon, then add it to your list.
Having said that, you'll want to plan your visits to the different sites carefully to make the most of your day, and also to avoid things at the most crowded times. If you can, head straight to the Palace when you get there and leave wandering the town for later.
Alternatives to a Sintra day trip
If the idea of visiting Sintra for a day doesn't appeal to you for whatever reason, there are lots of other day trips from Lisbon you could take.
I have a full post about day trips from Lisbon here, but a couple of ones to consider at the Alentejo Fishing Villages, as well as Évora.
Sintra is a charming town that is well worth the visit if you have the time in your Lisbon itinerary!
Sonja x
Planning a Portugal trip? Check out these posts!
If you liked it, pin it!