We're always looking for new activities to do as a family, and luckily there are so many family-friendly things to do near Edinburgh!
For families visiting Scotland, it can be tempting to just see the big sites of the cities before heading north, but there are some wonderful places nearby to take kids that the whole family can enjoy too.
And as locals, we're always looking for fun new adventures close to Edinburgh!
Midlothian, which is the area bordering the south of the city of Edinburgh, and the Scottish Borders, the area between Midlothian and England, are both within easy reach and full of fun family things to do.
We recently went on a trip through Midlothian and the Borders with Scotland Starts Here and found some amazing new things to do, so we thought we'd share our favourites here!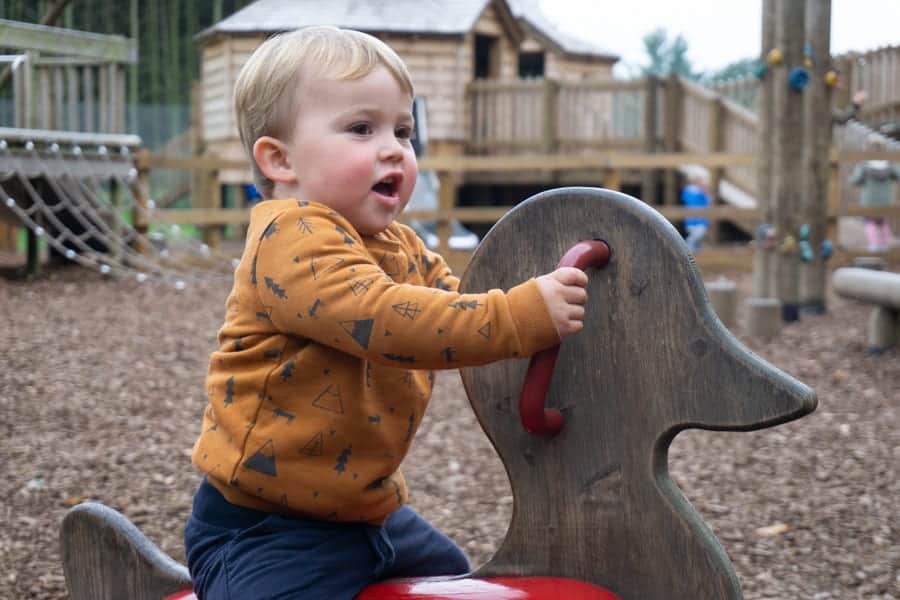 Jackson's at Jedburgh
Jackson's at Jedburgh is a family-friendly venture run by husband and wife team Fenwick and Jasmine, who live and work at Kersheugh Farm.
They offer all sorts of outdoor adventures and events, from farm tours and toddler play sessions to craft workshops and kids' birthdays.
We were lucky enough to take part in one of their farm tours! It starts with a journey across their fields in a land-rover-drawn trailer.
B was fascinated by the cows, sheep, and tractors and we enjoyed the beautiful views across the Scottish Borders. Jasmine was a wonderful host, answering all our questions about farm life and their business.
After touring the farm, it was back to the outdoor play area, which includes a large open space with ride-on toy tractors, a real tractor (not working of course!) to clamber over, a tire sandpit and an undercover area for when the weather is less ideal.
You also get the opportunity to feed animals like goats! This is where they run their toddler sessions, which we would be signing up for immediately if we lived close enough!
Our experience at Jackson's at Jedburgh was just so much fun!
Dalkeith Country Park
We're regular visitors to Dalkeith Country Park and love it! There are lots of opportunities for walks, the Fort Douglas adventure play park, and the lovely Restoration Yard with shops and eateries, including The Kitchen, serving both meals and coffee and cake.
Fort Douglas is a ticketed children's adventure playground, with large sections of wooden forts and lots of different play areas for kids of all ages.
B absolutely loves it! He gets to run riot over all of the equipment as we try to keep up, and loves going down all of the slides especially.
Once he's exhausted himself then it's the perfect time for us to grab a bite to eat. We recently enjoyed a lovely lunch in The Kitchen, complete with a mouth-watering chocolate brownie dessert.
Our friends actually had their wedding reception here, and it's always lovely to come back and have a meal in the restored stables, overlooking the river and park.
Traquair House & Gardens
Traquair House is the oldest inhabited house in Scotland, and lucky for us the grounds have been transformed into a delight for families.
It makes a wonderful family day out with animals to meet, a 25-year old hedge maze to explore, children's playground, and a lovely cafe.
The house, dating back to 1107, has seen many famous visitors in its time, including 27 Scottish Kings and Queens. There's a ton of amazing history associated with it!
You can take tours of the house itself, and I have done so and found it really interesting, but this time we decided to explore the gardens a bit more with B.
He loved running around the gardens and saying hello to the resident goats, pigs, and chickens.
The playground was great, and although we decided the maze wasn't quite for us this time (didn't fancy losing an almost 2-year-old in it…) we will most definitely be back to do it.
The garden cafe offers lots of cakes (try the chocolate and coffee tart!) as well as soups and lunches that can be enjoyed in the walled garden, which makes it a great place for adults to relax while the kids run off some of their energy!
Velvet Hall Alpacas
Meeting a herd of alpacas was not something we thought we'd be doing in the Scottish Borders, but we're so glad we did!
Jean and Stuart started their alpaca herd on a bit of a whim, after visiting an agricultural show, but it has now grown to be their business.
They've opened up their beautiful spot of land in the Tweed Valley for us to visit and learn more about these gentle animals, feed them, and even take them for a trek through the woodland and along the hilltops, with beautiful views of the surrounding countryside.
Velvet Hall Alpacas is located just 10 minutes from Peebles and so is an easy day trip from Edinburgh.
Jedburgh Abbey
The Scottish Borders is well-known for its magnificent Abbeys that were built around 900 years ago.
You may not think these are an ideal place for children, but the opportunity to be outside and learn about history appealed to us!
B was happy to roam around the ruins of Jedburgh Abbey, climbing stairs, playing on the grass, and wandering through the old chapel, and we were able to marvel at the architecture of this ancient home of the Augustinian monks.
Afterwards, we had a lovely lunch across the road at Stewart's Bistro, where they offered lots of kids options.
Stay in a grand hotel
If you want to extend your Scottish Borders adventure than you could spend a night (or a few!) in a grand hotel or castle.
Peebles Hydro was opened in 1907, built to replace a hotel that had burnt down a couple of years earlier.
As you'd expect, it's located in Peebles, but it's perched amongst woodland on Venlaw Hill and offers beautiful views across the valley so you feel like you're out in the countryside.
Once a Victorian Spa hotel, it now offers more up-to-date spa experiences for the adults, and plenty of activities for the whole family – segway, archery, mountain biking, a children's playground, a gin distillery for the adults, and usually a kids club too.
Their onsite restaurant gave us the opportunity to have a delicious meal "out" with lots of local Scottish ingredients featuring generous kids portions and options, before we retreated to our large suite to relax, with a separate bedroom for B.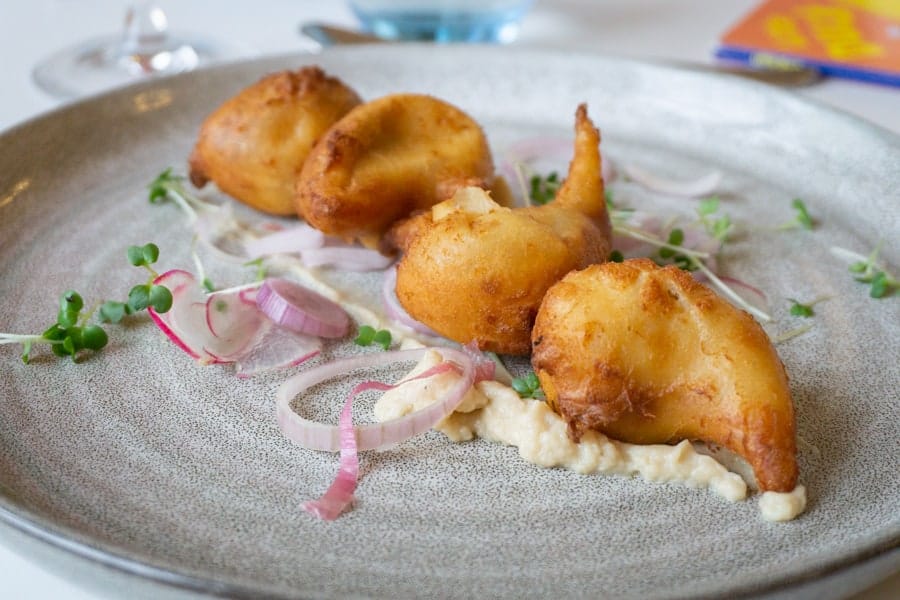 Perfect for a relaxing family weekend away!
Visit the coast
There's a small stretch of coast along the eastern part of the Scottish Borders that includes beautiful sandy beaches, rocky coastlines and cliffs, and lots of little fishing villages.
It's an easy drive from Edinburgh and you can make a day of visiting the different bays.
We popped into St Abbs to see the village that was transformed into New Asgard in the latest Avengers: Endgame movie.
The small winding road takes you down to the harbour where there's a cafe, and just near that is the path to walk just 15 minutes down to the sandy Coldingham Bay.
Since we were on the coast we just had to stop by Giaccopiazi's in Eyemouth for fish and chips and ice cream!
It's a long-standing institution that was opened in 1900 by Lorenzo Giaccopazzi, who was venturing to America but instead decided to settle in Scotland, where we opened up a business doing what he knew best, making ice cream.
Giaccopazzi's offers both takeaway and sit-in and as we took our seats in one of the booths surrounded by boat and fisherman-style decor I was excited about what was to come!
They have plenty of options, so I settled on the classic haddock and chips and Phil picked a pizza. Kids can put all the toppings on their own pizza before it's cooked but we decided to leave that for when B is a little older!
There's a huge range of ice cream that can be made into sundaes and thick shakes too and with cute keep cups for the kids. We will most definitely be returning whenever we're nearby!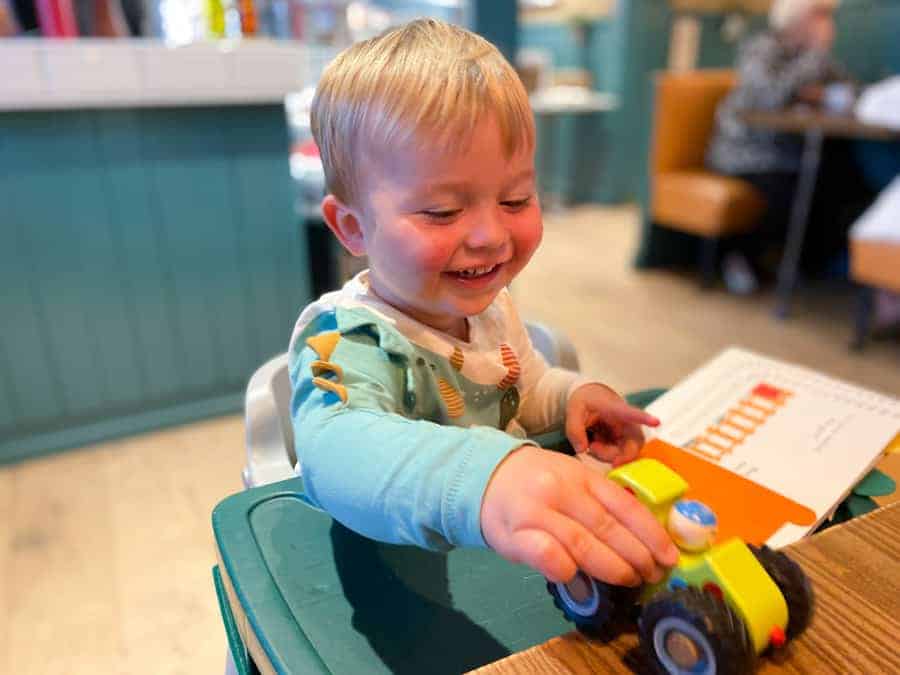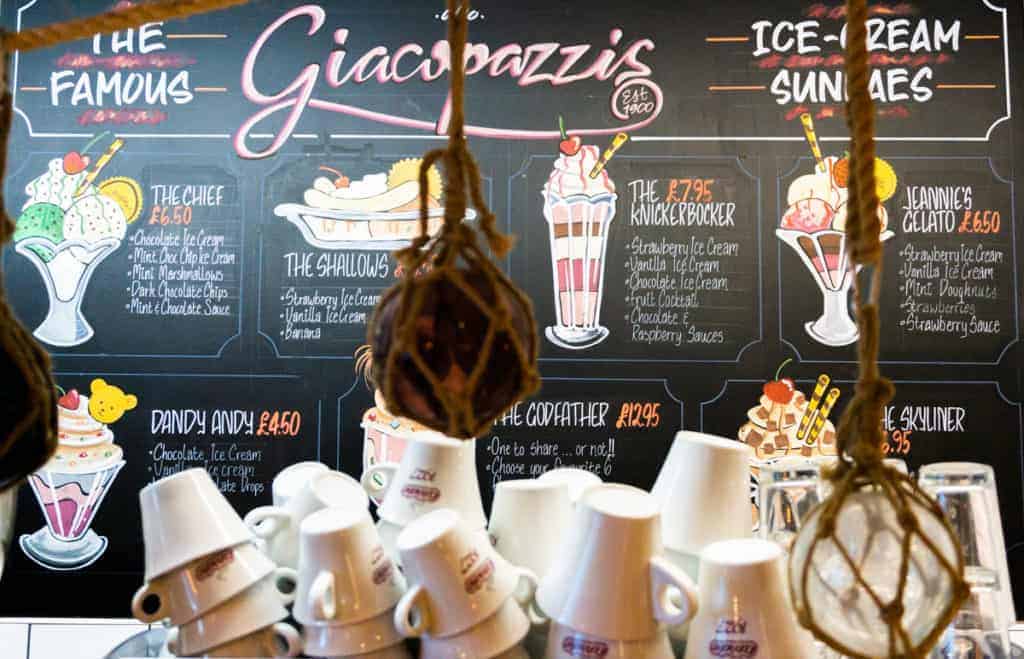 Pentland Hills and the Secret Herb Garden
I could see the Pentlands from the kitchen window of my first flat in Edinburgh, and I love getting out of the city to walk there whenever I can.
Although it's so close it feels like you could be somewhere in the highlands!
One of the easiest walks with kids is to the Glencorse Reservoir. You can even push a pram there!
For a round trip you can continue up to Glencorse Reservoir View, but it does have a small uneven uphill section so best for older children or if you're happy to carry them for a bit!
Close to the Pentlands is one of my favourite spots, the Secret Herb Garden. It's part herb nursery, vintage furniture shop, gin distillery, and cafe.
You're free to wander about the gardens, which is another great spot for the kids to burn off some energy, before enjoying the cafe amongst the plants in the glasshouse.
They offer a small lunch menu with things like soups, salads, and quiches, as well as delicious cakes and beverages.
The onsite gin distillery runs tours as well, and I really want to return to do the G&Tea tour where you get to do a gin distillery tour and tasting and get to blend your own herbal tea as well.
The Mainstreet Trading Co
The Mainstreet Trading Co was voted best small shop in Britain in 2018 and it's not hard to see why!
If you're visiting the Borders then adding in a stop to this lovely shop should be on your list. It's located close to many of the main Abbeys and things to do in the Borders, in the village of St Boswells.
The shop was the dream of Rosamund and Bill, who renovated the old Ballantynes general store on the main street and opened the bookshop and cafe in 2008, offering a lovely shopping experience alongside tasty treats and great coffee.
In 2012 they extended to the storeroom out the back and it became the Deli & Home shop, which is basically a foodies dream, and showcases independent producers and suppliers, as does the home shop.
We loved stopping by to enjoy the best flat white we've had in a long time, and browse the various parts of the shop.
They have an extensive selection of kids books and they even have a special children's section for audiobooks and two large storage cupboards that have been transformed into "Book Burrows" for kids to listen while you browse!
There are so many fun things to do for families in this part of Scotland, for both locals and visitors alike.
Sonja x
Disclaimer: We were invited to take part in this Scottish Borders adventure by Scotland Starts Here, but as always, you can trust that all opinions are entirely our own and any recommendations are based on our own experience.