As I write this, it's drizzling outside, and the mountains we can usually see from our living room windows are obscured by mist. But there is the beginning of a rainbow forming as the constant shift in weather continues.
Four weeks ago, we were packing up the contents of our entire house, which had definitely grown by quite a lot since we'd moved from Leith in Edinburgh out to the suburbs of Musselburgh. That was not an unusual move for many people our age who had growing families and couldn't afford to buy a larger house in the east of Edinburgh.
However, this move was definitely out of the norm, as not so many people pack up their lives with two small children and move to the Isle of Skye!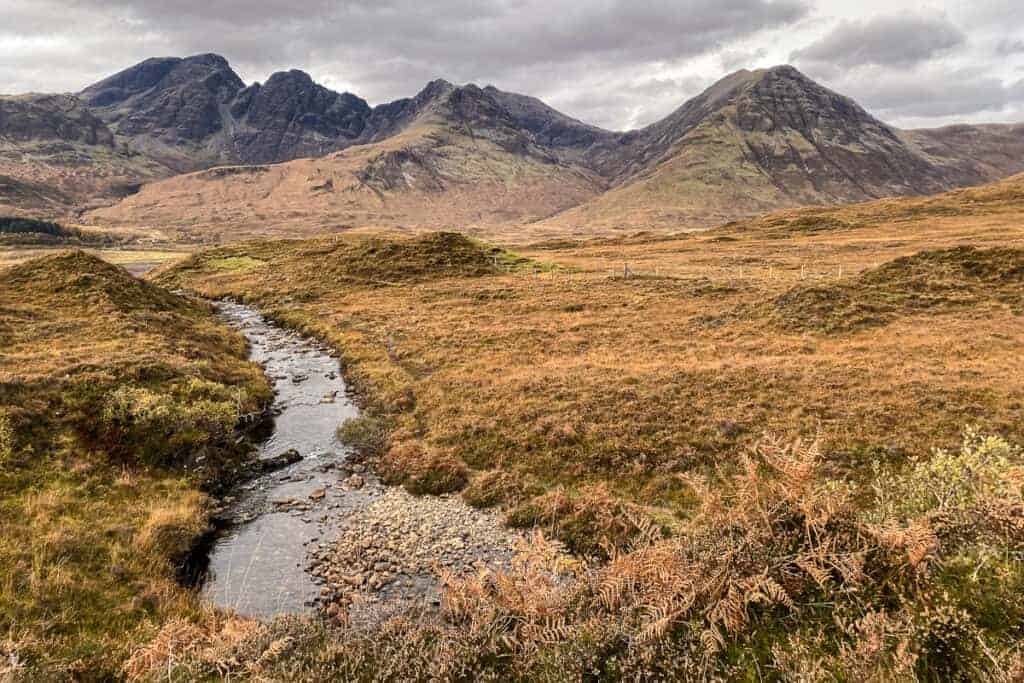 It wouldn't be entirely accurate to say that moving to Skye was a long-held dream of ours. Instead, it came about by a set of circumstances that meant everything just sort of fell into place, and we went along with what seemed like the inevitable thing to do.
Phil and I have done our fair share of travelling and living in different places, so moving is not unusual for us. We both came to Edinburgh at the same time, at the end of 2012, although we wouldn't meet for another year.
Edinburgh is where we built our life together, where we got married and made mutual friends, and where our two boys started their lives.
But for that whole time, we'd always said that we both thought we'd like to live somewhere else. Somewhere a bit more adventurous.
While we love Edinburgh, it wasn't where we imagined forever. I mean, you can always say that you never know what'll happen, but for some reason, we both just felt like there was MORE even if we couldn't explain it.
But the "somewhere" has never been clear. Although that's not to say we haven't tossed around many (MANY) ideas over the years.
On our honeymoon to New Zealand in 2017, sitting in our hire car in a layby in the South Island eating a bacon and egg pie that we still talk about today, we discussed a move there. My problem has always been that I don't know WHERE in New Zealand I'd like to live.
I always said it was unlikely I'd like to move back to where I grew up, not that there's anything wrong with it; it's just not the most amazing after having seen much more of the country and lived in other places. But it seemed silly to move across the world and not be near family.
So, New Zealand was out.
We discussed Spain because I love it, and I do miss it there, but I'm not sure it's where we want to raise our family. It was a very different place as a part-time English teacher! And Phil was on the fence.
Phil has always had a connection to France after extended travel there, but I was never as enamoured with the idea. Largely down to feeling like I'm absolutely terrible at speaking French.
Which is ironic given that I'm now trying to learn Scottish Gaelic as that's the language our boys will be learning at school, and it is FAR from easy…
So that left Spain and France in a stalemate.
That left the UK, and given neither of us felt a massive affinity to living anywhere in England (or Wales or Northern Ireland), that left Scotland.
Our wishlist was something like this:
Close to the sea
A community feel, with the opportunity to get involved
Not in the middle of nowhere – ideally within walking distance of a pub/shop/cafe
An older house, not a new build
A larger piece of land with space to develop it
Outbuildings or room for them, with the potential to have something we could turn into accommodation or space for it, for friends and family to stay and to rent out
Bigger rooms for the boys to grow up in and an office for us
A property or an area with possible further business opportunities
It wasn't something we ever actually wrote down, but these are the things we constantly came back to and talked over. The funny thing is, we got it all… be careful what you wish for!
So why move to Skye?
We're fortunate that there are many places in Scotland that could satisfy the above. However, we also didn't want to be TOO remote. We adored Lewis & Harris and Shetland, but they seemed just a little TOO far to go.
But the West Coast seemed like it fit more of what we were after.
The funny thing is that in all these late-night discussions or driving-while-the boys-slept-in-the-back-talks, the Isle of Skye never came up specifically.
Phil actually spent a fair amount of time here as a kid, and I had visited once with a friend. We had also come here in 2020 with our first little boy, and yet it never really crossed into our thoughts for no apparent reason.
A couple of years ago, I started to look at houses all over Scotland, finding the odd one that might fit, although we were in no position to move given we'd had to start a business from scratch after losing all income in the you-know-what. Usually, there was some reason they weren't quite right.
Then, last year, out of the blue, Phil's Dad and stepmother (let's call her M) said they were selling their house in Ayrshire and moving to Skye. This was our closest family in Scotland.
Their reasons for moving involved family (M's side), and as soon as they mentioned it, we glanced at each other, and I just knew. Why don't we move to Skye?
When we compared it to the mental list, it checked all the boxes. I mean, it's an island with all the things we wanted, but also with a bridge, how did we not realise this before?!
Finding a house on Skye
And so began a year of looking at houses we were never going to be able to buy. And figuring out more about where we might want to be.
Again, we didn't want to move all the way to Skye and be in the middle of nowhere. It made more sense to be close to family, but that isn't the easiest thing to do on Skye, where houses may come up fairly often but not exactly where you want them to be.
Last winter (UK time..), we spent three months in New Zealand, and it did two things for us, aside from the obvious joy of spending that time with family there.
The first thing it did was make us realise that while we love New Zealand, it's not where we want to live right now for a few reasons. Although we figured out where we would live if we did!
The second is it firmly centred our desire to move somewhere different. If we could work from anywhere, why were we waking up every day in Musselburgh and looking out the window at our neighbours in suburbia?
When we first moved from Leith, we worried about being within easy distance of Edinburgh for all the times we imagined we'd want to go back into the city. Surely, it would be weekly! But it definitely wasn't. I don't know if not being able to go in through 2020/much of 2021 caused that or whether it would have been the case anyway, but the reality is we could easily have moved further away and not been bothered.
We love our friends in Edinburgh and the life we made there. We didn't HAVE to move. Our eldest was starting at what would be a good school, and our youngest was settled at nursery. We'd spent years building relationships that we are sad to have become more distant.
BUT. We needed to go on an adventure for ourselves. To wake up every day feeling more inspired. To have access to beautiful landscapes we could get out to from our doorstep. To feel a bit more free.
Are we the most outdoorsy people in the world? No. But we'd sure like to be more than we were. I wrote about my trip to Loch Ossian in June this year and how it made me feel. And I want that all the time.
So, we came back from New Zealand with a renewed sense of purpose. We were going to spend the year visiting family on Skye and see if we liked it enough to move.
Obviously, fate intervened, and two weeks after we returned, my phone pinged with an alert of a new house up for sale in Skye. Usually, these were quickly dismissed due to location, but this one looked to be in the right place, at least. As I looked further at the listing, I realised it was ticking all the boxes I mentioned above…
I sent a message to Phil with the link to it, not thinking too seriously about it. His reply? I love this one.
And with that, the avalanche began.
By the next day we offered for it, and it was accepted.
We had bought a house on Skye, sight unseen by us. We were both flying on cloud nine and wondering what exactly we had done at the same time.
But of course, all good stories have to have a bump in the road somewhere.
Two days later, we received news that the sellers were unable to proceed due to personal reasons but might be able to at a later date.
We were in complete limbo. The highest of highs became a low, and we didn't quite know what to do.
In the end, we were able to go ahead with the purchase, with a further out move-in date, and after a visit to see it.
And so four weeks ago, the house was packed, we had a last chippie for tea and bought two bottles of their chippie sauce to bring with us (IYKYK), watched it all get put in a truck the next day and drove up to Skye, crossing the bridge in the pitch black.
We stayed with family for almost a week while we waited for our things to arrive (it turns out moving 5 hours away is a four-day long process!) and then moved into our very own croft house by the sea.
I'm not going to say I don't miss Musselburgh/Edinburgh because we had a great life there and no real reason to move away from it other than we wanted to. But already in the space of the four weeks that we've been here, I feel like we made the right decision.
Everyone says wait for the real winter and then the tourist season, but I'm choosing to not worry about that for now.
We're not unaware of the weather or the issues with tourism on an island as popular as Skye. I mean, part of the reason we moved here is the accessibility of the bridge and the beauty of the landscape.
However, working for ourselves means we have options. We can stay away, or we can embrace it and maybe even find work within it; who knows.
The beauty of it is that we had an idea of something, and we made it happen. That you never quite know what's coming and how things will turn out.
In retrospect, it seems absolutely crazy we didn't consider moving to Skye earlier. That without the catalyst of family moving, we might not have done so when everything else seemed to point us in this direction.
Life is short, which is cliche but true. We all think we have time, but you really never know, as we've been reminded again this year. Choosing to spend your time doing what you want and working towards, and hopefully realising, dreams is never time wasted or spent in the wrong way.
This may not be our last move, but for now, it feels like we're exactly where we're meant to be.
Sonja x