If you have a friend or family member that's a blogger, chances are they will appreciate a blogging gift!
I say that because as someone who's been blogging for over 7 years, it's as much a passion as it is a job and anything that helps me do it better is a welcome gift to me!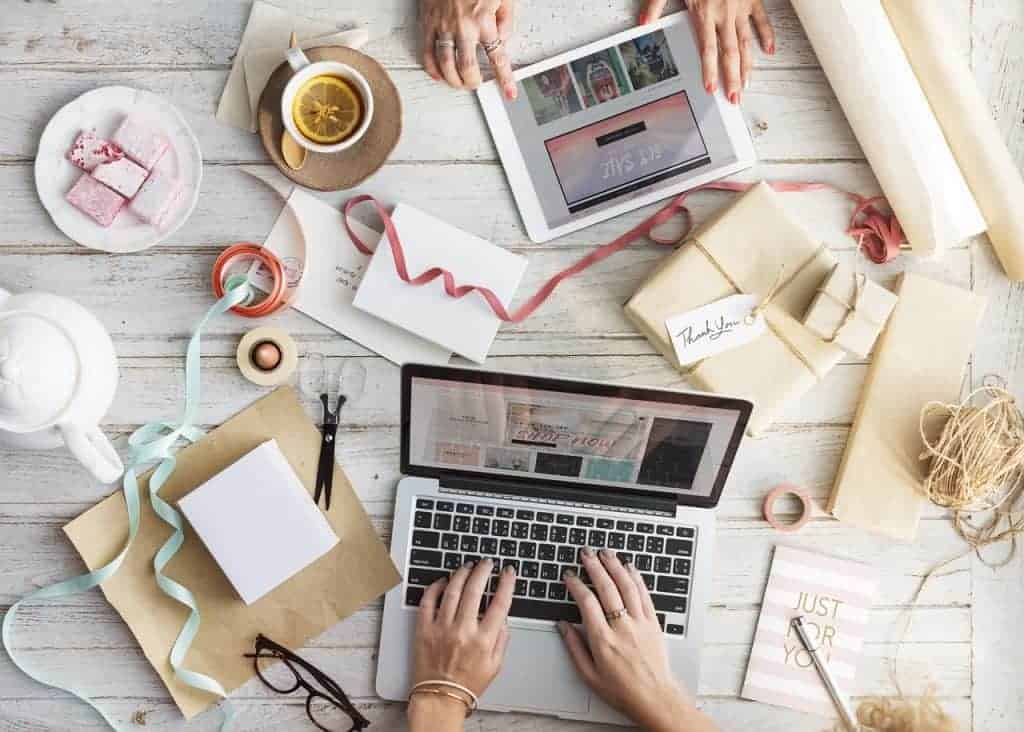 I'm so excited to finally put together this list of gifts for bloggers, divided up into different categories. Obviously, who you're buying for and your budget will dictate what sort of gifts you'll want to buy but there's a cross-section of different price points so there should be a blogging gift for everyone!
You may not know what some of these things are, so you could "gift" them as a homemade gift card instead and let your blogger friend or family member choose or sign up for themselves. But this should at least give you an idea of some of the best gifts for bloggers and give you a little heads up and sound like you might have a clue.
Camera and Tech Accessories
Images are a huge part of blogging now and having the right camera gear and accessories can make a big difference for your blogger friend!
While there's a lot that can be said for phone photo quality these days I do still think the control you can get with a camera outweighs the convenience. If they don't have a camera, I can recommend the Sony mirrorless camera, starting with the Sony A6000. It's now a great price, but if you want a more updated version the A6400 is available too.
However, I'm also aware that buying a camera is probably not what you had in mind, so instead, here are a ton of camera and tech accessories that make great blogging gifts!
Tripod: Something simple and lightweight like this is great.
Lenses: Still pricey, but having the right lens can make a huge difference, especially in food photography.
Camera bag: We have this one but there are also lots of stylish options like this and this.
External Hard Drive: Essential when you need to store tons of photos!
Camera Strap: Get away from the standard strap and opt for something a bit more fun like this.
Lens Cap Strap: I'm forever losing my lens cap so these can be useful.
Studio Light: For photography and videography at home. We use one like this for our food photos.
Ring Light: Useful for bloggers who want to do work in front of the camera.
Instax Camera: Not essential but there's something fun about an instant camera and less edited photos.
Bag or Backpack for all their gear: You might want to consider a multi-functional bag rather than just a camera bag, so look for something that fits a laptop and other things too like this. I love my Osprey Farpoint 40 and the Osprey Porter gets good reviews too.
External Charger: Batteries are always improving but these are so good when you need to be out all day working.
Headphones: Useful for travelling and cutting out background noise while working.
Photo Props
If you want a gift for a blogger who takes lots of photos at home then photos props is a great idea. These could be backgrounds for food photography or cute photo props that improve their lifestyle photos and make their home look lovely. I've included some more in the home/decor section.
Desk Equipment
Whether or not your blogger friend or family member does this full time, they likely have a space for working that could use a little improvement or sprucing up! I mean, if they don't have a desk you might want to start there, but otherwise, there's a lot of other things that can help…
Chair: Ok, it's not the most exciting present for a blogger but it IS practical and so important when you're working at your desk for hours on end!
Cushion: See above.
Mouse/ Mousepad: Go for something that suits their niche or something quirky and fun
Motivational Cards: I love the idea of pulling a different motivational card every morning when I sit down at my desk to work.
Framed Photos: For on the wall near their desk or on the desk. You can even choose some amazing photos they've taken and get them framed!
Lap Desk: Good for those working in bed or working from the couch days.
Stationary
Sounds like a boring gift but honestly, I LOVE stationary. I was so excited when the Australian store Typo finally made it's way to Edinburgh. I actually have to be careful about when I go in there!
Blog Courses/Training
When you're a blogger you're constantly learning. Things are always changing and you should always be evolving and investing in your business. This means keeping up with courses and training are really important. So help out!
Photography Course: There are lots of smaller photography courses related to different aspects of the medium, like food photography courses, portrait, or how to edit photos.
Affiliate Course: Affiliates are how bloggers can make commission by recommending a product or service and there are courses to help with this.
SEO Course: SEO is a key skill for bloggers to learn if they want to be able to gain consistent traffic to their blog so buying them books or courses about this is a great idea.
Personal Training: Something a bit different! Blogging is much more of a desk job than people think and sometimes we can get so caught up in working we forget to find some balance and get out and about for exercise and I can be hard to be motivated on your own. Also, personal training can be expensive so why not treat someone?
Blog Coaching: This can make a big difference! It's more than just learning the basics; it's about strategy. You can contact us if you want to discuss more!
Looking for Blog Coaching?
We can help you with your blog business strategy!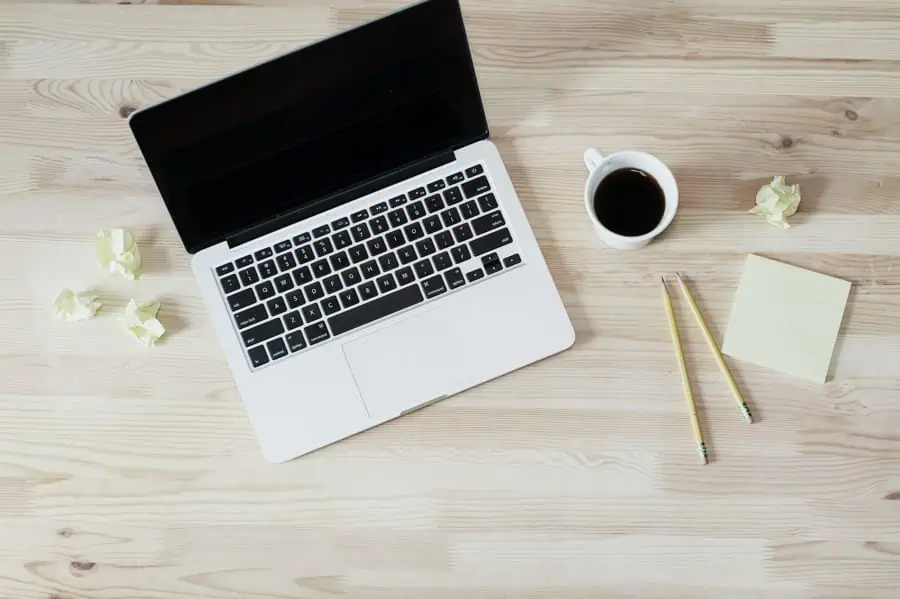 Decor/Home Stuff
Some of this is similar to the desk equipment present ideas for bloggers up above. Basically, these things just make day to day work a little more pleasant and fun!
Wall Prints: Self-explanatory! Something quirky or motivational, or a reminder of a trip.
Mugs: I love having different mugs with sayings on them to brighten up my day
Own Brand Items: This is such a fun gift idea for bloggers! It's easy to get items printed with their blog logo like a mug, tote bag, luggage tags, or t-shirt.
Candles: Burning candles while I work helps me relax and get into my work mode. I go through a lot!
Good Coffee: Something to fuel all the hard work.
Fancy Tea: A lovely treat.
Comfy Slippers: For those colder days!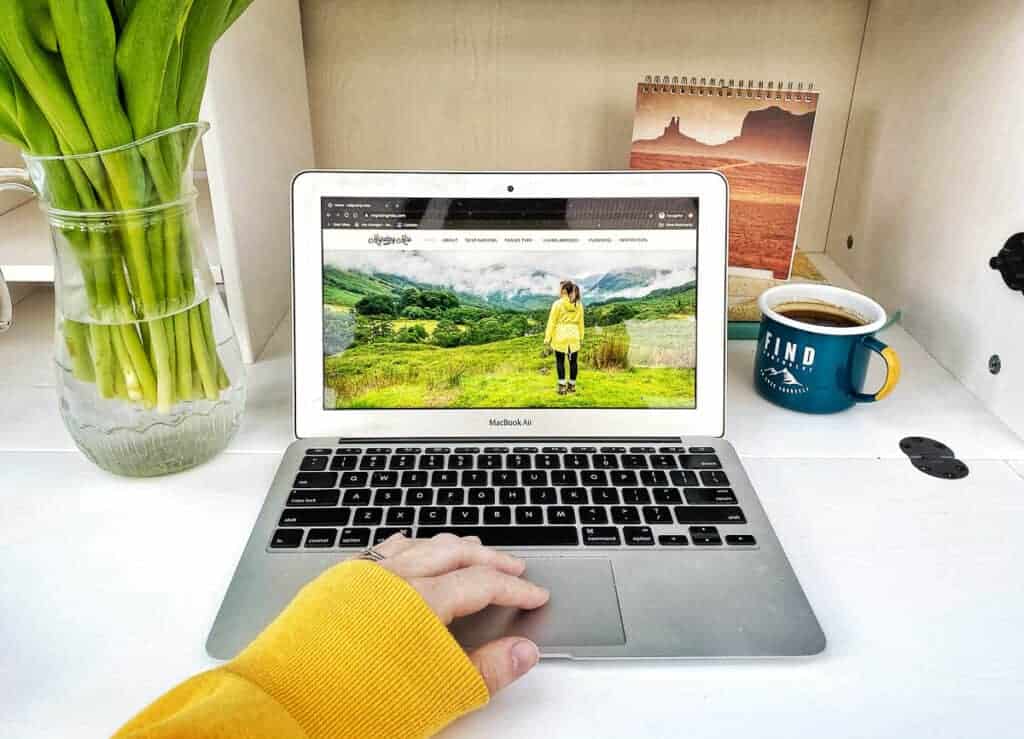 Books
These are fairly self-explanatory. I think reading improves writing, so I'm constantly trying to read a range of things – when I have the time!
Things do change often so blogging books can go out of date fairly quickly, but more basic foundations books are worth an investment and books about business, in general, are always good.
Subscriptions and Blog Tech
Many of these things may already be in use by your blogging friend or family member, but you can always offer to pay a few months or a years subscription.
You might need to ask what sort of things they need or give a budget for them to use on blog tech stuff.
Tailwind: Used for scheduling pins on Pinterest.
Stock Photos: There are free sites but they can be overused, so a subscription to a decent photo site is good, like Shutterstock, iStock, or Adobe Stock.
Canva Pro: Create eye-catching graphics and pins.
Adobe Lightroom: Photo editing software.
Keysearch: A keyword search tool to help with SEO.
Mailing List Subscription: Many services are paid past a certain level or for more features. Personally, I use FloDesk.
WordPress Theme: If they want to upgrade their website theme you could offer to buy a new one.
Paid Plugins: There are lots of these to help with different things like security, speed, and social sharing.
Website Hosting: An ongoing cost of running a website so always a great one to put money towards.
Relaxation Gifts
We bloggers do work hard, I promise! When you work for yourself or on something your passionate about it can be really hard to step away and take time off. But balance is also crucial to avoiding burnout.
So why not offer to buy a blogger a gift that helps them relax?
Massage or Spa Day: Join in yourself or send them alone!
Coffee Shop Gift Card: This is part for enjoyment and getting out but can also be useful if they work out in cafes often.
Night or Weekend Away: Tell them it's for a detox to get away from the laptop!
Gift Experience: As above.
Content Gathering Gifts
Depending on the type of blog your loved one has they may need to be gathering content to publish on their site and social media. Giving them a gift that helps to do that is a great idea!
Some of these are similar to the relaxation gifts above, but the idea with those is they step away, and with this it's that they get to gather some great content to publish.
Gift Experience: Something fun they can share about
Tour or Attraction Tickets: Same as above
Night or Weekend Away: While it's great to step away for a night or a weekend you could also plan to go somewhere they can get some great content to share. Or even make it a bit of both and say other than taking the photos they need it's time to switch off!
Finding a present for a blogger doesn't have to be tough! There are so many ideas for things to help improve their work but also work/life balance. Hopefully these ideas will help you out next time you want to buy a blogger a gift!
Sonja x